Bang & Olufsen is a legendary audio company that's been producing premium audio equipment since the early 1900s. We're not talking Beats by Dre premium, we're talking Ferrari premium. Much like Ferrari, they made their mark by producing goods which didn't just border on art, but produced a sound that was unparalleled by almost anything else on the market. For many years, B&O wasn't just best in class, they were in a class of their own.
Today, the audio landscape has changed quite a bit. Consumers no longer need to invest thousands of dollars to get a high-quality audio experience. With this in mind, B&O is now producing a line of audio equipment that is accessible. Somebody who's used to listening to a $20,000 B&O home stereo might not be impressed by their consumer line, but to anyone who's used to audio gear that costs less than 5 figures they're still a world apart from what we're used to. After the slam dunk that was the B&O Play A1, we couldn't wait to get our hands on their latest in the series, the M5.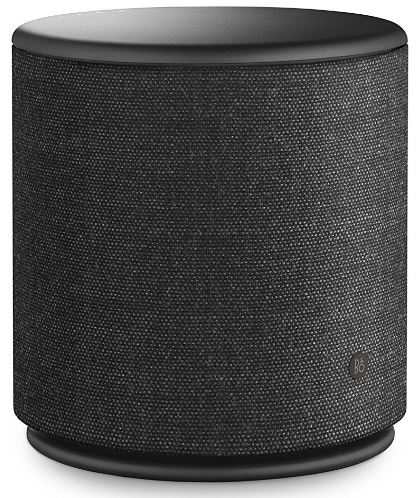 First Look
Photos alone don't properly convey the heft of the Beoplay M5 Multiroom Speaker. Measuring in at 7.5 inches tall by 6.7 inches in diameter, it's certainly got some substance to it. But this isn't your standard speaker housed in an attractive case. Several speakers are embedded into the case in such a way that it radiates sound in full 360 degrees. At its core, it's a Bluetooth speaker that's engineered to the highest standard, and features all of the latest trends in audio technology. But it wasn't until we got into the meat of it that we discovered what this speaker was capable of.
Design
When B&O designed the M5, they clearly didn't want to create something that would blend into your home décor. Audio equipment is, in many situations, the center of attention. Instead, they created something that to hold it's on as a centerpiece to almost any environment.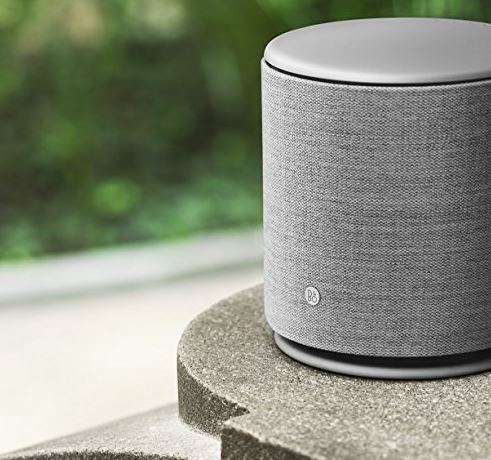 Many of the design elements are taken from modern architecture. A common theory is that if you're going to use simple design, you need to use high quality materials to bring it to life. With the speaker cover made from a premium wool-blend fabric, B&O has certainly taken this concept to heart. This is a material that feels as good as it looks. It's incredibly soft, but ever so slightly textured. This is the kind of material we'd be happy to have our sheets made out of.
Both the pedestal and the top are made from a solid block of soft touch aluminum. This makes it extremely durable, without sacrificing the look in any way. While the smooth metal cap looks nice, it's actually an essential component. The entire thing is really one large volume knob. Fortunately, it doesn't take a complete motion to crank things up to eleven. Adjusting it is more of a subtle movement, but due to the size alone you've got a lot more control than you do with most speakers. You can also depress the cap to function as a play or pause button.
While the design will be a selling point for many, it is really just a nice way to highlight the incredible acoustics.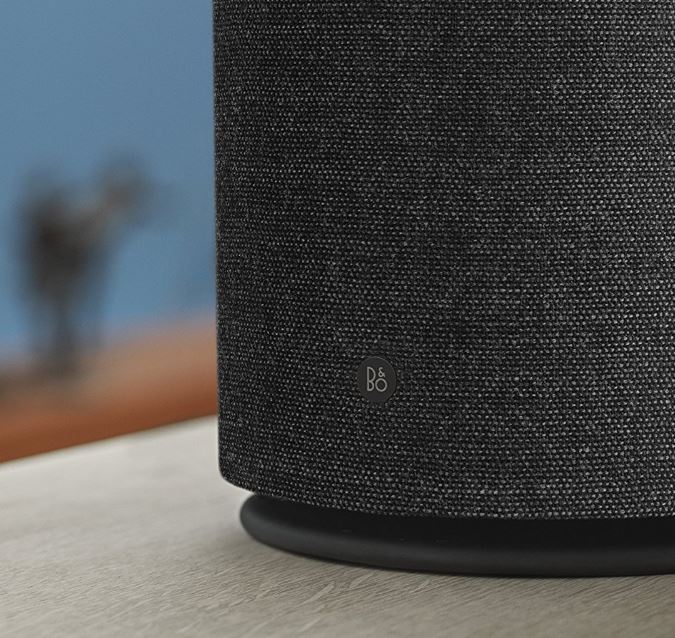 Sound
When it comes to technology, our attitude has always been function over form. We've seen a lot of products over the years that look great, but their performance is disappointing. Suffice to say, we couldn't be happier with how the M5 speaker sounds. It's far from a neutral sound, and heavily favors bass. Even though the sound was crystal clear and completely undistorted, the bass was deep, impactful, and sounded as if it was coming from a subwoofer many times its size.
This is particularly difficult to achieve with a speaker this size. Generally, the level of excursion (the distance a speaker has to move to push a certain volume of air) required to create bass causes it to lose the control it needs to create the precise motions needed for smooth vocals and clear treble. It turns out, this is due to the magnet size. This little speaker uses a magnet that would typically be sized for a much larger speaker, allowing to execute the deepest bass while retaining precise control over the speaker cone.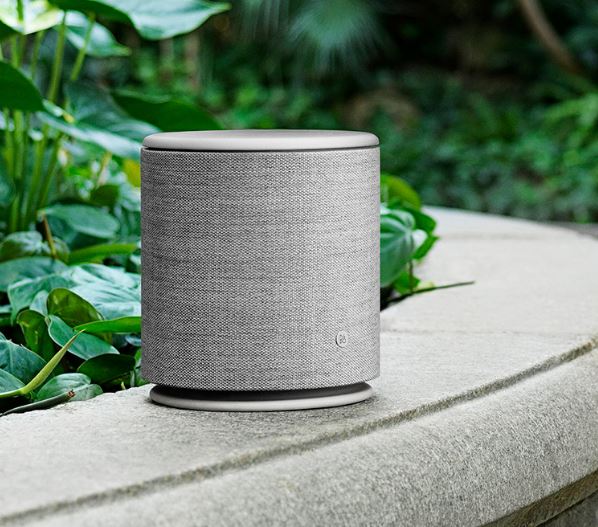 Generally, when you buy a pair of speakers you're making a commitment to the type of sound that the manufacturer liked best. But B&Os free application includes a powerful equalizer that lets you control the bass, mid-range, and treble frequencies separately. This allows you to craft the exact type of sound you want. If you're not into fiddling with it, you can also choose one of the pre-configured sound styles. Each of them have been specifically crafted for certain types of music, automatically tuning the speaker to your own personal tastes.
At the end of the day, this leads to an extremely engaging listening experience. Pop music, hip hop, and electronic music come to live in a way that we never thought possible. This is not something you throw on in the background to fill the silence, it's a full-on entertainment system that you can take with you wherever you go.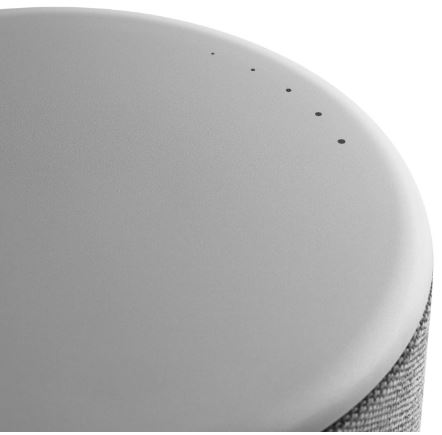 Connectivity
This is a whole home audio system, so the connectivity is on an entirely different level. Most of the time, when a manufacturer advertises something like this you'll be required to purchase multiple speakers of the same type. But if you already own any of the previous speakers in B&Os Play lineup, the M5 can act as a central hub for the entire network. It uses the Cast system, which is why it's so easy to interconnect. But to make configuration a little easier, B&O provides a free application that can walk you through the process. Your phone searches for all cast compatible speakers, allowing you to add them to the network.
But once the speakers are paired together, you don't have to use it to queue up your favorite tunes. You can use any Cast compatible device, as well as AirPlay, Bluetooth, Spotify Connect, and several other service specific technologies. This makes the M5 one of the most well connected speakers we've used.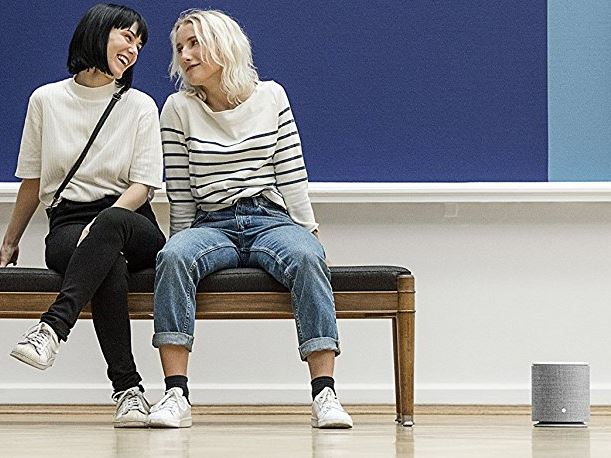 Durability
With the top and bottom being made from aluminum, you'd guess that the speaker is built to withstand a bit of use. You'd be right. The only vulnerable components of the speaker are the drives themselves. But the fabric covered ring is actually made from a surprisingly solid plastic cylinder that can prevent any impact damage from taking place.
That being said, these are not the kind of speakers you'd want to chuck in the back of your truck before you go off-roading. They're a high-end piece of kit, and they do need to be treated with respect. You can still take it camping if you like, but just remember to use a little caution and store them carefully.
Disadvantages
There are very few things we look for in Bluetooth speakers that we didn't find here. But given their high sticker price, we were hoping that you'd be able to set them up to play stereo audio. Instead, each speaker in your home network plays exactly the same sound, which is reduced to mono.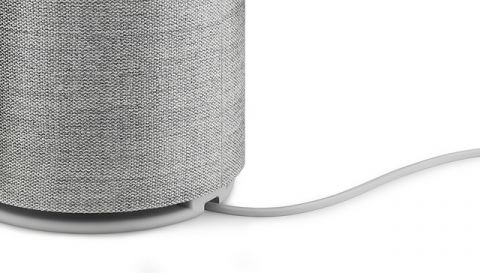 Final Words
If you've got the money, the Beoplay M5 is one of the best sounding Bluetooth speakers you'll find. The performance is noticeably better with bass heavy music, one of the areas we often find lacking in portable speakers.
If you're design conscious, this is a purchase that you can be proud of. B&O has never let us down with design in the past, and this time was no different.
If you want to take advantage of the multi-room connectivity features, you'll want more than one speaker. Of course, for the ultimate sound quality you'll want to match them. But if you're just looking for a little sound reinforcement in another room, you can always try out another one of B&Os Play speakers. The B&O Play A1 looks, in many ways, like the M5's younger brother.
It's much more portable. We really enjoy using the two as a pair. This way, when we're heading out and about we can throw the small speaker in our bag, leaving the large one at home for serious listening.
If you're on a tight budget, a luxury branded speaker might not be the best choice. In that case, we'd suggest you take a look at the Soundcast VG1 Bluetooth Speaker. It's much more affordable, but still provides pretty impressive performance for the money.