If you've been looking for a portable wireless speaker, you've certainly got a lot of options to choose from. The problem is, it's difficult to find one that sounds great, but can also put up with constant use. The build-quality needs to impress, the features should be plentiful, and most importantly, it should sound great. Right?
We've recently discovered a speaker that meets these requirements, and we're here to share it with you. Known as the DOSS SoundBox Touch, it's a portable speaker with Bluetooth connectivity, and some pretty neat features. We'll be taking a closer, but critical look at it, to see if it really does meet our standards. We'll look into the build quality, sound, battery life, durability and try out its features. Let's get started!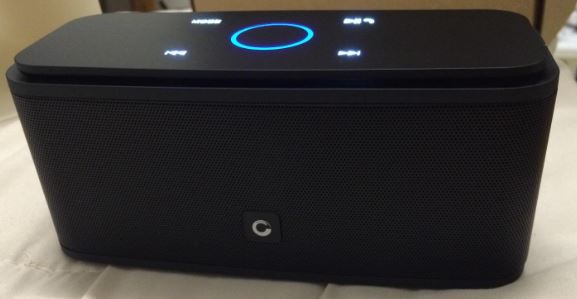 First Look
Upon opening the box, we were immediately impressed with the feel and look of the SoundBox Touch. Measuring in at 6.6 x 2.9 x 2.7 inches, it isn't necessarily the most compact speaker we've ever seen, but it feels really "solid" in your hands. Along with the speaker they've included a micro USB charging cable, male to male audio adapter, and a 3.5mm aux cable. In addition, there's a durable storage bag that gives you a great place to store it when you're not using it.
Pairing
Although the DOSS SoundBox Touch is a wireless speaker, you can use it "wired" by utilizing the included auxiliary cable. However, if you're like most, you probably want to take advantage of its Bluetooth capabilities. Supported by virtually every modern smartphone and tablet, Bluetooth needs to be "paired" in order to wirelessly communicated with your device. To complete the pairing process, simply make sure that your smartphone or tablet has Bluetooth turned on and enabled. Next, press and hold the play button. The ring on the top will begin to blink alternating colors. At this time, you should see the "DOSS Soundbox" on the list of available Bluetooth connections. Select it and you're good to go. The great part is, you only need to complete this process one time per device.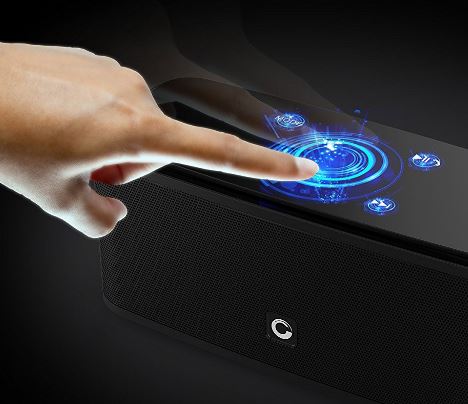 Touch Control
Located on the top is the capacitive touch control. It's a small interface that lets you play, pause or skip tracks. In the center is a small dial that offers a unique way to adjust the volume. Simply swipe your finger in a clockwise motion to turn up the volume, and counter-clockwise to turn down the volume. It's a pretty cool and innovative design, especially for such an inexpensive speaker. We found the functionality to work well and we didn't have any problems adjusting our music with it.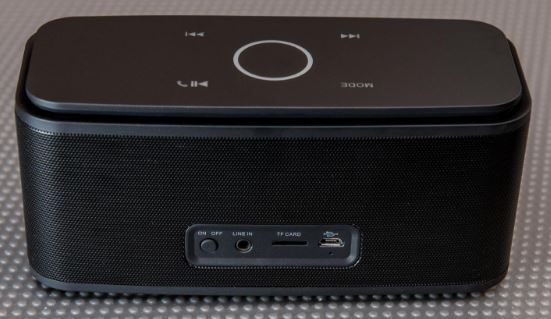 Sound
Arguably the most important and critical feature of any speaker is the sound. With the DOSS SoundBox Touch, we weren't expecting that great of audio quality, especially considering the budget-friendly price tag it has. To our surprise, the sound was quite good – MUCH better than we originally expected. Now it isn't studio quality or "audiophile grade", but we truly think it's something special for what it is.
We tested the speaker on a variety of genres and couldn't necessarily say it performed better for one than the other. All kinds of music sounded equally well, with clear tones and a decent but not too overpowering bass. In fact, the bass was probably our favorite part. While it's not adjustable, it seems to have a very nice "thump" to it. Best of all, the speaker is made solid so there isn't any rattling or distortion, even when the volume was cranked up near the limit.
Another thing. It's quite loud! We found that it really has a lot of power for its size. Inside are two 6 watt drivers that seem to work perfectly together. The manufacturer, DOSS, didn't try to fit too little of power into it. 6 watt drivers may not sound like a whole lot, but they definitely provide ample performance in our opinion. Audio is a bit tricky to convey, especially over text, but we truly feel that the overall sound performance could easily match speakers that cost over twice as much.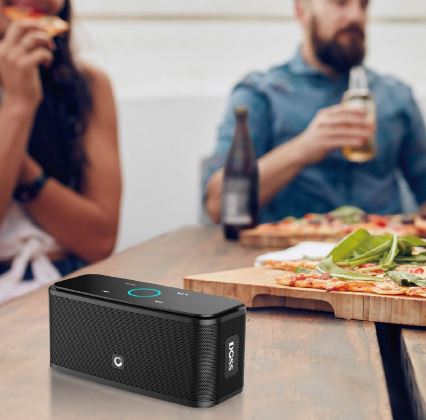 Durability
The durability of the DOSS SoundBox Touch needs to be clarified since it's currently rated as the number one outdoor speaker on Amazon. We feel that this is a little bit deceptive because our assumption is that every "outdoor" speaker should be at least water resistant. Unfortunately, the SoundBox Touch isn't rated for any amount of water resistance, so we wouldn't recommend it for any environment that could be exposed to water or splashing. We wouldn't classify it as a rugged speaker, but you could definitely use it outdoors. Fair weather would be the key – you're going to want to make sure it won't rain since. Possibly a perfect pick for sunny days.
However, as we've explained earlier, the overall build quality seems great. It feels "solid" and built well. There aren't any rattly or loose buttons or finicky parts that we could forsee becoming an issue. One quirk that we noticed is that the top panel may be easily scratched. It's a bit shiny and slicker than the exterior surrounding the body of it.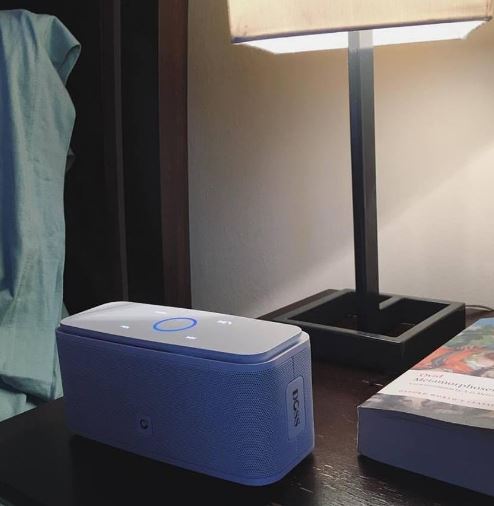 Battery Life
Inside the speaker is a 2200 mAh lithium ion battery that seems to do a great job keeping it powered and running for a long time. Although it came partially charged when it was delivered, it'll achieve a fully charged status after roughly three hours. Charging is a simple process. Just plug in the included micro USB cable and let it sit for a few hours.
Once you've fully charged it, DOSS says that you can expect 12 hours of battery life. We found this to be a little bit generous as we found 9-10 hours to be a little more realistic. A lot of different factors can affect the battery life, so everyone may experience a slight difference than this.
Disadvantages
Although the SoundBox Touch has a lot of great things going for it, there are a few things we found that could be considered disadvantages. First, we don't think that it should be classified as an outdoor speaker. It sounds awesome and it's built well, but we wouldn't ever think about using it in the rain or any poor weather. Save it for the sunny days or keep it as an indoor speaker.
Another quirk that we noticed were how obnoxious and sometimes annoying the voice prompts can be. When you're pairing it or while the battery is low, you may be bombarded with an annoying voice. It's really not that big of deal, but DOSS should have given it a bit more of a pleasing voice.
Lastly, although the touch interface on the top of the speaker is really unique and cool, it wouldn't hold up well to scratches. We highly recommend keeping it within the included protective case when you're not using it. While it won't protect it from drops or forceful trauma, the bag seems burly and is able to shed a light amount of water if you happen to expose it to some rain for a short period.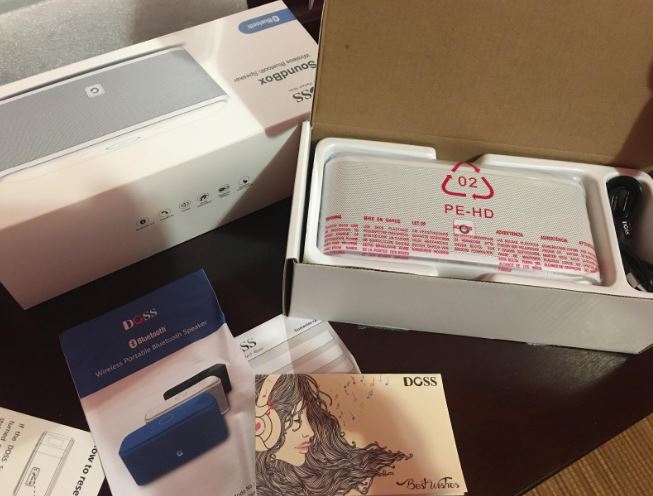 Final Thoughts
Overall we were very pleased with the DOSS SoundBox Touch. It's a solid, efficient and fully wireless speaker that sounds great and boasts a sleek and attractive appearance. Available in four different colors and at a budget-friendly price point, it's easy to see why a lot of indiviudals are gravitating towards it. The popularity seems to be continuing and it's a speaker that does well with all genres of tunes.
If you're looking for a speaker that can hold up to the outdoor environment, we recommend checking out the SoundPEATS P2. Although it doesn't sound quite as nice as the SoundBox Touch, it's less expensive and built with IP65 waterproofing, so it can surely hold up to the elements without a problem.