A growing trend in the wireless networking industry is for companies to create whole-home systems that address those pesky dead spots we all try to avoid. We've already explored some of the best whole home mesh WiFi systems, but if there is one thing we can learn about technology it's that what's considered "good" one day is old news the next. When Linksys announced their Velop system, we were excited to see what it had to offer. Linksys is one of the most respected brands in networking, and they're a brand we'd trust to improve on an already impressive system.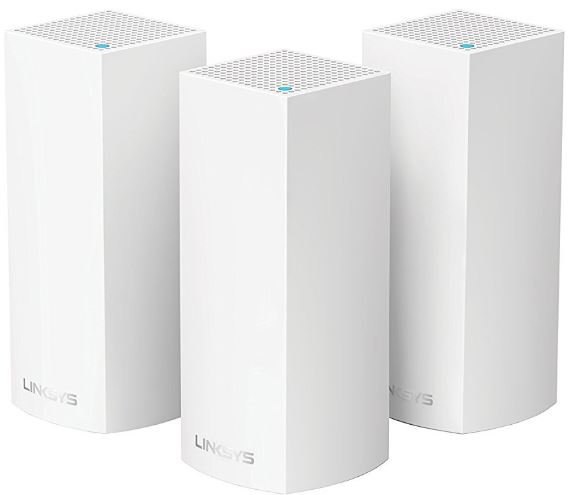 First Look
Linksys promises "edge to edge" WiFi with their latest batch of networking equipment. The Velop Whole Home Mesh WiFi System is composed of one to three stylish white pillar looking devices. In reality, each of these are their own router. Most mesh networking equipment involves a single base station to which several remote repeaters are connected. In many ways, that system is inferior to what Linksys has set up. With a base station, you're relying on a single router to control the flow of network traffic. While this works fine in ideal conditions, if your home had ideal networking conditions you wouldn't be shopping around for something like this. With separate routers spread throughout the house, each unit can act intelligently to map out your network in the most effective way possible.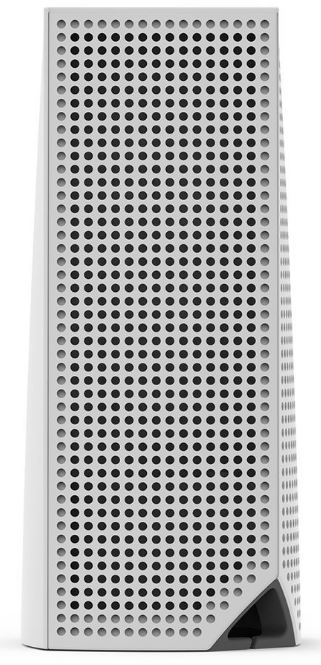 Design
The column-like appearance of the Velop is both imposing, yet subtle. It's got a very modern design that is strictly high tech. Just by looking at it you can tell it's something that purrs along quietly in the background without much user intervention necessary.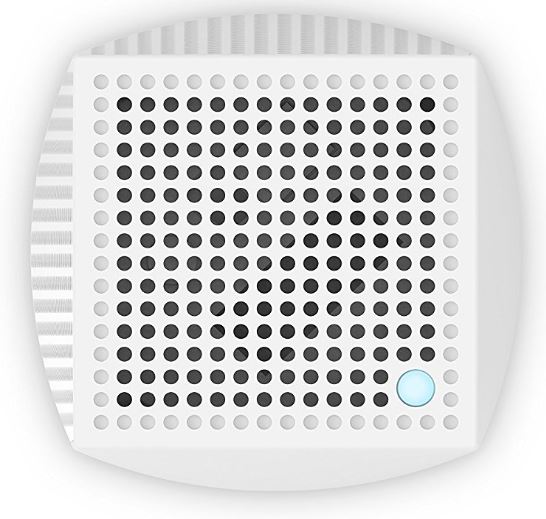 We really appreciated how they buried the less appealing visual elements of the nodes. High performance computer equipment needs to stay cool to operate well, but many manufacturers sacrifice cooling capacity in favor of good design. But the Velop places all of the cooling vents along the top and two back sides. It's very simple to face these away from your immediate surroundings, so the nodes still look good. Linksys knows that in order for networking equipment to work well, it needs to be in the areas where people tend to congregate. For this reason, they've created an attractive looking device that you won't mind having in your living room.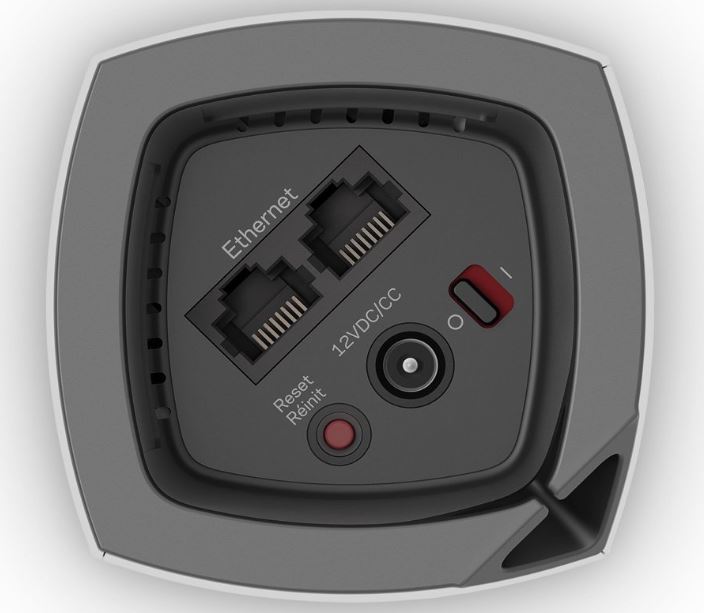 Just as they've hid the cooling, they've also buried the mess of cables that tends to appear anytime a new device shows up in your home. The dual Ethernet, power port, switch, and reset button are all located on the bottom of the device. To enable you to route your cables neatly, the corner of the node has been hollowed out, providing an easy little loop for you to send your cables through.
Coverage
One of the unique things about the Velop WiFi system is that it's designed for a range of coverage, rather than a fixed limit. With three Velop nodes you're able to get full and complete coverage in a 600-square foot home.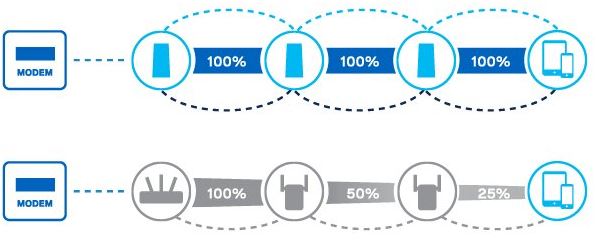 For a 2000 square foot home, you simply take a single Velop and place it in the center of the home. If you have an existing router, you can add a Velop and place it midway in between the router and any dead areas you have.
From 2000 to 4000 square feet, you can simply place two Velop nodes equally on either side of your home. The third unit can be placed near a dead spot to improve reception. With 6000 square foot and above homes, you'll need to be a little more analytical with how you place the Velops. To get maximum coverage, you should start with one, then use their free utility to find the areas that have poor reception and place one there.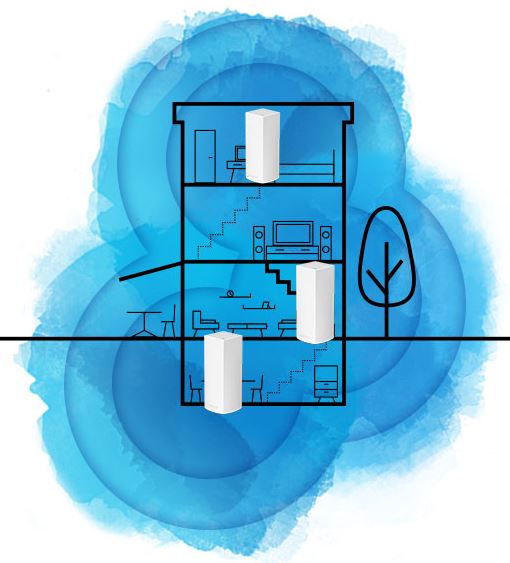 These placements are given as guidelines. Included with the unit is a manual that details more specific arrangements for multi-story homes, ranch style homes, brownstones, apartments, and modern style homes. These layouts aren't just about the physical layout of the homes, but also the types of construction materials that are used and how they affect wireless performance.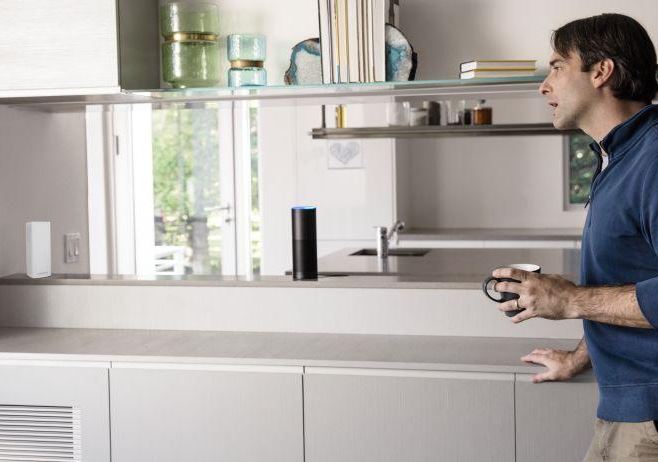 Setup
Linksys made the setup procedure both simple and intuitive. The first thing you'll want to do is download their free application. It will then walk you through the process of connecting your modem and powering on the first node. You can then use the application to choose a layout that is similar to your home. The app will then recommend ideal placement. Once all the nodes are in place, the app will test the signal strength to each one and recommend any changes necessary. We tested it in a fairly large house, and the setup only took a matter of minutes. Chances are, you'll never need to make adjustments when in place. We'd guess that this part of the software was developed only for people with very large homes, or tricky wireless areas.
Bandwidth
We all know that you can't rely on manufacturer specifications, and it appears that Linksys is catching on. They haven't published any hard numbers of what this system is capable of, so we had to find out for ourselves.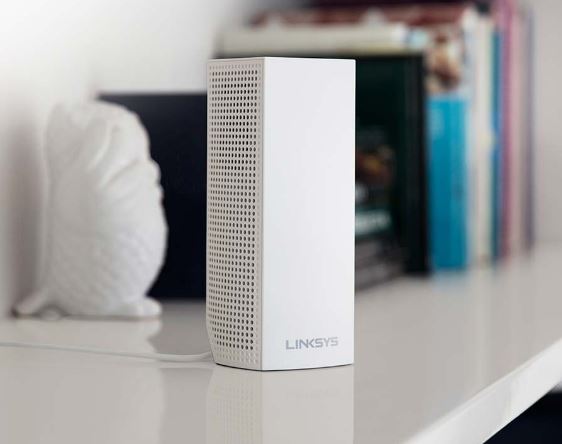 The first test involved just a single Velop. With our laptop located about 10 feet from the node, we achieved throughput of 486.5 megabits per second. 37 feet from the node we saw speeds of 195 megabits per second. The toughest test of them all was in the basement on the opposite side of the house. After travelling through multiple stories, concrete, and several walls, our maximum bandwidth was 25 megabits per second. While this last number isn't particularly impressive, this is with us just using a single node. Based on these tests, we can determine that each node can provide a lightening fast connection up to 40 feet in either direction. Based on these tests, we'd want two Velop's to get good coverage in our home. With three, we'd likely have no dead spots at all.
Software
The Velop isn't just a router, it's got several key features that can keep your network secure. For families, you'll want to take a look at the parental controls. This allows you to set device specific restrictions that prevent your children from searching for content they shouldn't be, or time restrictions preventing them from using the internet late at night.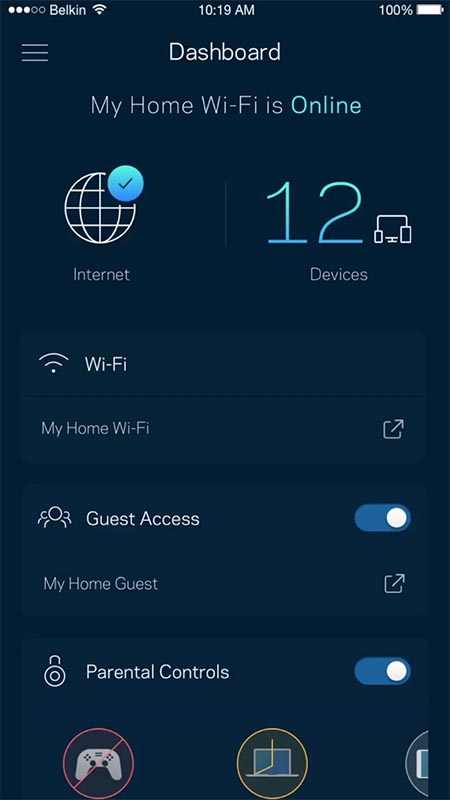 You also have access to several performance enhancing tools that let you give certain devices bandwidth priority. If you're having connectivity issues, you can take the speed test for a spin or try out the autofix software, which is able to correct most simple issues with the touch of a button.
Disadvantages
Although this is a very powerful home WiFi system, it's ideal for those that use their network primarily for internet. If you're sharing files locally, it doesn't offer the 300 megabit performance you'd get with a high end router like the Netgear Nighthawk X10.
Is the Linksys Velop Right for Me?
Before you purchase, you'll want to consider your internet speed. The Linksys Velop is a great whole-home WiFi system if you're using 100 megabit or less internet. Since very few connections are faster than this, we think that it will meet the needs of most consumers. But if you're looking for the peak of networking technology, this isn't it.
We think it's important to consider how something can be used. It's easy to get caught up in analysis paralysis, and spend your time trying to buy a device with the best-looking numbers instead of considering how specifications will actually impact your use. Even if 400 megabits is the upper limit for what this router is capable of, how often do you actually transfer files at that speed? Unless you're one of the lucky few with a gigabit internet connection, it's unlikely that you ever do. Bandwidth might not be the strongest point of the Velop, but it's got a lot more to offer.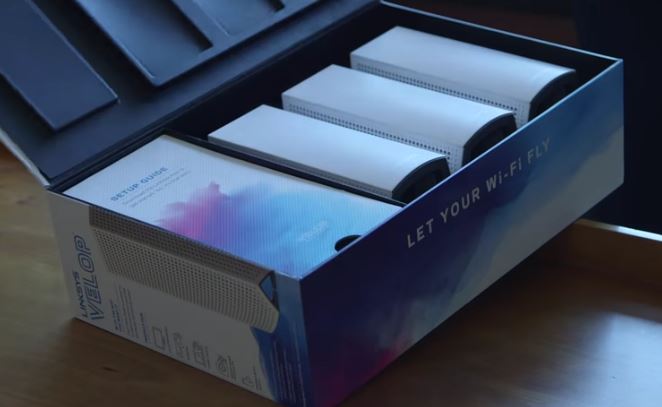 Where the Velop excels is ease of use. Things that are normally quite complicated only require a few clicks through their simple online interface. For this reason, we'd recommend the Velop to anyone who's struggled to get a good internet connection in their home, but doesn't have the time or technical know-how to set up a unique high end network.
If you're more of a techy, you might want to explore other options. In our guide to the best whole home mesh WiFi system we found that Google's own offering was a little more utilitarian in approach, making it perfect for those of you who like to get into the nuts and bolts of things. If you're more into the design of something, the Plume WiFi pods are some of the most attractive mesh networking equipment we've come across.