When looking for a good quality wireless Bluetooth speaker, there are a few major factors to keep in mind when deciding which is best for your everyday lifestyle. Durability, long lasting battery, and quality of sound, as well as bass are all important things that we look for when making a new purchase.
The SoundPEATS P2 was a pleasant surprise considering the size, and overall performance was pretty impressive. Presented with a more sporty design, the small size of the speaker makes it easily portable, and able to bring with you wherever you would like. It also has a more boxy shape that makes it a little bulkier, but very easy to find a stable place to put it down and not have to worry about it rolling around, or falling down.
SoundPEATS sent us the P2 in exchange for an honest review – let's start with a few things that really stuck out to us!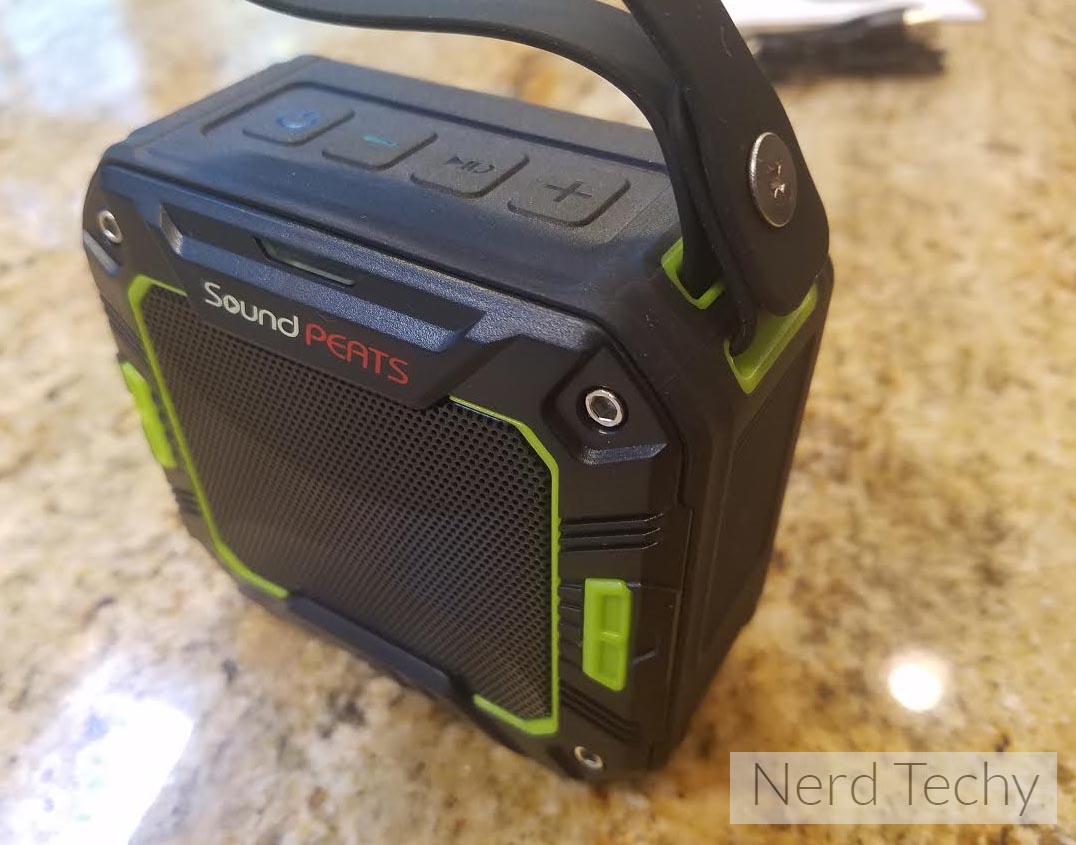 Powerful Sound & Bass
The very first thing that impressed us upon turning the P2 on for the first time is that it has really nice crisp, and clear audio. The sound was strong, the bass powerful, and did we mention that this little speaker gets loud – really remarkably loud. We haven't found many portable Bluetooth speakers that get as powerful as this little guy does, but still have the ability to produce a clear audio experience.
The bass creates some really nice dynamics, and adds an extra little oomph to really push the experience when watching movies, as well as when you're listening to your favorite music. SoundPEATS really knocked this one out of the park if you're looking for a speaker that has the ability to produce some intense, high quality sound.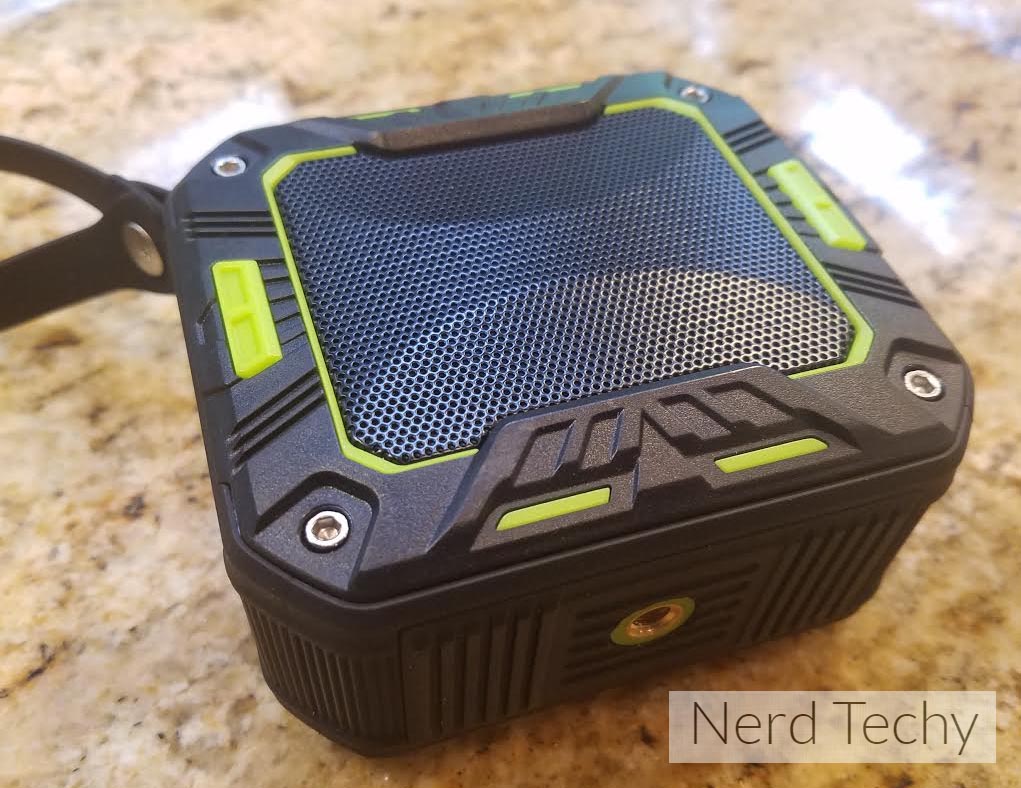 Wireless
The P2 is equipped with the best technology that gives you the opportunity to connect seamlessly via Bluetooth – the hi-fi system and A2DP1.2 technology makes it capable of connecting up to 10 meters or 33 feet away. This means you never have to worry about the inconvenience of a cord, and gives it the range that you need to use it during whatever activity you like.
Another great feature of the SoundPeats P2 is that since it was built durable, and with the ability to connect via Bluetooth to any smart device – it opens up the multiple ways that you could possibly benefit from using it.
Not only is it for watching movies on a tablet to get better sound quality, and a more realistic viewing experience – you can also use it for things like listening to music, podcasts, or staying up to date on the news while you're biking, hiking, fishing, or even rock climbing at your local crag! It connects fairly easy with most smart devices ranging from Ipads and Iphones, to most Samsung devices!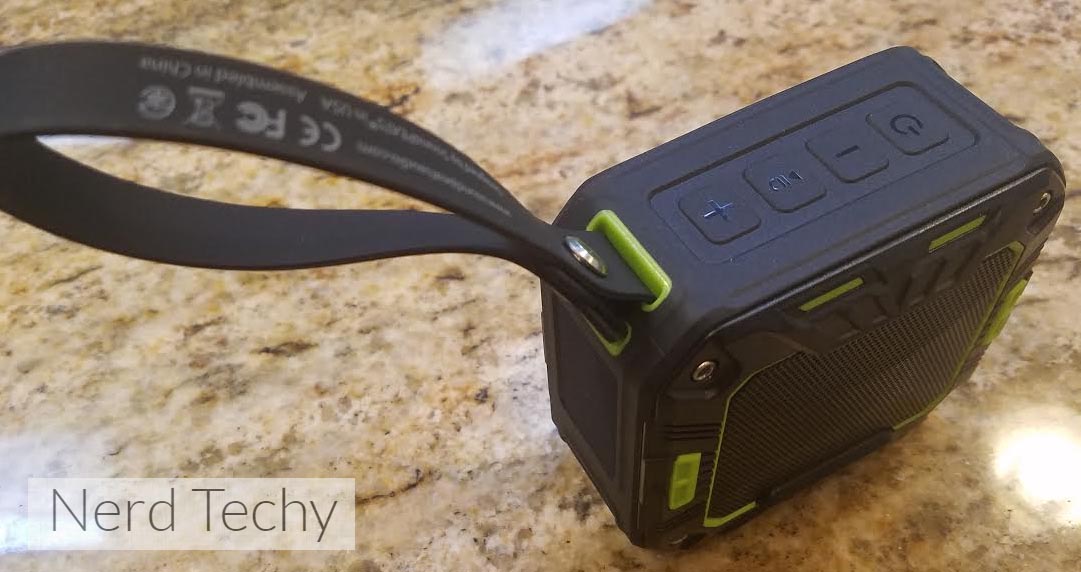 Battery
The 2000 mAh Li-Ion rechargeable battery gives you the ability to watch movies or listen to music for hours at a time, without having to worry about consistently recharging. Upon the first time receiving it – it is important to give your speaker a good full charge. With most Li-Ion batteries the first charge is the most important and sets the life of the battery. We usually suggest about 8 hours or so.
Every time after that initial charge, charge it for 2-3 hours, and you should be set for a full 10 hours of play time. If you don't plan on using the P2 for an extended period of time (ie. weeks or months), make sure to give it a full charge every 3 months to keep the battery in good working order.
The speaker plugs in USB to charge – which is rather convenient for the fact that it actually takes a significant shorter amount of time for you to get a full charge, and makes it easier to charge wherever you may be. Especially if you are on the go, or an emergency comes up and you need it quickly.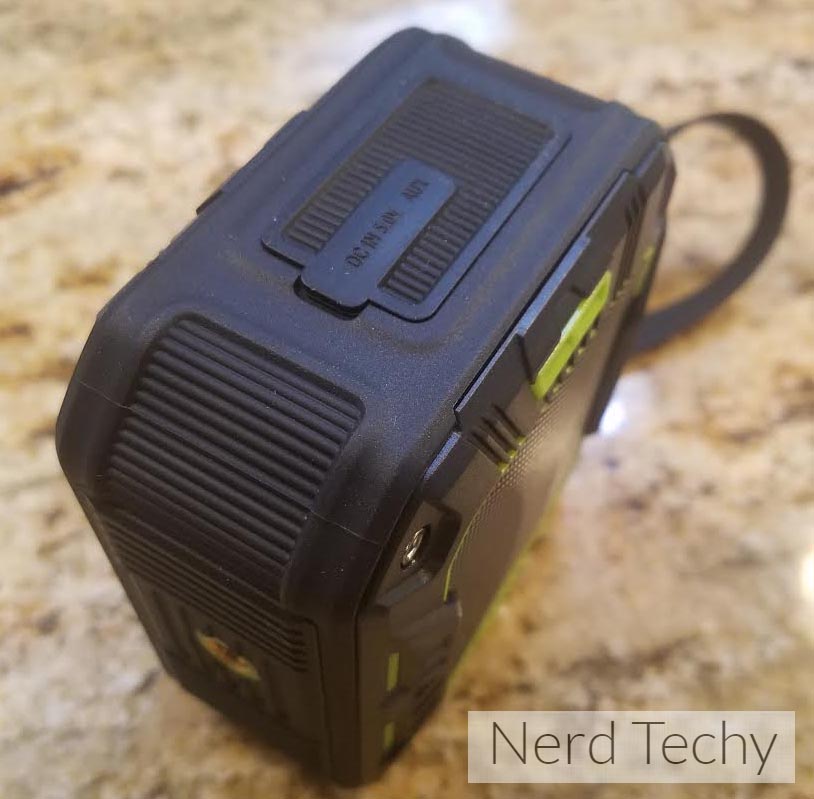 Built in Microphone
The built in microphone makes it easy to transition from watching movies, or listening to music – to answering a phone call. We understand how important it is to stay connected when you're relaxing at home, fishing with friends, or even out riding your bike. The built in microphone creates a seamless transition so that no matter what you're doing (as long as your phone is connected to your SoundPEATS P2) you can still answer and have a conversation through the speaker, then when it's done disconnect, and continue with whatever you were doing beforehand – this way you never have to feel disconnected no matter what the occasion.
Features
Incredibly powerful – strong bass, and highest volume levels are impressive.
Extremely durable – meant to be used during anything from biking, outdoor sports, traveling, camping, fishing – to pool parties, watching movies, listening to music at home or the gym
Built to withstand some abuse, so that you can listen to music whenever you want it!
Built in microphone benefits you by making it easy to stay in the loop even when listening to music on the go, or just watching a movie at home.
Crisp and clear audio experience, even on the higher volume levels.
Long lasting battery that stays charged for up to 10 hours of playtime.
Water Resistant IP65 – We wouldn't suggest submerging it in a bathtub, but its great for the shower, or a pool party – even if it gets splashed quite a bit.
One Year Worry-Free Warranty!
Wireless – no longer having to worry about plugging it in to the device. Seamless Bluetooth connection makes it easy to bring your speaker with you just about anywhere, and connects up to 30 feets or 10 meters away!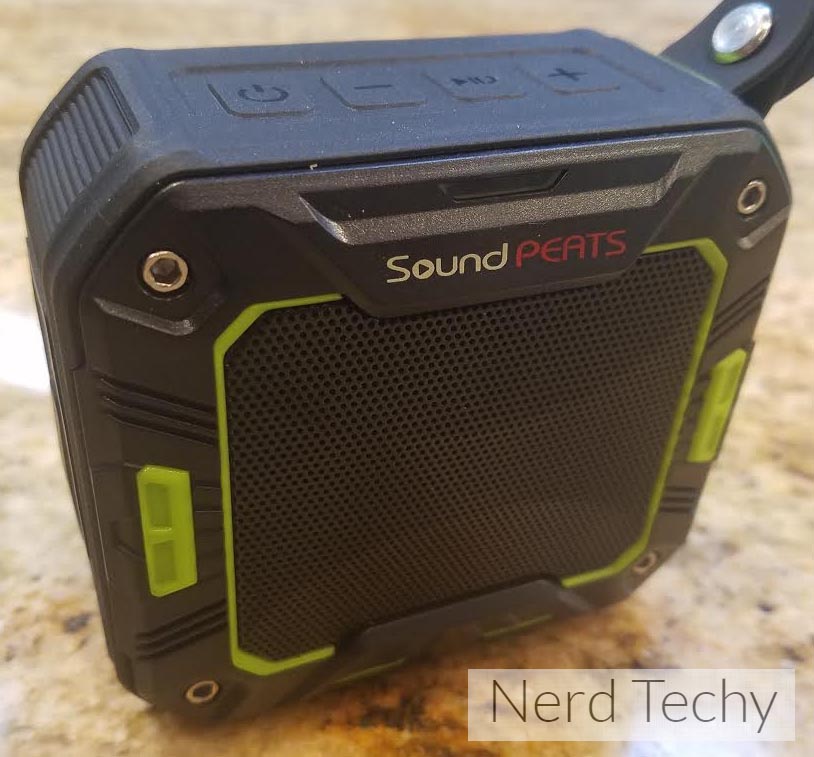 Pairing With Your Device
Pairing your SoundPEATS P2 with your device is simple and should be fairly quick to do. After charging up your speaker for the first time (8 hours or so) hold down the power button to turn it on. After you turn it on, it should automatically pop up on your device in your settings, under Bluetooth as P2. Click the P2 on your device (phone, tablet, etc) under the Bluetooth settings to finish pairing your speaker to the device. Once that is finished your P2 should state that it is now paired and you should be ready to go!
Your speaker will come with a user manual that will explain in more detail about pairing to your device. Like we said it should be fairly simple, and shouldn't take much time. If you are having issues with it not popping up in your Bluetooth settings it could be as easy as just restarting your phone, and then trying again by turning your speaker off and then back on so that it can start the pairing process again.
What's in the Box
SoundPEATS P2 Outdoor IP65 Water Resistant Wireless Bluetooth Speaker
Attached Rubberized Band that can be used for hanging your wireless speaker wherever you may need.
User Manual
USB Charging Cable
3.5MM Audio Cable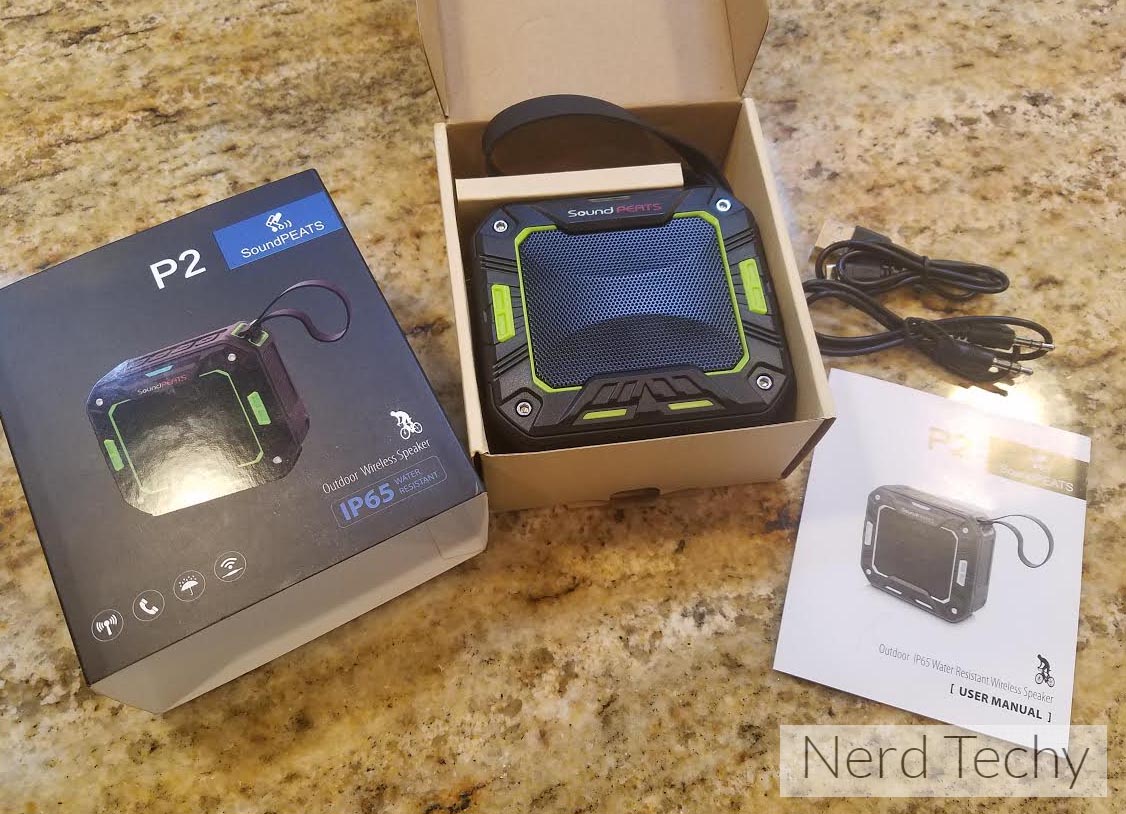 Final Thoughts
The SoundPEATS P2 Outdoor Bluetooth Speaker was fun to review for the fact that it was small, portable, but didn't skimp out – creating a lot of power when it comes to volume and bass. Although a little bulkier than other speakers, the durability and hard exterior was designed for ultimate use wherever you may want to bring it.
Although fun for pool parties, listening to music at the gym, and watching movies – we believe you can get the ultimate use from this speaker even when biking, climbing, hiking, fishing – just about anywhere your heart desires. The sound quality is impressive, its fast charging, and we were really excited about the possibilities when it comes to this compact Bluetooth speaker! If you're looking for a durable, portable speaker that won't let you down – the SoundPEATS P2 is definitely one to keep in mind.