The home security camera industry has made steady progress over the past couple of decades, and recently has begun producing new and inventive solutions to everyday problems, even expanding out into unexpected areas.
We all know how much of a bother it can be to try to make it home for an expected package, or what it's like to miss communicating with somebody who's stopped by our home to deliver an important message or leave a gift.
It's impossible to communicate with a mail carrier or somebody who doesn't have your phone number in this situation, without physically being there or having some tool to provide this for you, which was the main inspiration for the new Zmodo Torch Pro.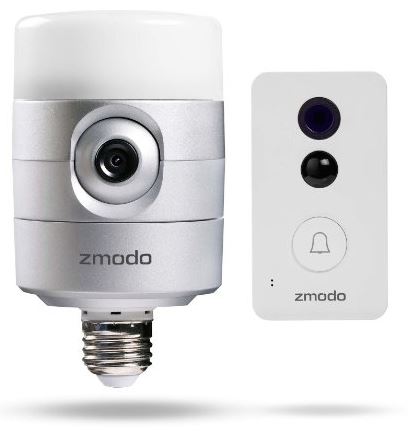 Looking at common light fixtures available on just about any house, Zmodo decided to introduce a smart door light and doorbell system that will both enhance the look of our home with a flare of originality, and make our daily lives easier and more productive.
We'll explain this in a moment, however in doing our due diligence, the following list of features will make clear what the true benefits of such an idea are:
Two way audio system for communication with people who've arrived at your home.
Constant live video stream access for free.
Easy installation and operation.
Zmodo app with integrated functionality.
Custom color choices for door light activation.
We're going to cover each of these features in detail and answer any questions you may have about the performance and ease of use of this door light and connected doorbell. We're also going to go over its inherent appearance qualities, so that you have an accurate view of its true value.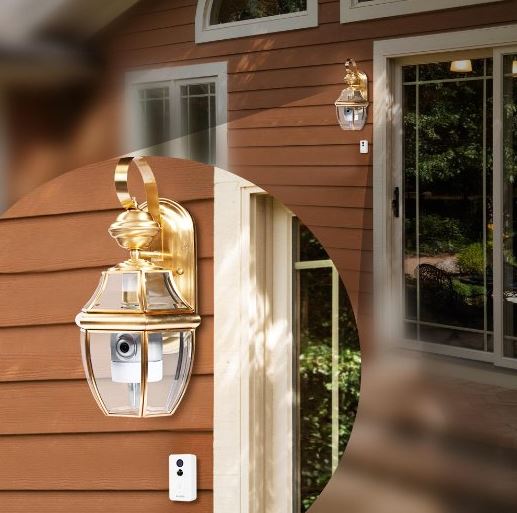 Since safety, durability and price are important as well you'll also find an in-depth analysis on these qualities.
Ingeniously Simple Setup
Typically, a home doorbell system requires a considerable amount of setup including hours of work as well as electrical tools and knowledge. With the advanced features supported by Torch Pro, you'd expect that it'd be even more complex. Conversely, setup is actually quick and easy as the door light featuring the high definition camera fits directly in your existing light fixture with any standard E26 socket.
This ease of use is further complemented by the fact that it uses your light fixture for electrical power, so that you don't have to rely on a battery or connect it to your home wiring. The doorbell unit featuring a two way audio system is equally easy to install. There are two wires connected to your existing doorbell, so all you have to do is unscrew and remove it, connect those two wires to Torch Pro's connected doorbell unit, screw it in and you're ready to go within minutes.
High Definition Motion Sensing Camera
High definition cameras alone are not impressive within the home security camera niche especially. In order to provide an effective solution for you, the video quality must be consistent and clear, otherwise it's more of a hassle than it's worth.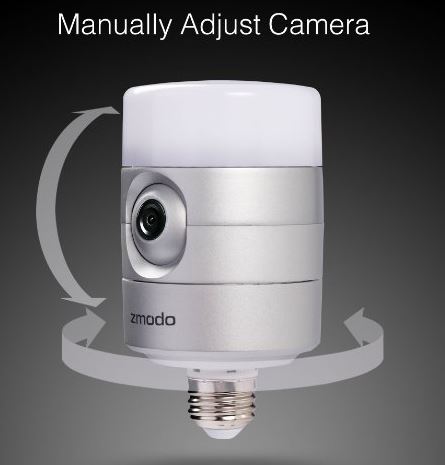 The Torch Pro has an integrated camera that's capable of producing 720p high definition video so that you can clearly see the face of the person that you're talking with. It also lets you view your home's surroundings with sharp and defined quality while capturing at a frame rate of 25 frames per second. It's useful for interacting with unexpected visitors and family members, however in terms of security it also means that when you capture an intruder on camera, you'll have a greater chance at capturing important details that can lead to the solution of a crime.
Viewing in the dark is accounted for as well with a night vision feature that activates automatically when there isn't enough light, making it effective in low light environments.
Its field of view is actually quite decent as well, with an angle of 105 degrees it covers your front porch as well as a good portion of your front yard.
On top of these features, the camera also provides motion sensing notification capabilities that can discern a person's movement and position relative to your doorway. It can even send you an alert with a snapshot of the person's face. This is effective at up to 10 feet away and will automatically remove the influence of infrared light that can lead to false alarms.
24/7 Wireless Smart Phone Access and 2-Way Audio System
One of the inherent benefits of a smart doorbell system is that when you're not at home, you can still talk to people who show up at your door, and even access this information remotely.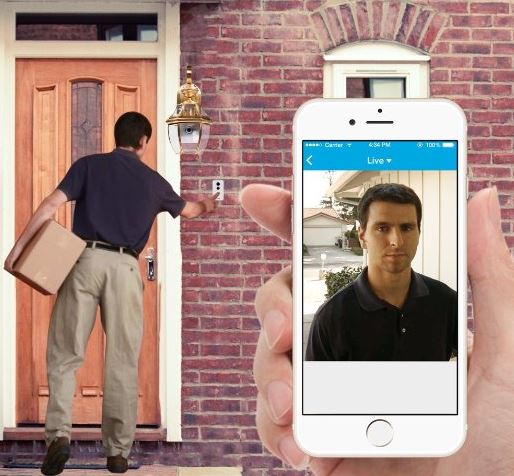 Since the door light and connected doorbell aren't attached by means of a cable, they're both WiFi enabled which allows them to connect to each other instantly via your home's wireless router.
For safety and performance purposes you're required to have a high speed wireless internet connection, as well as password protection with WPA or WPA2 encryption, however most routers come standard with these capabilities.
The functionality extends directly to any iOS or Android device, providing a great range of compatibility if you own an Apple or Android smart phone or tablet, with the free Zmodo App.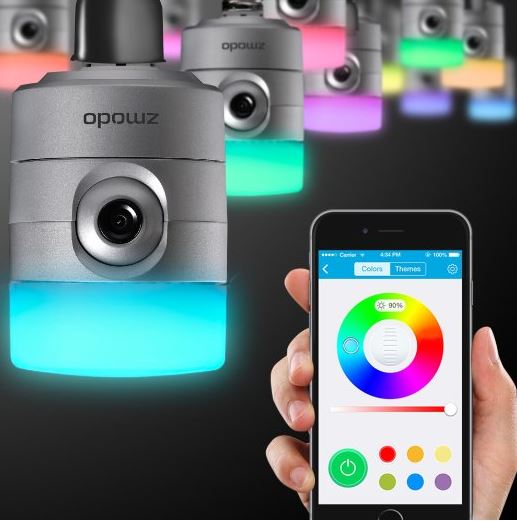 Among its complete list of features, the Zmodo App will allow you to create specific schedules for how and when you'd like to be notified. It also gives you the option to make color and lighting selections for the door light, even selecting custom colors and a memory of up to 6 preset colors to create an original display based on the time of day.
There's a microphone and speaker system built into the connected doorbell so that you not only have constant access to live video stream, but can communicate back and forth with visitors.
You can also share access to your device including audio and video with friends and members of your family in case you're not available and would like somebody to be able to respond when you're expecting a visitor and nobody's home.
Optional Security Services
With all of this high tech functionality, there are some security opportunities that you can take full advantage of with the Zmodo Torch Pro to complement your current security system.
As an optional service that you must pay for, you can record all video and audio interactions and save them to Zmodo's cloud. This way, if a break in or other crime occurs, you'll have secure access to the footage in a remote location. The benefits to this is that nobody can tamper with or remove your recordings, as it's stored on a digital cloud service. Since each home has different needs depending on the area that you live in or your economic situation, Zmodo offers different plans to choose from, with data and coverage that works for you.
Considering that you receive automatic notifications for free, and set them to send immediately or at specific times, there is an element of security in that you can ward off intruders by alerting them to your presence and awareness.
Strong, Weatherproof Design
As with any outdoor security device, durability is an important aspect and even though a door light and doorbell don't deal with a lot of wear and tear, they're often exposed to the elements of temperature and ever-changing weather.
The Torch Pro is built for indoor and outdoor use and is especially durable in lower temperatures, as the entire system is rated for temperatures between 14 and 122 degrees Fahrenheit. This is an excellent temperature range for most climates considering how much use you'll get out of it right out of the box without any required maintenance.
As for the integrated light, it provides high durability with an LED that outputs 350 lumens of brightness, at a 5000K color temperature, with a lifespan of 100,000 hours.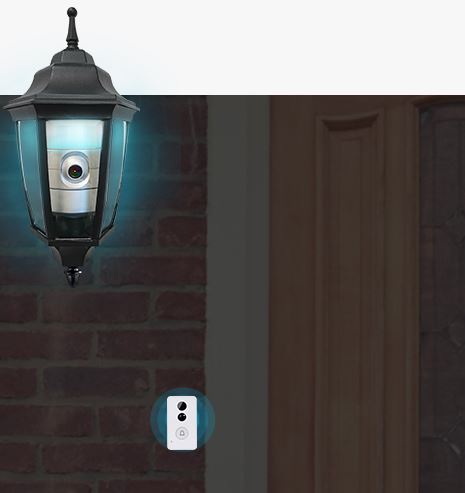 Conclusion
For a full front porch solution, the Zmodo Torch Pro is a worthy consideration for those looking to improve the security and safety of their front porch.
Although the camera is only capable of capturing 720p footage rather than 1080p, it still provides more than enough resolution and clarity to make for an effective all-in-one front door security solution. At first glance you can tell that it's built to last and provide high performance and uses in many everyday situations, designed specifically to make your life easier while offering improved security as well.
You may not wish to purchase a cloud service and use it as a dedicated security system, however depending on your schedule and availability, you won't necessarily need to in order to take advantage of the added security of its core features.
There are actually many home security camera devices and two way audio systems available, but too many of them don't provide the performance and durability of the Torch Pro. Additionally, the simple appearance quality of the door light shouldn't be taken for granted, as it provides beautiful, customizable light that will allow you to create the perfect atmosphere for your home.