Bluetooth headphones have become a hot topic among audio aficionados as well as everyday people wishing to enjoy their music wirelessly with excellent sound with plenty of ease of use, whether at home or on the go.
The reason for such interest is that too often, advanced features are desired by consumers, but due to quality constraints, are either underwhelming or unavailable to the mass market, leading to a huge variety of differences between the different headphones available.
Note: At no extra cost to you, we may earn a commission for purchases using our links. Learn more.
One major determiner of value is compatibility with your favorite portable devices, as well as always having a fast and stable connection to enjoy your music with minimal or no distortion. Also, the drivers themselves and integrated software need to provide realistic, true-to-life three dimensional sound.
Recently, the popular headphone manufacturer Audio-Technica released their latest set of Bluetooth headphones, the ATH-SR5BT. We had the opportunity to check them out for ourselves to see if they delivered all that they promise. But first, we need to clarify what makes a pair of wireless headphones worthwhile. The following are a few important considerations:
Audio Driver Size
Convenience and Performance of Included Microphone
Ease of Use Controls
Bluetooth Connection Quality and Compatibility
Battery Charge and Lifespan
Range of Wireless Access
In this review of the Audio-Technica ATH-SR5BT Bluetooth Headphones, we'll be discussing each of its integrated features to rate it on desirability and reliability. We'll also provide an in-depth analysis on its quality in the areas of performance, ease of use and durability.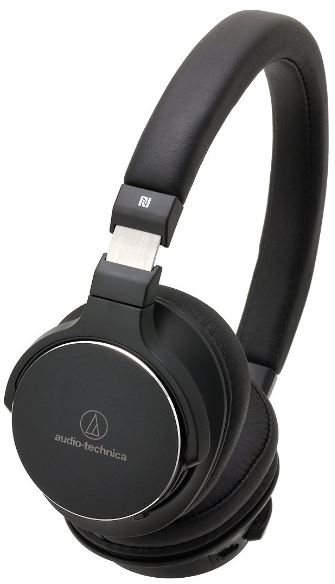 Additionally, we'll be including its overall value in price and appearance to provide a complete analysis, and allow you to decide conclusively whether or not this headset is a perfect match for you.
Bluetooth Technology with Near Field Communication
Wireless headphones offer a variety of benefits, including greater ease of use and the ability to connect to a wide range of audio devices without requiring a cable, however its usefulness depends entirely on the type of technology that's used.
The Audio-Technica ATH-SR5BT uses Bluetooth with a profile coverage of A2DP, AVRCP, HFP and HSP technology, meaning that it can transmit and receive stereo audio data and interface with AV equipment and other wireless devices, as well as make phone calls.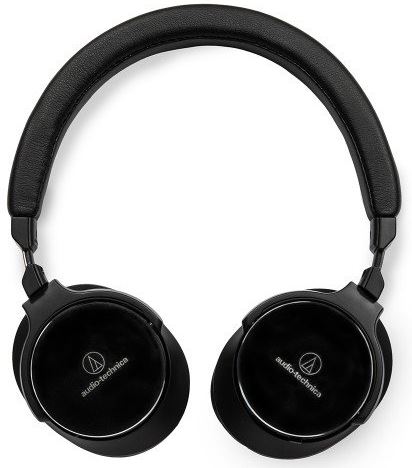 It's fully compatible with virtually all smart devices, including Android smart phones and tablets with use of Near Field Communication Technology, which allows you to connect and pair your devices instantly. It even has memory functionality built into it as well, so that it can remember up to 8 Bluetooth wireless devices for quick, easy connection without annoying protocols. There's also an N-Mark located on the headset so that you can simply wave your Android device over it, and you're connected automatically.
In terms of wireless range, it offers complete Bluetooth connection at a distance of up to 33 feet, making it effective in an immense variety of situations, including roaming around your home, working out at the gym, or hanging out in your yard.
Integrated Omnidirectional Microphone
Having a microphone in your headset is not only a benefit to gamers, but also people who'd like to accept calls while they're listening to music at the gym or watching movies at home. The challenge with this is that they're easily damaged and often times get in the way, making a headset less comfortable to use and durable. Audio-Technica overcomes this rather ingeniously by designing it with a mic hidden in the ear cup.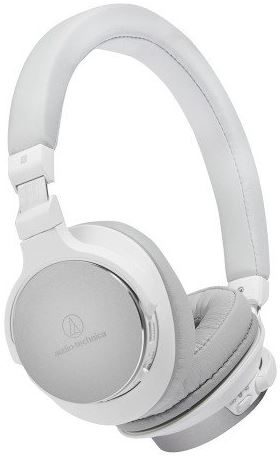 In terms of performance, the microphone receives the sounds of the person speaking and enables the person on the other end of the phone call to hear them. It's also completely omnidirectional so that it can receive the sound of your voice clearly, whether you're whispering or speaking at higher volume, making it especially valuable for making phone calls.
It's built with a frequency response range of 50 to 4,000 Hz and a sensitivity of around -44dB so that if you're speaking loudly it likely won't distort your voice at all, and always produce high quality audio reproduction as well.
Controls Built into the Ear Cup
If you're gaming, or just casually listening to music on your way to school or work, it's important to be able to change your headset's settings easily. This is typically made quite difficult with most wireless headphones, as the controls are usually conveniently placed on the cable with wired headsets. The Audio-Technica ATH-SR5BT actually offers advantages in this area with controls built right onto the ear cup.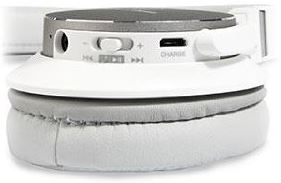 Included are built-in control switches for the microphone and speaker audio so you can freely adjust on the fly. Although there aren't equalization settings or other advanced controls, you can mute and change the volume levels very quickly and easily.
45 Millimeter Sound Drivers
The main performance feature of any quality pair of headphones is and always has been the quality of sound that their speakers can achieve. Despite all of its advanced wireless and innovative features, Audio-Technica has clearly not forgotten that with the new ATH-SR5BT.
The driver size in each ear cup is 45 millimeters, and while other headsets within its price range do sometimes have larger drivers, they're still plenty capable, no matter your specific listening demands.
For starters, they have a frequency response rate of between 5 and 40,000 Hz, which is plenty of range for both deep bass and other low frequency ambient sounds, as well as loud, hard driving higher frequency tones. This also means that with lossless audio file formats and higher data transfer speeds, the drivers are fully capable of producing the high resolution sounds that mimic the original recording much better. Additionally, the closed back ear cup design also contributes to the headphones' ability to isolate outside sounds and enable high-resolution audio detail to be more clearly heard.
Being a closed-back dynamic headset means that you get stronger bass and more prominent high quality sound in terms of volume, since there's less ambient noise from outside the ear cups, as well as less sound escaping from within. The result is a more exclusive sound stage that appears to be produced within you head. Although it dampens the effect of a natural speaker sound, you get greater bass and require less volume, which can ultimately save your hearing in the long run.
Battery with 38 Hours of Continuous Use
Another critical challenge with most wireless headphones, especially those using Bluetooth, is the time it takes to charge the battery, to where those that require at least a couple hours of use get fed up with frequent charging requirements.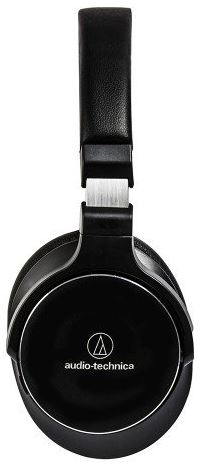 The ATH-SR5BT has two big advantages in this area with a lithium polymer battery that holds a standby charge of up to 1,000 hours, and also offers 38 hours of continuous use. This is an enormous increase compared to the competition. That being said, headsets and wireless headphones that are made specifically for high-end audio do often include some advanced technology like 3D sound that notoriously drains the battery faster. However, the ATH-SR5BT is a clear winner in this area with far superior battery performance and the same high-end features.
Two Cables Included
As mentioned previously, the 45 millimeter drivers offer a frequency response rate of up to 40,000 Hz, however when using a Bluetooth connection, its frequency response does not extend to 40,000 Hz. The actual frequencies that listeners will hear will depend on the source material and whether the headphones are used in wired or wireless mode.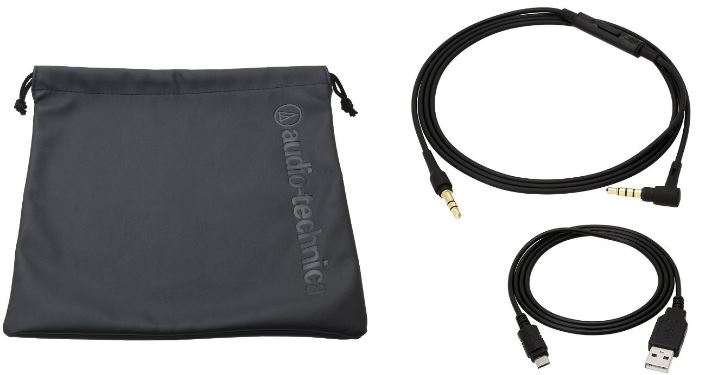 By using the connection cable that's nearly 4 feet long (1.2 meters), it allows you to achieve the full 5 to 40,000 Hz frequency response rate for true high resolution sound. This also means that you'll have access to your headphones in areas where the use of Bluetooth is prohibited, as well as when the battery doesn't have enough charge to activate a wireless connection.
In terms of charging, a 1 meter USB charging cable is also included to keep the internal battery at a hefty capacity when you need it most.
Memory Foam Ear Cups and Appearance Features
To some, comfort is roughly as important as performance with any pair of Bluetooth headphones, and often can mean the difference between a solid value and gimmicky features.
The ATH-SR5BT caters to this quality with soft memory foam cushions on the ear cups and headband that will actually mold themselves to the shape of your head and ears, giving you a very personalized experience that tends to "fit like a glove."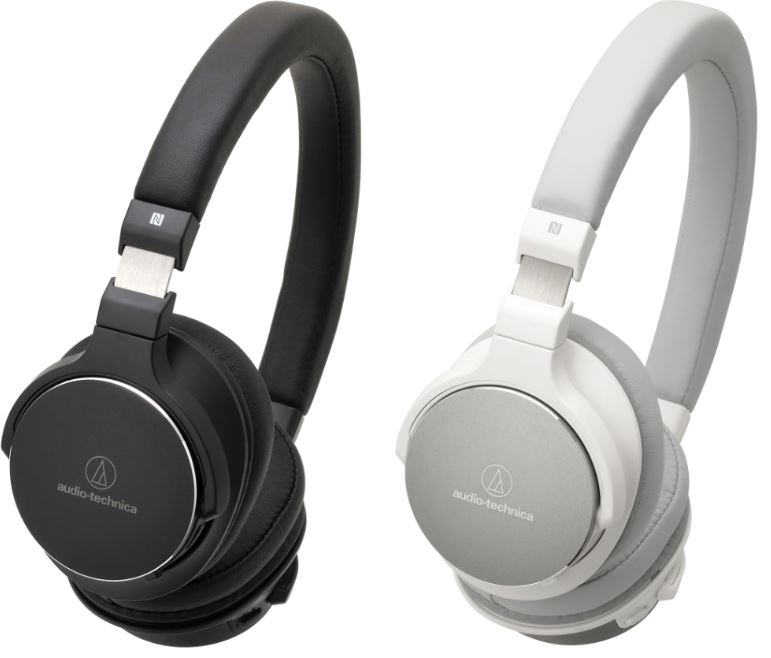 We've already covered much in terms of ease of use as well, however its appearance features are worth mentioning. The color options are a basic layout of black or white which actually complement its soft edges and contemporary look, and include the Audio-Technica logo and a metallic bar to extend the ear cups for a larger or smaller fit.
There's also an LED indicator within the ear cups that's quite easy to see. It tells you the status of your wireless connection, your current battery level and whether or not your headset is charging.
Conclusion
Overall, the Audio-Technica ATH-SR5BT Bluetooth Headphones have much to offer in the areas of performance, with some solid and unique features that make it particularly valuable for its class.
The drivers are capable of achieving stunning high resolution sound, and with a Bluetooth connection range of 33 feet, you're given access to a decent frequency response range as well as the ability to move and roam freely as you use them. However, please keep in mind that high resolution can only be achieved with the supplied cable. You'll need to have it physically connected as high resolution sound isn't available through Bluetooth.
Its integrated lithium polymer battery truly delivers above expectations with a standby charge of up to 1,000 hours and easy USB charging, which is further complemented by the ability to use it during its 4 hour charge time with the included cable connected.
Additionally, packaged in with every ATH-SR5BT is a carrying case to keep it in good working order when you bring it with you wherever you go. It's an added bonus that assures long lasting performance for years to come. Plus, from the time of purchase, you're covered by a 2 year warranty that assures they'll still provide as much enjoyment 24 months in the future as they did the first time you used them.
Please consider sharing:
Note: At no extra cost to you, we may earn a commission for purchases using our links. Learn more.