Everyone loves getting gifts, but going gift shopping isn't always so easy. There's always that one person who is impossible to buy for; that person who doesn't seem to have any hobbies and interests. Cash is always an option, but handing someone a $20 bill feels so impersonal. What do you get for someone who doesn't seem to want or need anything? Photos make great gifts for tough customers. That's why we always print out about 1000 family Christmas photos and hand one out to everyone we meet. Nothing says "Merry Christmas" like receiving a family photograph from someone you've never met. Sometimes we even give our mailman two copies. You should see the smile our simple gesture brings to his face. The rest of our family refers to the expression as a grimace, but we like to think that it's simply physically painful when you smile so big.
Bringing joy to hundreds upon hundreds of people isn't cheap. If you print out 1000 prints at your local Walmart, it can cost you over $200 annually. We like making people smile, but we don't like it that much. That is why having a quality home printer is important. Nothing too crazy. Just a consistent and decently quick piece of machinery. Not only does it save you money in the long run, but it minimizes the chances that your good luck Santa-themed booty shorts show up on People of Walmart. If we've said it once, we've said it a thousand times, "Holiday-themed daisy dukes are only appropriate at Target!"
Save everyone the stress and check out the HP Envy Photo 7155, the newest all-in-one entry to the HP's Envy line of printers. The 7155 is the less expensive younger sister of the HP Envy 7855, a premium model which prints slightly faster and features an automatic document feeder. Will you be missing out? It all depends, but probably not.
An automatic document feeder is a great addition for people who are making lots of copies or scanning lots of documents as it allows for multiple pages to be fed into the scanner at one time. Scanning multiple documents one page at a time can become tedious. Is the automatic document feeder something you'll miss? Probably not. It's mostly a luxury, and the cheaper price tag is well worth the loss for people on a tight budget. The feeder also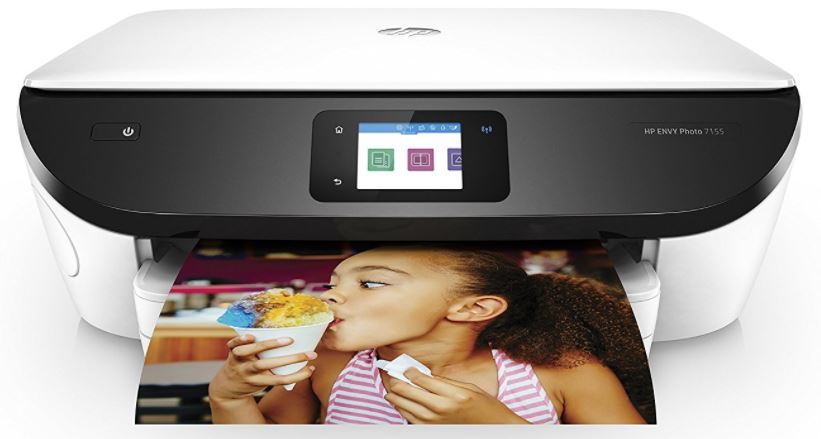 Design
The Envy 7155 is an attractive little printer. The Envy line has always been more pleasing to the eye than other consumer models. The 7155 doesn't feature any sharp edges. The curvy form factor gives the printer a softer feel when compared to the rigid hard angles of many other all-in-one printers. The printer features a two-toned finish, with a gunmetal colored display panel and a slick, soft, almost satin-like white plastic lid. The contrast of the two tones makes the printer feel like a cohesive part of a modern office design.
The 7155 measures 6.3 inches by 17.9 inches by 16 inches and weighs 14.3 lbs. So, while the printer is by no means a tiny machine, it is smaller than many of its competitors. When compared to the Envy 7855, which features the automatic document feeder, the 7155 seems like a lightweight. The 7885 is almost three pounds heavier and it adds several inches to the height and length. There are several models in the price range that are smaller, but none of them are sleekly designed. The curved corners make the 7155 feel significantly daintier than it is.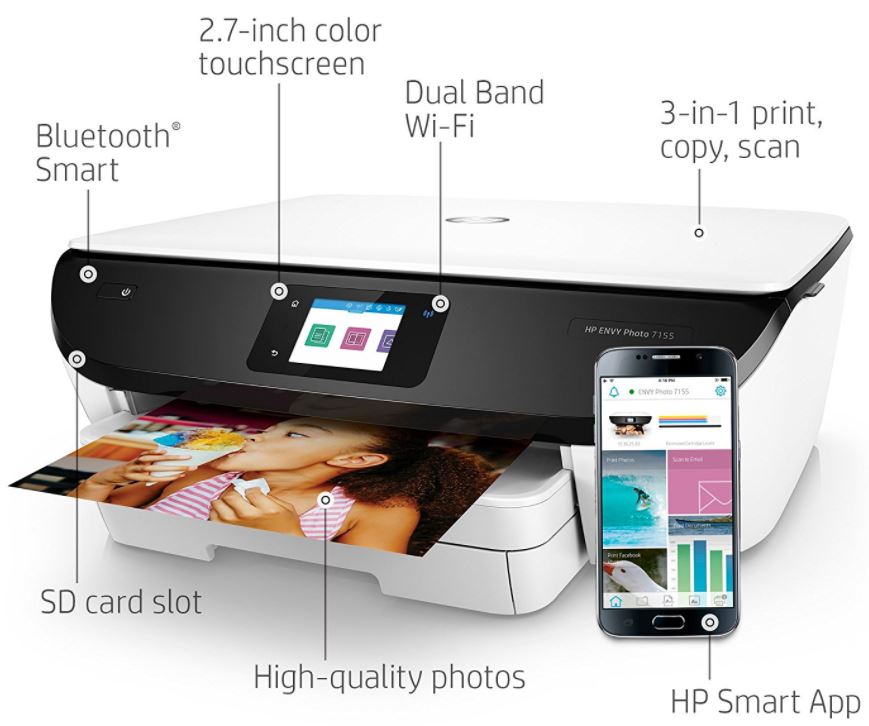 Paper Capacity
The Envy 7155 can support up to 140 sheets of paper at a time. This includes 125 sheets of standard printer paper and 15 sheets of the smaller snapshot-style photo print pages. The premium snapshot paper sits in a tray right above the standard photo tray. While the printer is probably perfect for a small office, medium-sized businesses might want to consider an upgraded model, especially if the office has a high paper turnover. The 7155's maximum duty cycle is right around 1,000 pages, but HP recommends around 300-400 pages per month. If you're planning to print more than 1,000 pages per month, you risk creating hardware issues.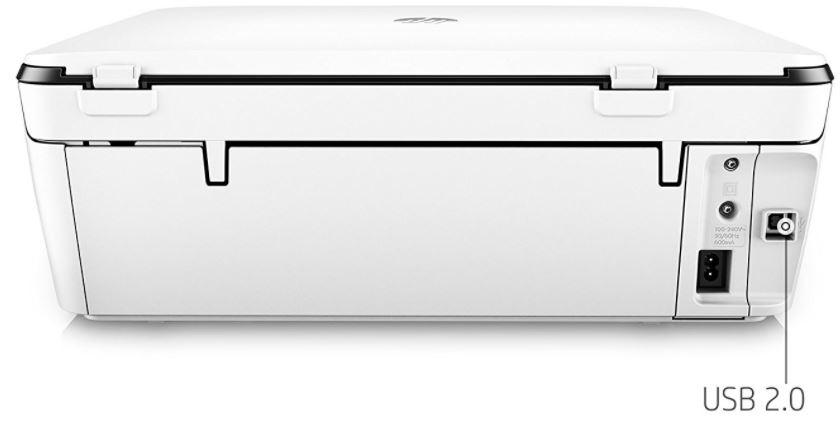 Connectivity
The 7155 supports dual band Wi-Fi connectivity, which is great news for people who prefer to operate on the 5 GHz band. Managing dual-bands can work wonders for improving network speed. The Envy can also connect to your devices via Bluetooth Smart (a real energy saver when compared to traditional Bluetooth connections), a USB connection and through their own proprietary Wireless Direct peer-to-peer networking system, which allows the printer and mobile devices to connect wirelessly without a router.
The 7155 also supports several third-party wireless options, including Apple's AirPrint, Mopria and HP's own ePrint option, which allows easy printing of email text and attachments. The printer also allows you to print right from your social media accounts and is compatible with several cloud options, including iCloud, Google Drive and Dropbox. You can also print photos directly from an SD card. The 7155 features an SD slot right on board, located on the front-left of the display panel.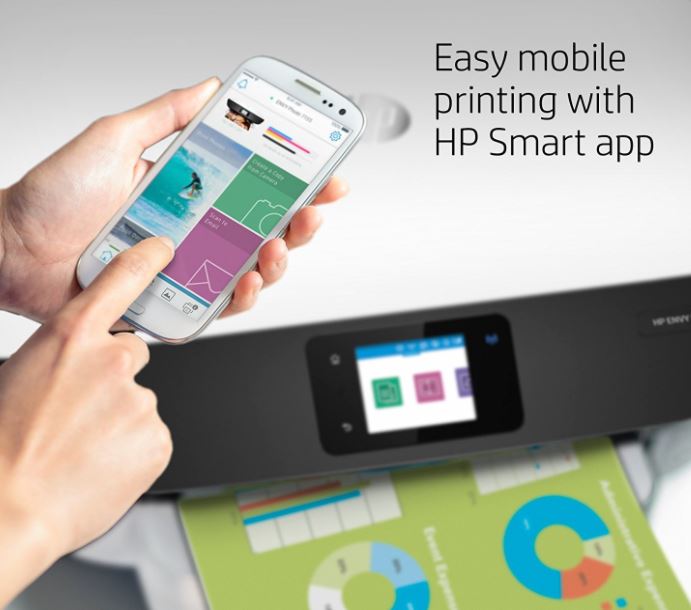 Smartphone Integration
The HP Smart App for iOS and Android makes managing your printer tasks on the go so easy. If there is one interface that we feel completely comfortable with, it's our phones. We manage our entire life from those things, so why not manage our printer usage? The app lets you print out phones from Facebook, scan documents to your email address, check your ink cartridge levels and it even turns your phone into a little mobile scanner. Using some fancy software interplay, you can use the power of HP technology to scan photos and documents from anywhere within your network, and quickly send them to the printer, the cloud or your email address.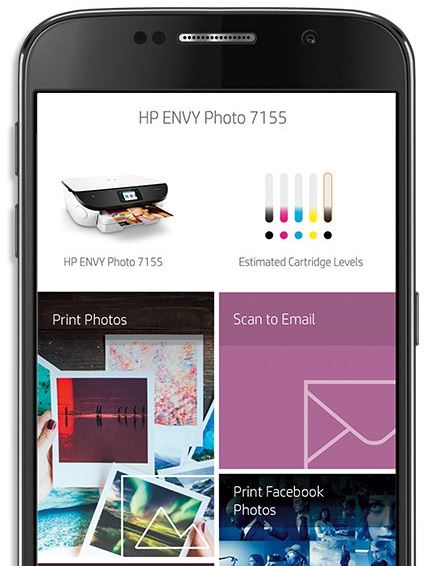 User Interface
The Envy 7155's 2.7 inch capacitive touch display is where all the magic happens. This is your primary walk-up interface. It is here where you print out photos from your SD card and all of your cloud accounts. This is also where you will manage all of the standard scanning and copying tasks. The Envy 7155 is definitely designed to be good at printing photos, which means everything else ranks lower on HP's priority list. It's not that the 7155 is unsatisfactory at performing any other tasks, but its software integration, UI and performance are certainly photo-centric. For the price, the all-in-one-option is on the feature-rich end of the spectrum, which will be a welcomed surprise for anyone looking for versatility.
Print Speed
The 7155 prints about 14 black and white pages per minute, which is two pages slower per minute than its more expensive Envy 7855 counterpart. If you're not relying on your printer to be a speed demon, 14 pages per minute is perfectly acceptable. During our testing, the rate was closer to 12 pages per minute, but there are a lot of factors that can contribute to a printer's speed, including text size and density. We never felt like the printer was too slow for our needs, especially in small burst sessions. In a situation where speed is of the essence, the 7155 might become frustrating over time, but for small documents, it doesn't pose a problem.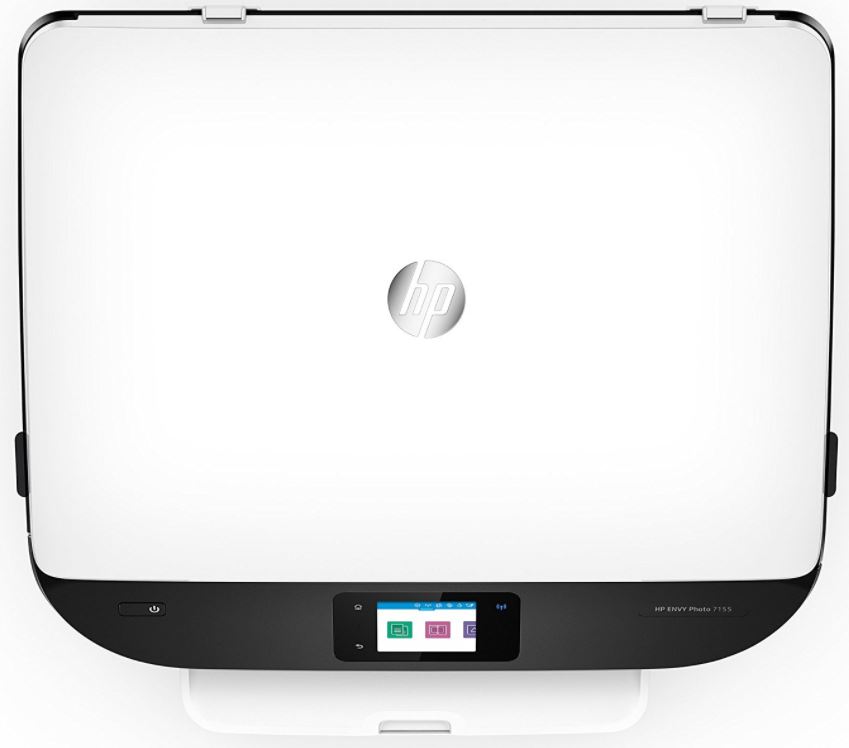 Print Quality
The quality of text prints was all-around decent, particularly with larger fonts. The letters were, for the most part, crisp and sharp. Things only got a little dicey when the font fell below around 10 print. This means that for almost all of your text needs, the 7155 will be just fine. It is only documents that include very small print that will pose any sort of problem. Don't take that as a warning though. Small print is by no means unreadable, it's simply not as clear and pure as the larger sized fonts.
Photo Quality
The Envy 7155 has the word Photo right in its name, so we had high hopes for its photo print quality. The Envy's photos look good, and even drift into the realm of greatness when you use premium photo paper. While we didn't use HP's own specially designed photo paper, we can only assume that the photo quality is even better using the manufacturer made paper. On standard paper, the photos were less impressive, which was expected, and is common amongst inkjet photo printers. Without the premium gloss, photos naturally seem less vibrant and colors look a tad dull. Rather than being a hardware issue, we attribute the difference to paper quality. We recommend using HP's own premium photo paper.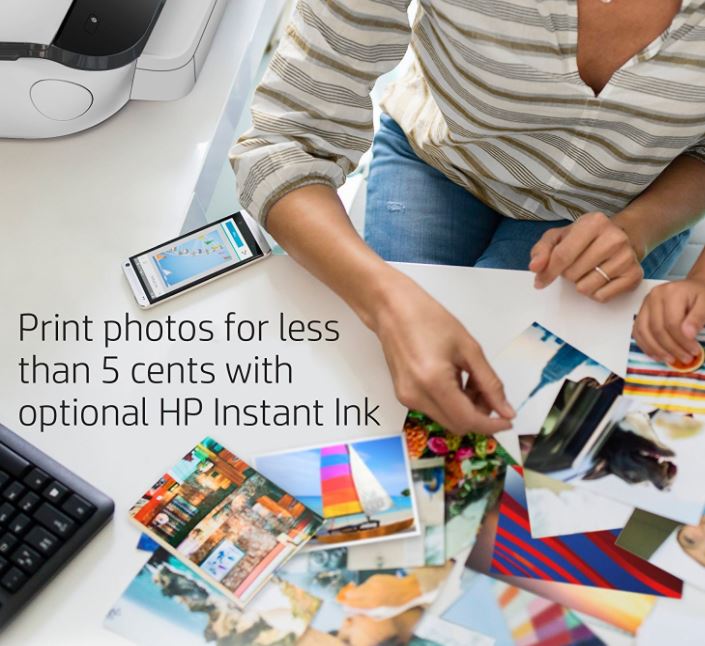 Ink Ordering
Before we wrap up our review, we'd like to point out one of our favorite features. The 7155 integrates HP's Instant Ink service, which automatically orders ink cartridges when you start to run low. We can't even begin to tell you how many times this feature has saved us in the past with other printers. If you plan on printing a lot of photos, you might want to go with the highest subscription option. Ultimately the ink will cost a lot less over time if you're making a lot of prints. If you do the math, photo prints wind up costing just as little as a page filled with text, as long as you're printing high volume.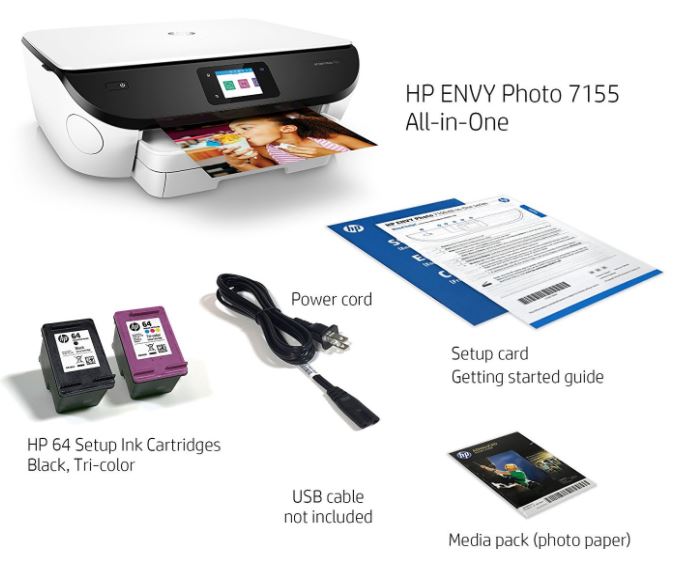 Final Thoughts
In our opinion, the Envy 7155 is an impressive versatile option at a very decent price. While it lacks some of the premium features of the 7855, such as the automated document feeder and slightly faster print speed, the 7155 is a perfect option for printing photos on a budget. The printer's multiple connectivity options provide many ways to print and scan photos and documents. HP's Smart app allows you to print directly from your social media accounts and turns your phone into a portable scanner.
As we said in the beginning of this review, we like making people happy. Whether it be by recommending all in one printers or by giving random strangers pictures of our family, bringing joy to others is what we live for. If photos make you happy, the HP Envy 7155 will bring a smile to your face. Maybe this year we'll give our mailman three copies of our Christmas card.