Headphones were meant to be wireless. Ears weren't meant to be bound and shackled to tangled wires. Now that we've had a chance to regularly use Bluetooth headphones over the past few years, we can't help but wonder how we were able to get along without them. Does that make us sound like spoiled brats? Perhaps. Hashtag first world problems! But after experiencing wireless headphones, their wired counterparts make us feel like prisoners. Once you've smelled freedom, a life of bondage is no longer an option. Is a life with wires a life worth living at all?
There are so many things that wired headphones prevent us from doing. How are we supposed to perform our patented random cartwheels? How are we supposed to dance to the classic 1970s dance and pop ensemble, The Village People, and their chart-topping hit "YMCA," if any sudden movement disrupts our listening experience? How are we expected to be Macho, Macho Men if we can't even move our arms? How are we supposed to forage for food (as one does) if a single vine stalk would be enough to jiggle our earbuds free? We're pretty sure wired headphone manufactures haven't fully evaluated our needs.
Headphones aren't even just wireless anymore. The new buzzword in earbud design is wire-free. That means no dangling wires or receivers, just pure bud, baby. Modern earbuds look more like hearing aids than headphones. When the AirPods were first announced, Apple got a lot of guff for their design. Since then, tech companies have been looking to capture the AirPod spirit by trying their hand at the wire-free headphone game.
Last year, Sony released their WF-1000X earbuds, which were the world's first truly wireless headphones to offer noise-cancellation. While it was incredible to experience noise-cancellation using such a tiny device, the WF-1000X's did have their drawbacks. For one, the battery life was atrocious, which wasn't completely unexpected considering that their smaller, sleeker design and lack of external battery source. Sony has taken the mistakes they made with older models and has released their best true wireless headphones yet.
First Impressions
Sony's newest headphones, the WF-SP700N headphones (catchy name, huh?), improve on the WF-1000X's in practically every way. The battery life has been expanded, the wireless range has increased, they are now splash proof, plus they have managed to cram in active noise-canceling as well. Sounds too good to be true, right? We thought so too. We were dying to get our hands on these babies and take them for a good ole test run.
The first thing we noticed about the WF-SP700N's were their bold new design. The earbuds are available in four different color options, including black, silver, yellow and a shade which closely resembles the iPhone's rose gold color. We prefer the black design, not only because it goes with our whole wardrobe, but because we can wear them after Labor Day, which is more than we can say about the AirPods. Compared to the WF-1000X model they are a bit bulkier. While the older model has a smaller, sleeker design, Sony has opted for a slightly larger and more colorful aesthetic this time around. Their newly acquired bulk is not necessarily a bad thing.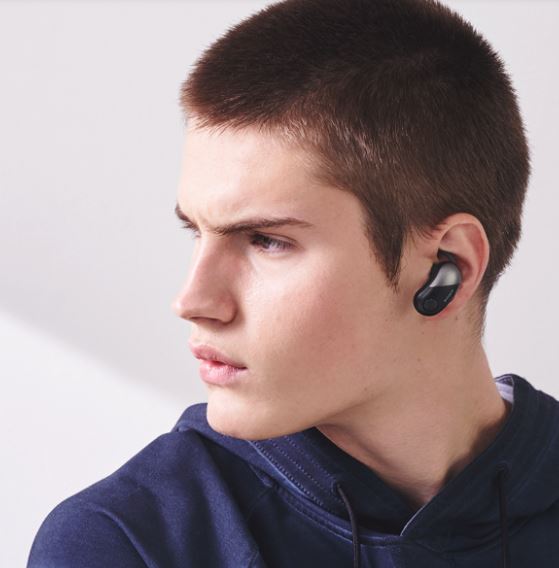 Design
While a sleek design is great if you're a spy, the sacrifice for the average user is a significant decrease in performance, such as lower wireless signal strength and decreased battery size. That's not to say the WF-1000X's were slim themselves. They had a chunky style all their own. It's just that the WF-SP700N's embrace the bulk and use it to improve the all-around hardware performance. Despite their size, we never felt like they were weighing us down. They aren't too bulky to be practical. Each bud weighs a quarter of an ounce. If that's too bulky for you, I don't know what to tell you. Perhaps it might be time to hit the gym.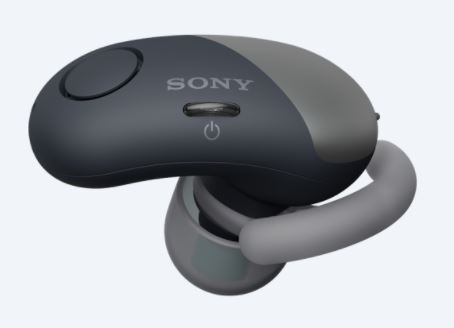 Comfort
The design of the WF-SP700N is also noticeably more geared towards personal fitness, especially when compared to last year's model. The new buds feature a small silicone fin that form fits to the contours of your ear. The fins are reminiscent of the Bose StayHear silicone tips, albeit a little less natural feeling due to the plasticky bulk. The addition of the fin made the buds feel much more secure than the previous model.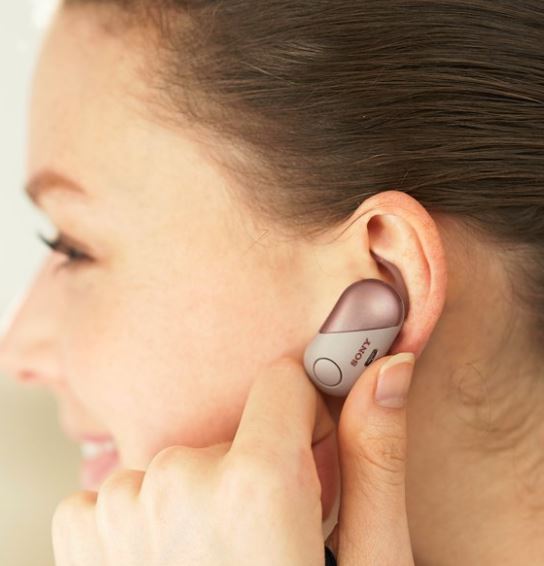 Water Resistance
In addition to the new silicone fin, the WF-SP700N's are IPX4 splash proof. Basically, that means that if you're not sweating meters of sweat at a time, you'll probably be protected from liquid damage. A certification of IPX4 means that the earbuds are protected from splashing water from all directions. We were a little trigger shy during our review since we really didn't want to damage our new earbuds, but we'd venture to guess that these earbuds are IPX4 resistant at the very least. While we certainly wouldn't recommend taking them for a swim, wearing them in the shower or dancing to the Village People in the rain, they're certainly good for lounging around poolside or working out at the gym.
Sound Quality
The most important part of any pair of headphones is the sound quality. The WF-SP700Ns feature a closed dynamic design, which provides a much more concentrated sound than an open design. Most earbuds are of the closed variety. The neodymium dome type driver measures 0.24" and provides a Bluetooth frequency range of 20 Hz – 20,000 Hz, which is pretty standard for mid-end models.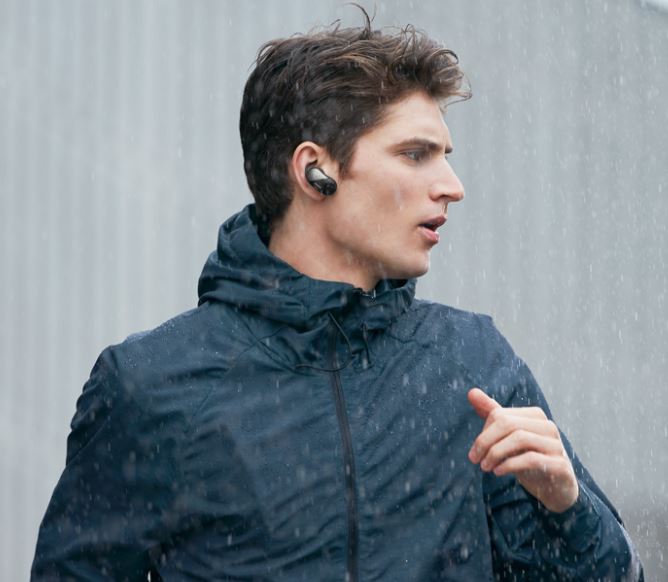 In general, we were very pleased with the sound quality. The highs were nice and punchy and the mids were bright and balanced. We did notice that the bass is not as deep as other models similar in price. For people who don't like their bass to sound overpowering, the WF-SP700N's will be a good fit. If you like your bass a little deeper, there are more expensive competitors that might be a better fit. That's not to say the bass is weak, but it is weaker than the over-bassed sound that people have come to expect from modern headphones.
Battery Life
As we mentioned earlier in this review, if you're going to cram active noise cancellation and a decent driver, you're going to have to make some sacrifices. In the case of Sony's truly wireless headphones, that sacrifice is battery life. The WF-SP700N's have a continuous playtime of 3 hours, with 8 hours of standby time. For people who are only purchasing these to use at the gym, you'll be just fine. These headphones are optimal for short stints at the gym. If you're taking a long flight or taking a long road trip, these wireless buds might not be the headphones for you.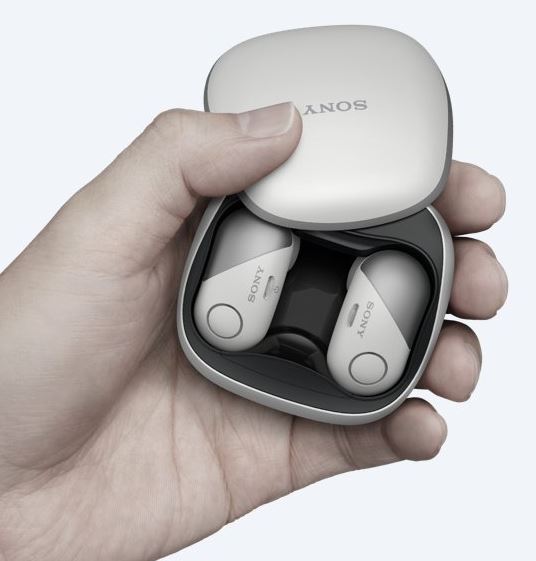 Sony needs to be given some serious props though. These headphones ship with a USB charging case that holds up to an additional two full charges. It takes about an hour and a half for the headphones to fully charge—so like we said, these probably aren't the best choice for a long listen, but the charging case vastly extends the amount of listening time you can expect from a single trip — up to 9 hours.
Noise Cancellation
Sony has learned from the mistakes of others. They've learned how to do noise-cancellation right, and the attention to detail doesn't go unnoticed using the WF-SP700N's. Each device features three distinct levels of noise cancellation: one that blocks out everything, one that only lets in ambient sounds, such as voices and one that allows in ambient sounds which are designed to keep you safe, such as sirens or traffic noise.
We tested each noise cancellation mode during out review and they all have very distinct uses. We found ourselves using the complete noise cancellation feature when we were trying to go to sleep. It also helped dampen the ambient sounds of commuter flight. When we were hanging out with our kids or listening at work, the mid-level ambient sound feature was effective at keeping us aware of our surroundings without having to sacrifice immersion.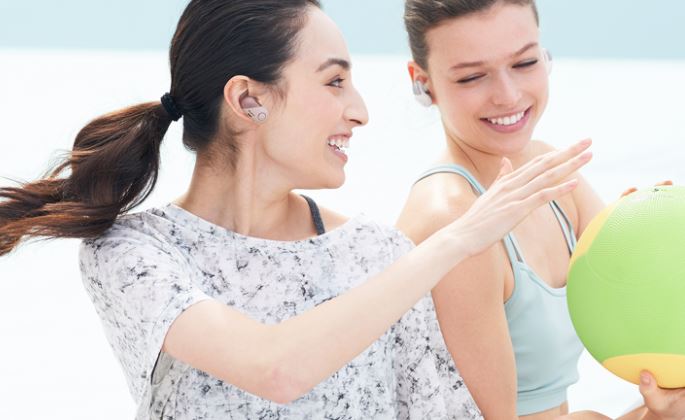 Bluetooth
The Bluetooth connectivity was consistently strong. We don't recall having any dropped calls or streams during our review process. If you own an Android device, you'll be happy to hear that the WF-SP700N's support NFC connectivity, which makes connecting super-fast and convenient. Sony claims that the Bluetooth range is just about 30 feet, and that seemed to check out during our review process. We can't recall the last time we were more than 30 feet away from our favorite devices, so the range does not concern us very much. The furthest we might go from our phone is when we are doing dishes or some other wet activity.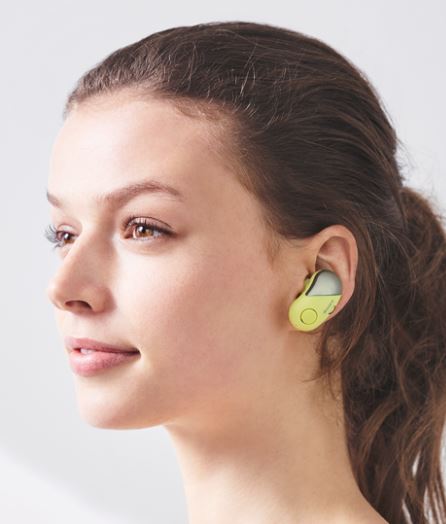 App Integration
The Sony Headphone Connect app for iOS and Android lets you micromanage the sound of your headphones from the comfort of your own device. The app allows you to remotely control the noise cancellation feature and even features an automatic noise cancellation optimization feature. The Adaptive Sound Control feature, which you can enable from the app, learns to optimize your headphones based on your activity. The Headphone Connect app was a lot of fun to play around with and has some really great potential for future products and developments.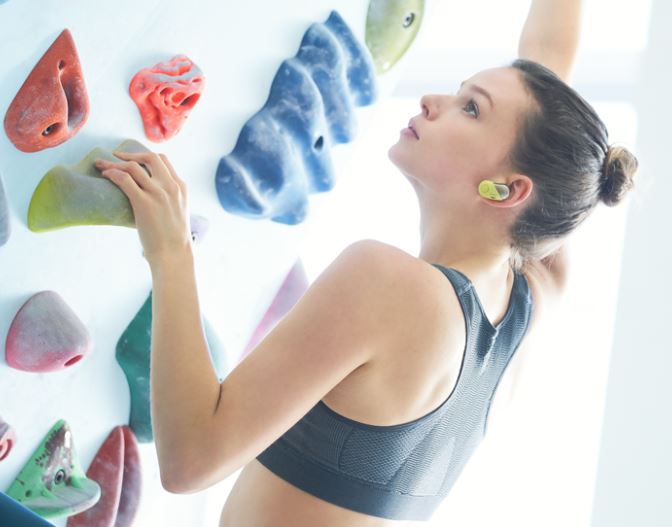 Final Thoughts
The Sony WF-SP700N headphones are a great choice for someone looking for a little oomph in their true wireless earbuds. While they are little bulkier and bolder than previous models, Sony has done a great job at making those extra millimeters count. Multiple different ambient noise cancellation modes, a IPX4 splash proof rating, better battery life, NFC compatibility and better Bluetooth strength are all reasons that you should be excited about the Sony buds. True wireless headphones aren't for everybody. Some people are understandably worried that buds with no interlinking wire are basically asking to be lost. Don't fret. We've never once lost our headphones. We've lost our memory, but not our headphones.
The WF-SP700N's are a big recommend. Their combination of performance and noise-cancellation is an irresistibly attractive combination for anyone who takes their audio on the go.