Whether you're using the latest generation of consoles or a finely tuned PC, there's no doubt that gaming is becoming an incredibly immersive experience. But even if you have the latest curved monitor, the fanciest mechanical keyboard and a top of the line graphics card, there is still one core element missing from your setup – sound.
Sound is the glue that holds your entire digital world together. It's the sense that expands the game beyond the confinements of your monitor and thrusts you into an immersive, interactive experience. Unfortunately, this quality is often neglected by gamers. Many of the current "gaming" headsets on the market certainly look cool, but fail to deliver the precise sound response that is required by the discerning gamer.
With the Omen gaming headset, HP wants to change that. Their entire line of Omen products are designed to be as powerful as possible, with no compromises taken. The Omen Headset appears to follow along, but the question remains as to whether such an affordable headset can live up to the incredibly high standards of the HP and SteelSeries brand?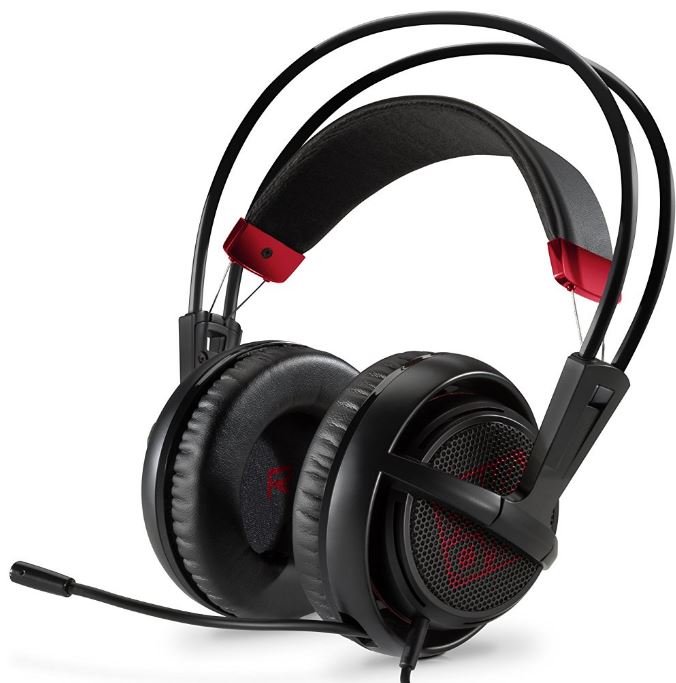 Design
Headsets come in a huge range of styles, as do the gamers that wear them. Let's be honest – style is the first thing you use to judge what kind of player your opponent is (second only, perhaps, to their choice of username). Some players opt for form above function, while others go for comfort and usability. No matter which side of the fence you fall on, the HP Omen headset nailed both. Some people might be into having a bunch of blinky lights strapped to your head, but for the rest of us there's the HP Omen headset.
This headset is straight to the point, with no nonsense. The headband is designed for comfort, not style. The mic is durable and effective, with no unnecessary features weighing it down. It can be easily pulled out for team play, and can be safely retracted right back into the ear cup during solo queue. It's a functional design that makes it easy to avoid accidental damage.
Despite this "functionality first" approach, it is still great to look at. The matte black color is unassuming, but the subtle red accents on the suspension and ear pad housing are downright cool looking. It's sleek and sharp while still owning a look that serious gamers can get behind. This is a headset designed for players who want the quality of their gear to be reflected in its style, not compensated by it.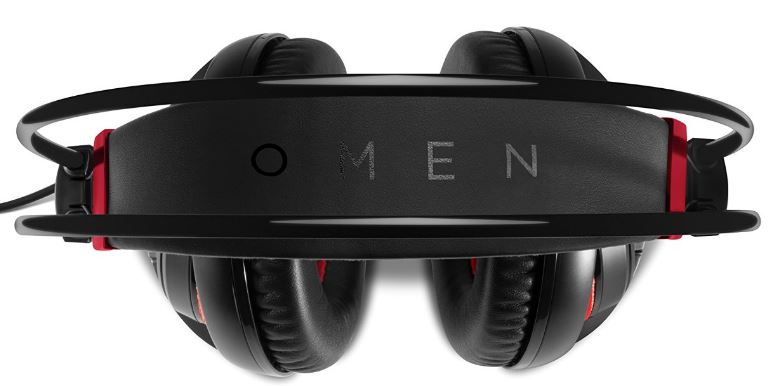 Sound Quality
A good gamer knows that style and comfort are secondary features to the sound quality of a good headset. The HP Omen headset hits the mark in the area that matters most, with a balanced soundscape for competitive players who understand the value of picking up on those subtle frequencies.
The HP Omen boasts a balanced, clear audio response specifically designed to pick up all the key frequencies other players might miss. The high frequencies sounds like smashing glass or bullets whizzing past your head, are clear without sounding harsh or piercing. The mid-range is soft and velvety rather than getting lost behind the bass as is often the case with cheaper headsets. The bass sounds deep, whole, and precise, without overpowering or distorting the sounds of the entire audible environment. With the HP Omen headset, you'll pick up sharp details that can mean the difference between a sweeping victory and a disappointing defeat.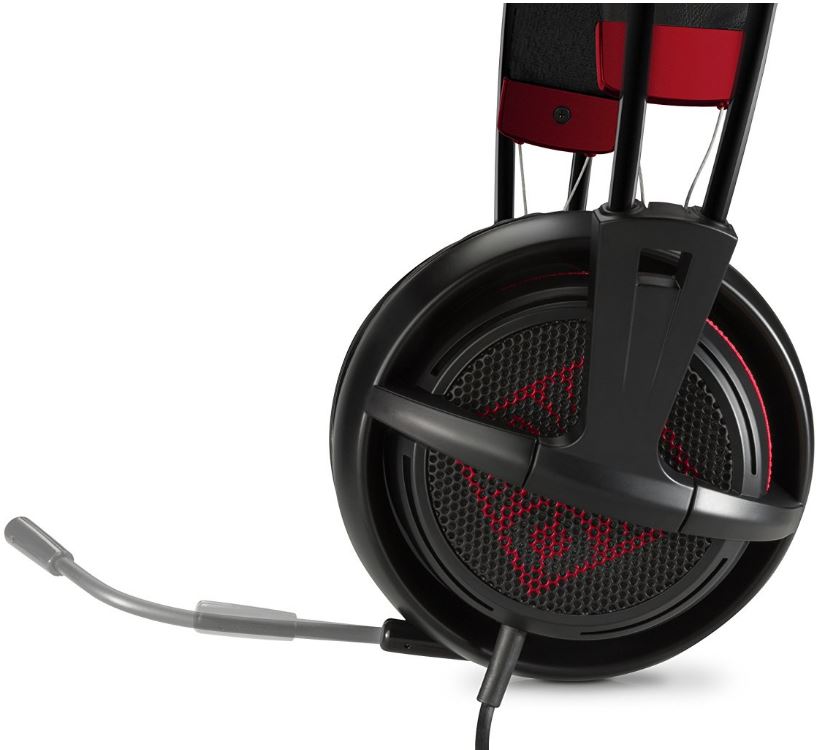 HP built the Omen has high audio performance for all the core frequencies while maintaining a healthy discrimination for those sounds that are more distracting than helpful. You will hear everything you need to, clearly and well balanced, without being overly distracted by every grunt expelled or dry leaf crunched. The combination of emphasizing the important frequencies and keeping the distracting ones slightly duller is what makes it so well balanced, and so well customized to a player's audio needs.
While there are certainly higher performing headsets on the market, these tend to come at an unreachable cost for the average gamer, and the exponential increase in cost does not necessarily reflect and equally exponential increase in quality. Player's want a headset with sound quality that will guide your success rather than hinder it, and in this regard the HP Omen does not disappoint.
Compatibility
The HP Omen headset is a designed companion for Omen laptops with version 1.1 and above of their advanced signal processing system. This system is designed to filter the sound and present it in the most accurate way, allowing it to synergize with their Omen headset. Like peanut butter and chocolate, they complement each other perfectly.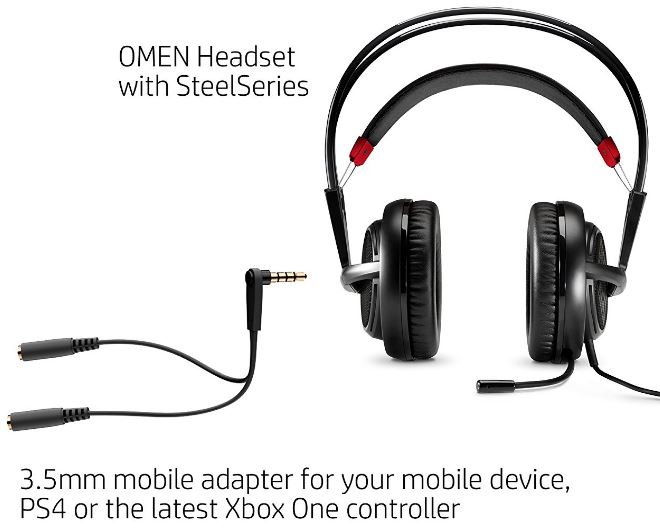 For those who don't own any of HP's compatible systems, there's no need to give up on it. Luckily, the HP Omen headset comes with a 3.5mm aux adapter so any user can take advantage of the high quality audio. For players on the go, the adapter allows you to use it with any device that has an auxiliary input. In this regard, its use is not restricted to HP's ecosystem of gaming products.
You can also take advantage of the adapter on your PS4 or latest Xbox one controller, for those of you who are console gamers.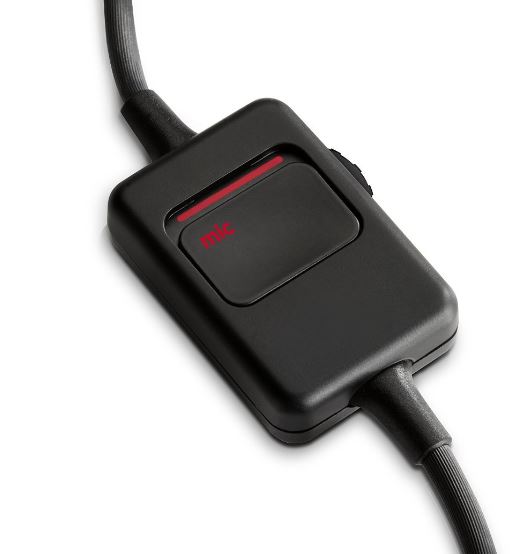 Comfort
Comfort is a vital component with any headset being worn for extended periods of time. Ideally, you shouldn't even notice the headset is there. It's easy to take a look at the design of the headset and imagine that it would be pretty comfortable, but the real world experience goes well beyond anything you can imagine. The ear pads sit comfortably all the way around your ears without awkwardly rubbing on or crushing them. The cushions are velvety soft, but don't sacrifice much in the way of durability for day to day use.
The moving parts twist smoothly so there's no fighting with adjustments, and the headband is customizable to your head size. It's a very light headset, so it won't be able to take much of a thrashing, but this is a worthy trade off with the advantage of increased comfort.
The headband is probably the best part of the headset in terms of comfort. It's thick enough to be soft on your head without any unnecessary pressure points. The suspension style mount allows for greater weight distribution so you aren't distracted by the weight of your headset after hours of play. It allows you stay focused on the game and adds Overall, the HP Omen is extremely comfortable and we really like the lightweight design and weight distribution. These features are invaluable for extended use.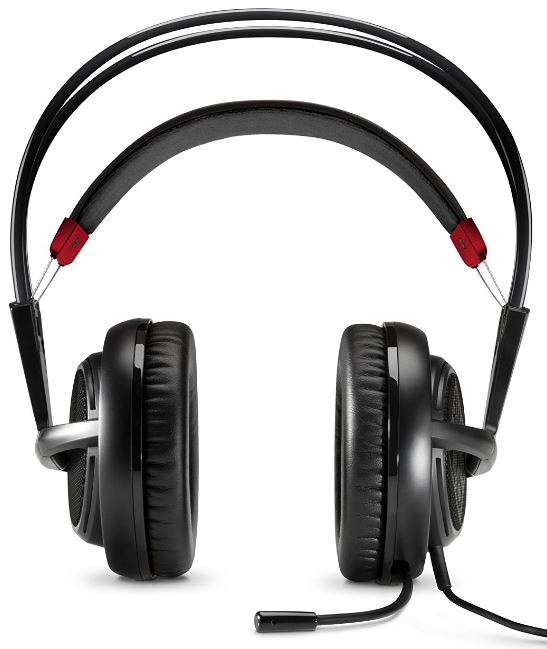 Value
As you can probably tell from the rest of our review, we are incredibly impressed with the HP Omen headset. There is not a single gaming headset on the market that delivers such impressive performance for such an incredibly low price.
Verdict
If you're an experienced gamer who understands the core necessities of a great headset, the HP Omen Headset will provide you with the quality and comfort you're looking for. It's a headset for serious gamers with an eye for quality over quantity and stylish comfort over flashiness. It has a lightweight design that makes it extremely comfortable to use and can be worn for extended gaming sessions.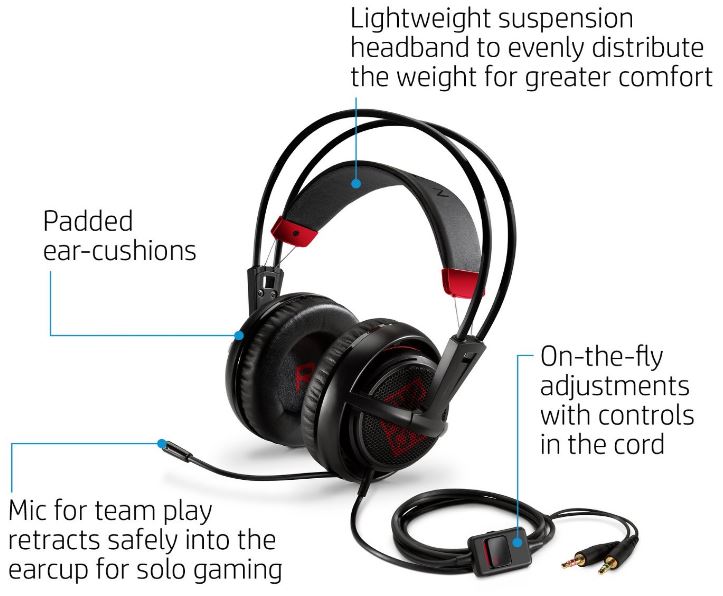 The sound quality might fall short of some premium headsets on the market, but unless you're an audiophile with an ear for those often subtle improvements and an unlimited, it'll both surprise and impress you. It hits all the key audio qualities of a soundscape balance players look for. You'll get the most of the HP Omen headset when used with other HP Omen devices, but the adapter makes it possible to easily enjoy it with the device(s) of your choice.
Some users might wish to choose a headset that offers a little more in terms of fashion. To these users, we offer a challenge. Give it a chance for at least a week. It's easy to undervalue the importance of sound quality when you've spent so long using mediocre headphones. We believe that once you hear this headset yourself, you'll never go back to a pair of sub-par headphones again.