Video game music has come a long way in the past thirty years. What started as a MIDI chiptune has evolved into an orchestral production. Modern epic games feature original soundtracks which often overshadow and outwork most film scores. To experience the wonder that is video game orchestration, one must simply play God of War, Assassin's Creed or any of the modern Elder Scroll games. The best scores are complex enough to keep your interest, but subtle enough not to interfere with the action. There is no doubt that the best way to experience a video game score is by using a great gaming headset.
Gaming headsets are important for several reasons. First, they allow you to cleanly communicate with the people you are playing with. Second, they provide well-balanced and accurate sound. And third, they just plain look rad. Unfortunately, the importance of owning a decent headset is often underestimated. If you're not hearing the game right, you're not playing the game right.
Note: At no extra cost to you, we may earn a commission for purchases using our links. Learn more.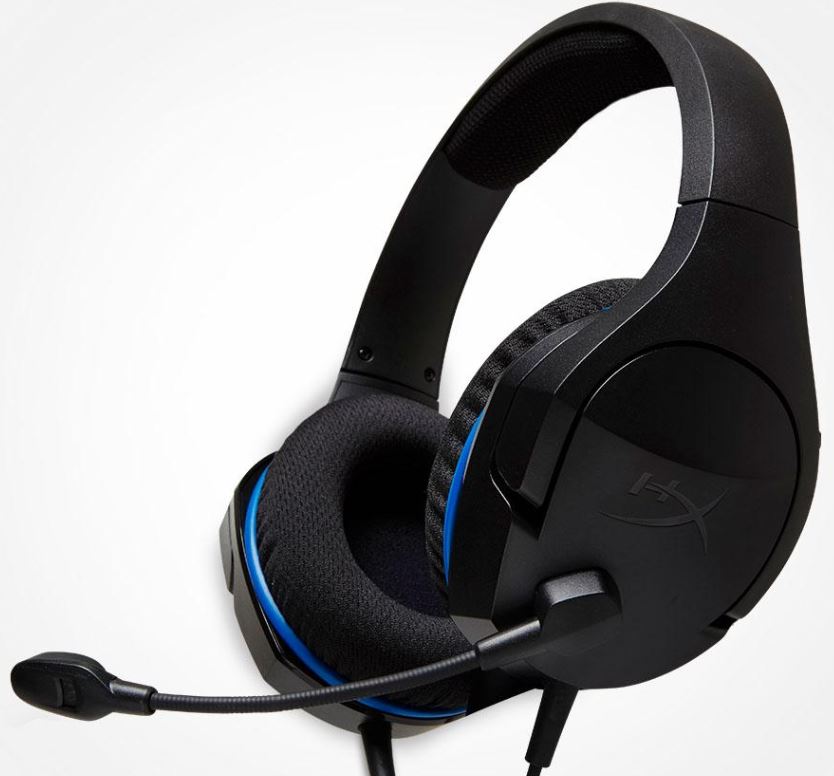 First Impressions
The HyperX Cloud Stinger Core gaming headset is an entry-level pair of hardcore cans which feature both comfort and high performance. HyperX released these as a more affordable alternative to their premium CloudX headset. Designed specifically for console gaming, the Cloud Stinger provides immersive audio which is truly impressive considering their price. Over the past few weeks, we took the Cloud Stinger for a thorough test drive, testing thems for performance, comfort, clarity and endurance. Here is our honest review of the HyperX Cloud Stinger Core headset.
Design and Build Quality
The Cloud Stinger headset have a decidedly plasticky feel, which is likely do to the fact that they are, well, made of plastic. In comparison to the more expensive CloudX's build quality, which integrates aluminum, the Stinger has only an adjustable steel slider, which insures that your headphone cups aren't cracking off at the base. Don't get us wrong, the Cloud Stinger phones don't feel cheap. The plastic has a little heft to it, which gives them an increased feeling of stability. So yes, the construction is mostly plastic, but it is high-quality plastic.
The design is highlighted by neon blue rings which circle the ear cups, providing a striking dose of color on an otherwise black on black color scheme. Unlike the CloudX, which has a braided cord, the Cloud Stinger features a straight plastic cord, which despite the value-focused design choice, doesn't feel flimsy. The microphone rotates on a swivel hinge attached to the side of the left cup. The cups themselves can also swivel, which helps them create a more comfortable fit.
Weighing 275 grams (or 0.6 lbs), the Cloud Stinger Core's are slightly heavier than their competitors, but the weight doesn't feel overbearing. In fact, the added girth gives them a hardier feel. Super-light plastics not only often feel cheap, but perform cheap, often cracking under light use. The Stinger doesn't feel like its design quality is brittle or feeble.
HyperX has done a great job creating a well-thought out and attractive design, despite the low price point. Some budget gaming headsets are clearly budget gaming ones. The Cloud Stinger looks and feels premium.
Comfort
The Cloud Stinger Core's feature faux leather earcup and headband padding. The ear padding is surprisingly squishy for a budget headset. The cushioning does a superior job of protecting your skull from the rigid plastic frame. The result is a pair that's very comfortable, even with extended game sessions. At one point, we were on our PS4 for around five hours straight. Eventually, they practically felt non-existent. The memory foam inside of the earcups molded well with our comically large ears.
Perhaps even more impressive was the Cloud Stinger Cores's ability to keep our ears cool. Many budget headsets, most notably the ones which feature synthetic leather, have a habit of leaving your ears warm and sweaty. We didn't experience any annoying ear sweat or itching.
The Cloud Stinger headset also feature double rotational earcups which is a rare feature amongst budget gaming options. Not only do they swivel vertically to conform to your skull, but they also rotate horizontally, making them much more comfortable to wear around your neck and much easier to take off of your head.
Sound Hardware
The Cloud Stinger Core's contain two 40 mm speaker drivers, which is par for the course with budget priced cans. The frequency response of the Stinger headset is 20 – 20,000 Hz, which covers more of the low-range than many competing devices. The over-the-ear, closed back earcups do a good job of containing the sound and keeping leakage to a minimum. Because of the closed back, the headset also don't allow much external sound in, which is extremely helpful for maintaining full immersion.
Sound Quality
During our testing of the Cloud Stinger Core, we found the sound quality to be better than typical budget gaming headset. The problem with affordable audio devices is that they frequently sound either very muddy or very tinny. And if they're particularly chintzy, sometimes they sound both muddy and tinny. They separate themselves from the stereotypical budget options by providing clear and snappy sound. Gunshots sounded appropriately concussive and sound levels seem balanced and accurate.
The Cloud Stinger handles lows better than highs, with a deep, vibrating bass that pleasantly immerses you into the experience. We found that they sounded particularly great with war games. Explosions and gunshots sound phenomenal. Dialogue sounds clear and clean.
Sound Stage
The one thing you'll want to keep in mind is that this headset isn't going to have as wide of a sound stage as a pair that includes 7.1 quality. These provide stereo audio, so if you're looking for virtual surround sound, you might want to consider a higher priced pair. The Cloud Stinger Core's feature great directional sound from right to left, but will not be able to direct sound from the front and back. Obviously, the more premium the product, the more immersive the headset will be, but the Stinger is no slouch.
Microphone
A designated microphone is what sets gaming headsets apart from their standard headphone counterparts. Communicating with fellow gamers is one the joys of modern gaming. The Cloud Stinger Core's mic quality is not an issue. All our gaming buddies heard us perfectly, albeit a bit muddy. We were never asked to repeat ourselves or trolled because of our equipment. As far as budget gaming headset go, the Cloud Stinger ranks near the top as far as mic sound quality.
The one feature that the Cloud Stinger lacks is a detachable microphone. The included mic is completely attached to the left ear cup, and cannot be moved to the other ear if that is your preference. The microphone also lacks a padded cover, which helps protect the circuitry from spittle and reduces audio pops. Mic covers are also great for protecting the tip of the mic from yucky saliva smells. Even if you have the cleanest mouth on the planet, the buildup of saliva around an unpadded mic can accumulate into a stinky, bacteria smell. So, while the padding isn't a necessary addition, it's a feature that you notice if you've ever used higher quality models. If the cover is that important to you, you can almost positively buy them on eBay or Amazon.
Noise Cancellation
The condenser microphone's noise cancellation feature does a decent job of keeping ambient noise to a minimum. We have pets and children, so there is always a cacophony of sound in the background. The Cloud Stinger Core's don't eliminate all background noise, but ambient sounds are no way overpowering, which can sometimes be the case with budget headsets.
The microphone's frequency response is 50 Hz – 18,000 Hz and a sensitivity of -45.5 dbV which is a sweet zone for vocal tones. The only way the frequency range would pose a problem is if you had a talking pet chipmunk who loved playing Battlefield. Alvin is usually too busy causing mischief to sit down and game anyway.
Controls
The Cloud Stinger features in-line controls on the cable, which allow you to control the volume and mute the mic. You can also mute the mic by flipping the component up. The mic flip muting feature is great for when you're having a conversation with a family member in the middle of a game. The feature requires much less time and effort then manually using the in-line controls, which could sometimes leave you scrambling.
Compatibility
While these are compatible with any modern gaming device, they are clearly designed for console gaming. The headphone cable is not natively designed for PC gaming, lacking the dual headphone and microphone jacks. The Cloud Stinger does ship with an adapter, but the PC compatibility is almost an afterthought. As you might have guessed, they also don't feature wireless compatibility. We tend to avoid wireless gaming headsets anyway, just because wired gaming delivers much more consistent sound quality and doesn't risk any latency.
Final Thoughts
The HyperX Cloud Stinger Core gaming headset is a great value. Their budget price point isn't a good indicator of their performance, since they definitely sound like higher-quality options. While they don't feature a detachable and padded microphone, or a metallic build, the comfort and sound quality are enough to make up for the few features that the microphone lacks. If you're looking for a decent console gaming headset at a steal of a price, the Cloud Stinger Core is a great choice.
A game's sound quality is an important part of the immersive experience. If you're not a professional gamer, you probably can't afford to drop hundreds of dollars on a top-of-the-line gaming headset, and honestly, you don't even need them. For most purposes, the Cloud Stinger Core will handle all of your gaming and social needs, without making a gigantic headphone-shaped footprint in your bank account.
Note: At no extra cost to you, we may earn a commission for purchases using our links. Learn more.