We've been kind of obsessed with home projectors recently. The recent influx of new devices has been keeping our projector obsession quenched for the time being. There's something intangibly unique about home projectors that somehow manages to keep us occupied. Maybe it's the nostalgia they inspire, the memories of childhood trips to the movie theater. Maybe it's the massive screen sizes. Maybe it's Maybelline. It's hard to tell. All we know is that we've been bit by the home projector bug.
Many of the newest projector releases fit snugly into the mini-projector category. Mini-projectors are projectors that take up very little surface real estate and are super-portable. The great thing about mini-projectors is their ease of mobility. If we want to watch a projected movie at our best friend's house, there's nothing that can hold us back. Not even if my best friend is on vacation and their doors and windows are locked (crowbar not included).
The Anker Nebula Capsule is a unique new entry into the mini-projector fray. While most projector manufactures place most of their emphasis on screen size and resolution, the Nebula Capsule proves that Anker has a renewed commitment to integrate improved streaming capabilities and stand-alone sound, as well. The Capsule's unique cylindrical form factor allows the device to showcase a 365-degree speaker, which allows it to double as a portable Bluetooth speaker. We were recently able to conduct a hands-on review of the Capsule. Here is our honest review of the Anker Nebula Capsule.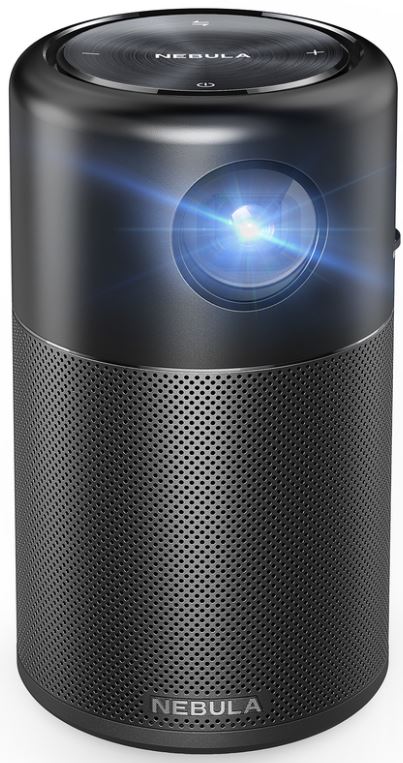 What's in The Box?
Anker has done a good job packaging the Nebula Capsule. The packaging features premium color and texture, which instantly makes the device feel high-quality. Contained in the box is the Capsule itself, a remote control, a power supply cable and the user manual. You have the option of purchasing a separate carrying case, but there is not one included with the basic packaging. All in all, everything was packaged well and we found no glaring issues that could result in shipping damage.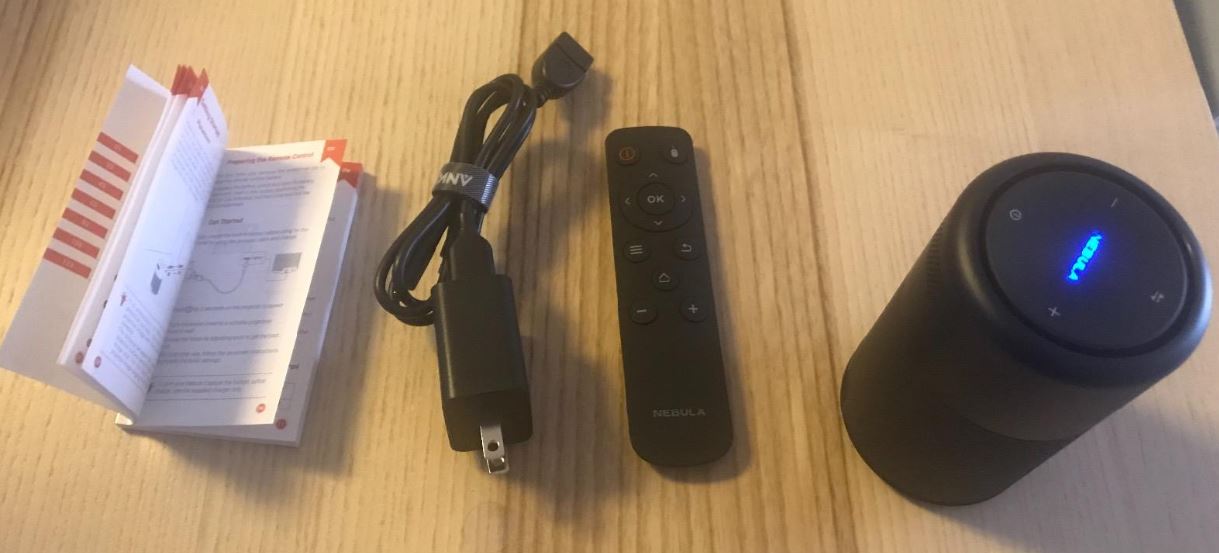 Dimensions
The Nebula Capsule is just a hair larger than a can of soda. Weighing in at less than 15 ounces, the device is hardly perceptible in your hand, let alone in a backpack or messenger bag. The Capsule measures in with a diameter of 2.67 inches and a height of 4.72 inches (as compared to a standard U.S. soda can, which measures 4.8 inches high with a 2.6 inch diameter). The unique cylindrical design allows Anker to use the Capsule's height for speaker space. The projector kind of looks like a miniatured Amazon Echo, though perhaps a bit cooler.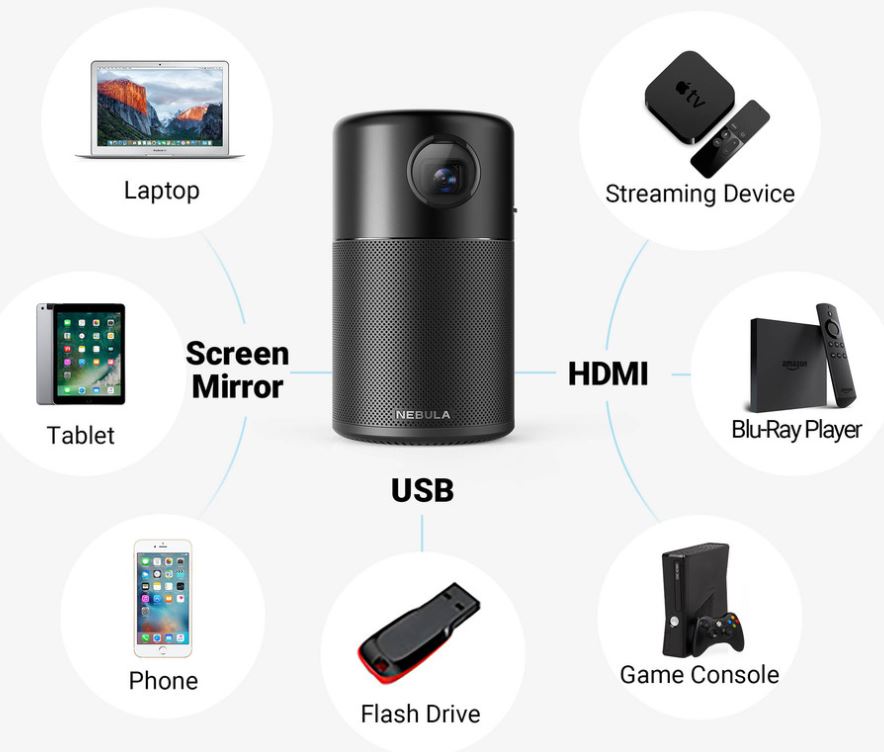 Screen Size
The Nebula Capsule can project a clear picture up to 100" wide, which is more than double the size of our current TV. Of course, the downfall of all projectors is their inability to display large screen sizes properly in well-lit rooms. In order for the 100" display to be usable, you're going to have to be in a room with little to no natural or artificial light.
We determined that at 30", the lighting situation didn't make much of a difference on the picture brightness, but as the screen size increases past the 30" mark, there was a gradual reduction in screen brightness as the size reached the 100" mark. If you're planning on using the Capsule to its full screen potential, you should keep in mind that you're going to have to be in a practically windowless environment to get the most out of the picture.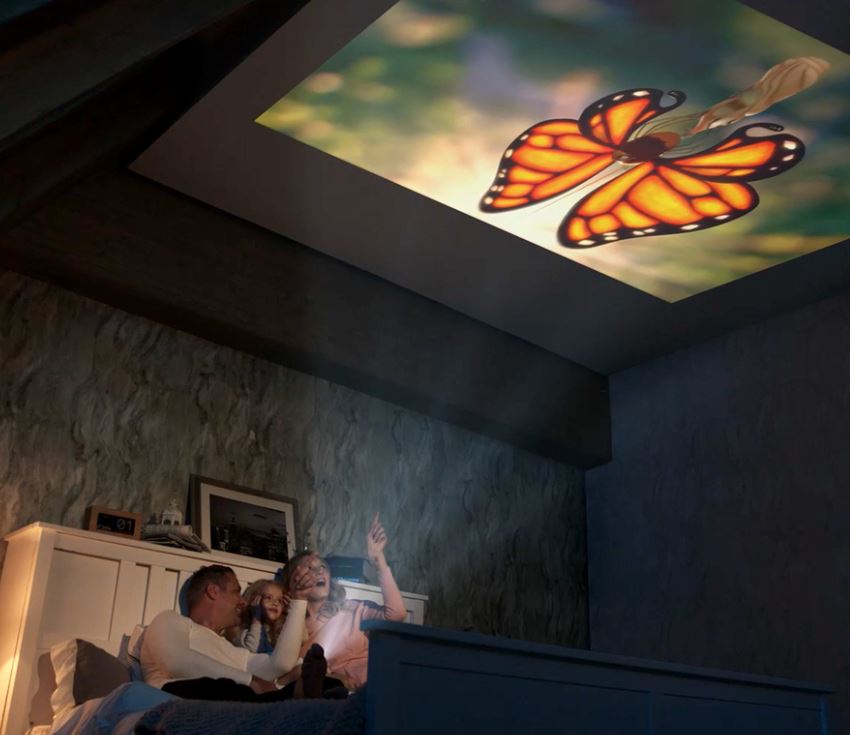 Software
While the Capsule runs on Android Nougat, you won't find access to the Google Play store. Instead, Anker has installed Aptoide TV, which is a version of Android optimized for TV screens. Since Aptoide does a pretty good job at limiting the scope of Android, there are far fewer applications available compared with the full version of Android 7.1, but all of your favorites are there, including Netflix, YouTube, Hulu, Amazon Video, Spotify and even the Opera web browser. If you're into playing games through your TV's OS, the Capsule software also allows access to a nice selection of some of the most popular mobile games.
One thing we did notice is that spelling and grammatical errors abound throughout the entire operating system. We're not saying that the software is unreadable or unusable, because the opposite is true, but there are a few errors that might send certified officers of the grammar police into spaz mode. For example, when the battery is low, you receive a warning that says, "the battery is not enough." So, like we said, it's not a life-changing error, but it's a clear indication that the user software was not created by native English speakers.
Picture Quality
The Nebula Capsule features advanced DLP technology which takes advantage of IntelliBright algorithms to create a clear picture with 100 lumens of brightness. As we mentioned earlier, when you use a projector at its maximum screen size, the need for total room darkness increases dramatically. This is even more applicable with the Capsule since it features a relatively low 100 ANSI luminosity. This is not to say the screen is too dull or even hard to see. That's simply not the case, though the lighting situation of your room of choice should certainly be taken into consideration.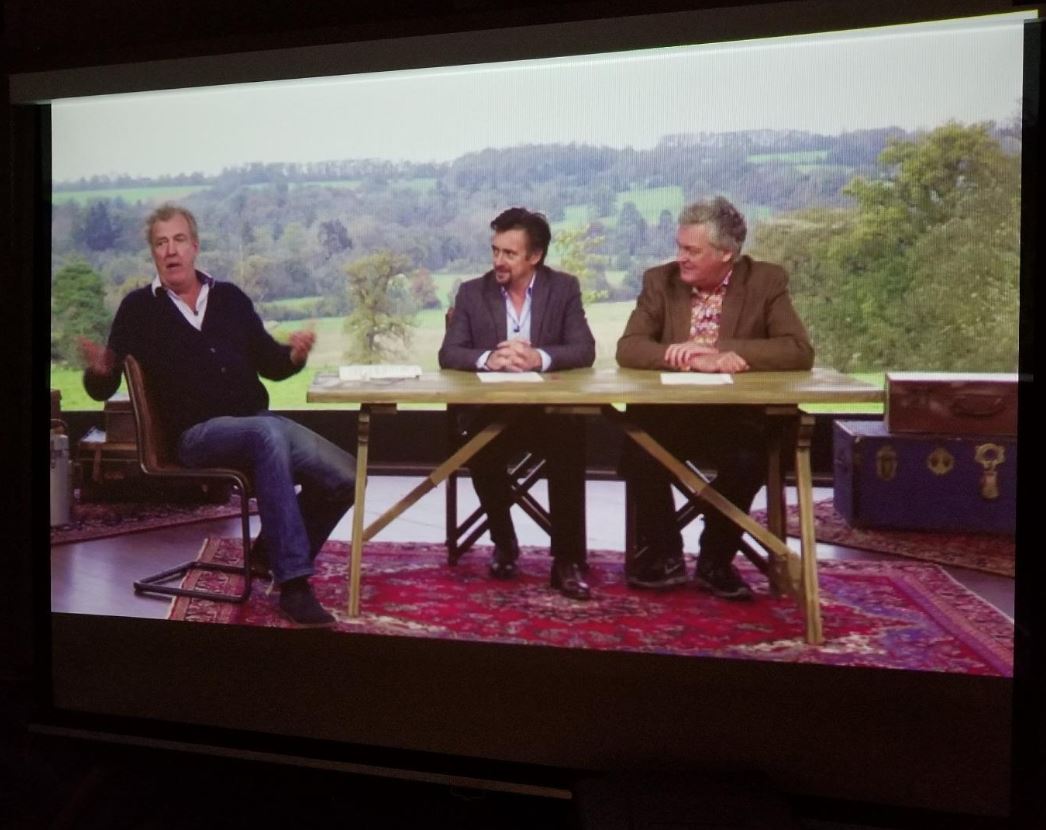 Like most other mini-projectors, the Nebula Capsule features a native resolution of 840 x 480 with upscaling support for 1080p quality. HD content looked impressively clear, particularly in low-light environments. If HD resolution is the most important feature, you might want to look into a more expensive device. As far as screen size and quality goes, the Capsule clearly focuses on quantity over quality, which isn't necessarily a bad thing. Large screens have their uses, particularly when watching a movie or show with a large crowd. The Super Bowl, for example, looks phenomenal at 100".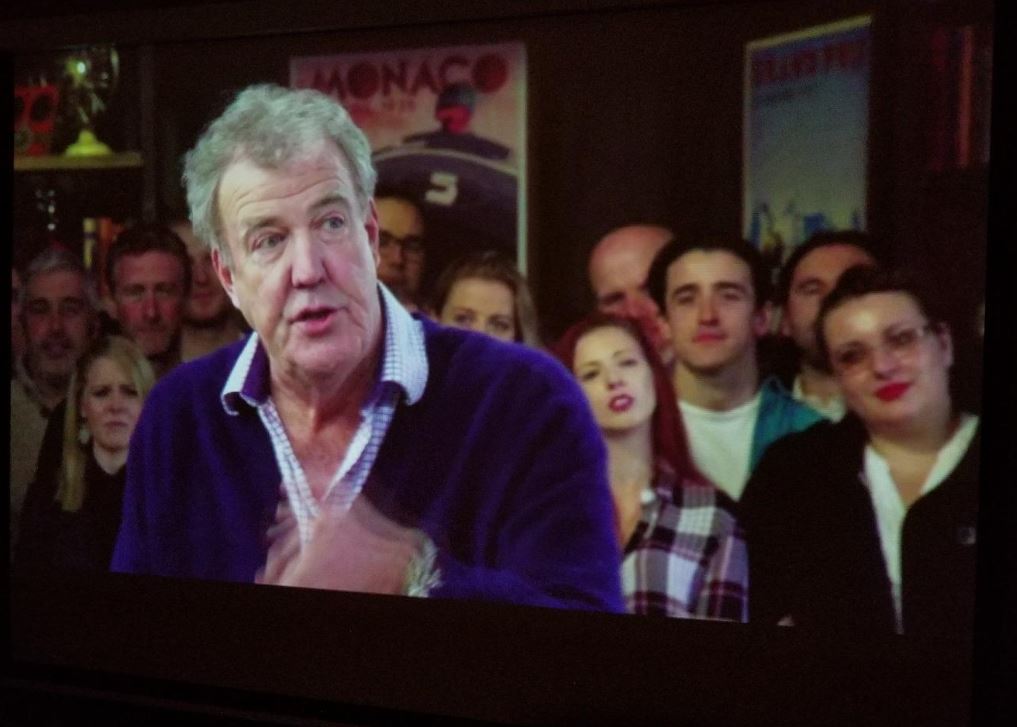 Battery Life
The Nebular Capsule ships with a 5200 mAh lithium battery, which provides 4 hours of continuous video playback and 30 hours of music playback. We had no problem getting through two normal length movies, and the battery life was long enough for us to sporadically listen to music between charges without noticing much of a difference in the battery life. The Capsule takes about 2.5 hours to fully recharge, so even if your battery dies on you, you'll be able to charge up quick. You also have the option of plugging the projector into a power source directly.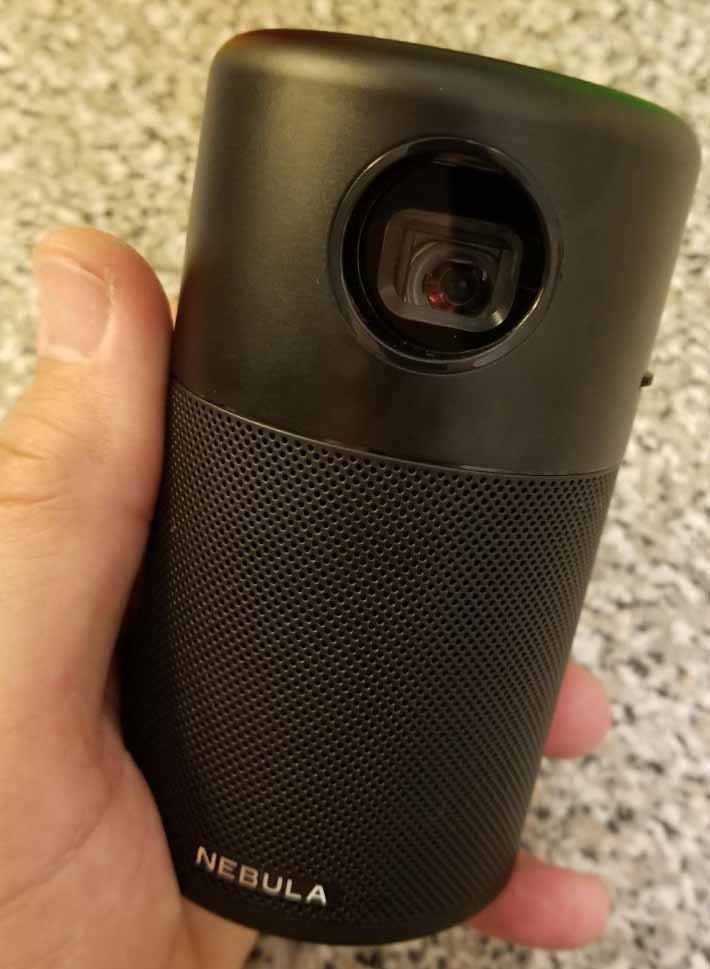 Sound Quality
This is where the Capsule separates itself from the competition. The device's 365-degree omni-directional speakers produce a listening experience that other mini-projectors just can't touch without being connected to third-party surround sound speakers. The sound quality is so good, and the design so portable, that the Capsule doubles as a Bluetooth speaker without raising suspicions that it is anything but a speaker. This might be the only mini-projector on the market that we would say is fine without an external speaker. Sound is not a strength of most portable projectors. It is refreshing to test a projector that has clearly taken sound into consideration.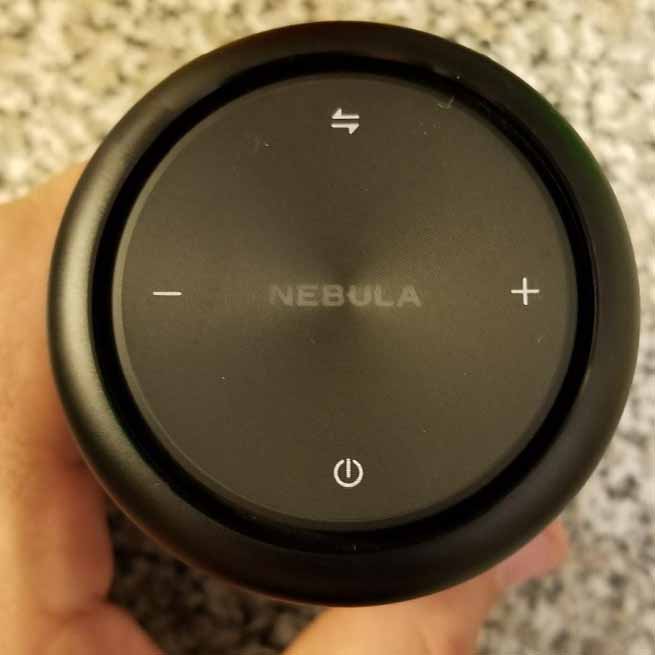 Wireless Connectivity
The Nebula Capsule is, much like the rest of us, heavily reliant on streaming media services. As a result, Anker has made sure that the device is dual-band compatible. Even if you are far enough from your router that the 2.4 band is the best option, it's always nice to have the 5 band as an alternative.
The Capsule is also Bluetooth 4.0 dual-mode compatibility, which means all your favorite devices will be able to sync with the device. The Capsule allows you to mirror your Bluetooth devices to the projected screen. If you thought the iPhone 7 Plus was big, just wait until you're starring at the 100" version. During our testing we noticed no speed issues or lagging. The WiFi was snappy and the Bluetooth showed no visual perceivable latency, which is always a good sign of a product's quality.
While the Capsule does rely heavily on wireless connectivity, the device also features an HDMI input for hardwiring an HD device, such as a Blu-ray player or cable box.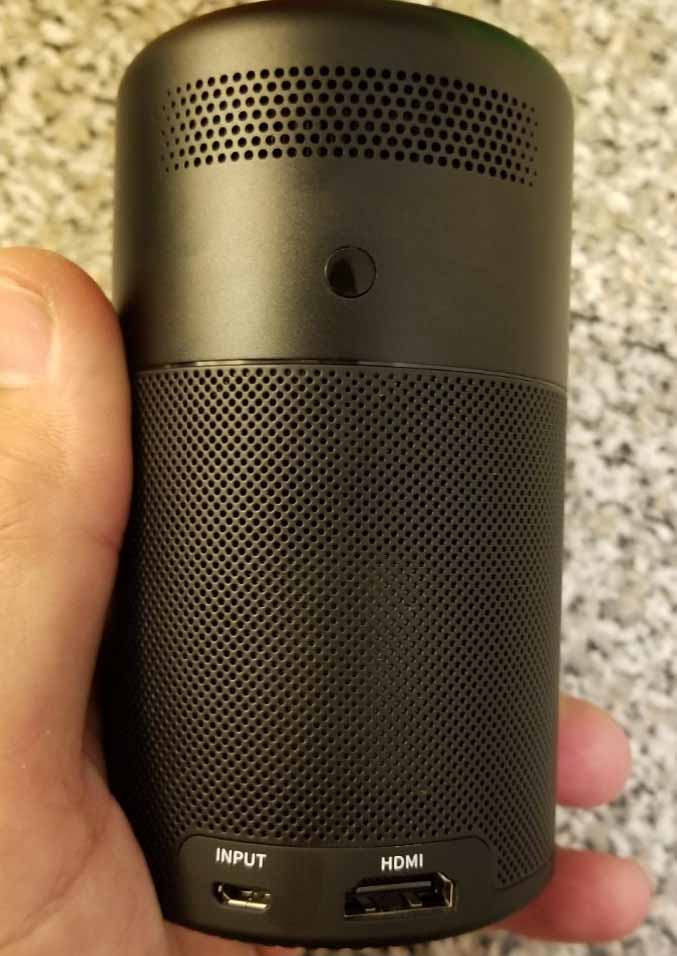 Smartphone App
While the Capsule's remote control is simple enough to use, the Anker's Capsule Control app for Android and iOS is a more convenient and smoother alternative. Instead of having to click through every letter on a virtual keyboard, the Capsule Control app allows you to type words on your phone's keyboard, which is considerably faster and less frustrating. You can also control the interface with the apps touchpad, which again, is much more convenient than having to scroll through each item individually.
Hardware
The Capsule is powered by a Quad-Core A7 smartphone chipset with 1 GB of RAM and GB of ROM. The processor does a great job of keeping the device's light software running smoothly. Your internet connection does a lot of the heavy lifting as far as application speed goes, but the physical hardware keeps everything working smooth and snappy.
In addition, the cooling system runs very quietly. Anker says that that the fan's noise level never surpasses 30 dB, which keeps the sound well below the level where it would otherwise become intrusive.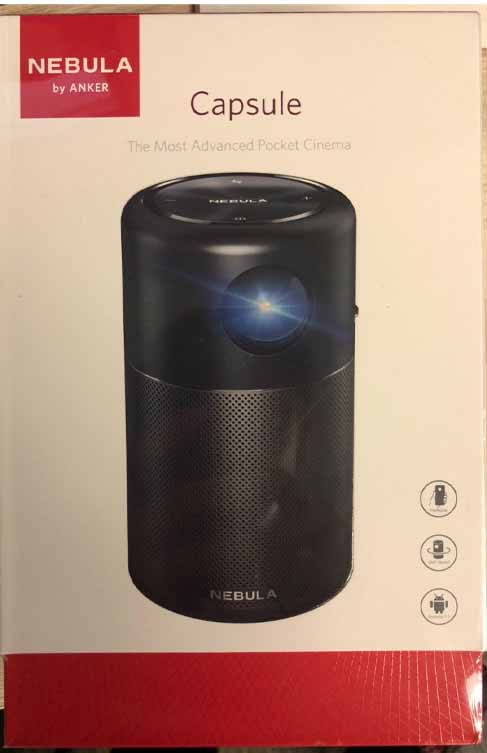 Final Thoughts
The Anker Nebula Capsule is really a 2-in-1 device. When you buy the Capsule, you get a mini-projector and a stand-alone Bluetooth speaker. When you take into account its miniscule size, competitive screen quality, vastly improved sound (compared to the competition) and Bluetooth integration, the Nebula Capsule amounts to one of the most versatile mini-projectors on the market. If you can accommodate for the projector's need for low-light settings, then you'll be very well-off with the Capsule. Do yourself a favor and give it a try. While mini-projectors are not for everybody, the addition of an omni-directional speaker makes the Capsule a very hard device to ignore.