We've all seen coolers before. The common issue with them, however, is that they eventually warm up. Even the best models on the market can only hold ice for about five days. But what if you need something that keeps your drinks and food colder more reliably for longer periods of time? A 12-volt powered portable fridge/freezer is an ideal alternative.
The ICECO APL55 Silver Dual Zone 12-volt fridge/freezer is a great solution for those needing a high-end alternative to a standard cooler. It sips very little energy, provides reliable food storage and is packed with a wealth of impressive features. Let's take a closer look at it.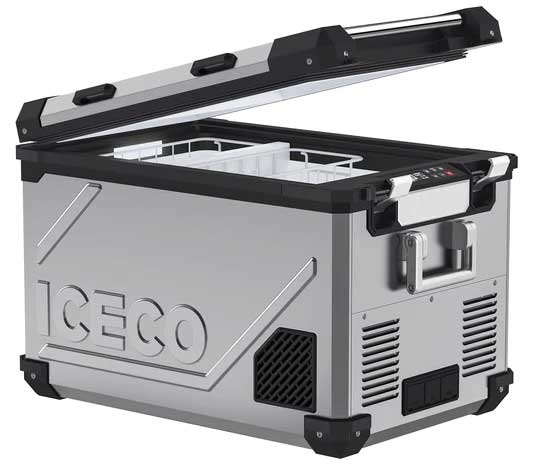 Two Cooling Zones For Ultimate Temperature Control
This APL55 from ICECO has two different cooling zones. Each zone is separated by a removable barrier. This allows each cooling zone to be set to its own specific and precise temperature. Whether you want it to fully refrigerate, fully freeze, or do a combination of both, it's built to provide an easy solution.
As for temperature range, it boasts the ability to cool between -4 degrees Fahrenheit to 68 degrees Fahrenheit. In addition, to help retain that cooling, it's specifically engineered and constructed with 2.4 inches of insulation all around it. This creates a sealed environment that can withstand normal use in even the hottest of summer days.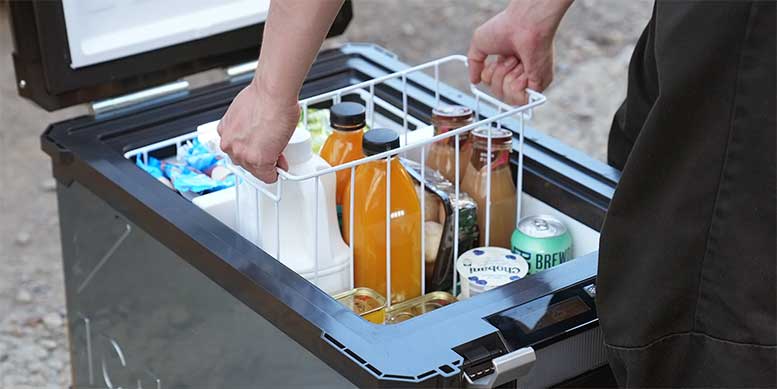 The Perfect Size with Plenty Of Storage
At first glance, the ICECO APL55 Silver looks just like a standard large cooler. Its exterior dimensions measure 29.7 x 18.9 x 19.3 inches, putting it in the same size as most large-capacity coolers. As for volume, internally, it provides 55 liters of space. This allows it to hold an entire plethora of drinks and food for meals, snacks and off-grid living for weeks on end.
As an example, you can store 76 (12-ounce) cans of soda, 47 (18-ounce) drink bottles, or 12 (750ml) wine bottles. Whether you're packing for a picnic or a weekend of camping, the APL55 can hold plenty of food and drinks for various meals. But do keep in mind, the APL55 is hefty, tipping the scale at 54.67 pounds when completely empty. Once you fill it to the brim, you'll probably need some help moving it around.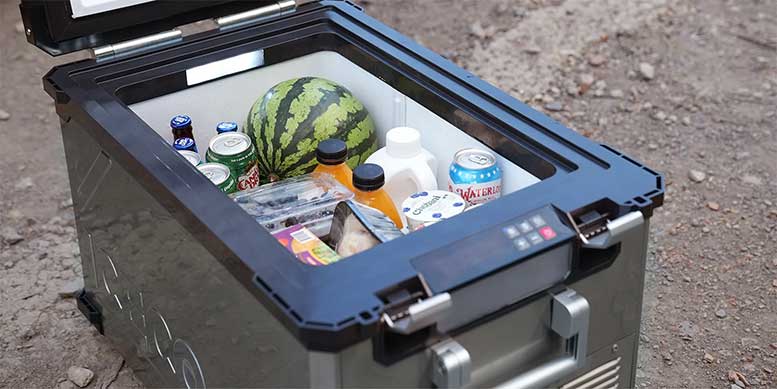 Two Ways to Take Control
There are a few different ways to control the various functions of this fridge/freezer. The first is via the companion app. The smartphone/tablet app allows you to precisely control the temperature of each zone. What's more, it allows you to monitor critical live information such as voltage, units of temperature, and various modes.
If you prefer to make changes to settings right on the device, you can do that as well. Thankfully, the side of the fridge has an intuitive control panel and a beautifully-lit display screen. This allows you to change/adjust temperatures, power the fridge on, and control other various features without having to pull out your smartphone or tablet.
Soft Close Lid with Multiple Smart Features
The lid used for this fridge is equipped with two smart features to give it a premium feel. The first is a soft close. The lid uses a damping latch to help the lid close slowly and avoid injuring anyone on accident. Needless to say, closing it is a breeze, and you'll never have to worry about accidently slamming it.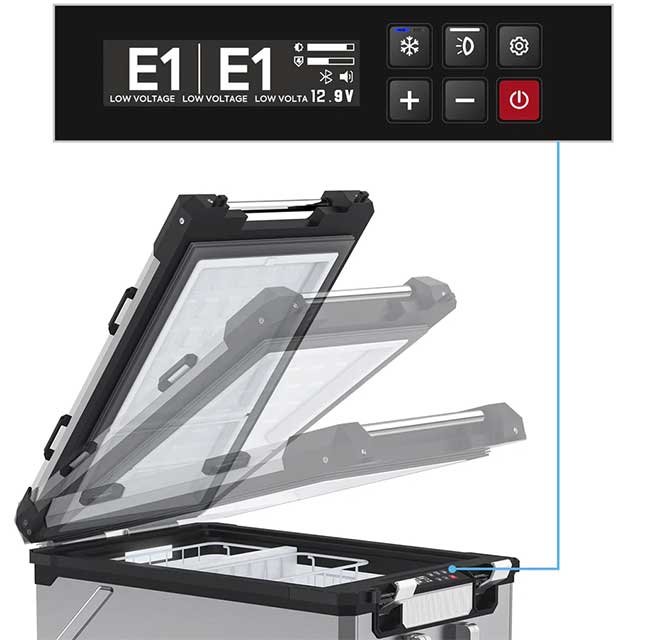 The second feature is a warning tone. This sound emits automatically if the lid is left completely open, is only partially shut, or if any error codes for the entire device are detected. It provides an excellent reminder if anyone accidently leaves it open. Thankfully so, since if left open, all of your food could go to waste – and nobody wants that! With these features, you can effectively reduce food spoilage and/or accidental mishaps from occurring.
Easy to Power at Home and on the Go
In order to provide refrigeration and freezing for your food and beverages, you'll need a power source. There are two different ways to do so. You can either use the 110-240V standard wall outlet AC adapter or the included 12/24V plugin, ideal for off-grid living in a van, RV or tiny home. This lets you easily power it up whether you're at home or on the road. Additionally, there are four USB ports to output power to your mobile devices in need of charging. It's an added bonus that adds a bit of versatility.

Three Bonus Features
If it wasn't enough to have the wonderful cooling and freezing capabilities the APL55 has, there are a few bonus features to further set it apart. The first is a removable handle. With it, you can easily remove it in case it's in the way of what you're using it for. For permanent placement, some users may not want these handles installed as they could potentially take up crucial space in any tiny-living situation.

The second is an easy drainage system. In the event of an accident or if moisture accumulates and puddles inside, it allows for an easy way to remove the spill. While you won't need to worry about melting ice if used properly, it's a nice feature to have.
The third bonus feature is an LED light on the side of the fridge. This is especially nice for camping and using the fridge at night. It effectively illuminates the surrounding area and makes it simple to see in total darkness.
Upgrade with Accessories
To further enhance the capabilities of the ICECO APL55, there are two bonus accessories you can add to your purchase.
The first is a solar panel that can be dedicated to providing ample power. This solar panel is able to provide up to 80W of power, so you can be sure your fridge has ample power no matter where you take it. The panel only weighs 12 pounds and has compact dimensions to go with it, making it ideal for travel or on-the-go use. Best of all, it's made with durable materials and is completely water-resistant, meaning you can keep it outside in the elements without any mishaps.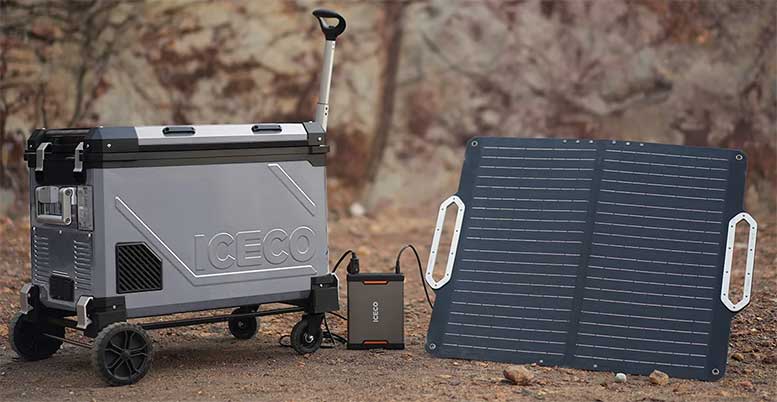 The second notable accessory is a detachable and foldable wheel tray. This tray allows you to easily set the fridge on top of it and pull it to where it needs to go. The tray is durable, having excellent corrosion resistance. This helps it hold up no matter what conditions you throw at it. It's designed with two larger wheels in the back and two smaller wheels in the front. A foldable handle is attached between the smaller wheels. Needless to say, once the fridge/freezer is packed with food, it's going to be quite heavy.
What's Included?
If you plan on purchasing the APL55 from ICECO, here's what you can expect to find in the box:
APL55 Fridge
AC Power Cables
DC Power Cables
Instruction Manual
Two Removable Baskets
Removable Divider
3M Double-Sided Tape
Two Anti-Collision Corners
Two Drain Plugs
Two Door Latches
Six Screws
ICECO has included the APL55 Silver in different packages to let you get exactly what you're looking for. Here are your choices:
APL55 Silver – $859.99
APL55 Silver and Solar Panel – $948.10
APL55 Silver and Base Trolley – $1,033.60
APL55 Silver and Base Trolley and Solar Panel – $1,165.65
Each package is available now for pre-order, with shipments beginning in mid-July.
Final Thoughts
The ICECO APL55 Silver Dual Zone 12-Volt Fridge is a great option for those who want a portable option that keeps their food and drinks colder much longer than traditional coolers can.
Its multiple cooling zones, thick insulation layer, and smart lid help retain the cold and keep everything from spoiling inside. Multiple ways to provide power and portability features make it easy to pack for a day and take with you wherever you go. In our opinion, if you're in the market for a portable cooling solution, you really can't go wrong with the APL55 Silver.