Whether you're looking to display visuals outside or get an alternative to a television in your living room, a projector is a great option. When choosing a projector, you'll want to consider various features like picture quality, sound capabilities, and additional capabilities. If you're interested in getting a projector, but don't want to do all the research on your own, then you may want to keep reading about the new OmniStar L80.
Super Bright LCD Projector
Overall, the OmniStar L80 is a seemingly incredible projector. One of the main reasons for this is the brightness it's capable of producing. Most other projectors in the same price-range come in at 500 ANSI Lumens, but the L80 comes in at 1500 ANSI Lumens. In fact, this makes it the brightest LCD projector ever created. The brightness capabilities allow it to display your visuals even in the brightest rooms in the middle of the day – something out of the ordinary, for sure.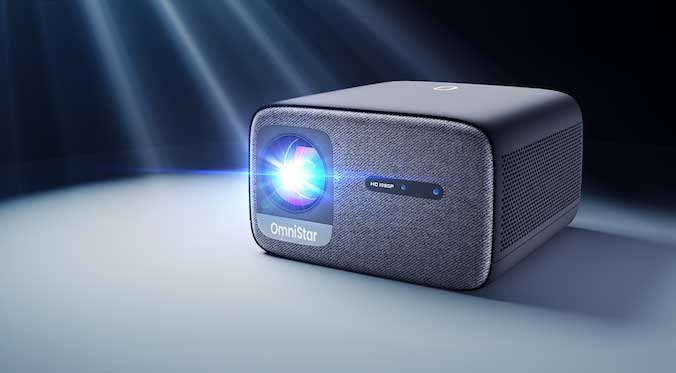 Note: Buy the OmniStar L80 on the official website and use code NerdTL80 for a steep discount.
Incredible Visual Capabilities
In addition to being three times brighter than leading competitors, the optics used in the L80 boast awesome next-gen capabilities. One of these capabilities is superior image quality. Internally the projector uses a 5.7" high transparency LCD module. This offers a 20% increased transparency and heat resistance compared to other alternatives available. This allows it to project in native 1080P and create 16.77 million colors in the process. As a result, it's capable of providing a 220% clearer image compared to other 720P alternatives.
In fact, it's even capable of achieving this on projected screens up to 200 inches in size. Here's a full breakdown of the various screen sizes it can project:
40 inches at 4.4 feet away from the wall
80 inches at 7.6 feet away from the wall
100 inches at 9.7 feet away from the wall
120 inches at 11.5 feet away from the wall
150 inches at 14.1 feet away from the wall
200 inches at 19 feet away from the wall
Another capability is its image uniformity. The uniformity takes the image quality and makes everything look flawless. It can achieve 1.3x the uniformity of other options on the market, ensuring you won't experience any hotspots or dim areas.
Superior Audio
As you may already know, audio is a critical component of any projector setup. Some additional speaker systems, while others have integrated speakers. The OmniStar L80 projector has its own set of speakers built-in. Internally it features two 15W speakers, a 4XNBR subwoofer, and professional audio DSP AKM7735. These audio features allow it to create immersive audio experiences regardless of what you're watching. The sound produced shouldn't have any issues reaching everywhere in a room, making sure everyone can enjoy the audio to its fullest.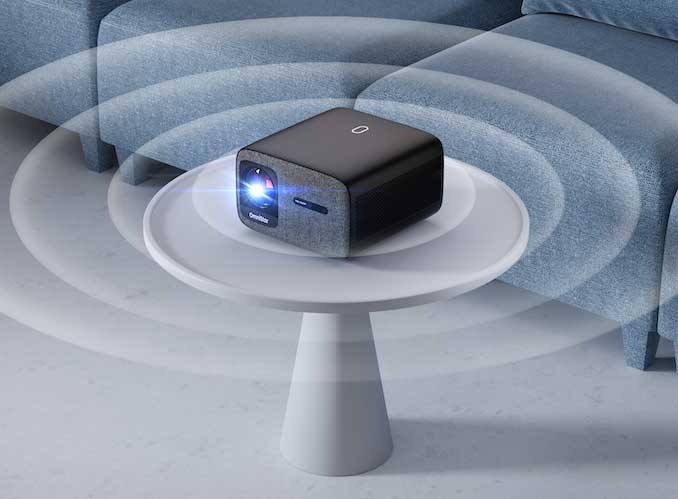 Bluetooth Speaker Mode Provides Versatility
One additional feature that really sets the L80 apart from other projectors is the Bluetooth speaker mode. Utilizing the amazing audio features it has, you can also connect your phone or wireless device to play music and other audio over the speaker. Whether you're having a big outdoor party or a smaller indoor event, this mode can easily provide music for you and all your guests.
Picture Adjusting Features
The OmniStar L80 has a few great picture-adjusting features available. The first is auto-focus. Using its own algorithm, the L80 can instantly and automatically focus the image it's projecting. This is a vast improvement over competitors that still require manual focus changing.
The second feature it has is auto keystone correction. This feature allows the projector to move the displayed image and precisely align it into a perfect rectangle. It automatically adjusts the picture by plus or minus 40 degrees both horizontally and vertically.
The third feature is digital zoom. You can easily zoom in and out the image to your preferred size regardless of how close or far you are from your wall. This also won't have a negative impact on image quality.
Connectivity Options
The OmniStar L80 has many different ways to connect your favorite devices. The back of the projector has two USB 2.0 ports, a 3.5mm audio jack, two HDMI 2.0 ports, and one USB Type-C port. This makes it simple to connect a wide variety of devices like laptops, phones, gaming systems, headphones, and more. Additionally, the L80 has Bluetooth capabilities that allow you to easily cast content directly to the projector from your wireless devices.
Easy Installation Options
There are many different ways you can install the L80 wherever you want it. The first and easiest is the included hidden projector stand. This is built right into the body of the projector and allows it to tilt from 0-15 degrees. Additionally, you can ceiling mount, platform mount, stand mount, or desktop mount the projector (ceiling and stand mounts not included). Wherever you need your projector to be, the L80 is capable of easily being installed.
Size, Durability, and What's Included
The OmniStar L80 isn't just a well-performing projector; it's a durable option too. It features IP5X dust-proof optics. This keeps it protected for optimal performance whether you use it indoors or outside. Dust will have an extremely hard time getting inside the projector to ruin your picture quality. Additionally, the L80 has an ultra-long lifespan and can confidently be used for up to 30,000 hours. That means you could use the projector for four hours a day for 20 years before having to worry about any issues. Best of all, it has a 1-year warranty, just in case.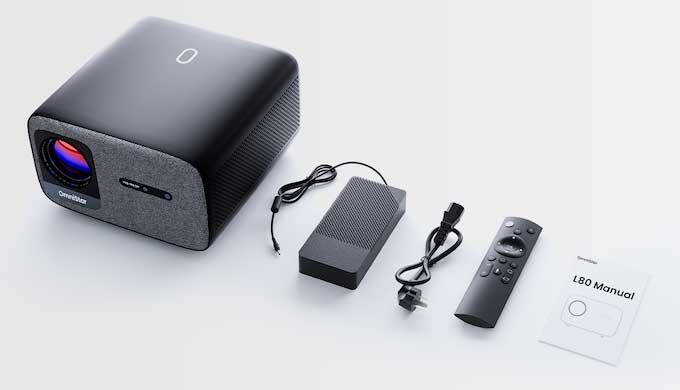 As for size, the L80 measures 11.3 x 11.4 x 7.1 inches and weighs 11.2 pounds. It is a bit bulky, but it shouldn't be too difficult to store it out of the way. While it may be a bit heavy to lug around, the benefits it provides make it worth it. Included in the box are the L80 itself, a power adapter, the power cable, a remote, and the user manual. Everything you need and nothing more.
Note: Buy the OmniStar L80 on the official website and use code NerdTL80 for a steep discount.
Final Thoughts
Projectors are a great alternative to televisions and allow you to show visuals in places you normally couldn't. The OmniStar L80 provides incredible brightness, great video quality, amazing audio, and a long list of additional features that set it apart. The L80 recently launched on Amazon and has already gotten over 40 times the amount of pledges than asked for. According to the product timeline, this projector should be ready to be delivered to your home starting in September of 2023. In our opinion, the L80 is definitely worth considering if you're in the market for one of the best new projectors available.