This year's Amazon Tech Prime Day Deals bring a promising lineup of gadgets to supercharge your home and lifestyle. From smart vacuum cleaners that offer personalized cleaning experiences to innovative smart home devices and drawing tablets, there's something for everyone. To help you find that perfect gadget, we're reviewing the standout tech in 2023. Here's what's to come in our in-depth guide:
We have the full report on all of these cutting-edge pieces of tech. We'll tell you what we liked and what we didn't like. So let's get right to the reviews so that you can find the perfect addition to your tech collection.
ECOVACS DEEBOT X1 OMNI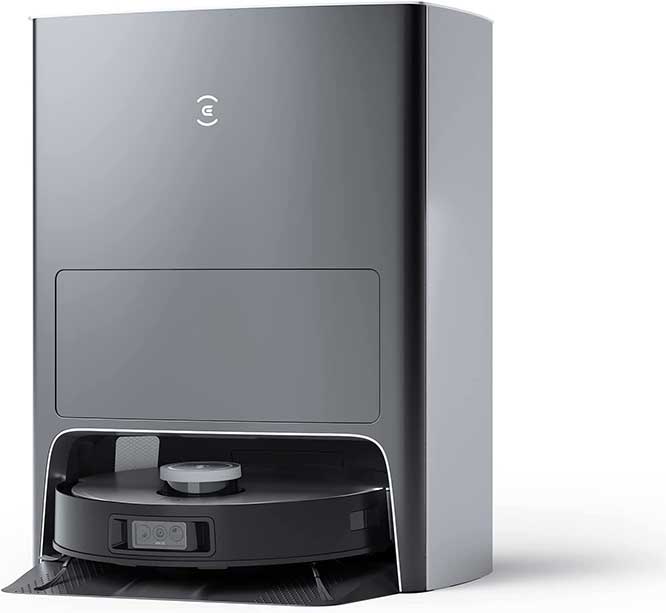 ECOVACS X1 OMNI – The industry's first all-in-one OMNI station, combining auto mop washing, auto hot air drying, auto water refill, and auto-empty, completely free your hands. It utilizes the industry-leading AIVI 3D technology, which can effectively avoid more than 30 types of obstacles without the need to pick up your shoes before cleaning. With OZMO Turbo 2.0 dual mop rotating system to ensure ultimate mopping performance. Trusted by 1,000,000+ households worldwide, based on cumulative sales.
Key features:
All-in-one Omni station
5000Pa suction power
Advanced laser-based TrueMapping
AIVI 3D Obstacle Avoidance
$899.99 Prime Day price (lowest ever, never again)
The ECOVACS X1 OMNI is an industry trailblazer, offering an all-in-one Omni station that truly takes your cleaning routine to the next level. With dimensions of 16.9 x 17.6 x 22.8 inches and a weight of 41.2 pounds, this cleaning marvel handles your home's tidying needs. The unit sets itself apart with a potent 5000Pa suction power, efficiently picking up debris from carpets, hard floors, and wooden floors.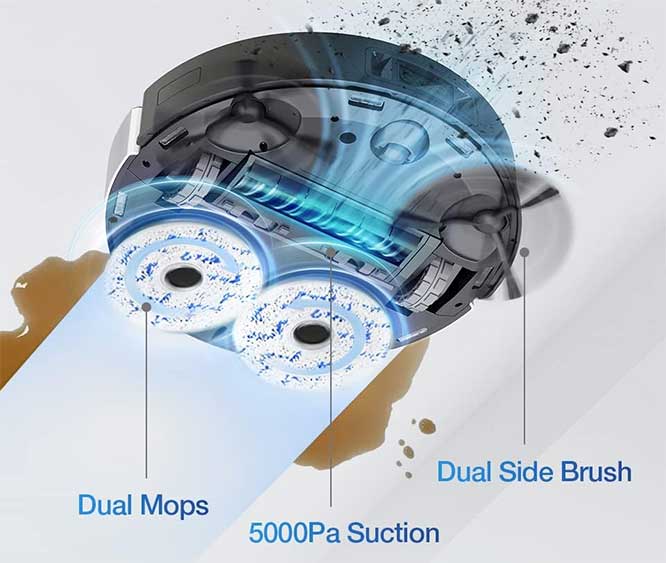 The rotating OZMO Turbo mopping system works diligently to eliminate stubborn stains, leaving your floors spotless. It impresses with advanced laser-based TrueMapping technology, scanning the environment to create the most efficient cleaning paths for maximum coverage. Moreover, its AIVI 3D Technology automatically identifies and avoids obstacles above 2 inches in height, making pre-cleaning worries a thing of the past.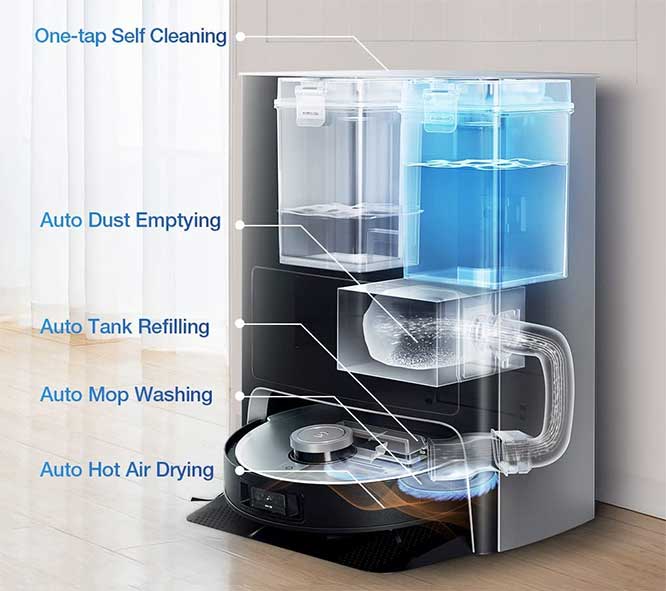 The X1 OMNI is equipped with a YIKO voice control system, making it as simple as giving a command like "Ok, YIKO. Vacuum behind the chair in the kitchen." However, we found that the app for map creation and maintenance could be improved. The initial map is created fairly well, but editing for personalized use can be frustrating and time-consuming. Regardless of these minor drawbacks, the ECOVACS X1 OMNI stands out for its functionality, design aesthetics, and seamless operation, presenting itself as an essential addition to your smart home ecosystem.
What we liked:
Potent vacuum and mop combo
Automatic obstacle avoidance
Voice control system
Omni station for easy maintenance
What we didn't like:
Edge performance could be better
Map editing in app is challenging
ECOVACS N8 Pro+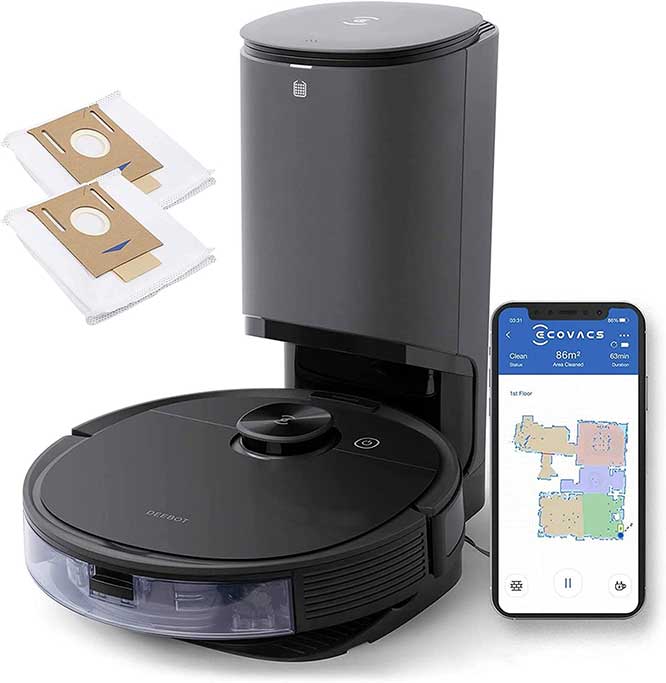 ECOVACS N8 Pro+ – An entry-level vacuuming and mopping in-one-go robot, best choice for households with the need for a robot cleaner but with a limited budget. This model can perfectly meet basic cleaning needs and it won't take up much space. Currently, it is on an incredible sale, at $299.99, allowing you to bring one home and have more time for what you enjoy. Already trusted by 500,000+ users.
Key features:
Self-empty station
2600Pa vacuum power
Combined vacuuming and mopping
Smart mapping and personalized cleaning
$299.99 Prime Day price (lowest ever, never again)
The ECOVACS N8 Pro+ truly delivers a hands-off cleaning experience, equipped with a self-empty station that holds up to a month's worth of dirt and debris. Measuring 13.9 x 13.9 x 3.69 inches and weighing about 14 pounds, it handles the tidying up tasks in your home with nimbleness. It boasts an impressive 2600Pa suction power that effectively draws out dirt from your hard floors and carpets.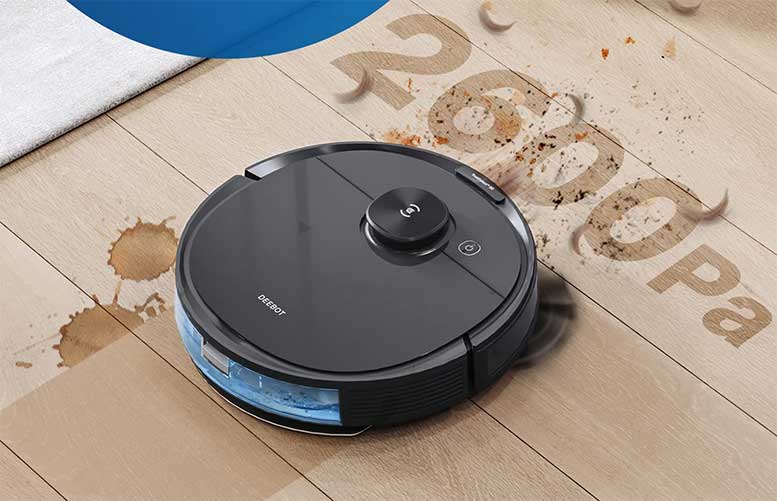 Its combined vacuuming and mopping functionality adds to its versatility, automatically avoiding carpets when set to mop mode. The device utilizes advanced LiDAR navigation for smart mapping, capable of recognizing multi-floor layouts. It even allows you to set no-go and no-mop zones for more personalized cleaning. However, our tests revealed that the TrueDetect object avoidance feature can be inconsistent. It had difficulty detecting objects that were not directly in front of the sensor, potentially leading to messier situations.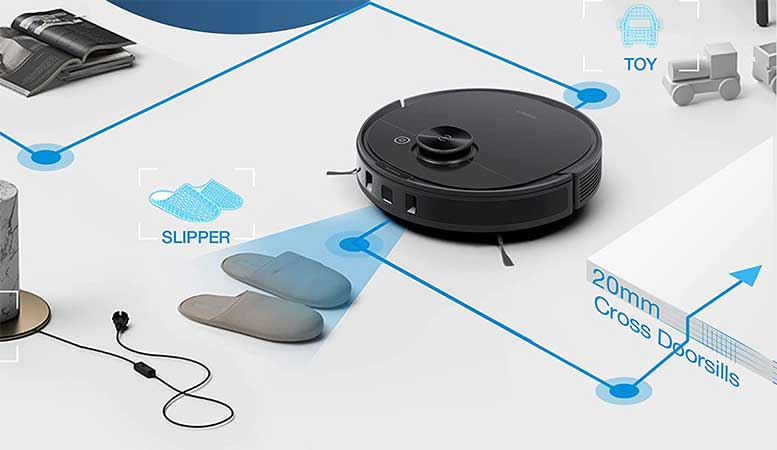 Moreover, it exhibited some navigation issues, often getting confused and trapped between objects during its cleaning runs. Nonetheless, it impressively resumes cleaning where it left off after auto-recharging. Despite these quirks, the ECOVACS N8 Pro+ remains a reliable ally in maintaining a clean home, also compatible with Alexa and Google Home for seamless smart home integration.
What we liked:
Versatile vacuum and mop
Smart mapping capabilities
Excellent suction power
Auto-recharge and resume
What we didn't like:
Inconsistent object detection
Occasional navigation confusion
OneOdio Open Rock Pro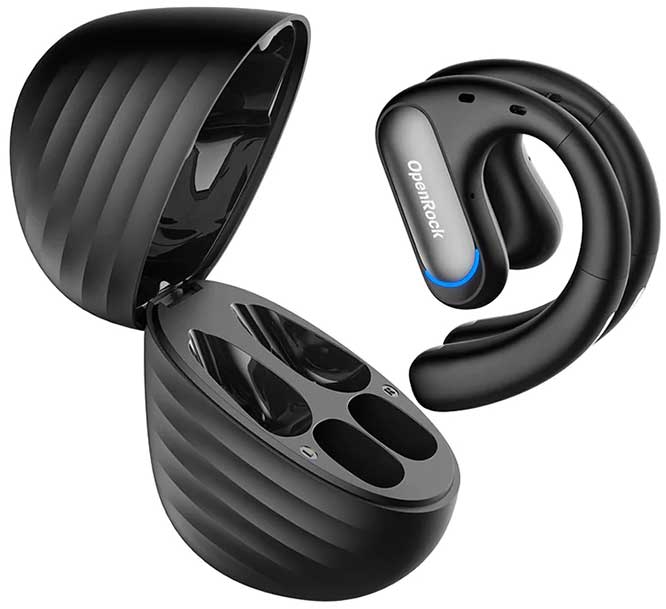 Key features:
Bluetooth 5.2 technology
Patented TubeBass technology
Long battery life
IPX5 waterproof rating
The OneOdio Open Rock Pro is a trailblazer in the world of wireless Bluetooth 5.2 earbuds, featuring first-generation innovative open-directional technology. They come in a classic black color and on-ear form factor, making them versatile for various users and settings. These earbuds also boast an impressive 49-hour battery life, with a rapid charging feature where 5 minutes of charging equals an hour of play. A full charge is achieved in just 1.5 hours.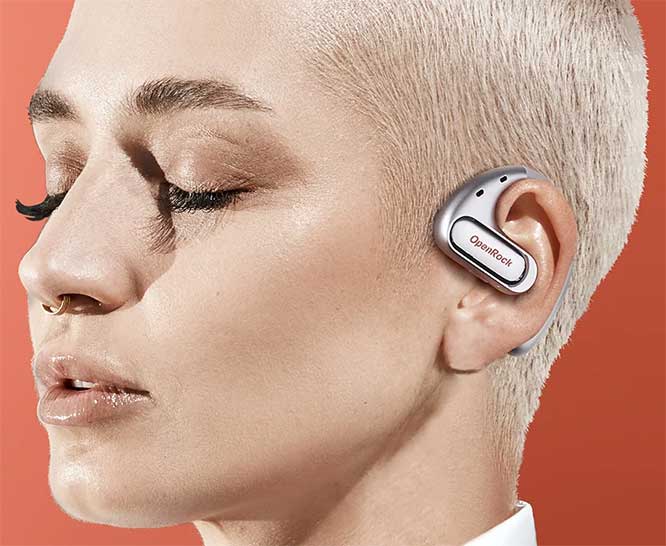 Their long-lasting power capability was praised by several users, with the earbuds enduring around 6 hours of play and still showing a full battery level on their iPhone. One of their defining features is the patented TubeBass Technology. This enhances the bass and real-time audio adjustment, providing an immersive audio experience with a focus on bass.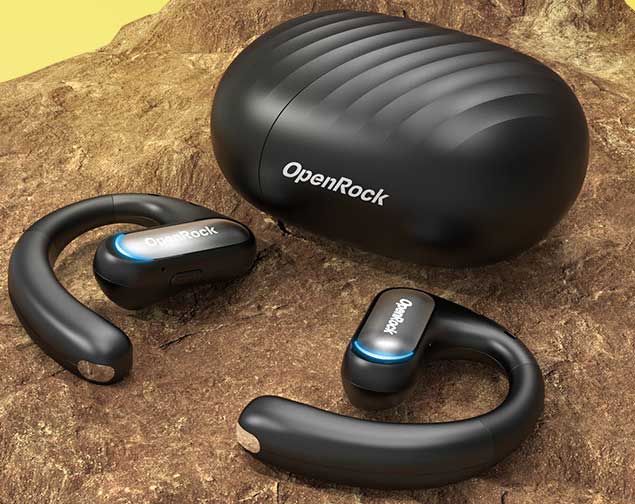 While they're rated IPX5 for water and sweat resistance, we experienced some sound quality issues in the right earbud when exposed to sweat. This could potentially question their suitability for high-intensity exercise sessions. Overall, the OneOdio Open Rock Pro earbuds stand out for their innovative open-directional technology, long battery life, superior comfort, and surprising bass power. Despite some potential shortcomings in sweat resistance, these earbuds make a strong impression and could be a reliable audio companion for most users.
What we liked:
Innovative open-directional technology
Long-lasting battery life
Comfortable fit, even with glasses
Good sound quality with the ability to perceive surroundings
What we didn't like:
Audio can become muddled at times
Potential issue with sweat resistance despite IPX5 rating
Govee Envisual TV LED Backlight T2 with Dual Cameras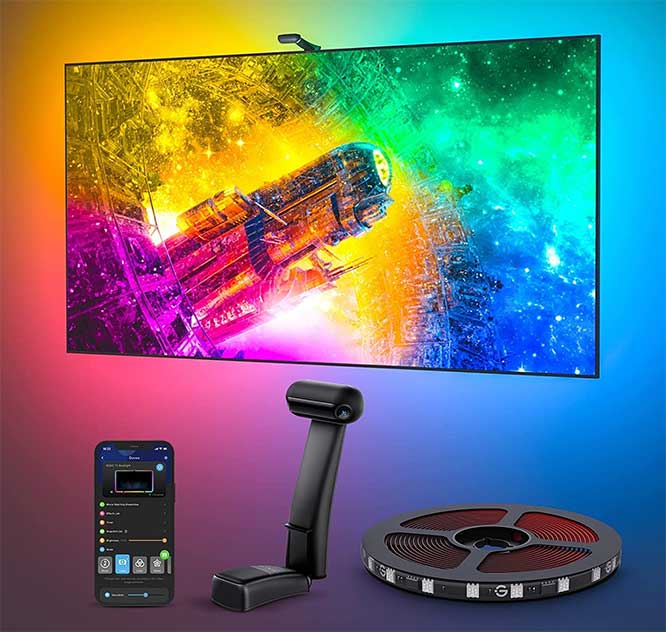 Key features:
Dual cameras for precise color matching
DreamView for connected light show
Functional Govee Home App control
Enhanced RGBIC lighting
The Govee Envisual TV LED Backlight T2 proves to be a gamer's dream and a movie-lover's fantasy alike. The dual cameras leverage Envisual technology for unprecedented color accuracy along the edges. Whether it's an adrenaline-pumping car chase or a quiet, poignant scene, this 11.8-foot WiFi RGBIC LED strip reacts in real-time, seamlessly blending in with your 55-65 inch TV. For a highly personalized light show, the DreamView feature is a standout.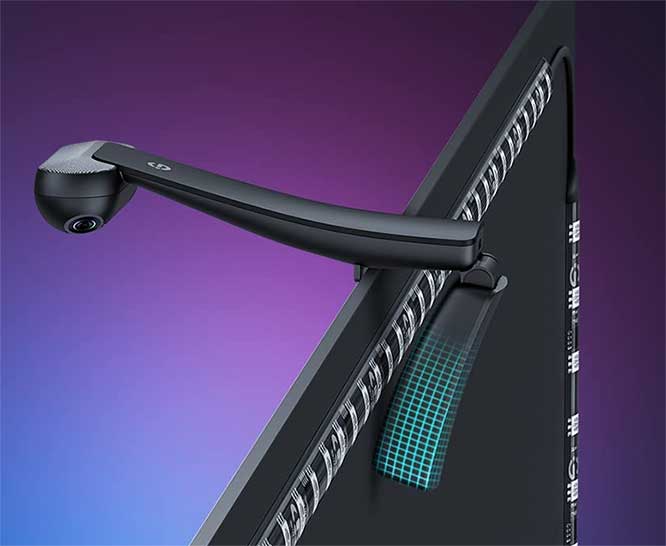 We like that it lets you link multiple lights to create an immersive ambiance. We tested it across various genres, and every time, it demonstrated exceptional performance. It adapts flawlessly to the on-screen action, making movie night immersive. And with the Govee Home App, you get convenient control over the brightness, color, and diverse modes to suit your mood.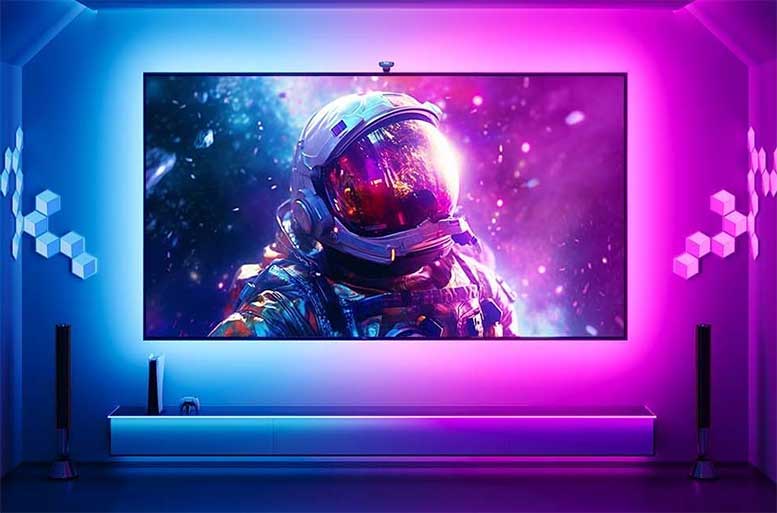 It's nice to be given so much customization over the lighting. That said, it's important to be mindful of other light sources when using this light, as direct lighting can throw off the ambiance. Apart from that, there's a lot to like here. And the fact that it's so compact is yet another feather in its cap. Weighing in at 2.77 pounds and measuring 5.71 x 3.35 x 6.1 inches, the light doesn't burden your setup and installs without hassle.
What we liked:
Adjusts to on-screen content in real-time
Vibrant, customizable colors
Connect multiple lights for immersive experience
Fast scene response
What we didn't like:
Color calibration varies per set
Direct light may affect color accuracy
SwitchBot Prime Day Sales Event – Sales Up to 40% off
SwitchBot is storming the smart home market with its Amazon Prime Day Sales Event, featuring the best of its innovative IoT products. On their official website, you can enjoy 25% off every product that they offer.
For this occasion, we're diving into three top-tier products: the SwitchBot SmartSwitch Bot, the SwitchBot BlindTilt, and the SwitchBot Hub 2.
SwitchBot SmartSwitch Bot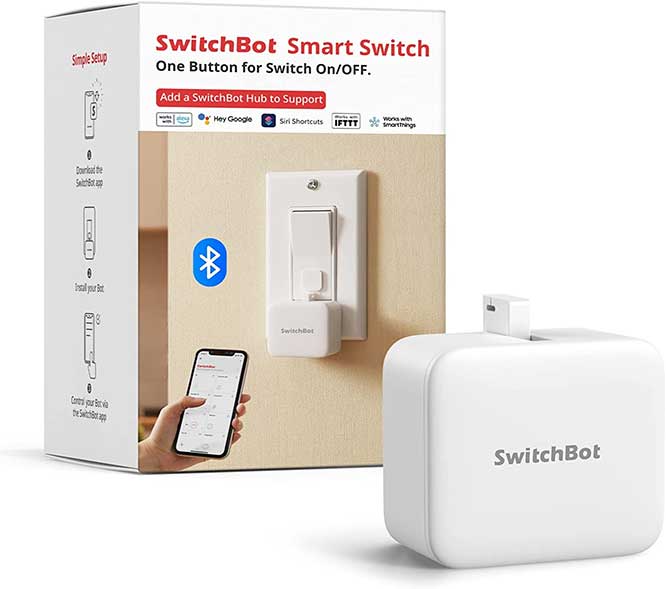 Key features:
Activates various household switches
Easy installation with 3M sticker
Inbuilt timers for automation
Interlinks with SwitchBot ecosystem
15% coupon code: MQ40NERD
The SmartSwitch Bot, at 1.67 x 1.44 x 0.94 inches and 1.38 ounces, is a versatile mini retrofitting device that's capable of activating numerous household switches and appliances. Quick to install and set up with a 3M sticker, this Bluetooth-operated device extends its functionality when paired with a SwitchBot Hub. It reacts to set schedules and even links with other SwitchBot gadgets, further simplifying home automation.
Enjoy savings on the SmartSwitch Bot on their official website.
What we liked:
Compatible with multiple appliances
Battery lasts approximately 600 days
Enhances hands-free living
App operation within Bluetooth range
What we didn't like:
Requires SwitchBot Hub for remote control
Wonky reset button location
SwitchBot BlindTilt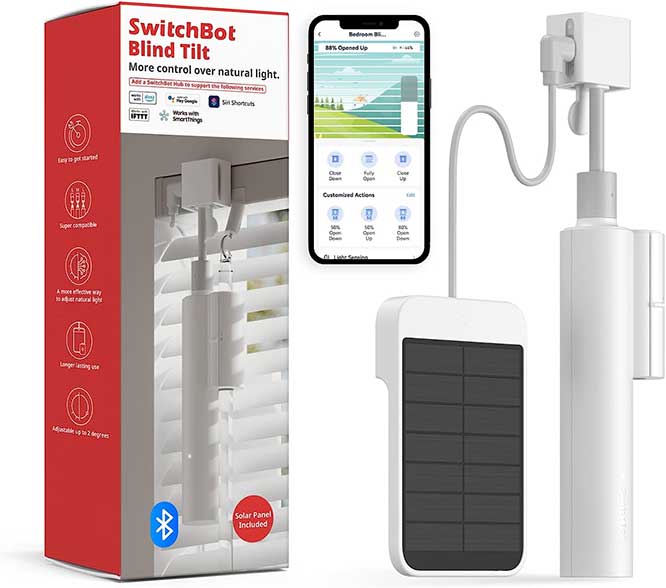 Key features:
Retrofits existing blinds
Solar-charged 2000mAh lithium battery
Precision alignment to 2°
Integrated light sensor
15% coupon code: MQ40NERD
SwitchBot BlindTilt is a true game-changer in every sense of the term. It retrofits existing louvers and transforms them into smart blinds. It boasts a solar-charged 2000mAh lithium battery, making it an environmentally-friendly choice. Its impressive precision (adjusting blinds to the nearest 2 degrees) and integrated light sensor ensure optimal light conditions at all times. Control via groups and compatibility with smart assistants extend its usability. Even better, it boasts a small footprint with dimensions of 1.92 x 11.5 inches and a weight of just 13.3 ounces.
Enjoy savings on the SwitchBot BlindTilt on their official website.
What we liked:
Environmentally-friendly power source
Multiple control methods
Group control capability
Automated light regulation
What we didn't like:
SwitchBot Hub Mini needed for remote control
Can be noisy at times
SwitchBot Hub 2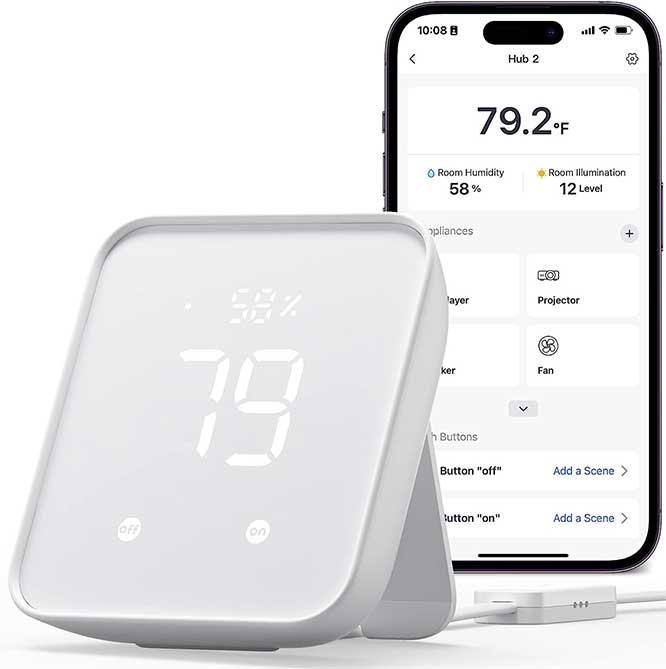 Key features:
Smart WiFi Thermometer Hygrometer
Consolidates infrared remotes
Two smart buttons included
Supports Matter platform
15% coupon code: MQ40NERD
The SwitchBot Hub 2 excels with its smart WiFi Thermometer Hygrometer and the ability to consolidate your infrared remotes. The Hub adapts its screen brightness to ambient light and lets you monitor temperature, humidity, and light levels anytime, anywhere. With two smart buttons included and compatibility with the Matter platform, it unifies your smart home ecosystem for an upgraded experience. Rounding out its appeal, this compact device measures 3.15 x 2.76 x 0.91 inches and weighs 7.4 ounces.
Enjoy savings on the SwitchBot Hub 2 on their official website.
What we liked:
Screen adapts to environmental light
Monitors home's temperature, humidity, light
Enables home automation scenarios
Simplifies control of household appliances
What we didn't like:
Depends on third-party smart assistants
Setup can be a chore
XPPen Artist 22 (2nd Gen)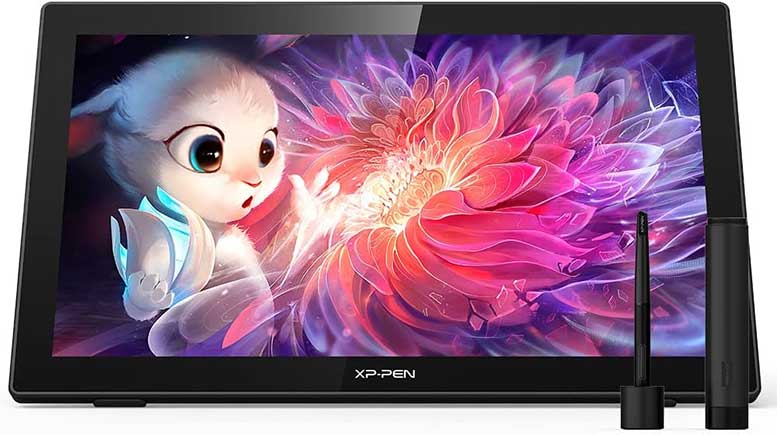 Key features:
HD LCD Screen with 1920×1080 resolution
Adjustable stand with angle range 16°-90°
Precise cursor positioning for accuracy
Wide compatibility with various OS and art software
The 2nd Gen XPPen Artist 22 is a digital artist's dream, packing impressive functionality into a sleek 21.5-inch package. Its HD LCD screen displays creations in stunning detail with a resolution of 1920×1080, breathing life into every stroke. The device is particularly noteworthy for its adjustable stand, ranging from 16 to 90 degrees, allowing for comfortable drawing positions.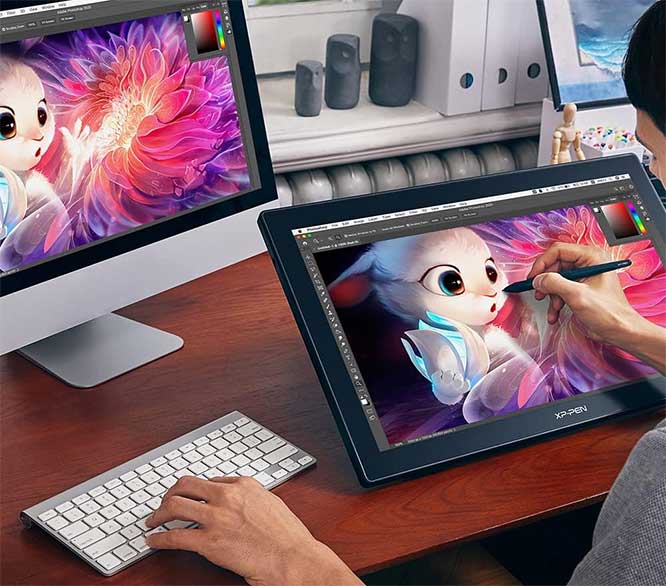 Further enhancing the user experience, this incredible pad offers precise cursor positioning, enhancing drawing accuracy. It also boasts an impressive color gamut of 86% NTSC, enabling artists to create vivid artwork enriched by lifelike hues and sharp details. Additionally, the battery-free stylus features a tilt function and a remarkable 8,192 pressure sensitivity levels, facilitating seamless shading and exquisite strokes.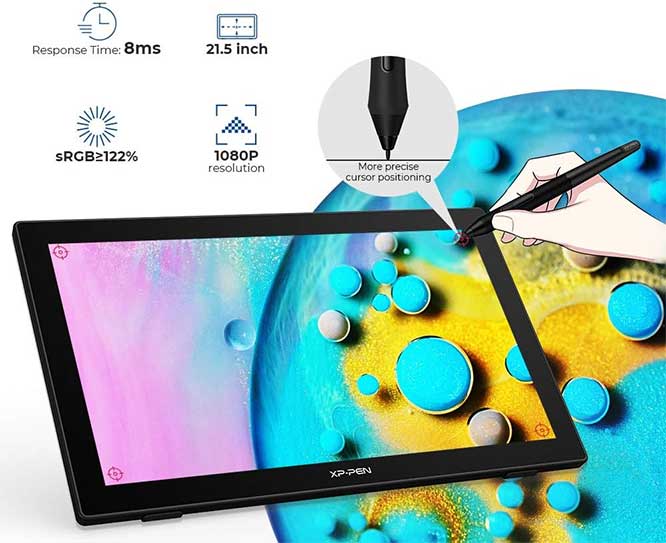 In our tests, it responded swiftly to every pen movement (thanks to an 8ms response time). This resulted in a fluid drawing experience in every instance. Furthermore, the tablet demonstrated wide compatibility – it works like a dream with Windows 10/8/7, Mac OS X 10.10 and above, and even Linux. This compatibility ensures that it's suitable for various digital art software. We will say that it's a bit heavy at nearly 18 pounds. It's also quite large at 21.18 x 13.07 x 10.16 inches. But this weight and these dimensions are welcome, as they come together to form a well-balanced tablet with plenty of screen real estate.
What we liked:
Rich color gamut for vivid artwork
Premium battery-free stylus
Quick 8ms response time
Designed for various applications including online teaching
What we didn't like:
Driver software auto-loads at startup
Limited customization on Linux
Tech Amazon Prime Day Deals for 2023 FAQs
When is Prime Day 2023?
Prime Day runs from July 11 to 12. You get in on the action early, too, as it begins at 3 am.
Can I get these Tech Prime Day Deals if I'm not an Amazon Prime member?
Prime Day deals are exclusive to Amazon Prime members. However, you can sign up for a free trial of Amazon Prime to take advantage of these deals.
What other kinds of items go on sale during Amazon Prime Day?
A wide variety of products go on sale during Prime Day, including electronics, household goods, fashion items, beauty products, books, and more. It's a great time to save on big-ticket items and everyday essentials.
Final Verdict
Each of these gadgets was selected for their unique features and high performance. The ECOVACS N8 Pro+ and X1 OMNI bring advanced cleaning technology to your home, simplifying household chores. The OneOdio Open Rock Pro earbuds enhance your audio experience using innovative technology, while the Govee Envisual TV LED Backlight T2 takes your movie nights to another level. SwitchBot's lineup of smart devices offers a comprehensive approach to home automation, making life more convenient.
Finally, the XPPen Artist 22 (2nd Gen) provides digital artists with an efficient and interactive tool, improving the creative process. You've definitely got a lot to choose from, but best of all, you can look forward to getting a great deal. Despite some drawbacks here and there, each of these products excels in their respective categories, making them worth your consideration this Prime Day.