Ready to secure a top-notch power solution for your needs? BLUETTI, a trendsetter in the green energy storage arena, invites you to a shopping fest that promises to be more than just a sale. Named the Prime Day Sale, this extravaganza invites all, Amazon Prime member or not, to dive into a pool of savings reaching up to 35% off.
The dates to remember are July 11th and 12th, with the event concluding precisely at 11:59 PM PDT. During this period, BLUETTI is excited to showcase a spectrum of its advanced products, including coveted models like the AC200P, AC300 & B300, and AC60 & B80. They are yours to purchase either from Amazon or directly from BLUETTI's website.
Whether you need an efficient power solution for the great outdoors or your living space, BLUETTI's array of products is ready to cater to your needs.
Save 32% on the AC200P
Was $1659, Now $1119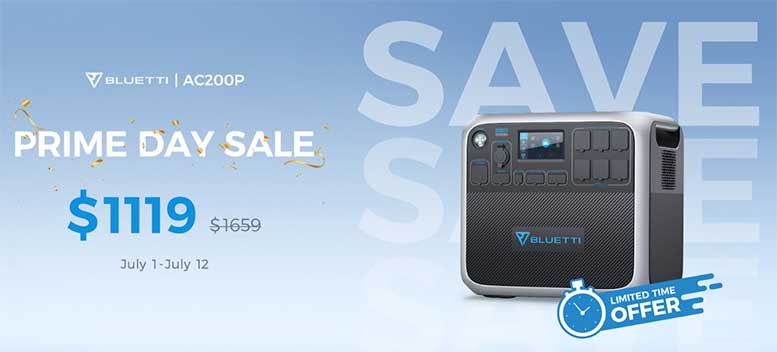 For those with an itch for road trips in an RV or van, the AC200P power station proves to be an essential travel partner. With its incredible battery capacity of 2,000Wh and a powerful AC output of 2,000W + 4,800W surge, the AC200P stands ready to power nearly any appliance you bring along for your road adventures. Forget the struggle of scouting for campsites to recharge – with AC200P, you've got all the power you need for outdoor adventures.
We're talking power to keep your freezer and air conditioner running while maintaining a charge on all of your devices. But that's not all. The AC200P also boasts a robust 700W solar charging capacity, ensuring you're never out of touch, even in the most remote spots.
A marked improvement over traditional fuel generators, this solar generator operates silently and emission-free, making it ideal for use in vehicles and tents alike. Given its superior performance, the AC200P represents a highly economical mobile power option within its category.
Save $899 on the AC300 & B300
Was $3498, Now $2599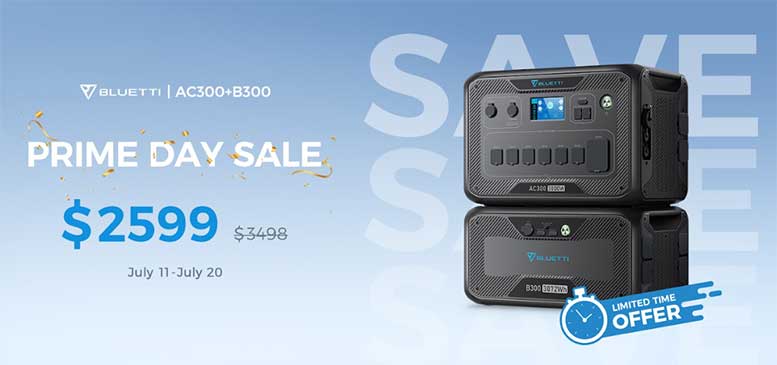 Redefining home power solutions during power outages and emergencies, the AC300 power station is indeed a revolution in its own right. With a robust AC output of 3,000W (surging up to 6,000W) and an array of 16 outlets, the AC300 confidently powers a wide variety of household appliances. Be it your refrigerator, microwave, or CPAP machine, the AC300 keeps them all running.
Moreover, forget the anxiety of losing your important work data during sudden power cuts when working from home. The AC300, armed with an uninterruptible power supply (UPS) function, swiftly switches from main power to battery power in a mere 20ms.
Want more power storage? Connect the AC300 with four B300 expansion batteries to unlock an impressive 12,288Wh of energy, sufficient to keep a house running for days. What's more, the AC300 employs LiFePO4 batteries that promise a lifespan of over 3,500 cycles, translating to a minimum of 10 years of usage based on one discharge per day.
Save $500 on the AC500 & B300S
Was $4799, Now $4299
For those in search of a power solution with enhanced performance and scalability, the AC500+B300S package takes center stage. The AC500 power station takes a quantum leap over its AC300 predecessor with striking enhancements in power output, capacity, and charging velocity.
Its colossal 5,000W continuous power output with 10,000W surge is capable of addressing virtually any power requirement. Together with the B300S expandable battery, it offers a maximum capacity of 18,432Wh, providing an extra layer of preparation for extensive power outages.
In keeping with BLUETTI's commitment to eco-consciousness, the AC500 employs LiFePO4 batteries, which are both environmentally friendly and safe. It's a smart buy for homeowners seeking longevity in their power solution.
Not only that, but the AC500 boasts a formidable solar charging capacity of up to 3,000W. Now you can trim your energy bills while reducing your reliance on the grid. Its modularity and portability further add to its appeal, enabling easy power supply to off-grid dwellings in cabins or remote areas.
Save up to 33% on the EB3A, EB55, and EB70S
Enjoy Portable Camping Power Starting at $199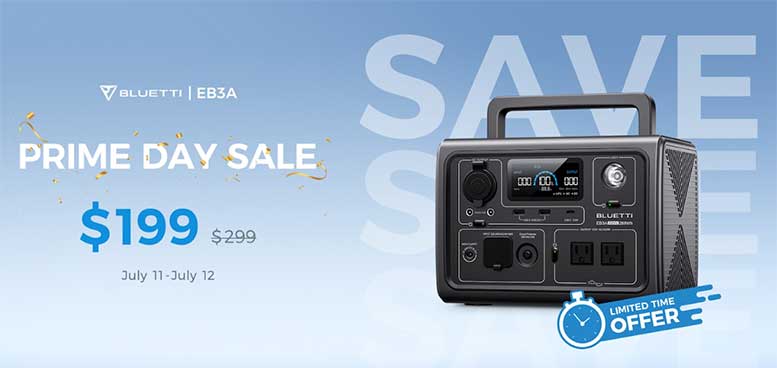 For camping enthusiasts and nature aficionados seeking to remain plugged in while soaking up the great outdoors, BLUETTI's EB3A, EB55, and EB70S models are tailor-made. These compact and portable energy units, boasting capacities ranging from 268Wh to 716Wh, are designed to cater to diverse needs.
Armed with an array of outlets that span AC ports, USB connections, vehicle outlets, and even wireless charging pads, these power generators ensure your camping gear stays powered for an unbeatable outdoor experience. With weights spanning from 10.14 to 21.4 pounds, they also double as superb sources of emergency power. Take the EB3A, for instance, with its ability to charge an iPhone 12 as many as 25 times or keep a 5W light glowing for up to 30 hours!
AC60 and AC180: Adventure Beyond Limits
Starting at $599, Get up to $300 Off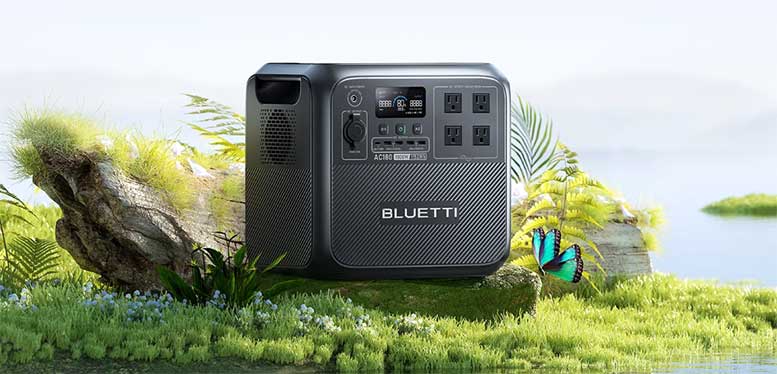 As the summer sun warms the great outdoors, activities like beachside camping, fishing excursions, exciting boating trips, and thrilling overlanding experiences become the season's top picks. Add a splash of fun without the worry of running out of power, thanks to BLUETTI's newly launched dynamic duo, AC60 and AC180.
The AC60 is an outdoor-ready power trooper with IP65 certification for water and dust resistance, making it a trusty companion in all your adventures. Weighing only 20.1 pounds, it seamlessly combines portability with a generous power offering. Its in-built 403Wh LFP battery can be coupled with additional B80 batteries, letting you reach power capacities up to 2,015Wh.
The AC180 is a compact, high-speed charging power titan that delivers 1,800W/1,152Wh. Equipped to support 500W solar and 1,440W fast AC charging, it can reach an 80% charge within a quick 45-minute span. In addition, it syncs with B80, B230, and B300 batteries, allowing you to further scale your power reserves. Ever since its introduction to the market, it has been met with overwhelming approval, prompting an extension of its early bird pricing until July 20th.
The limited-time BLUETTI Prime Day Sale gives you a chance to get these power warriors at an attractive 35% off. The clock is ticking on these 48-hour offers, so act fast to secure major savings. Additionally, as a bonus, purchases hitting the $1,500, $2,000, $2,500, and $3,000 marks come with respective complimentary gifts.
Don't forget, any orders placed between July 11th and 12th earn you triple BLUETTI Bucks, which can be redeemed for additional discounts and gifts. For the full scoop, be sure to head over to: https://www.bluettipower.com/
The BLUETTI Story
The essence of BLUETTI is deeply rooted in fostering a greener world by championing sustainability and eco-responsible practices. With its wide array of earth-friendly energy storage solutions, BLUETTI strives not only to brighten up our living spaces but also to pave the way for a healthier, more sustainable future.
This dedication toward the preservation and betterment of our environment has powered BLUETTI's growth, leading to a global presence that spans more than 100 countries. Today, the BLUETTI name inspires trust in millions of customers worldwide, who rely on their offerings for a myriad of indoor and outdoor power needs.