When working from home, you won't always have ideal working conditions. Kids running around yelling, dogs barking, and more are all a new reality to many in the workforce. However, just because it's a new reality doesn't mean it's productive for work, especially meetings.
You can't be your best in important meetings when you're constantly distracted, so what can you do? One of the best ways to fight this issue is to use a Bluetooth wireless headset. These headsets work great for both letting you hear what's being said and also sending your voice to the other side of your calls.
Whether you need to have a phone call or a video meeting, these headsets can be a great help. When choosing one, there are a few features to consider when making your decision.
Noise Cancellation
Noise cancellation is one of the biggest features that people use headsets like this. It monitors for sound all around you and then makes sure the only thing the people on the other end of the call hear is your voice. Some headsets are better at it than others, but it's definitely an important factor.
Size, Weight, and Looks
Since these headsets might be on you all day long, you don't want them to be big, bulky, and heavy. Something on the smaller side that won't strain your neck muscles is ideal. Additionally, you don't want something that looks ridiculous and hideous, either. Are they going to be your favorite new fashion accessory? No, probably not. But they don't have to be an eyesore, either.
Connection And Battery Life
Since these are wireless Bluetooth headsets, they should all have Bluetooth. Beyond that, there may be additional ways to connect in a pinch, like wired. Some will have it, and some won't. Battery life is crucial to consider to make sure it won't die on you in the middle of a meeting. Try to figure out how long each day you'll need it and choose a battery life that is most suited for that use.
Best Overall: EKSA H16 Bluetooth Wireless ENC Headset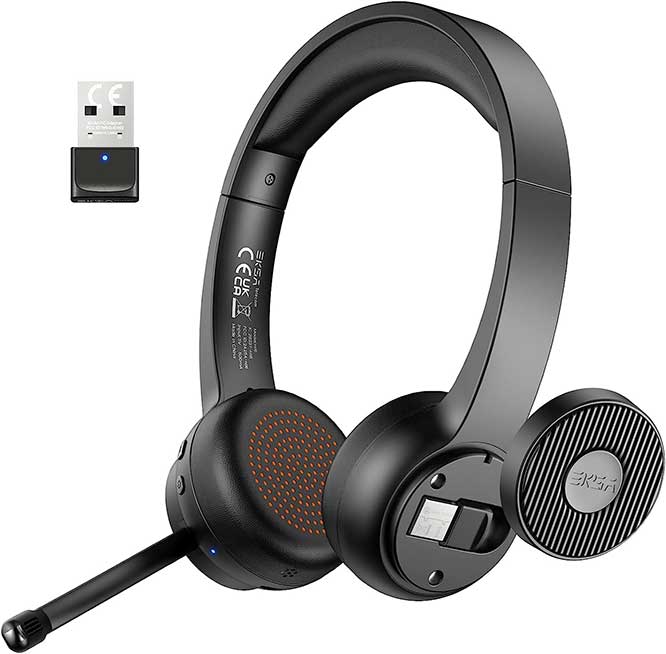 Key Features:
Up to 55 hours of battery life
Cancels 99.8% of background noise
Easy mute function
The EKSA H16 is one of the best Bluetooth wireless headsets on the market. It does a great job of noise canceling using artificial intelligence. This eliminates 99.8% of background noise. This headset also optimizes audio via noise reduction to a level of 42 dB. The speakers used are 40mm, giving you great audio quality.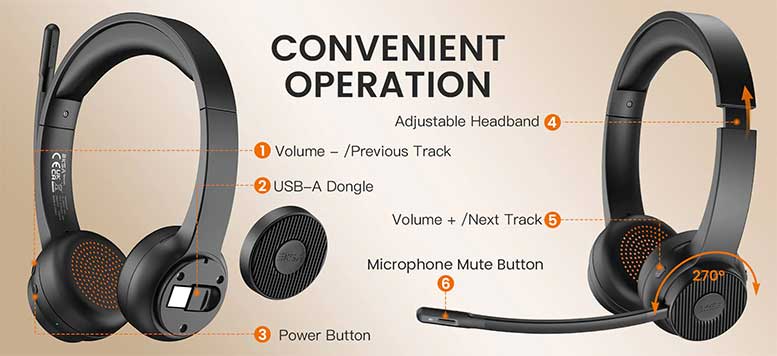 As for looks, the EKSA H16 isn't an eyesore. It's available in a black colorway and has two speakers. A microphone is located on one of them, along with a few buttons for controlling it. Along with being lightweight (.97 pounds), there are additional features to make this headset more comfortable. Included are leather earmuffs, soft sponge material, and elastic.
There are two ways to connect your device to the EKSA. The first is via a standard Bluetooth connection. The second is by using an included 2.4G USB dongle. Both options are easy to do and provide great connectivity. As for battery life, the EKSA can last for up to 55 hours of just listening to audio through it. When used for communicating as well, it will last for up to 35 hours. Once the power is depleted, simply plug it in via USB-C, and it will be fully charged in 2 hours.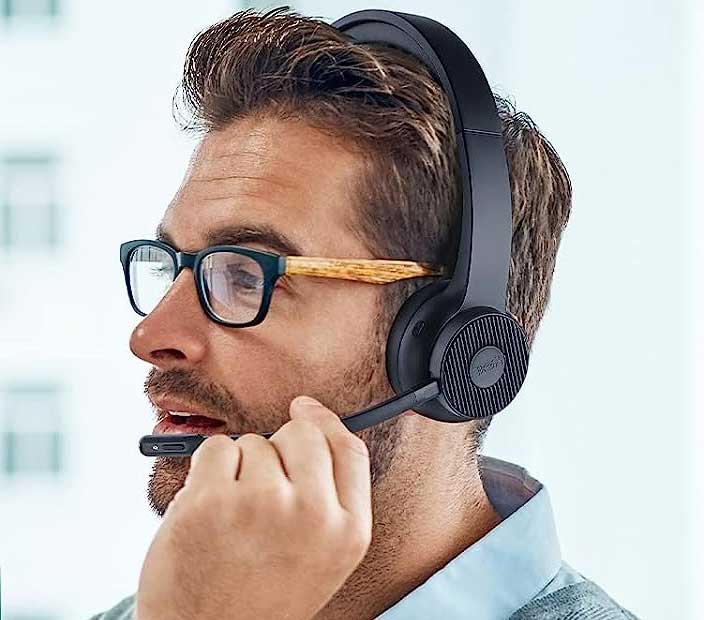 One great extra feature of the H16 (Discount Code: YRTTRQA6) is its microphone. It's designed to rotate 270 degrees. This allows you to have it be used on either side of your face depending on preferences. This also lets you keep it in an upright position, out of the way for when you're not using it. Built on the end of the microphone is a button to mute it. Muting is quick and easy via this method.
Purchase EKSA's H16 headset directly from their website and use code "EKSAPR" for a 18% discount.
Pros:
Great microphone design
Two ear speakers
Multiple ways to connect
Cons:
Some users report a delay in sound turning on after being inactive for a while.
Best Single Ear Option: LEVN Bluetooth Headset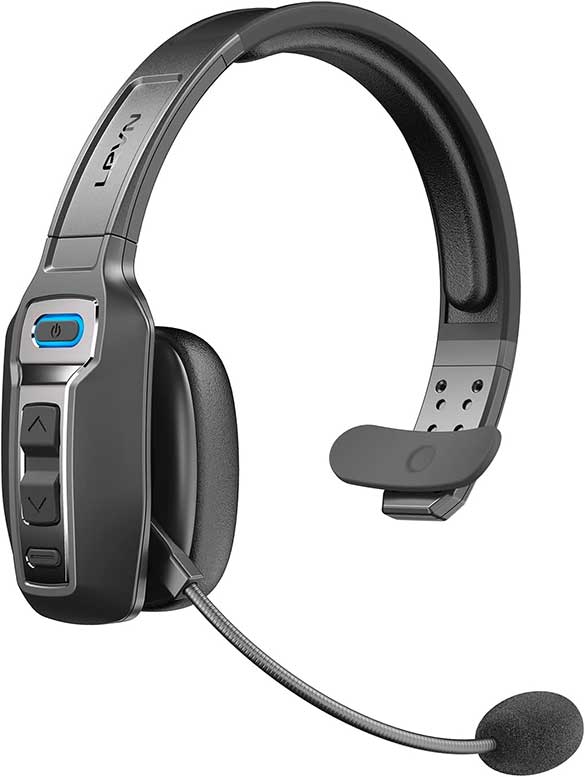 Key Features:
60 hours of battery life
92% noise canceling
Single ear design
The LEVN Bluetooth headset is a different take on what a Bluetooth headset can be. It's built with an environmental noise-canceling chipset to help reduce unnecessary noise. It's effecting in removing up to 92% of these noises from being transmitted back to the other people in your calls.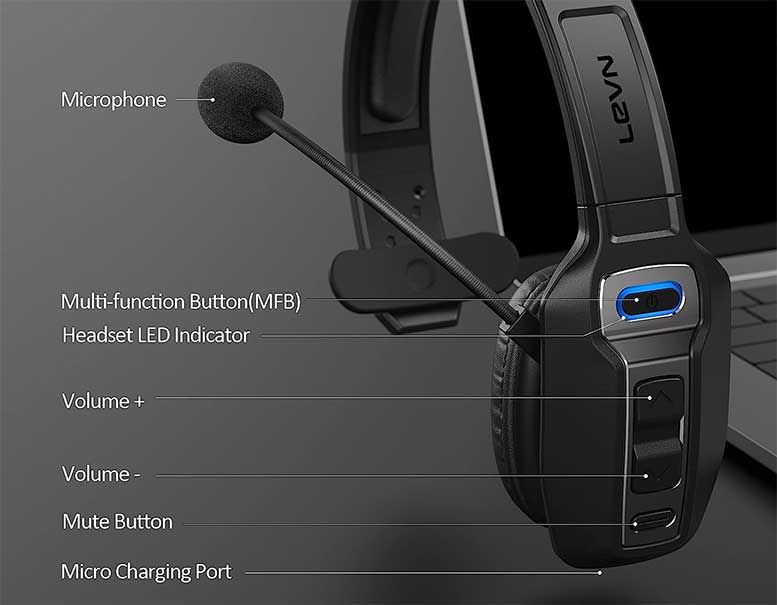 Where some Bluetooth headsets are designed with two ear speakers (like the EKSA), the LEVN only has one. This design helps to reduce the overall weight of the headset, coming in at just over half a pound. Additional comfort features such as a padded ear cup and padded headband help make it easy to wear all day long.
Another aspect that helps wear the LEVN all day long is the awesome battery life. On a single full charge, you can expect up to 60 hours of battery life. This reduces to 35 hours when using it for talking and listening. Best of all, it even has the ability to stay powered for 96 hours in standby. When it's time to recharge, it can do so in two hours. To connect, you can simply pair it via Bluetooth.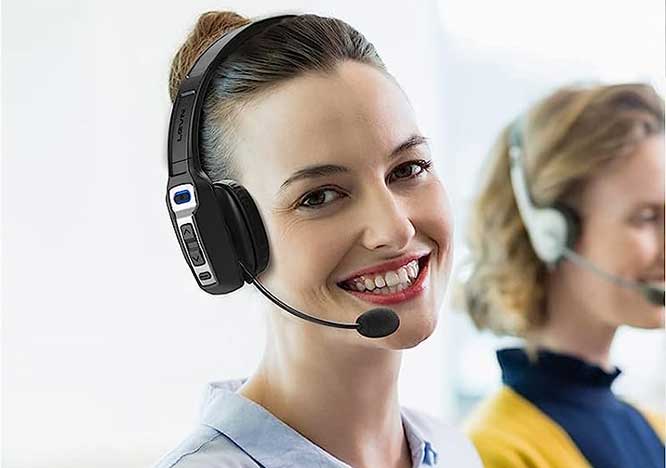 One cool extra feature is the multiple device connections it can make. While in use, you can connect it to two different devices. This is great for using your phone and computer at the same time while working. There are buttons located on the outside of the ear cup that make it simple to switch between the devices.
Pros:
Multiple device connection
Single ear design
96 hours of standby battery life
Cons:
No alternative connection to Bluetooth
Best Comfort: Dytole Wireless Headset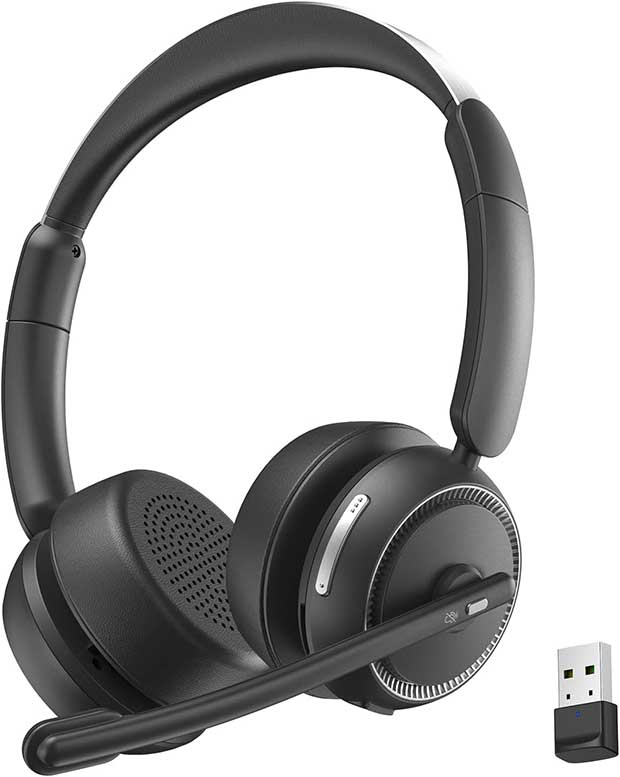 Key Features:
65-hour battery life
AI noise cancellation
Hi-Fi stereo sound
The Dytole is a great option similar to the EKSA. This headset uses AI to help with noise cancellation. It listens to the world around you and makes sure that all anyone hears is your voice. This works regardless of if you're at home, walking around outside, or anywhere in between.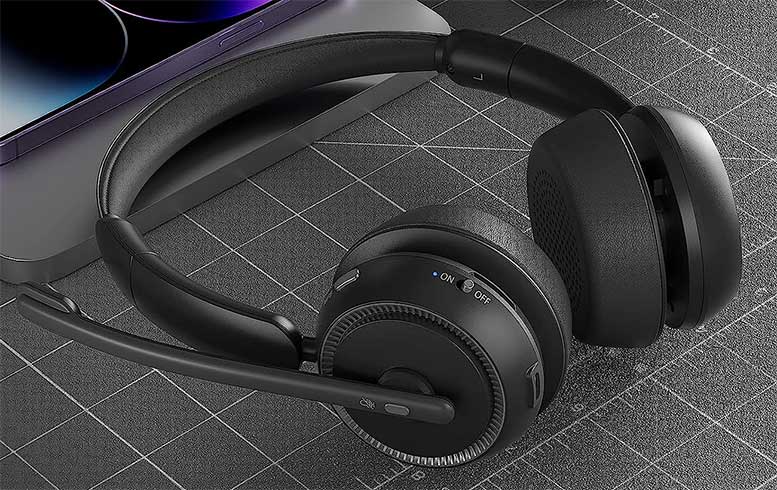 Dytole made this a great-looking modern headset for your wireless needs. It's primarily black in color with some gray accents. In addition to looking great, this headset will feel great to wear as well. It has a double ear cup design, and each has memory foam padding. There is also memory foam along the headband to help reduce stress and fatigue. The overall weight is similar to the LEVN at just over half a pound.
The Dytole has a similar battery life to other options on the market. Overall it can last for 65 hours of use on a single charge. When talking and listening, it can last for 40 hours. This allows you to easily only charge once per week. To connect to your devices, you have a couple of options. The first is using Bluetooth, and the second is using an included dongle. Without obstructions, it can stay connected to devices up to 49 feet away.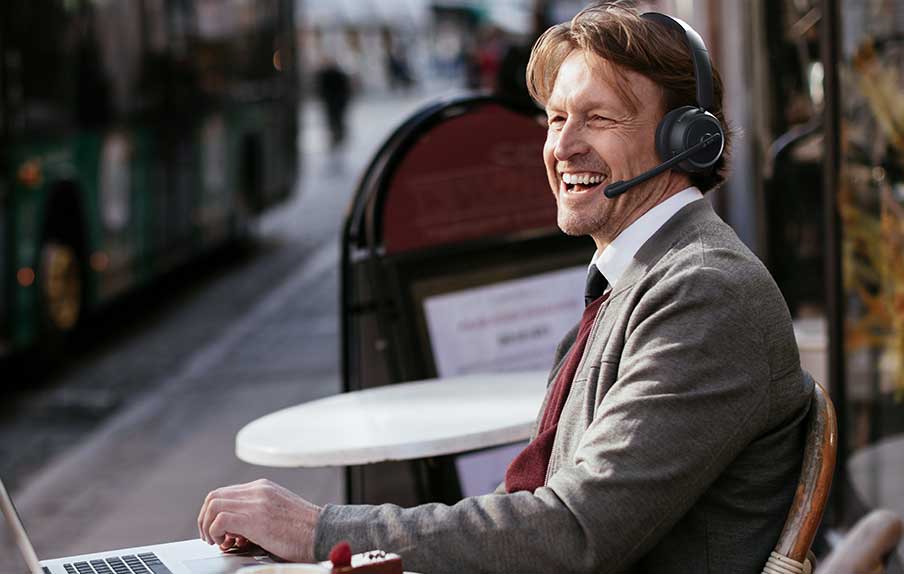 One great feature of the Dytole is the Hi-Fi stereo sound. The sound capabilities have been designed with advanced lossless audio transmission technology. This allows the headset to deliver crystal-clear audio to your ears with no delays.
Pros:
High-quality sound
Extremely comfortable to wear
Long-lasting battery life
Cons:
Some users report issues with the mute feature not working all the time
Best Alternative Single Ear Option: Mopchnic Wireless Headset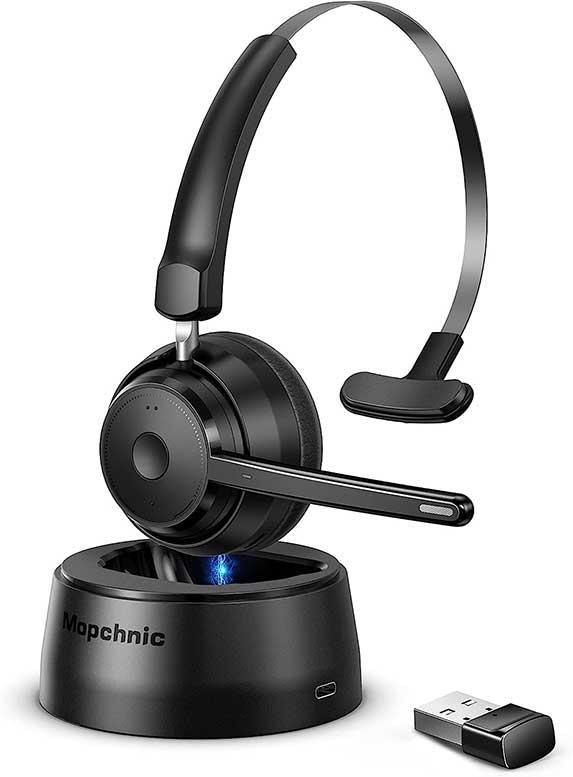 Key Features:
40 hours of battery life
AI noise cancellation
Charging stand included
If you're looking for a single-ear wireless headset with some great features, the Mopchnic is a solid option. This headset uses similar AI technology to other options on the list to help with noise cancellation. Additionally, it has a dynamic speaker system to help you hear the other side of the conversation better.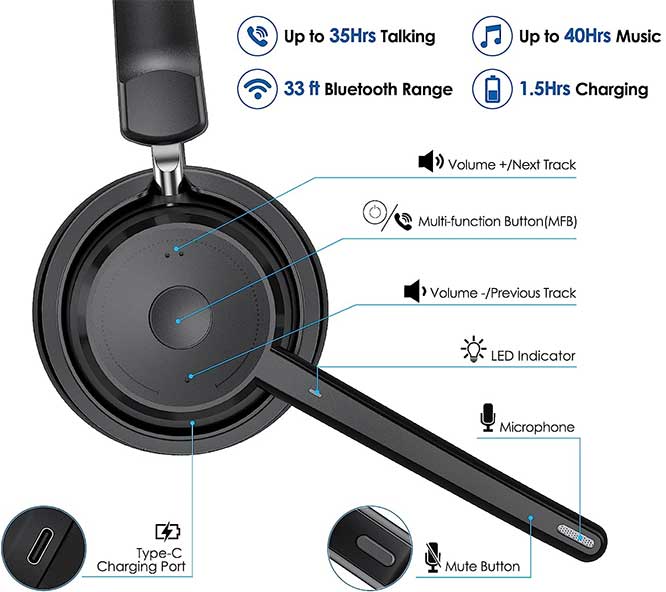 When it comes to looks, the Mopchnic is a professional-looking option. One side has the speaker ear cup, and the other is just a piece that fits on your head. The ear cup is padded for comfort. However, the headband only has padding on about 1/3 of it, with the rest being metal. As for weight, it's exactly 1/2 pound.
To connect to your devices, you can use Bluetooth or an included dongle. Both options make it quick and easy to connect and start using in seconds. The Mopchnic can also be connected to two devices at once. As for battery life, you can expect up to 40 hours of use while just listening at 70% volume. If you add in talking, expect closer to 35 hours. Once out of battery, it can get back to full charge in 1.5 hours.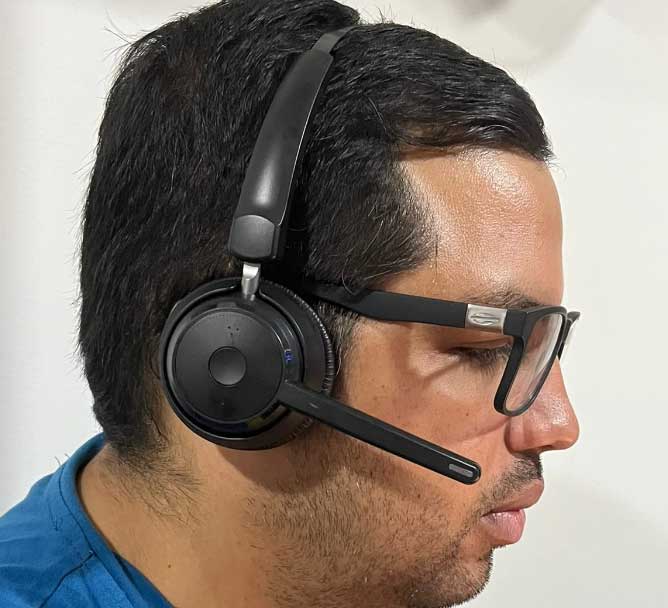 The coolest extra feature of the Mopchnic is the included charging base. This base is easy to plug into the wall and set on your desk. When you're not using the headset, you can simply place it on the stand, and it will be charged and ready to go the next day you need it.
Pros:
Charging base
Lightweight
Dynamic speaker system
Cons:
It may be uncomfortable for some
Best Comfort Alternative: JLab Go Work Wireless Headset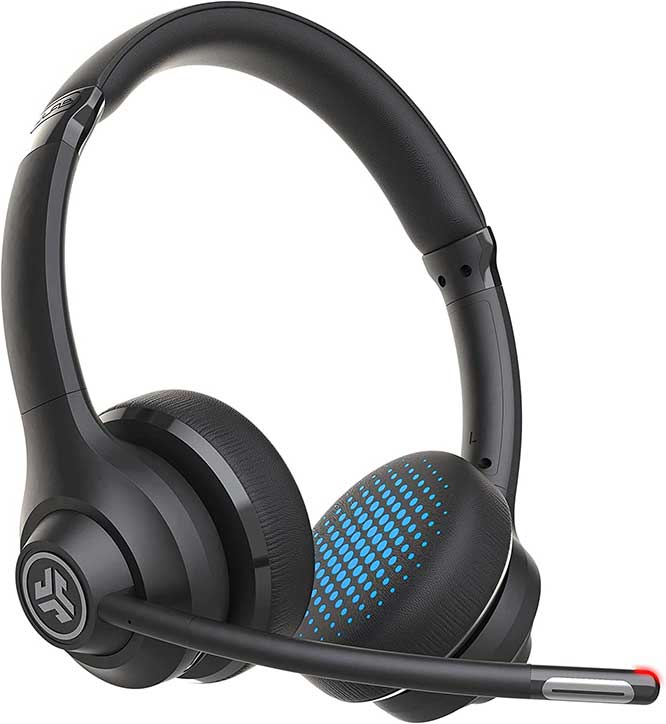 Key Features:
45-hour battery life
Dual microphone noise canceling
Wired option
The JLab does things a little differently when it comes to noise cancellation. Many options on the market talk about their AI systems, but JLab uses a dual microphone system instead. This system uses one microphone to pick up your voice and another to pick up all the other noise around you. It then eliminates the environmental noise for the people on the other end of your call.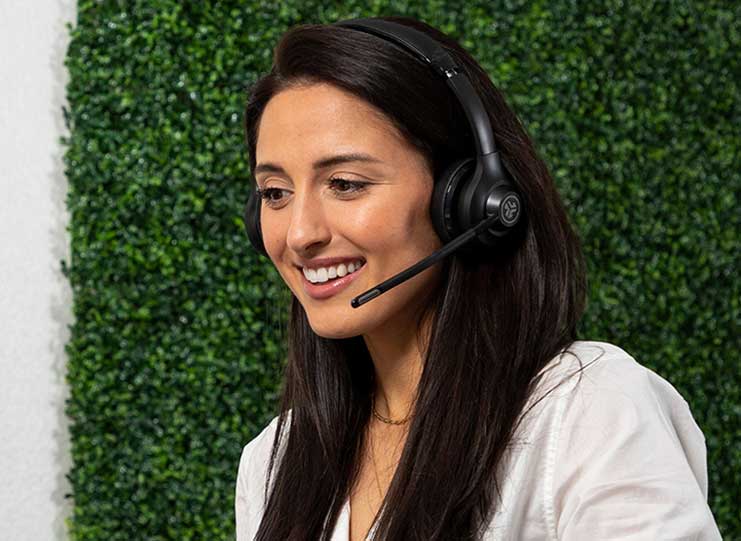 The JLab is designed with comfort in mind. It has a double ear cup design, with each one having cloud foam padding. Additional padding on the headband makes it easy to wear all day in comfort. Better yet, it only weighs .6 pounds. Pair that with a professional look, and you have a great wireless headset.
To connect the JLab to your devices, you have two options. The first is Bluetooth, like many competitors do. The second option is where it sets itself apart. That option is plugging in via 3.5mm aux. There's an included USB-C to 3.5mm cord to help you do this. While it won't be wireless in this option, it's nice to have choices.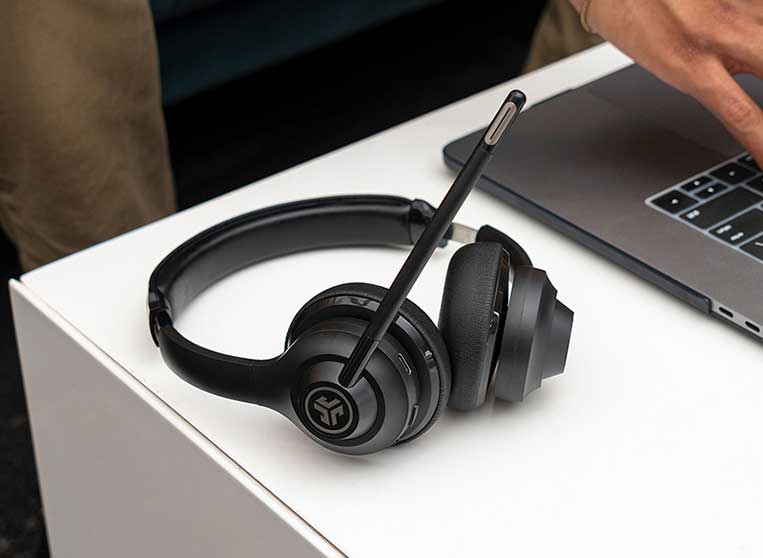 There are some great quality-of-life features on the JLab that make it an appealing headset. The first is a swiveling microphone arm to keep it out of the way while not in use. Multiple buttons allow you to control functions like volume and muting. Additionally, while muted, an LED indicator turns on. This lets you know if the other side of the meeting can hear you or not.
Pros:
Dual microphone system for noise cancellation
Cloud foam padding
3.5mm plugin option
Cons:
Doesn't work well when connecting to multiple devices