When it comes to connecting your Apple devices to an audio output, you need a reliable, high-quality Lightning to 3.5mm auxiliary audio cable. But with so many options available, you might have a hard time determining which ones are worth your time and money and which ones are better left behind.
To make your search easier, we've tested and reviewed the very best to help you make an informed decision. Here's a preview of our top picks:
Join us as we dive deeper into the key features, strengths, and potential downsides of each of these standout cables.
Official Apple Lightning to 3.5mm Aux Audio Cable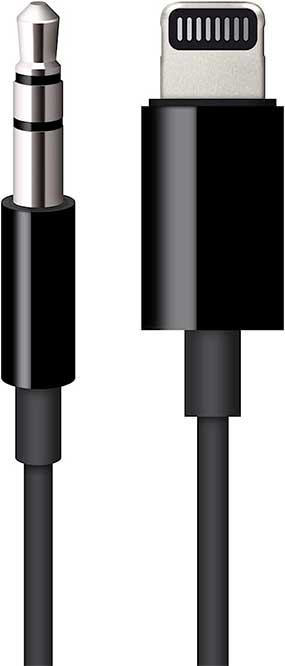 Key features:
Bi-directional audio cable
Tangle-free design
Supports digital-to-analog and analog-to-digital conversion
Compatible with iOS, iPadOS, macOS
When it comes to merging technology with convenience, the Official Apple Lightning to 3.5mm Audio Cable is certainly at the top. It stands out as a product of Apple's commitment to innovation and design. It's a popular choice due to its tangle-free yet somewhat thin build. It has a length of nearly 4 feet and features bi-directional capabilities, making it a versatile choice for connecting your audio devices. Our testing involved using AirPods Max and various non-Apple-branded headphones, connecting them to various 3.5 mm audio sources.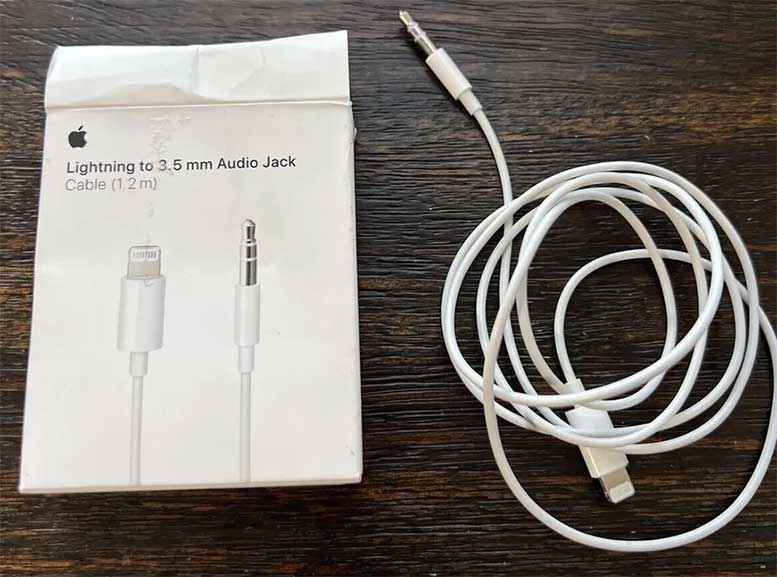 This cable delivered excellent performance, offering seamless and high-quality sound transmission without any hitches. Its bi-directional nature also allowed us to connect iOS or iPadOS devices to speakers equipped with 3.5 mm audio ports, showcasing its capability to handle different devices – from personal computers to tablets, headphones, smartphones, and speakers. One feature that deserves particular mention is the inclusion of both digital-to-analog and analog-to-digital converters. This is the magic that makes it compatible with the AirPods Max, unlike some third-party cables.
In other words, versatility is high here, and that's precisely what you want when dropping your hard-earned cash on something as simple as an auxiliary cable. However, while it proves efficient, it does raise a couple of concerns. Its thinness and relatively low-quality build compared to the device it supports make it feel somewhat precarious. The worry of it snapping or breaking was a constant presence during our testing period, and we found ourselves being overly cautious when coiling it for storage.
What we liked:
High-quality sound transmission
Versatile device compatibility
Convenient length
Seamless integration with Apple devices
What we didn't like:
Thin, delicate build
Seems less durable than expected
JSAUX Lightning to 3.5mm Aux Audio Cord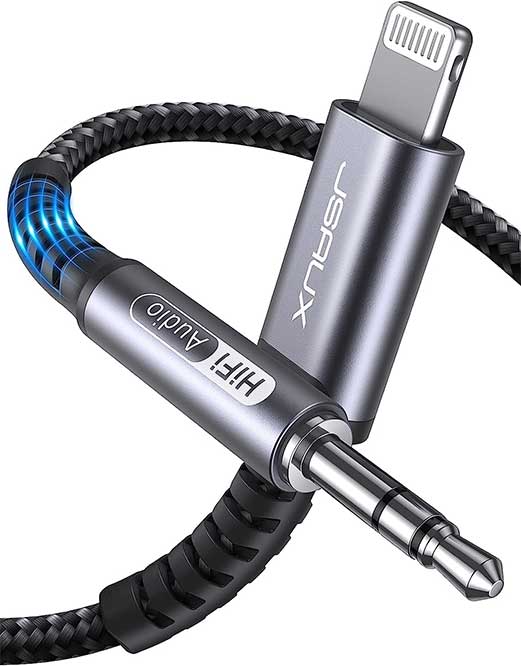 Key features:
Apple MFi Certified
High Fidelity Audio with DAC Chip
5X Flexible & Durable
Universal Compatibility
There's a lot to appreciate about the JSAUX Lightning to 3.5mm Audio Cord. Its slim grey design is sleek, and it offers a generous 6 feet of cable length to work with. It's a reliable companion for your various Apple devices (though not all of them). Designed to fit anything from your iPhone 14 Pro to your iPad Mini, it's hard not to recognize the sheer versatility of this cord. With it, you get high-end performance. The built-in DAC Noise Reduction Chip allows it to facilitate high-fidelity audio that's stable and rich. It supports up to 24bit/96Khz, which gives your music that extra bit of sparkle and detail.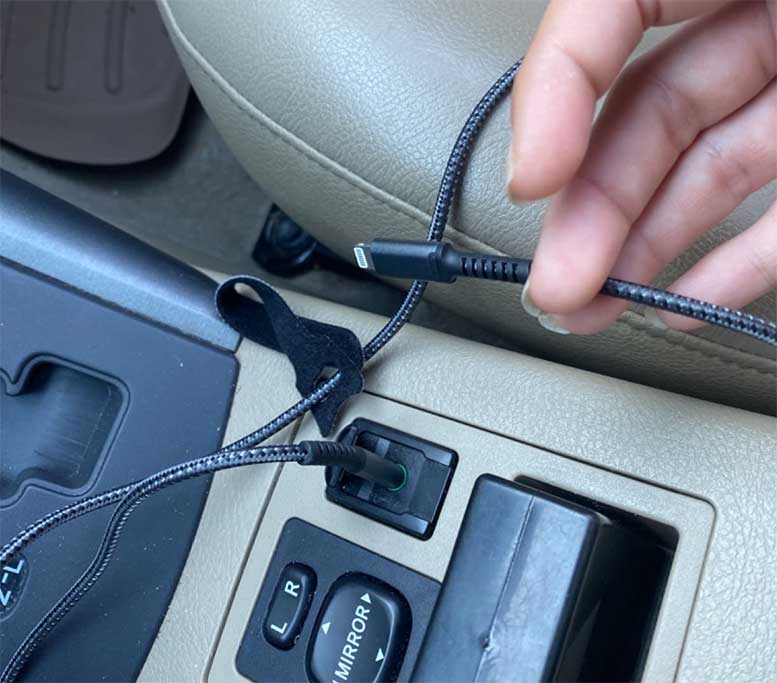 We tested this extensively across genres, from bass-heavy EDM to intricate classical compositions, and it didn't disappoint. One thing that caught our attention is the durable construction. The nylon-braided cable not only resists tangling but it's also flexible and designed to withstand over 15,000 bends. What's more, the aluminum alloy casing enhances its lifespan, ensuring that it's not just another accessory that wears out after a few months of use.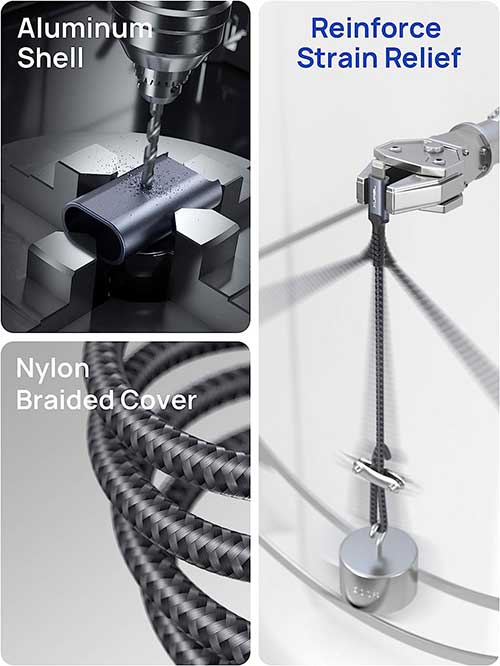 Now, let's talk about usability. Setting up the cord is as simple as plug-and-play. There are no extra drivers needed. Whether you're connecting to car stereos, home sound systems, headphones, or computers, the cord makes the process a breeze. Yet, it's not without flaws. Though boasting universal compatibility, there were some exceptions, like the Airpods Max and the Beats Solo Pro. And while it's great for hands-free driving, we found that it didn't sync well with steering wheel controls, which could be a deal-breaker for some.
What we liked:
Delivers high-quality sound
Durable and long-lasting
Easy to use
Versatile across Apple devices
What we didn't like:
Not compatible with some devices
Steering wheel controls not supported
Syncwire Aux to Lightning Cord for iPhone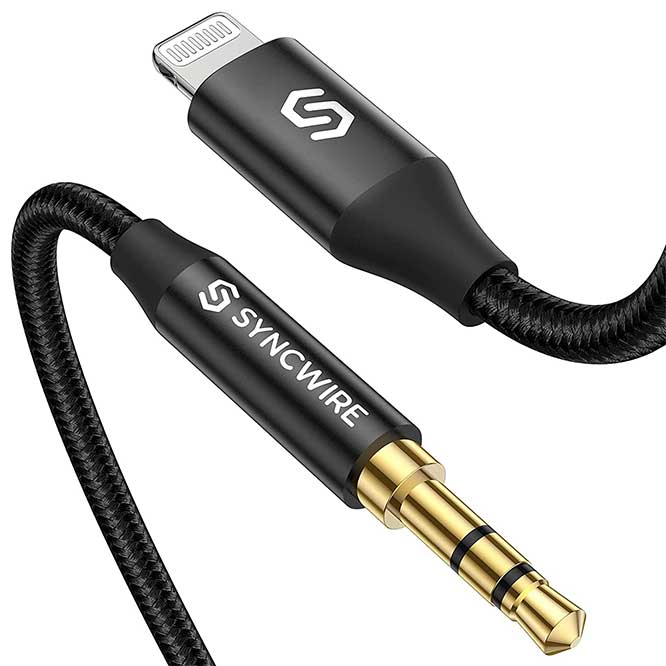 Key features:
Apple MFi certified
Durable, flexible cord carbon nylon
24K gold-plated connector
High-quality sound transmission
The Syncwire Aux to Lightning Cord for iPhone stands out as a robust and convenient solution to connect your iPhone to your car stereo, speakers, or headphones. With a length of 3.3 feet, it strikes a good balance between mobility and ease of use. One of the most exciting aspects is its Apple MFi certification, ensuring 100% compatibility with iOS systems without error messages. If you've encountered this issue before, you know what a pain it can be. Thankfully, it's not a concern here.
We tested it across various iPhone models, including the latest iPhone 14 (including Pro and Pro Max) and down to iPhone 8. In each instance, we experienced flawless performance. However, take note that this cord doesn't support devices with a USB-C interface, like the 2018 iPad Pro. The cord is made of flexible cord carbon nylon and aluminum metal housing, promising strength, flexibility, and durability in everyday heavy usage. In our testing, we subjected it to multiple bends and twists, and it withstood this rigorous testing procedure with ease.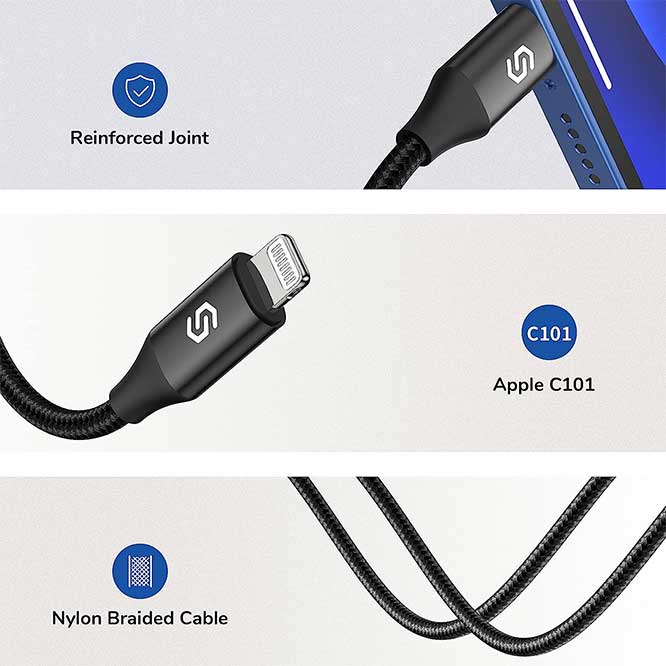 Moreover, its sound quality transmission is impressive, all thanks to its 24K gold-plated connector and the sampling rate of up to 48kHz. It's indeed an audio cord that delivers clear, uninterrupted sound, making it ideal for music lovers and audiophiles. However, it's worth noting that this Lightning to 3.5mm stereo audio cable does not support music control and phone calls. And for iPhone 7 users, you'll want to make sure it has been updated to iOS 10.3.1 or later.
What we liked:
Broad iOS device compatibility
Strong and flexible design
Superior sound quality
Lightweight and portable
What we didn't like:
No music control support
Not compatible with USB-C devices
UGREEN Aux to Lightning Cord for iPhone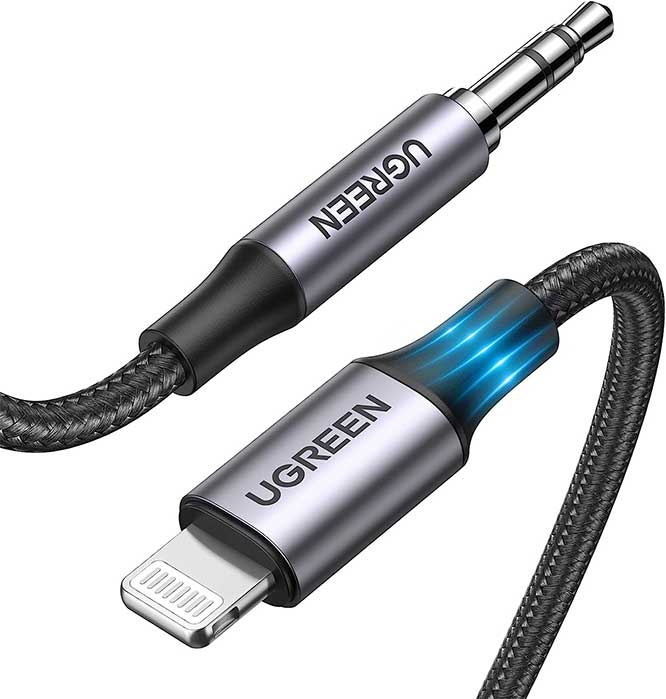 Key features:
Apple MFi Certified
High-quality, durable braided nylon
3.3-foot length, lightweight and portable
Wide compatibility range
Ready to up your audio game? Enter the UGREEN Aux to Lightning Cord for iPhone – a lifesaver when it comes to connecting your device to anything with a 3.5mm input jack. We ran this cable through our rigorous testing. For the most part, it performed just as well as Apple-branded cables. Part of this has to do with the fact that it's Apple MFi-certified. This isn't just a fancy title; it signifies adherence to rigorous Apple requirements, promising a secure and seamless connection with most of your Apple devices.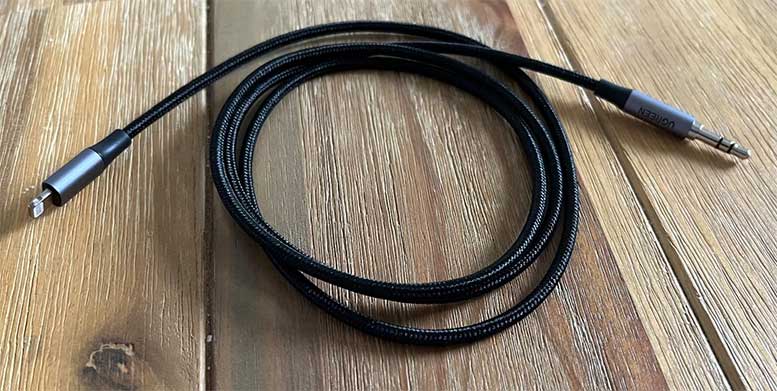 And then there's the compatibility range – it pairs with most of the iPhone and iPad lineup. So whatever Apple device you've got, there's a good chance this cable can connect it. But what about audio quality? UGREEN's cord features nickel-plated 3.5mm connectors and boasts dual-shielding tech, effectively cutting down on signal loss and noise.
Our testing session was a blast, with clear, crisp audio devoid of any annoying buzzes or fuzzy interruptions. As for design and durability, the braided nylon jacket didn't just look good; it felt solid, too. It withstood our bend, twist, and tug tests, suggesting a high wear resistance. Plus, the scratch-resistant aluminum housing is a nice touch, keeping it looking sleek while offering excellent heat dissipation.

Available in 3.3 or 6 feet varieties, this cable offers a decent length for most uses and is lightweight enough to be portable. You won't be struggling with knots or tangles thanks to the tangle-free design. It's perfect for on-the-go situations or even at home, connecting to car stereos, headphones, and Hi-Fi systems. However, do note the device isn't compatible with Airpods Max and certain other models with a lightning port, and it only supports iOS 10.3.1 and later. So some limitations apply.
What we liked:
Outstanding audio quality
High wear resistance
Seamless device connectivity
Heat-dissipating aluminum housing
What we didn't like:
Not compatible with Airpods Max
Only supports iOS 10.3.1 and later
Thore iPhone Lightning to 3.5mm Auxiliary Cord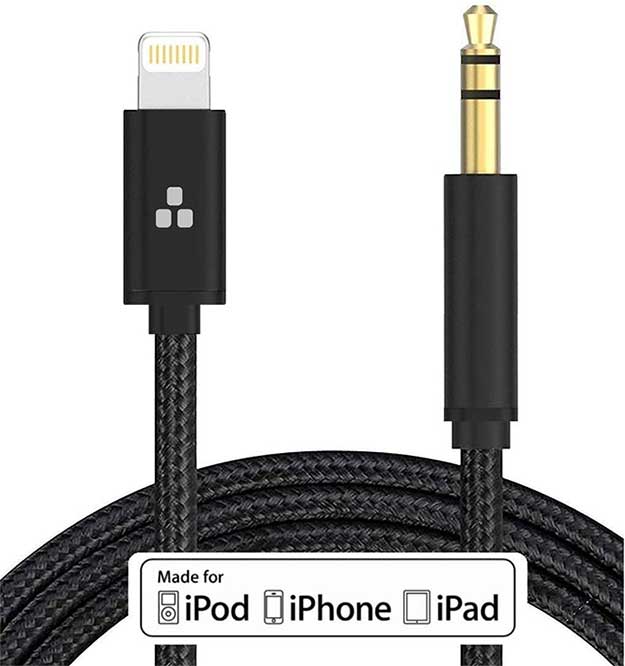 Key features:
Reinforced for extreme durability
Convenient 4-foot length
Compatible with multiple Apple devices
Excellent customer service pledge
Our final entry is for Thore's iPhone Lightning to 3.5mm Auxiliary Cord. It's a commendable blend of durability, convenience, and compatibility. With its petite frame and lightweight stature, this cable is a testament to the modern audiophile's preference for portability and function. True to its claim, it is indeed built to last. The design focuses on durability, showing that the Thore cord can withstand more than just daily use.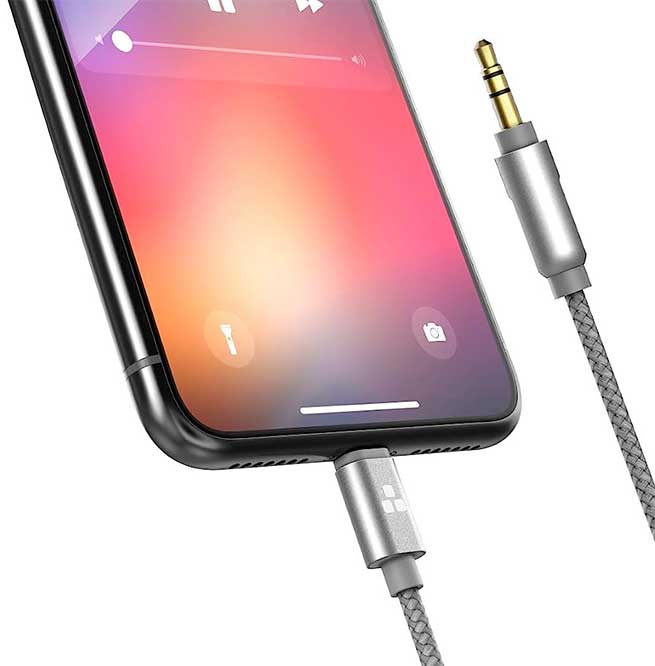 Its thin, 4-foot cable length makes it the perfect partner for your everyday commutes or road trips. What's more, it's on par with Apple's branded Lightning cable. So if you've been pining for an alternative to Apple's cable but still want its length, Thore has you covered. Now, let's talk compatibility. We were pleased to see that this one has MFi certification. This guarantees it will play well with a multitude of Apple devices.
Our tests with various iPhone models (6 through 14) and iPads (Pro, Air, Mini) validated this feature. It effortlessly transmitted clear, crisp sound, whether we used it for hands-free phone calls or blasting our favorite tunes. The only downside is Airpods aren't supported, so you'll want to look elsewhere if that you're primary purpose for investing in a Lightning to 3.5mm aux cable.
What we liked:
Compact and lightweight
Clear, crisp sound transmission
Versatile compatibility
Affordable
What we didn't like:
Thin cable requires careful handling
No Airpods support
Lightning to 3.5mm Auxiliary Audio Cable FAQs
What is a Lightning to 3.5mm auxiliary audio cable used for?
This type of cable is used to connect Apple devices that use a Lightning port (like iPhones or iPads) to devices with a 3.5mm audio port (like headphones, speakers, or car audio systems).
Why would I need a Lightning to 3.5mm auxiliary audio cable?
If you have an Apple device without a headphone jack (like the iPhone 7 and later models), you would need this cable to connect it to audio devices that use a 3.5mm audio plug.
Do all Lightning to 3.5mm auxiliary audio cables deliver the same audio quality?
No, not all cables are created equal. The quality of audio can vary based on the cable's build quality, design, and whether it includes built-in DACs for digital-to-analog conversion. It's essential to select a high-quality cable for the best audio experience.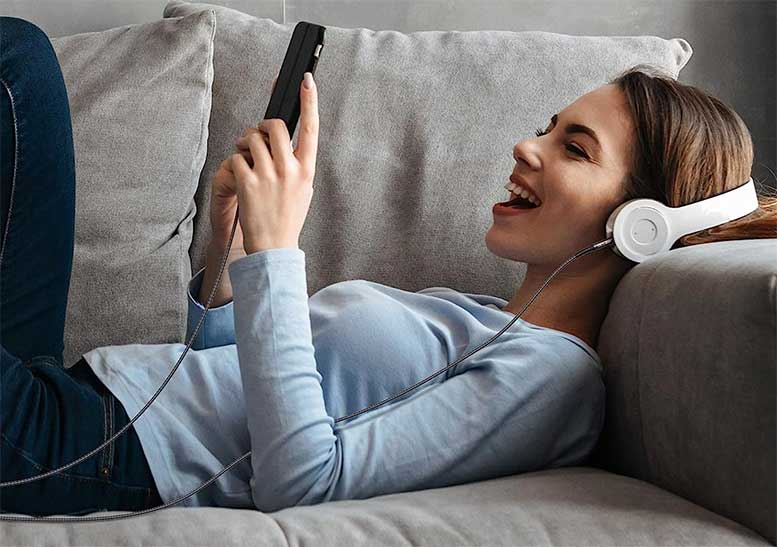 Final Verdict
Our choice of cables hinges on several factors, including sound quality, durability, compatibility, and ease of use. The Official Apple Lightning to 3.5mm Audio Cable leads the pack in terms of seamless integration with Apple devices, and its bi-directional capabilities make it a versatile buy. Both the JSAUX and Syncwire cables shine in delivering high-fidelity sound and robust construction, offering longevity and stellar audio performance.
UGREEN's cable also impresses with superior audio quality, as well as a design built to withstand heavy usage. Lastly, Thore scores high for offering a cable with good compatibility and solid performance. Each of these cables brings something unique to the table, ensuring you can find one that best suits your specific needs.