It doesn't matter what you're trying to listen to, ambient noise can ruin your experience. It's the guy next to you coughing, it's someone else's loud conversation, and it's the roar of a bus passing you on the street. Ambient noise can be partially blocked with over-ear headphones or in-ear buds, but there's only so much protection you can get out of a thin physical barrier.
For more than minimal protection, what you need is active noise cancellation. It's the same technology used to protect airfield workers from giant engines, and it works just as well for helping you listen to music and take calls over Bluetooth. It works by canceling out sound waves before they're allowed to reach your ear, and it's particularly effective against the most common range of vocal tones.
Imagine you're comparing two pairs of headphones at the same price point. One pair has ANC, and the other pair does not. The pair without ANC will have features the ANC pair does not. Unless you're spending literally hundreds of dollars, headphones with ANC can be at risk of looking pale compared to their similarly-expensive counterparts. That's why it's critically important to pay attention to the details when you're choosing active noise canceling headphones. If some features are stronger than others, you want to know the weak features are those you care little about.
iDeaPLAY V207 Active Noise Cancelling Headphones
The V207 are the latest in the iDeaPLAY line of noise cancelling headphones. People looking for ANC headphones don't want to sacrifice sound quality for sound isolation. After all, if your music sounds terrible, there's not much point in improving your ability to hear it. People also want ANC headphones because they know they can be used as effective protection against noise, even when they're not listening to music or taking calls.
And the iDeaPLAY v207 delivers on those needs perfectly. It's active noise cancelling isn't quite powerful enough to protect you on an airfield, but it's more than strong enough for the ordinary levels of ambient noise we experience in our daily lives. Paired with the v207's impressive sound output, it's easy to appreciate everything you hear. The v207 works with both Android and Apple devices, but doesn't have any special features unique to either brand.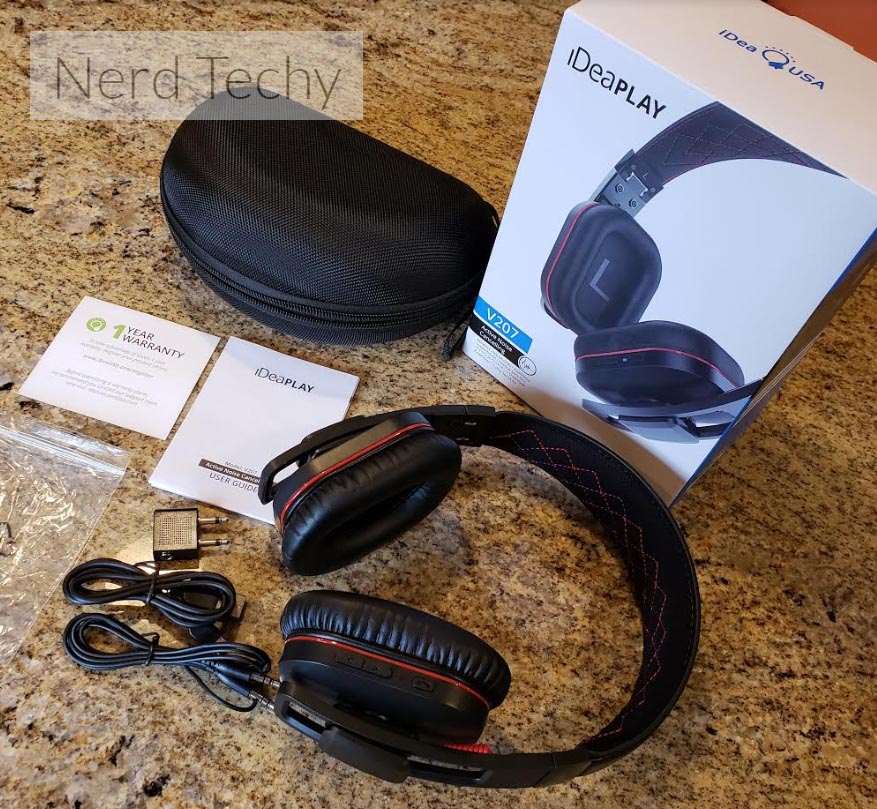 Build & Design
The V207 are built with large 40mm drivers, supporting an exceptionally high 103dB sound sensitivity. Overall, it's fair to characterized the V207 as being rugged and sturdy, but it does have some limitations. While its flexible design holds up well to bending, it's not waterproof. For anyone intending to use this headset on the go, that can be a critical distinction to make.
Like most Bluetooth headphones these days, the V207 includes a microphone. And like you'll see with most ANC headphones, there are on board button controls for convenient use. On the right ear cup you'll find the ANC switch, which you can use to toggle on or off your noise protection. Below the ANC button, there are two additional buttons for volume and control. You can tap them multiple times to switch between music, calls, and track selection. Operation of those controls is quite intuitive once you know how many times to press for each command.
On the bottom side of the right ear cup, you'll find a 3.5mm AUX port next to the USB charging port. This bottom location is also where they've positioned the microphone. The V207 includes a 3.5mm mini plugs for wired listening, during which time you won't be draining power from your battery. You can use that for flight mode or with an MP3 player, as well as any number of other easy to imagine circumstances. That included cable is just short of four feet long, providing ample distance to make a connection.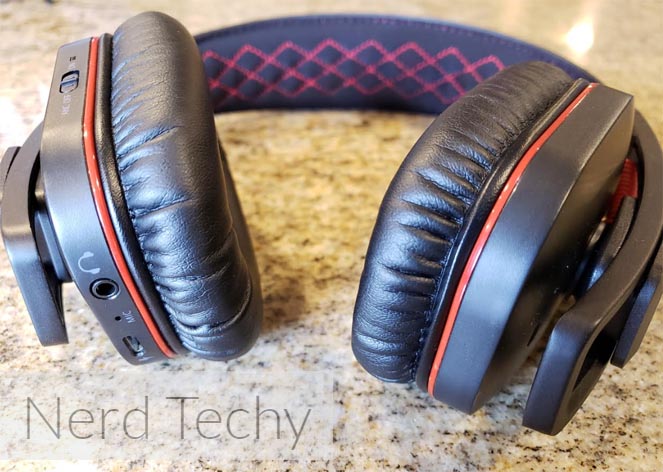 Comfort & Aesthetic
The chassis of the V207 includes an extra-wide headband that's particularly supportive. The supportive headband is a large part of what makes this device feels so lightweight, in spite of having a noticeable heft to it. One more thing to note is the headband has been hand-sewn with a leather finish, which provides smooth comfort no matter how long you wear the V207.
The omni-directional design of the ear cups makes the fit customizable to any person's head. Those ear cups rotate 115 degrees, a flexible design makes them safe to bend and flex in your hand. That makes for a more comfortable fit, as well as protects these headphones from various types of crushing damage. Additionally, the V207 uses ear cups which are slightly larger than what you'll see on most over-ear headphones. That larger design is ergonomically friendly, and joined by equally large memory foam cushions ideal for longer listening.
One drawback of larger headphones is they tend to be heavier, especially when you're dealing with wireless headphones and the associated battery weight. But the V207 are surprisingly lightweight, coming in at around 0.65lbs. It's enough that you'll feel the heft of the device on your head, but not so much that it will end up straining your neck or shoulders from lengthy listening sessions.
Aesthetically speaking, the V207 looks professional, but not to the point of being pedestrian. The black headband is non-descript enough to fit well amongst your other electronics, and to match up with any number of outfits. And the V207's red highlights make these headphones look somewhat striking, riding the line between professionalism and cool.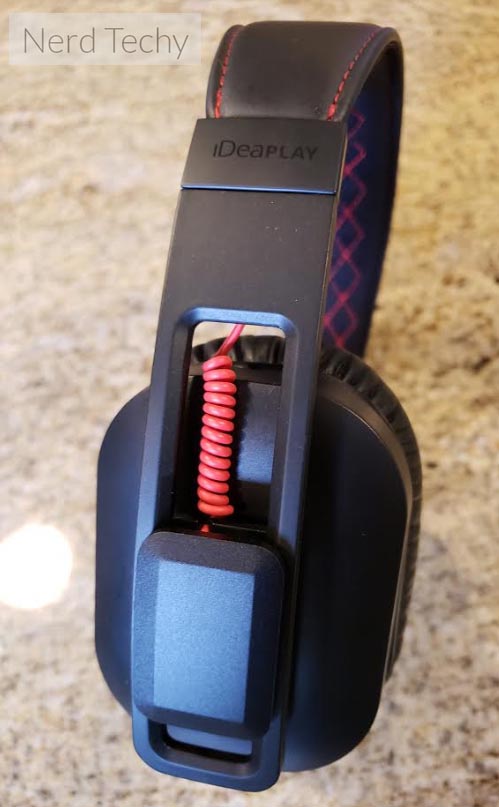 Audio Quality
The V207s use of fairly large 40mm drivers allows them to produce a full dynamic range of crystal clear sound. Providing such a wide dynamic range ensures these headphones are as good for watching movies as they are for taking calls. And it's what allows them to provide support for high-resolution sound and high-fi stereo.
You may notice these headphones have the same standard 20Hz to 20KHz frequency response you'll see on headphones in this price range. You can essentially ignore that, but one specification you shouldn't ignore is the V207's impedance. They're built to draw 32ohms impedance. One consequence of that is these headphones are capable of being slightly louder than you'd expect. That slightly elevated level of impedance allows these headphones to deliver a depth of sound, but it also means you may notice a marginal drop in sound quality when you switch to the wired mode.
As is increasingly common with Bluetooth headphones, the V207 has an exceptionally detailed midrange. That's because the midrange is where you'll find most vocal tones, making it particularly important for taking calls, watching movies, and listening to vocal-oriented music. Within the treble range, you'll find tones are fairly accurate for headphones within this price range. But if you end up listening to your headphones with exceedingly loud levels of volume, you'll end up noticing distortion in the treble as you pass 75% of the V207's maximum volume.
Fortunately, similar issues don't exist within the bass tones. Bass notes remain clear and deep, even as you raise and lower the volume. Although the V207 doesn't have its own boosted bass, that's the kind of feature that gets lost by the wayside when you choose ANC.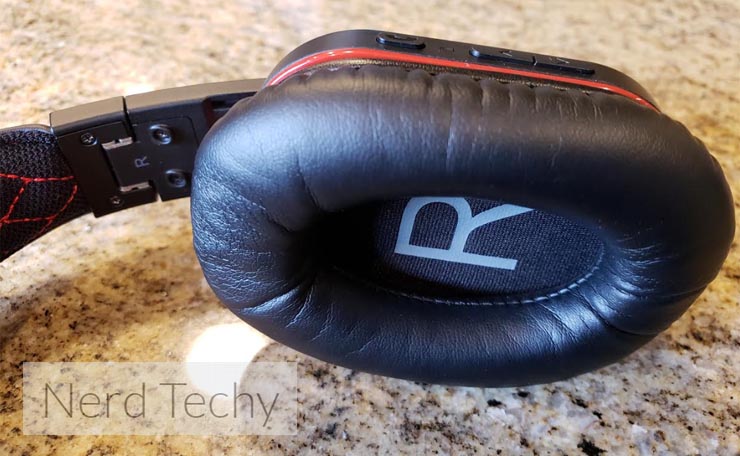 Battery Life
The battery is a 500mAh lithium ion battery, supporting a maximum 250-hour standby time. That modest size is about as large as you want to make a battery for headphones before weight becomes a greater concern. Considering these headphones were intended for things like air travel, excess weight would make little sense here.
What you can expect from the battery depends on if you're using the active noise cancellation feature, the level of volume you're listening at, and what you're listening to. Even the amount of noise that the ANC has to deal with can affect power consumption. Consequently, it's hard to give precise estimates of what the V207's battery can do. But you can expect approximately 27 hours of continuous music playback without ANC. Using ANC, your battery life drops closer to 18 hours.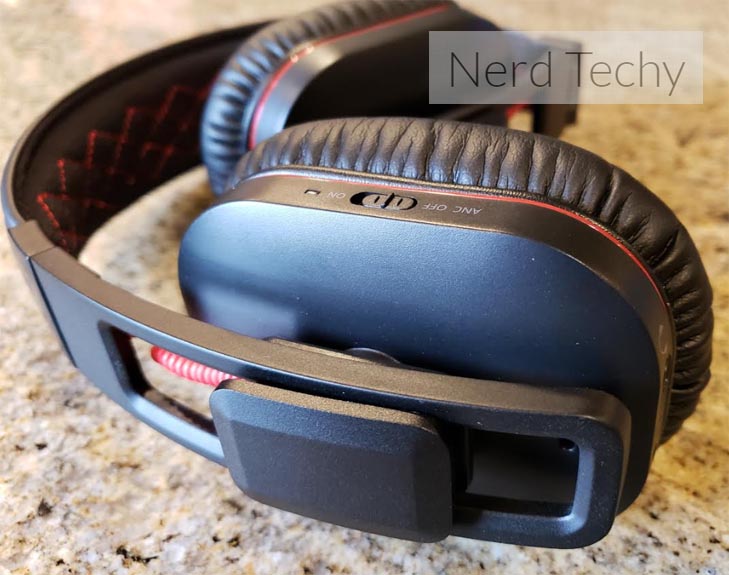 Other Considerations
V207 includes a soft case to keep headphones protected while in a suitcase or backpack. The case is somewhat unimpressive, but it does help protect your headphones from suffering the kind of small scuffs and scrapes that occur when let loose in bags.
The microphone doesn't work while you're using a wired connection. If you're someone who plans on using the wired more with regularity, you can get around that problem by purchasing a microphone that connects through a 3.5mm aux cable. While the iDeaPLAY brand isn't a household name, those concerns are alleviated by the included 30-day money back guarantee. The V207 also includes a one-year warranty with lifetime support.
Wireless / Wired Connectivity
The V207 uses a modern Bluetooth 4.1 connection, providing a 33-foot range of effective connectivity. That's when there's no obstacles with the signal. Given walls and similar obstructions, you may feel the signal range drop closer to 25 feet. The already high quality of Bluetooth is further bolstered by aptX technology, which helps sync up your audio for better lossless listening.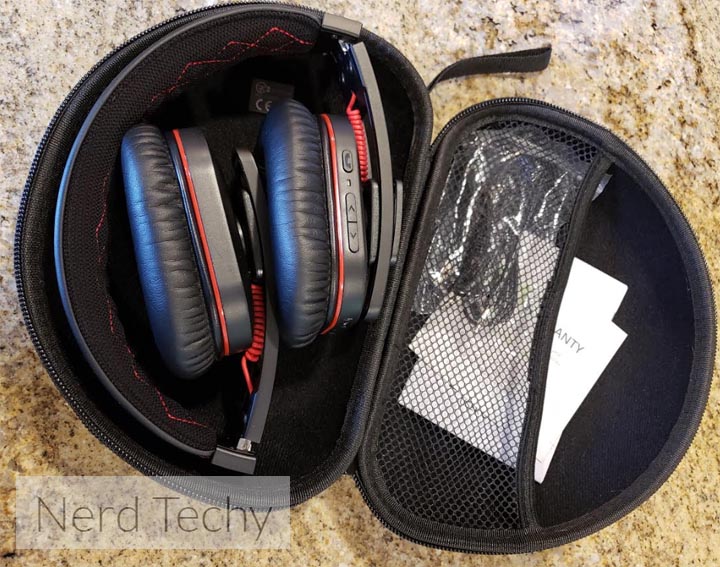 Who Should Choose the iDeaPLAY v207 ANC Headphones?
The iDeaPLAY v207 are two steps above entry-level headphones, and two steps below top-shelf merchandise. They're an economical mix of high resolution audio quality, comfort, and essential wireless features. They're high quality, but not extravagant.
The most important feature of the v207 is its active noise cancellation. If you don't need ANC, then you'll be better off choosing different headphones. But if you need active noise cancellation, then there's no substitute. And the v207 deliver on strong noise cancellation, and it only causes a surprisingly low drain on the battery life.
For environments with plenty of ambient noise, like airports and city streets, the v207 is an excellent choice. Its built perfectly for playing video games, connecting to smartphones, taking calls, and listening to music on a stereo. If you were willing to spend twice as much, you could unlock additional premium features, like business-quality noise cancellation microphones. But at this price point, it's hard to find more compelling ANC headphones than the V207.