Mice can be hard to travel with. Sometimes they're made to be set on mousepads and used in a stationary manner, like in an office. But other times, you need something you can take with you on the road. And just because it's a travel mouse, you don't want it to work poorly.
Batteries that die at the wrong time, signals that stop being responsive within Wi-Fi laden airports, and other frustrating problems can be fairly simple to avoid. All it takes is a little preparation, precaution, and matching your needs with the right mini travel mouse.
Choosing a Mini Travel Mouse
Portability is actually made up of several components. The most obvious of which is the size of the mouse, but size can be more precisely divided between height and length. Longer mice using a shorter profile will take up more storage space than teeny-tiny mice, but they feel closer to full-sized mice in your hand. The extra length makes for a much more comfortable grip, which becomes pronounced the longer you find yourself holding the mouse.
But what if you need a mouse that's as small as possible? You may not need your mini mouse to be comfortable for six hours of extended use, especially if you're just trying to browse the net. In that case, you'll want a mouse with short length and a slightly taller height. This build looks like a miniaturized traditional mouse, and is the most portable mouse design under most circumstances. But unless you have teeny-tiny hands, you do sacrifice comfort for that added portability.
Sensor Accuracy
Some people expect precision from their mice, other people are simply trying to check their email. Whether you're doing design work or you're browsing the net, you're going to want different levels of accuracy. Most travel mice, and most mice that aren't grossly expensive, make use of optical sensors. They're excellent, provided only that you can provide some somewhat favorable terrain to scan against.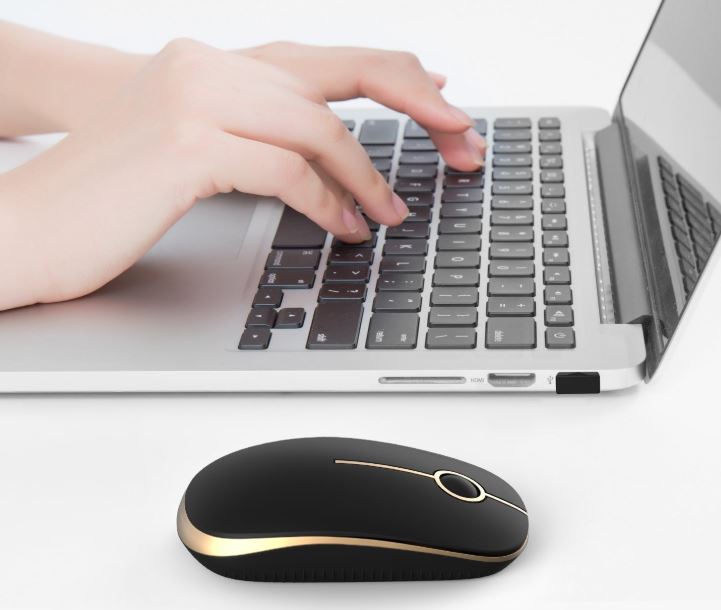 By contrast, laser sensors are good for being used on any type of surface, even and especially surfaces which do not work well for optical sensors. But in recent years, new types of optical sensors have been designed to better compete with laser sensors for their versatility.
If you're looking for exceptionally high accuracy, or you know you're going to be using your mouse on some dubious glossy surfaces, the be sure to pay attention to look-out for those special optical sensors. And if you're reliably working from a mousepad every time you work, then you're not going to have to worry much about these things.
Comfort
You hold a mouse in your hand, so bad ergonomics can cause discomfort pretty quickly. Traveling mini mice tend to be fairly small, for obvious reasons. Consequently, comfort can be trickier to achieve than usual, especially if you're someone with larger hands. Many of the shapes that work great on larger sized mice are simply no longer comfortable on a smaller scale.
If you plan on using the mouse for extended periods of time, you want to pay extra attention to comfort, possibly even at the cost of portability. Depending on the design, you may be looking for a firm grip or rubberized surfaces. But those elements aren't necessary for many low-profile mice because they can be guided along a mousepad without added support.
Construction and Price
If you don't have exacting standards for mouse performance, the biggest factors for your decision will probably be construction quality and price. The hard plastic shell on your mouse is unlikely to break, but what about the sensor? What about the durability of the springs under the buttons? Luckily, a sturdy mini travel mouse is usually fairly easy to find because instead of being laden with features, construction costs can be focused on material construction.
And then there are always the little details. Does the mouse sound especially loud when you click? Can the scroll wheel only move in one direction? Does the body of the mouse itself tend to track-up a ton of fingerprints? Figuring out these details is half the process of avoiding mice you don't want, and finding a mini travel mouse that's perfect for you in every way that counts.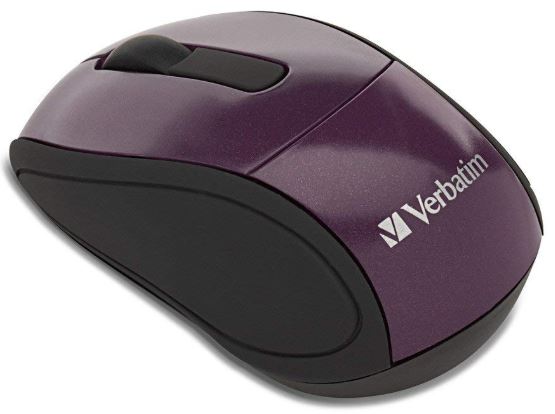 Verbatim Wireless Mini Nano Travel Mouse
The Verbatim Wireless Mini Nano Travel Mouse uses what has become the standard miniature mouse build. Aesthetically, it roughly resembles a regular mouse that has been miniaturized. On each side, there's a pleasant-to-touch smooth rubber grip. But the grip doesn't just feel nice, it manages to help you really get ahold of the mouse with even a little bit of force. Although this mouse isn't made to be comfortably held for the entire day, it's a great choice for someone who's prioritizing portability above all else.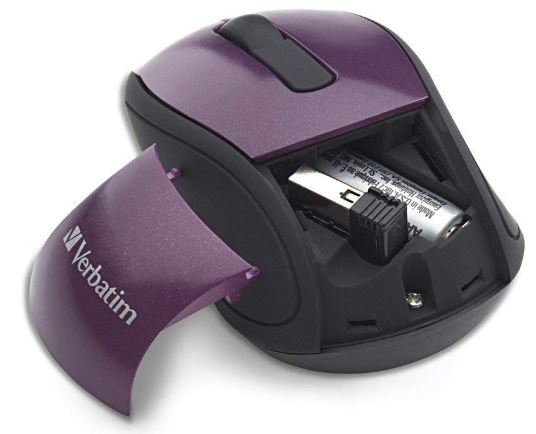 Build & Design
The Verbatim Wireless Mini Nano Travel Mouse is constructed into a highly compact 1.9 x 2.88 x 1.3-inch build, while weighing only 2.88 ounces. It connects through a standard USB 2.0 dongle, spanning a standard 2.4Ghz wireless connection. The included USB dongle can be safely transported inside of the device by popping off the palm rest. Stored inside, it rests safely next to the necessary single AAA battery you need for operation.
In terms of the mechanical device itself, it's roughly as basic as you'd expect. The Verbatim Wireless has been constructed with a left click, a right click, and a dual-directional scroll wheel. It's made slightly more distinct through being available in a wide variety of simple colors that can easily be matched with your existing gear, including blue, black, purple, red, and gray.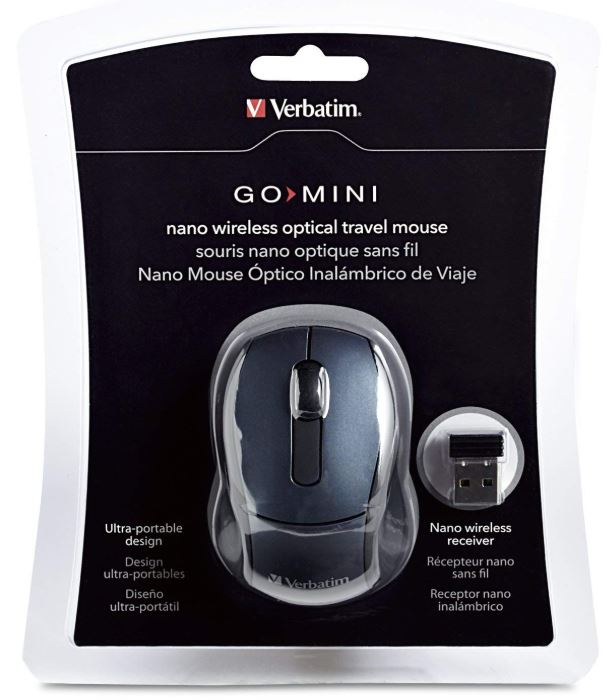 Other Considerations
The included AAA battery isn't particularly great. It will run out of power after only a few weeks, so you'll want to swap it out at the first opportunity. Beyond that, this mini travel mouse supports all modern Windows operating systems, and is backed by a one-year warranty from Verbatim.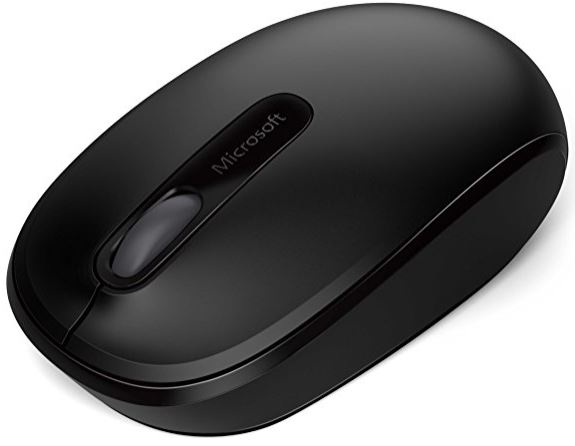 Microsoft Wireless Mobile Mouse 1850
The Microsoft Wireless Mobile Mouse 1850 is nothing if not stylish. It's slightly less portable than the ultra-small Verbatim mouse, and built with a heavier emphasis on comfort. Its exceptionally low 1-inch profile allows it to remain reasonably portable while still providing considerable depth of size for your hand. And the 1850 is constructed to be ambidextrous, allowing for both right and left-handed people to enjoy equally effective use.
Build & Design
The 1850 is like a full-size mouse that was flattened into a pancake. It sits at 4 x 2 x 1-inches, weighing 5.4 ounces. The two-way scroll runs smoothly under your finger, and seems to be a full-sized wheel in spite of the small nature of this mouse.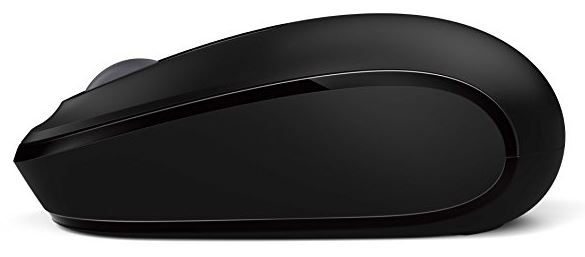 The Wireless Mobile Mouse 1850 is constructed with an optical sensor, and between each of the two primary buttons, you'll find the scroll wheel can be operated as a third button. Like with most mini travel mice, the base of the device supports storage for the nano receiver.
Microsoft loves their bright and happy color schemes, so the 1850 is available in a variety of stylish colors including cyan blue, flame red, light orchid, magenta, purple, wool blue, and black. Each color stands out. The Microsoft label is printed into the area directly beneath the scroll wheel, but the mouse remains otherwise nondescript and professional looking.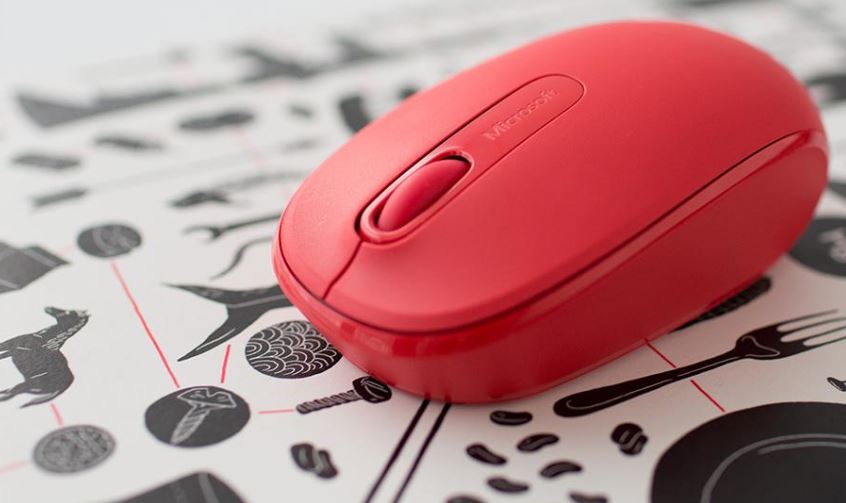 Other Considerations
The 1850 enjoys wide support for all modern versions of Windows, Mac OS X, Android, Microsoft Windows 10 Phone, and a handful of more obscure operating systems. It offers up to six months of battery life with a single AA battery. Though Microsoft has some pretty aggressive use estimates to come to that conclusion. If you're not using your mouse constantly, as a primary way you interact with your devices, you'll probably end up having to replace the batteries annually.
Suppose you arrive at a working space where you can't use your dominant hand because something is in your way. The ambidextrous design of this mouse allows you to swap between hands without an issue. More than being a simple matter of matching your dominant hand, it's a travel-friendly feature that comes in handy surprisingly often when moving to unpredictable spaces. And the Wireless Mobile Mouse 1850 includes a three-year warranty from Microsoft.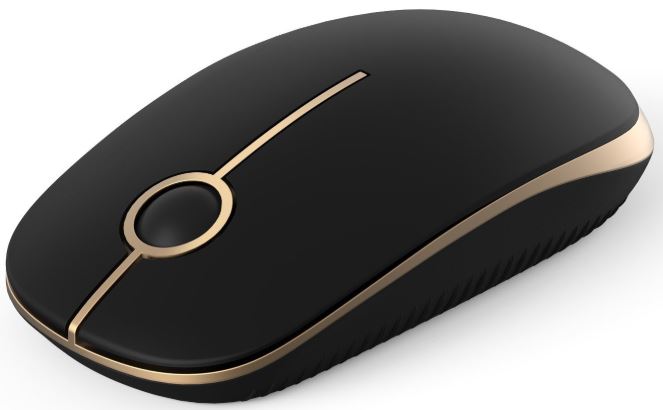 Jelly Comb Slim Wireless Mouse
You probably know what to expect from the Jelly Comb brand. If their name doesn't say it all, then this mini travel mouse should be understood as the safe, value-oriented selection. But while this might almost sound like a contradiction, the Jelly Comb wireless mouse is one of the largest mini travel mice on the market. It's small enough to be distinctly portable, but retains enough of a full-sized body to feel like a desktop mouse while you're using it.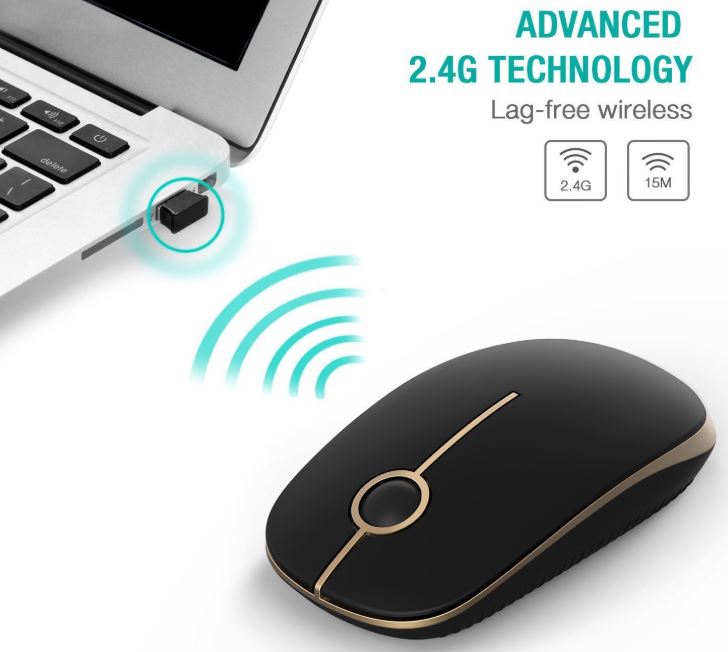 Build & Design
As with most mini travel mice, the Jelly Comb Wireless Mouse includes a nano receiver for USB connectivity. It connects with a standard 2.4 GHz USB dongle, which stores inside the wireless mouse while you're not using it. Where it starts to diverge into the unusual is in its construction. It's a somewhat sizeable 4.3 x 2.5 x 1.6-inches, while keeping its weight down 3.5 ounces. That makes the Jelly Comb Wireless Mouse the largest of the mini travel mice on this list.
The Jelly Comb Wireless Mouse is available in black, blue, silver, purple, and red. Each is bright, and complete without a brand logo underneath the scroll wheel. Underneath the bright casing, Jelly Comb's mini travel mouse makes use of a fairly typical optical sensor. The wheel is fairly silent, but both mouse buttons make a distinct clicking sound when used.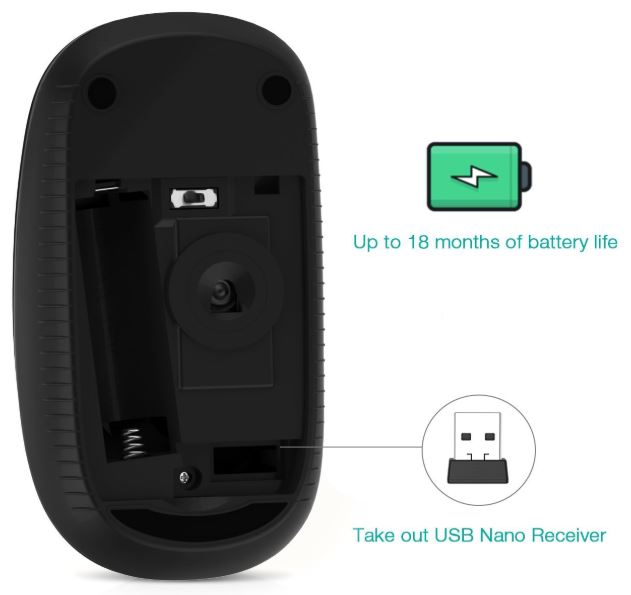 Other Considerations
This mouse is power hungry. It operates with two AAA batteries, which are included. But you can expect as little as three months between battery changes. It's also compatible with all modern versions of Windows and Apple OS X, and includes a one-year warranty from Jelly Comb. As with most mini travel mice, the receiver is stored in the base of the device, on the bottom side underneath a latch.
Choosing Between 3 Great Mini Travel Mice
Jelly Comb is everything it promises to be, a basic travel mouse. If you plan on using this mouse as your primary mouse, you're going to have issues with the battery life. But if you're only using your mini travel mouse from time to time, in shorter sprints, you won't have those concerns. More importantly, the Jelly Comb Wireless Mouse is a good choice for people with larger hands who want to prioritize comfort.
The Verbatim Wireless Mini Nano Travel Mouse is the quintessential traveling mini mouse. Overall, it's the smallest option on this list, giving it the edge for people who absolutely need to make the most of every square inch they have available. You can toss it into a laptop bag and forgetting about it until it's needed, or chuck it in the glove compartment in your car for the same treatment. It's a great choice for people with smaller hands, and people who are prioritizing space.
Finally, the Microsoft Wireless Mobile Mouse 1850 could almost be used as an ordinary desk mouse. It's got a distinctly travel-friend size and weight, but in terms of comfort, it's still long enough to feel closer to a regular mouse in your hands. From the price tag to its battery consumption, the 1850 is quite impressive. You could fairly select the 1850 based on its cool aesthetic and massive 3-year warranty alone. It's a value-oriented choice, perfect for anyone looking for a notebook sized mouse.