Overall Design -

9/10

Ease of Use -

9/10

Battery Life -

10/10

Sensor Accuracy -

9/10
Summary
In the bustling landscape of smart indoor gadgets, the INKBIRD IAM-T1 emerges as a potent contender. It's clear that INKBIRD didn't just want to launch another device; they aspired to provide homeowners with a comprehensive solution for monitoring their indoor air quality. It's packed with thoughtful features and an interface that's both intuitive and insightful. From its minimalist yet efficient design to its unparalleled battery life, the IAM-T1 is more than just an air quality monitor.
Pros
Compact and sleek design
Impressive Electronic Ink Display
Outstanding battery life
User-friendly app interface
Cons
Size may not suit all
Lacks cloud storage option
Air quality. Something so crucial yet often overlooked. But when the stakes are high, accuracy and real-time data become paramount. Enter the INKBIRD IAM-T1 Smart Indoor Air Quality Monitor, a compact gadget that claims to offer both. But does it truly deliver on that pledge?
The importance of air quality cannot be ignored. So we needed to get to the bottom of the IAM-T1 to determine where it stands. In our review, we'll explore the depths of its features and performance. But most importantly, we'll share where it stands in monitoring air quality. Let's begin.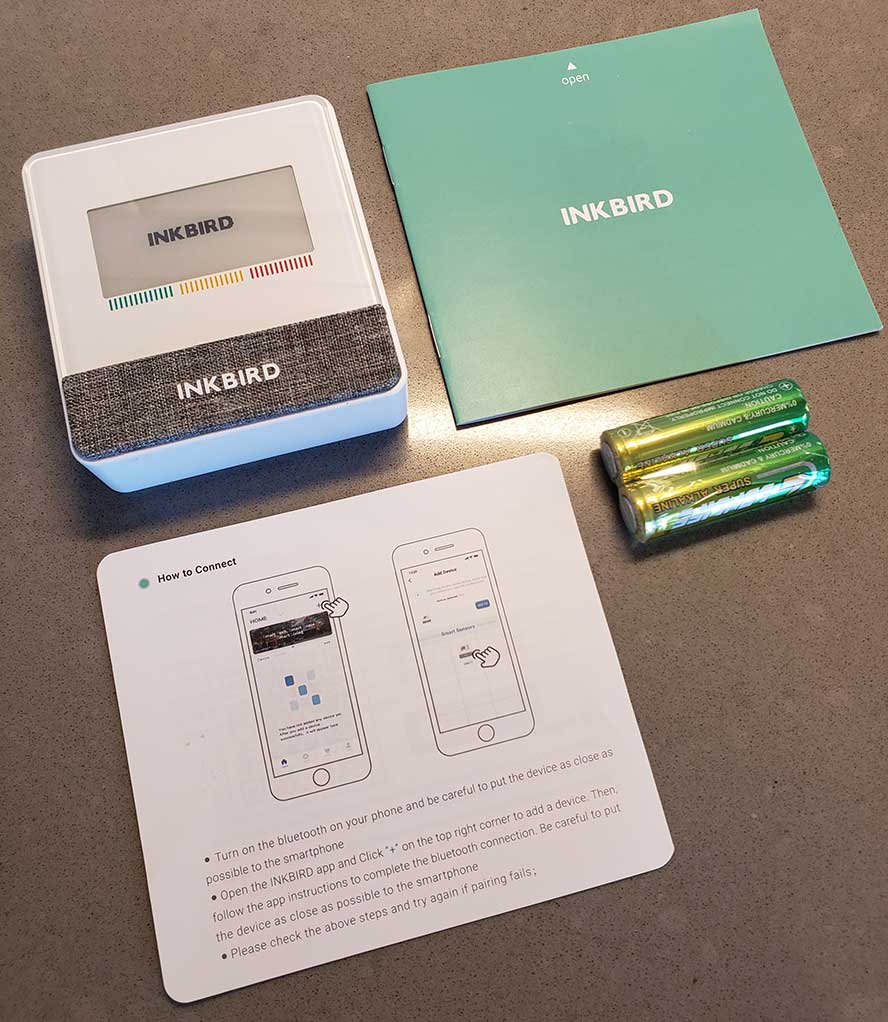 First Impressions
Size does matter, especially when it's about integrating a device into one's living space. At a mere 0.23 x 0.1 x 0.26 inches and weighing just a smidge over 5 ounces, this unit is neither cumbersome nor obtrusive. In fact, we'd go so far as to say it's the complete opposite. And that's a good thing in this case, as the average consumer's home is filled with various gadgets and gizmos. You want your air quality monitor to sit nestled comfortably next to your Alexa or clock, and the IAM-T1 does so perfectly.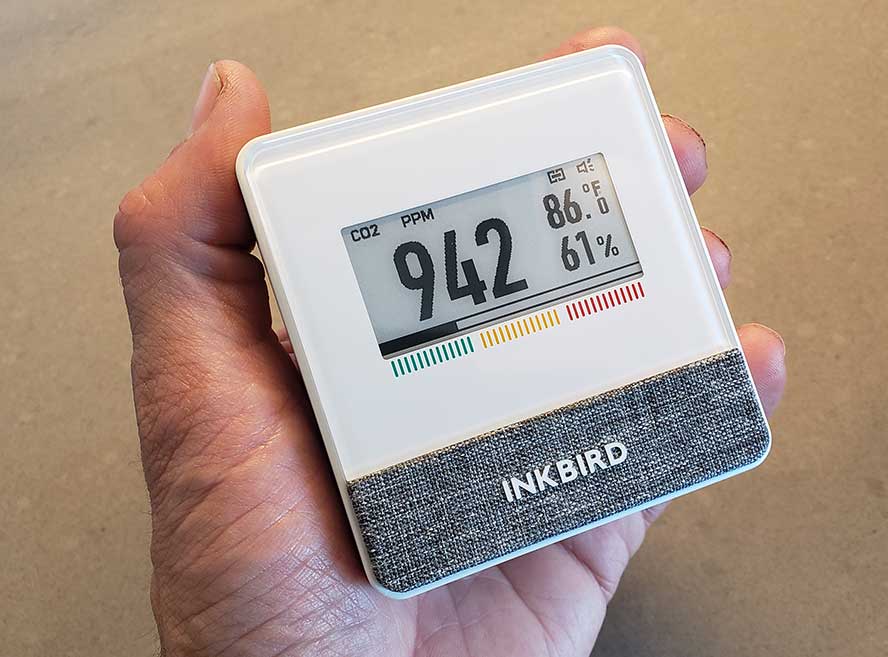 Its sleek, modern style fits snugly on a shelf, bedside table, or even in the office, turning heads without taking up much space. It's essentially a little white box with a mesh fabric bottom, akin to many other smart devices on the market today. It's not anything overly fancy, but then again, it doesn't need to be. We're quite happy with its dimensions and footprint. It is small, no doubt. But the size is sufficient for what it is.
Electronic Ink Display
When it comes to visibility, not all screens are created equal. And the INKBIRD IAM-T1 knows this all too well. Its Electronic Ink Display features high reflectance paired with a high contrast screen. Basically, that means that even from a distance, you can easily discern the readings. And with an ultra-wide viewing angle, you don't need to stand dead-center in front of the unit to get a clear view. This is one of the reasons we're fine with the overall size.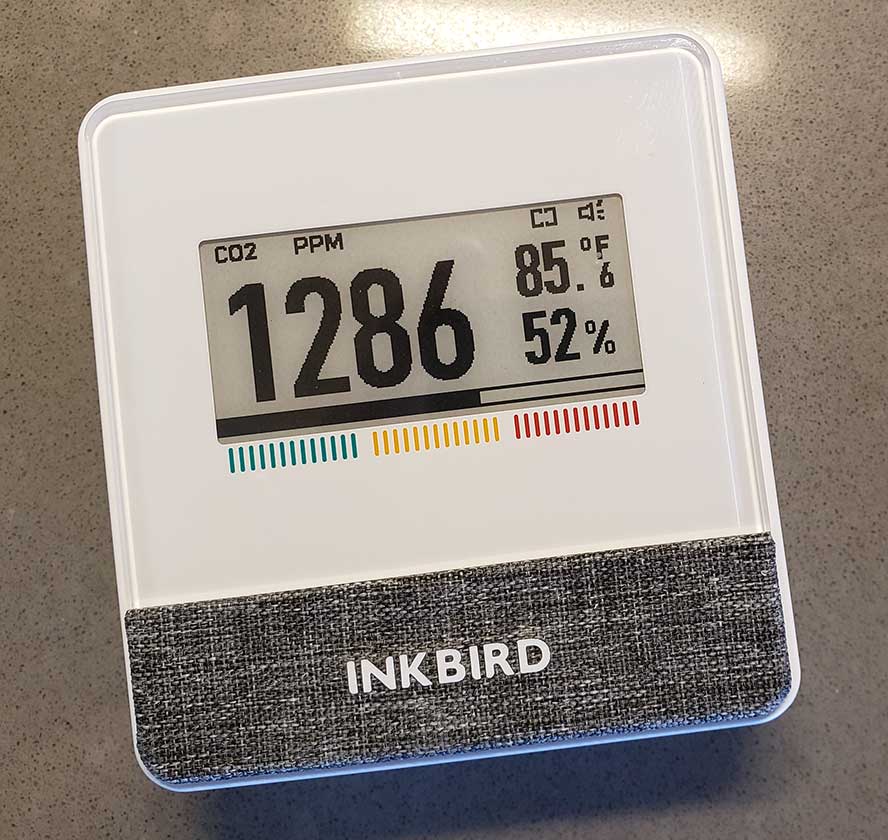 It doesn't necessitate a large display to see what's going on. Besides, it has its own app for anything far away (more on that later). Moreover, it's not just about aesthetics; it's about practicality. Low-power consumption means that this display won't be the power-hungry component that drags down the device's impressive battery life. It combines clarity with efficiency, ensuring that you're never left in the dark about your air quality, and we like the peace of mind that comes with that.
The beauty of this tiny unit doesn't just rest on its remarkable screen but also in the comprehensive readouts it offers. As we promptly learned, this is not your average CO₂ meter. The array of data at your fingertips is nothing short of impressive. Not only does it provide CO₂ concentrations in parts per million, but it also dishes out readings on temperature, humidity, and even the barometric pressure. It's like having your very own weather station and air quality monitor rolled into one sleek device.
Displays and readouts are good, but what about what really matters – air quality? For that, you need to have a reliable air sensor working behind the scenes to stay on top of changes. Anything less puts you in potential danger. INKBIRD knows this, too, which is why the company went with a quality sensor. Let's explore.
Air Sensor
When it comes to monitoring air quality, precision isn't just a luxury; it's a necessity. And boy, does the IAM-T1 take that to heart. So let's talk numbers: with an accuracy of ±(30ppm+ 3% of reading), it's like having a meticulous scientist measuring your air quality around the clock. But what makes this little gadget so reliable? Well, it's all in the world-leading NDIR sensor from Senseair.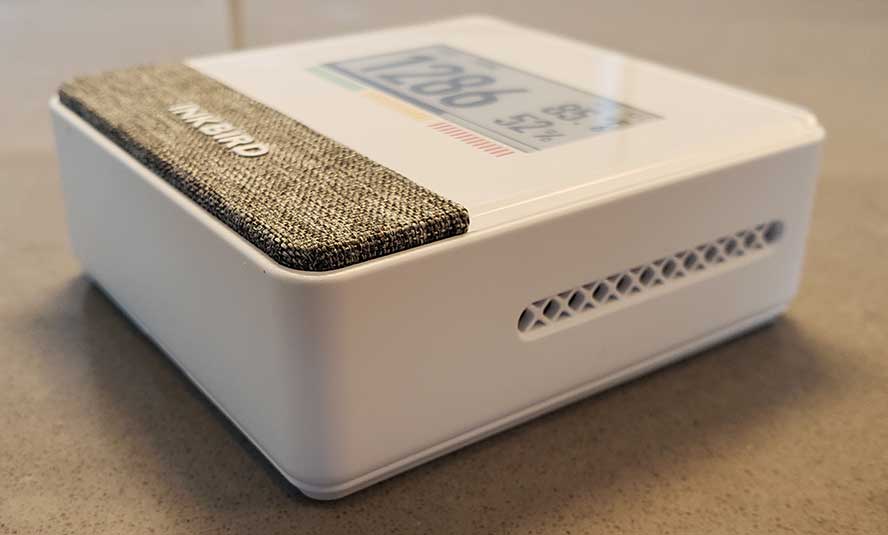 For those out of the loop, Senseair is among the top leaders of air sensing technology. It's a company that's renowned, respected, and revered for its commitment to excellence. The NDIR sensing technology ensures that when it comes to carbon dioxide (CO₂) detection accuracy, you're getting nothing but the best. And because safety is paramount, this device doesn't just give numbers; it uses them effectively. With its humanity-centered CO₂ level indication colored bar, users can easily ascertain whether their air quality is in the safe range.
How does it work? It's really quite simple. Green for under 1000ppm, yellow for 1000-1400ppm, and red for anything above. It's a straightforward, color-coded system that even the most tech-averse individuals can understand at a glance. When CO₂ levels rise over the safety threshold, the display takes a dramatic turn, switching to white characters and a more eye-catching black background. It's not just about sounding the alarm; it's about making sure everyone notices.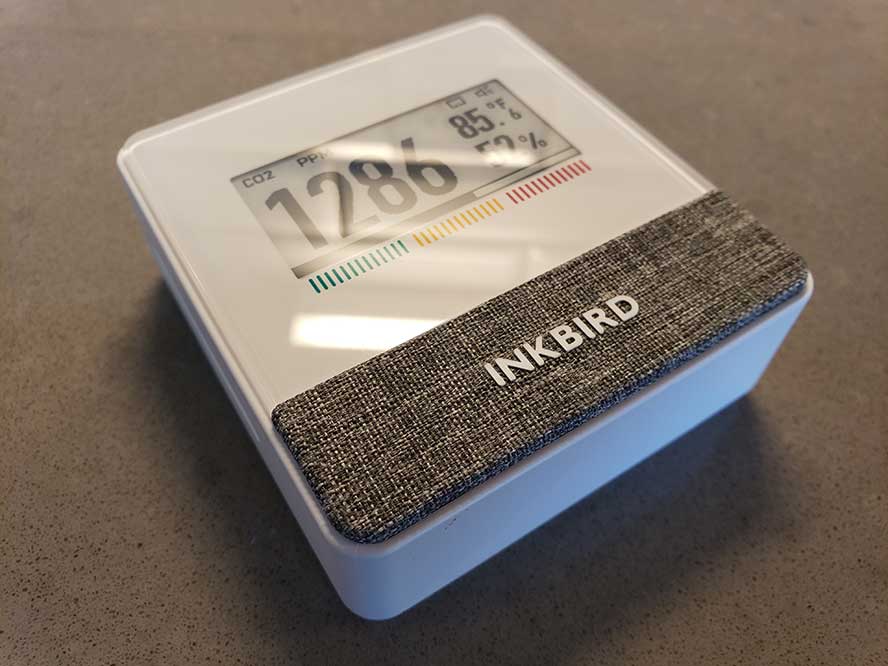 Hammering home its adequate size yet again, we feel the display real estate is just right. It does a splendid job of getting you to look over at it. Your eyes are immediately drawn to the shift in color tones, letting you know that your attention is needed. The INKBIRD IAM-T1 checks all the right boxes in this area, ensuring you're always in the know – and in the safe zone – when it comes to air quality.
Battery Life
Let's shift our attention to a topic that many tech enthusiasts hold dear: battery life. In a world where we constantly find ourselves reaching for chargers, the IAM-T1 stands tall and strong. A whopping 4 years of battery life? It's not just impressive; it's almost revolutionary. Imagine 4 years of non-stop monitoring without a hitch. That's 4 years of peace of mind, and when it comes to ensuring the health and safety of one's family, isn't that what we're all striving for?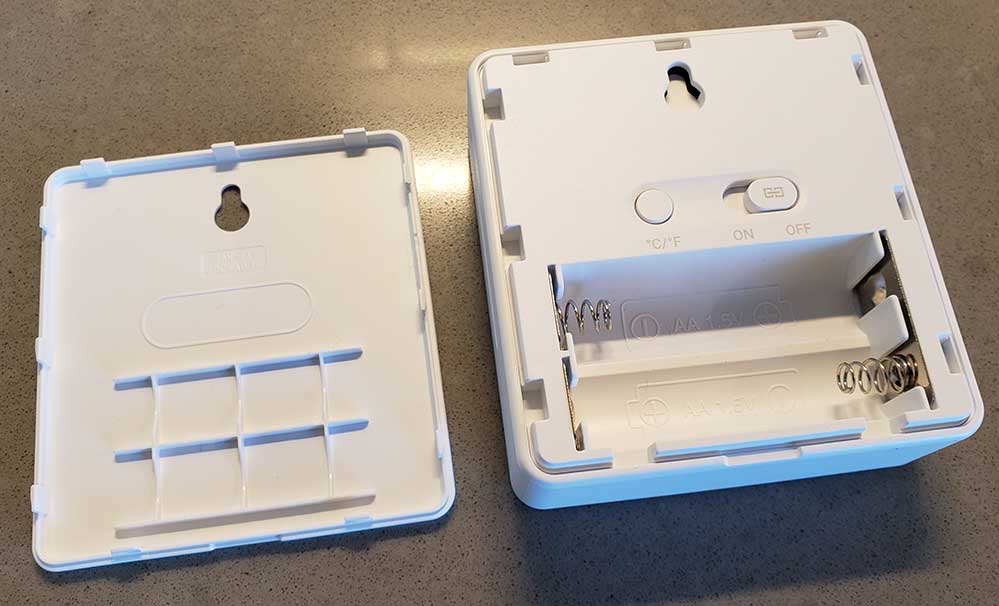 This longevity is further amplified by its sampling interval, which can be set from the INKBIRD App. Set it to a 10-minute interval, and you've got yourself a guardian that continuously works, day in and day out, for 48 months straight. We found that knowing our little monitor was at work behind the scenes gave us added comfort and assurance. No need for checking, glancing over, or messing with menus or settings. Once set, you're good to go. The IAM-T1 will get your attention if it's warranted. How's that for convenience? We sure appreciate it.
Another plus is that you get the necessary batteries (2 AAs) included with the monitor. So you'll be all set right out of the box. All you need to do is pair it with your smartphone, and you're ready to start monitoring from afar. It's an important part of the user experience, so let's break down what that entails right now.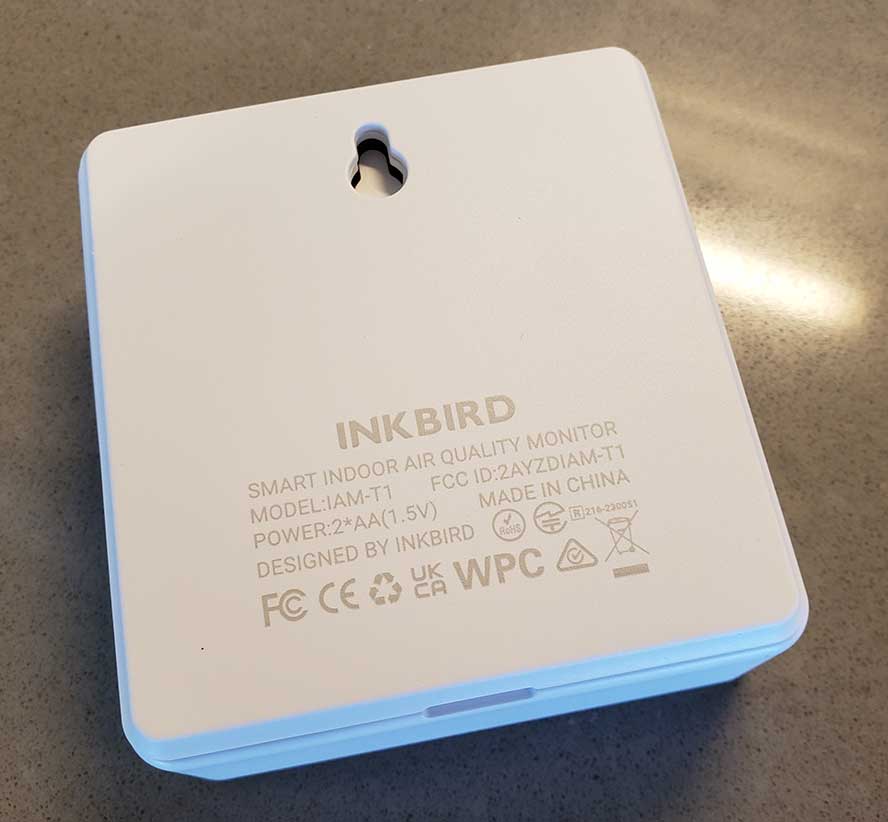 App Control
"Control at your fingertips." It's a phrase we hear often, but with the INKBIRD App, it rings true in every sense. The modern user demands convenience, and this app delivers in spades. Why stand up and walk over to the device when you can simply pull out your phone, tap on the app, and get all the information you need? It's as easy as it gets, and that's exactly what you want from a smart device such as this one.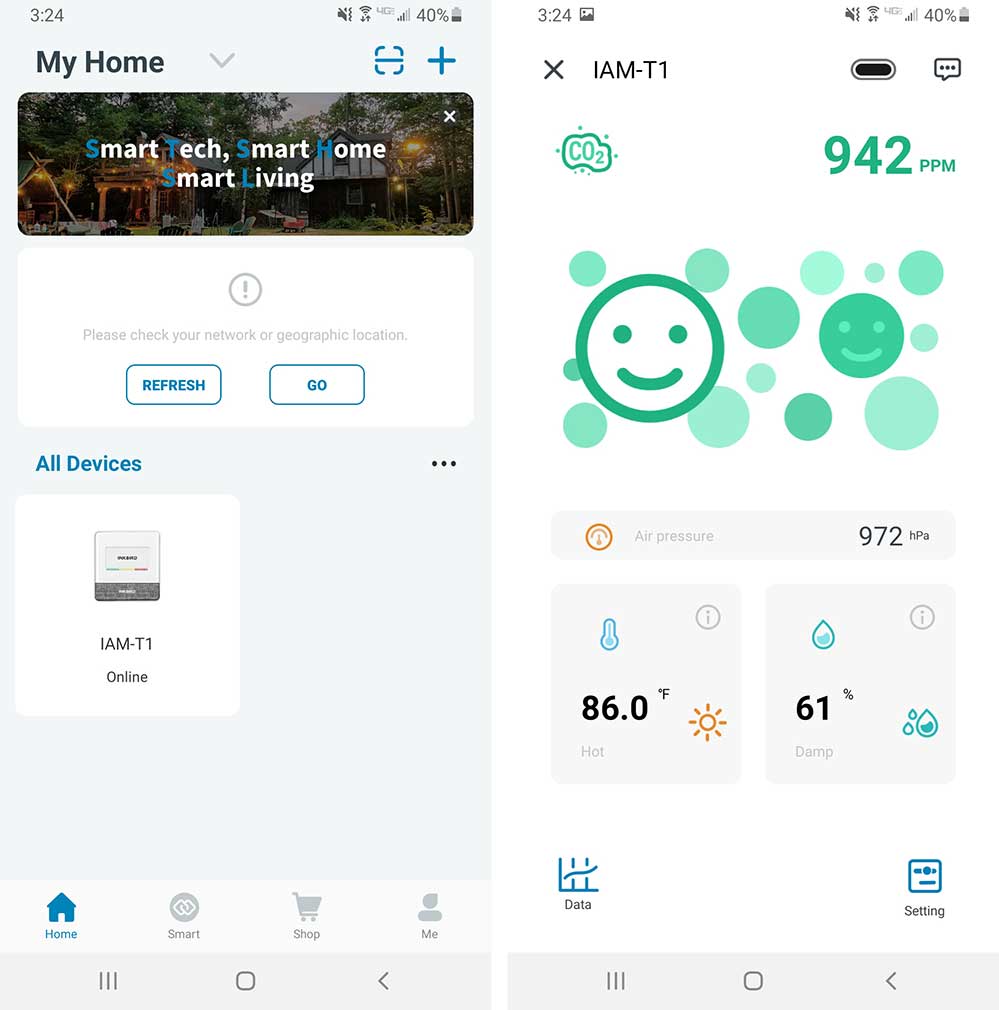 Supporting Bluetooth 5.0 connection, the app seamlessly syncs with the IAM-T1, providing real-time updates on indoor CO₂ levels, temperature, humidity, and air pressure. The intuitive interface makes it a breeze to set the sampling intervals we mentioned a moment ago – which, by the way, can be set from as low as 1 minute to up to 10 minutes. But that's not all. For those who like to look back and analyze, the INKBIRD App comes equipped with a memory bank that saves and checks 30 days' worth of offline data.
Having a "diary" of your indoor air quality enables you to see if there are any trends or patterns emerging over the course of its use. And thanks to a focus on user privacy, the data remains confined to your device and your device only. There's no uploading to any cloud servers or anything like that, ensuring your data stays personal and private. It's a blend of convenience, functionality, and security, all packed into one neat package.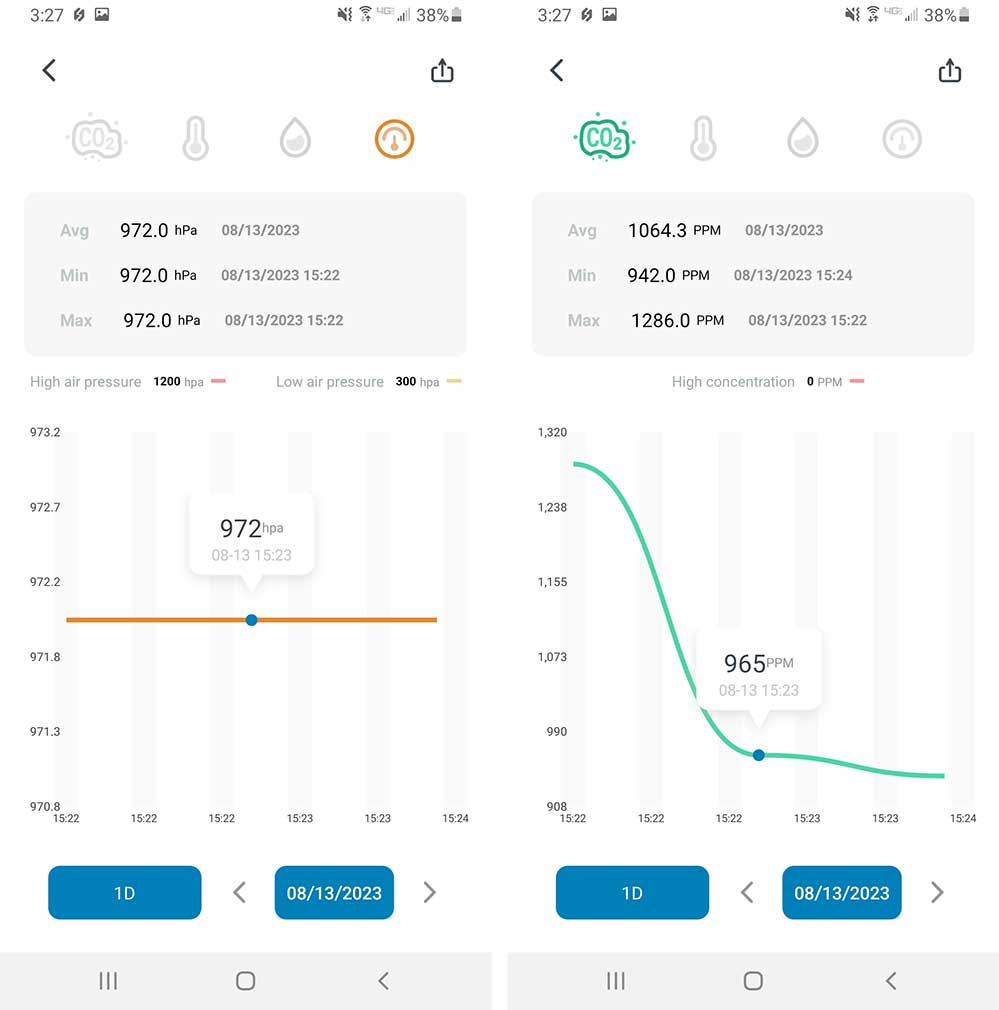 But there's more. The app deserves praise for its user-friendly design. It not only mirrors the readouts on the device but brings with it a suite of customizable alarms. Whether you're particularly keen on tracking certain elements or need specific alerts for potential concerns, this app does it. And the addition of an online user guide ensures that users can effortlessly navigate the settings, enhancing the entire experience.
It's clear that with this monitor, you're not just getting readings but a holistic air quality management system. And for those seeking insights into their home's air health, this device might just be the ticket. So for those who want to take charge of their indoor environment, the INKBIRD App proved to us that it isn't just a tool; it's an ally. Ready to assist, inform, and empower. That's our idea of smart living.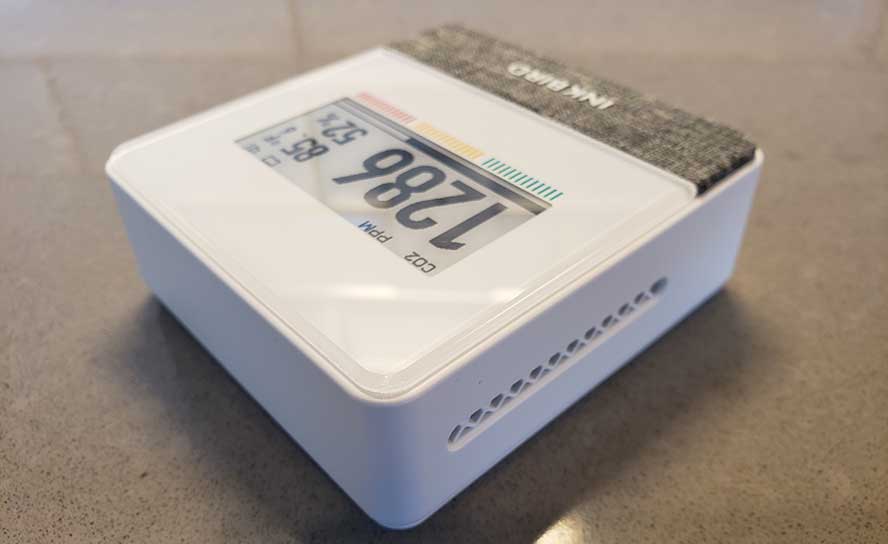 Final Verdict
In the bustling landscape of smart indoor gadgets, the INKBIRD IAM-T1 Smart Indoor Air Quality Monitor emerges as a potent contender. It's clear that INKBIRD didn't just want to launch another device; they aspired to provide homeowners with a comprehensive solution for monitoring their indoor air quality. It's packed with thoughtful features and an interface that's both intuitive and insightful. From its minimalist yet efficient design to its unparalleled battery life, the IAM-T1 is more than just an air quality monitor.
By our estimation, it's the embodiment of peace of mind, quietly guarding over the health of your home environment. For those who believe that the safety of their loved ones is paramount and that indoor air quality shouldn't be left to chance, the IAM-T1 surely stands tall. All said and done, we can confidently vouch for its proficiency and place it among the elite in indoor air monitoring solutions.