When working at your computer all day, it's important to have the right peripherals. A good keyboard, mousepad, headphones, and more are crucial. Along with those, arguably the most important to have is a high-quality mouse.
Many people go with a traditional style mouse. However, an often overlooked option that can make working even better is the vertical mouse.
Why would I want a vertical mouse?
The benefits of a vertical mouse are primarily ergonomic. This is a much more natural way for your hands to be resting all day at a computer, and the angles that the buttons are placed at allow you to reduce fatigue while working.
What's the difference between a vertical mouse and a traditional mouse?
A traditional mouse is usually a smaller device that has buttons along the top, and you rest your hand directly on top of, similar to how it rests on a keyboard. They work, but you can feel fatigued after a while.
Vertical mice take that design and turn it sideways (literally). Rather than resting your hand on top, you grab it so your fingers are running vertically along the body of the mouse. They are also usually significantly bigger to provide a solid base to work off of. Their design is made specifically to feel as natural as possible in an effort to reduce fatigue while working at your computer.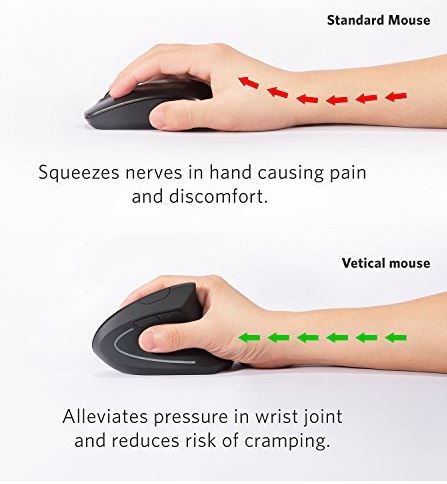 Does a vertical mouse have extra buttons?
Sometimes, yes. They all have the traditional left and right-click buttons, along with a scroll wheel. They'll usually also have a few other macro buttons in order to increase your workflow efficiency. This makes them ideal for an office setting.
How difficult is it to switch to a vertical mouse?
It's definitely a learning curve, but you'll be able to pick it up pretty quickly. In concept for actual function, they're similar to a traditional mouse. You move it around on a mouse pad and click to do things. The only difference is how you hold it and where the buttons are located. Once you use one for an hour or two, you should be good to go.
What should I look for in a good vertical mouse?
A good vertical mouse will have a few features to look out for. The first is buttons. As mentioned above, finding one with extra macro buttons is a major plus. Next is connectivity. Most people will lean towards a wireless connection, however, wired is perfectly acceptable as well. The overall design of the mouse is important too. Make sure to look for one that fits your hand size well. Finally, keep an eye out for little differentiating features that may set one mouse apart from the rest.
Best Overall: Evoluent VM4RW Vertical Mouse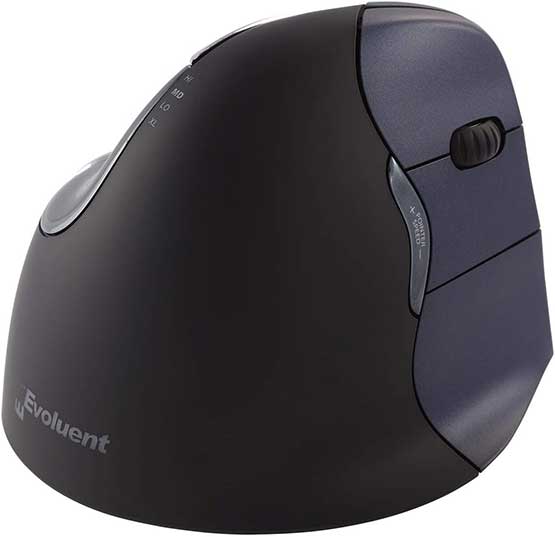 Key Features:
6 Buttons
Wireless Connectivity
DPI Changing Is Easy
The best overall vertical mouse is the Evoluent VM4RW. This mouse has the traditional style of the main clicking buttons on the right and the thumb rest area on the left. Aesthetically, this is a mix of black, blue, and silver. Overall, it's a good-looking mouse that should fit into your office setup easily.
Connecting this mouse to your computer is simple. Evoluent used a wireless connectivity option for it. This eliminates the need to cable manage any extra cords. However, it does require power in order to function. Rather than having a rechargeable internal battery, you'll have to replace a single AA when the battery starts to get low.
There's a lot to like about this mouse when it comes to buttons. Along with the main buttons you'd expect, there are four extra Macro buttons. Two of them are located in the thumb area, giving you easy access to them. Best of all, each button (including the main clicking ones) is customizable to any function you'd like it to have. This allows you complete control of your workflow while using this mouse.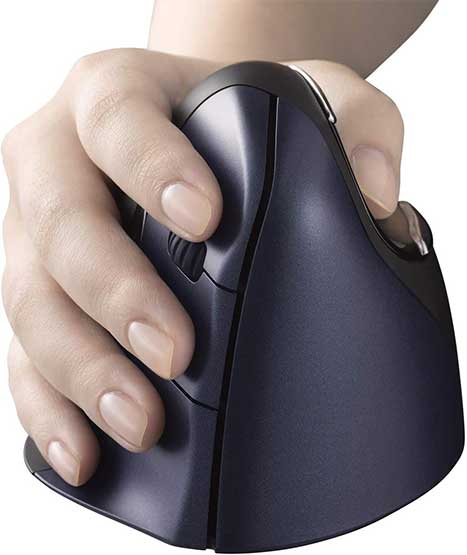 The best extra feature of this mouse is its easy DPI shifting. DPI refers to how fast the pointer will move on your computer (A higher setting means a faster mouse). There's an easy-to-use button on the center of the mouse to control the speed, which can be set to four different settings. To see which setting you're on, there is lighted text next to the thumb rest.
Pros:
DPI shifting is simple
Wireless connectivity
Extra macro buttons with plenty of customization
Cons:
The battery isn't rechargeable
Best Runner-Up: HP 920 Ergonomic Vertical Mouse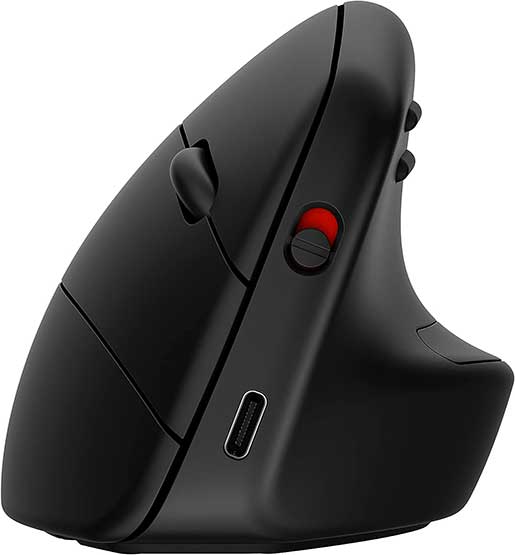 Key Features:
5 Buttons
Bluetooth connectivity
16 Week Battery
Another solid choice is the HP 920 Ergonomic Vertical Mouse. This is an extremely simple-looking device, perfect for minimalists. It's an all-black colorway and has a sleek design. This is a nice benefit since many of the vertical mice on the market are bulky and not great to look at.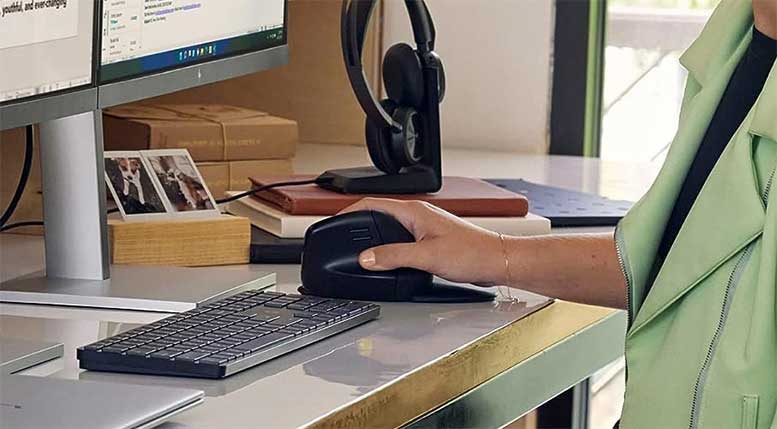 Connecting is simple with the HP 920. It uses either USB-A wireless or Bluetooth 5.3 in order to communicate with your computer. There's an included USB dongle that you plug in. After that, you can start using it pretty quickly. When not in use, you can store the dongle in an internal compartment on the mouse. Overall, with the various methods of connecting, you can have this mouse connected to three different devices at once.
As for buttons, this mouse has five options. There are the two main buttons, along with a scroll wheel and two extras, next to the thumb rest area. Each button can be individually programmed, so you can make this mouse do exactly what you need it to.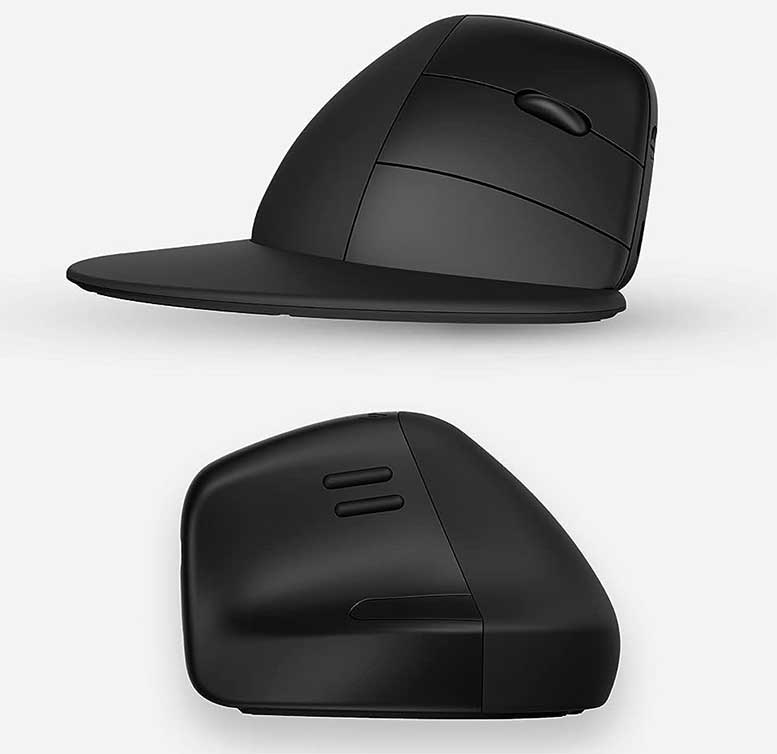 The best extra feature of the HP 920 is the battery life. On a single charge, it can last for up to 16 weeks of use. Best of all, the battery is rechargeable, so you won't have to keep a stock of single-use batteries in your desk.
Pros:
Fully rechargeable and lasts for 16 weeks
Five programmable buttons
Sleek and minimalist design
Cons:
Some reviewers note the scroll speed of the scroll wheel is slow
Best Alternative: Logitech MX Vertical Wireless Mouse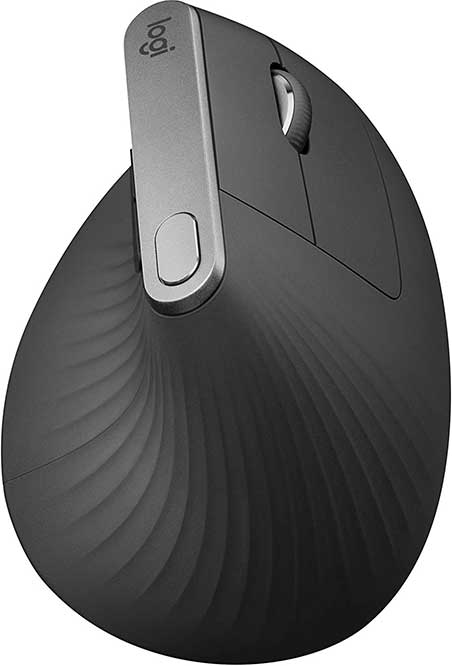 Key Features:
5 Buttons
3 Ways To Connect
DPI Switch
Another great-looking vertical mouse is the Logitech MX. While it isn't quite as minimalistic as the HP 920, its design gives it a sleek and classy look that is easy to fit into your setup. It's a dark grey and silver color, and the thumb area is made of a textured material to help improve comfort and grip.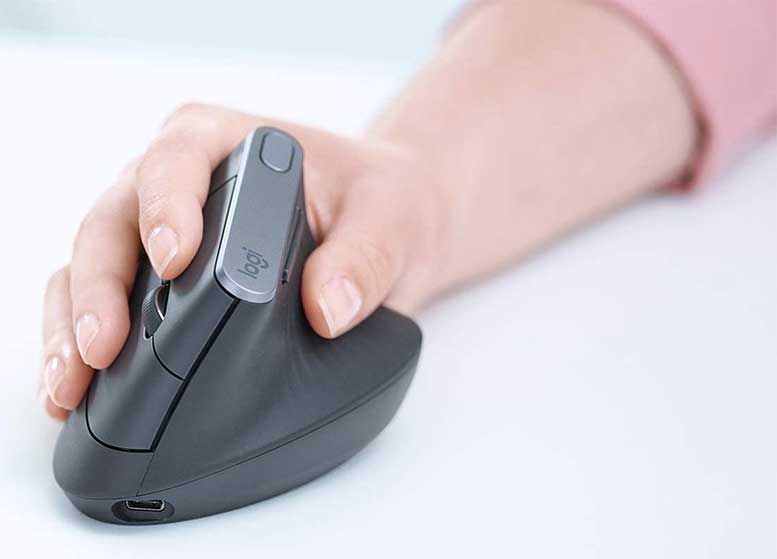 As for connecting, you have a few options. The first is wireless via a wireless dongle. With this, just plug it into a USB port, and it's ready to use. The next is Bluetooth, which is simple to connect right on your computer. The final option is wired, using the included USB-C to USB-A cable. All of these options give you plenty of ways to use your mouse. While in wireless modes, you can expect a battery life of up to four months on a full charge. Additionally, it can receive up to four hours of charge in only one minute, so if it dies, you won't be out of commission for long before you can get your work done again.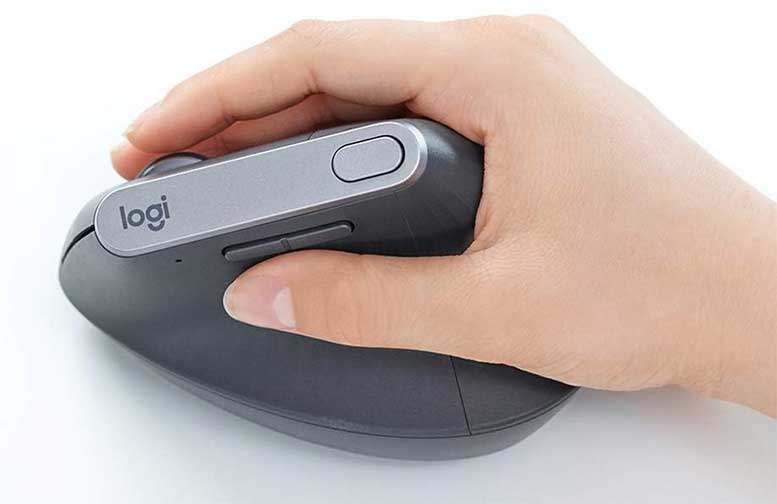 The buttons on this mouse are similar to the HP 920. There are five total to choose from. Along with the main clicking buttons and the scroll wheel, you'll find a dual shortcut button next to the thumb area. However, where this mouse differs is that the only clearly customizable macros are on the thumb buttons.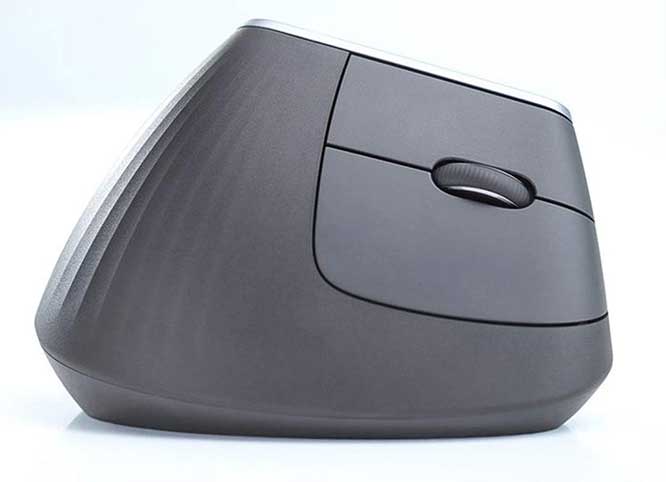 A great feature of this mouse is the DPI shifting. Similar to the Evoluent, the Logitech MX has a dedicated button on board to let you switch how fast the mouse will move on the screen. One difference, however, is that there isn't a good indication of how fast it's set to on the mouse itself, so you'll have to just see what it's like while in use.
Pros:
Can connect via Wireless, Bluetooth, or Wired
4-month battery life
Receives four hours of charge in one minute
Cons:
No easy way to tell what DPI you're using on the mouse itself
Most Unique: DeLUX Seeker Wireless Ergonomic Vertical Mouse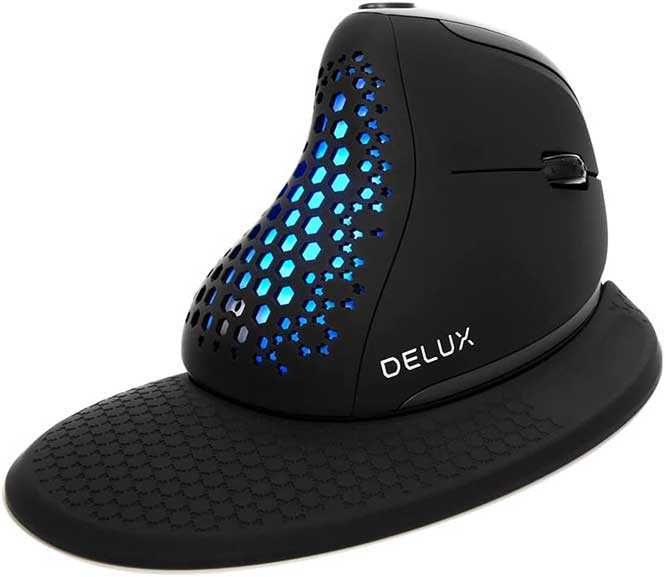 Key Features:
6 Buttons
Bluetooth Or Wireless Connection
Detachable Wrist Rest
The most unique functioning and looking option on the list is the DeLUX Seeker Wireless Ergonomic Vertical Mouse. At its core, it has the same general design you'd expect from a vertical mouse. However, it has a large meshed area with LED backlighting and is available in four different colors. You can pick either black, blue, green, or white for the mouse body color.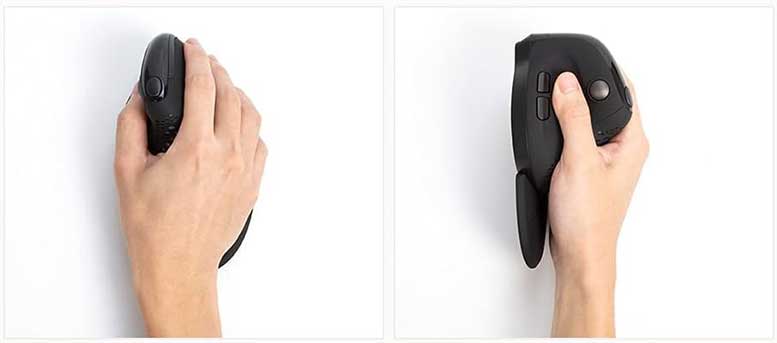 Connecting to your computer and other devices with this mouse is pretty similar to other options available. It can connect via an included Wireless dongle or via Bluetooth. In total, it can be connected to four devices at once, and you can switch between them seamlessly with a button on the bottom of the device.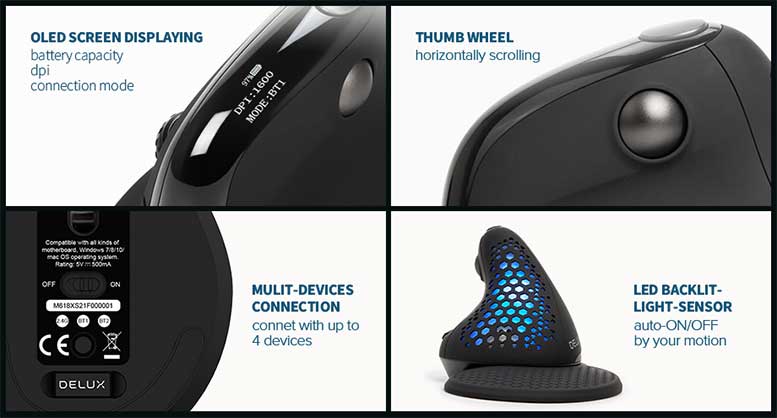 As for buttons, there's quite a lot going on with this mouse. It has the traditional clicking buttons and a scroll wheel, along with two other buttons on the thumb rest. Additionally, there's a horizontal scroll ball by the thumb. In total, there are 6 different buttons that can be customized to do whatever you want them to.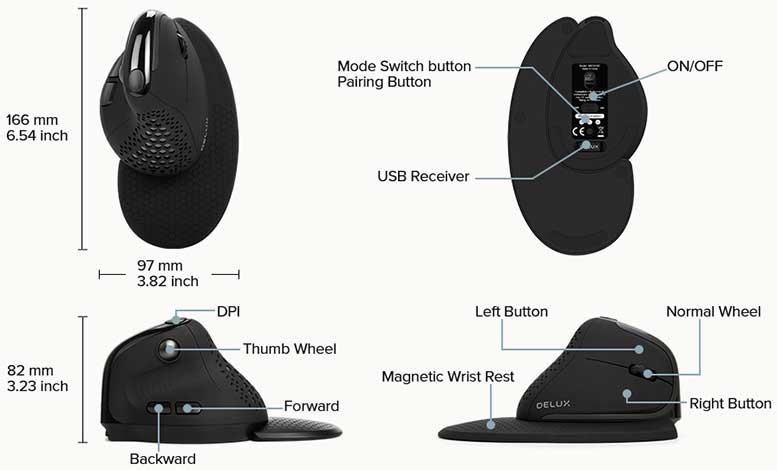 There are lots of extra features that make this a great mouse. It has a removable wrist rest to make it even more comfortable to use. There's also a removable cover for the mesh area in case you don't like the lighting or how it feels to use the meshed material. Additionally, it has DPI shifting through a dedicated button. Next to this button is an OLED display to tell you which speed it's set to, as well as battery life. On a full charge, you can expect the DeLUX Seeker to last 2 weeks with 8 hours per day of use.
Pros:
Scroll ball for horizontal scrolling
Removable wrist rest
Four colors to choose from, along with LED backlighting
Cons:
Sometimes it glitches while in wireless dongle connectivity mode
Best Budget: iClever WM101 Wireless Vertical Mouse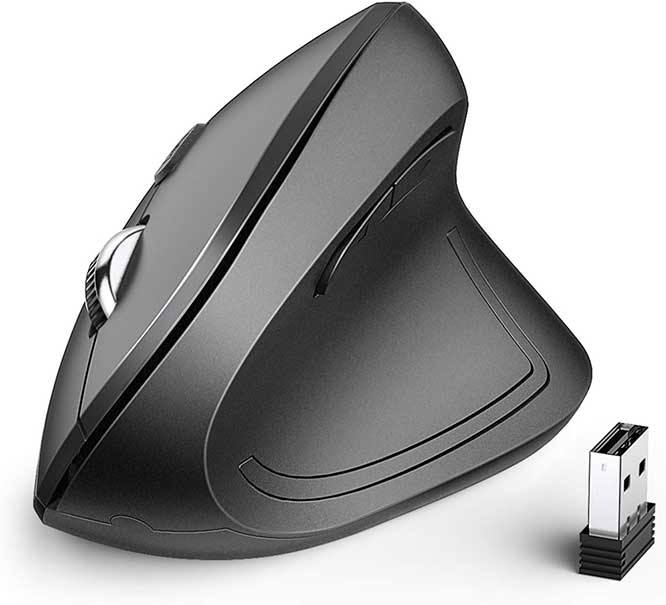 Key Features:
6 Buttons
Wireless Connectivity
Four DPI Modes
A great budget choice for a vertical mouse is the iClever WM101. This mouse has a basic look, coming in a black colorway with silver accents on the scroll wheel. Besides that, it looks about as you'd expect a vertical mouse to look.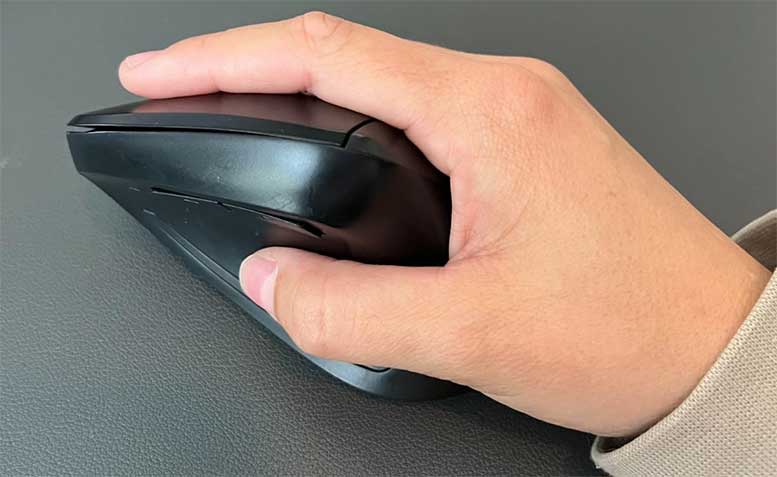 To connect to your Windows, Linux, or Mac devices, you can use the included USB wireless dongle. There's no solid mention of Bluetooth connectivity, so it's safe to assume that you can only use the mouse on a single device at a time through the dongle.
As for buttons, there are six total to use. It follows a similar design to many of the other options on the list, with the main clicking buttons, a scroll wheel, and two thumb buttons. Additionally, there's a DPI button that allows you to set it to one of four different speeds.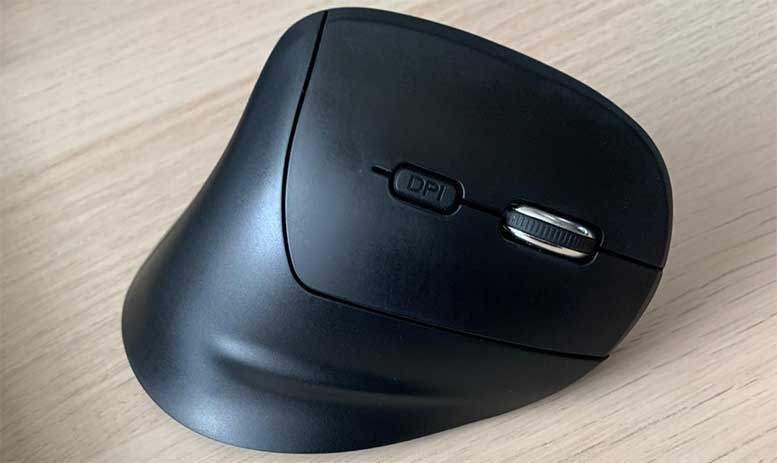 One nice feature is just how far the wireless mode will work. It can reach a range of up to 49 feet before you experience any disconnecting or glitching. As for the battery, the iClever WM101 is powered by two AAA batteries. There's also an included power saver mode, which shuts the mouse off after 10 minutes of inactivity in an effort to make your batteries last as long as possible.
Pros:
Budget-friendly
Works on Windows, Mac, and Linux
Wireless dongle connectivity up to 49 feet
Cons:
Meet Derek, "TechGuru," a 34-year-old technology enthusiast with a deep passion for tech innovations. With extensive experience, he specializes in gaming hardware and software, and has expertise in gadgets, custom PCs, and audio.
Besides writing about tech and reviewing new products, Derek enjoys traveling, hiking, and photography. Committed to keeping up with the latest industry trends, he aims to guide readers in making informed tech decisions.