Overall Design -

9.5/10

Performance -

9.5/10

Ease of Use -

9/10

Noise Level -

9/10
Summary
Dreo's PolyFan 513S is a versatile and highly adaptable pedestal-style air circulator fan that marries functionality with sophistication. Its smart features, quiet operation, and varied modes of operation make it an ideal companion for those seeking comfort and convenience. While it is slightly weighty, this is balanced out by its robustness, solid construction, and superior performance. A slightly high price tag may deter some, but for those willing to invest in a top-of-the-line air circulator, the PolyFan 513S is worth every penny.
Pros
Quiet operation at all speeds
Excellent performance across various modes
Easy adjustability and customizability
Seamless app and voice control
Cons
Slightly heavy
High price point
In today's market, finding a fan that not only meets but exceeds expectations in terms of functionality, versatility, and sophistication can be a tough sell. It's no secret that the market is saturated with different types of fans, a problem that only gets worse as the warm weather approaches. We're here to help you cut through the noise by introducing the PolyFan 513S.
Designed to bring comfort in the most effortless and efficient ways, this fan sets a new benchmark in the world of home appliances. Not only does it provide a wide range of settings for personalized comfort, but its smart capabilities also add a layer of convenience that feels almost futuristic. Read on to discover how the PolyFan 513S performs at improving your comfort zone.
Unboxing the Dreo PolyFan 513S Pedestal Fan
On receiving the package, one can't help but be impressed by its professional packaging. It arrived via FedEx, and inside the package, we found everything required for operation. A user manual, a quick start guide, and a remote control with a battery included ensure you're well-prepared to start using the device. The package also includes a power adapter, a flat washer, and screws for the base and grilles. The unboxing process was an easy affair and left no room for any surprises. The box contained everything needed to get the fan up and running.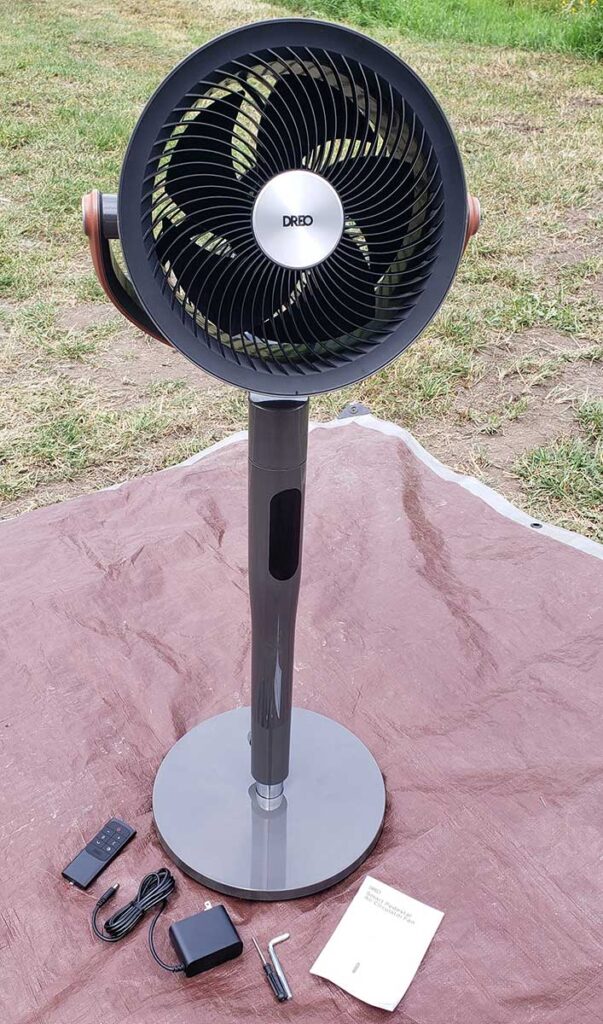 First Impressions
The PolyFan 513S strikes an impressive figure right out of the box. For starters, its dimensions stand at 12.76 x 14.13 x 37.6 inches. Weighing a solid but manageable 16.02 pounds, it's clear that this isn't your average fan. It feels sturdy and well-built, with a minimalist design that wouldn't look out of place in a modern home. And yet, there's also a touch of tradition here with the inclusion of a U-shaped arm that holds the fan. It sports a wood-grain finish, seamlessly blending contemporary and timeless appeal into one sleek package.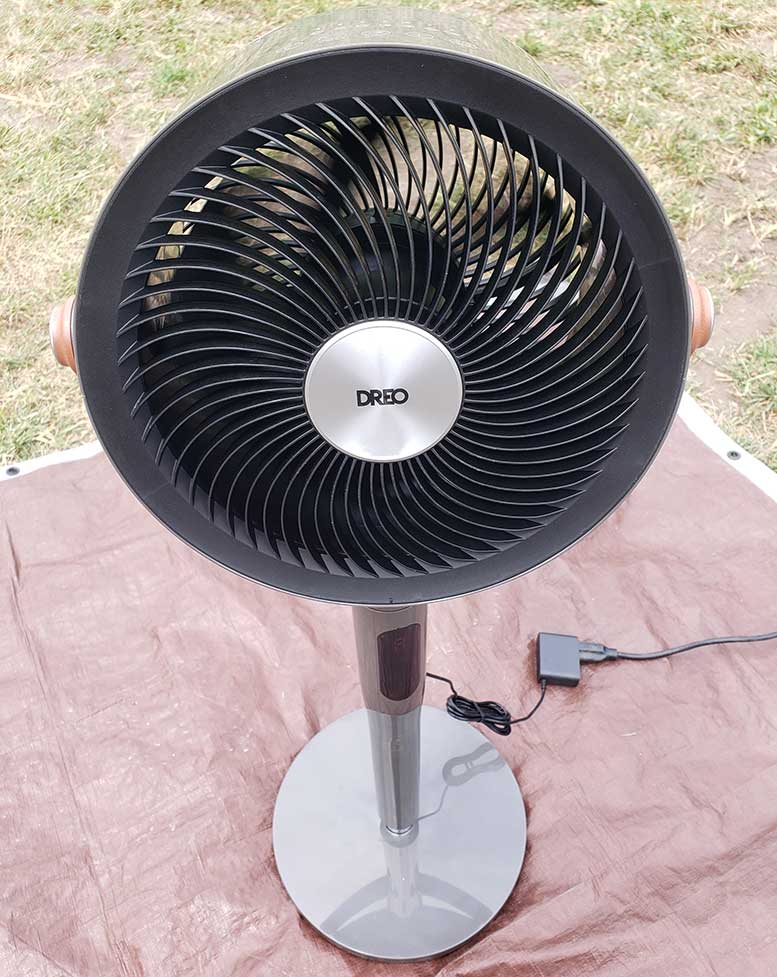 One of the first features that drew our attention was its brushless DC motor. Designed for efficiency and performance, this type of motor is known for its quiet operation and durability. We were looking forward to testing the fan's claim of a 25dB noise level, which would indeed be ultra-quiet for such a powerful air circulator. So stay tuned for our report.
Overall, our first impressions were positive. It promised a blend of advanced technology, impressive functionality, and user-friendly design. With its six distinct modes, 8-speed settings, and adjustable pedestal, it seemed as though we were about to test one of the most adaptable and customizable air circulator fans on the market.
Performance
Testing the performance was an experience that left us duly impressed. Once assembled – a straightforward task following the included guides – we plugged it in and started with the initial tests. To put the fan's claimed capabilities to the test, we decided to test its performance across various room sizes. Despite its relatively compact size, this air circulator proved to be quite a powerhouse. Its maximum airflow is impressive and easily noticeable even at a distance of 100 feet.
It kept the rooms feeling fresh and cool, even on hotter days, demonstrating excellent capability for air circulation. All of this is made possible with the 5-blade design. The 11-inch head houses five 9-inch blades for maximum airflow – and it delivers. We also tested the noise levels. True to its claim, the unit was remarkably quiet. Even at higher speed settings, the noise level never exceeded ~50dB, making it one of the quietest fans we've ever reviewed.
At its lowest setting, it hummed along at a whisper-quiet 25dB. From a performance perspective, it certainly checks off all the boxes. Its ability to deliver high-speed airflow while maintaining quiet operation is a testament to its superior design and functionality.
Directional Control
Directional control is a key feature, setting this model apart from many traditional fans. The device offers 120° horizontal and 105° vertical oscillation, allowing for comprehensive and multidirectional airflow. This enables the unit to circulate air efficiently across a wide space.
To test this feature, we placed the fan at different spots within a room and observed the air movement. Regardless of the unit's position, the oscillation allowed for effective air circulation throughout the entire room. Moreover, the fan reset to its initial state after being turned off, which proved useful for preserving the desired oscillation settings.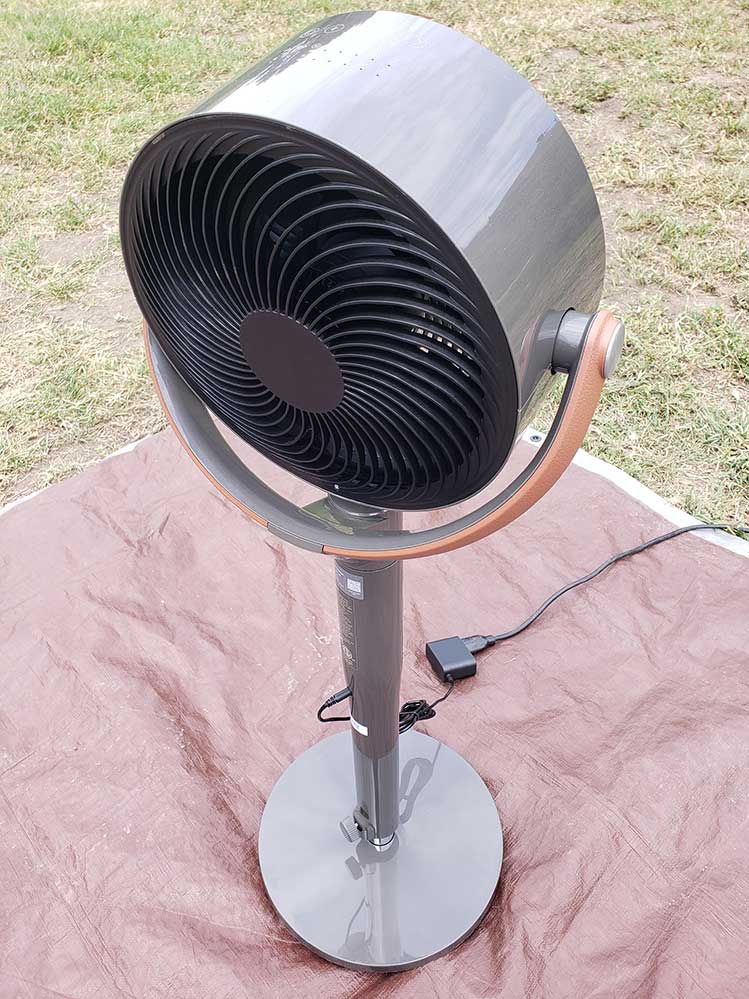 Adjustability
The PolyFan stands out in its adjustability, offering various customization options. The pedestal is adjustable, allowing for easy alteration of the fan's height to suit the user's needs. Adjusting the pedestal in our tests was simple and smooth, and the fan maintained its balance at all heights and at all times. Furthermore, the unit's speed, mode of operation, oscillation, and timer can be adjusted to create the ideal environment.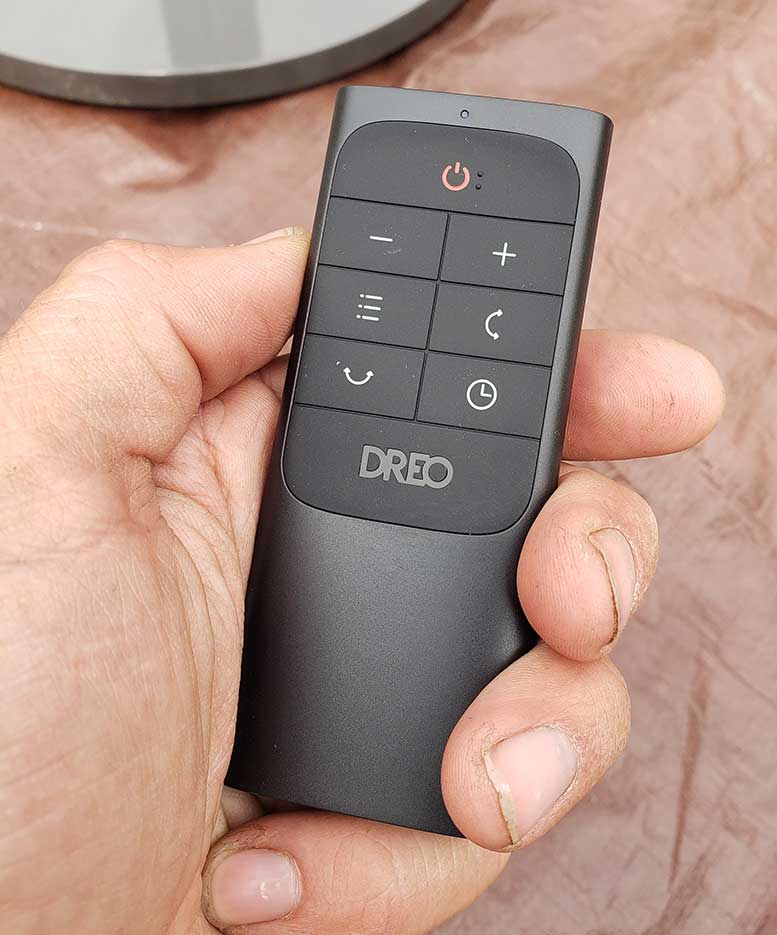 The digital panel and remote control make it easy to modify these settings. We particularly appreciated the slide control for changing speeds – it made transitioning between different speed levels seamless. But it gets even better, as these aren't the only form of control you're afforded. We'll talk about them in a moment. For now, though, we're very pleased with the flexibility you're given to create an optimal cooling environment.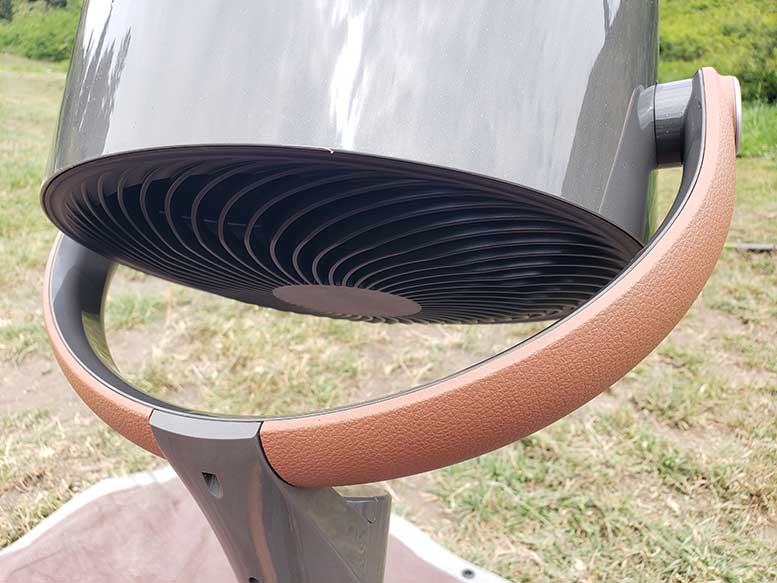 Modes of Operation
The PolyFan excels in its versatility, offering a total of six operational modes – Auto, Turbo, Normal, Natural, Sleep, and Custom. Each mode is designed to cater to a unique need, allowing you to tailor the device's performance according to your preferences. Let's check out how each mode performed during our thorough testing.
Auto Mode
The Auto mode is designed to adapt to the ambient temperature, automatically adjusting its speed accordingly. To test this, we placed the fan in a room with fluctuating temperatures and monitored its response. It adapted seamlessly to the changing conditions, maintaining a comfortable temperature within the room. It accelerated its speed when the room grew warmer and, conversely, decreased its speed as the room cooled down.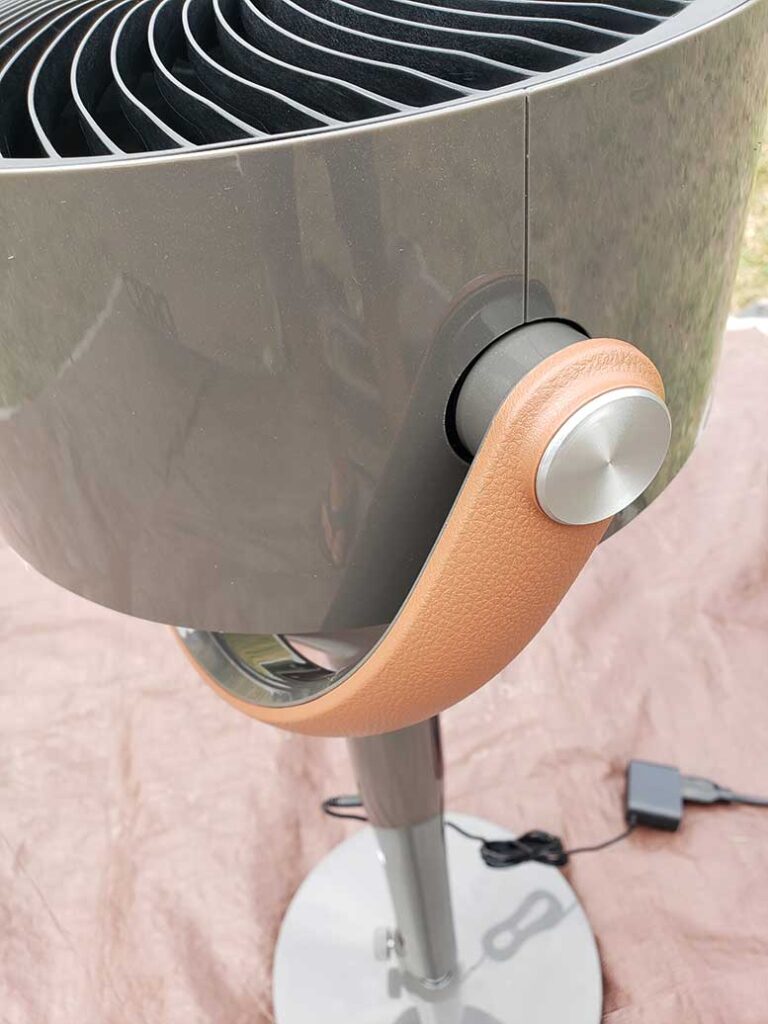 Turbo Mode
The Turbo mode is a godsend for those sweltering summer days when a robust airflow is the need of the hour. To put it to the test, we used the fan in a stuffy room that lacked proper ventilation. The results were outstanding; within minutes, the room was significantly cooler. The powerful gust of wind that the fan generated could be felt across the room, enhancing its overall comfort level.
Normal Mode
The Normal mode is ideal when you need consistent airflow without any fluctuations. We tested this mode in an office setting where a stable breeze was preferred. The device delivered a steady airflow at a preset speed, contributing to a comfortable and conducive work environment. It effectively circulated the air, preventing any areas from becoming stuffy.
Natural Mode
The Natural mode simulates a natural breeze by changing the fan's speed randomly. We tested this mode in a relaxed setting, in a room with people reading and lounging. It managed to create a pleasant, fluctuating breeze that mimicked the calming effect of a natural wind. The intermittent gusts of wind added a dynamic and refreshing element to the room's atmosphere.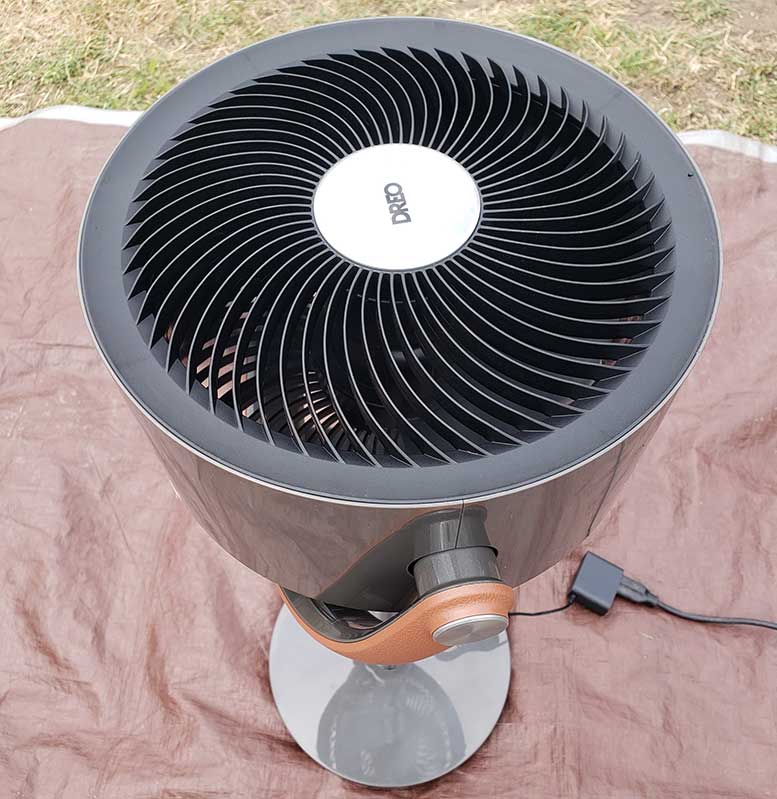 Sleep Mode
The Sleep mode is designed to create a peaceful environment, ideal for bedtime. We set up the fan in a bedroom to test this feature. True to its claim, the PolyFan 513S was practically inaudible in this mode, offering a quiet, gentle breeze that made for an uninterrupted night's sleep. It proved to be an excellent choice for light sleepers who need silence but also require the comfort of a gentle breeze.
Custom Mode
Custom mode provides the flexibility of creating your unique airflow pattern. We experimented with various combinations of speed and oscillation patterns. Whether we wanted a light breeze with intermittent oscillations or a robust wind with steady oscillations, this mode allowed us to customize the fan's operation according to our requirements.
The variety and effectiveness of the modes of operation make it a highly adaptable device that can enhance any living space. From creating a powerful breeze to simulating the calming effect of natural wind, this device is built to cater to a myriad of needs.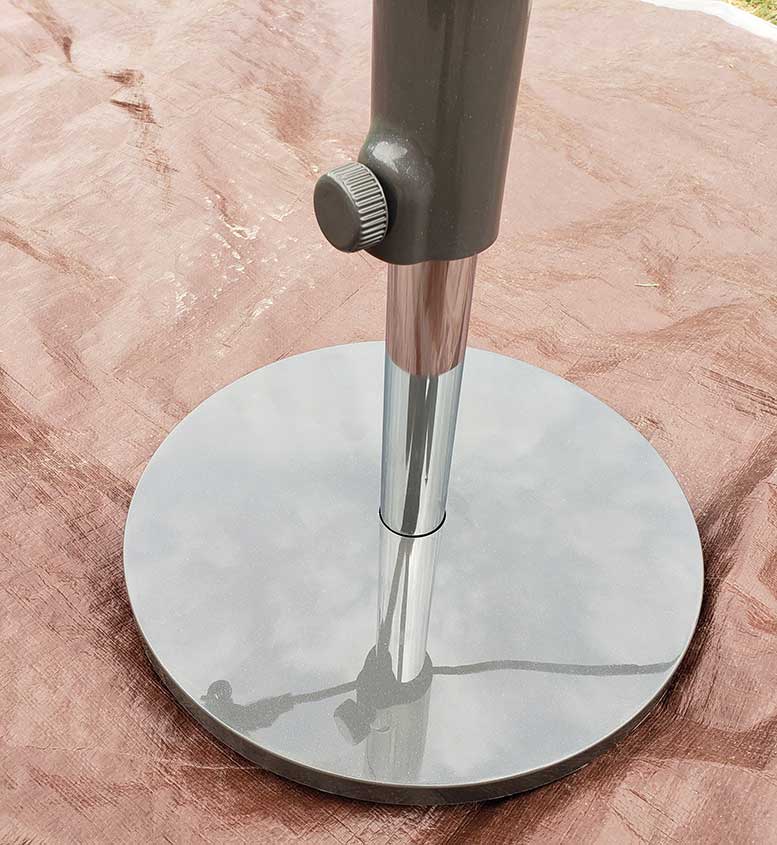 Features
The PolyFan 513S boasts a plethora of advanced features that contribute to its high performance and versatility. In our review, we looked at a few key features that truly make this air circulator stand out: speed, voice control, app control, and safety. Let's take a closer look at each one.
Speed
With eight speed levels, it provides a wide range of options to customize the airflow. From a light breeze to a robust gust of wind, you can tailor the fan's speed to suit your exact needs. We tested all eight levels, and each one performed impressively, delivering consistent and targeted airflow. Whether it's a gentle whisper for nighttime use or a powerful gust to combat the mid-afternoon heat, the fan offers a speed level for every situation.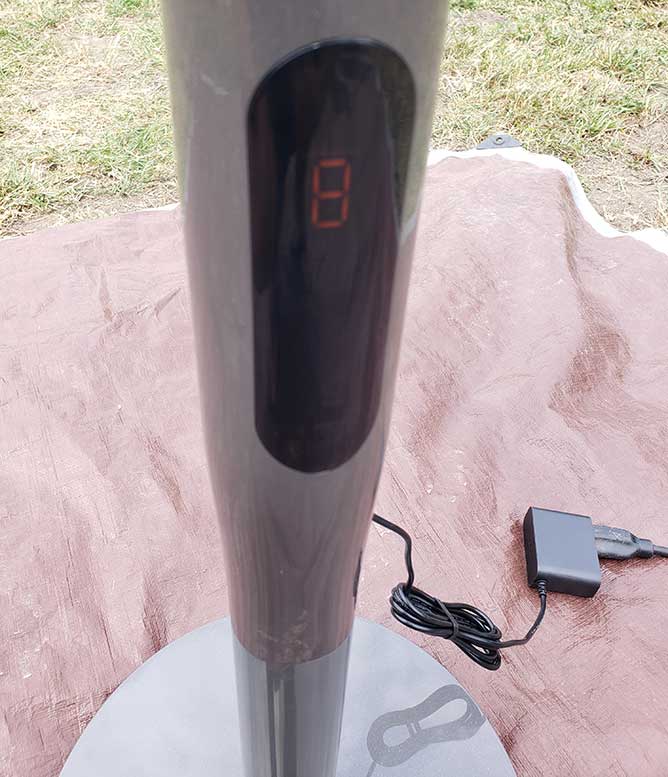 Voice Control
In this era of smart homes, having voice control capability is a huge plus. So to make your life easier, the PolyFan can be controlled through Amazon Alexa or Google Home, allowing you to adjust its settings without lifting a finger. We tested this feature using both platforms and found the response to be quick and accurate. Whether it was changing the speed, switching between modes, or turning the unit on and off, the voice control function performed flawlessly.
App Control
App control has a big presence here, too. The fan can be controlled via the Dreo App, which can be easily downloaded by scanning the QR code in the Quick Start Guide/User Manual. The setup was quite straightforward – once logged in, we were able to add the device, and after a few simple steps, the fan was connected to our network. From the app, we could control all the fan's features, change settings, and even name our fan! We found the app control to be extremely convenient, offering a level of control and customization that is certainly a welcome feature.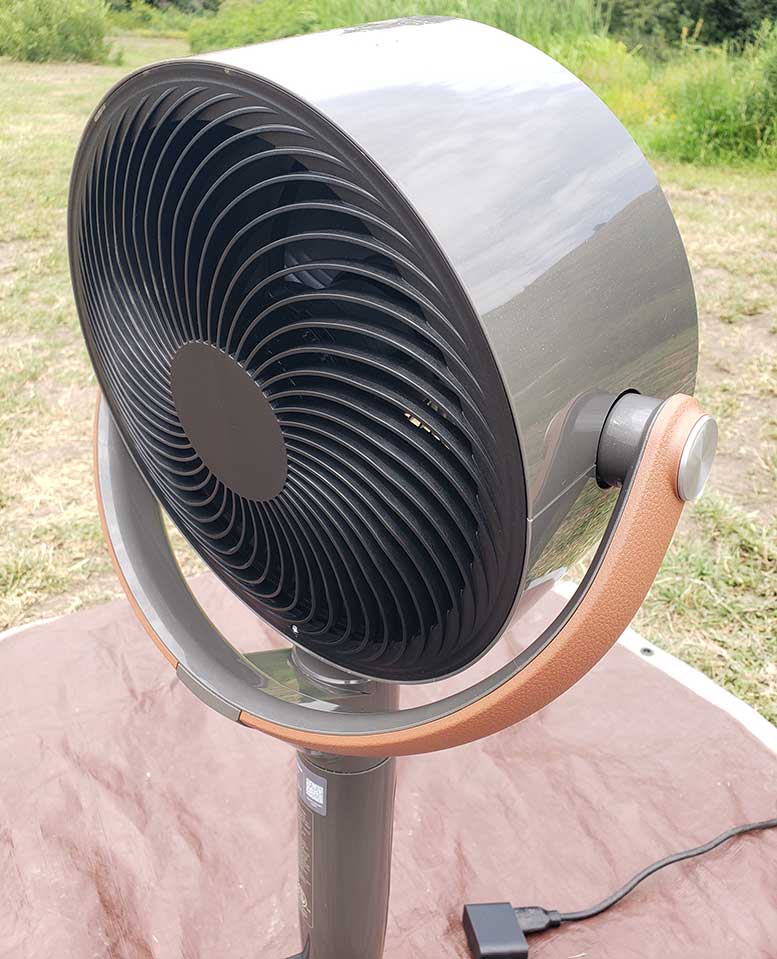 Safety
Safety is a vital aspect of any appliance, and PolyFan has it well covered. It features a child-lock safety feature, which can be activated by pressing the Oscillation button and Timer button simultaneously for three seconds. This feature prevents unintended or accidental changes in the fan's settings, offering peace of mind, especially for households with curious little hands. In addition to the child lock, the fan's design is sturdy and well-balanced, reducing the risk of tipping over.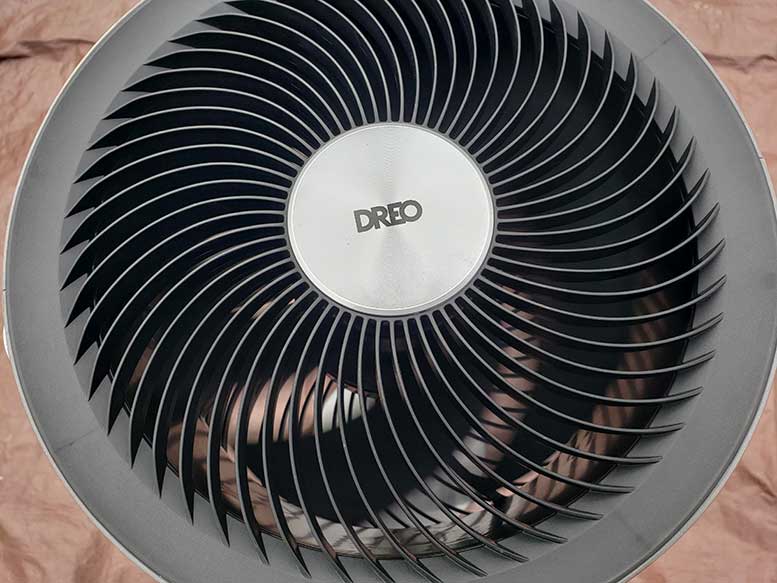 Final Verdict
Dreo's PolyFan 513S is a versatile and highly adaptable pedestal-style air circulator fan that marries functionality with sophistication. This comprehensive device demonstrates excellent performance across a variety of settings and can be seamlessly integrated into any home environment. Its smart features, quiet operation, and varied modes of operation make it an ideal companion for those seeking comfort and convenience.
While it is slightly weighty, this is balanced out by its robustness, solid construction, and superior performance. A slightly high price tag may deter some, but for those willing to invest in a top-of-the-line air circulator, the PolyFan 513S is worth every penny.