Security has gone to the dogs! Or rather, it's imitating them. In a world where traditional security systems may not be enough, barking dog alarms are providing homeowners with an added sense of safety. These devices mimic the sounds of guard dogs, providing an auditory deterrent without the need for actual furry protectors. Today, we're exploring the top choices in the market. Highlighted below are our top picks:
Whether you're looking to frighten off potential burglars or just keep unwanted critters off your property, these barking dog alarms are ready to help. Read on as we dig deeper into each product, assessing each one's merits and shortcomings to find the perfect fit for your needs.
#1 – Safety Technology ED-50 Rex Plus Electronic Watchdog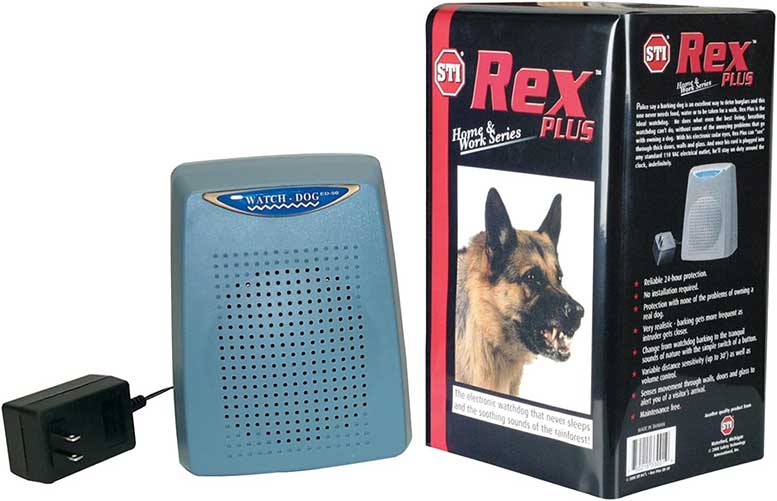 Key features:
Realistic barking dog sounds
Motion detection through walls
Easy plug-and-play setup
65-decibel noise level
Who doesn't want a large, intimidating guard dog to ward off potential intruders? The problem is real dogs require food, walks, and constant care. Rex Plus, the Electronic Watchdog Alarm from Safety Technology International, has the bark without the bite, which might just be the solution for both private and public buildings. Measuring 6.6 x 5.5 x 10.6 inches and weighing a mere 12.3 ounces, Rex Plus is the portable watchdog that occupies nowhere near the space of a real dog.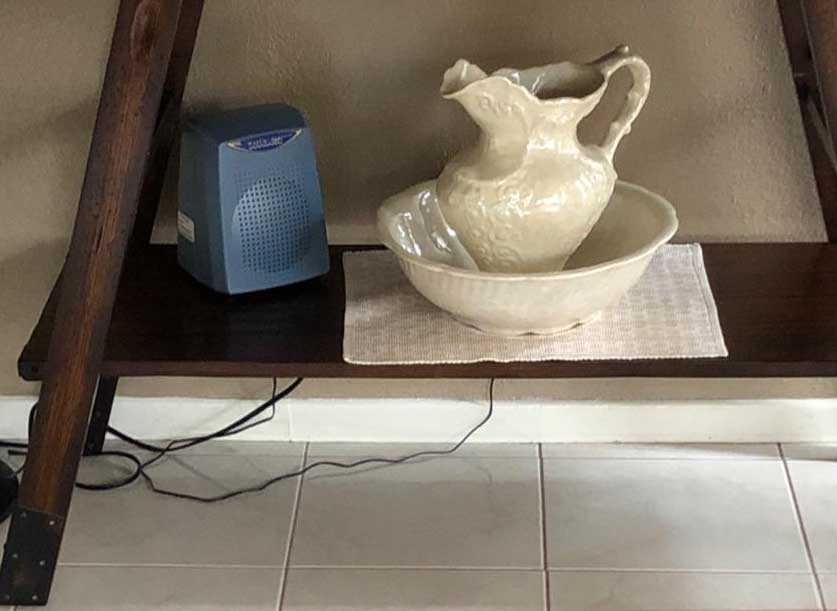 Powered by 110 volts of electricity, it's efficient and as easy to maintain as plugging in a cord. Rex Plus's versatility stands out with its array of sounds. Fancy a calm ambiance? Choose the continuous rainforest sounds. Need something more ferocious? The angry barking dog is all set to growl. The device's radar eyes can "see" through thick doors, walls, and glass, and the closer the intruder gets, the more frequent the barking. Our testing revealed an impressive realism in the barking sound.
Though we knew it was there, we found ourselves doing double takes. The motion detector works as expected; no unpredictable triggers, just precise detection. Different materials affect Rex Plus's efficiency to varying degrees. While metal may cause a heavy reduction in range, glass and wooden doors cause only a slight reduction. An interesting observation but not one that hampers the effectiveness of this virtual dog's guarding capabilities.
What we liked:
Authentic sound quality
Sensitive motion detection
Lightweight and compact
Versatile sound options
What we didn't like:
No remote control option
Efficiency varies with materials
#2 – Streetwise Virtual K9 Barking Dog Alarm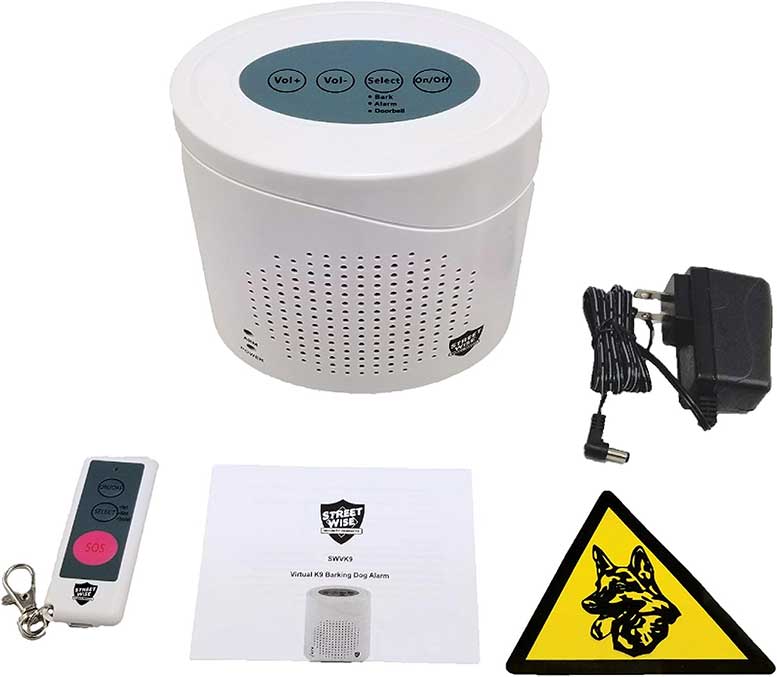 Key features:
Highly effective trigger range
Loud 120-decibel sound level
Remote control for arming
Battery-powered convenience
The modern world has its share of security challenges, but that could be a thing of the past because the Streetwise Virtual K9 Barking Dog Alarm delivers a warning worth investing in. It aims to give you all the benefits of a security dog, minus the fur on your couch. Powered by 2 AA batteries and with a 120-decibel sound level, this digital watchdog is always ready to spring into action with loud warnings that should scare away potential burglars.
Its cylindrical shape, standing at 9 x 5.25 inches, is built with ABS plastic and fits easily into various spots near your entrance. The Virtual K9 isn't just a one-trick puppy, either; it too can "see" through walls (except metal ones) using microwaves to detect motion and spring into action. The unit has a trigger range that can penetrate most walls, including wood, cement, brick, and glass. The alarm sound is crystal clear and can certainly make anyone think twice before snooping around your property.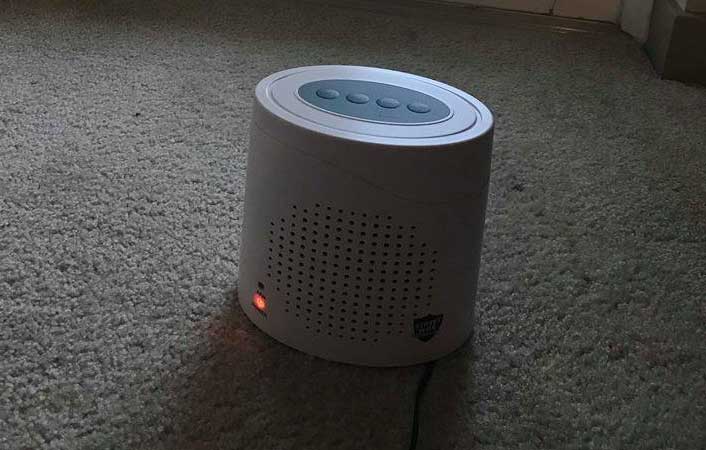 However, we do have a small bone to pick with the barking dog sound. The short loop recording gives away the game if someone sticks around to listen, as the exact same sounds repeat every 20 seconds or so. While it might deter a would-be intruder at first, the less-than-realistic sound may not stand up to scrutiny.
Store owners might appreciate the chime feature, which can act as an automatic doorbell to announce customers. And the included remote control adds an extra layer of convenience, allowing you to arm or disarm the device from a distance. The Virtual K9 Barking Dog Alarm does have its quirks, but it's still a tool to consider for additional security, especially if you want to avoid the ongoing expenses of a real guard dog.
What we liked:
Penetrates most walls
Versatile placement options
Realistic alarm sound
Loud presentation
What we didn't like:
Dog sound lacks realism compared to others
Short loop recording repetition
#3 – UsmooJoy Dog Barking Solar Security Alarm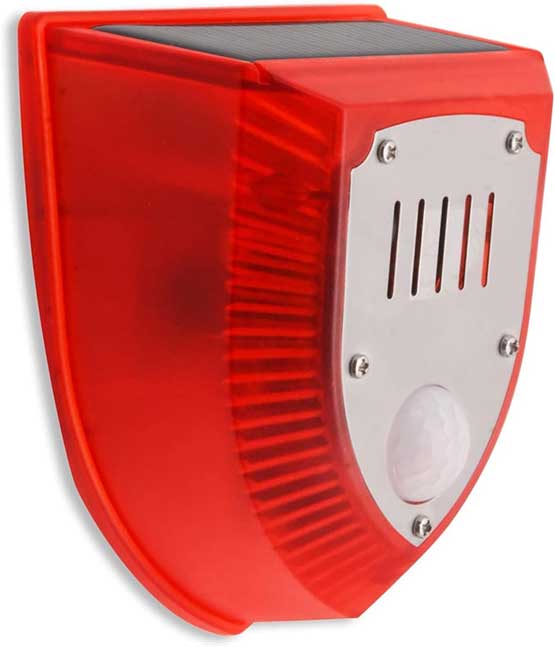 Key features:
129-decibel gunshot & dog barking sound
IP55 waterproof
Solar-powered & DC charging
Three working modes
UsmooJoy has released a unique security device to ward off unwanted visitors, be it animals or potential trespassers. By combining light and sound, it creates an unconventional yet effective alarm system. The unit measures 3.15 x 2.34 x 3.7 inches and weighs a mere 5 ounces, ensuring a compact and portable design. Its red ABS material construction complements its outdoor adaptability, and being IP55 waterproof guarantees all-weather performance – a must for outdoor mounting.

What caught our eye is its solar panel and alternative DC charging. This is a smart design choice that allows flexibility and eco-friendly operations. It's worth noting that solar charging takes over 8 hours, while DC charging is less than 1 hour. So you're looking at more than 200 times of flashing and sounding. Standby time lasts more than 3 months. Now let's switch gears to sound emission. This device doesn't just bark – it shoots!
Emitting 129-decibel of dog barking and gunshot sounds, it has three modes to choose from, ensuring customization for specific needs. From 24-hour sensing to night cyclic flashes, it lets you have control. And yes, changing the working mode is as simple as pressing the ON/OFF button. In our testing, we managed to keep cats off our cars and raccoons out of the yard with it. However, we found the sound wasn't quite as loud as expected in some instances.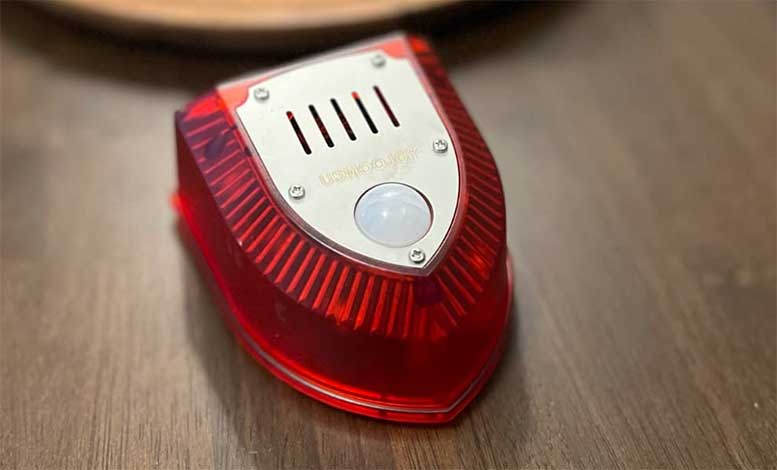 Overall, though, UsmooJoy's little alarm system stands as a creative solution for those looking to scare off animals or potential intruders. Its unique combination of sound and light and environmentally friendly charging make it a solid contender in home security. Even better, this thing is incredibly affordable compared to other entries we reviewed. For the price, it's a cost-effective solution to keep away unwanted "visitors."
What we liked:
Effective animal deterrent
Multiple charging options
Compact design
Weather-resistant
What we didn't like:
Sound not loud enough
Can malfunction
#4 – Generic Dog Barking Motion Alarm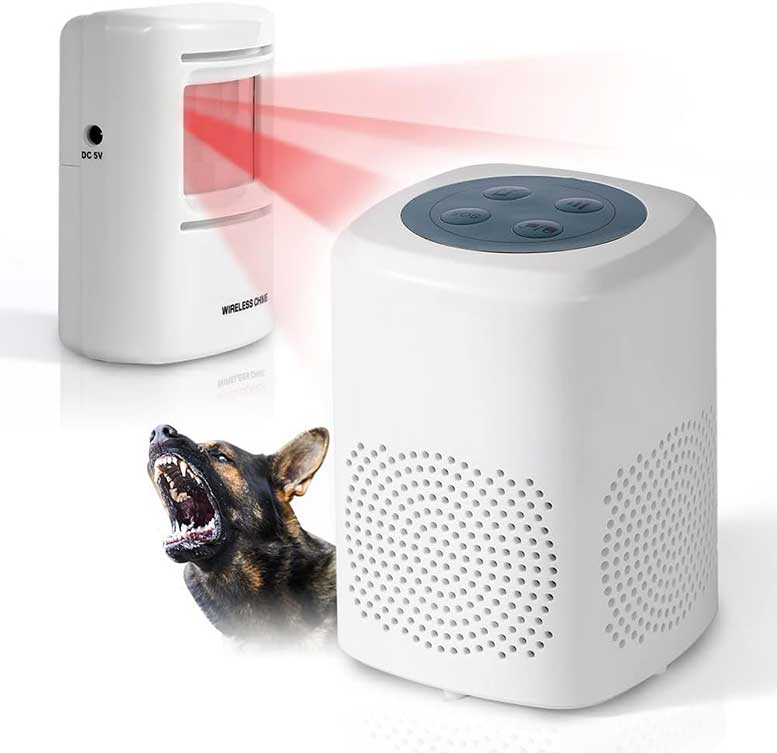 Key features:
1,000-foot range
Indoor/outdoor use
Realistic dog barking sound
Requires AAA batteries
The Generic Barking Dog Motion Alarm is a unique home security device designed to deter potential intruders. But does it pack enough punch to keep the bad guys at bay, or is it all bark and no bite? We rolled up our sleeves to find out. It comes with a powerful PIR (Passive Infrared) wireless human body motion-activated sensor that triggers a doorbell door security alarm system. And because it has a range of 1,000 feet, this alarm alert system has plenty of reach.
Measuring 1.42 x 2.36 x 3.15 inches and weighing a mere 1.04 pounds, it can be wall-mounted to suit your convenience. For optimal performance, it requires careful placement, avoiding locations with strong magnetic interference, prolonged exposure to direct sunlight, and heavy cold or hot air. It operates within a temperature range of -20° to 35°F. With 5 volts (DC) and 4 watts of power, it's a vigilant sentinel for your premises.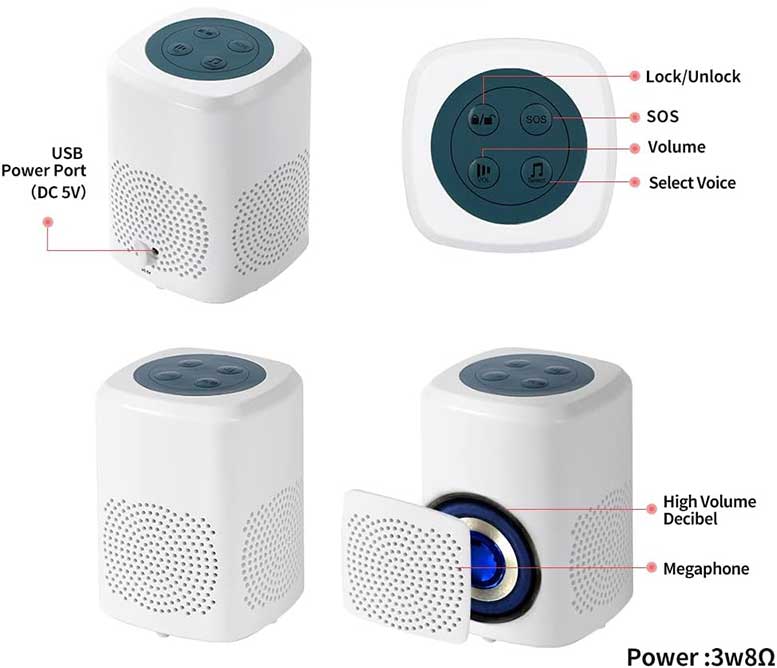 We set it up near the gate of our test property, and, to our amusement, the realistic dog barking sounds gave a couple of our team members a startle. One tester even thought we had a real dog on the property! However, the sensor's sensitivity may cause it to react to tree movements or shifting shadows, leading to false alarms. On the positive side, we found that it was easy to tune the sensor to minimize such instances.
It's worth noting that it can work with a USB cable for AC power, and the sensor requires three AAA batteries. We also need to mention that it's not entirely waterproof or weather-proof, but with an IP43 rating for both the receiver and the sensor, it is suitable for indoor or outdoor use. This cleverly designed device offers an additional layer of security with its uncannily realistic barking sounds. While it may have its quirks, the Generic Barking Dog Motion Alarm is a simple yet effective option for those looking for an unconventional security solution.
What we liked:
Lightweight and compact
Impressive sound range
Easy to install
Versatile placement options
What we didn't like:
Prone to false alarms
Not entirely weather-proof
#5 – HULPPRE Solar Outdoor Motion Sensor Barking Dog Alarm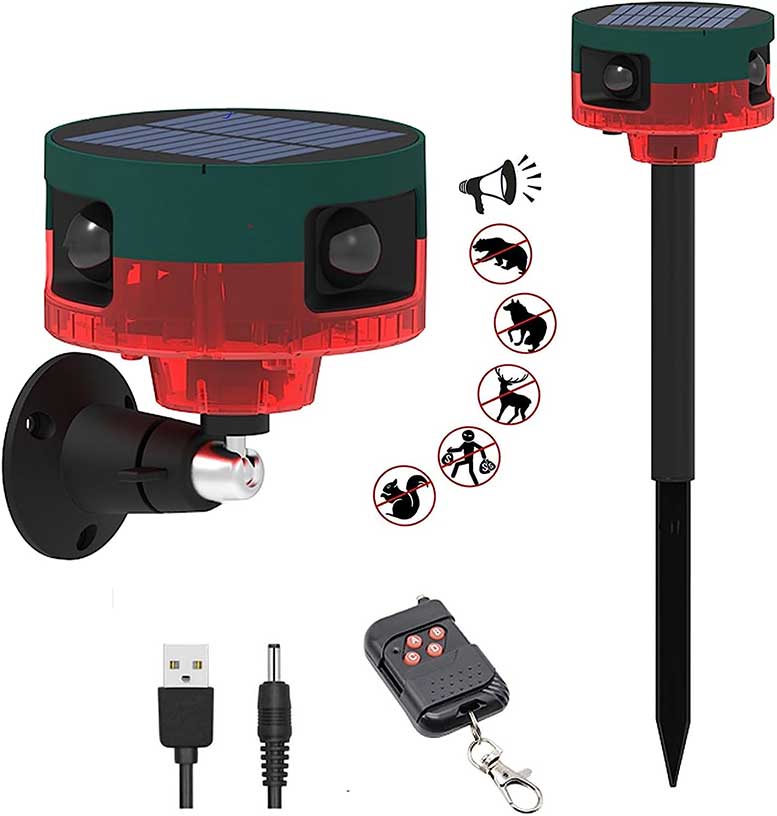 Key features:
Solar-powered & USB charging
13 kinds of default sounds
360-degree motion detection
Supports voice recording
Last up is HULPPRE's Solar Outdoor Motion Sensor Barking Dog Alarm, a device designed to deter unwanted "explorers" like animals or potential thieves. This solar-powered alarm system comes with 13 kinds of default sounds, including dog barking and gunshot, adding a versatile edge to your security needs. Here's an analysis based on our testing. For starters, it sports a distinctive red color and a circular polycarbonate design. So right off the bat, you can tell this thing means business.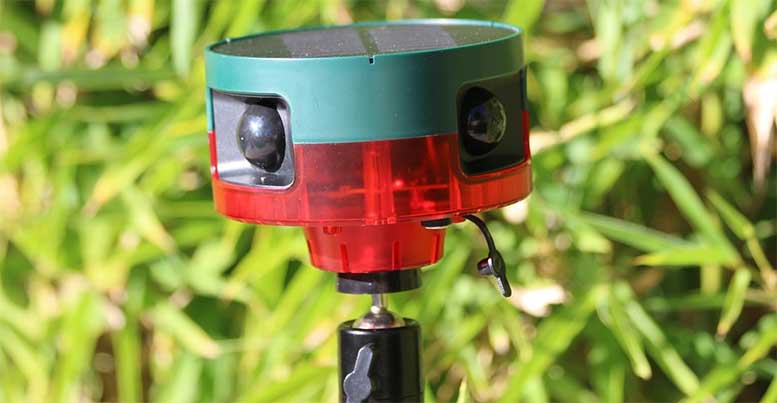 And with dimensions of 4.1 x 4.1 x 2.9 inches and a weight of 14.7 ounces, it can easily fit into various outdoor settings. The device offers 360-degree motion detection thanks to its 3 motion sensors. However, we determined that the sensitivity is not always consistent, as it sometimes failed to trigger at closer ranges. Although marketed at 130-decibel loud sound, our tests revealed that it's not as loud as expected, especially outdoors.
However, it might just be loud enough to startle someone or a critter. You can choose to mount it on the wall, fence, post, or insert it into the ground. It's both solar-powered and can charge via USB, so it's energy efficient. The alarm system supports recording your voice, allowing customization of the alert sound. But be warned, getting the right settings might be a bit tricky, which we found out when our alarm sounded a bit off.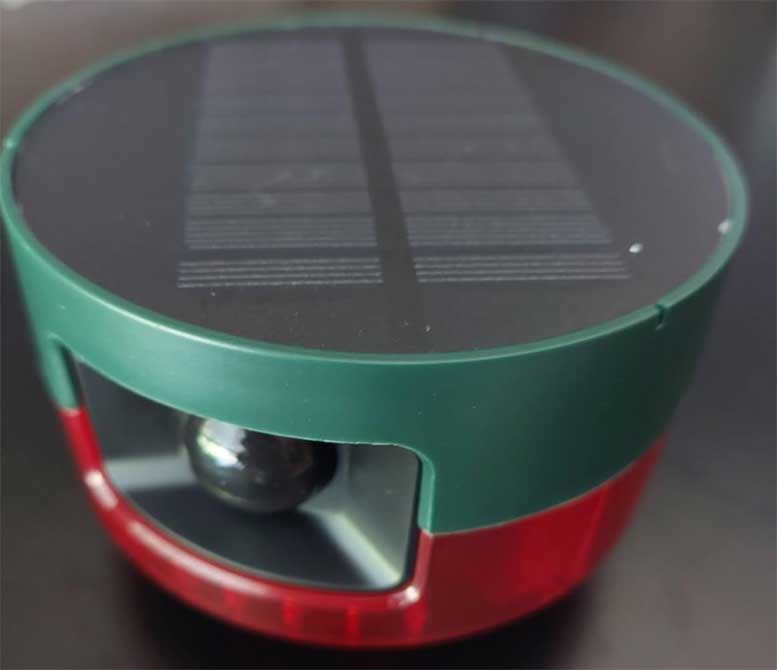 While the HULPPRE Motion Sensor Barking Dog Alarm offers innovative features and flexibility in mounting, the sound level and sensitivity may fall short of expectations for some users. That said, its energy efficiency and customization make it a worthy consideration for basic security needs, particularly for smaller animals or indoor use.
What we liked:
Easy to install
Energy efficient
Customizable sounds
Compact design
What we didn't like:
Inconsistent sensitivity
Sound not loud enough
Barking Dog Alarms for Home Security FAQs
How do barking dog alarms work?
Barking dog alarms use sensors to detect motion, triggering realistic dog barking sounds. This can deter potential intruders by making them think there's a real dog on the premises.
Can a barking dog alarm be used both indoors and outdoors?
Many barking dog alarms are designed for both indoor and outdoor use, but it's essential to check the device's specifications. Features such as waterproofing and weather resistance are crucial for outdoor deployment.
Is it difficult to install and set up a barking dog alarm?
Generally, barking dog alarms are user-friendly and easy to install, often requiring only a plug-and-play setup. However, some models may offer more complex features that could require additional adjustments or setup time. Always refer to the user manual for specific instructions.
Final Verdict
In our review of the top barking dog alarms, the Safety Technology ED-50 Rex Plus stood out for its authenticity and versatility, making it suitable for various environments. The Streetwise Virtual K9 offered the loudest presentation, while the UsmooJoy Dog Barking Solar Security Alarm impressed with its unique sound-light combination and environmentally friendly charging.
The Generic Dog Barking Motion Alarm provided a wide range with easy installation, and the HULPPRE Solar Outdoor Motion Sensor Alarm brought customization to the table, despite some inconsistency in sensitivity. Each of these alarms offers distinct features, allowing you to find the one that best aligns with your security needs.