Overall Design -

9/10

Waterproofing -

9.5/10

Battery Life -

7.5/10

Comfort -

9/10
Summary
If you're looking for the ultimate teammate for your sporting jams, Naenka's Runner Diver2 might just be the ticket. These bad boys come packed with top-notch waterproofing, a whole lot of internal storage for your favorite tracks, a battery that just won't quit, and bone-conduction technology. Sure, it might get a bit touchy with its various control functions, but that's just a minor speed bump. With a slick design and all the bells and whistles you'd want, these headphones are ready to make some serious waves.
Pros
Unparalleled IP68 waterproof capability
Convenient 32GB internal music storage
A cool 10 hours of playtime
State-of-the-art bone conduction technology
Excellent comfort and fit
Cons
Bluetooth isn't perfect
May take time for some users to acclimate
A bit expensive for some budgets
Proprietary charging cable
Have you ever wanted to take your favorite tunes with you into the water without the fear of forever destroying your hardware? Well, we've got a gadget that could be the perfect companion for your aquatic adventures. We had the chance recently to get our hands on Naenka's Runner Diver2, a unique set of bone-conduction swimming headphones that promise to deliver sound right through your cheekbones. Intrigued? Let's dive a bit deeper, then, into what this device offers.
What's in the Box?
Upon opening the box, we found a neatly packaged set containing various components. You get everything you need to start enjoying your new headphones straight away. These include:
Bone Conduction Headphones
Charging cable
Swimming earbuds
User manual
6 Sound Quality Enhancers
The packaging felt sturdy, and it was evident that careful thought had gone into including everything you would need to get started. It's worth mentioning that the sound quality enhancers were an unexpected but pleasant addition.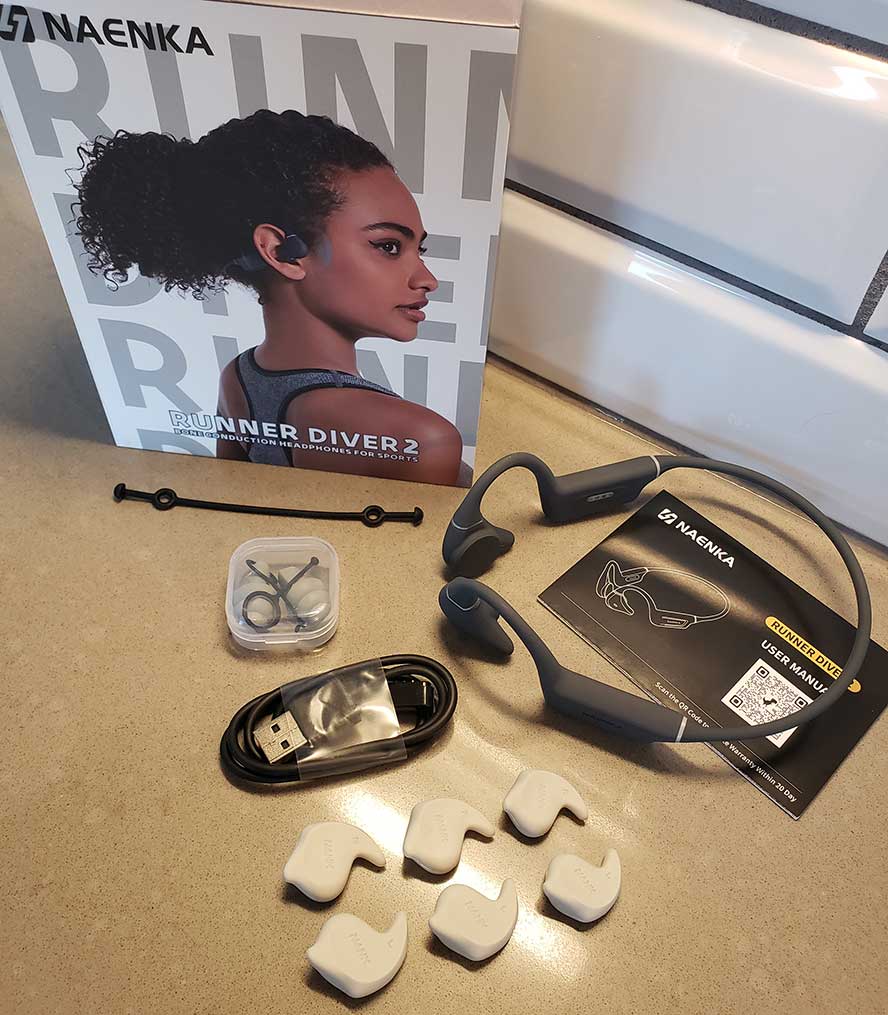 Build Quality and First Impressions
The moment we lifted the unit out of the box, its sleek and seamless design caught our eye. Weighing in at a mere 1.1 ounces, it felt surprisingly light yet durable. It's precisely what you'd want in audio hardware designed for the rigors of swimming. Our initial impressions? We're talking about a device that seemed more than ready to endure the rigors of both the swimming pool and the cycling trail. This gadget doesn't just brag about its IP68 waterproof capability; it's been through the wringer with some serious underwater testing, coming out the other side ready to take on the water like a seasoned pro.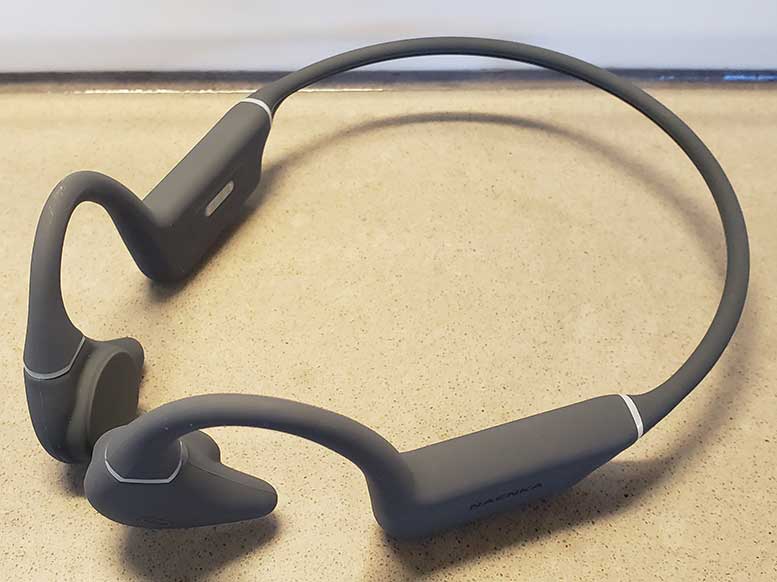 If you're a fan of swimming, it's practically calling your name, and it's no slouch on the cycling track, either, fitting in with your cycling glasses and helmets. And the best part? It still looks stylish and sleek. With an elegant build that isn't overly complex or flashy, it radiates a subtle sophistication that can blend in with your sporty attire. But that's just a scratch on the surface. Stay tuned, as we'll be looking deeper into the features, performance, reliability, and much more in the coming review.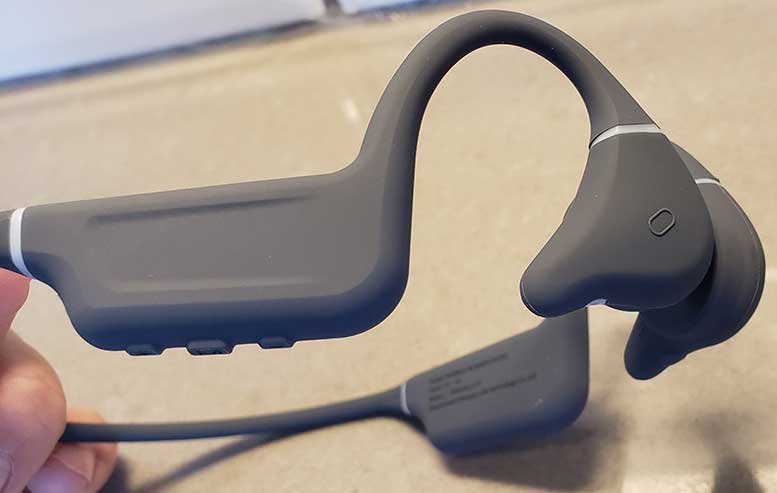 Battery Life and Charging
Now, what's the use of a nifty set of headphones if they can't keep up with your energetic lifestyle? We tested the Runner Diver2 and were impressed by its stamina. Sporting a 180mAh battery capacity, this little unit kept pumping out our favorite tracks for a solid 10 hours (at 60% volume) before needing a recharge. There's plenty of endurance here.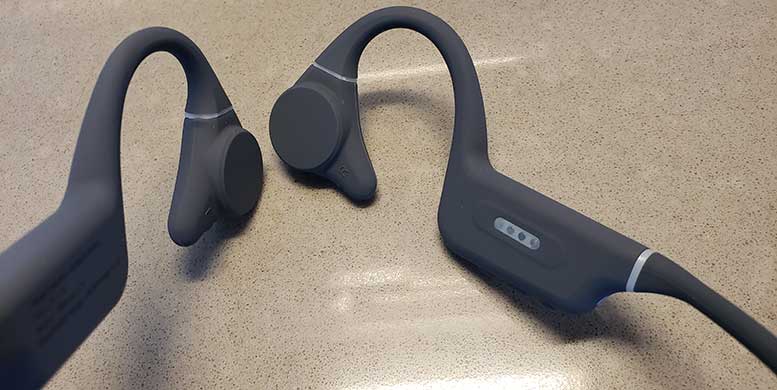 Worried about taking forever to charge it? That's a non-issue. Thanks to its magnetic fast charging technology, it goes from zero to hero in just 1.5 hours. Highly convenient for those on the go. You also get an impressive standby time of 180 hours. And when using it for communication, the talk time is 15 hours. The only drawback being that the charging cable is proprietary and unique to the headphones. For a replacement, you'll need to find a specific one.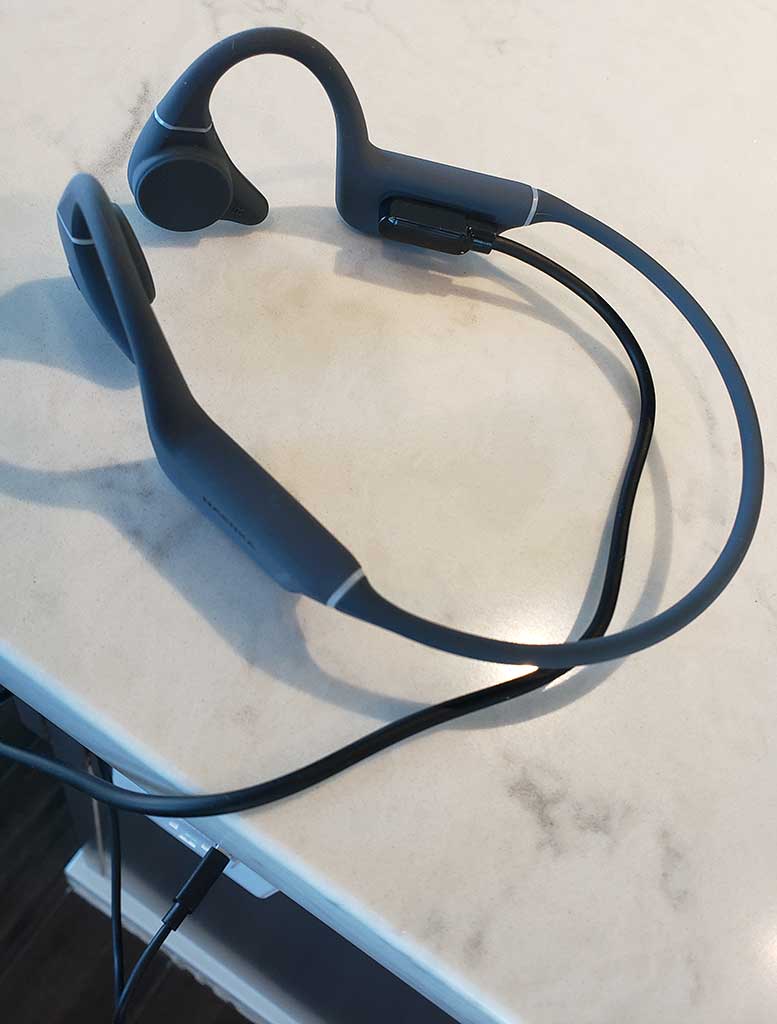 Bluetooth Connectivity and MP3 Player
Pairing devices can sometimes be quite painful. The Runner Diver2, however, makes it a breeze with its Bluetooth 5.3 connectivity. In our testing, it effortlessly paired with various iOS and Android devices, as well as Mac, PC computers, and laptops. It just worked seamlessly. No more endless waiting for that "device connected" prompt here. It's a welcome attribute, to be sure, as you're probably like us and tired of wrestling with the uncertainty of Bluetooth connections.
That said, it can be somewhat frustrating trying to switch from Bluetooth mode to MP3 mode and vice versa. It may take you some time to get used to its controls, so be aware of this before going in. As for connectivity in action, the audio experience was seamless in both Bluetooth and MP3 modes. The only issue we have is that you hear a warning alerting you when you get so far away from your phone. Thankfully, you can turn off this "feature" by holding down the headset for about 5 seconds when Bluetooth is turned off.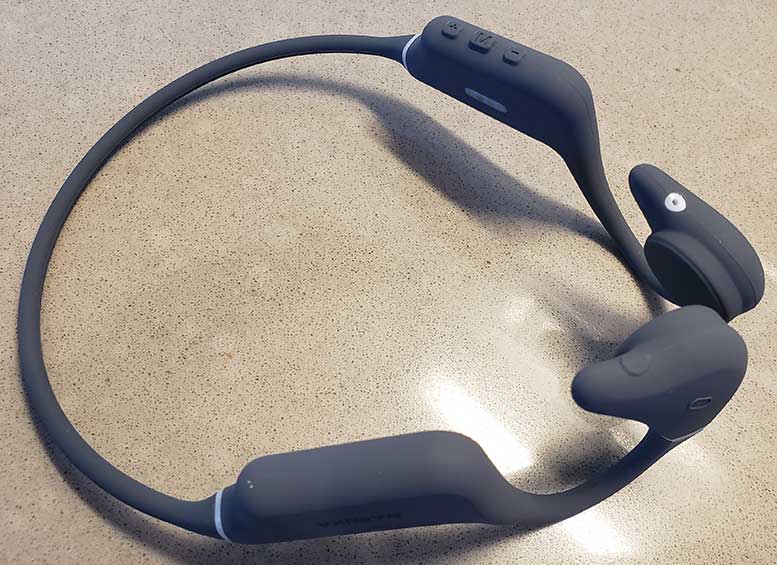 Finicky issues aside, the audio pumps out without issue for the duration of the connection. It's not a perfect system, but once you get the hang of things, it quickly becomes a non-issue. Thus, this unit left us quite satisfied in both the battery and connectivity departments. Whether you're looking for a device that won't quit halfway through your workout or one that offers hassle-free connectivity and standalone playback, this could be the right choice for you.
Waterproof Capability
In what is perhaps the most important attribute, IP68 waterproofing tech ensures your equipment remains safe while you're in the deep end. If you're keen on aquatic environments, this could be the perfect companion for you. During our thorough testing, we found that the IP68 rating is not just a claim; this device means business. We subjected it to a series of underwater escapades, from casual dips to intense swimming sessions.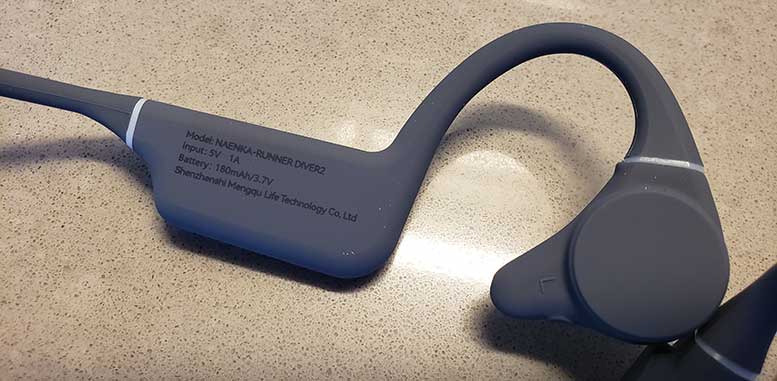 We were thoroughly impressed by its waterproof structure, designed specifically for swimming enthusiasts. The reminder to rinse the headphones with clean water after each use isn't just a suggestion. Doing so ensures its longevity. That's because if you're swimming in saltwater or chlorinated water, you don't want to leave behind any residues on your headphones.
Cycling Compatibility
Not just for swimmers, it's ideal for all manner of activity, and that includes cycling. Nothing makes a good ride better like your favorite soundtrack. The Runner Diver2 promises a great cycling experience, and we couldn't wait to test it out. Its overall design is tailored for long rides, and true to its promise, it didn't disappoint.
We found it fit well with cycling glasses and helmets, and the open-ear design allowed us to stay in touch with our surroundings. But what about wind noise? It's minimal. In fact, we found the sound quality so good that we eventually forgot all about the wind factor. This could be a real game-changer for those who seek rhythm on the road.
Internal Music Storage
In an age where streaming is king, the Runner Diver2 takes a nostalgic turn with a whopping 32GB of built-in TF storage. This is music to the ears of those who prefer to leave their phones behind during workouts. You can store up to 4,800 songs and swim, run, or anything else without being tethered to your phone. Keep in mind, though, it won't pair with your TV's Bluetooth. If you're out swimming, cycling, or running, it's a moot point anyway. But it's worth mentioning nonetheless.
Connecting to a computer via a magnetic charging cable, we loaded up a variety of songs in supported formats like MP3/M4A/WAV/APE/FLAC. The process was super simple, just like dragging and dropping files into a USB drive. And if you're all about that phone-free lifestyle, this feature is definitely going to resonate with you. This innovative device is making waves with its versatile features. From the swimming pool to the cycling trail, we found its waterproof capability reliable, its cycling compatibility impressive, and its internal storage incredibly handy. You don't see these types of features on most headphones, so they make for a pleasant addition that adds to the versatility.
Fitment and Comfort
The eternal quest for the perfect fit is one we don't take lightly. We know just how difficult it can be trying to find quality headphones that also fit comfortably. And yet, the Runner Diver2 takes a confident stride in this department with its bone conduction open-ear design. Let's take a closer inspection to better understand how it all works.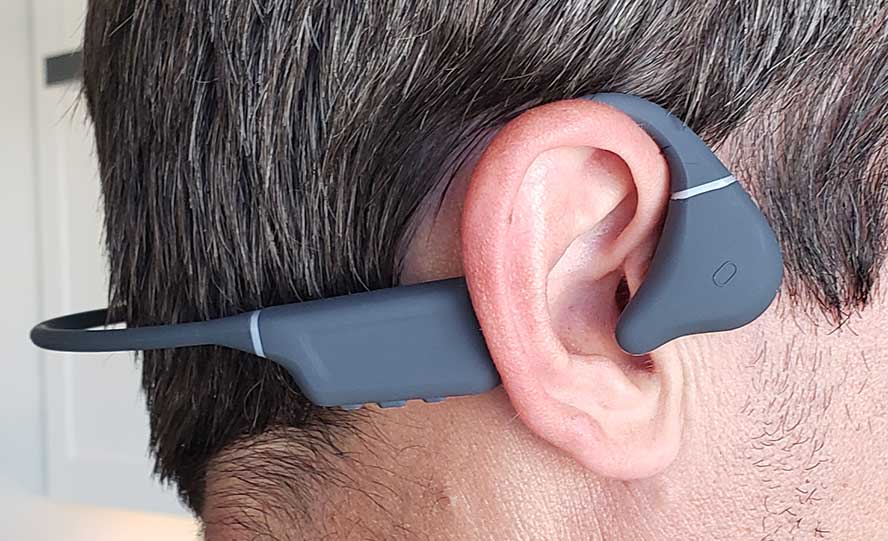 Bone Conduction Open-Ear Design
This technology isn't just a fancy term; it's the core of what makes these headphones unique. In our extensive testing, we can confirm that it delivers audio through the cheekbone instead of traditional earbuds. But what's the end result? Authentic sound that still keeps you connected to your surroundings, especially if you're jogging down a busy street or cycling along a bustling trail.
Leakage Reduction Sound: Concerned about sound leakage? No problem, as there's exclusive OT leakage reduction 3.0 technology on board. What does that mean for the everyday user? Well, in our testing, we noted that it reduced sound leakage by a whopping 90%. That's an incredible difference that immediately enhances sound quality.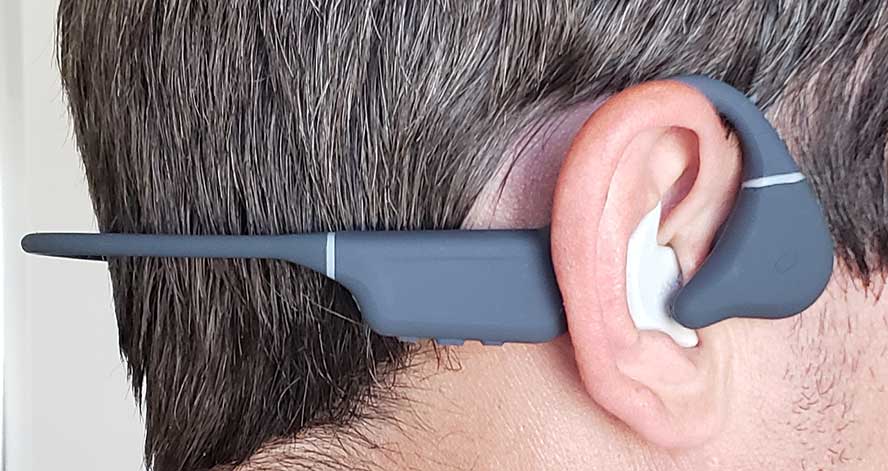 Weight and Feel: The super-lightweight 1-ounce design of these headphones accommodate all kinds of sport and activity. Whether we were swimming, running, or cycling, the lightweight design never felt cumbersome. It seemed to merge with our daily routine, almost unnoticed, which is precisely what you want from a comfort perspective.
Compatibility with Accessories: Cyclists, rejoice! The Runner Diver2's design ensures compatibility with cycling glasses and helmets without compromising comfort. During our rides, it fitted perfectly without any discomfort or annoying pressure points.
Water Comfort: Even for water activities, the design holds up well. Post-swim, we made sure to rinse the headphones with clean water, as advised, to keep them fresh and ready for the next plunge.
In the landscape of headphones, where comfort is often compromised for features, the Runner Diver2 has found a harmonious balance. We experienced a well-fitted and comfortable wearing experience, both in and out of the water. From the cheekbone-conducting audio delivery to the lightweight feel, this unit has crafted a comfort zone for its users. But we get it; comfort can be a very personal thing. Thankfully, the unique design of these headphones ensures that most users will feel right at home.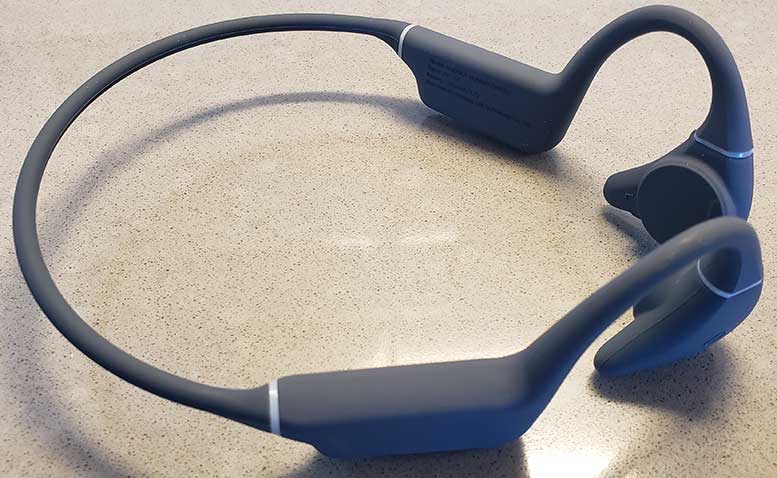 Final Verdict
If you're looking for the ultimate teammate for your sporting jams, Naenka's Runner Diver2 Bone Conduction Swimming Headphones might just be the ticket. These bad boys come packed with top-notch waterproofing, a whole lot of internal storage for your favorite tracks, a battery that just won't quit, and bone-conduction technology. Sure, it might get a bit touchy with its various control functions, but that's just a minor speed bump. With a slick design and all the bells and whistles you'd want, these headphones are ready to make some serious waves.