Overall Design -

9/10

Battery Life -

9/10

Ease of Use -

8/10

Versatility -

9/10
Summary
After an extensive assessment of the Hohem iSteady MT2, we can say with confidence that this gimbal is an impressive piece of kit. Balancing user-friendliness and professional-grade functionality, it is an ideal companion for both casual creators and serious videographers. Its sleek design, intuitive operation, and array of modes cater to a wide variety of shooting scenarios. With the ability to carry cameras of different sizes and brands, the MT2 is a versatile tool, fully justifying its place in the market.
Pros
Versatile 4-in-1 compatibility
Lightweight and portable design
Robust battery life
Wide range of operation modes
Cons
Build quality could be improved
Balancing can be slightly challenging
Capturing the perfect shot in the modern era is more than an art; it's an absolute must. Thus, the need for a quality gimbal is paramount, whether you're a photography buff, filmmaker, or content creator. With a plethora of devices on the market, our focus today is on a particular model that's been causing some waves – the Hohem iSteady MT2.
Promising versatility with its 4-in-1 compatibility and advanced features such as AI tracking, it has made its way onto our reviewing table. And in this review, we'll share an unbiased assessment of the kit and all that it includes, as well as its overall design, performance, and usability. Our review will help you figure out if this gimbal is the right tool for your creative projects.
Unboxing: What's in the Box?
Upon receiving the Hohem iSteady MT2, the first thing you notice is the compact, neatly designed package. Once you pry open the box, you're met with an array of components. Aside from the iSteady MT2 itself, you'll find an assortment of accessories and control cables that cater to various shooting devices. This includes the essential L-Bracket and the fill light with an AI vision sensor.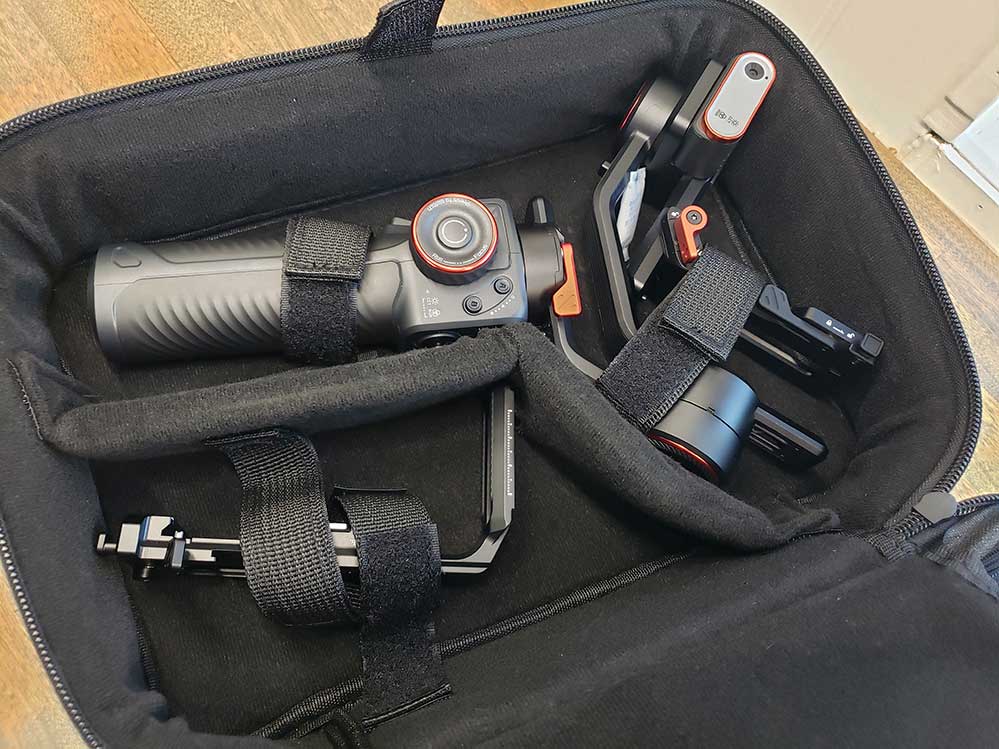 The box also contains an Arca-Swiss compatible camera quick-release plate and a mobile phone quick-release plate. There's an adapter for action cameras and two thumb screw wrenches, which speaks to the versatility of this unit. Adding to its portability is the inclusion of a storage bag. There's also an array of Type C charging and control cables compatible with various devices. The package also includes a handy tripod, providing further stability when required.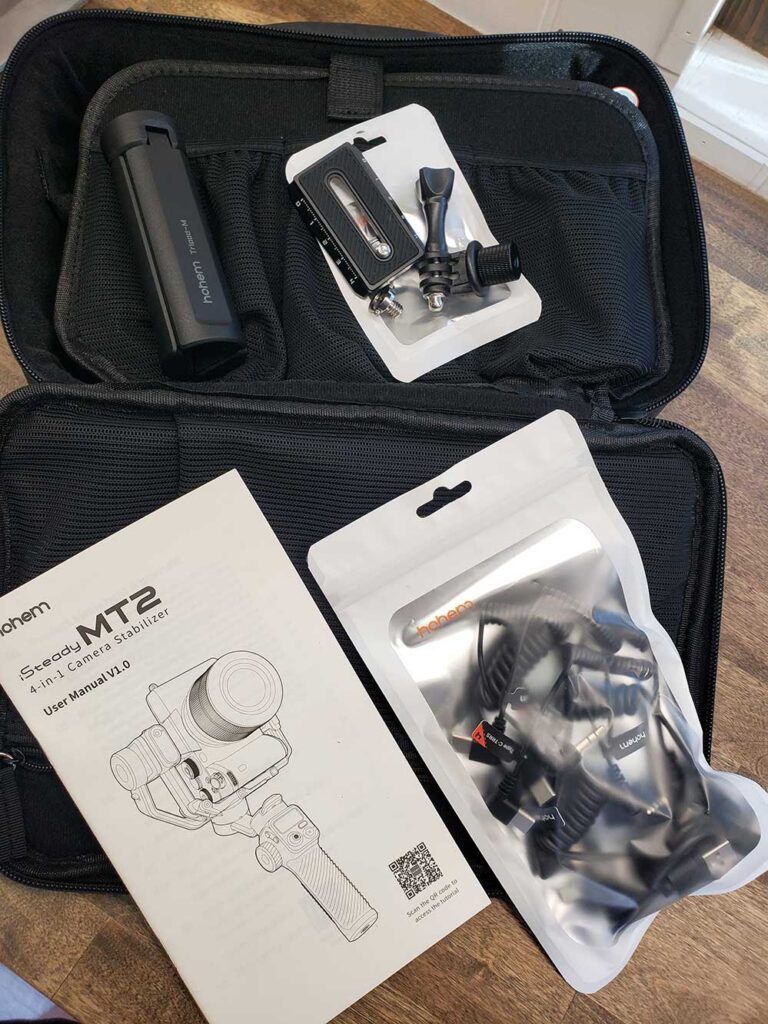 First Impressions
Picking up the iSteady MT2 for the first time, you can't help but be impressed by its weight. Weighing in at just 23 ounces, it's lightweight but does not compromise on durability. The main material, a blend of aircraft-grade aluminum and high-performance composites, gives it a sturdy, professional feel. It's also compact, with a sleek design that implies a sense of sophistication and technological advancement. The built-in OLED display stands out right away, as well. It promises an interface that's a cinch to use. And it is.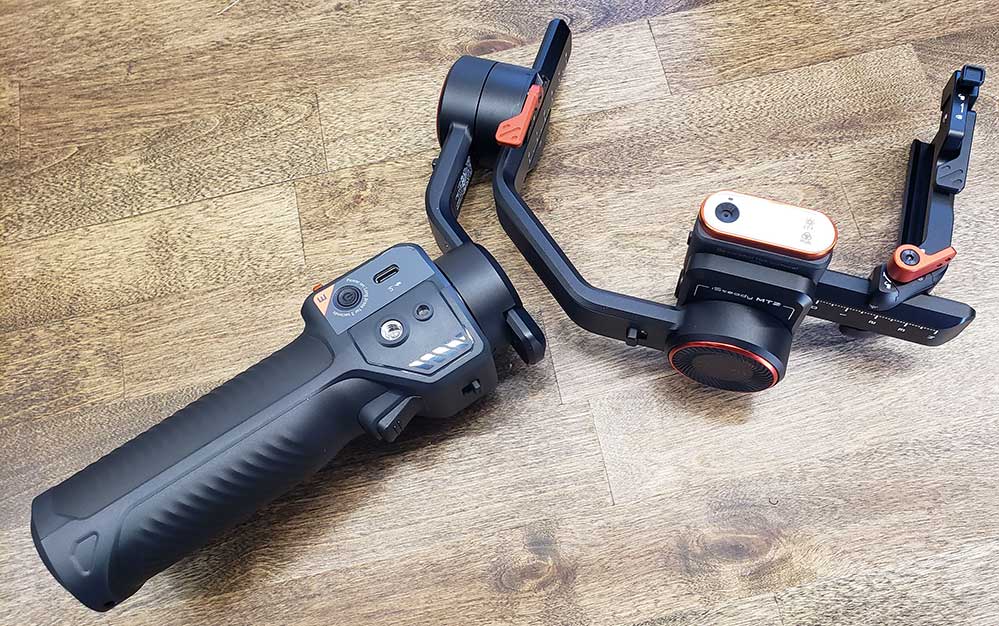 The control buttons and wheel are conveniently positioned for quick adjustments and control during use. At this point, it's easy to see that the Hohem iSteady MT2 Kit is geared toward offering users a professional shooting experience while also maintaining ease of use and portability. Let's see what else it has in store.
Gimbal Design
The MT2 Gimbal, an eloquent tool of creation, effortlessly marries form and function. An intuitive layout places the joystick, wheel, screen, and axis locks precisely where you might hope to find them. This clever design ensures that even newcomers will navigate it with confidence. For those with prior gimbal experience, you're sure to feel right at home.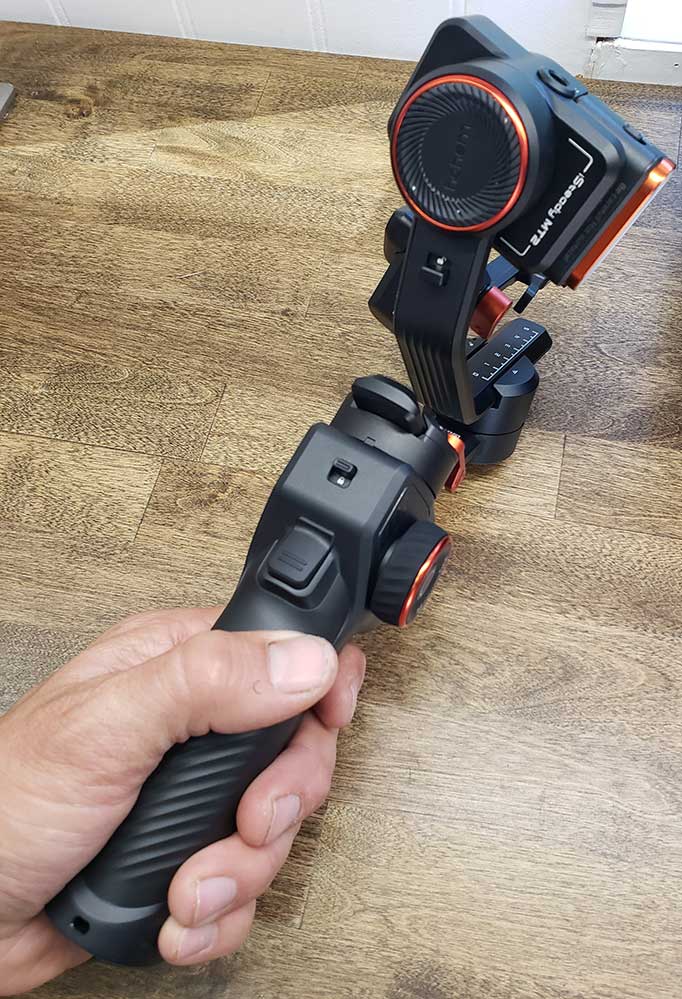 This MT2 Gimbal comes equipped with axis locks, a feature that prevents your camera from spinning around when you move the gimbal while it's off. This feature is also useful when you're in the setup stage of using the gimbal, but remember to unlock them for the gimbal to work properly.
Operation
First, the setup: it's a breeze. Once the tripod base is securely in place, adjusting the rest of the gimbal is straightforward. Start with the bottom rail – a quick tweak of the screws beneath should adjust it to fit your camera's width. This plate is flexible, too, accommodating a vertical orientation for content tailored towards platforms like YouTube or Instagram Reels. Then comes the balancing act. Slide your camera onto the plate, adjusting its position as necessary.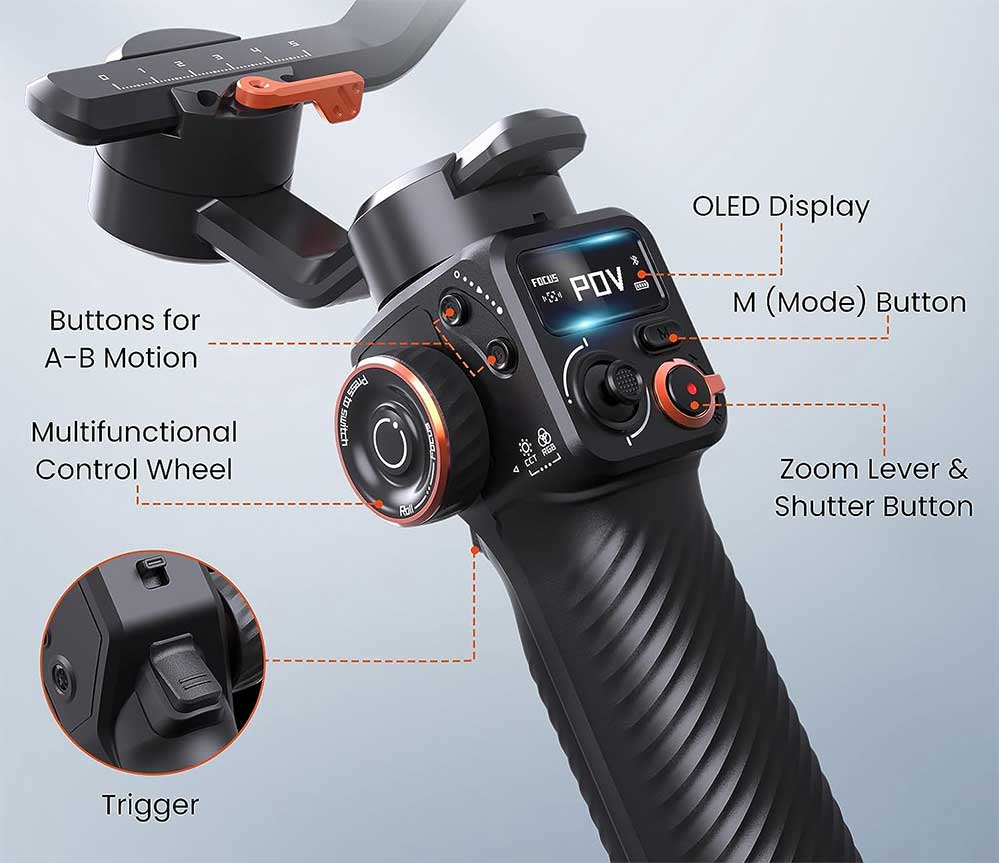 The weight of your lens and rig may necessitate different configurations. The goal is a freely floating camera that doesn't pitch forward or backward when the gimbal is inactive. A secure lock on the side of the gimbal helps keep things steady. Next, adjust your camera's height, if needed, by unlocking the sliding mechanism. This helps accommodate cameras without conventional flip-out designs, which is particularly useful if you're shooting selfies.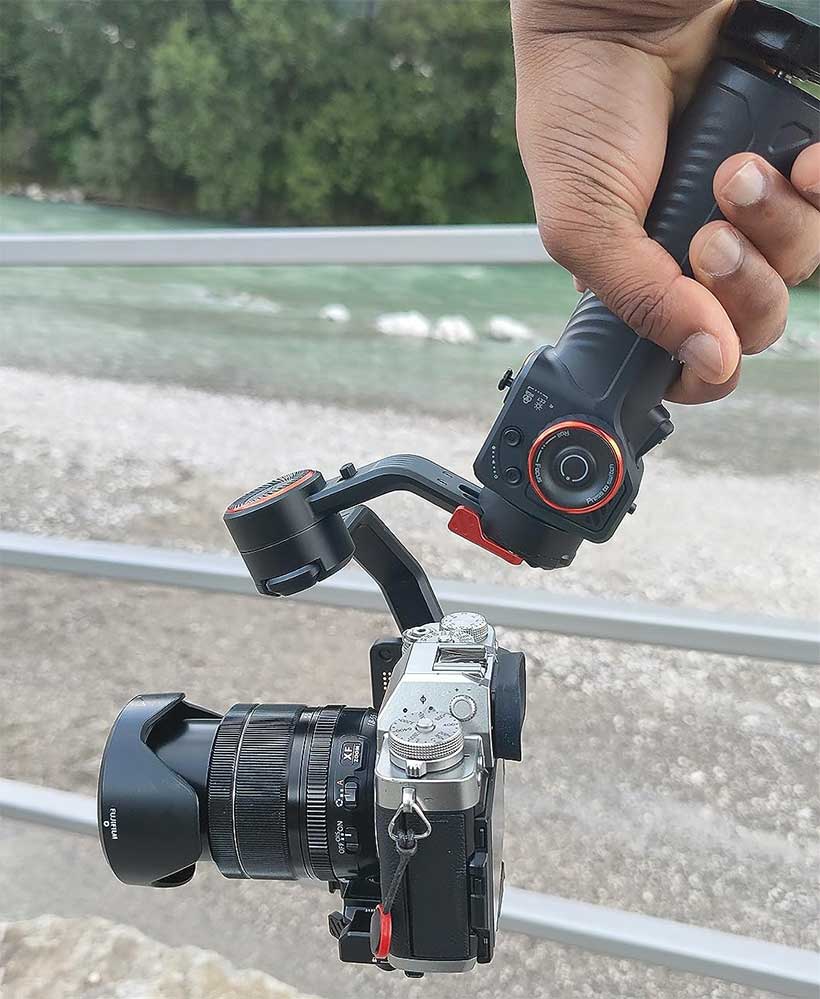 Then adjust the position of the rail on the back, unlocking the big red latch to do so. This stops the camera from rolling left or right. At this stage, keep a firm grip on the gimbal as you make adjustments. Before powering up, check that your camera and lens are balanced correctly and that the gimbal can stand freely with all the main axis locks disengaged.
If your gimbal is beeping or displaying error messages, it means you're not balanced correctly. For a smooth ride, balance all three axes: Pan, Roll, and Tilt. Run the Auto-tune once you've nailed the balancing act, and you're good to go.
Gimbal Modes
Operating the device is all about your interaction with it. To turn the device on or off, just give the power button a firm press. And when you want to check the battery life, simply tap the power button gently while the device is off. A quick double tap of the trigger button initiates its function, while a rapid triple tap rotates the lens towards you, setting up for an optimal selfie.
Four main modes orchestrate the gimbal's movements:
PF Mode (Pan Follow): This mode is a reliable option for steady movement. As you move horizontally, so does the gimbal, while any vertical movement remains static. It offers a clean, uninterrupted shot, primarily focusing on left and right movement.
PTF Mode (Pan Tilt Follow): PTF mode is a more flexible variant of PF mode. Here, the gimbal has the added ability to move vertically. It allows the user to incorporate more diverse angles into their shots, making it ideal for those dynamic scenes.
"All Lock" or "L" Mode: Simplicity at its finest, the "All Lock" mode keeps the gimbal securely pointed in one direction. This is ideal when you need the shot to remain steady and unchanging in its orientation.
POV Mode: This mode is similar to PTF mode but adds an additional dimension of movement. With side-to-side roll included, this mode provides a more comprehensive range of motion.
Sports Mode: For those moments when everything is moving quickly, and other modes aren't up to the task, Sports Mode steps up to the plate. It's the top pick for action-packed scenes, and its optimal performance is achieved when used with the Hohem Joy phone app.
The operation also features an auto-calibration function. Press the mode button five times, and the gimbal will adjust the motor strength to perfectly match your camera and lens. The joystick controls the pan or tilt manually, with velocity depending on how far you push it.
In a nod to mobile users, the gimbal also features a zoom lever to control mobile functions. This lever can handle focus adjustments, photo capturing, or filming initiation. Its utility is evident when you're trying to avoid tapping the phone screen during operation. After all, who wants to disrupt their creative flow with unwieldy maneuvers?
Battery Life
An unexpected bonus is the battery life. Officially, it sits at a respectable 17 hours. However, depending on how hard you're pushing it, you may find that this duration varies. Several hours of shooting should leave you with around 2/3 of the battery intact. In more demanding scenarios, you could still anticipate a generous 8-hour window of operation.
We found that to be more than enough for our shooting needs. But we have to admit that those who are serious camera buffs could easily use 8 hours and still need more battery life. Still, that's going to be the case with any gimbal. And with this one, you've got a lot to work with, and it'll suit the average user just fine.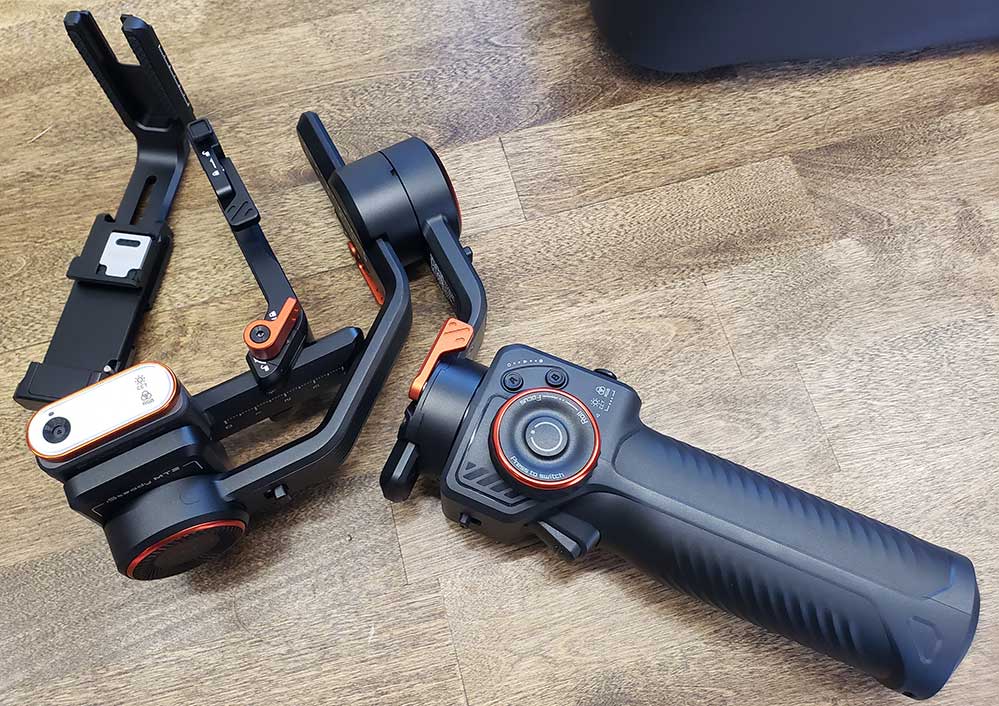 Compatibility
While the MT2 Gimbal is undeniably a charmer in its own right, its true allure lies in its welcoming nature. Whether you're wielding a hefty professional camera or a sleek smartphone, this gimbal's arms are wide open. A case in point: the MT2 Gimbal is particularly companionable with the Sony FX3 and Zeiss 55mm f1.8 setup. But this is no exclusive relationship. Its inclusive compatibility list spans across a wide spectrum of cameras, from Canon to Panasonic.
Additionally, the Hohem Joy app injects an extra dose of versatility into this gimbal. It enables the use of Sports Mode for those fast-action sequences and also facilitates the auto-calibration feature. Compatibility with the app extends to both Android and iOS platforms, casting the net even wider in terms of accessible usability.
And lest we forget the zoom lever. While it's not exactly a compatibility feature, its inclusion allows users to control the focus and zoom on their mobile devices without the need to fiddle with their screens. A small touch but one that significantly improves the overall user experience, especially for mobile-based creatives. We appreciated the flexibility it afforded us – it's like having an extra arm, in a way. Bottom line, it's a welcome addition.
Final Verdict
After an extensive assessment of the Hohem iSteady MT2, we can say with confidence that this gimbal is an impressive piece of kit. Balancing user-friendliness and professional-grade functionality, it is an ideal companion for both casual creators and serious videographers. Its sleek design, intuitive operation, and array of modes cater to a wide variety of shooting scenarios.
With the ability to carry cameras of different sizes and brands, the MT2 is a versatile tool, fully justifying its place in the market. The robust battery life offers extended shooting time, which is more than satisfactory for most users. The added convenience of the zoom lever for mobile users and the overall utility of the Hohem Joy app, which extends its features and usability, are notable plus points.
While the build quality is not perfect, the high-grade material composition and thoughtful design make the MT2 durable enough for most shooting scenarios. Add in its compact, lightweight design, and you've got a winner. All things considered, the Hohem iSteady MT2 is a reliable gimbal that offers great value for its price point. If you're a content creator looking for a gimbal that blends versatility, usability, and performance, the MT2 is an excellent choice.