INMOTION Climber
Speed & Acceleration
9.0/10
Pros
Very fast acceleration and top speed.
Excellent performance on hills.
Seemingly very durable and water resistant.
Tires are grippy and puncture resistant.
Great battery life and re-charge times.
Cons
No suspension system.
Rear disc brake feels mushy.
Riding deck attracts dirt and dust.
Weighs 45 lbs.
With the price of fuel steadily increasing over the past few years, it's made people re-think transportation. Rather than relying on your car, hopping on an electric-powered scooter can help alleviate some of the pain at the fuel pump.
Although e-scooters don't have nearly the same range, top speed or space as a vehicle, they're incredibly fun, easy to use and can bring on a whole new level of excitement.
And even if you're not concerned about fuel costs, electric scooters typically offer an enjoyable experience – but only if you pick the right one.
If you've been scouring the web for electric transportation options, you may have already come across INMOTION.
They're an overseas brand that have been at the cutting-edge of e-transportation for the past few years. From electric unicycles to scooters, they've nestled themselves in a prime spot as one of the leading brands at the forefront of innovation.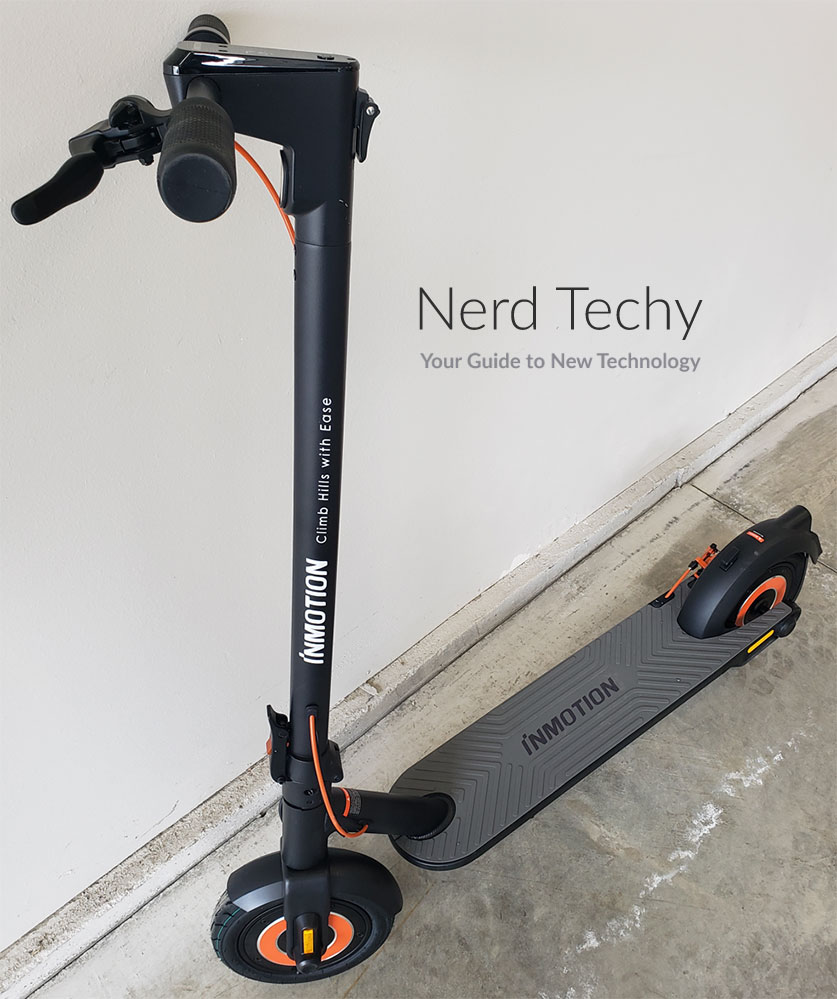 They're latest release is the INMOTION Climber E-Scooter. This is the fourth electric scooter model in their lineup and their first one with dual motors. Offering a tremendous amount of power, it's said to conquer hills with ease. But can it really? Is it built to withstand daily use? Does it actually live up to the hype or does it fail to meet the marketing material?
Today we're going to find out. We were lucky enough to receive an early-release sample to test out for ourselves. We'll examine all of its features and ultimately discuss whether or not it's worth the investment. Let's get right into it!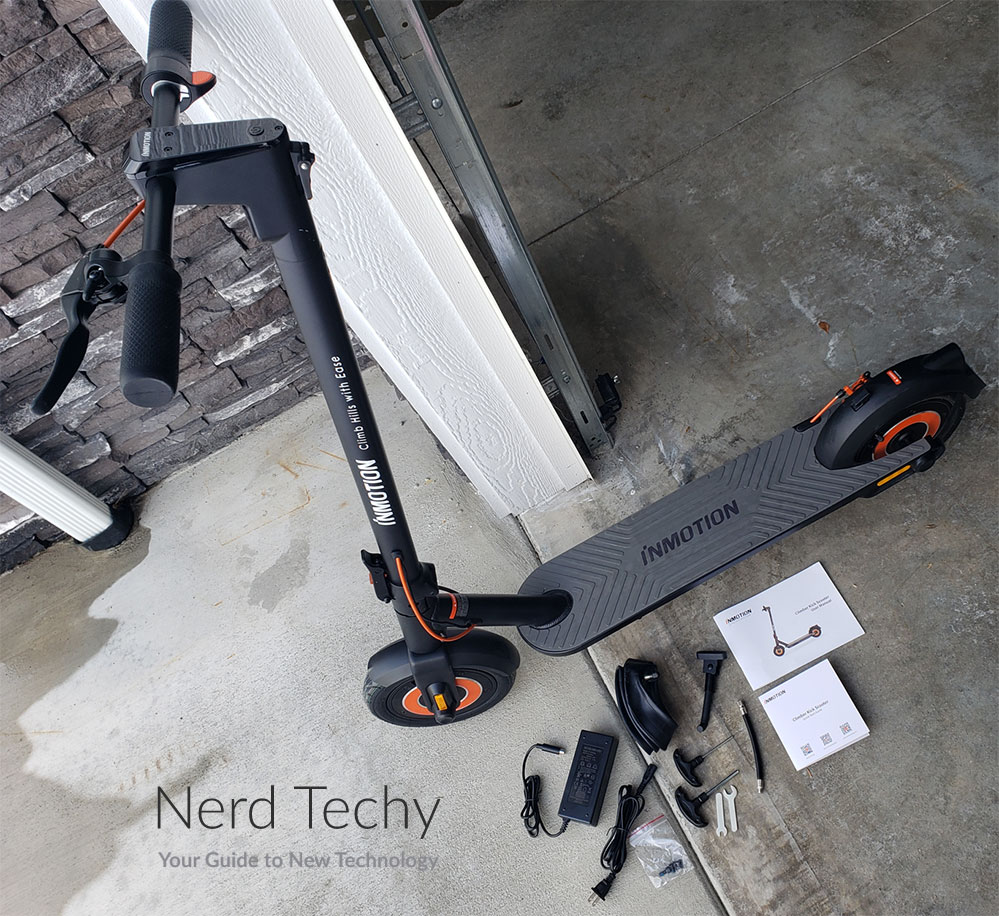 Unboxing & Assembly
The INMOTION Climber E-Scooter has a sleek and heavy-duty appearance. Mostly comprised of aircraft-grade aluminum in a matte black color with orange accents, we really love the way it looks.
Upon unboxing, you'll immediately notice the 45lb. weight. It's significantly heavy, but the weight isn't actually much of a detracting factor. In fact, the weight gives it a high-end feel with the majority of it being near the base, keeping the center of gravity low; ideal for safety and control.
Inside the box is the battery charger (AC adapter), kickstand with tools to attach it and even two extra tire tubes. There's also a bit of literature; a quick-start guide, instruction manual, etc.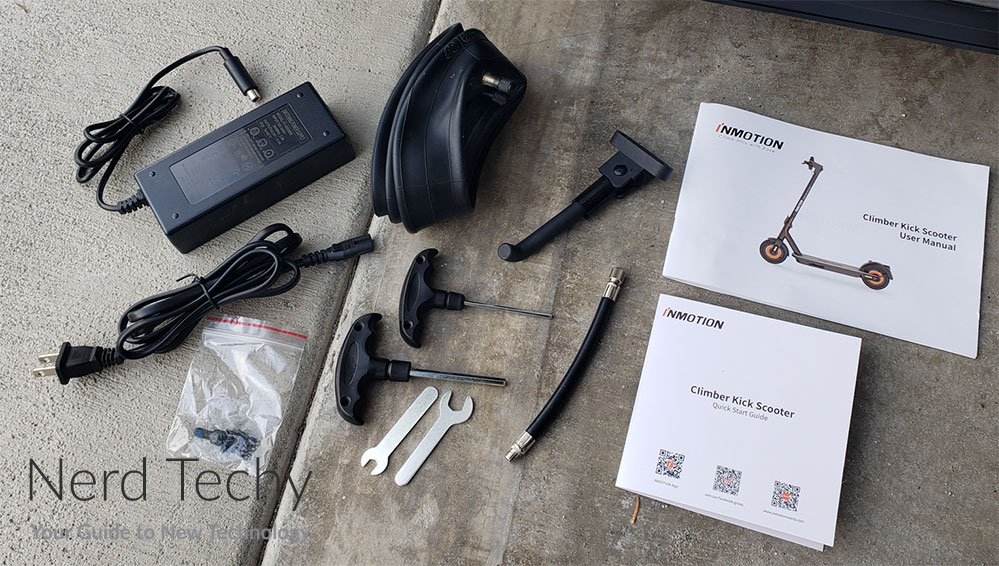 Thankfully, there's only minimal assembly required. First, take out the inner tray of the box and pull upward. Next, place the scooter on the ground and unfold the stem. Firmly fasten the steerer tube with the folding wrench mechanism that's built into it.
After this, tilt the scooter on its side and install the kickstand with the included wrench and screws. Lastly, tighten the four screws on the stem to attach the handlebars to the steerer tube. All in all, assembly takes less than 5 minutes and can easily be performed by anybody without any technical skills or knowledge.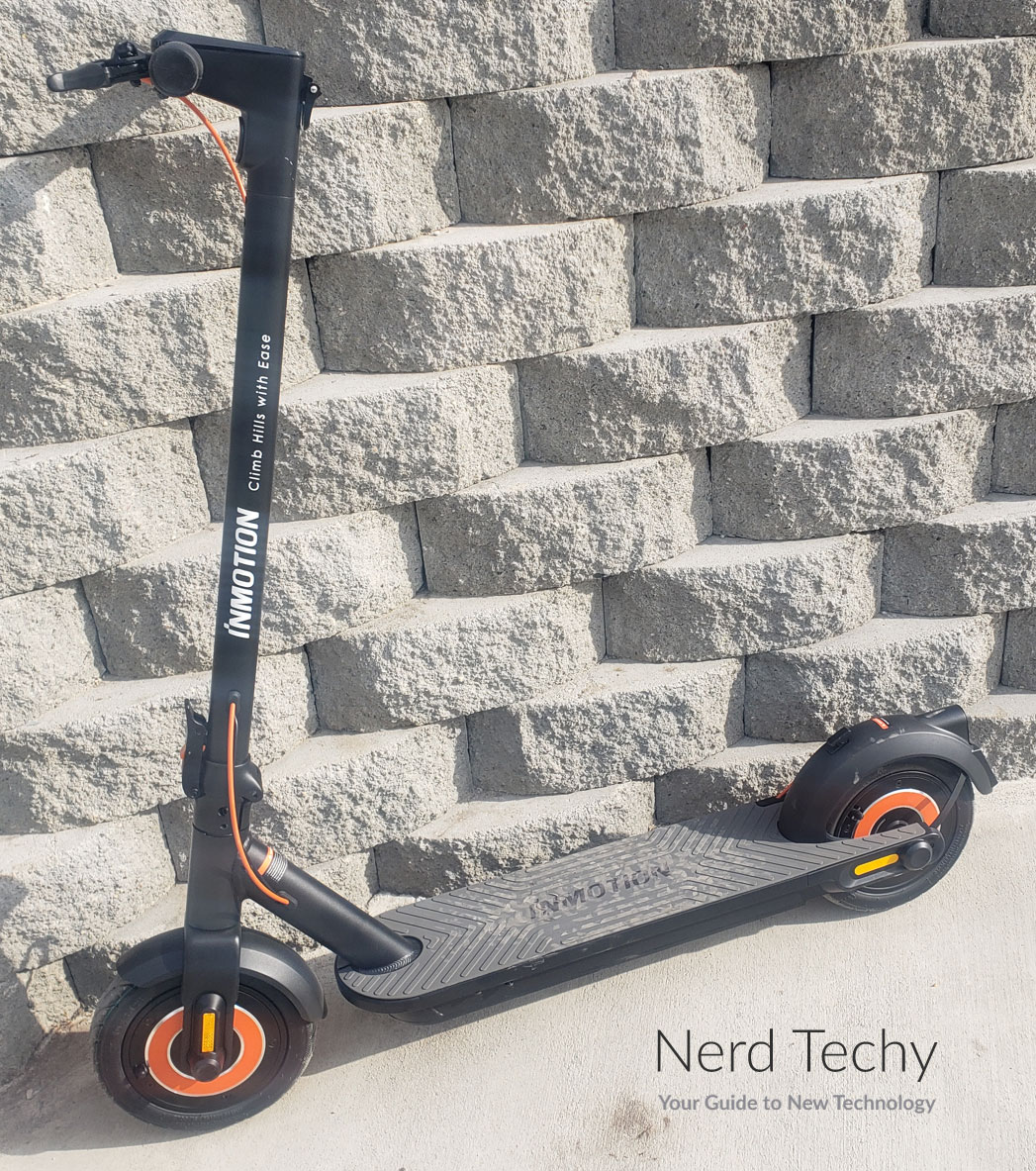 Before you ride, you'll want to plug-in the AC adapter to charge-up the internal battery. Locate the charging input underneath the small rubber cap on the right, base side of the riding platform.
For best results, wait until it fully charges before your first ride. This will give you the most power and range possible without dampening your initial riding experience. The AC adapter has one small LED on it. Red indicates it's currently charging while green indicates it's fully charged.
Control Screen
Centered at the handlebars is a brightly lit control screen. Also known as the dashboard, it's the visual display that shows you all the important insights you need to know. It's relatively bright, but in direct sunlight, you may have a bit of difficulty discerning things on it. Sunglasses help, but there's a bit of a glare that can be slightly annoying.
Along the bottom, you'll likely notice the battery icon – this gives you a clear indicator of the current state of the battery. It's represented by five bars – each one representing 20%.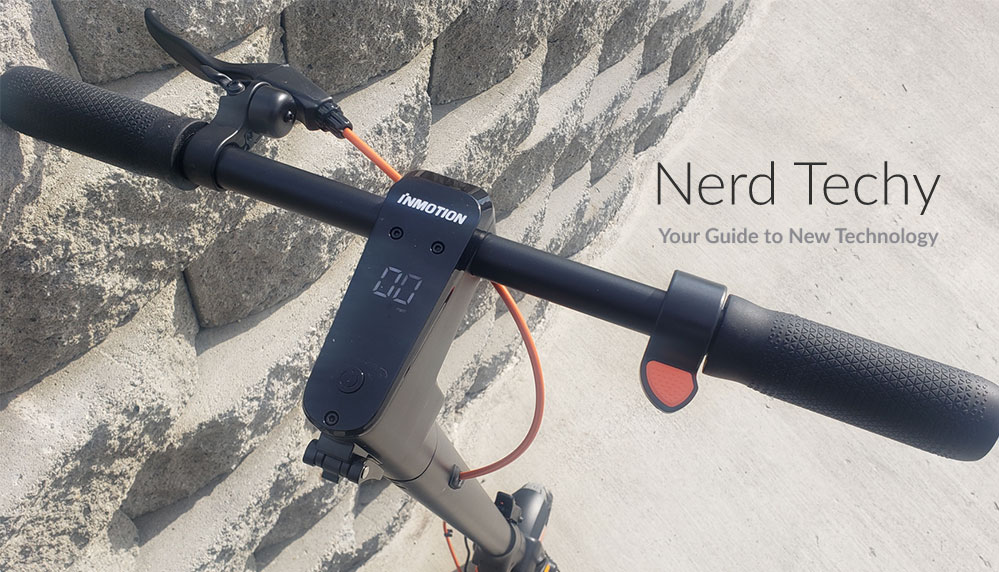 On the top, you'll see one of three blue icons that represent the current mode you're in. Indicated by a person icon, pedestrian mode offers a max speed of 6km/h (4 mph). It's the slowest and easiest mode for getting started but won't offer much fun if you want to get going fast. Next, dynamic mode, represented by a "D" offers speeds up to 25km/h (15 mph). Lastly, sport mode, represented by an "S" offers speeds up to 38km/h (23 mph).
Double tap the single/main button on the dashboard to cycle through modes. But keep in mind, you can only switch modes while the scooter isn't in motion. It's nice to see multiple modes included, but we have to admit – sport mode is our favorite. Users who have poor balance or questionable riding experience may find the pedestrian or dynamic mode more favorable – it's all about personal preference.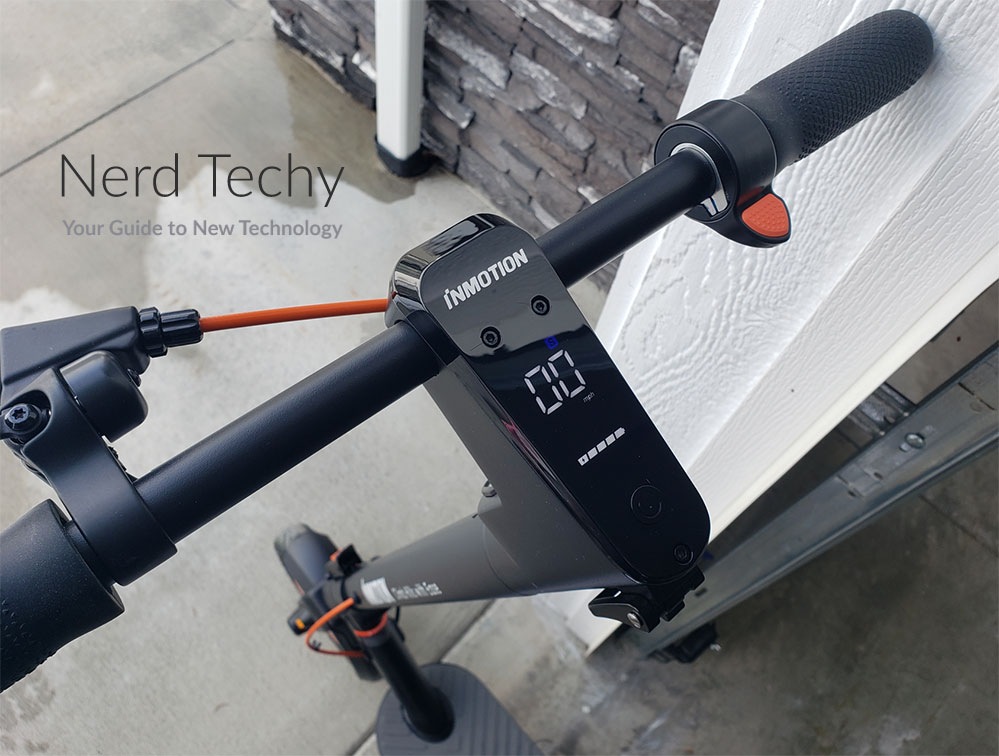 Centered in the dashboard is a large display that shows the current speed in either miles per hour or kilometers per hour. Below this are five additional icons that may appear. Double pressing the main button will turn on the headlight, making a small light icon appear on the display. It's not overly bright, but bright enough for being seen better at night or during transition hours.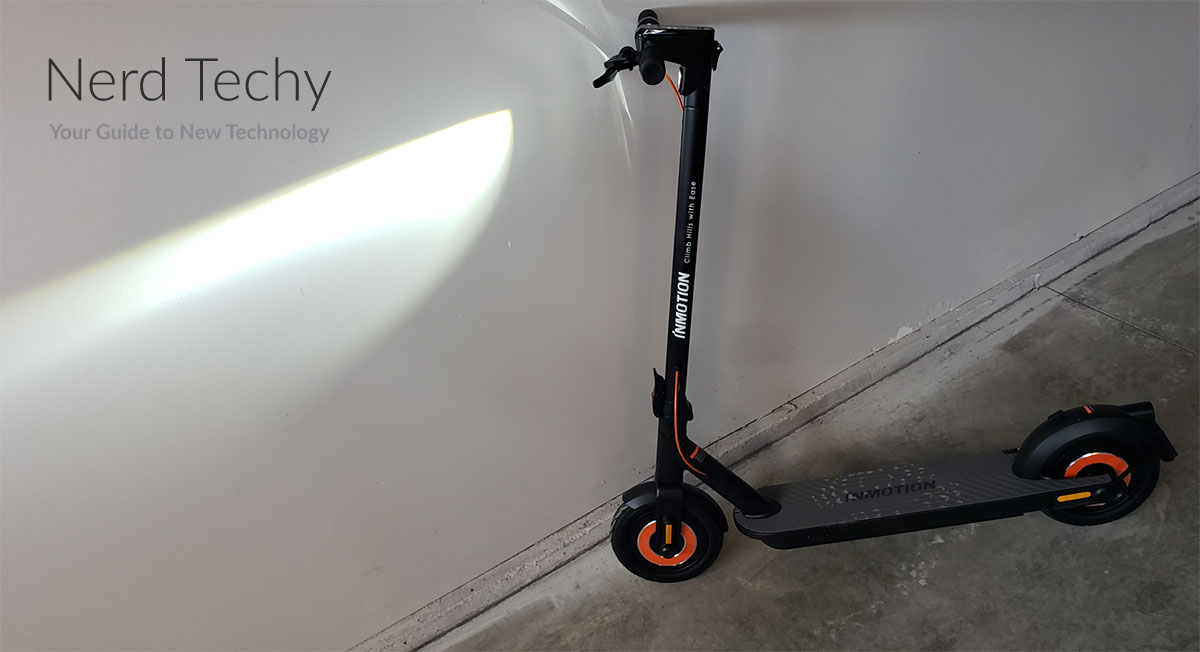 Next, there's a Bluetooth icon that indicates you can pair the scooter to a nearby smartphone. Although we'll touch more on this later, the Bluetooth connection is for connecting to the app.
Moving on, there's a cruise mode icon. It'll only appear if there's an error. So it shouldn't show if you're cruising, only if there's an issue that needs attention. Lastly, the display may also show an error or lock icon; these are indicators that either the lock function is activated or an error has occurred.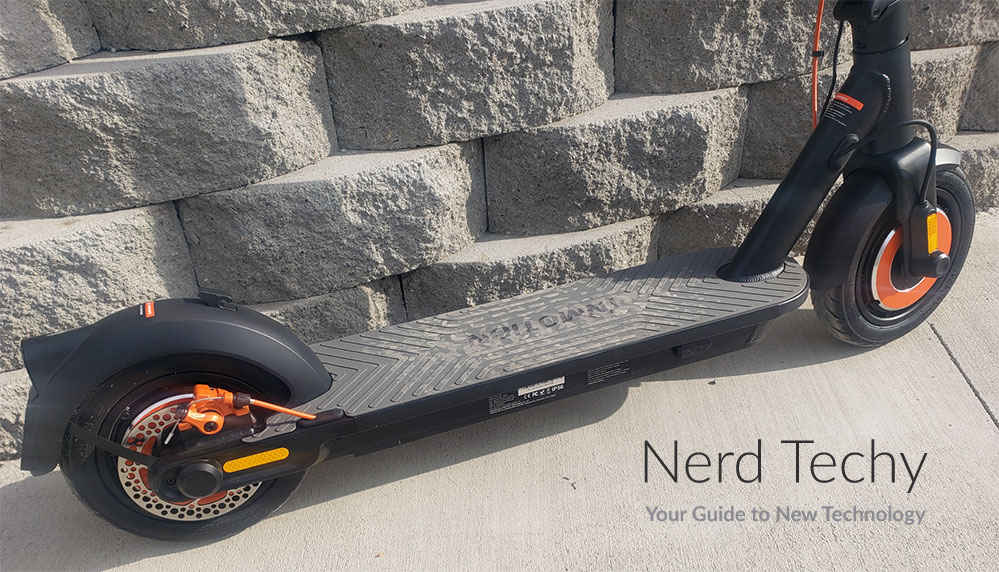 Acceleration and Speed
Hopping onto the INMOTION Climber for the first time, we really enjoyed the stable feeling that it offers. The deck is extremely grippy in order to provide an ideal riding surface. Even with some moisture on the deck, it still seems to provide a good amount of friction to keep your feet in place. However, we found that the rubbery material is a magnet for dirt, dust and other grime. In addition, it doesn't seem to clean very well – even with a wet rag with a splash of soap. Not a big deal for most, but worth pointing out.
Holding firmly on the handlebars and pushing with one foot while the other is on the riding platform will engage the motor, but only once the throttle near the right-grip is pressed. The grips are equally rubbery in comparison to the deck, offering a secure grip for both big and small hands.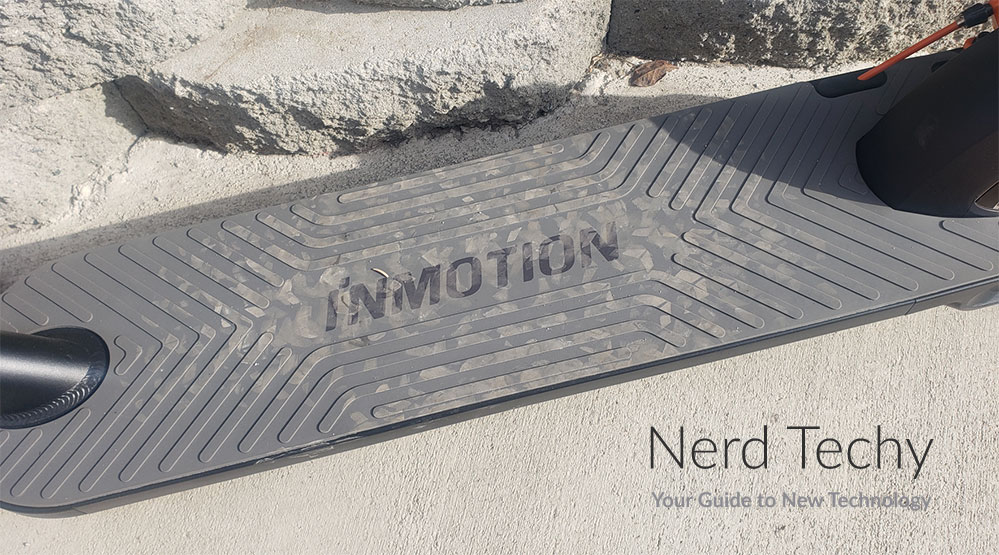 But before you start riding, take note on the current riding mode you're in. We started in pedestrian mode and found it to provide speeds similar to a walking person – not very fast. That said, we highly prefer using dynamic or sport mode. These modes really let you feel the power and speed that the scooter can offer.
Once we took off down our driveway and into the road, the power behind the dual 750W motors is immediately apparent. To put it bluntly, the acceleration was amazing. Once you press the throttle, hold on, because this scooter seems to giddy up in a moments notice. Even on a steep incline with a continuous hill, there was plenty of acceleration to be satisfied with. And once you get up to your preferred riding speed, the scooter provides excellent cruising capability.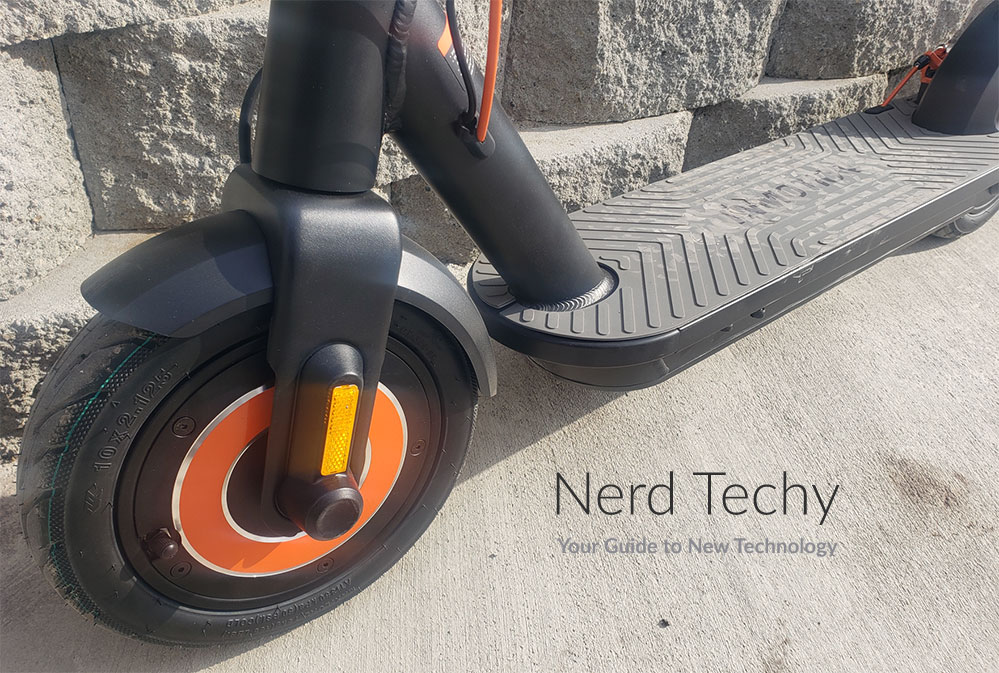 Although we'd label ourselves as intermediate to expert riders, we found the combination of acceleration and speed to be very fun. On flat ground, in a matter of 4 seconds, the scooter goes from 0 to 15 mph in just about 4 seconds. Take it to a hill with an incline of 20%, and the 0 to 15 mph time clocked in at around 5 seconds. As you can see, hills have a slight effect on the acceleration, but not by much.
Using sport mode and topping out at 23 mph was thrilling. The kind of torque and power that the dual motors provide is downright impressive for an e-scooter. Best of all, when you reach speeds that are near its max ability, the scooter still feels well in-control and stable in all regards. We didn't experience any wobbliness, lag or issues in regards to getting up to speed or keeping a consistent speed.
Simply put, we feel the dual motors are overpowered for what it is, but that's a good thing. We can surely say that speed and acceleration are areas where the INMOTION Climber tends to shine the most. Best of all, it's very quiet. You can only hear a slight hum to the motor, with the only noticeable sound coming from the tires hitting the pavement.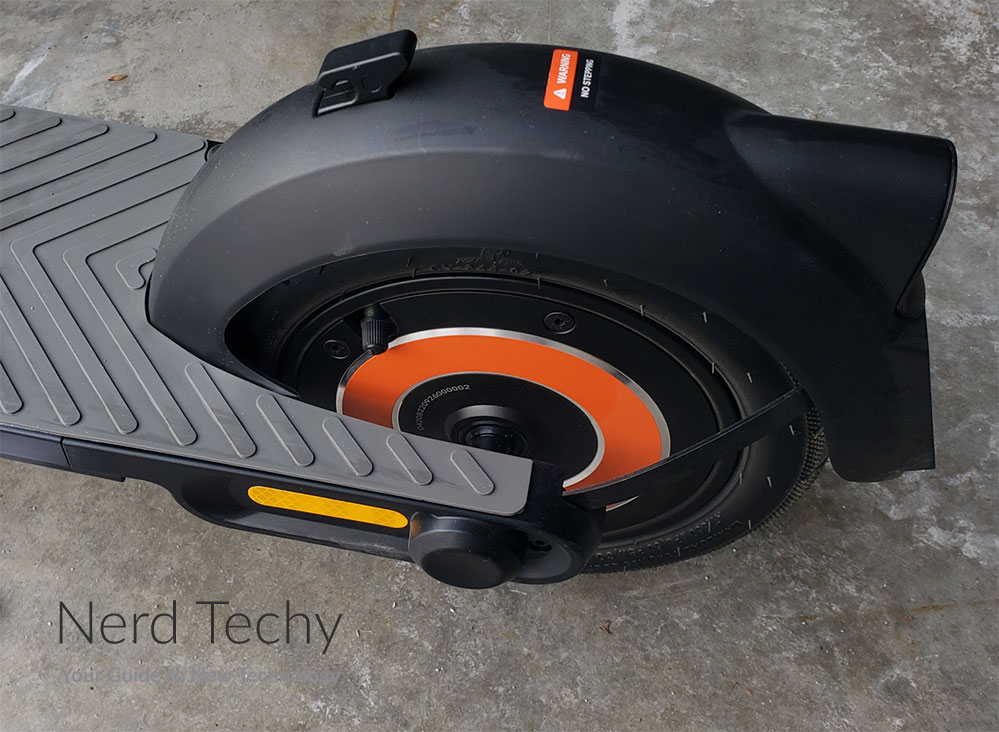 Brakes
The INMOTION Climber has brake on both wheels. The front and rear are both equipped with electric brakes. On top of this, the rear wheel has its own dedicated mechanical disc brake. By using the lever on the left side of the handlebar, the braking system engages simultaneously with each other. Simply put, e-braking is applied to both front and back while the mechanical brake applies and extra boost of braking power to the rear.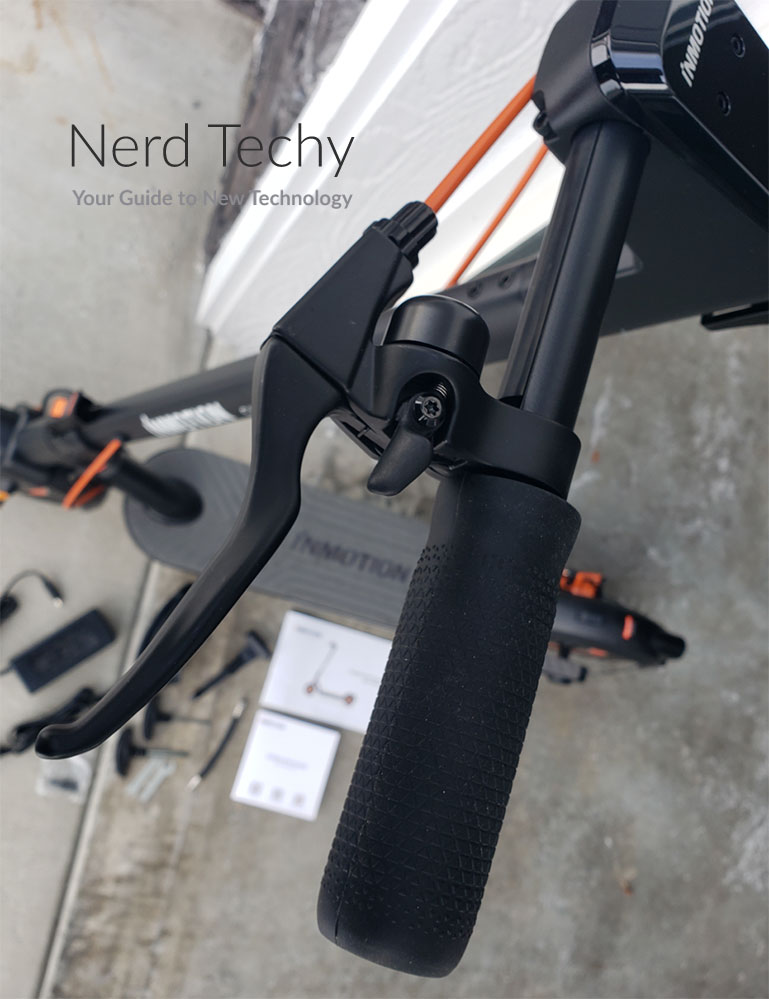 The brake lever feels a bit squishy and doesn't inspire a ton of confidence, but it's still adequate. From max speed, you won't be stopping on a dime, but you can stop within a reasonably safe distance. At lower speeds, the brakes seem to be much more effective, with stopping distance minimized quite a bit compared to coming to a complete stop at max speed.
Practice and riding experience are important here. Getting familiar with the feel and actuation of the brakes is important before you gain the confidence to take this scooter on a real trip.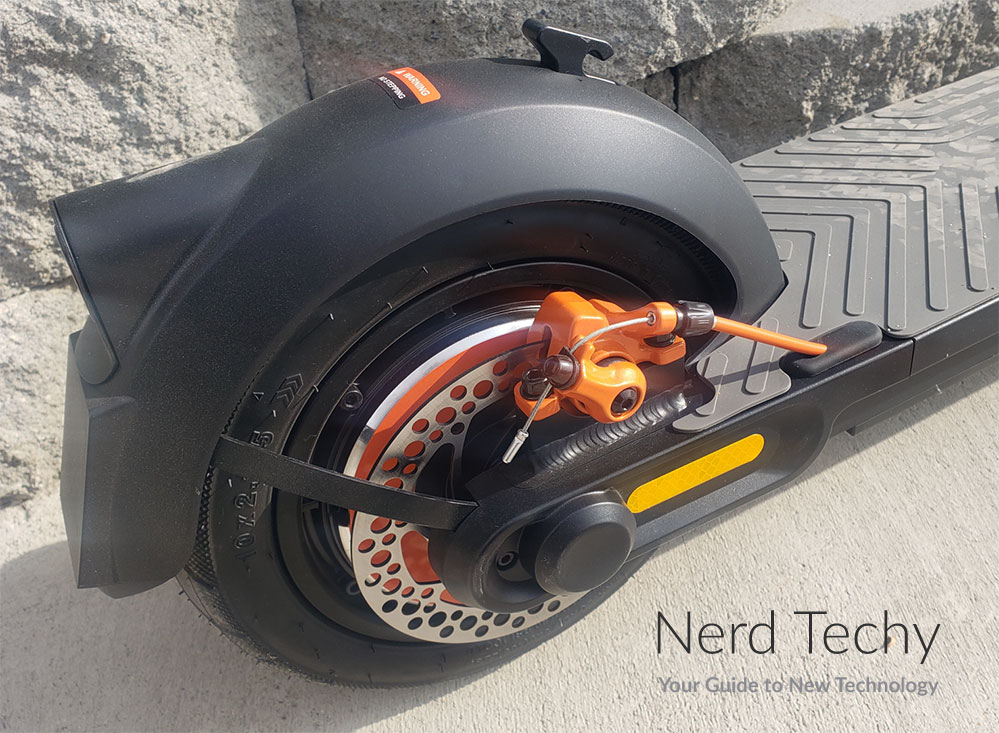 As far as maintenance goes, mechanical disc brakes are typically much easier to work on than hydraulic disc brakes. However, mechanical disc brakes tend to be a bit weaker – hence the slight squishiness that the brake lever has. Regardless, maintenance on the brakes likely won't need to happen for months or even years to come, depending on the amount of use you put it through. And if you're not experience with maintaining the brakes, drop it off at a bike shop and they should be able to work on it.
The e-brakes work by adjusting the power to the motor. As a result, there's no maintenance involved with it. Thankfully, even if the rear mechanical disc brake ever fails, you have e-braking to supplement any stopping power you may need.
Tires
On both the front and rear, the INMOTION Climber is equipped with two 10-inch ultra-thick tires. They're much thicker than your standard bike tire, offering plenty of puncture resistance for tacks, thorns, nails and other sharp objects that you may accidently run over. Inside of each one is a refillable inner tube, just like a bicycle. These tubes aren't anything special, but INMOTION was nice enough to include two backup tubes in the box for your first flats.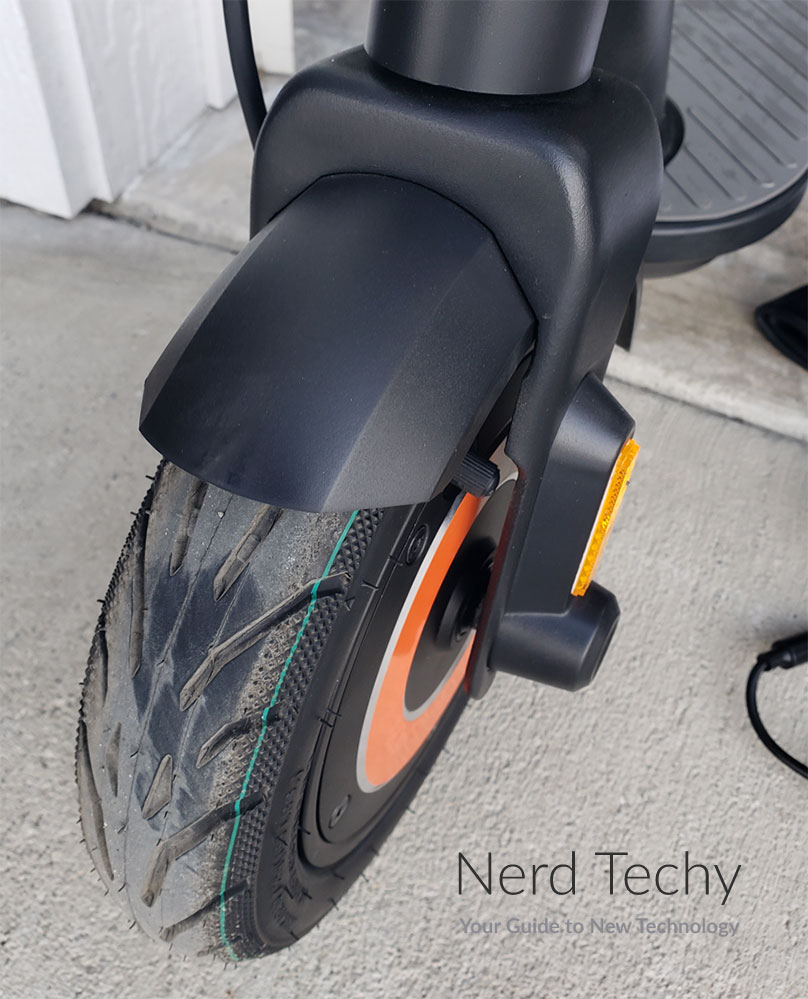 The tread on the tires is sufficient but street-oriented. There are grooves in an angled fashion in order to provide ample grip on asphalt, concrete or other smooth, hard surfaces. Although they're slightly oversized, these aren't off-road tires. We found them to work quite well on ordinary streets and sidewalks, but you'll want to watch out for rocks, gravel or other obstructions in your riding path.
When testing the scooter on the road, we ran into a patch of loose gravel. We had a moment where it felt shaky, but it plunged onward without slipping too much. Needless to say, stick to streets, pavement and sidewalks with the Climber. The moment you take it on a dirt trail or gravel path, you won't get the same confidence-inspiring feeling that comes naturally when riding it on pavement.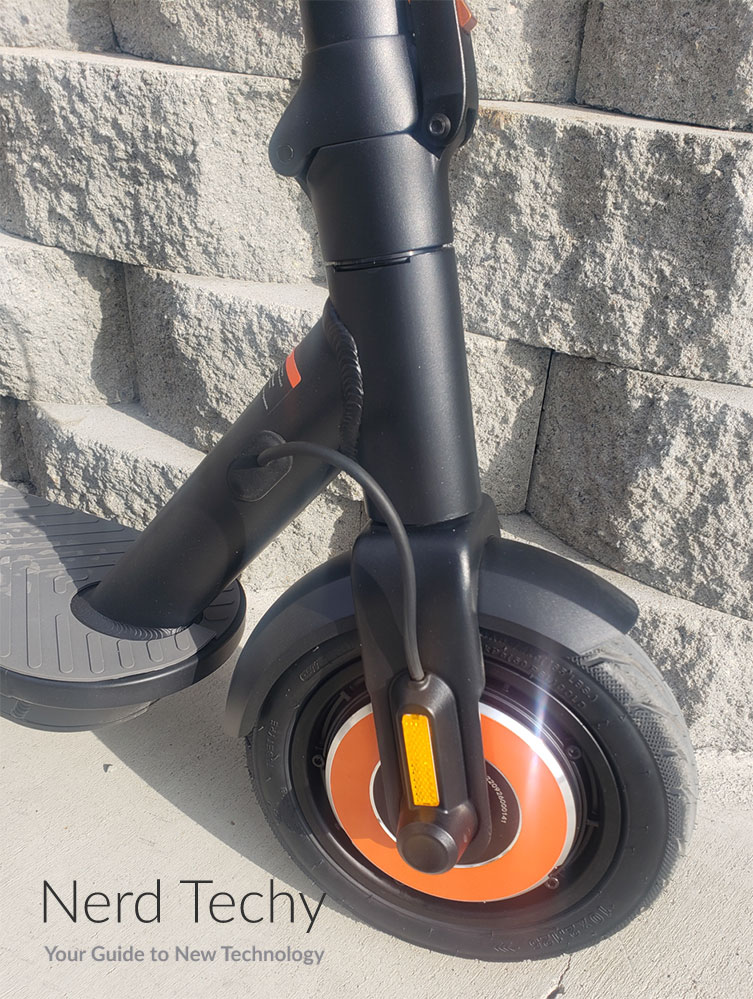 Although we didn't need to, changing an inner tube seems to be quite easy and straightforward. The modular design of the wheels makes them easily removable with the included wrench. The rims are split in half, offering access from either side. The result is quick removal which theoretically should be easier to manage than a complete removal that is required for other scooters in the same class.
It should also be noted that there's no suspension in place. Both the front and rear are not equipped with any shocks. The only amount of squishiness you're going to feel is from the air-filled tires. That said, this furthers the point that this is strictly an on-road e-scooter. You'll feel most bumps, especially sudden drops. However, the lack of suspension isn't really that big of deal since you should be sticking to roads and smoothly paved surfaces.
App
On any Android or iOS device, you have the option of installing the INMOTION app. With it, you can pair the Climber scooter to your smartphone or tablet and open up a detailed dashboard with a wealth of options. It can teach you how to ride/operate the scooter or you can use it to simply track miles, battery life or other maintenance items. You can even use it to control the scooter in real-time.
We found the app to work quite well. Although you need to signup for an account with your email, the app is a pleasure to use. Best of all, it's not a requirement; more of an added bonus. And unlike other Chinese-based apps, the language is clear and we didn't experience any crashing of the app. Whether this is a testament to the company or the programmers who made the app, it's nice to see.
Battery and Charging
We tested the INMOTION Climber for a few long distance rides. Notably, each one was 20-25 miles in duration. With regular hills and a continuous speed of 23 mph, the 533Wh battery was able to provide for all of these rides with about 20% remaining at the end of each ride.
We can comfortably say that it can handle regular 20+ mile rides without much worry. However, we wouldn't recommend planning for rides longer than this unless you are certain that the terrain is flat and speed isn't maxed out.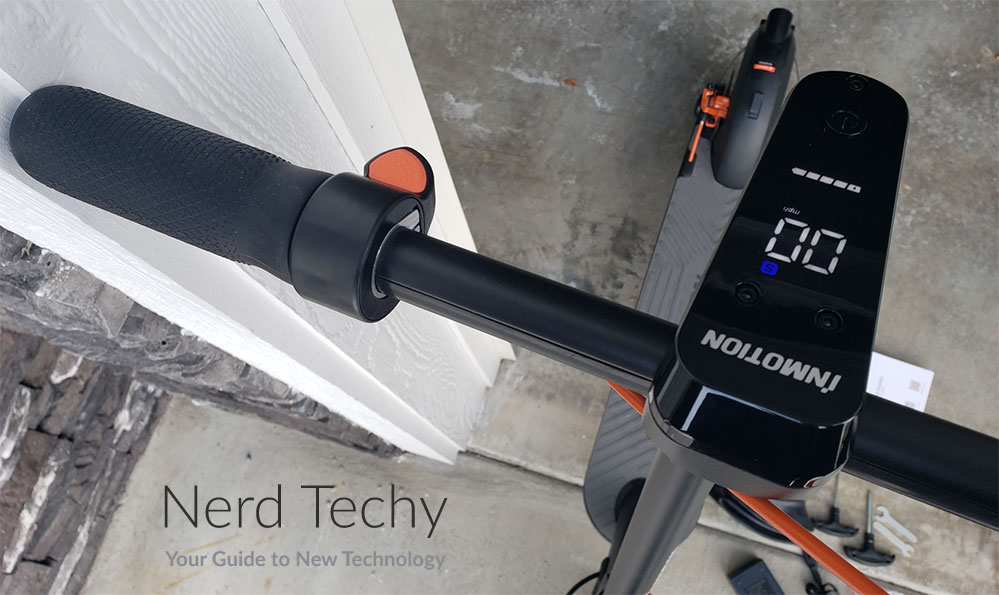 Needless to say, battery life is dependent on a wide range of factors. Ambient temperature, riding style, rider weight and speed will all play a factor. If it's your first time using an e-scooter, it's advised that you start with small trips and increase the duration from then on. For added peace of mind, carry the AC adapter with you if you're planning on riding near or above 12 miles.
On the right side, just beneath the deck is a small rubber flap. Open it up and you'll expose the charging port. This is where you plug-in the included AC adapter when the scooter needs to re-charge.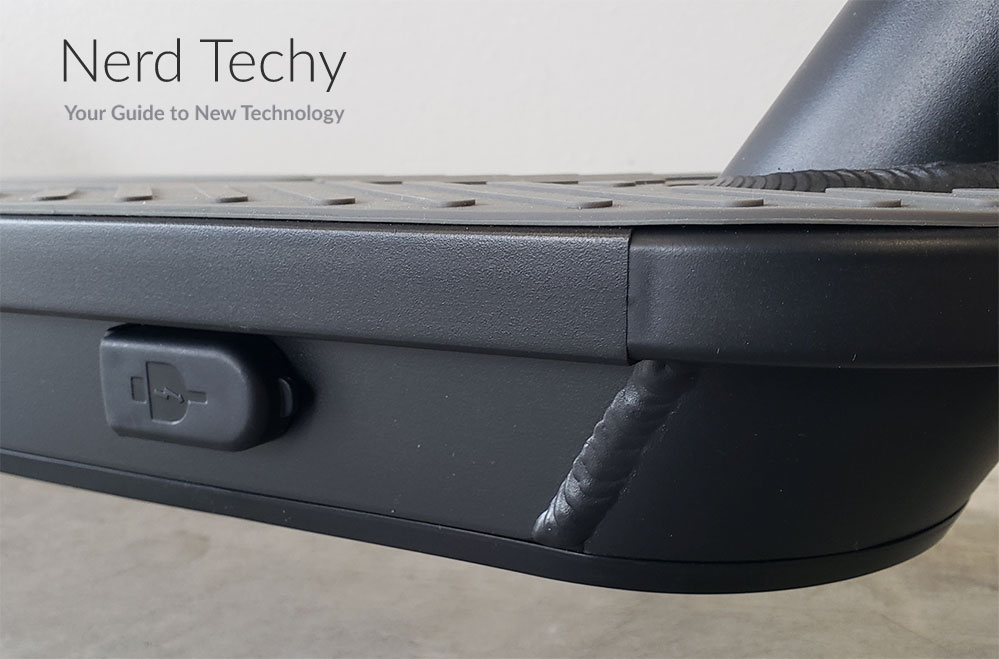 Charging should be done at the end of each ride so the scooter is ready to go at a moments notice. The AC adapter has a small LED that will illuminate red while it's charging and green once it's fully charged. Charge times vary greatly, depending on how much remaining battery life there is. However, we found that going from 0 to 100% took around 8-9 hours. This isn't the fastest we've seen, but also not the slowest. Regardless, INMOTION included overcharge protection in order to safeguard the internal battery from "too much" charging if you accidently leave it plugged in.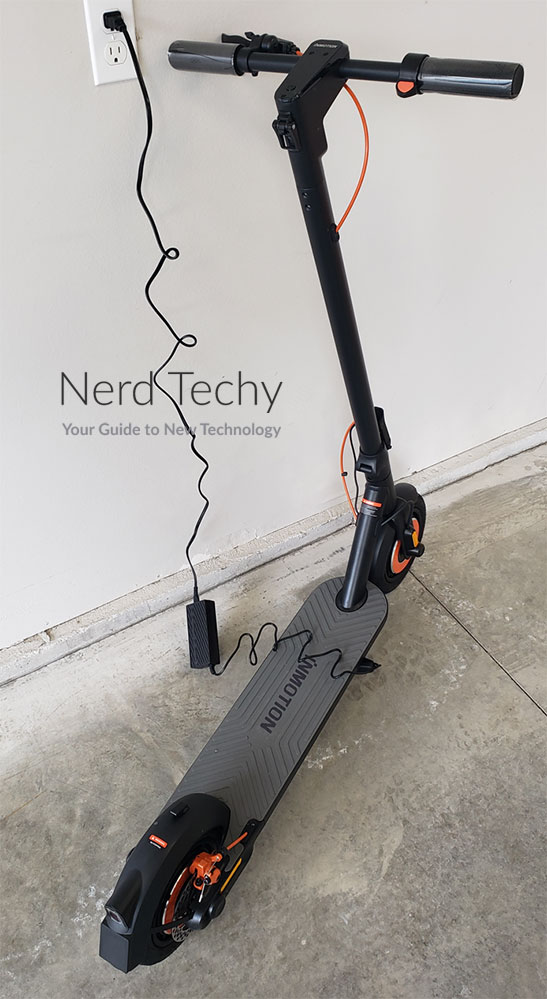 The scooter should never be charged if the charging port is wet or with any other charger, other than the one that it comes with. To keep things safely operating, the best practice is to keep the rubber flap closed whenever you don't have it plugged in.
Although there's a visual battery display on the dashboard, using the app to monitor the battery life is your best bet. It lets you view the condition of each battery group so you're always aware of the remaining time you may have before needing to plug it in.
Portability & Durability
The INMOTION Climber is built with all-metal construction, two motors, a big battery and other solid components. As a result, it's quite heavy – 45 lbs. in fact. This is much heavier than most riders will be comfortable carrying for any extended period. Simply put, it probably isn't the kind of scooter that you'll be bringing around by hand.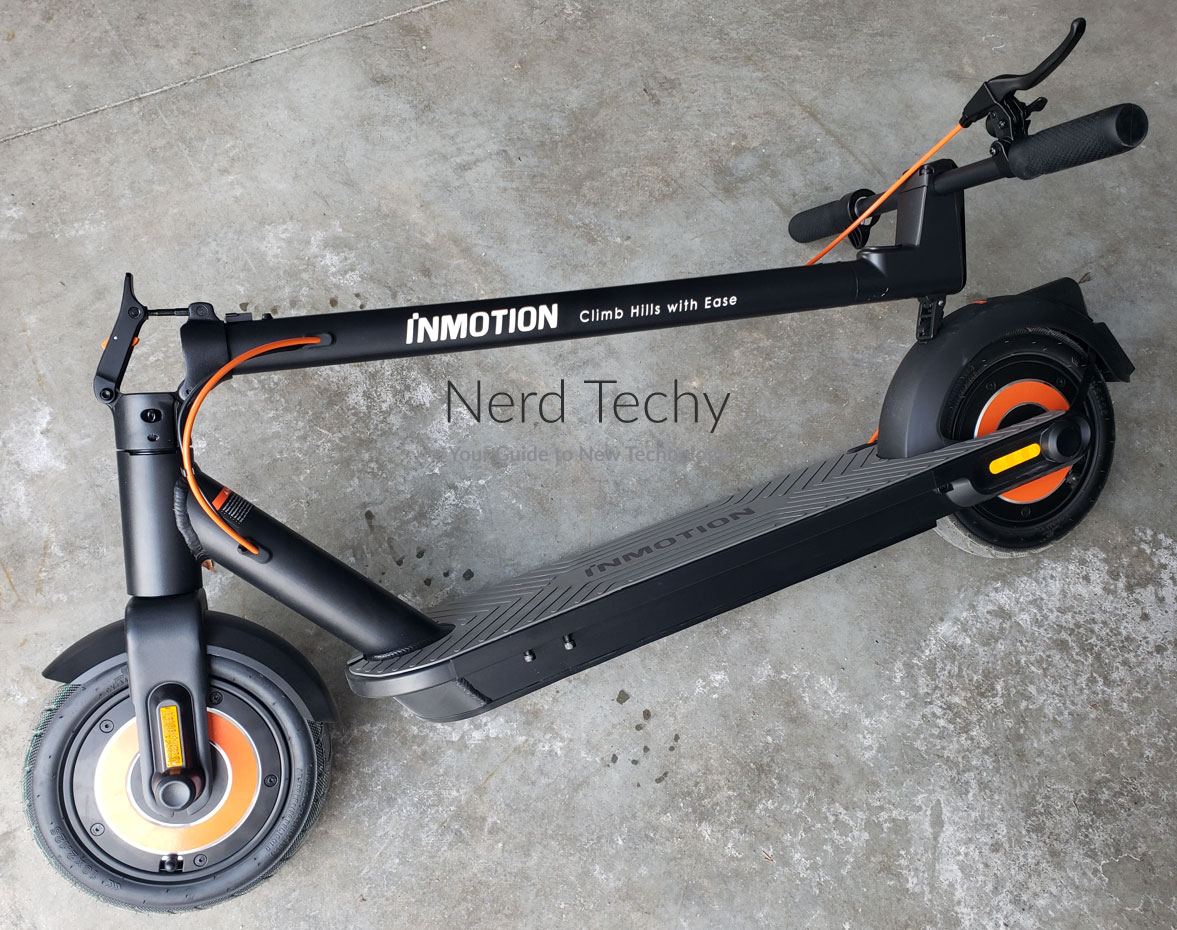 However, the steerer tube folds near the downtube with a lock and hinged design. The result is a form-factor that's easy to grap onto and move into the trunk of your car if desired. But as we said, the thing is heavy, so small folks may want help lugging it around.
Being that it feels so solid, we had no real complaints about its durability. The scooter seems to be made well, with waterproofing in place for the battery, motors and other components that may exposed to the elements. It can be ridden in the rain, through small puddles and even washed down with a hose without much worry.
All of the components are seemingly well made and ready for action. That said, we're fairly confident that it'll be able to withstand regular use for years to come. Being that the Climber is around a $1000 price-point, we hope it holds up to regular use as we expect it to. And if it doesn't INMOTION offers a 1 year warranty right out of the box. And unlike most Chinese-based manufacturers, INMOTION is a brand that's been around for quite some time. Needless to say, they stand behind their products and offer great support if needed.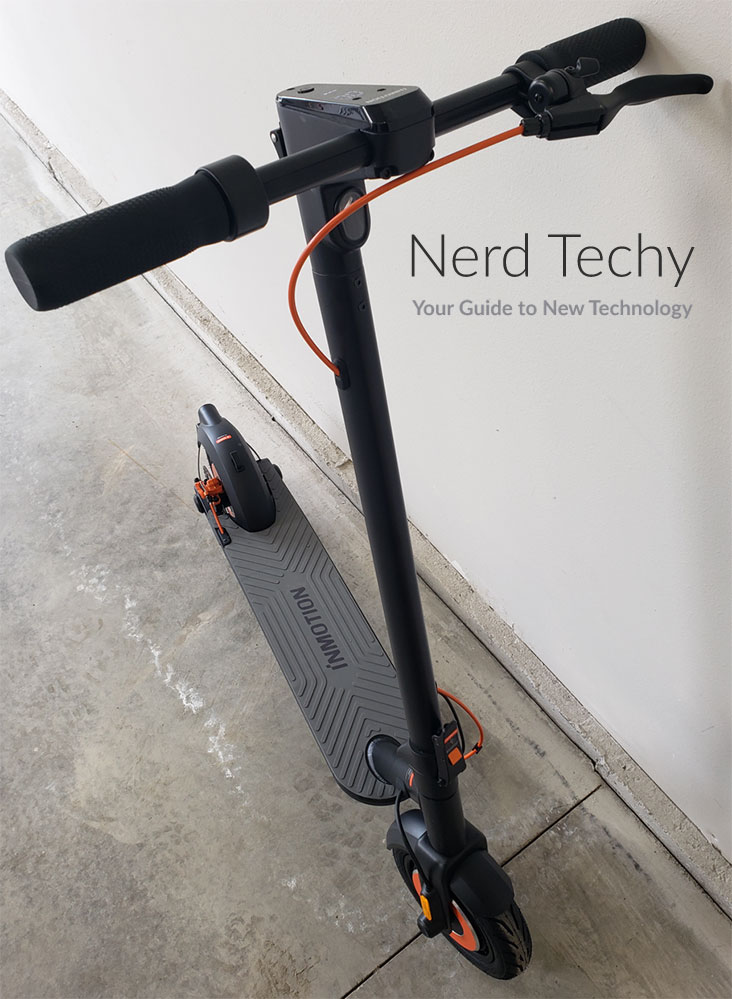 Wrapping Up
As you can see, the INMOTION Climber is an e-scooter that's very capable. It truly can "climb hills with ease." Sure, it may be a bit heavy for some users, but internally, it has a lot going on.
The dual motors provide a fantastic rate of acceleration with a phenomenal top speed of 23 mph. Although there are three riding modes, we found sport mode to offer the peppiness and power that most of us look for in an e-scooter. Regardless, we feel it's made for a wide range of riders from noobs to experienced know-it-alls.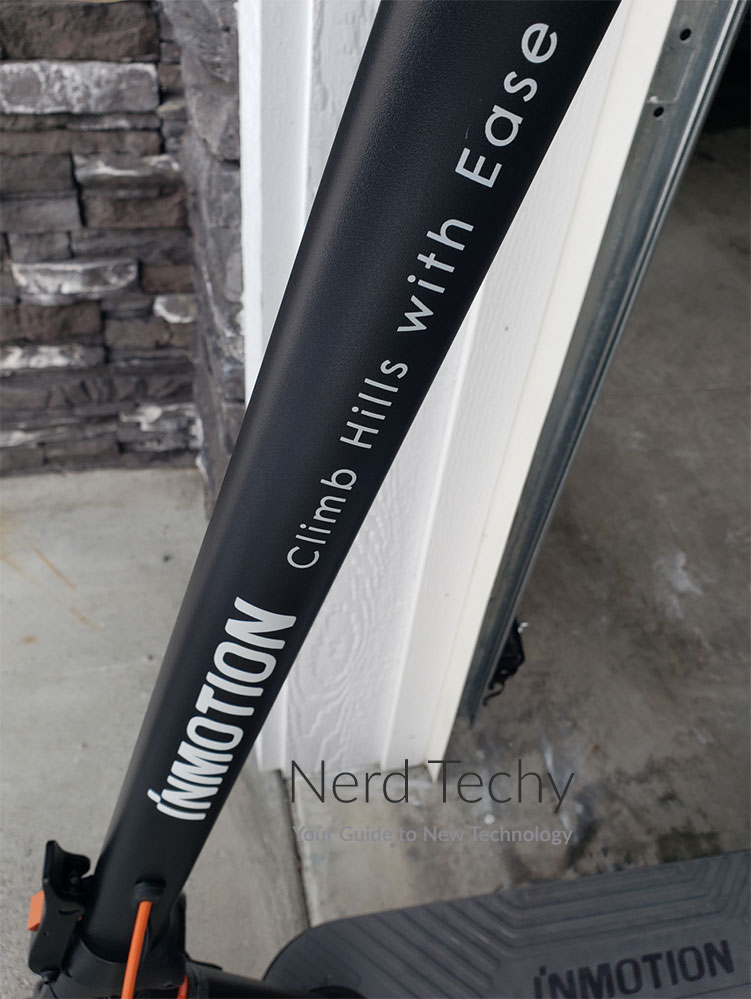 The battery life is surprisingly acceptable, given the amount of power it can deliver when you press the throttle to its maximum. Although you probably shouldn't commit to rides longer than ~25 miles, it offers plenty of range for most scenarios. And when you're done riding, it charges up within a 8-9 hour period, which is acceptable in our opinion.
Braking is sufficient, but a little squishy feeling if we're being completely honest. Yes, it'll stop just fine, but don't expect to stop on a dime when you max-out the speed!
The rubbery riding deck is a dirt magnet, but it's not worth complaining about too much. You'll probably forget about this minor qualm with regular use anyways. Nevertheless, the Climber is seemingly built and most aspects of it have been executed well. This isn't the most expensive e-scooter out there, but it's also not the cheapest. Overall, we feel the price point is fair, given the experience it offered us for our 2-week testing period.