Since it was first launched in 2015, the Apple Watch has been one of the world's most popular smart watches. It's easy to understand why. To begin with, it's part of the Apple ecosystem. You can pair it with any of your iOS devices, and it just works. This has given it a significant advantage over most Android smart watches, which don't always play nice with other devices. Secondly, it's exceptionally powerful. You get to use most of your smartphone features, as well as health and fitness apps. Finally, the battery life is much longer than the competition. With 18 hours between charges, you only have to top off your battery overnight.
That said, like most smart watches, the Apple Watch doesn't exactly look "professional". The default bands are either rubber or canvas, and are generally colorful. This is fine if you're wearing your watch around the house or at the gym. But if you want to wear your Apple Watch to the office, you'll want a more professional-looking band. In that case, leather is an excellent choice.
Note: At no extra cost to you, we may earn a commission for purchases using our links. Learn more.
Today, we'll be reviewing three different leather Apple Watch bands. First up, we'll look at the Harber London Modern Leather Apple Watch Strap. This is a classic, Spartan band that's perfect for a professional who prefers a minimalist look. Next, we'll examine the Burkley Premium Genuine Leather Padded Watch Band. This is a modern-looking band, with large holes and a soft inner layer for breathability. Finally, we'll review the amBand Leather iWatch Band. This band has a shinier finish, and comes in more colors than most leather watch bands. Once we've reviewed them all, we'll wrap up by rendering a final verdict. Let's get started!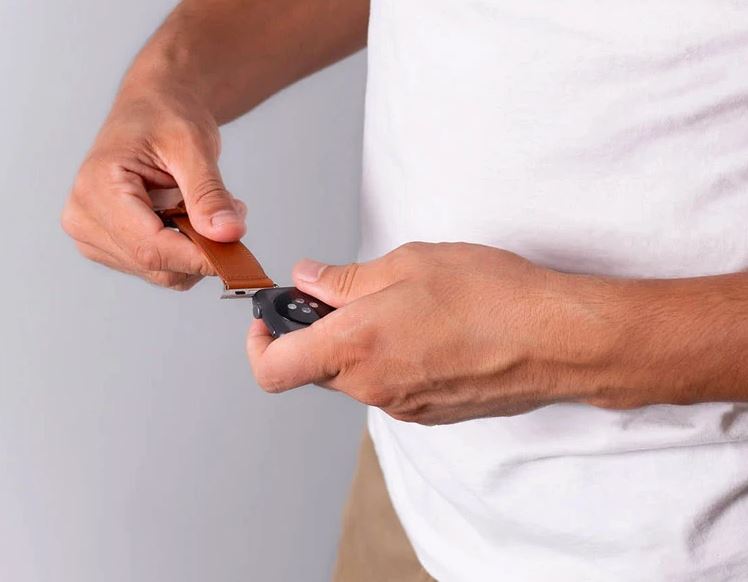 Leather Quality Basics
Before we go further, let's talk a little bit about leather. This is a tech blog, not a fashion blog, so our readers may not be familiar with different types of leather. But the type of leather can make a huge difference when it comes time to evaluate a leather accessory. There are many different types and grades of leather. However, the most common are full grain leather, top grain leather, genuine leather, corrected grain leather, and PU leather. Here's a quick look at each of them, so you know exactly what to expect.
Full Grain Leather
Full grain leather is the highest quality leather available. It's taken from the full thickness of the hide, which gives it lots of durability. Because all the layers remain intact, the leather maintains its integrity. It won't scuff easily, nor will it wear out due to frequent use. However, that doesn't mean the finish doesn't change. As full grain leather ages, it develops a patina. This patina can vary in color depending on the natural color of the leather. Regardless of color, though, it will lend the leather an "aged" look that's popular in furniture and footwear. Because of its thickness, full grain leather is rarely used for watch bands.
Full grain leather is designed to have a natural look, so there's generally minimal finishing. There is no scuffing, sanding, or buffing. These methods can provide a smoother finish. Unfortunately, they will remove the natural imperfections that make full grain leather unique. Finishing is completed in one of two ways. An aniline finish involves dying the leather with a soluble dye. This dye helps with water resistance without creating any kind of texture or coat on the top layer. A semi-aniline finish is more minimalist, and involves a simple stain protectant application.
Top Grain Leather
Top grain leather is the second-highest quality of leather. Instead of using the full grain of the leather, the top layer is separated from the underlying layers. This is what gives top grain leather its name. Because it's been separated, top grain leather is thinner than full grain leather. It's designed for a smooth, sleek look with a more uniform outer layer. To complete the look, the surface is sanded to remove imperfections. A water-resistant finish is then added to prevent staining. As a result, the patina will not be as noticeable on top grain leather. On the downside, it's not quite as durable.
Genuine Leather
The term "genuine leather" can be confusing to many people. Genuine as opposed to what? Fake leather? Yes. But genuine leather is actually a grade of leather. It's produced from the lower layers of the grain, after the top grain leather has been removed. As a result, it's less durable than top grain or full grain leather. This is obviously a relative measure; genuine leather is still pretty tough and durable. The leather tends to have more visible grain than higher grades, but it's also more affordable. When finished with a protective layer, it will not get damaged in water. It will also develop a patina, similar to the other grades we've looked at.
Corrected Grain Leather
Corrected grain leather is less common than the other grades. But as manufacturing processes become more and more efficient, it's slowly growing in popularity. It's produced from left-over leather that didn't meet the aesthetic standards for higher grades. When properly treated, this "surplus" leather can be reworked to a better standard; hence the term "corrected".
To create a proper corrected grain leather, experienced leatherworkers will first sand and buff the outer surface. This smooths out irregular grains and creates a more uniform finish. When this is done, the leather can be dyed or finished. Because of its lower quality, corrected grain leather is generally used to create unusually-colored leather products. Bright colors can help hide irregularities, and also improve the value of leather that would otherwise be discarded.
PU Leather
When you're shopping for leather products, you may see some of them that are made of PU leather. The first thing you need to know is that PU leather is not actually leather. It tends to have a "rubbery" finish that's a bit stickier than real leather. It's also not quite as durable as real leather. That said, there are a couple of distinct advantages to PU leather. First, you can get a beautiful appearance for a fraction of the cost of real leather. Second, it's made from polyurethane. This means there are no animals involved in production, so PU leather is vegan-friendly.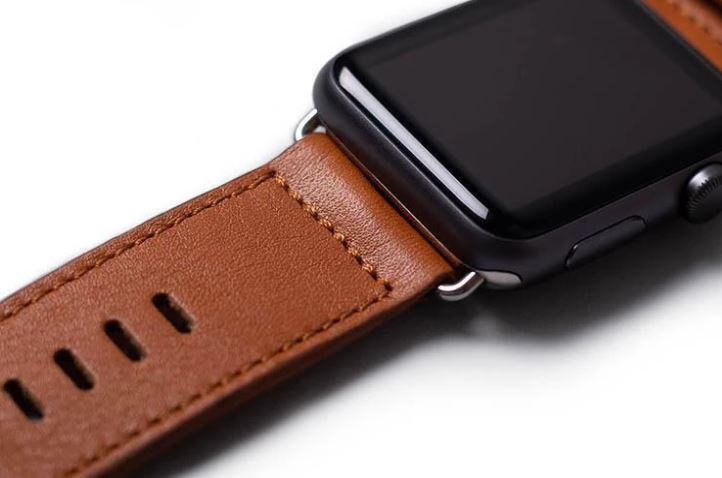 Harber London Modern Leather Apple Watch Strap
Harber London is an experienced leatherworking company that produces a variety of fine leather products. In the past, we've reviewed one of their desk pads, and we were pretty impressed. So we were excited to see what they're capable of when it comes to making a quality watch band.
The first thing you'll notice about the Harber London Modern Leather Apple Watch Strap is the finish.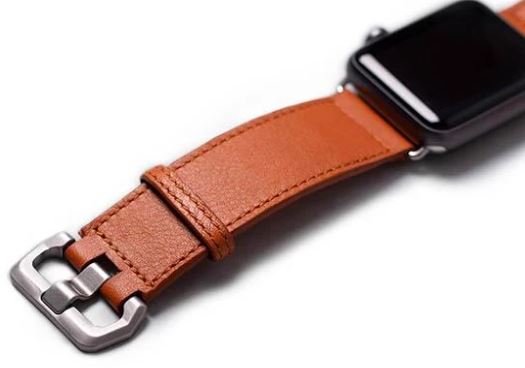 It's exceptionally smooth, almost to the point of being glossy. There's some minimal amount of grain which is natural in any leather. But the top grain finish and quality is easy to see just at a glance. The default color is tan, but there are also dark brown and navy blue options available. Depending on your fashion preferences, you'll be able to find a color to match. The buckle is heavy duty, as befits a well-engineered watch band. It's constructed from stainless steel, so it won't corrode or break easily.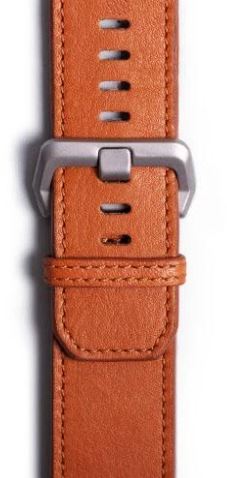 There are two different lug sizes available: 38-40mm, and 42-44mm. Most Apple watches have a 38-40mm lug. However, some variants use a 42-44mm lug. These variants are not consistent across all versions of the Apple watch. Check your manual for the specs before you place your order. One side of the strap measures 3.3 inches in length, and the other is 4.1 inches in length. This makes it large enough for most wrist sizes, up to about 8 inches. The exact circumference will depend on which version of the Apple watch you're using. Regardless, it will fit just about any wrist.

Burkley Premium Genuine Leather Padded Watch Band
As the name implies, the Burkley Premium Genuine Leather Padded Watch Band is constructed from genuine leather. That said, it's still just as durable as the Harber London band. What it lacks in strength of material, it makes up for with its double-layered thickness.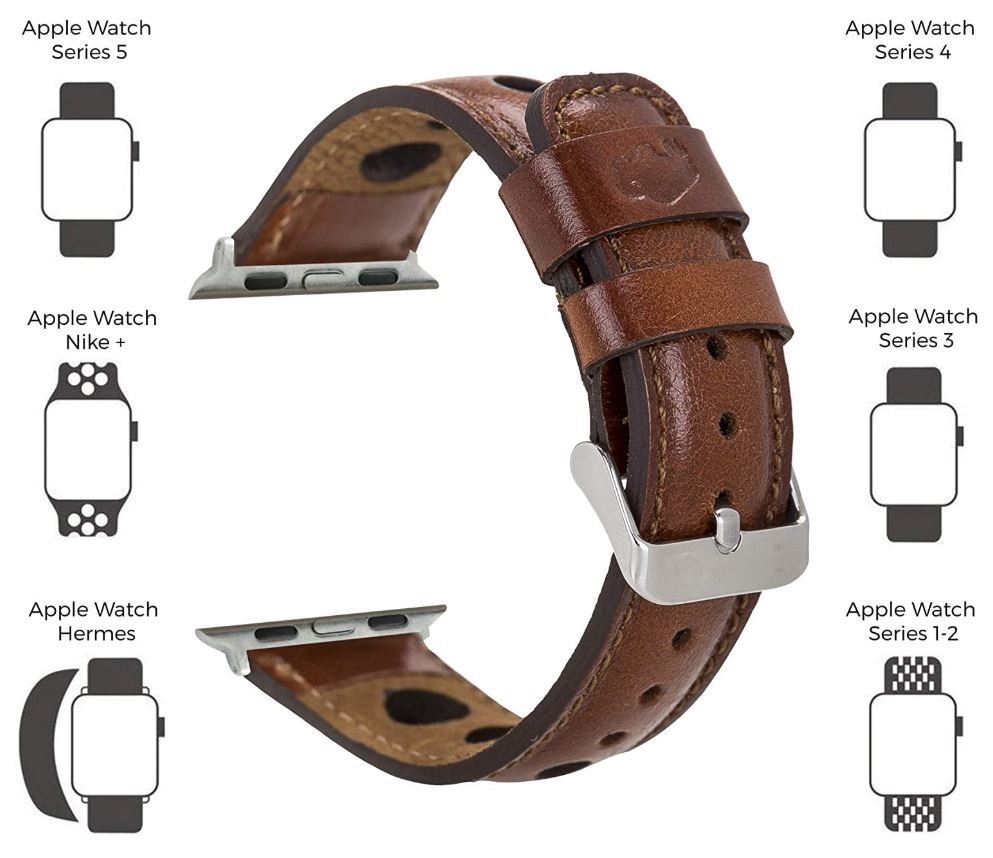 The band's texture is a bit unusual. The outer layer has a quilted appearance, with a relatively heavy grain. The inside of the band, on the other hand, is unfinished. It has the soft, fuzzy look of raw leather, which is very comfortable to wear. There are three large holes towards the inside of the band, which provide a sharp, modern look. Not only that, but they allow for plenty of air flow to maintain breathability. The Burkley band is available in three colors: a dark antique coffee, and glossy, polished tan and black.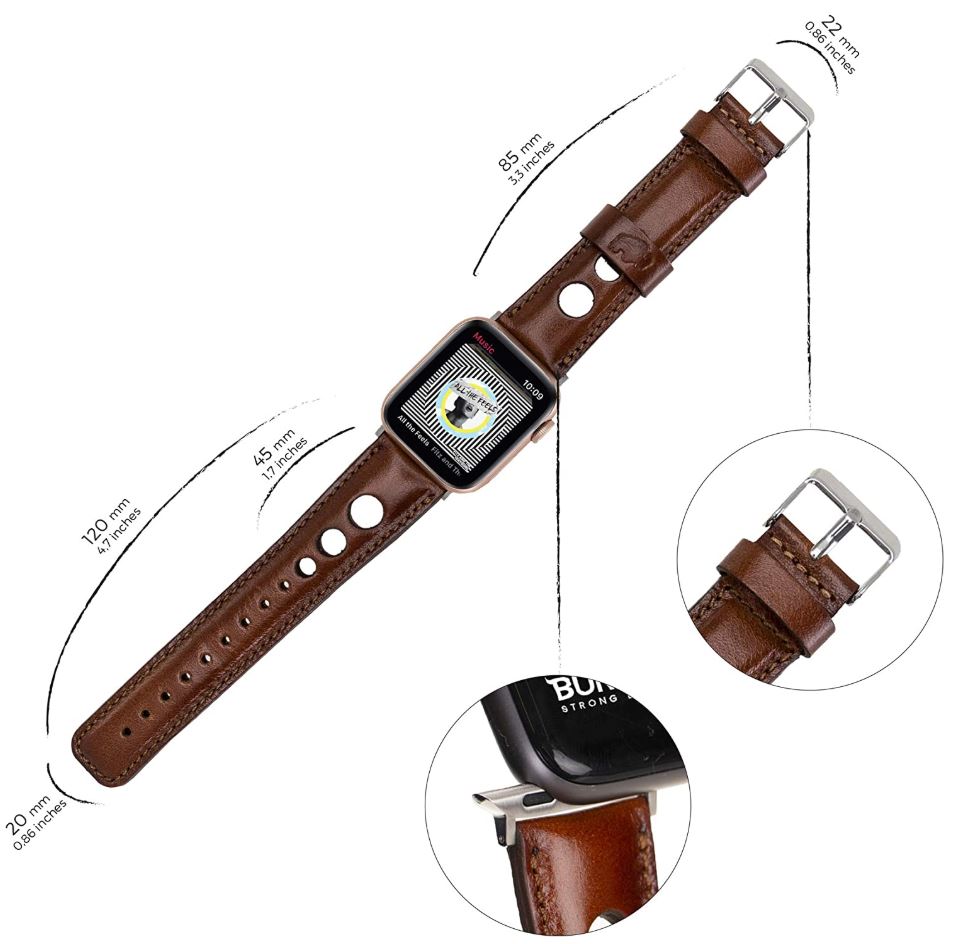 The Burkley band will fit most varieties of Apple watch. The end clasps are sized for 38 to 40mm lugs. But as we already mentioned, some Apple watch variants use a 42-44mm lug. Check your documentation before you click the "buy" button, to make sure the band will fit. Speaking of fit, the Burkley band will fit even very large wrists. It's adjustable from a 6.6 to 9-inch circumference, so it can accommodate just about anybody. It also includes a 30-day satisfaction guarantee. If there are any issues, simply send it back to Burkley and you'll receive a full refund.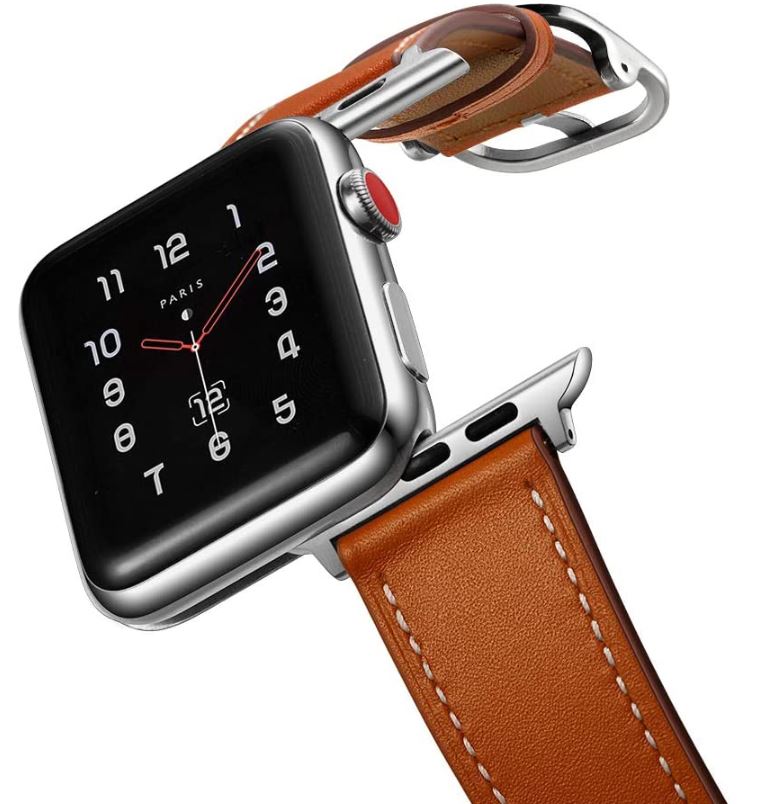 amBand Leather iWatch Band
The amBand Leather iWatch Band is the most affordable option on our list. On the downside, it's also less durable, with a thin genuine leather design. It's still leather, though. Unless you're putting it under a ton of stress, you shouldn't experience any issues. The buckles are constructed from stainless steel, which is plenty durable for the job. It won't corrode or snap under any normal circumstances.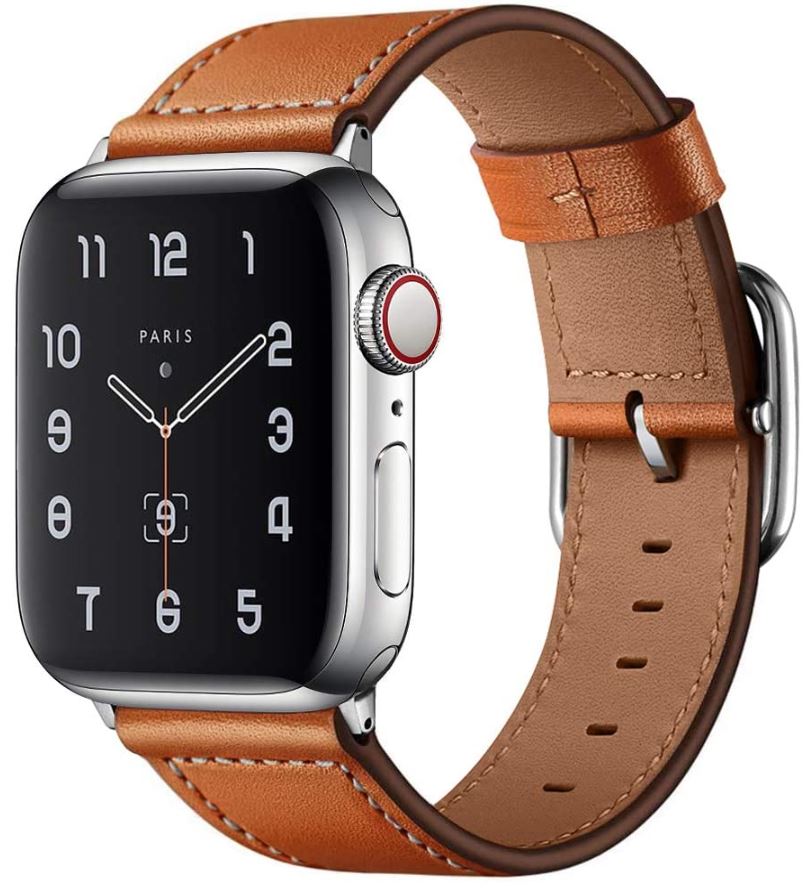 The finish is smooth and heavily buffed, giving it an attractive, satin appearance. It's relatively thin, with a finish that's only adorned by stitching around the edges. It's also available in 12 different colors, including unusual options like yellow, cream, and cheetah print. If you want an unorthodox leather band, it's an excellent choice. In terms of length, you get a total of 8.5 inches, in addition to the watch. In practical terms, it can be adjusted to about 8 ¼ inches, or large enough for most people's wrists. The lug attachments are available in two sizes: 38-40mm, and 42-44mm. This means the amBand is compatible with any type of Apple watch. It can also be worn with many other smart watches, including the Nike+. Just make sure to check your manual first, in order to ensure proper sizing.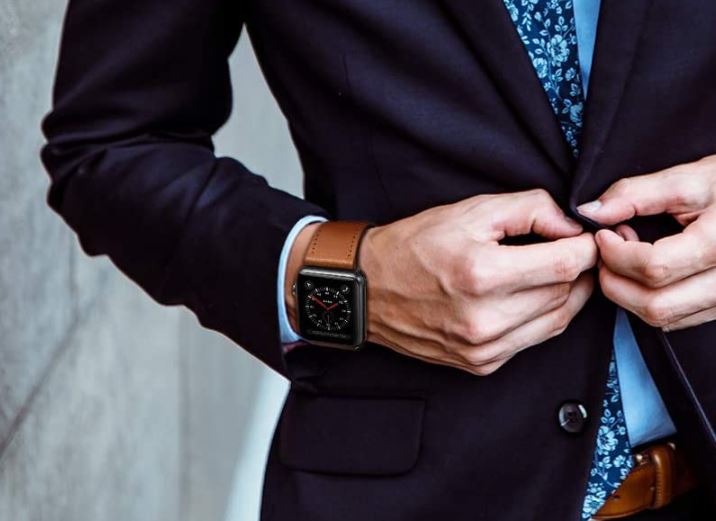 Final Verdict
So, how do these watch bands compare? In most respects, it depends on the look you're going for. That said, there are still some other differences to be aware of. First, we looked at the Harber London Modern Leather Apple Watch Strap. This strap is designed with a sleek finish that's ideal for professionals. It's made of top grain leather, so it's the highest quality of the three. The three color options are all attractive, and it will fit any type of Apple Watch.
The Burkley Premium Genuine Leather Padded Watch Band has a more contemporary look. It's the thickest band of the three, and is also a bit longer to accommodate thicker wrists. The colors are darker than the Harber band, and the inner surface of the genuine leather is a bit softer. That said, the lug size is limited to 39-40mm. This will fit the majority of Apple watches. However, it will not fit Apple watches with wider, 42-44mm lugs.
The amBand Leather iWatch Band was the last option on our list. It's the least durable of the three, constructed from relatively thin genuine leather. Keep in mind, though, that it's still leather. Under any normal circumstances, durability shouldn't be a problem. The finish is smooth and shiny, and comes in a wide variety of colors and dye patterns. In addition, sizes are available to fit any Google watch.
Please consider sharing:
Note: At no extra cost to you, we may earn a commission for purchases using our links. Learn more.