The popularity of genuine leather Apple Watch bands has been on the rise in recent years as more people look for ways to add versatility to their wardrobe. These bands offer a premium look and feel that's perfect for both casual and formal occasions.
Also, leather is a strong, durable material that can stand up to the wear and tear of daily use. It's also comfortable to wear and easy to clean. Whether you're dressing up for a formal event or simply want to add a touch of class to your everyday attire, a leather band can elevate your style. They also make great gifts for friends and family who own an Apple Watch.
Important Factors to Consider
Quality of leather: Look for bands made from high-quality leather that's thick, durable, and has a nice finish. Avoid bands made from thin or cheap-looking leather, as they'll degrade rapidly over time.
Fit and comfort: Make sure it fits comfortably on your wrist and has adjustable holes that line up with your desired fit.
Compatibility: Make sure the band is compatible with your specific Apple Watch model.
Hardware: Look for a band with sturdy hardware, such as stainless steel buckles or adapters, that won't rust or break easily.
Brand reputation: Check the brand reputation. Some are specifically known for producing all kinds of high-quality leather goods.
Price: Compare the prices of different options and consider the cost in relation to the quality. While you shouldn't pay extra for a brand alone, a solid company can be an indicator of a band's quality.
Best Overall: Harber London Leather Apple Watch Strap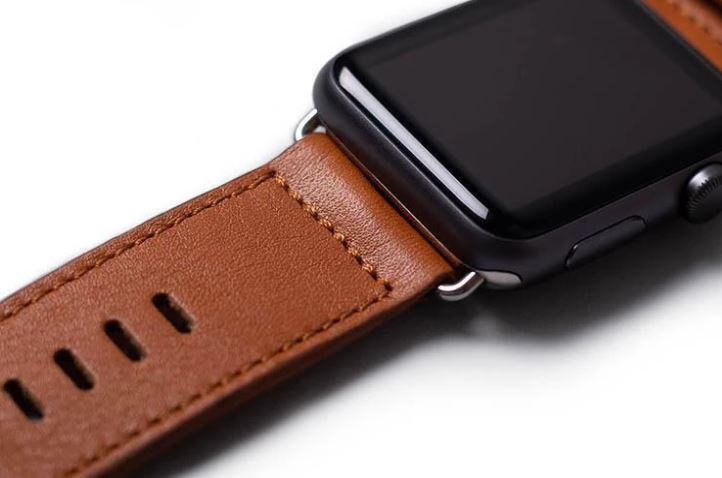 Key Features:
Compatible with Apple Watch Series (8, 7, 6, 5, 4, 3, 2, 1 and SE) and Apple Watch Ultra
Watch Strap size: 38mm-40mm-41mm, 42mm-44mm-45mm and 49mm
Stainless steel buckles
Handmade in Spain
Full grain cowhide leather
The first thing that sets our best overall pick apart is the brand that stands behind it. Harber London has been a pioneer in the leatherworking industry, fusing old-world leather techniques with modern aesthetics. They're one of the most knowledgeable brands in the area of leather goods, including leather desk mats. In terms of design and aesthetics, the color and form factors will work with a wide variety of styles.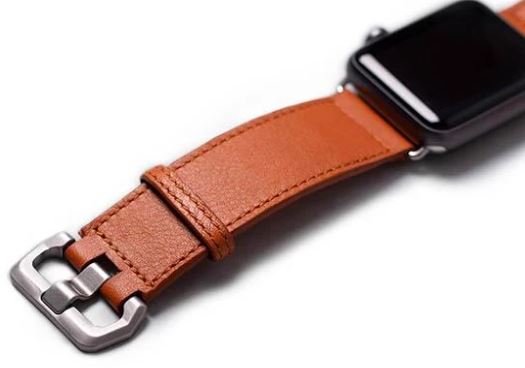 The quality of the leather is very good. They use full-grain cowhide leather. We appreciate the durability of the band's material. However, it does demand a slightly longer break-in period than some other options.
It's exceptionally smooth, almost to the point of being glossy. There's some minimal amount of grain which is natural in any leather. But the top grain finish and quality is easy to see just at a glance.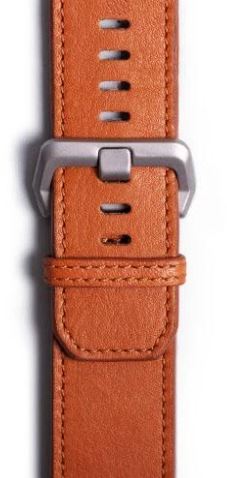 The default color is tan, but there are also dark brown and navy blue options available. Depending on your fashion preferences, you'll be able to find a color to match. The buckle is heavy duty, as befits a well-engineered watch band. It's constructed from stainless steel, so it won't corrode or break easily.
Many users attested to the quality of the leather, especially in how it ages. Over time and through regular use, it'll naturally create a very pleasant patina, which adds a solid amount of character. We were also impressed by how well the leather holds up after being exposed to sweat and other elements for a long time.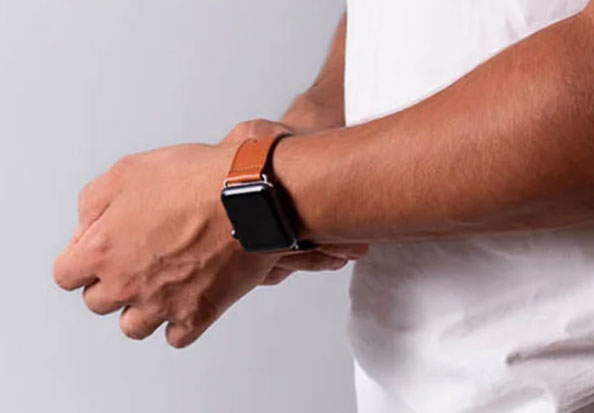 The hardware that attaches to the Apple Watch is made of the same strong material as the buckle. We tested and verified the fit and compatibility with the most recent Apple Watch. The attachment brackets fit snugly, and once it was locked in, we had no issues with wandering, which can be common with third-party watch straps.
When it comes to the buckle, we were able to quickly adjust the size and take it on and off without issues. It didn't pinch our skin at any point or produce any poking or pressure points.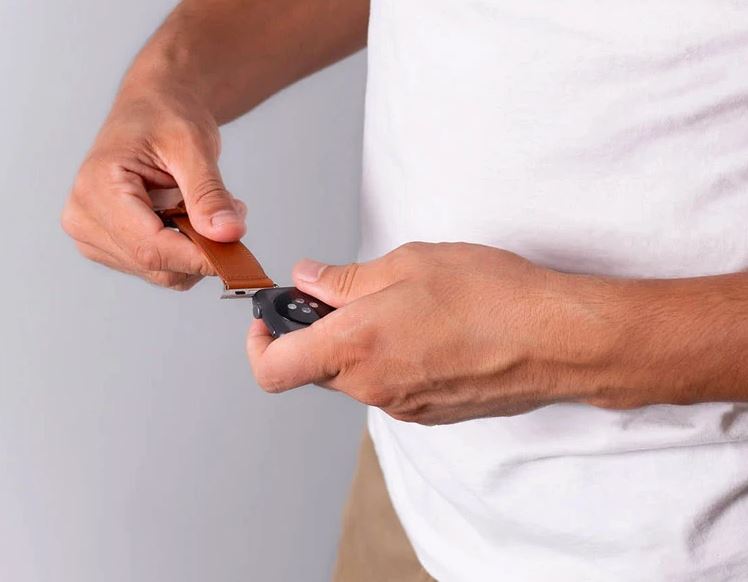 Overall, the Harber London leather Apple Watch strap is a great-looking watch band that's made of incredibly high-quality leather. Best of all, it'll look and fit better over time. It has a premium price tag, but we feel the value is there to back up the cost.
What We Liked:
High quality leather.
Buckle is solid and easy to use.
Great patina over time.
What We Didn't Like:
Longer break-in period than average.
Best Runner-Up: Grit & Grazia Premium Leather Apple Watch Band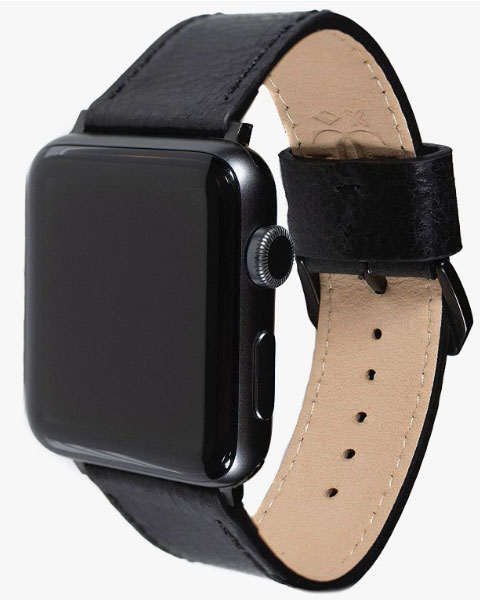 Key Features:
Chestnut brown.
Two-leather construction.
Stainless steel hardware.
Compatible with Apple Watch Series (8, 7, 6, 5, 4, 3, 2, 1 and SE)
Compatible with the 42mm 44mm and 45mm Apple Watches.
Our runner-up makes use of high-quality leather that is soft and malleable right out of the box. The Grit & Grazia Apple Watch strap is made of two pieces of leather. The outside is "tarmac" black and the inside is tan.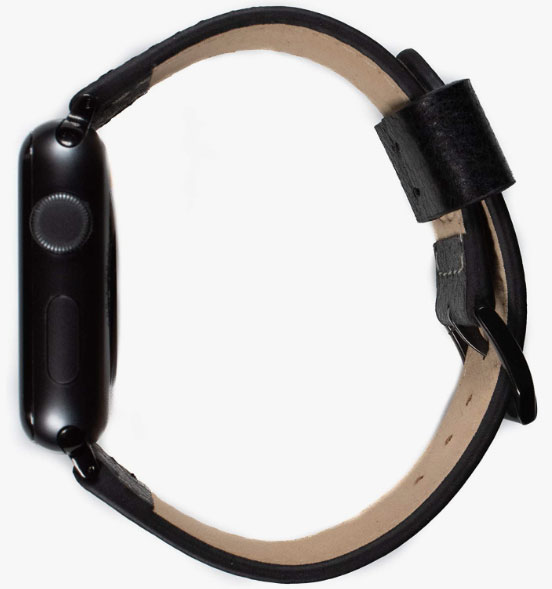 In terms of style, it has a more rugged "flannel in the fall" appearance, which makes it ideal for everyday, more casual wear. While it's still sleek, it doesn't seem pretentious in any way.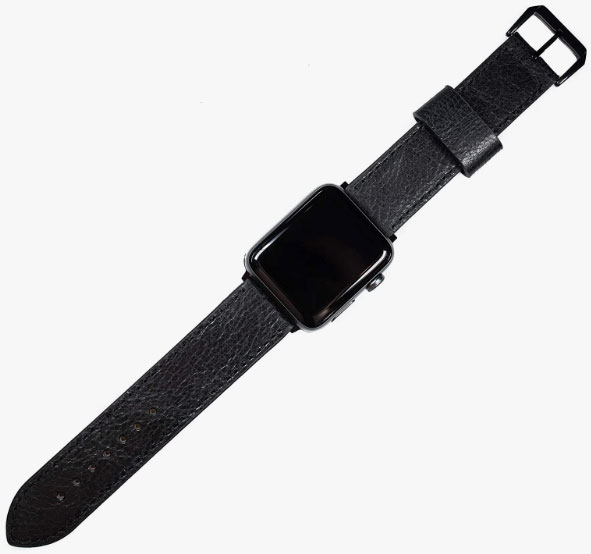 In terms of fit, we were impressed by how easily it formed to our wrist without the traditional break-in period that is common with other bands. It's not to say it doesn't exist, but we were impressed with how conforming it was right out of the box.
We were happy with the size adjustment holes on this strap. They were spaced close enough together to provide a very concise sizing experience. This was verified by dozens of users we surveyed.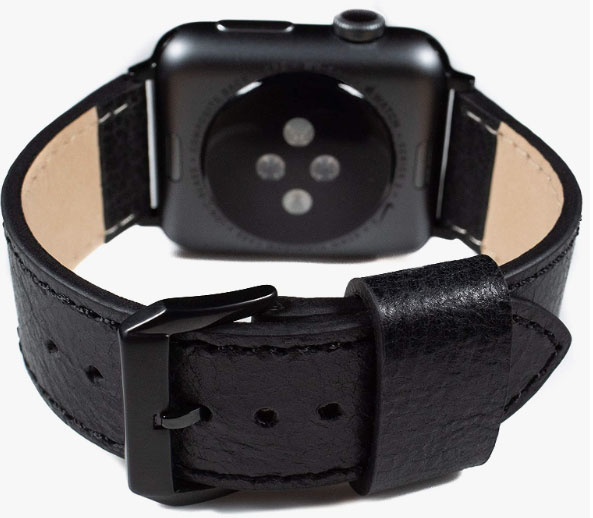 The brackets that slide into the Apple Watch were high quality and remained in place. One thing we appreciated was the reinforced stitching along the mounting hardware. This may be a great option if you tend to switch bands on a regular basis. This model can withstand the constant on/off switching. The buckle is high quality, and we were able to make adjustments using just one hand.
In terms of value, it's reasonably priced considering a lot of the premium touches included. It's a great runner-up that may be a better choice for those looking for a more rugged, casual aesthetic.
What We Liked:
Easy and durable enough for constant swapping.
Leather is comfortable right out of the box.
High quality buckle.
Solid sizing.
Great price for a premium product.
What We Didn't Like:
Different color options would have been nice.
Best Alternative: Carterjett 'Carbon Fiber' Leather Apple Watch Band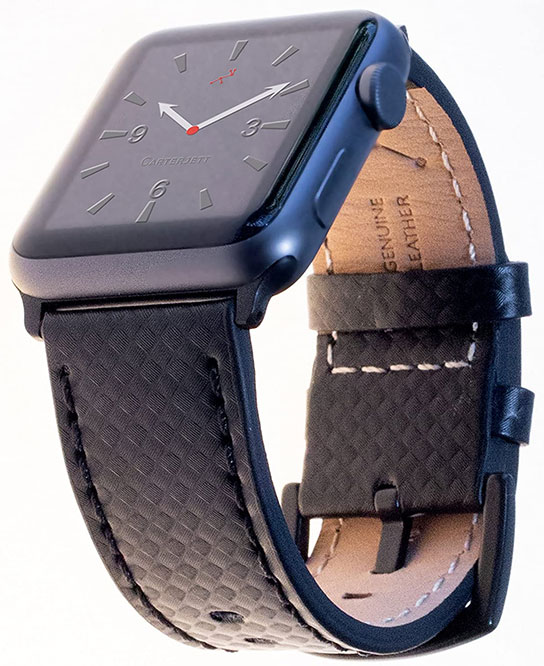 Key Features:
3 leather and hardware options.
Compatible with Apple Watch Sport Edition Nike+ Series 8 7 6 5 4 3 2 1 and SE 2022-2015.
Compatible with the 42mm 44mm and 45mm Apple Watches.
Available in various lengths.
Carterjett has been a player in the Apple Watch accessories market for a long time. Their reputation and track record make it a major reason for their appearance in this article. The "Carbon Fiber" is a great alternative in the leather Apple Watch band category.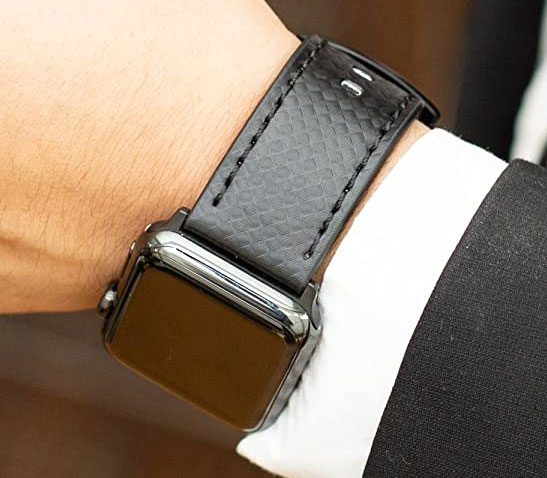 The leather quality is very good. It's not as soft and supple as the Grit and Grazia but it still seems nice. There are three leather colors and hardware finishes to choose from. The diamond pattern version has a specific look and aesthetic. We feel that it's very well done and adds a luxurious feel to the entire strap. However, reviews on this design choice are mixed, with many users saying they opted for the non-patterned versions. This will be something you'll have to consider when making a purchase.
Overall, we feel that the comfort and fit of this band are very good. It has fewer sizing adjustment holes than the Harber and London, which may not be ideal for users who are frequently "in between" sizes.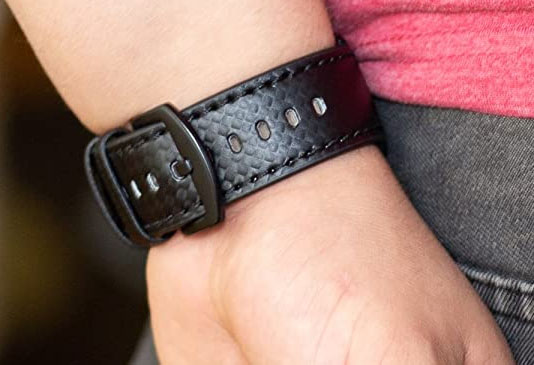 Another thing to look out for is that there is stitching all along both sides of the length of the band. You might want to think about this if you have sensitive skin that gets hurt when you rub it over and over. We didn't have issues with this, and in our own testing, it did not take away from the comfort or fit of the band. However, there are some users who have mentioned this being a downside for them.
What We Liked:
Three leather options give variety.
Buckle is easy to use and adjust.
Comfortable fit out of the box.
What We Didn't Like:
Stitching may be irritating for some skin types.
Best 2nd Alternative: Sansui Leather Apple Watch Band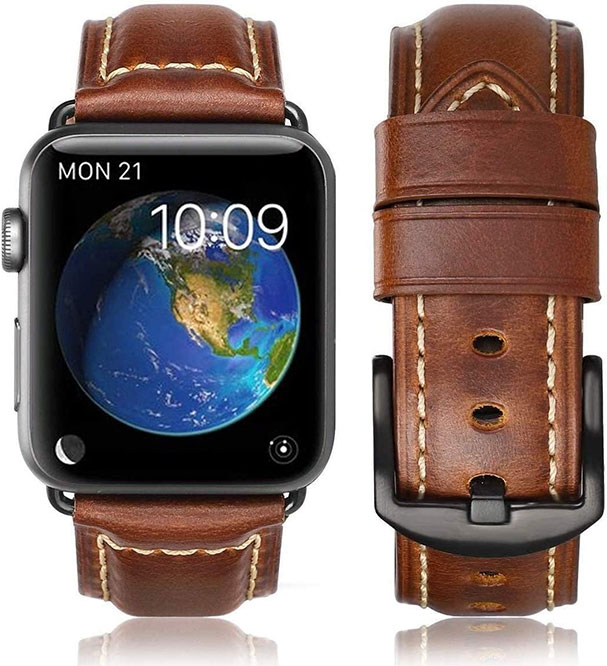 Key Features:
Compatible with Apple Watch Series (8, 7, 6, 5, 4, 3, 2, 1 and SE) and Apple Watch Ultra.
Compatible with the 42mm 44mm and 45mm Apple Watches.
12 color and hardware options.
Cowhide leather.
The cowhide Italian leather is one of the most unique aspects of the Sansui leather Apple Watch band. Combined with an oil-wax finish, it provides color variation as it is bent or adjusted. The look of this leather is more rugged and distressed in nature.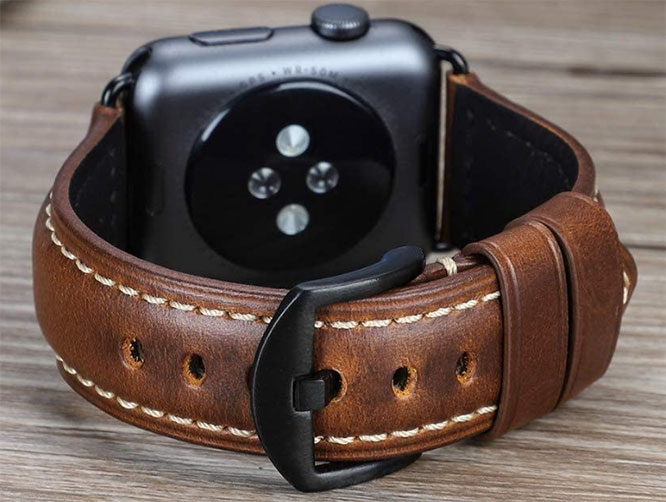 If you need something a little more refined or formal, there are a couple of black leather options that keep things more sleek. However, the majority of people opt for this leather band because of its unique, rugged feel.
Fortunately, the leather is extremely nice. The quality of the leather itself is very robust, and it's very resistant to scratches compared to other options. The color variance in the leather also did a good job at hiding any scratches or scuffs that may occur. One thing to note is that stitching plays a big role in the appearance of these straps. It may not be for everyone.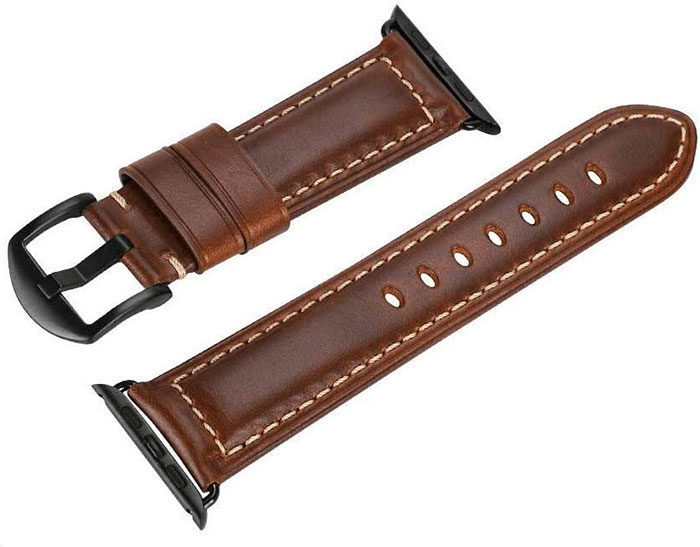 The buckle and mounting hardware are very robust – they stand up to repeated on-and-off use with minimal issues. It was locked in once we slid it into place. When it comes to fit, the leather is thicker than average. Therefore, it's a little stiffer than some may like. That said, most users mention that the break-in period is much shorter than others.

The sizing adjustment holes are adequate, and you're able to get a comfortable fit for a variety of wrist sizes.
One thing we wish was improved is the quality of the buckle. While it's seemingly very strong, we feel that it could have been refined a tad more for a smoother experience. However, one thing that we appreciate is the affordability it offers. Given the look and quality of the leather, we feel that the value is there while providing an accessible price point.
What We Liked:
Durable leather that hides scratches and scuffs well.
Multiple color and hardware options to pick from.
Solid sizing adjustment.
What We Didn't Like:
Buckle hardware could be more refined.
Best Budget: MIFA Leather Apple Watch Band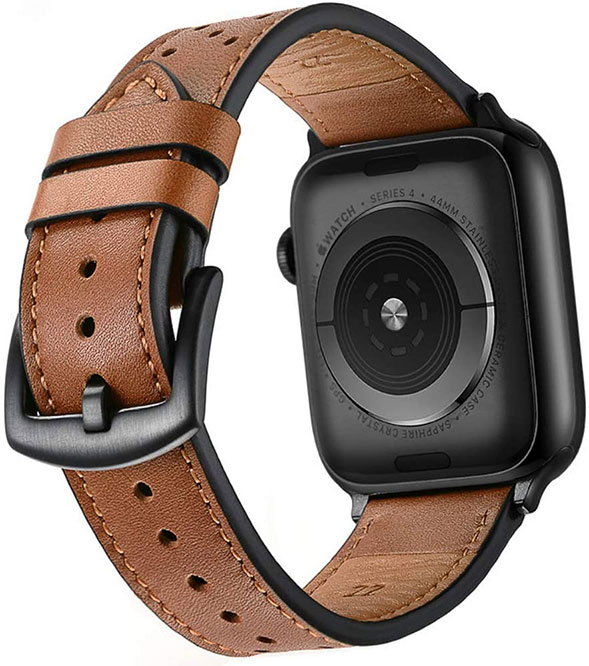 Key Features:
3 color and hardware options.
Compatible with Apple Watch Series 7 6 5 SE 4 3 2 1, Sport Edition.
Compatible with the 42mm 44mm and 45mm Apple Watches.
Top-grain leather material.
Designed for wrist sizes from 6.5″ to 8.8″
The MIFA leather Apple Watch band is our top pick in the best budget category. There are three color options to choose from. All three use top-grain leather. Overall, the band is thicker than other options we've looked at. The result is that it doesn't conform to the wrist as easily when first worn.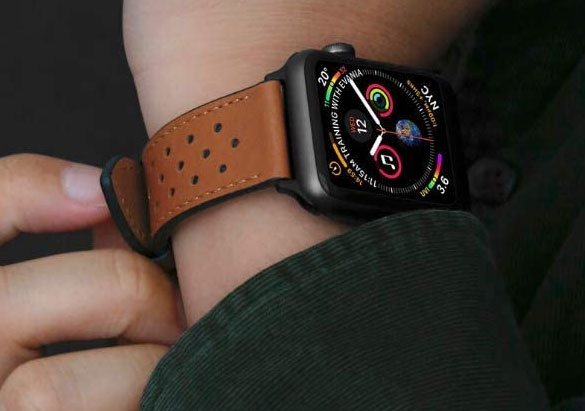 Some mention that this can make it uncomfortable to wear during the initial weeks but fortunately, it improves over time. This is usually the tradeoff with budget watch bands. We found that this was only an issue for the first few uses. In warmer environments, it becomes more supple and conforms much easier.
The double-securing loops on the band are low-profile, and we appreciated the snug fit when the end of the strap was put through. The large stitching gives all three color options a more casual look, which makes it versatile for a range of situations and settings. As with the other models we've introduced, the mounting hardware of the MIFA is precision cut and fits flush with the Apple Watch. We had no issues on this front.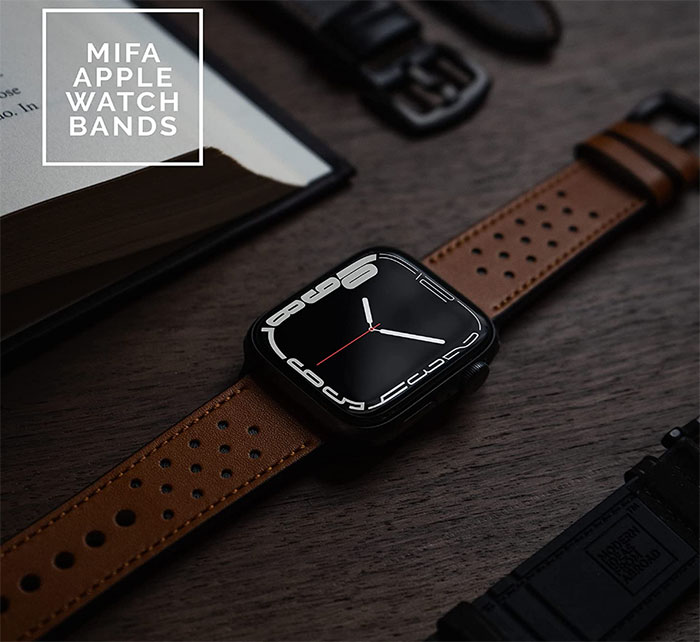 A major reason this band tops our list is because of the buckle. Its brushed metal finish and high-quality components make it a breeze for taking on and off and for making sizing adjustments. It's a great budget option that looks good and gets better over time. Nice for the price!
What We Liked:
Great price.
High quality buckle.
Great sizing adjustment hole placement.
What We Didn't Like:
Thicker band may not be best for some.
Breakin period may be longer than other bands in this article.
Leather Quality Basics
Let's talk a little bit about leather. This is a tech blog, not a fashion blog, so our readers may not be familiar with different types of leather. But the type of leather can make a huge difference when it comes time to evaluate a leather accessory. There are many different types and grades of leather. However, the most common are full grain leather, top grain leather, genuine leather, corrected grain leather, and PU leather. Here's a quick look at each of them, so you know exactly what to expect.
Full Grain Leather
Full grain leather is the highest quality leather available. It's taken from the full thickness of the hide, which gives it lots of durability. Because all the layers remain intact, the leather maintains its integrity. It won't scuff easily, nor will it wear out due to frequent use. However, that doesn't mean the finish doesn't change. As full grain leather ages, it develops a patina. This patina can vary in color depending on the natural color of the leather. Regardless of color, though, it will lend the leather an "aged" look that's popular in furniture and footwear. Because of its thickness, full grain leather is rarely used for watch bands.
Full grain leather is designed to have a natural look, so there's generally minimal finishing. There is no scuffing, sanding, or buffing. These methods can provide a smoother finish. Unfortunately, they will remove the natural imperfections that make full grain leather unique. Finishing is completed in one of two ways. An aniline finish involves dying the leather with a soluble dye. This dye helps with water resistance without creating any kind of texture or coat on the top layer. A semi-aniline finish is more minimalist, and involves a simple stain protectant application.
Top Grain Leather
Top grain leather is the second-highest quality of leather. Instead of using the full grain of the leather, the top layer is separated from the underlying layers. This is what gives top grain leather its name. Because it's been separated, top grain leather is thinner than full grain leather. It's designed for a smooth, sleek look with a more uniform outer layer. To complete the look, the surface is sanded to remove imperfections. A water-resistant finish is then added to prevent staining. As a result, the patina will not be as noticeable on top grain leather. On the downside, it's not quite as durable.
Genuine Leather
The term "genuine leather" can be confusing to many people. Genuine as opposed to what? Fake leather? Yes. But genuine leather is actually a grade of leather. It's produced from the lower layers of the grain, after the top grain leather has been removed. As a result, it's less durable than top grain or full grain leather. This is obviously a relative measure; genuine leather is still pretty tough and durable. The leather tends to have more visible grain than higher grades, but it's also more affordable. When finished with a protective layer, it will not get damaged in water. It will also develop a patina, similar to the other grades we've looked at.
Corrected Grain Leather
Corrected grain leather is less common than the other grades. But as manufacturing processes become more and more efficient, it's slowly growing in popularity. It's produced from left-over leather that didn't meet the aesthetic standards for higher grades. When properly treated, this "surplus" leather can be reworked to a better standard; hence the term "corrected".
To create a proper corrected grain leather, experienced leatherworkers will first sand and buff the outer surface. This smooths out irregular grains and creates a more uniform finish. When this is done, the leather can be dyed or finished. Because of its lower quality, corrected grain leather is generally used to create unusually-colored leather products. Bright colors can help hide irregularities, and also improve the value of leather that would otherwise be discarded.
PU Leather
When you're shopping for leather products, you may see some of them that are made of PU leather. The first thing you need to know is that PU leather is not actually leather. It tends to have a "rubbery" finish that's a bit stickier than real leather. It's also not quite as durable as real leather. That said, there are a couple of distinct advantages to PU leather. First, you can get a beautiful appearance for a fraction of the cost of real leather. Second, it's made from polyurethane. This means there are no animals involved in production, so PU leather is vegan-friendly.
Meet Derek, "TechGuru," a 34-year-old technology enthusiast with a deep passion for tech innovations. With extensive experience, he specializes in gaming hardware and software, and has expertise in gadgets, custom PCs, and audio.
Besides writing about tech and reviewing new products, Derek enjoys traveling, hiking, and photography. Committed to keeping up with the latest industry trends, he aims to guide readers in making informed tech decisions.