Dreame H12 Pro
Pros
Powerful suction effective for both wet and dry messes.
Excellent edge cleaning capabilities.
Self-cleaning and drying works very well.
Easy to maneuver and relatively quiet.
High capacity fresh and dirty water tanks.
Cons
Only available in one color scheme.
Display tends to show fingerprints.
A bit expensive.
There are seemingly endless ways to keep your hard floors clean. Vacuums work decently, but it'll never lift-off smudges and liquid-based stains. You could use a mop for this, but then you're cleaning the same area, twice over. The answer to maximize efficiency is a combination of the two.
Dreametech attempts to solve this conundrum with their latest release – the H12 Pro. It's a sleek, visually-appealing hard floor cleaner that can even clean itself when you're done using it.
It has its own docking station, accompanied by a unique self-cleaning and drying feature that keeps it clean for the long-term. On paper, it looks incredible. In reality? We had to find out.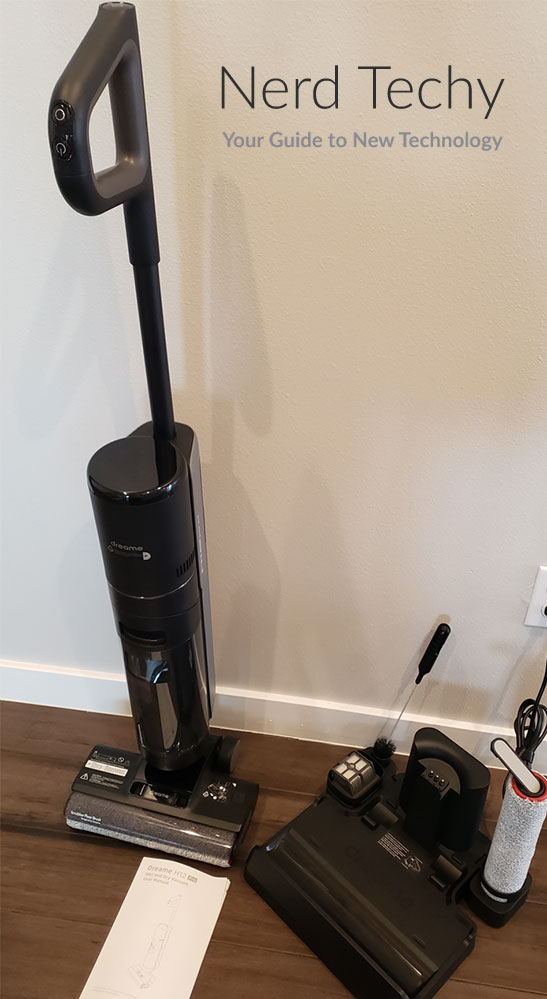 First Look
Opening up the box for the first time, there's quite a bit of accessories included:
Dreame H12 Pro Vacuum
Upper handle
Docking station/charger
Small bottle of cleaning solution
Cleaning brush and holders for accessories
Instruction manual
Replacement air filter
Replacement roller brush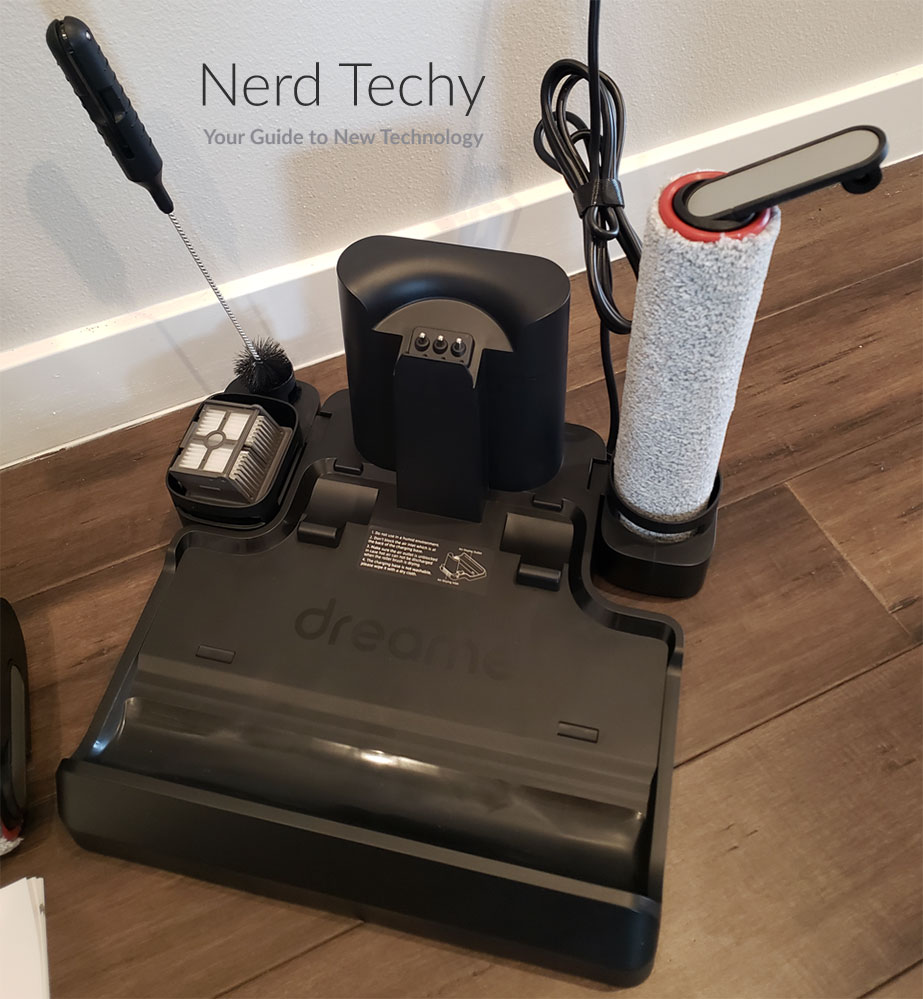 Getting it in working order is simple. Just insert the upper handle into the main portion of the H12. It'll lock right into position. After this, find a good spot for the charging station and plug it in. Although it ships with moderate battery life, we recommend letting it sit on the dock to fully charge before you use it.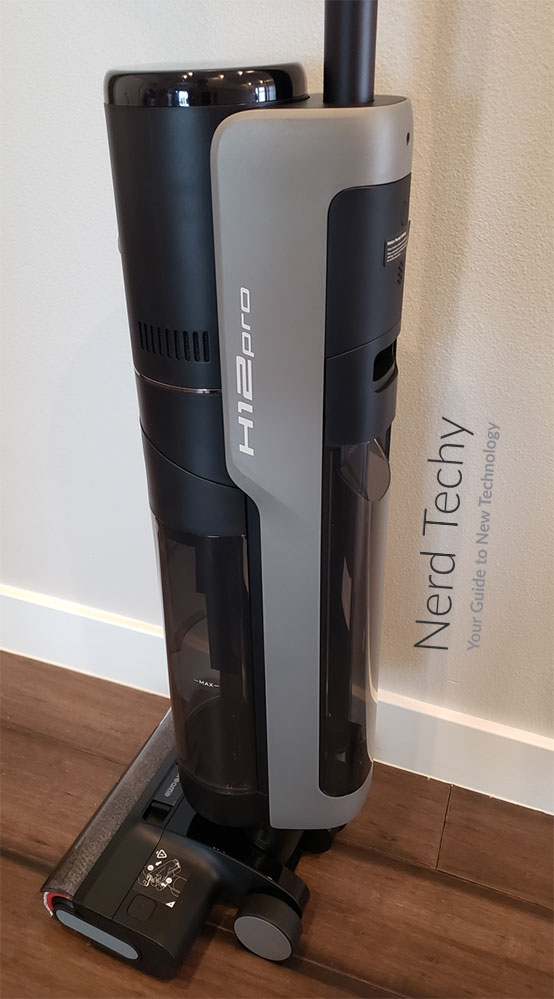 Immediately, it was apparent that Dreametech put extra thought into the overall design and aesthetics of the H12 Pro. Simply put, it looks sharp! Dark and light grey tones with squared edges give it a modern and minimalist appearance. Frankly, it looks wonderful in any wide open area of your home.
Control and Operation
The handle and overall feel of the H12 Pro gives us a good first impression. It feels well-built, smooth and highly maneuverable. The wheels roll smoothly and the "head" pivots nicely, giving you a tight turning radius that's ideal for corners and tight spaces.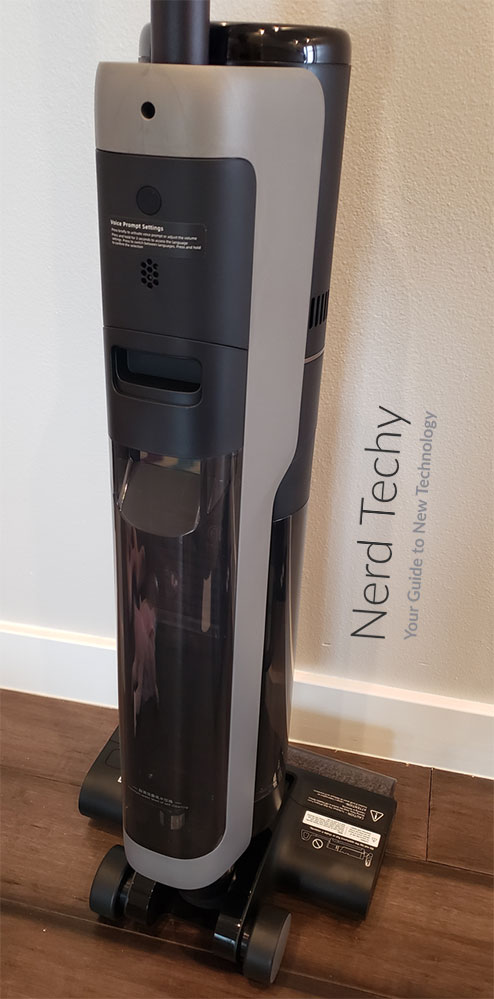 You'll likely notice the three distinct buttons on the handle. There's a power, cleaning mode and self-clean buttons, all within a fingers reach. But before you turn it on, make sure that you fill-up the freshwater tank on the back of the vacuum. It snaps off with the press of the handle and pops open to expose a 900ml tank. As an option, you could add a splash of cleaning solution, but we like to keep things natural.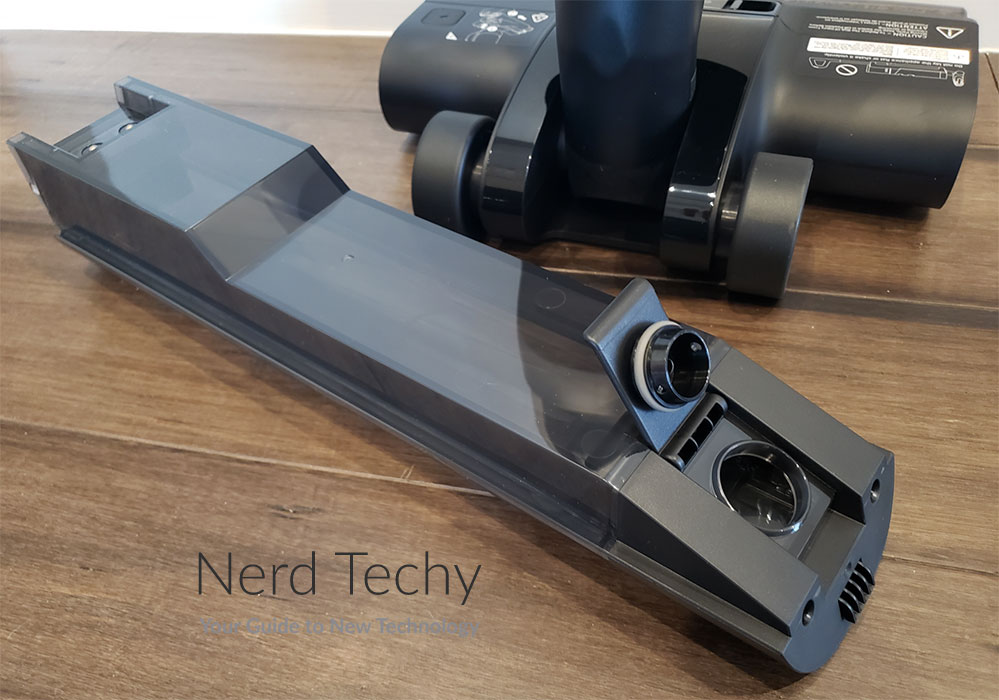 When you tilt it back and press the power button for the first time, you'll hear it turn on and immediately start cleaning. The sound level is remarkably low, considering all factors. When it turns on, the digital display turns on and indicates remaining battery life as well as which cleaning mode you're currently using.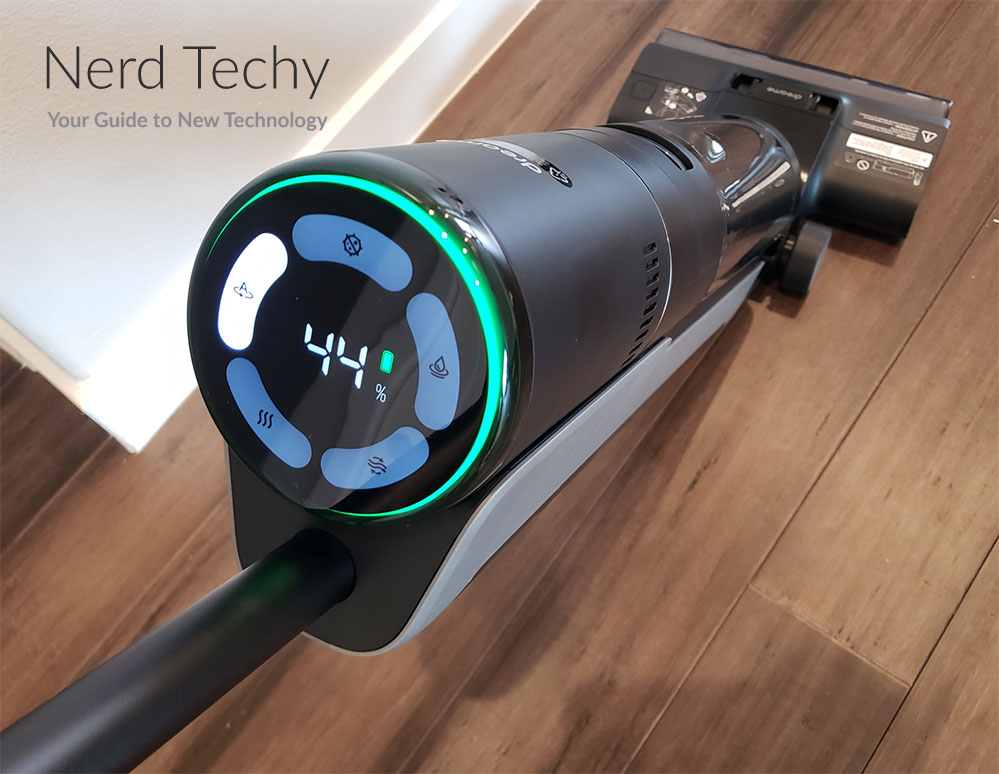 It looks pretty snazzy, with a brightly colored ring that actively changes color based on the amount of debris that's currently being picked up. Green means light, amber is medium and red is heavy. Although it does tend to attract fingerprints, it's very nice looking!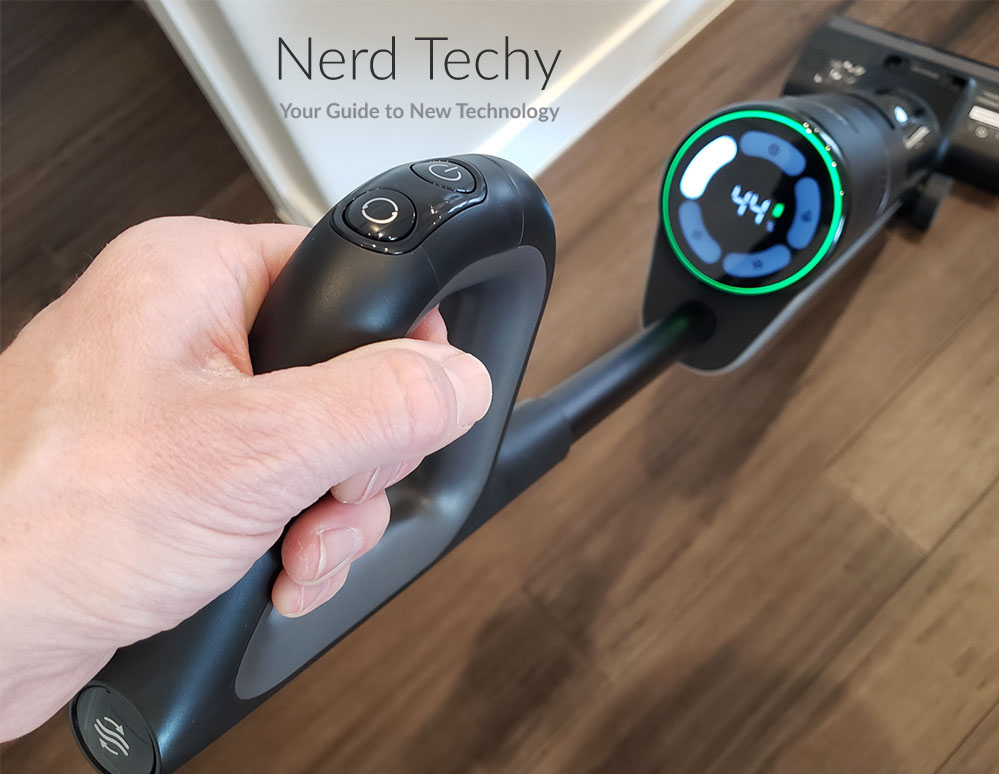 Cleaning Modes
Swapping through cleaning modes is a breeze. Just tap the button on the handle and you can select between auto, suction or ultra mode. Auto mode is the standard which will automatically apply the ideal combination of suction and water based on the current area you're cleaning. It's the best of both world's that will intelligently determine how much suction and moisture is needed in the exact moment you're cleaning, without spending excessive battery capacity when it isn't necessarily needed.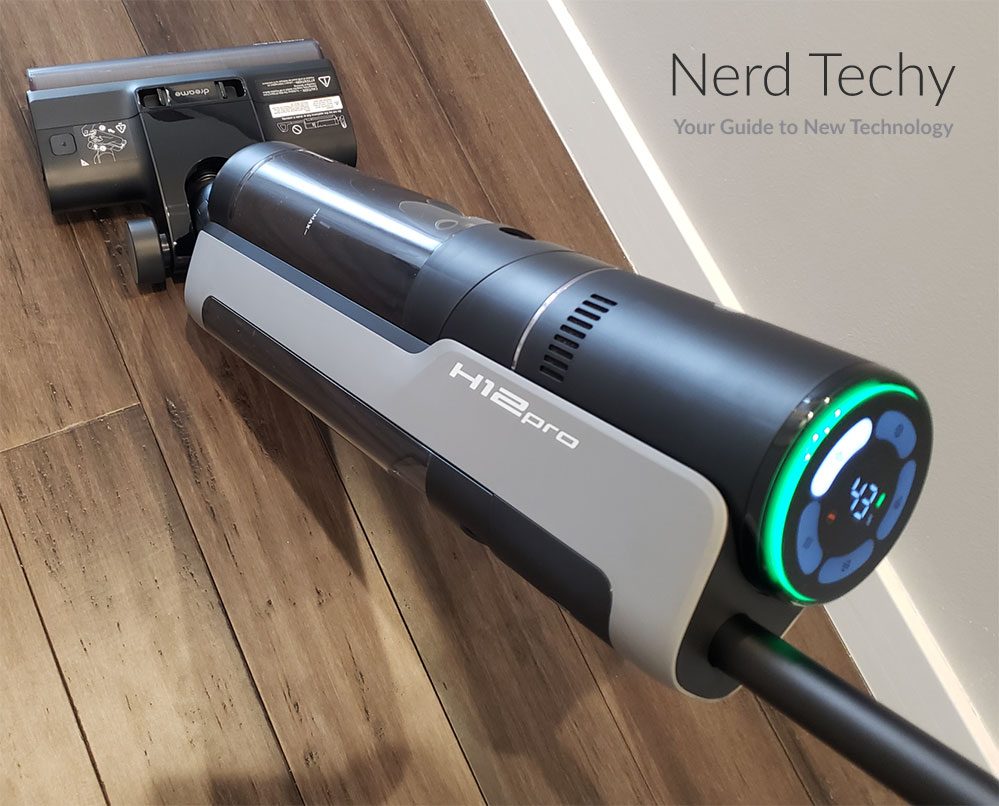 Suction mode is just that – suction. The roller will not apply and cleaning water and the vacuum will focus on picking up dry debris only. Last but not least, ultra mode is the heavy duty setting that'll maximize cleaning power to its maximum level. It's only ideal for super-stubborn messes or deep stains that you have trouble cleaning. But just so you know, it'll drain the battery at a faster rate while in ultra mode.
Self Cleaning and Drying Feature
Once you're done using the H12 Pro, the best feature is still to be had. Place it on the docking station/charger and press the round button on the very-end of the stick handle. This will activate the self-cleaning feature.
It cycles through water from the fresh tank and rinses it through the brush, all the way to the dirty tank. It does this with extreme suction, in order to lift-off any caked-on debris. Afterwards, it aggressively spins the roller brush and applies a steady amount of heat. This heat effectively dries the roller brush and most of the internal suction path. Doing so keeps everything as dry as possible, thus leaving minimal chance for mold or mildew to accumulate.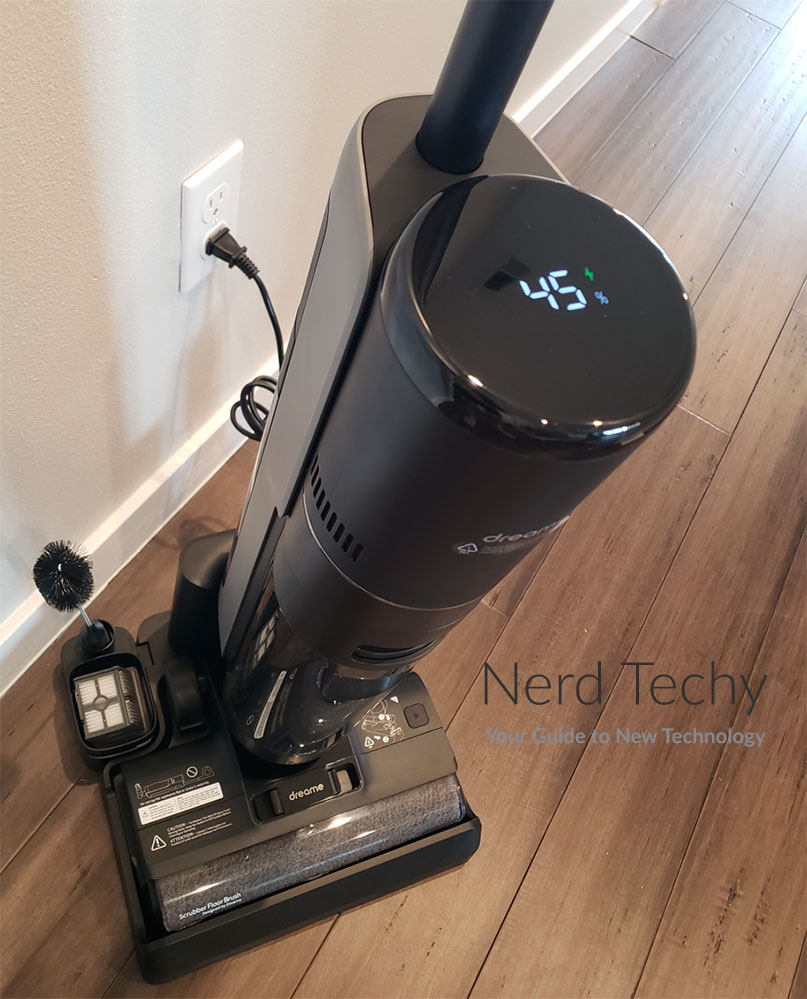 This is a huge problem with wet/dry floor cleaners. Often times, you finish using the vacuum and the next time you use it, you're presented with a nasty stench from moisture sitting within the unit. That simply isn't the case here. After 60 minutes of self-cleaning, it's done. The results are wonderful – everything seems to dry quite nicely.
Although the cleaning feature takes an hour to run-through, it's highly effective and surely one of the best things about the H12 Pro. This is the main feature that sets it apart from the standard H12. Is it worth the upgrade? We think so.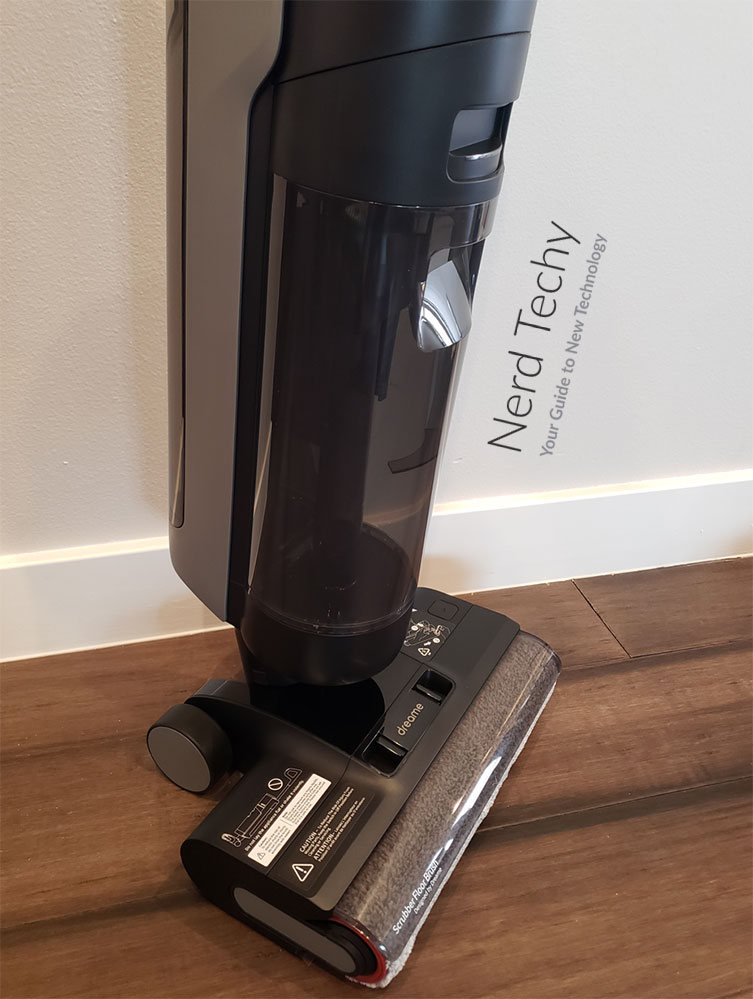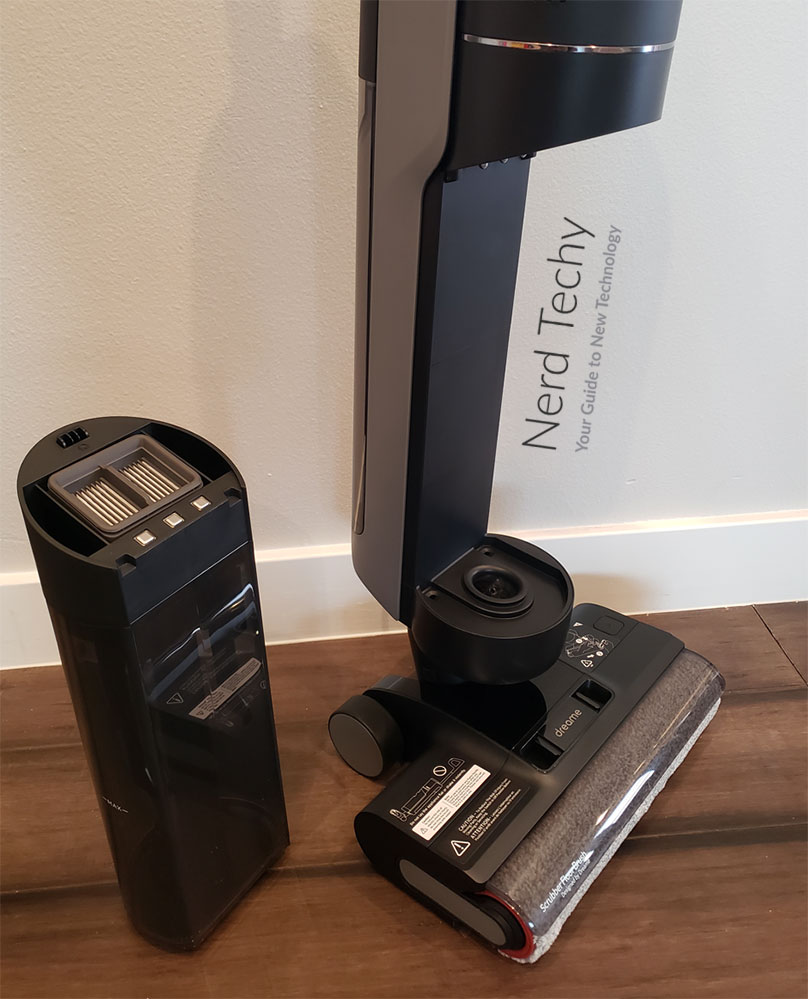 But do take note. You'll still need to empty the 500ml dirty water tank after each use. It's quite easy to do and is only slightly unpleasant. However, we still recommend rinsing it clean and manually drying the tank on a somewhat regular basis.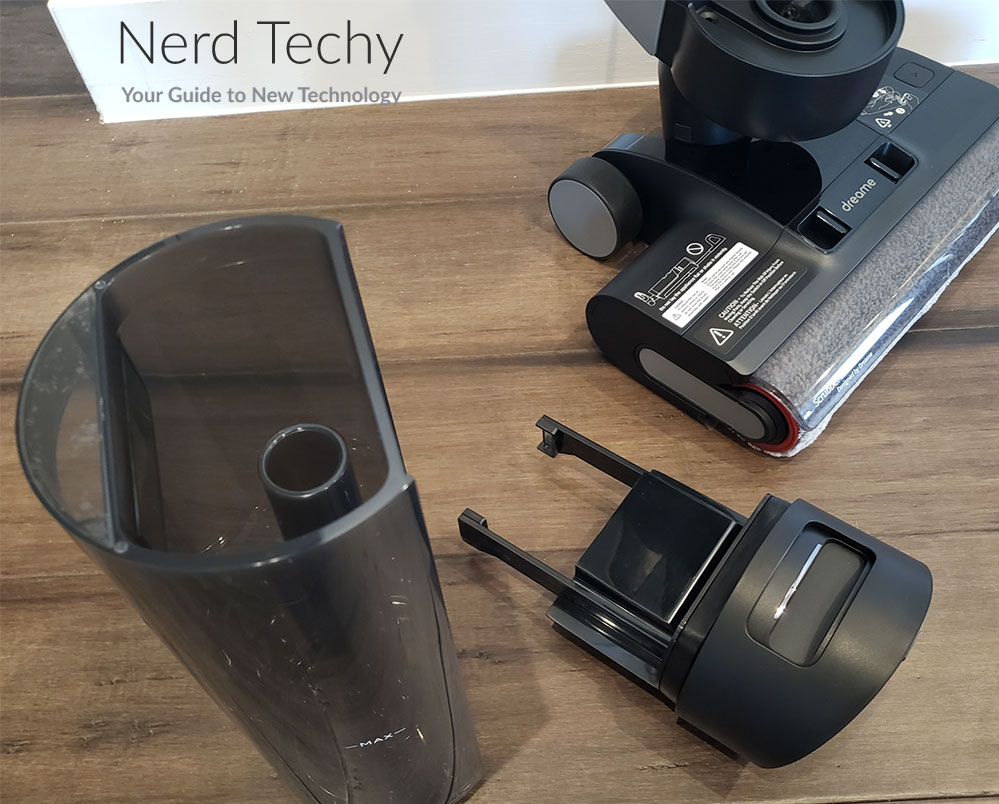 Our Experience Using the H12 Pro
Testing out the Dreame H12 Pro for a couple of weeks was a real pleasure. This is the kind of cleaning tool you'll be happy to have in your arsenal. It's very easy to use and offers plenty of suction power for both wet and dry messes. Although it isn't for carpets, it can clean virtually any hard surface with efficiency and ease. Our floors are a mix of wood and tile. There were no instances while using it where we felt it wasn't cleaning effectively.
The cleaning path is left free from dust, dander, hair and any other debris while the roller brush automatically applies the proper level of moisture. In fact, it won't leave much more than a damp path in its wake. We never felt like it applied too much moisture or made the floor wet with puddles. Quite the opposite. We'd say it lays down a light layer of moisture – just enough to lift sticky messes or dried-up goop from last night's dinner.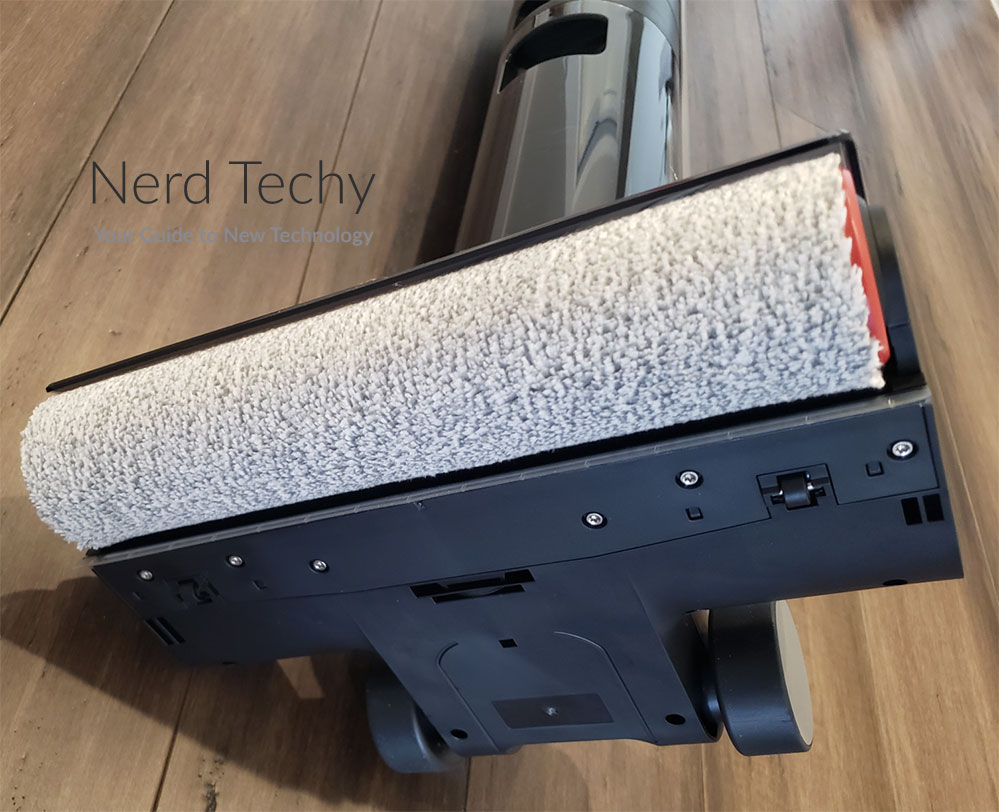 For a wet/dry vacuum, the H12 Pro has a very effective roller brush. It's incredibly wide – almost as wide as the entire unit. Therefore, it scrubs and sucks up edges and corners quite nicely. Typically, the roller is never this wide, leaving an actual cleaning path that's quite slimmer than the vacuum itself. Not the case here.
Battery Life
While using the H12 Pro regularly in auto mode, we found the battery life to be around 30 minutes, in most cases. Internally, is a set of six 4,000 mAh batteries that are automatically re-charged every time you place it on the dock. Within about 4-5 hours, the batteries are replenished as clearly indicated on the display screen.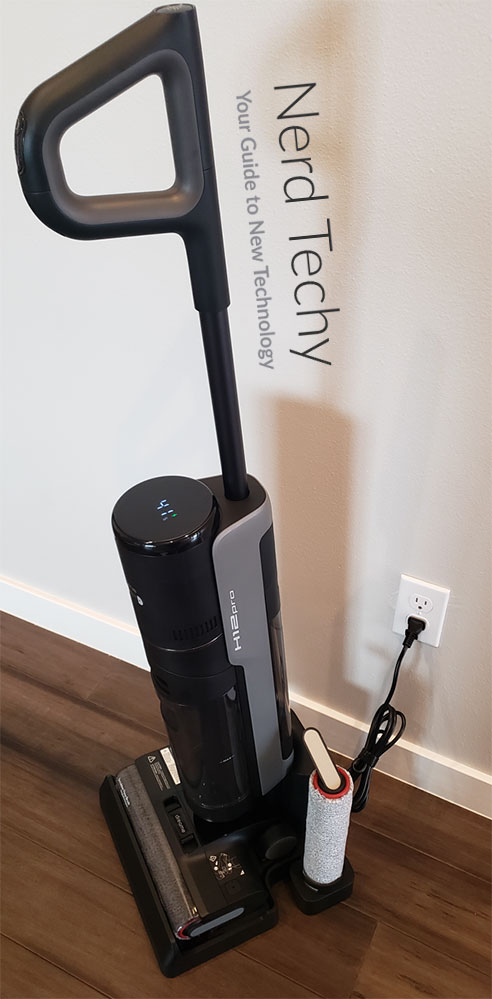 Battery life is related to a wide range of factors, but to be honest, 30 minutes of runtime is wonderful. We feel that this is on the higher end of the spectrum, in terms of longevity for wet/dry cordless vacuums. If you're operating in suction-only mode, you may even be able to achieve 45 minutes on a single charge. However, ultra mode, being the most intensive, will only last around 20 minutes.
Wrapping Up
Regular use of the Dreame H12 Pro is a downright pleasure. Clearly, this is one of the best designed, well-made hard floor cleaners that we've come across in a long time. It's beautiful appearance matches well with the high quality feel it gives off, every time you clean with it.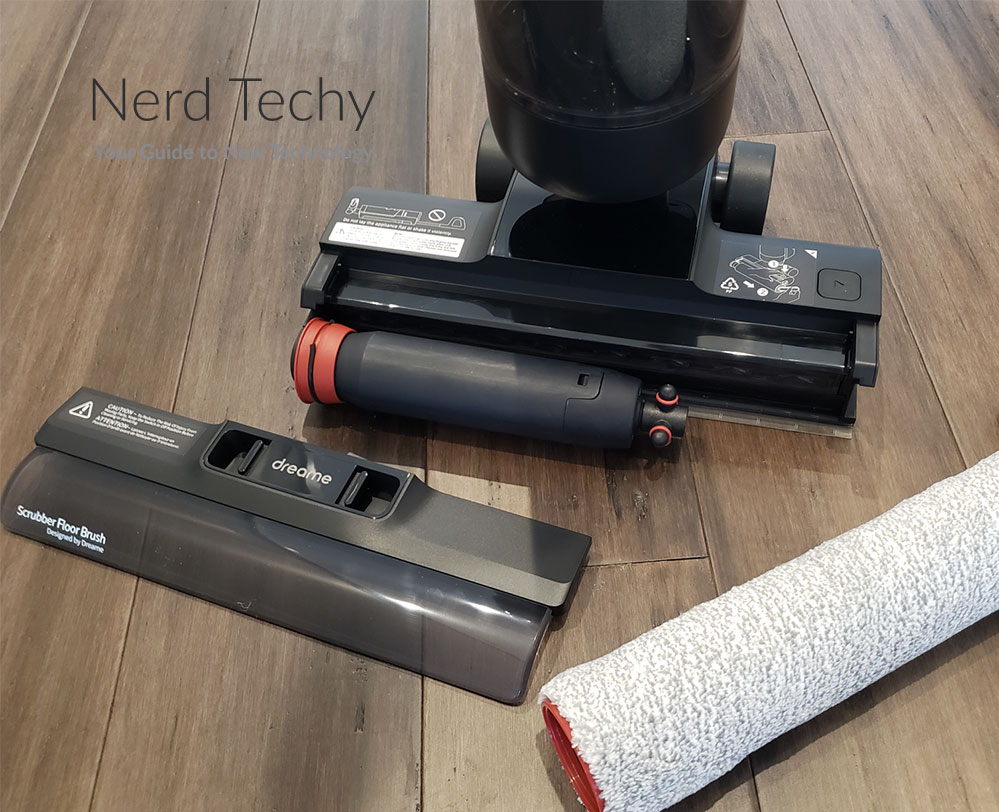 Although it's not truly maintenance-free, it nearly is. The self-cleaning and heated drying feature is something we have come to love. There's nothing worse than maintaining a dirty vacuum. Even if you manually clean it, on occasion, the H12 Pro is easy to keep in good working order for a long time to come.
If you're looking at a capable, straightforward floor cleaner that albeit expensive, is well-worth the initial investment.