Is the dry air in your home feeling, well, dry? You may need the MORENTO Cool Mist Air Humidifier to bring a bit of relief from the aridity. This nifty device promises to add moisture to any room quickly and effectively with just a press of a button.
Is it as cool as it claims to be, or will you be left feeling high and dry? We had the opportunity to test it out, so read on to learn more about our experience with the MORENTO Humidifier.
We'll share the details of how well this device works, what features are included, and whether it's worth your money. So let's get started exploring exactly what it has to offer!
Design and Construction
One of the first things we noticed about the MORENTO 4.5L Cool Mist Air Humidifier is how sleek and modern its design is. It's available in either black or white. Both options give it a fresh, clean look that fits in easily with any style of room décor.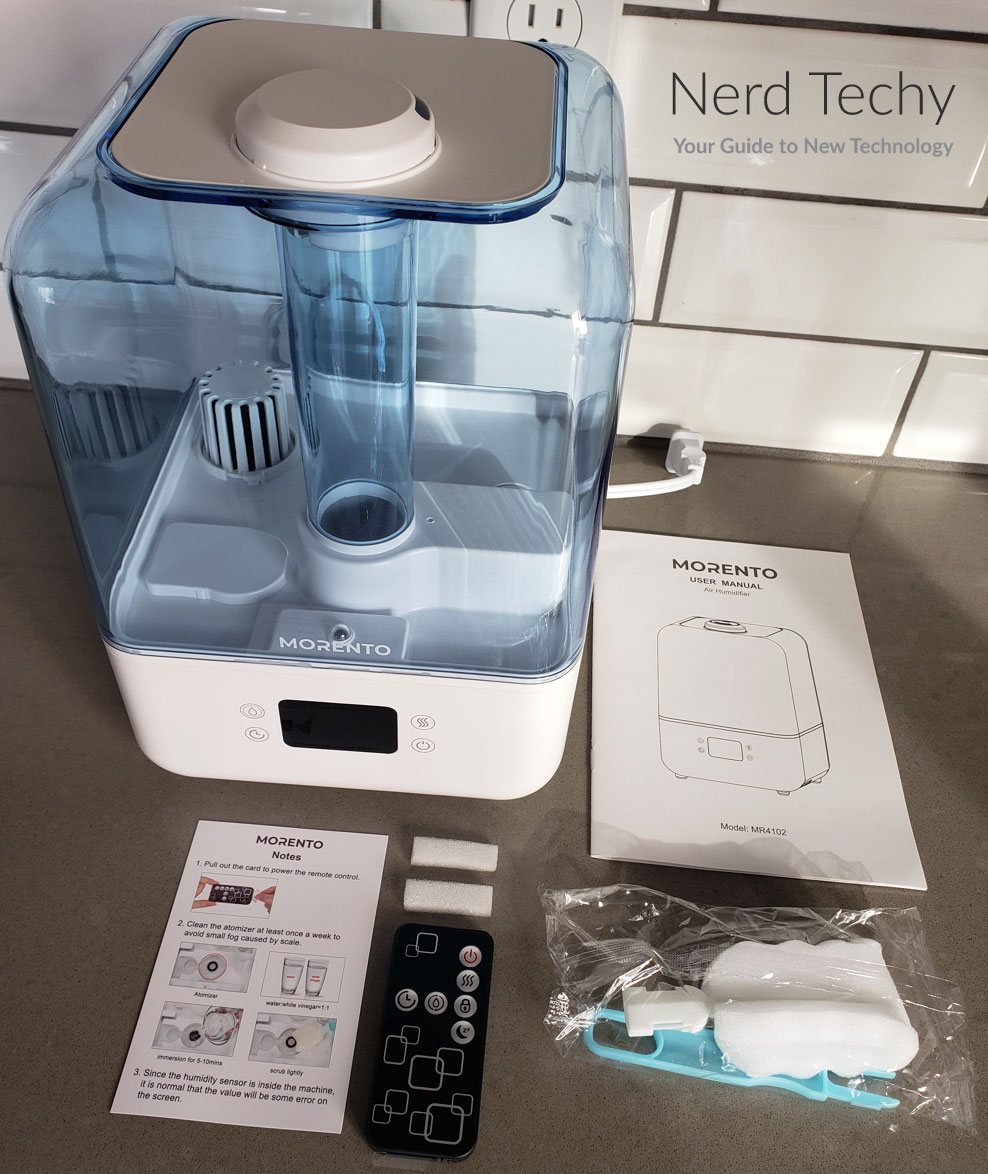 These styles are common design choices in modern electronics and other devices and serve to complement the overall look of most living spaces. It fits well with this humidifier and adds to its appeal. It's not going to blow you away by its fabrication or anything. It really doesn't offer anything you haven't seen before. But it does go well with just about any setting.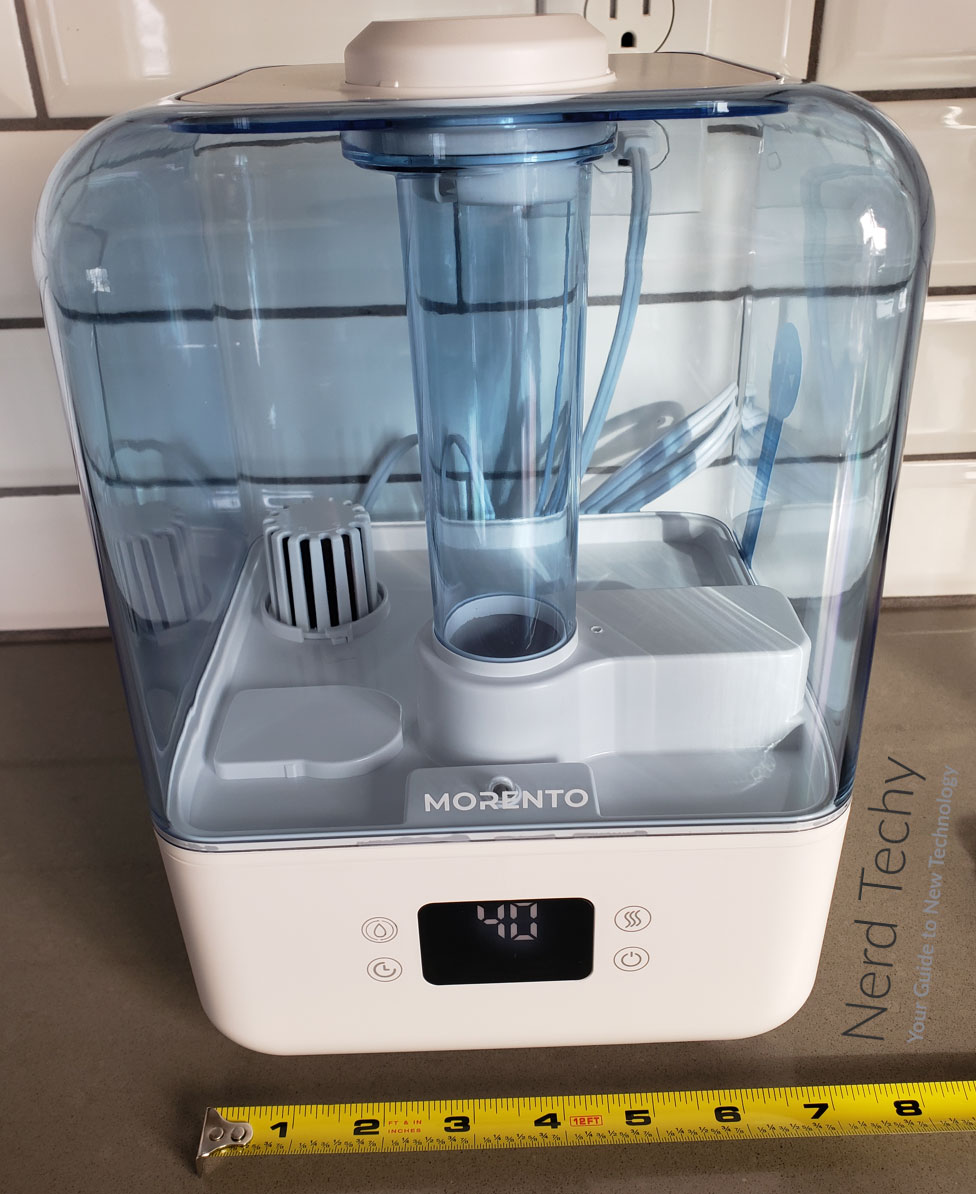 As for the construction and build quality, we were pleased overall. The MORENTO is reasonably well put together and should survive regular use for a decent amount of time.
That said, it's the same ordinary plastic (ABS, most likely) that you've seen a million times in other electronics. It's not a premium device and doesn't pretend to be one, but it should get the job done just fine.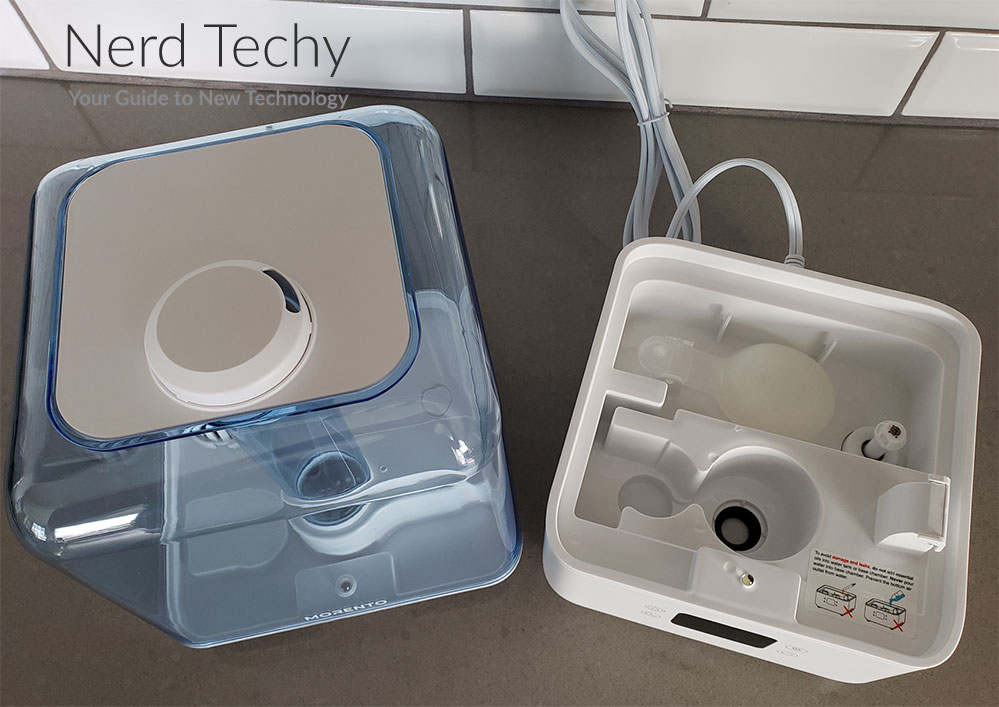 Above the base is a 4.5-liter water tank that you can detach and carry around the house. It's quite easy to use, as it's designed with a top fill system which allows you to add water to the tank with ease. In addition to being convenient, the design also ensures that you don't have to lift heavy objects while filling it up, which we liked.
Key Features
The main feature of the MORENTO 4.5L Cool Mist Air Humidifier is its ability to quickly and reliably humidify an area. It uses ultrasonic technology, which means it produces a cool mist that can help reduce the dryness of a room.
The ultrasonic humidification technology is also energy-efficient, so it won't be a burden on your electricity bill. At its core, this tech works by breaking down water molecules into a fine mist that's then dispersed throughout the room.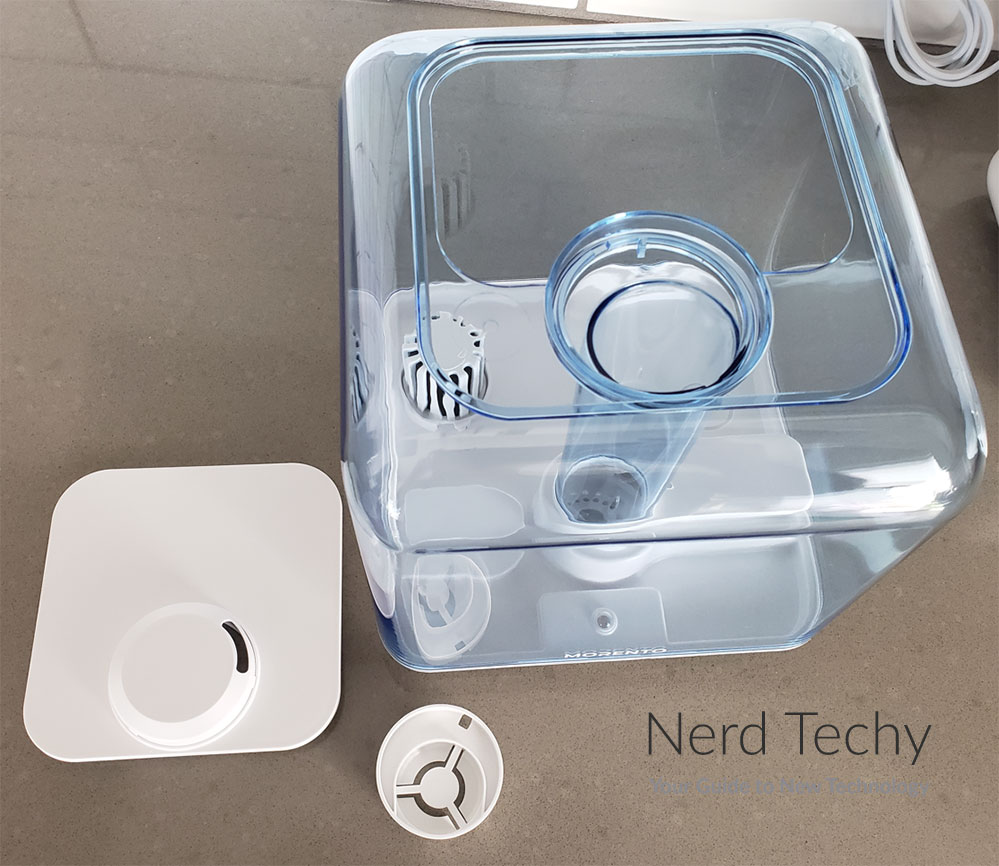 What does this mean to you? Well, it means that you can enjoy the benefits of a humidifier without having to worry about any excess energy consumption or noise pollution. It also means the humidifying performance is even, balanced, and consistent.
This is especially helpful if you're living in an area with a low relative humidity level or if your home is heated since this can cause the air to become extra dry. This also makes it a great option for babies and small children who are more sensitive to dry air.
The humidifier also offers a night-light feature, which can be very useful if you're using it in a child's bedroom. MORENTO went with a low-key blue light, which is mild enough to not disrupt sleep while still providing some visibility in the dark. We found this to be a nice touch, especially for parents of small children.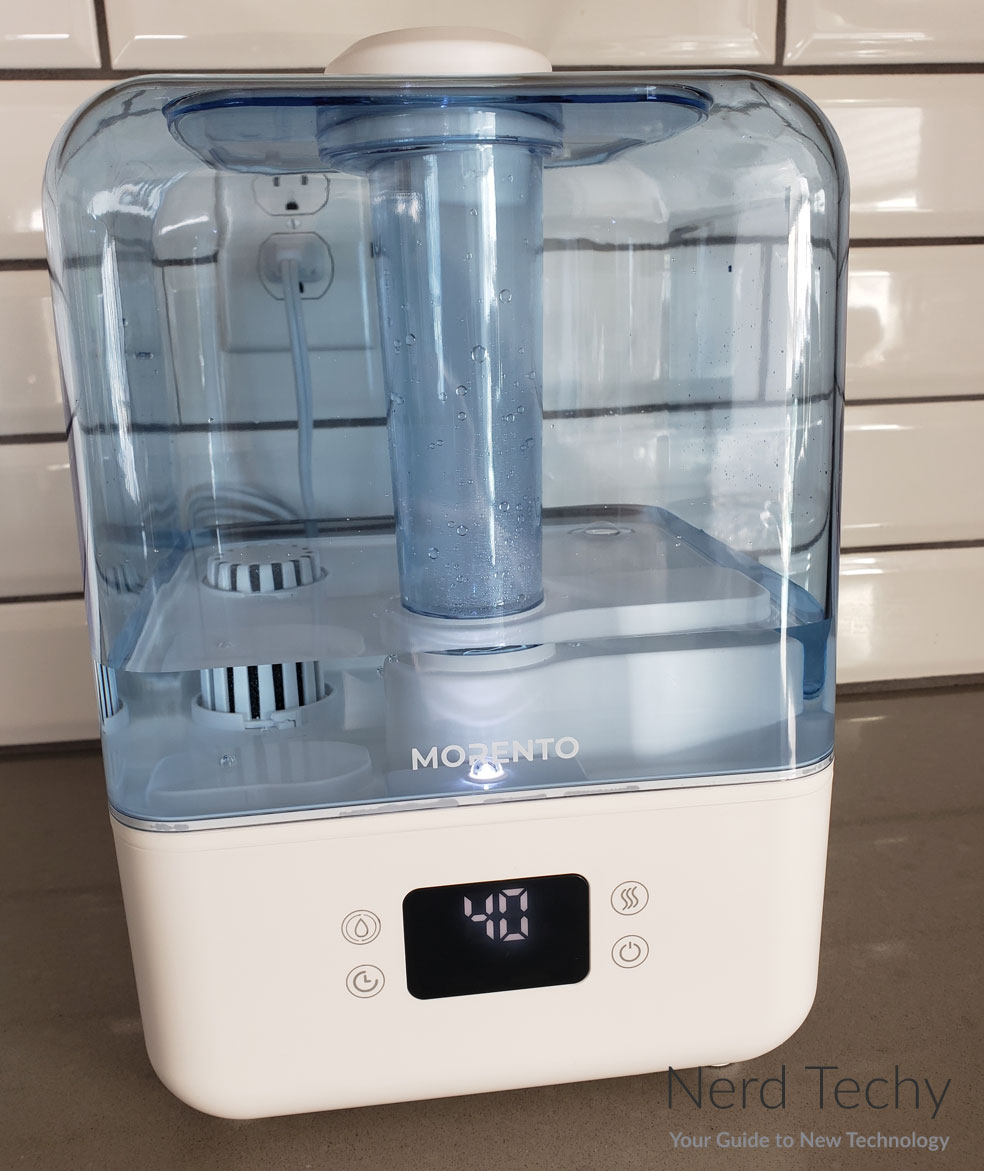 The low-intensity light has a soothing aesthetic and feel to it, which, in all transparency, pairs well with its primary feature. Thus, you get to experience a pleasant ambiance in your living space. It's ultimately a nice vibe that works really well, especially if you're chilling out in the dark and just want to relax with your thoughts.
It also comes with a built-in tap water filter, which helps to remove dust, light debris and other impurities from the water. This ensures that you get clean, fresh mist in any room it's used in.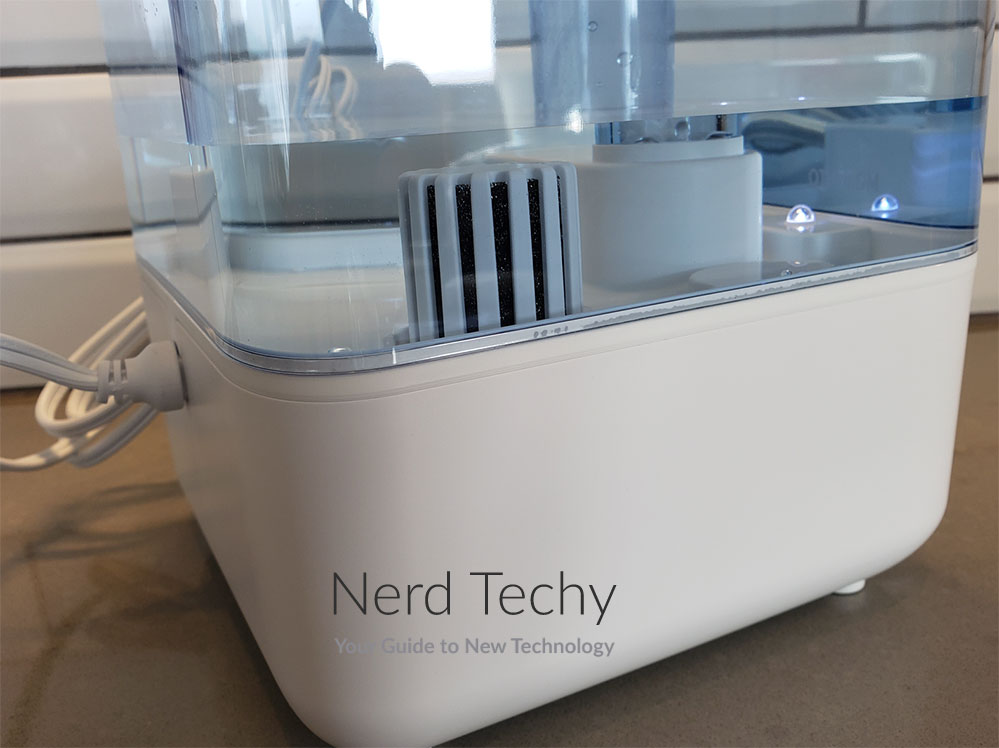 This feature probably doesn't get the attention it deserves, as anyone who's familiar with what's in tap water knows that it's not always pure and clean. So this is a great safety measure if you're using the device in a bedroom or other enclosed space.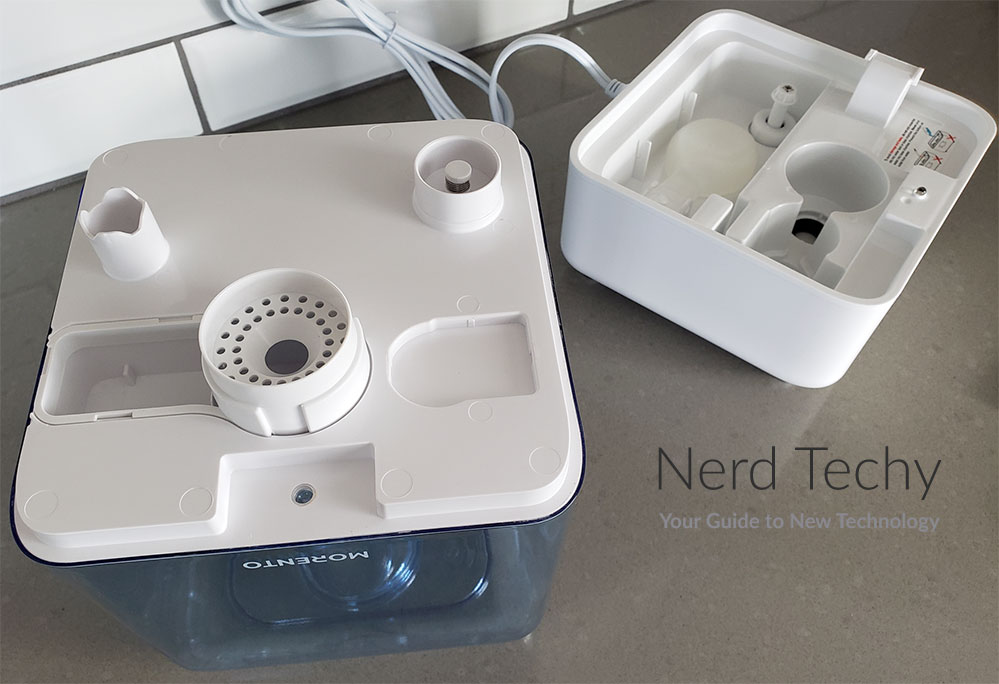 Performance
We mentioned the scenario above because MORENTO's humidifier offers great performance and exceeds expectations in that regard. It's surprisingly quiet, even on the highest setting. Needless to say, it can easily be used in a living room or bedroom without disturbing anyone. So much so that we found it to be quite relaxing.
It emits a calming hum that once again goes hand-in-hand with the unit's soothing delivery. MORENTO deserves praise on this front, as it exceeded our expectations right out of the gate. Nicely done.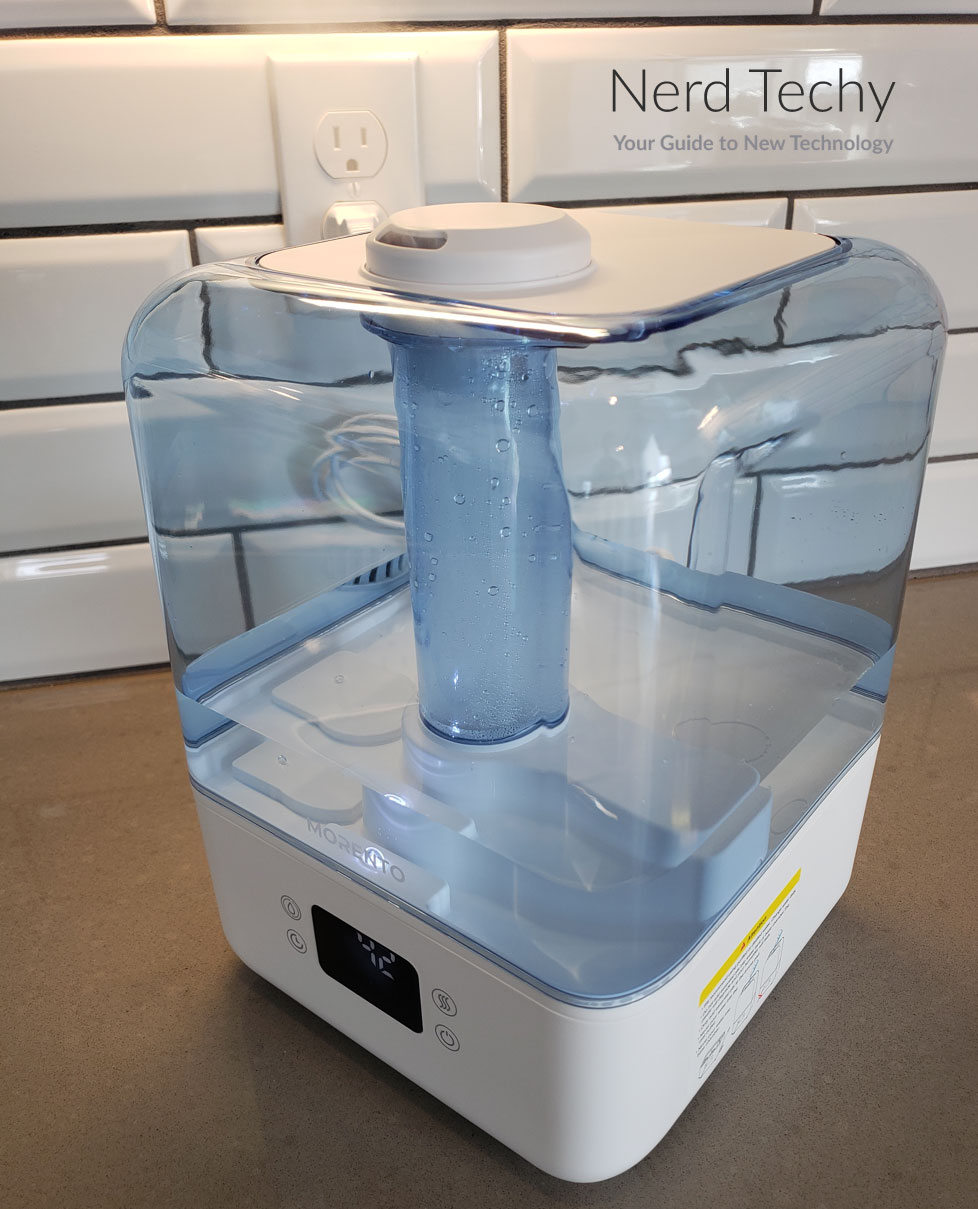 But noise level and lighting aren't what most people are looking for when they buy a humidifier. The big question, then, is: does it do its job?
In short, yes. We tested the MORENTO humidifier in a room measuring roughly 100 square feet and found it to be effective in increasing the humidity level after only about ten minutes of operation.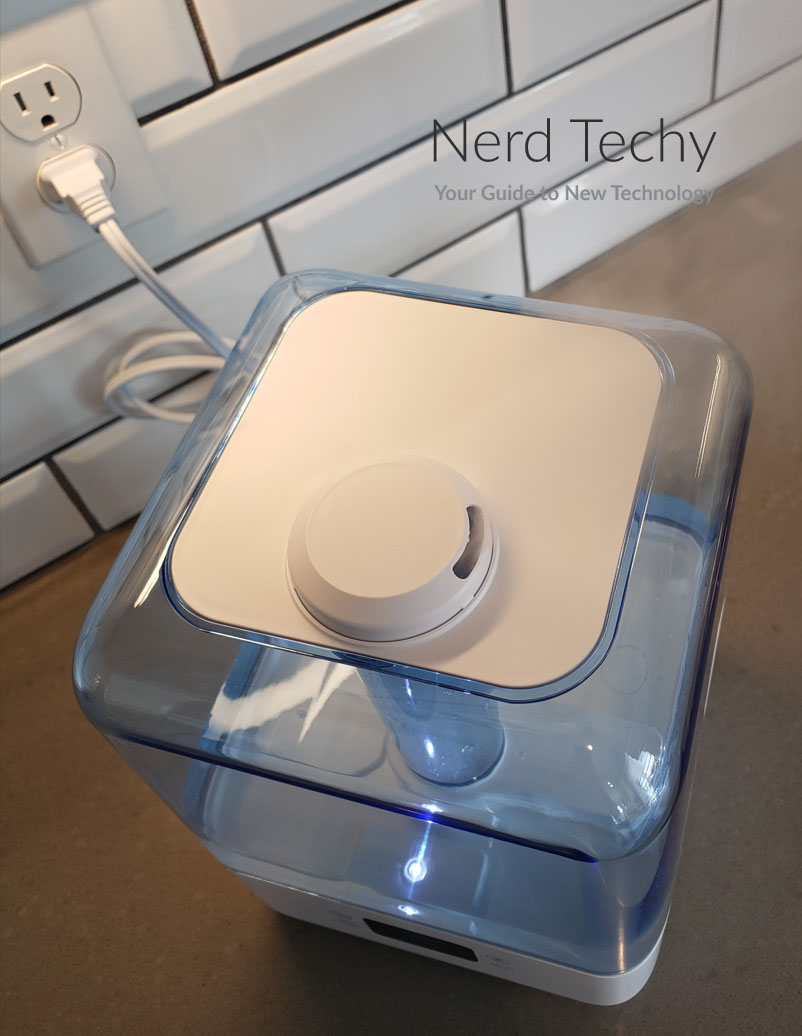 This is to be expected, as the humidifier outputs 260ml of mist every hour, which is more than enough for a small room like the one we tested it in. We'd imagine it would have no problem keeping larger rooms adequately humidified, either. After all, it's designed to accommodate spaces measuring up to 322 square feet.
MORENTO states that it can run up to 50 hours on one tank of water (on the lowest setting). We tested this claim, and it held true. But it is crucial to point out that this rate decreases dramatically once you switch to higher settings.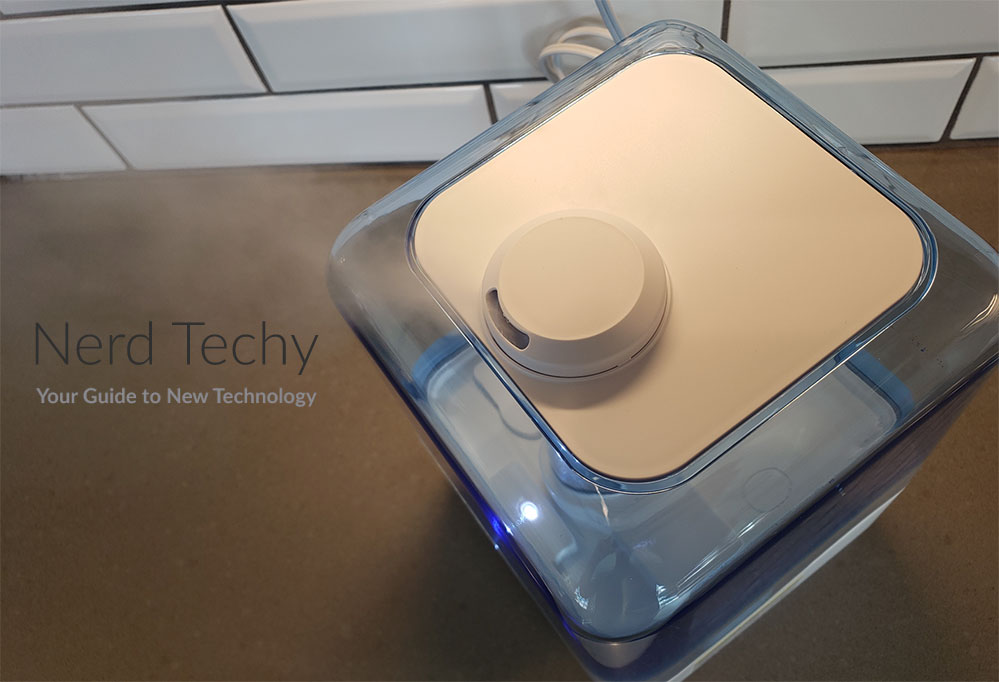 For instance, the highest setting produces a heavy mist output and will run for only 15 hours. This is still more than enough in most cases, but it's something worth noting nonetheless.
Furthermore, the results continue to be consistent after prolonged usage. This is great news if you're looking for a long-term solution. It's clear that it has been built with longevity in mind, which is a great testament to its quality.
So sure, it might not win any awards for revolutionary craftsmanship or anything, but that kind of becomes a moot point once you discover what this little unit is capable of—and that's consistent, measurable results. In a nutshell, the MORENTO humidifier does exactly what you expect it to do, and that's enough for us. As far as we are concerned, that's a job well done.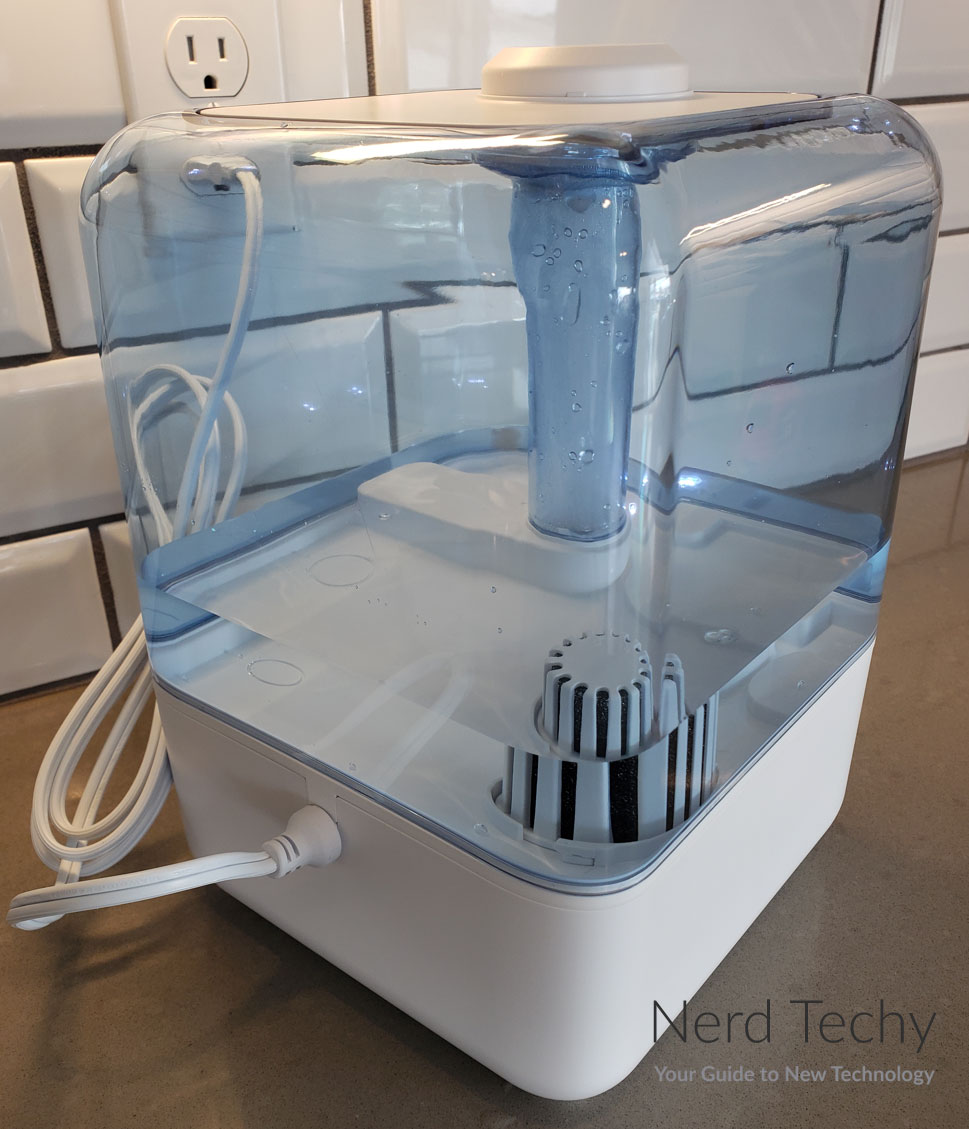 User Interface
Most people just want to get the humidifier up and running quickly, and MORENTO makes this easy with simple-to-navigate controls. The LCD display is straightforward and easy to understand, so you shouldn't have any issues finding the setting that fits your needs.
There are only four buttons to fiddle with, and each one serves a fundamental purpose. The buttons are clearly labeled, so you don't have to guess around and try different settings until you find the one that fits your requirements.
The remote gives you access to a couple more buttons, such as a lock function and a sleep function. Speaking of the remote, nothing fancy here. It's the same cheap, credit-card-sized plastic slab that often comes with electronics in this price range.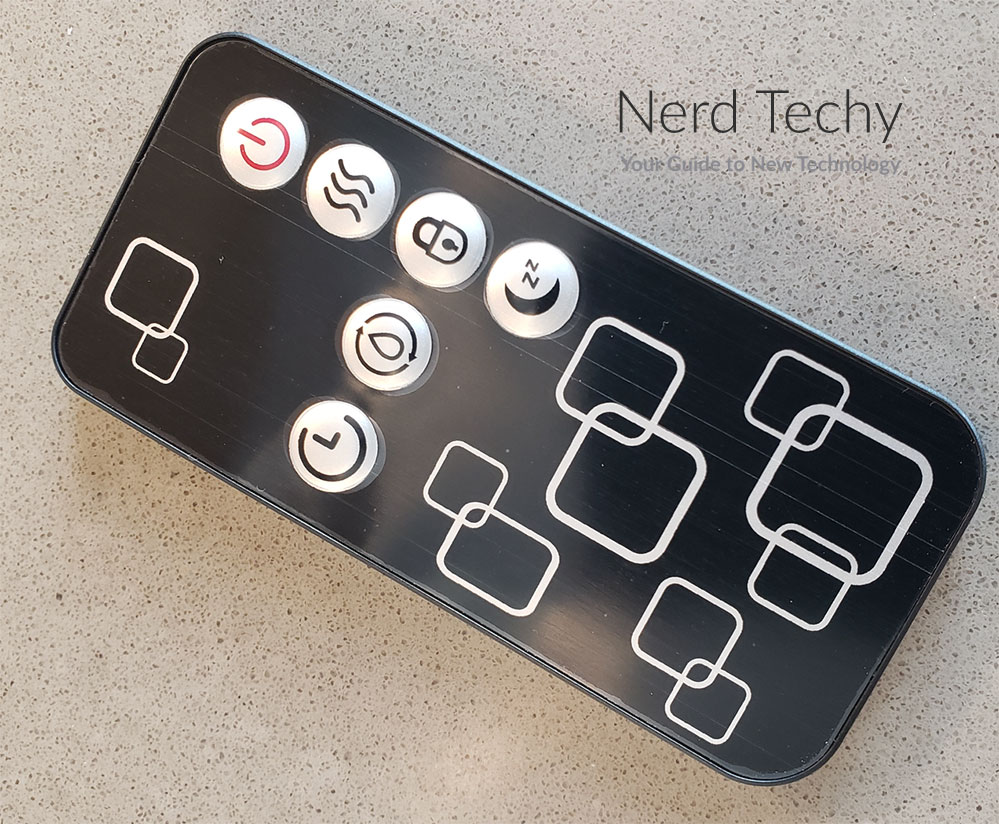 It's a nice addition, but it does feel cheaply made, which is not surprising given the price of the humidifier. But there's more of the remote than there are buttons. Still, it does what it's supposed to, and that's to make your life easier so that you don't have to get up every time you want to switch settings.
Overall, the user interface is straightforward and easy to use, which goes a long way in making it an attractive choice.
It's also worth mentioning that the unit sports a mist nozzle on top of the tank. This nozzle rotates 360 degrees, allowing you to direct the mist wherever you want. It's a nice touch and adds to its convenience.
Essential Oil Diffuser
More and more these days, humidifiers are being produced with the added ability to act as essential oil diffusers. MORENTO's model is no different, and it does a good job of that, too. There's a slide-out tray at the bottom of the base that holds your choice of essential oil, which then diffuses through the mist as it is being released.
The scent is not overwhelming, but it does provide a pleasant and subtle fragrance in the room. However, if essential oils are not your thing, you can easily forego this feature and enjoy the benefits of a regular humidifier.
It's great to have the option there, though, as it adds an extra layer of functionality to it. Moreover, this feature makes it a great option for aromatherapy fans. So if you need a clever gift idea for a family member or friend, this could be the right choice.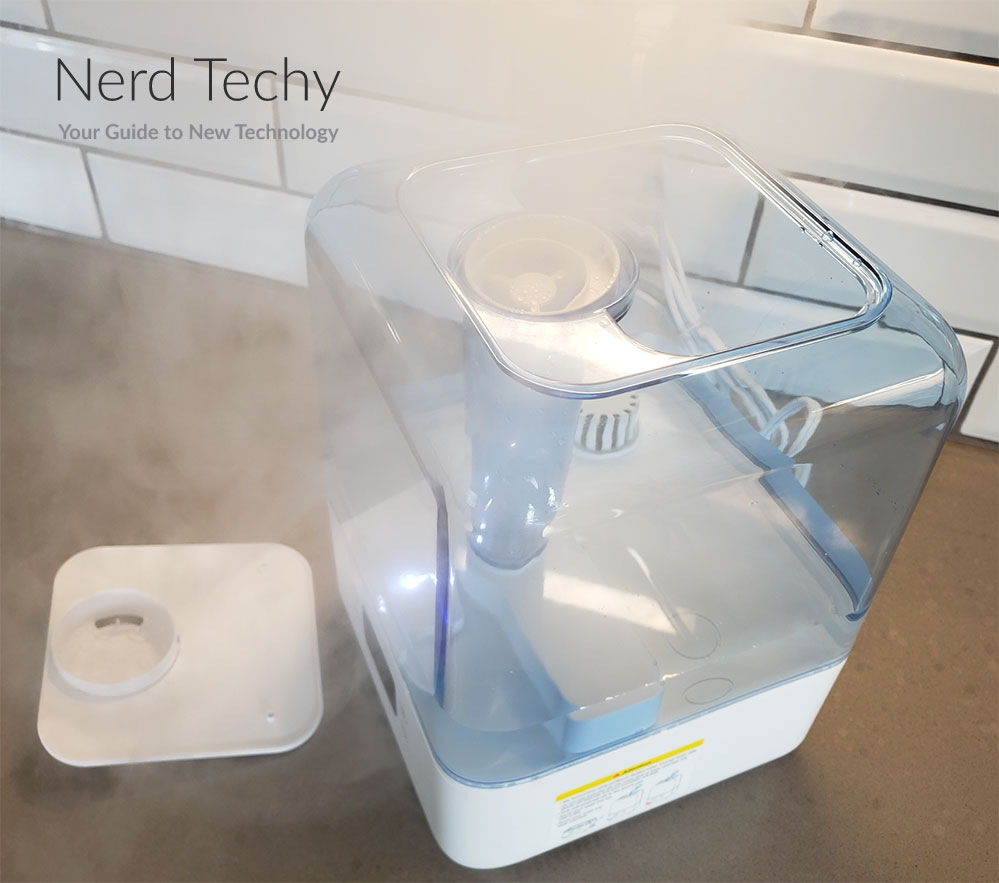 Who's This For?
The MORENTO 4.5L Cool Mist Air Humidifier is designed for anyone who wants a reliable, energy-efficient humidifier that can help reduce the dryness in their home.
It's especially recommended for parents who have toddlers or infants, as its energy efficiency and safety features make it a great choice for use in children's bedrooms.
It's also suitable for people living in hot climates or areas with low relative humidity levels. The humidifier will be able to easily keep the air balanced and comfortable without needing to be used at full capacity.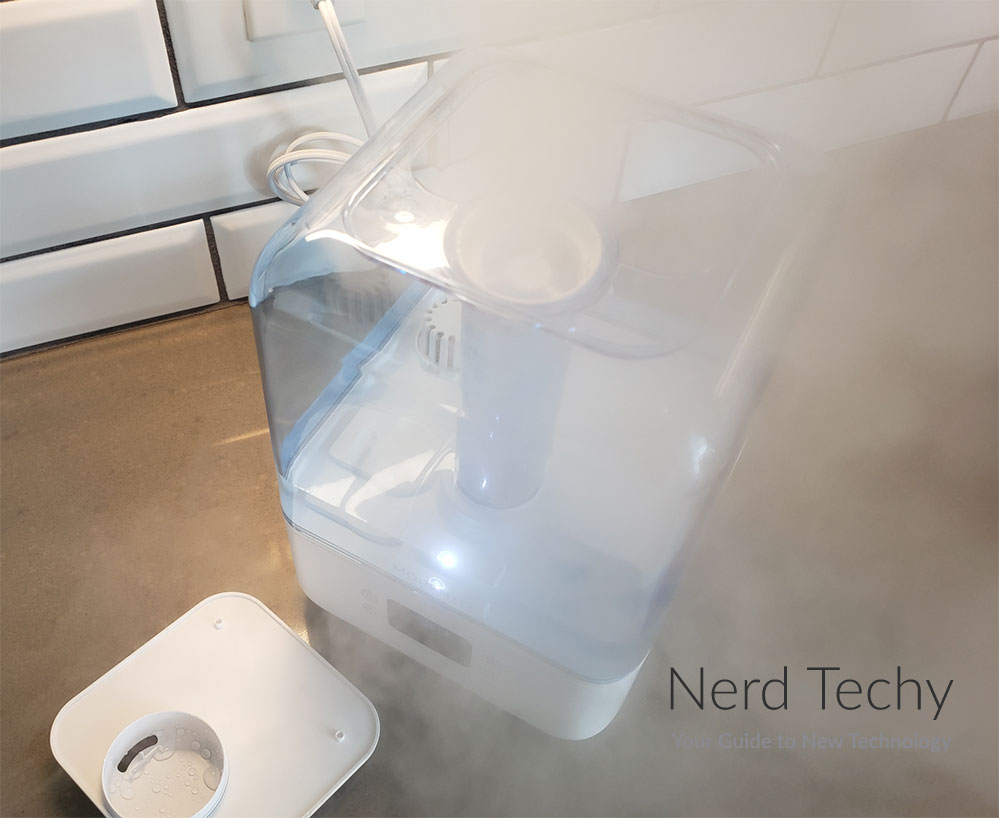 Older folks who tend to struggle with high-tech gadgets and gizmos will appreciate it, as the MORENTO only requires a few simple steps to get it up and running.
Overall, its performance and features make it an ideal fit for anyone who needs a reliable humidifier that won't cost them too much or take up too much space in their home. Plus, it looks modern and sleek, so it'll match just about anywhere you put it.
In short, the MORENTO humidifier is an easy-to-use, energy-efficient and safe option for anyone looking to improve the air quality in their home. It's small, yet powerful, and comes equipped with a few nice features that make it stand out from the competition.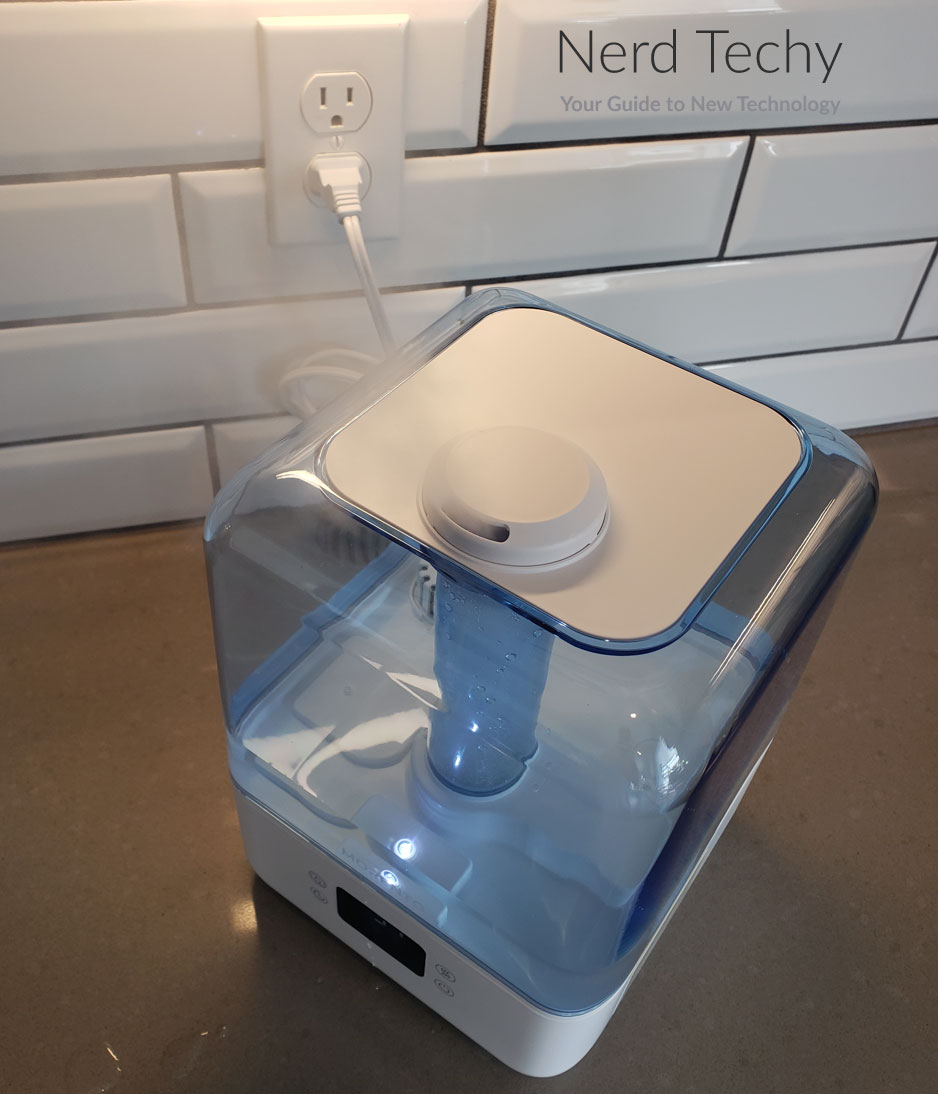 Final Thoughts
The MORENTO 4.5L Cool Mist Air Humidifier is a reliable, energy-efficient humidifier that can quickly and conveniently add moisture to any space in your home. It uses ultrasonic technology to disperse cool mist evenly throughout the room, which is both efficient and quiet.
It also has a night-light feature and a built-in tap water filter, making it suitable for use in most bedrooms. It's easy to operate and reasonably priced, so it's worth considering if you're looking for an efficient humidifier for your home. At the end of the day, this is a very capable unit that we can whole-heartily recommend.