Apollo P20
Pros
Huge picture capability.
Good brightness with nice colors.
Stays cool and quiet during operation.
Easily pairs with a Bluetooth speaker.
Excellent bang for your buck.
Cons
Built-in speaker is loud but unfavorable.
Capped at 1080p.
Lacks some connectivity options.
Does not support WiFi.
Every once in a while, a company comes along that bucks popular conventions and delivers a product that exceeds expectations. That is ULTIMEA and its Apollo P20 movie projector. The P20 is a neat little gadget that promises a big picture at high quality.
While both claims ultimately proved to be true, the projector is not without its quirks. Are they significant enough to derail the P20, or can you overlook them and still have a good experience? We'll answer those questions and more in our review. So join us as we share our thoughts on this unit.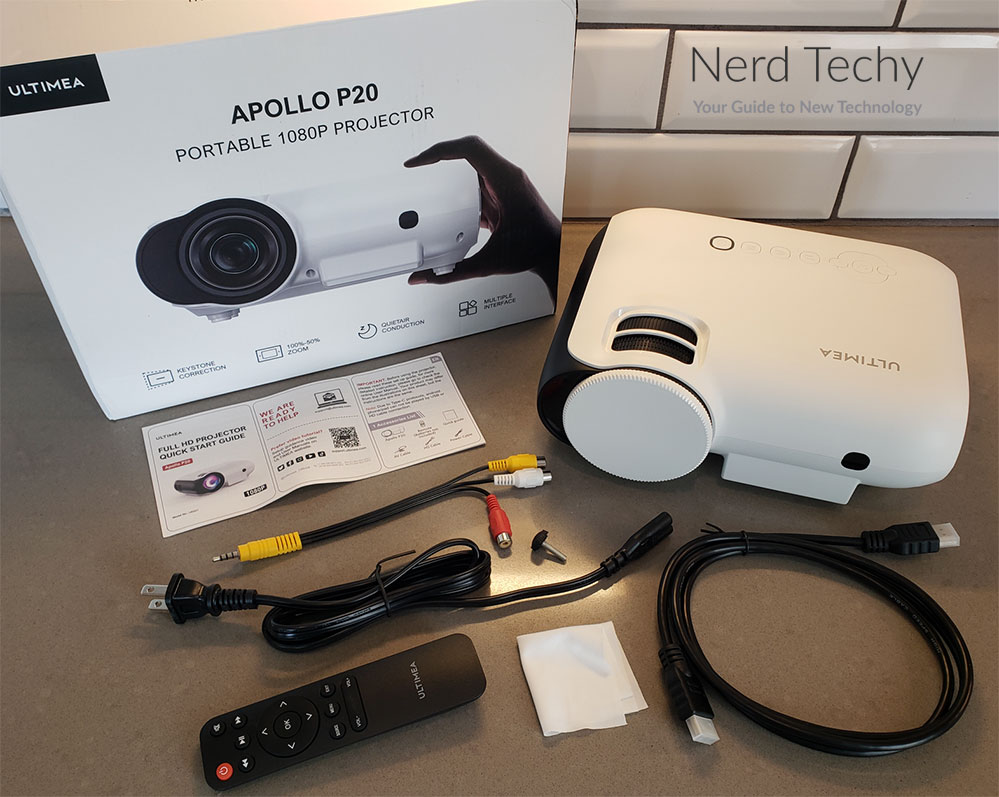 Build Quality and Design
Not too long ago, home movie projectors were large, clunky devices that required their own stand or shelf to operate. And even further back in time, they were loud and ugly machines that were absolutely gargantuan in size.
Thankfully, the advancements in technology have allowed companies to streamline home movie projectors into the compact units we know and love today. And that's the segment where ULTIMEA's Apollo P20 belongs. It's priced well at $99 with an additional 30% discount right now – giving it a price-point around $70.
It's a squat little machine that's easy to carry around, even though there's no carrying case included. It's nicely rounded in design and measures a mere 9 x 7.5 x 3.3 inches. What's more, it weighs just 2.5 pounds, so portability is definitely a selling point here.
You can easily transport it from room to room or take it with you on trips. It's small enough to shove in a backpack or suitcase and forget about it, and it rests comfortably on most shelves (or your coffee table).
It's also nice that it doesn't get in the way if you do decide to set it anywhere in front of your viewing area. That's not something you could get away with using home movie projectors from yesteryear.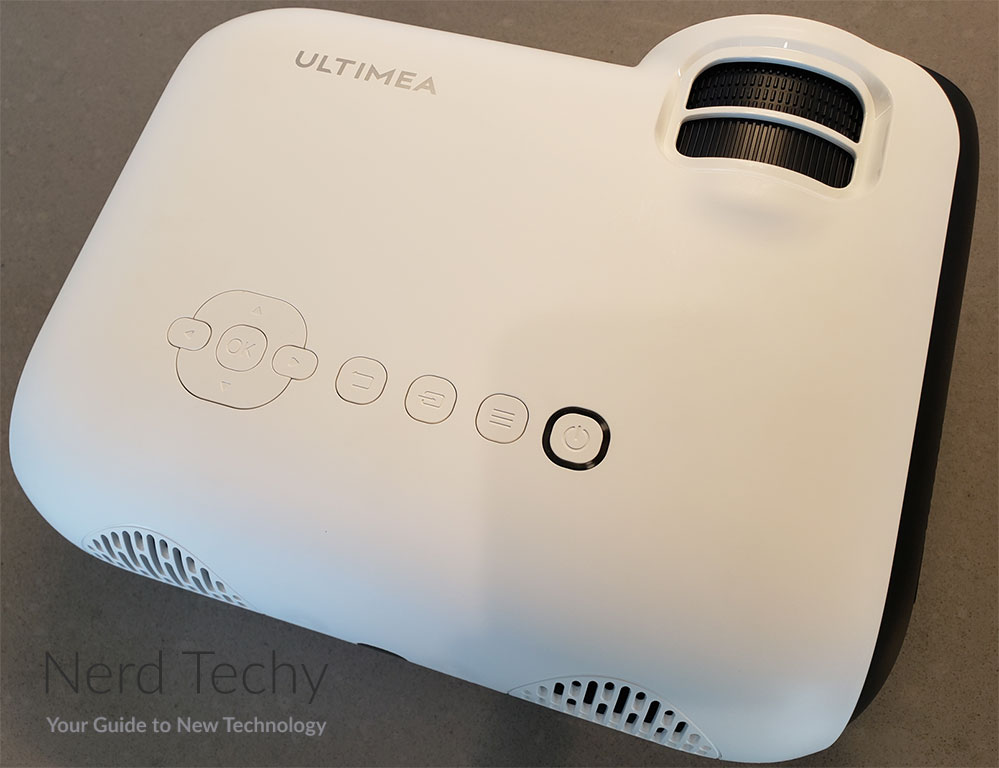 The P20 is made from plastic and has a matte finish with a whole slew of controls accessible on the top panel. While it doesn't have the same premium feel as more expensive models, it's still quite durable and resistant to scratches and dents. Plus, the matte finish was a smart move on ULTIMEA's part, as it doesn't leave a lot of bothersome fingerprints when you handle it.
Overall, we're fond of the Apollo P20's design. It's nothing fancy or imposing, but it gets the job done and looks good doing it. This is a modern projector that looks like it belongs in the 21st century.
Use code "nerdtechy25" for a 25% discount when you order the P20 from Ultimea's Official Website
Picture Quality and Zoom
Now for the most important aspect of all—how does the image quality stack up? We found it to be quite good, but there are certainly better options out there. But before we say any more, we have to drive home the point that this is a budget-friendly home movie projector, and as much, you can only expect so much.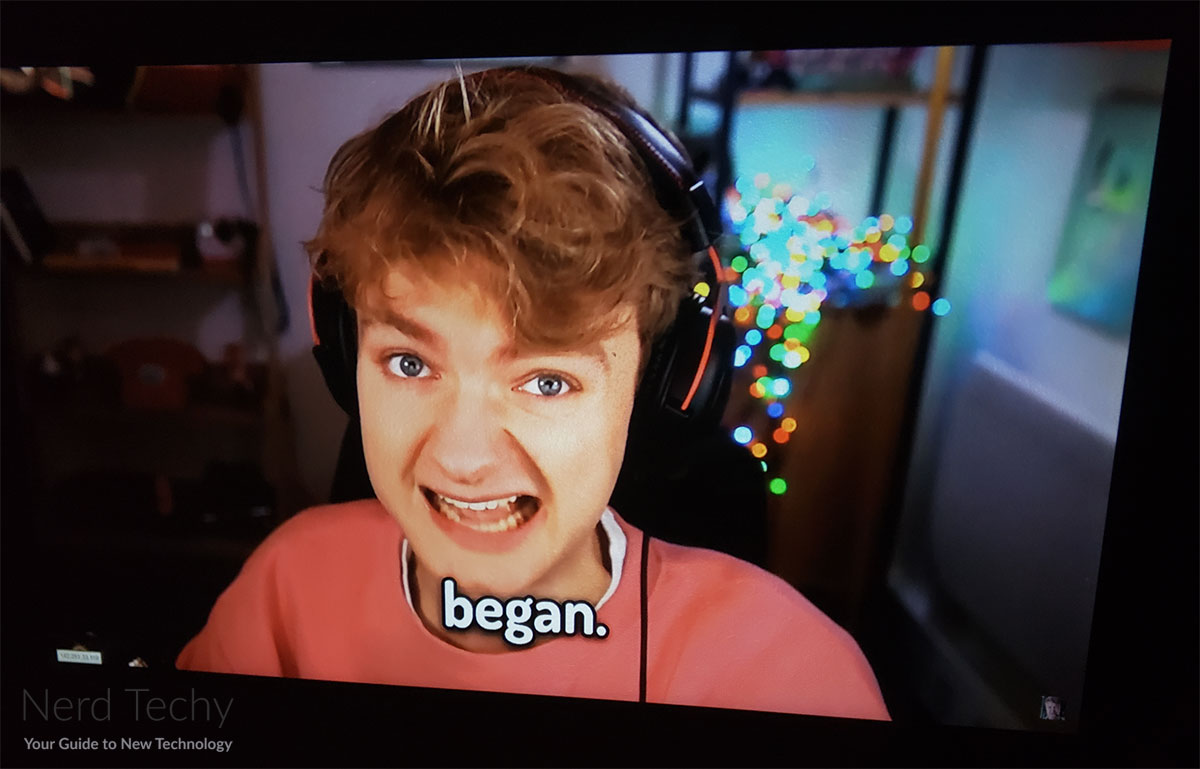 The picture quality is sharp and bright, making movies and shows look great on the big indoor screen, wall or even one of the best inflatable projector screens. The colors are accurate, and the contrast is solid. And even though we're talking about a budget-friendly projector, we didn't find any noticeable flaws in the video quality.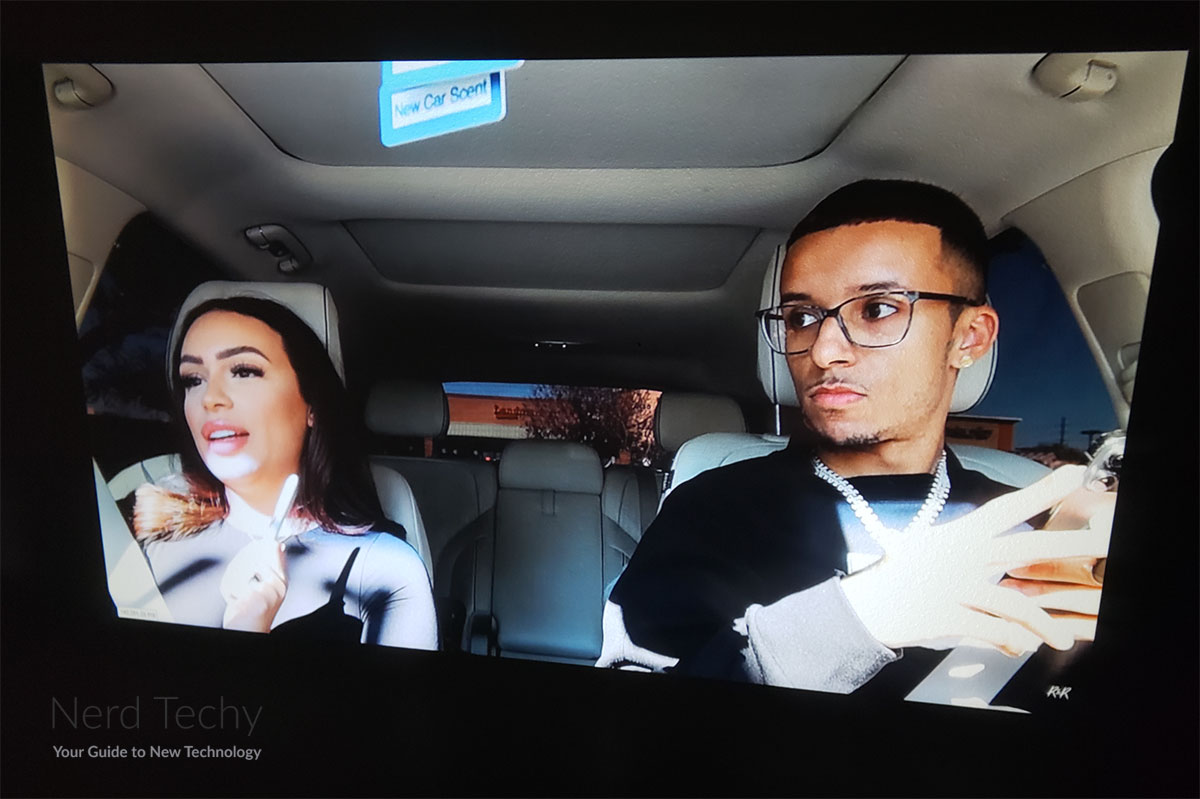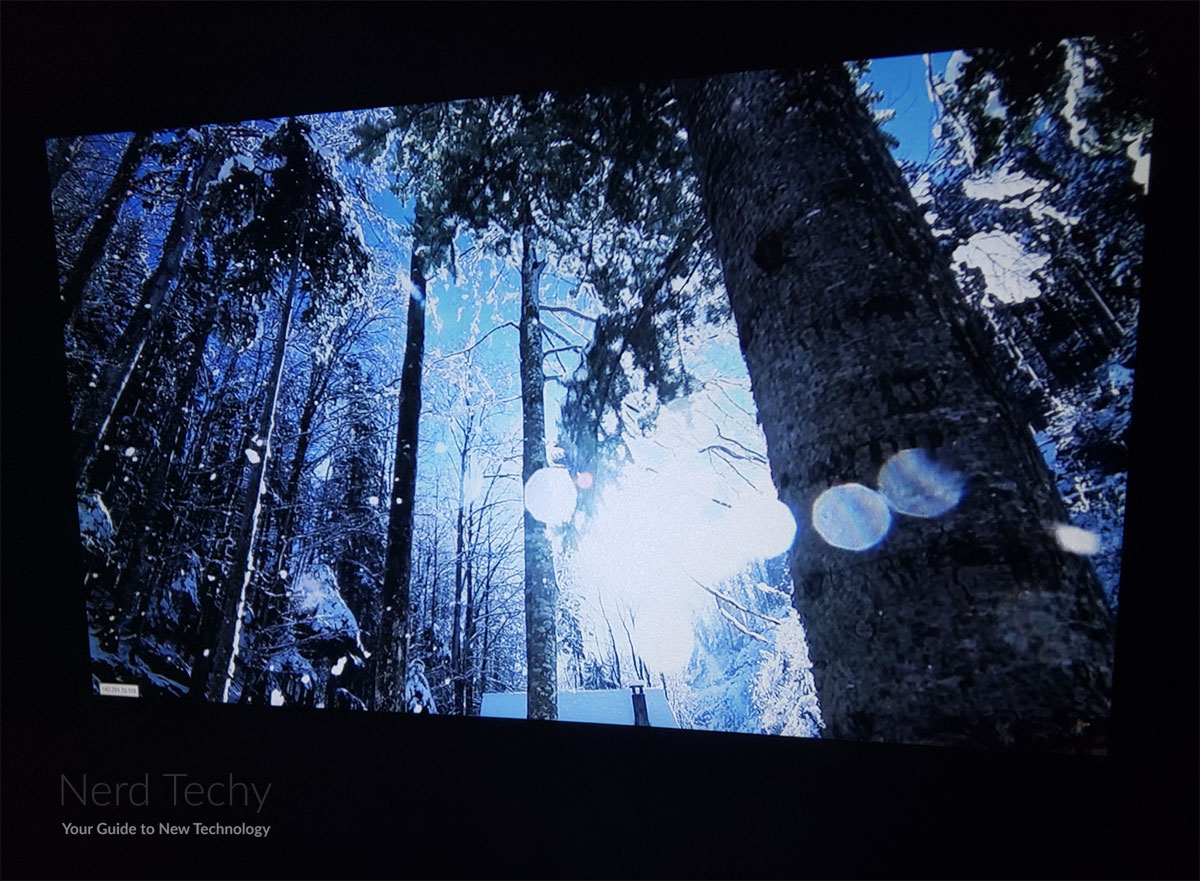 Still, we must admit that the picture isn't as vivid or detailed as it could be. We also think ULTIMEA missed a trick by not including HDR support. It would have surely boosted the picture quality, but alas, it's not to be.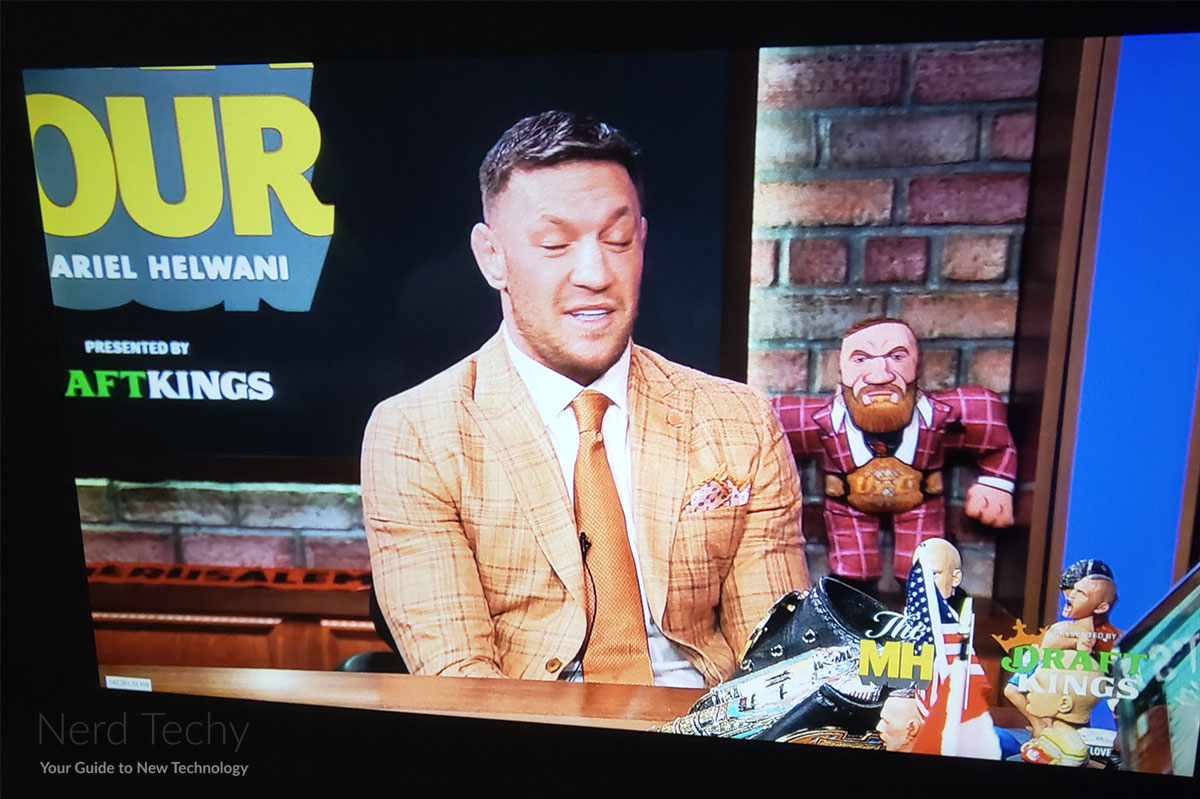 The zoom is also a bit limited, as it only goes from 50% to 100%. We understand that this was done to keep costs down, but it would have been nice to have the option to zoom in further. With this projector, you can produce an image size that ranges from 35 inches all the way up to 120 inches.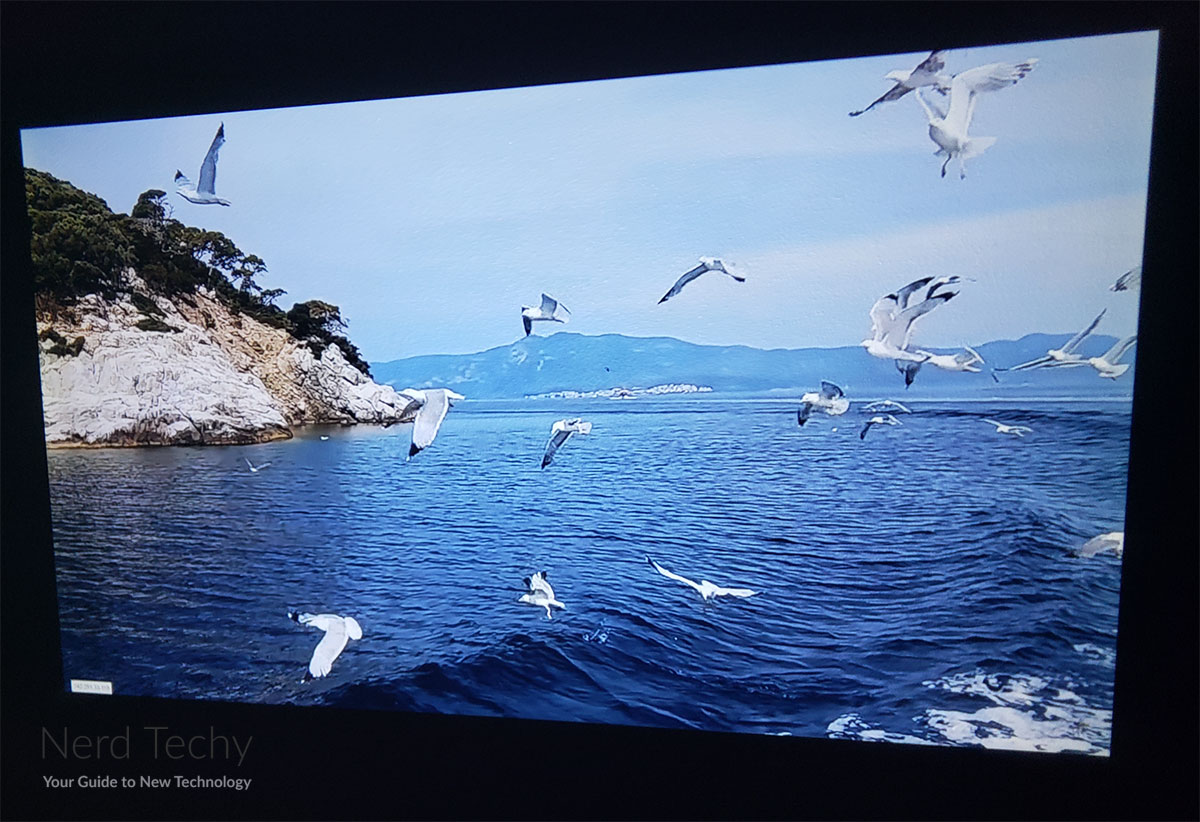 And even though it's locked at 1920 x 1080 resolution, the image still looks quite good—even when it's blown up to its maximum size. Helping keep movies looking bright and crisp is the 80% brightness uniformity, which evenly distributes light across the projected surface. The 1080p resolution is native, not just supported. Most other projectors in the same class do not natively support 1080p – the Apollo P20 does, however.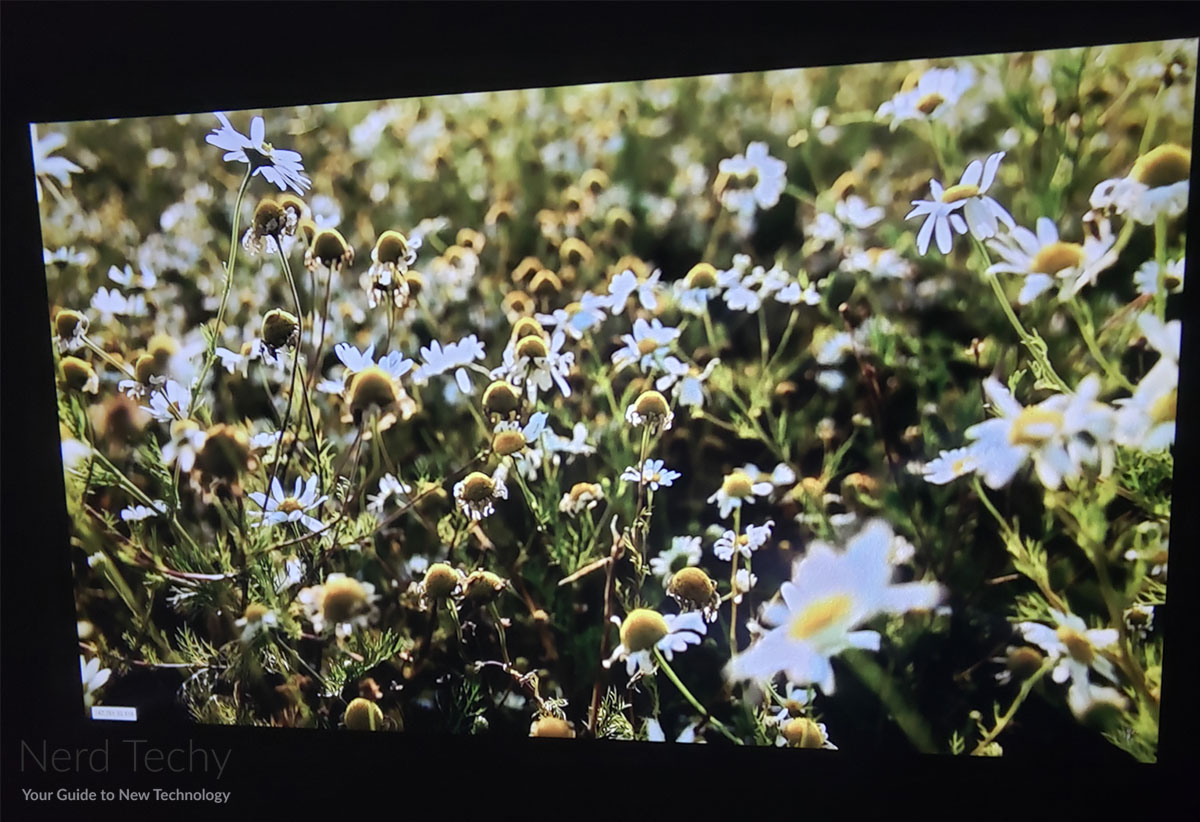 This projector has a standard throw ratio of 1.5:1, so you can use it in most rooms without worrying about having to move furniture around for optimal viewing angles. Focusing is manual, but that's to be expected, given the price point. You can also adjust the projector's settings to suit your environment, from a bright living room to a dim bedroom.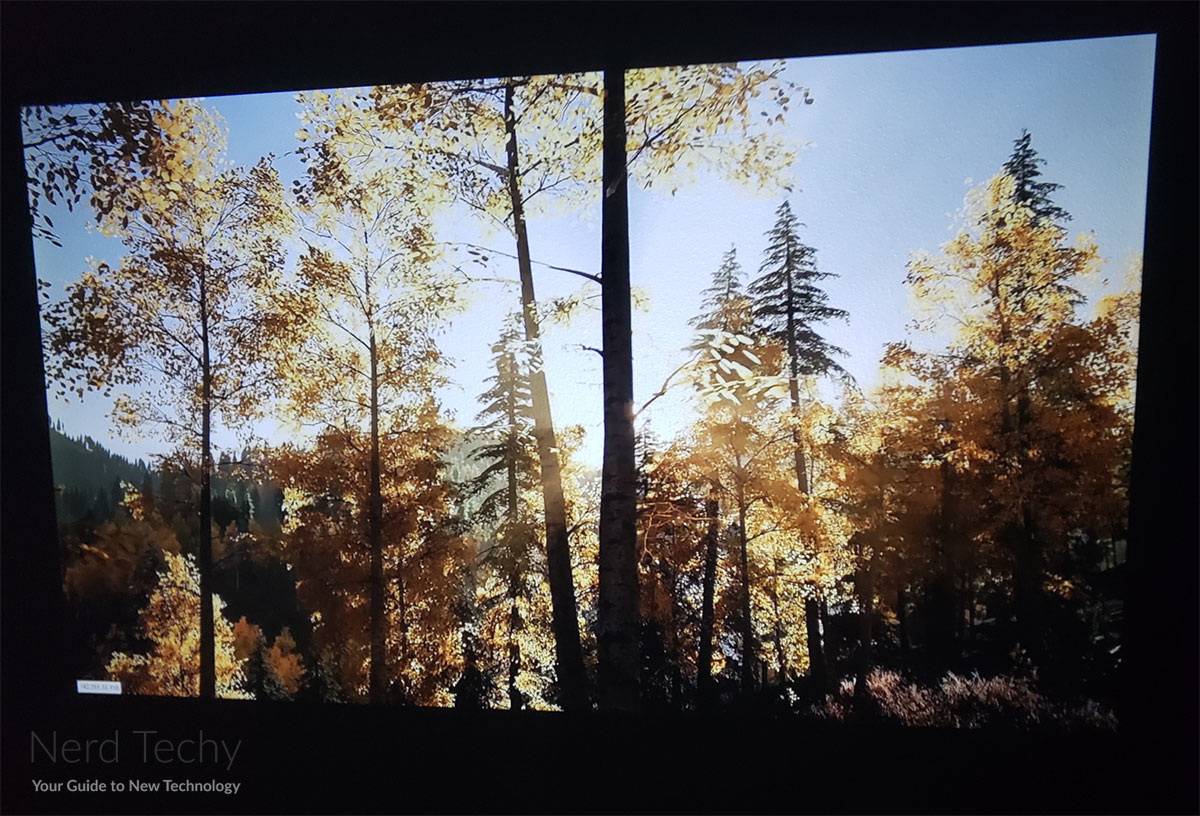 Overall, we're pleased with its performance in this department. It does have some limitations, but that's to be expected for something as affordable as the Apollo P20.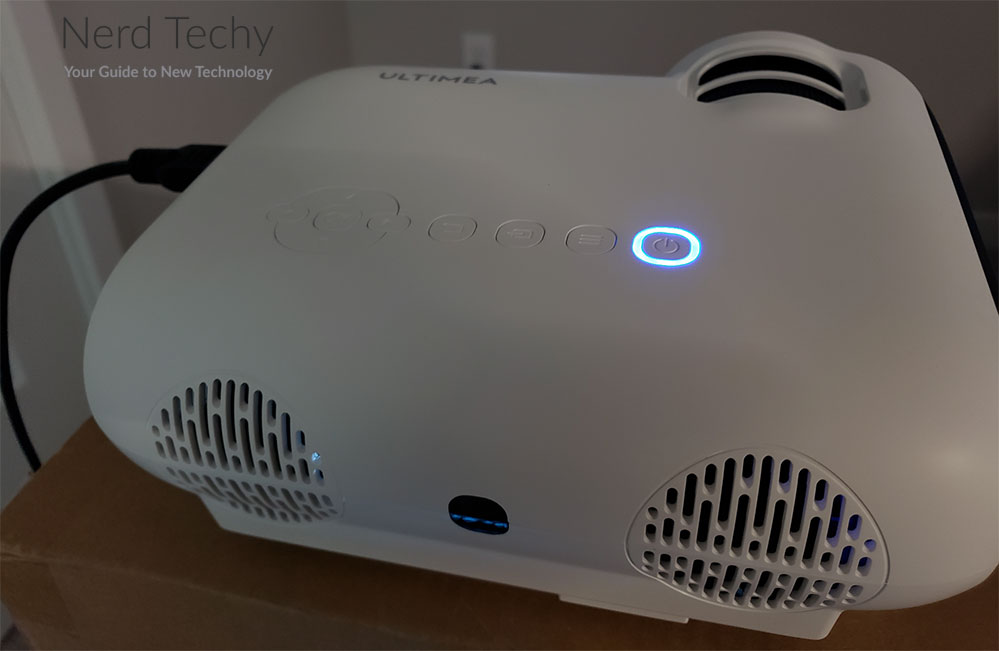 Connectivity
Any time you purchase audio/video equipment, you expect it to cover all the basics. You want to be able to attach multiple devices and watch content from a variety of sources. That's why the ULTIMEA Apollo P20's lack of features is so disappointing.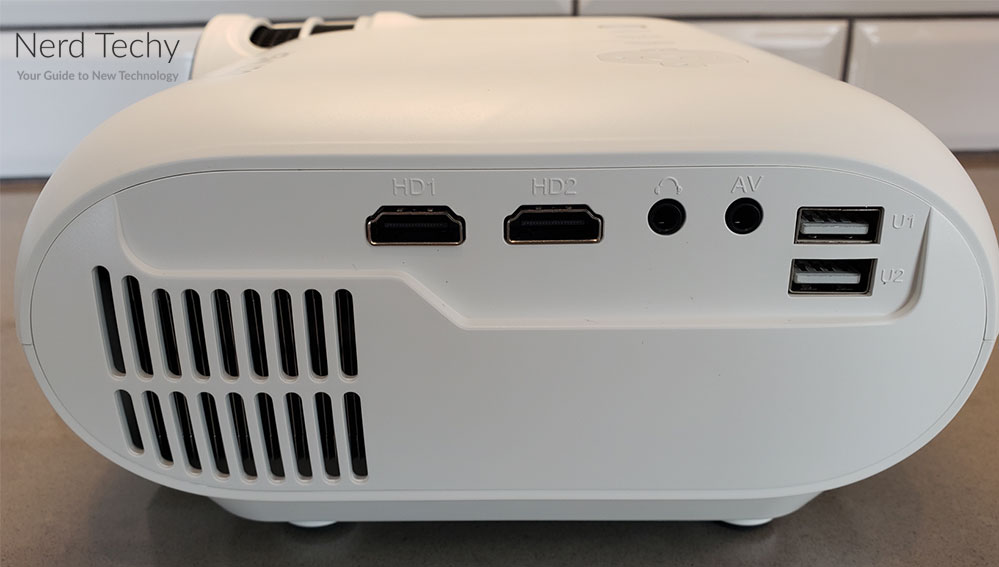 It only offers two HDMI ports, a 3.5mm audio jack, an AV port, and two USB 2.0 ports, which means you won't be able to attach as many devices as you might like.
Yes, it has the basics, but that's the problem – it's all so basic. If you were hoping for digital audio outputs, you're out of luck. WiFi is also noticeably absent, which is a shame since it would've been a very useful feature for a lot of people.
There's still enough here for the casual user, but those who want a more comprehensive experience may want to look elsewhere. We were able to get our devices to connect without any problems, but we'd be lying if we said the lack of features didn't bother us.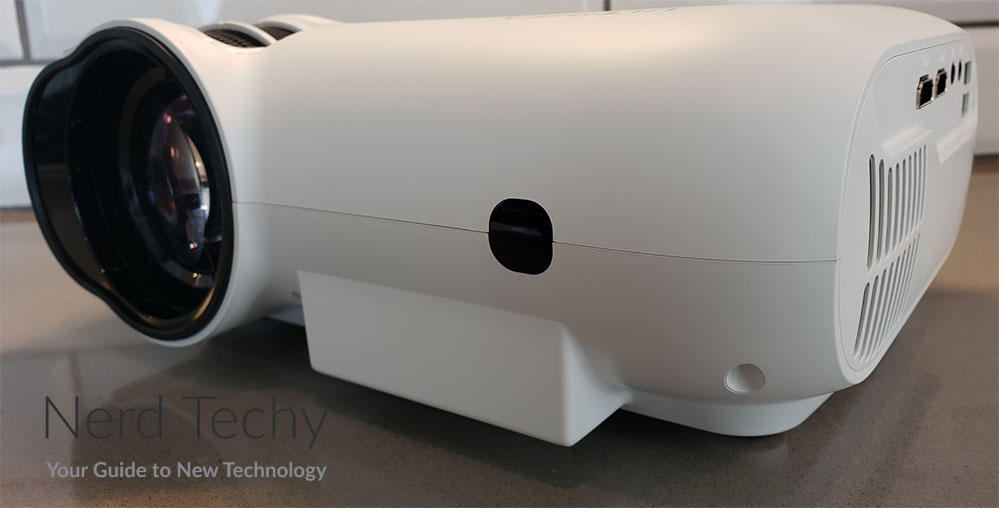 On the plus side, Bluetooth is present, so you can hook up wireless speakers or headphones without any fuss. It seemed to work well in our testing, but your mileage may vary depending on the device you're trying to connect.
We will say that the USB connectivity worked well, as we were able to stream media directly from our USB drives. This is another area where you might not always get the same results, but it's nice to have the option.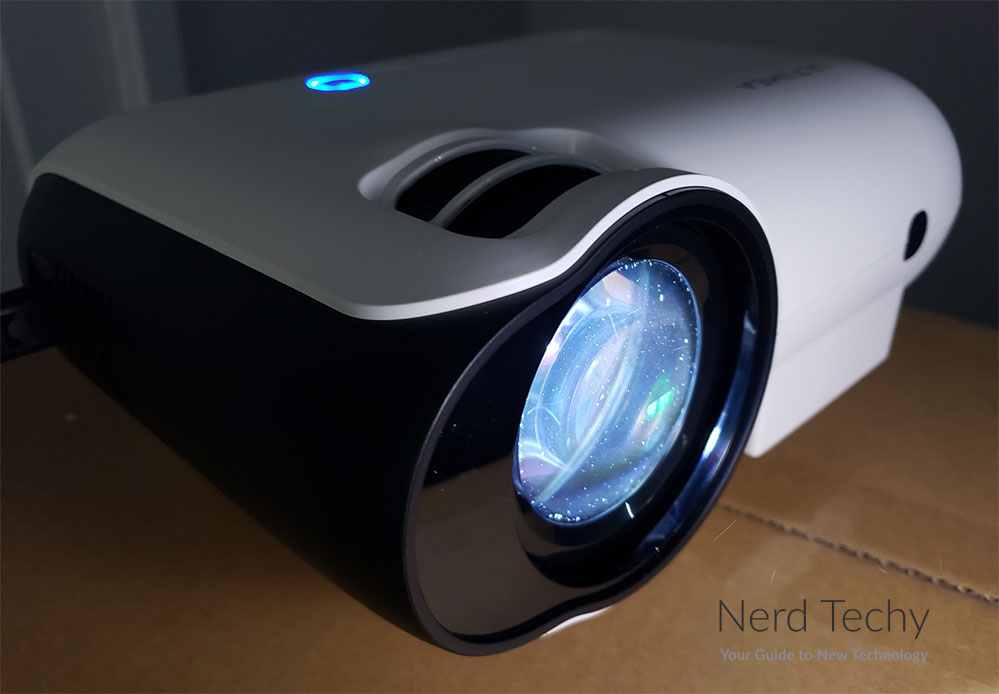 The formatting of various media can and often does cause headaches for users, but the Apollo P20 seemed to recognize most files without any problems.
So in short, connectivity is not as robust as we would've liked, but that's something you can learn to live with if money is a concern. It's worth mentioning that you get everything you need with the unit to get up and running.
Included with the Apollo P20 are an HDMI cable, an AV component cable, and the power cord. Again, for most casual users, this is all that'll be needed.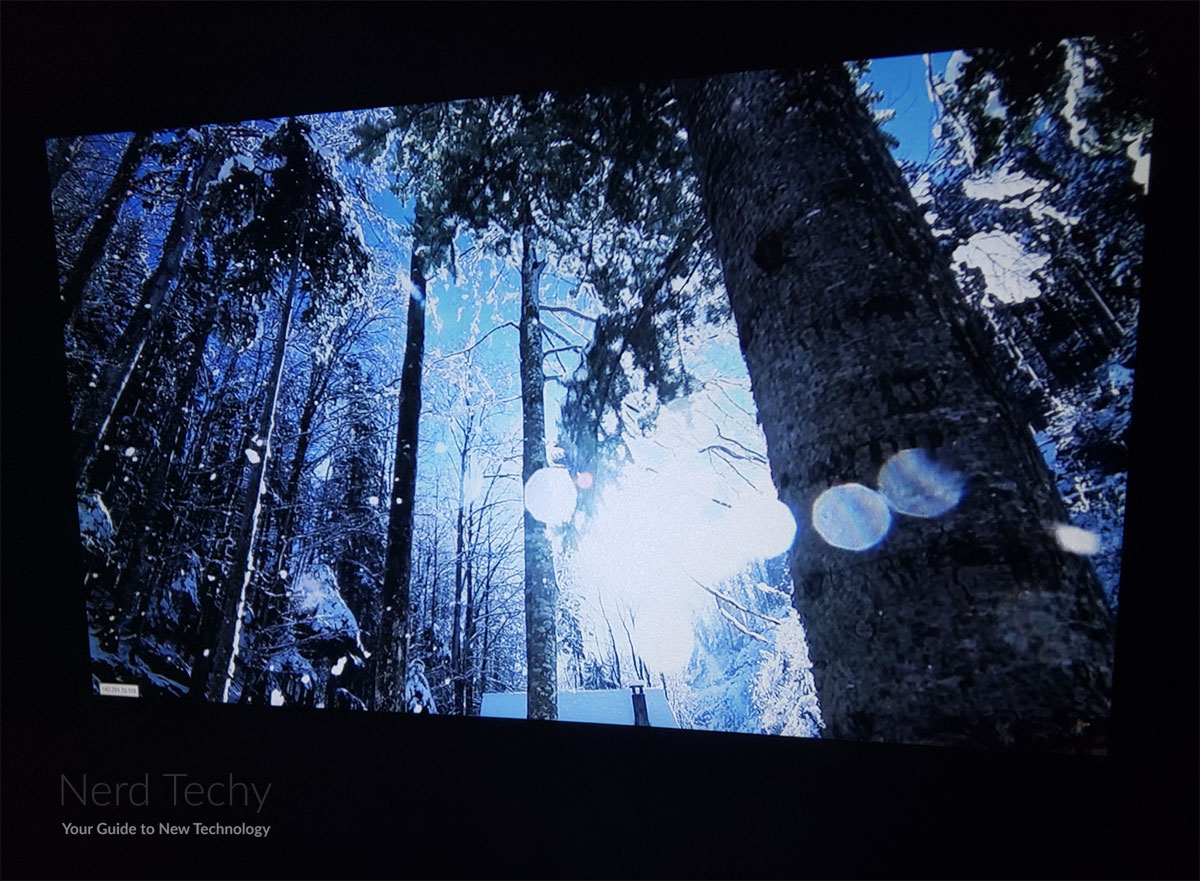 Performance
The performance of the ULTIMEA Apollo P20 is pretty decent for a budget-friendly projector. It has a brightness level of 10,000 lumens that can reach up to 1.5:1 throw ratio, allowing it to produce crisp and clear images at a comfortable distance. This amount of brightness clearly outperforms any other projector in the same price range.
The projector also comes with a one-way Bluetooth connection, so you can easily pair it to your favorite soundbar or speakers for an immersive movie experience. We couldn't find any information regarding whether the P20 has HDCP 2.2 content protection, but we didn't have any issues with our media being blocked by copyright laws.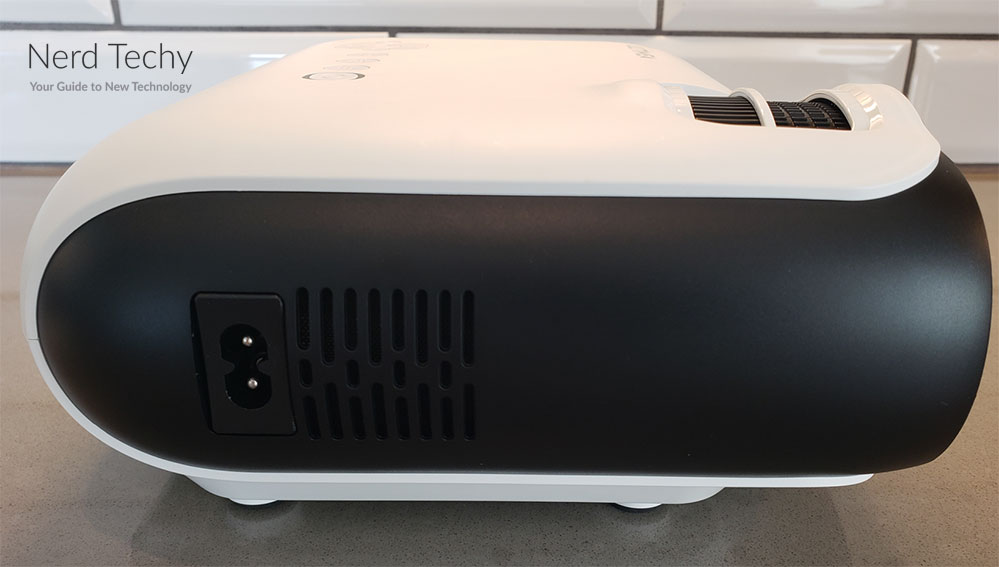 In terms of sound quality, the built-in speakers are present, fairly loud, but don't sound phenomenal. This is understandable for this price point, but if you're like most, you'll probably opt to pair a Bluetooth speaker to it for improved sound.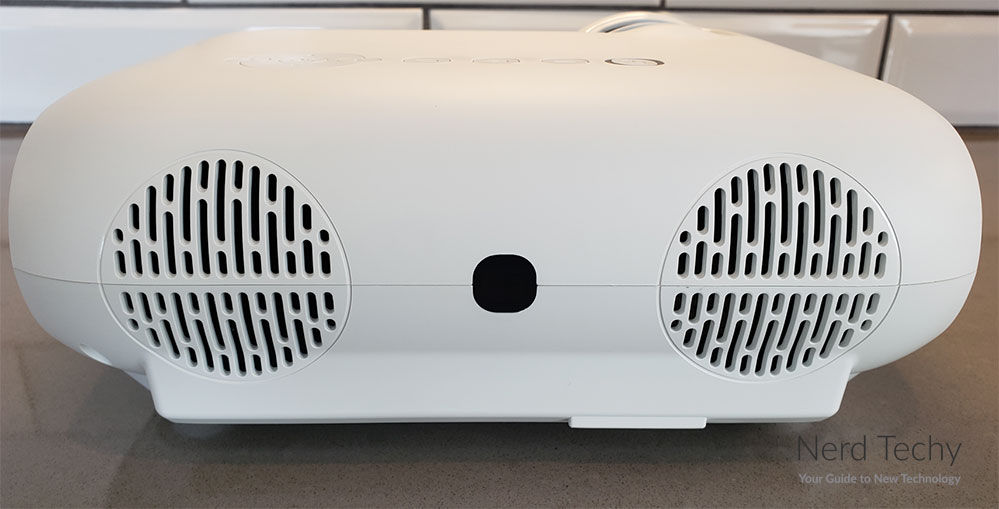 Finally, the P20 does run quite quietly, thanks to its superior cooling technology. That means you can enjoy a clear theater experience both indoors and out without having to worry about any distracting noise.
ULTIMEA uses a dual-fan system to keep the P20 cool and running smoothly, and it does an excellent job of doing that. It's a nice departure from older-style home movie projectors, and it's sure to appeal to both first-time users and experienced projector enthusiasts.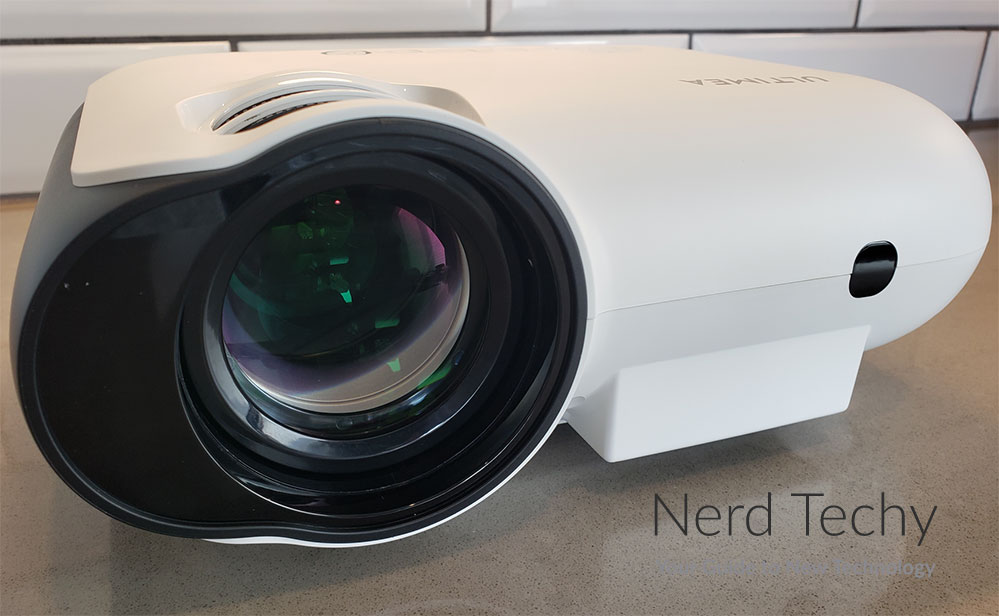 User Experience
There is a plus side to the lack of connectivity, that being, the projector is incredibly easy to use. Setting it up is a breeze, and you don't need to be a tech expert to enjoy it.
Navigating the menu system is also straightforward, thanks to its basic design. We were able to find our way around without having to look through an instruction manual, which is always nice.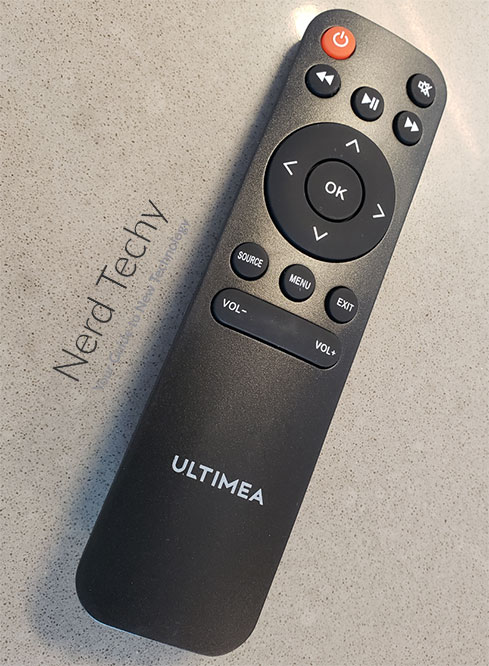 And helping to streamline the user experience is a remote control. We were happy to see that this isn't like most cheap remotes that you get with budget-friendly devices.
It's made well enough, and the buttons are clearly labeled. The response is also good – something that you don't always get with the cheaper alternatives.
Who's It For?
The Apollo P20 is an ideal projector for those looking for a good home theater experience without breaking the bank. Its low price and excellent projection quality make it perfect for budget-minded consumers who still want great picture quality.
It's also a great choice if you're looking to set up a movie night in your backyard. The projector's brightness and clarity make it perfect for outdoor movie nights. And with its Bluetooth connection, you can get the sound from your speakers to match.
Apartment Dwellers
Apartment dwellers will love the P20 thanks to its small size and quiet operation. Its small form factor means it won't take up much space in their living rooms, while the whisper-quiet noise output ensures that movie nights won't disturb your neighbors. This makes it a great choice for those who want to enjoy the cinema experience without sacrificing their peace and quiet.
RVs
The P20 also makes a great projector for RV enthusiasts. Its small size and portability make it perfect for taking along on your travels, while its brightness ensures that you can have outdoor movie nights no matter where you're headed. It's one of the few projectors that are ideal for both indoor and outdoor use.
Outdoor Gatherings
As mentioned, the P20 is an ideal projector for outdoor movie nights. Its brightness and clarity make it perfect for providing a clear picture no matter where you are. And with its Bluetooth connection, you can get the sound from your speakers to match. So whether you're having a summer campfire night or just looking for some entertainment in your backyard, the P20 is the projector for you.
College Dorms
This is a nice fit for college dorm rooms, too. Its small size and quiet operation mean it won't take up a lot of space or cause too much noise in dorms. And its bright images make it ideal for movie nights with friends.
College kids don't typically have a lot of free cash to blow on things like home movie projectors, so the P20's low price tag makes it an ideal option for those on a tight budget.
Kids Room
If your kid has been pestering you to get them a projector, then this is the one for them. With its bright and vivid images and quiet operation, it's an ideal way to give your kids their own home theater experience without breaking the bank. Plus, they can take it with them when they go off to college, too (see above)!
There are a lot of uses for the Apollo P20, but those are just some of the highlights. Given its portability and versatility, you're sure to find plenty of ways to make the most of this projector.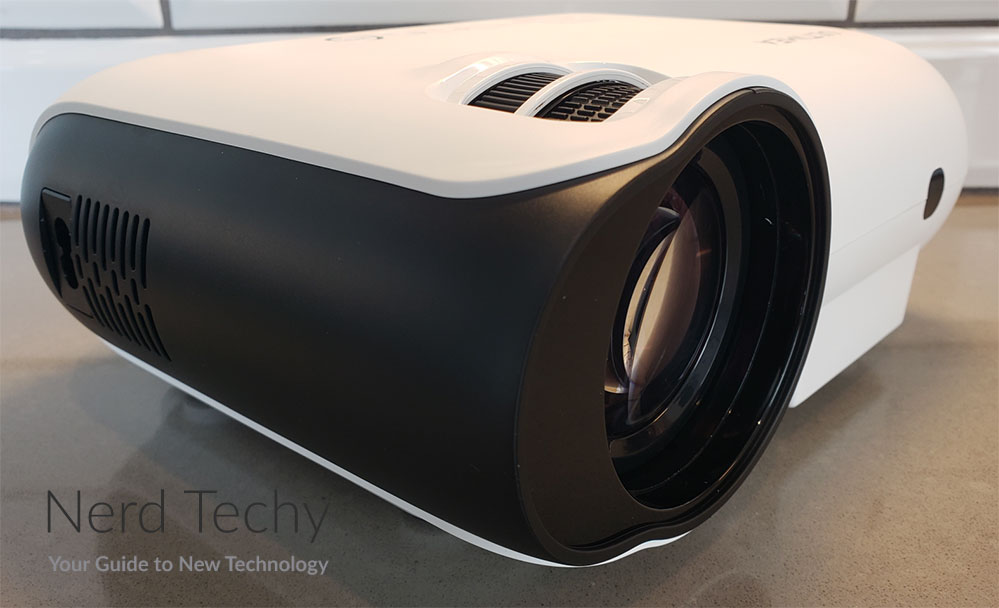 Use code "nerdtechy25" for a 25% discount when you order the P20 from Ultimea's Official Website
Final Thoughts
The ULTIMEA Apollo P20 is an ideal projector for budget-minded consumers who still want great picture quality. Its low price and excellent projection quality make it perfect for a variety of users, from apartment dwellers to RV enthusiasts. And with its Bluetooth connection and small form factor, you can get the sound from your speakers to match.
We like that it's easy to set up and use, plus its low noise output means you won't disturb your neighbors or roommates. In closing, we recommend the P20 for anyone who's looking for a good home theater experience without breaking the bank. It has all the features you need for a great entertainment experience, even if it's lacking some of the more advanced features of high-end projectors.
Meet Derek, "TechGuru," a 34-year-old technology enthusiast with a deep passion for tech innovations. With extensive experience, he specializes in gaming hardware and software, and has expertise in gadgets, custom PCs, and audio.
Besides writing about tech and reviewing new products, Derek enjoys traveling, hiking, and photography. Committed to keeping up with the latest industry trends, he aims to guide readers in making informed tech decisions.