PITAKA MagEZ
Pros
Very well constructed with high-quality materials.
Adds wireless charging capability to the iPad Pro.
Phenomenal charge speeds; same as a wired connection.
Appears and feels very high-end.
Apple pencil attaches to side of case.
Cons
Secondary Qi charging pad only offers 7.5W of power.
Only compatible with most recent iPad versions.
A bit expensive.
The latest iPad Pro seems to have just about everything going for it. With the M2 chip, 8-core CPU and 10-core GPU, it's a powerhouse in many regards. Available in either 12.9-inch (2732 x 2048 pixels) and 11-inch (2388 x 1668 pixels) sizes, it's an absolutely incredible release from Apple.
But one major feature is missing; wireless charging is not supported. Many see this as a huge flaw and even a downgrade based on the previous tablet they're coming from. Luckily, a smart, aftermarket upgrade from PITAKA changes all of that.
Introducing, the MagEZ Case Pro. It's a high-quality case that's best paired with PITAKA's MagEZ Stand to offer an innovative way to wireless charge. Unlike many wireless chargers out there, it offers speeds as fast as your standard wired charger is able to go.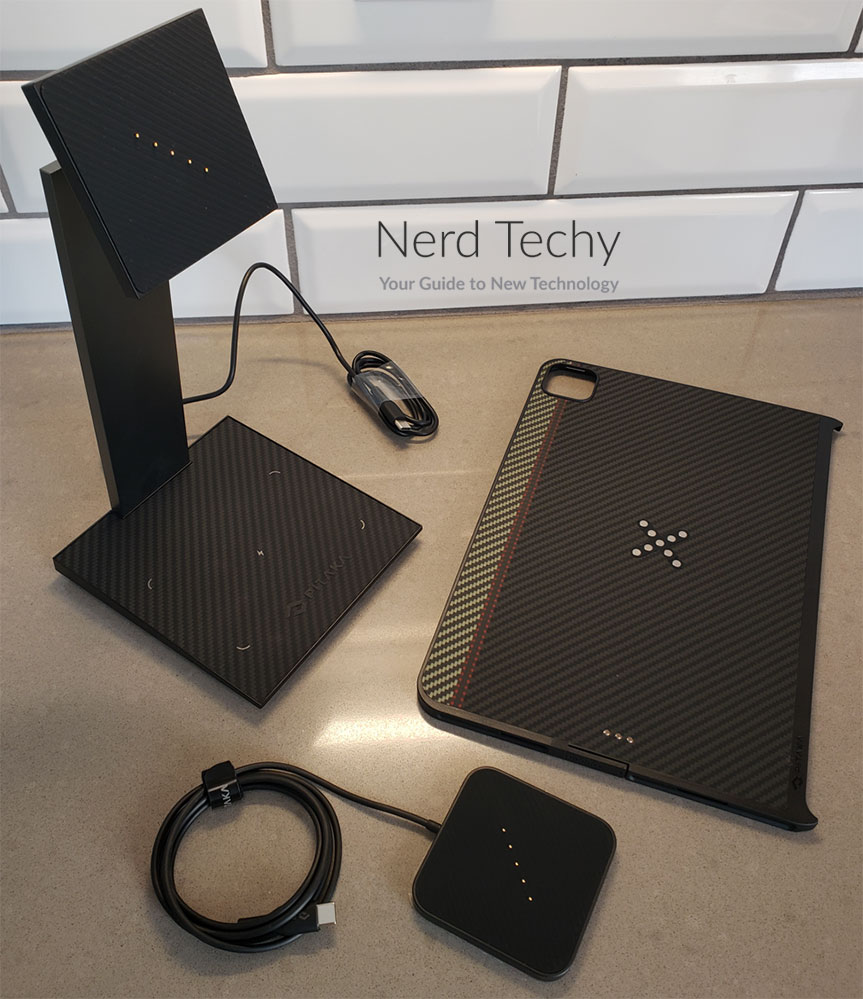 And if you don't have the budget or simply don't want any other accessories other than the case, it also comes with PITAKA's PitaFlow Charger. This small device foregos the optional stand and acts as a 'stick-anywhere' charging pad to use in conjunction with the MagEZ Case Pro.
Today we're going to take a look at these new products and explore them with a crticial approach. Let's get right into it.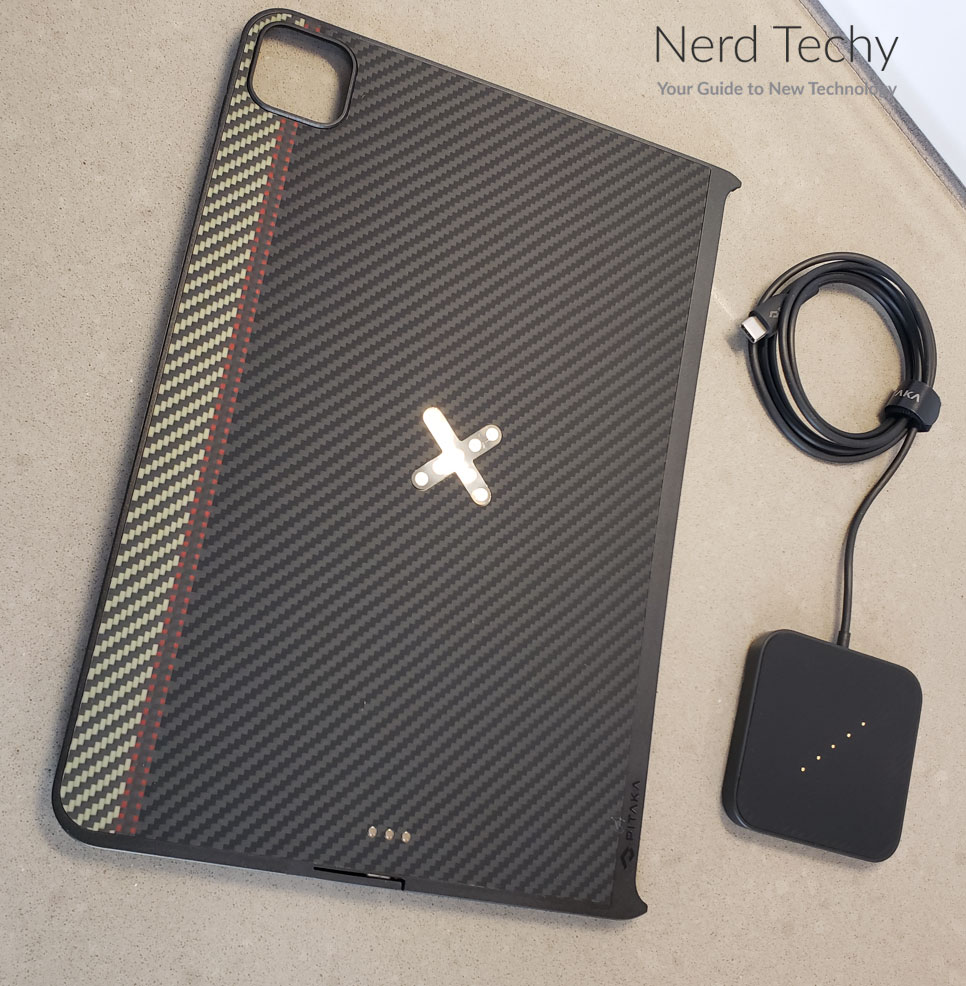 The MagEZ Case Pro
PITAKA's MagEZ Case Pro is dedicated for use with the iPad Pro 2021 and 2022 versions. Available in a wide assortment of beautiful patterns, it carries a smooth, faux-carbon fiber appearance that looks downright sharp. Although it's definitely a minimalist-oriented case, it's comprised of a aramid fiber material with touches of polyurethane throughout.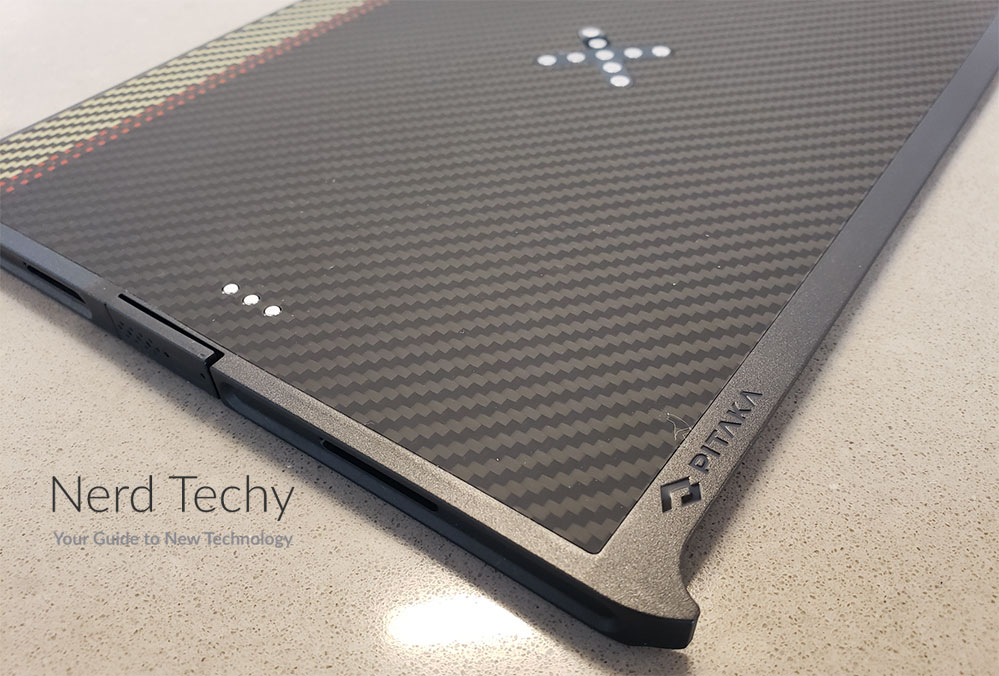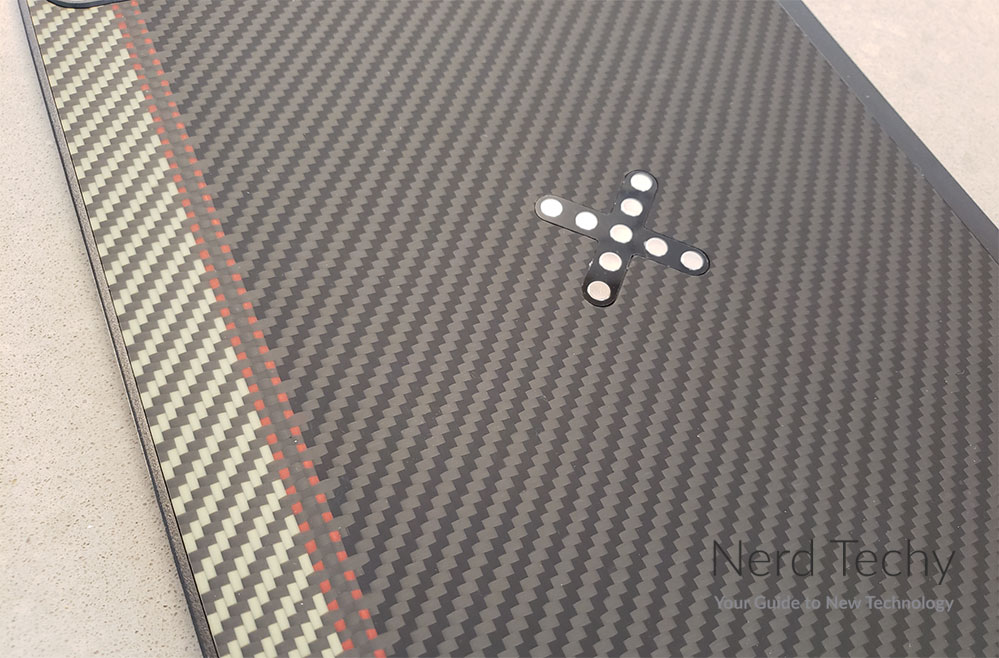 Simply put, it's seemingly tough given its lightweight stature of 90 grams or 120 grams for the 11-inch and 12.9 inch iPad Pro models, respectively. Although it's only 1.4mm thick, the high-end aesthetics offer a rigid feeling that tends to hold up to everyday use, quite well.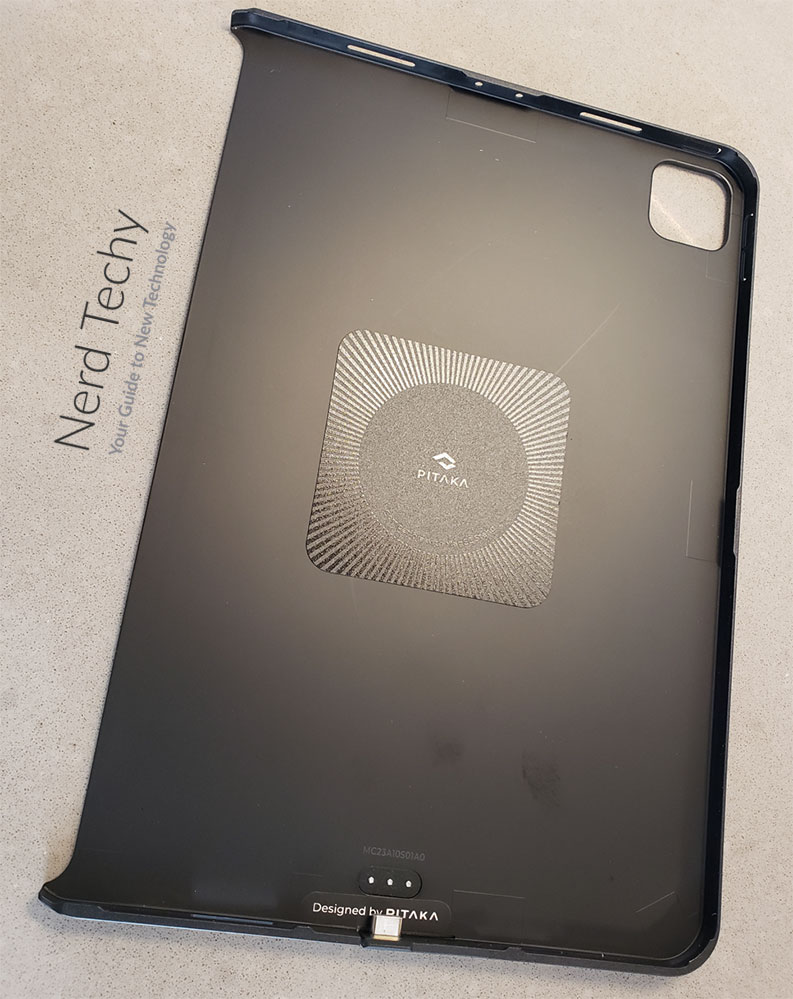 Take a look at the back of the case and you'll see a gold X. This is actually the wireless charging connector that's magnetically attracted. Here, the charging connection is passed through the case and routed with a virtually invisible wire that plugs directly into your iPad Pro's charging port. It does so with the use of a tiny little USB-C connector that's pre-installed inside the case.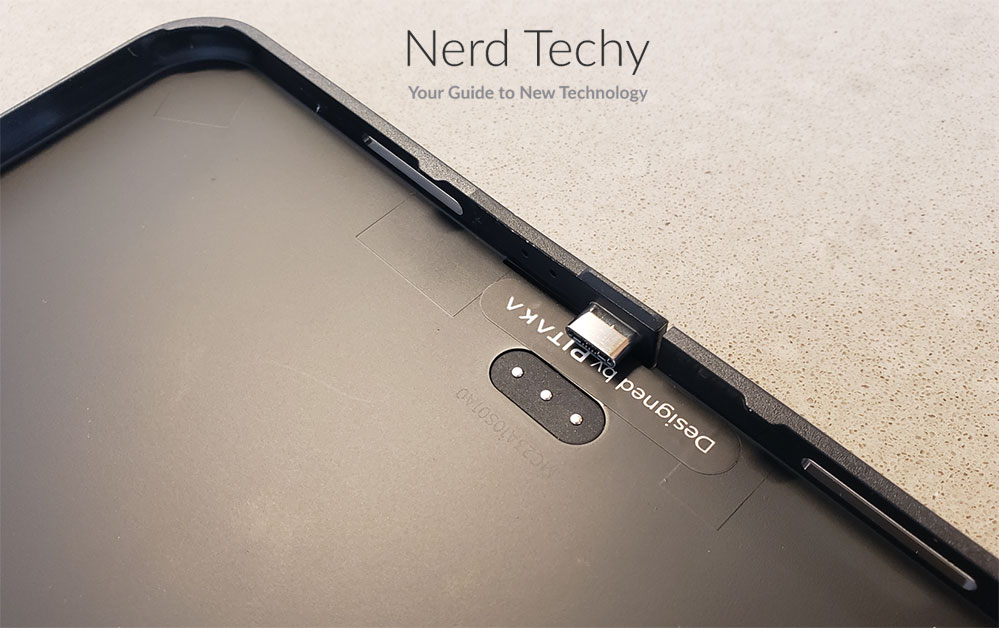 When the case is attached and plugged in, it appears completely wireless, but it's actually all physically connected. The result is the same ability to charge wirelessly, but with much faster speeds than any wireless charger is capable of. Although it mocks the ability of a wireless charger, it physically plugs-in to provide the same charging speed as if you had it physically plugged in with wired charger.
MagEZ Stand
The second part of PITAKA's wireless charging ecosystem is the MagEZ Stand. Used together with the MagEZ Case Pro, it offers a streamlined and comfortable way to view your iPad screen in an ideal position. Just snap on the case and now your iPad Pro will be magnetically capable of wire-free charging.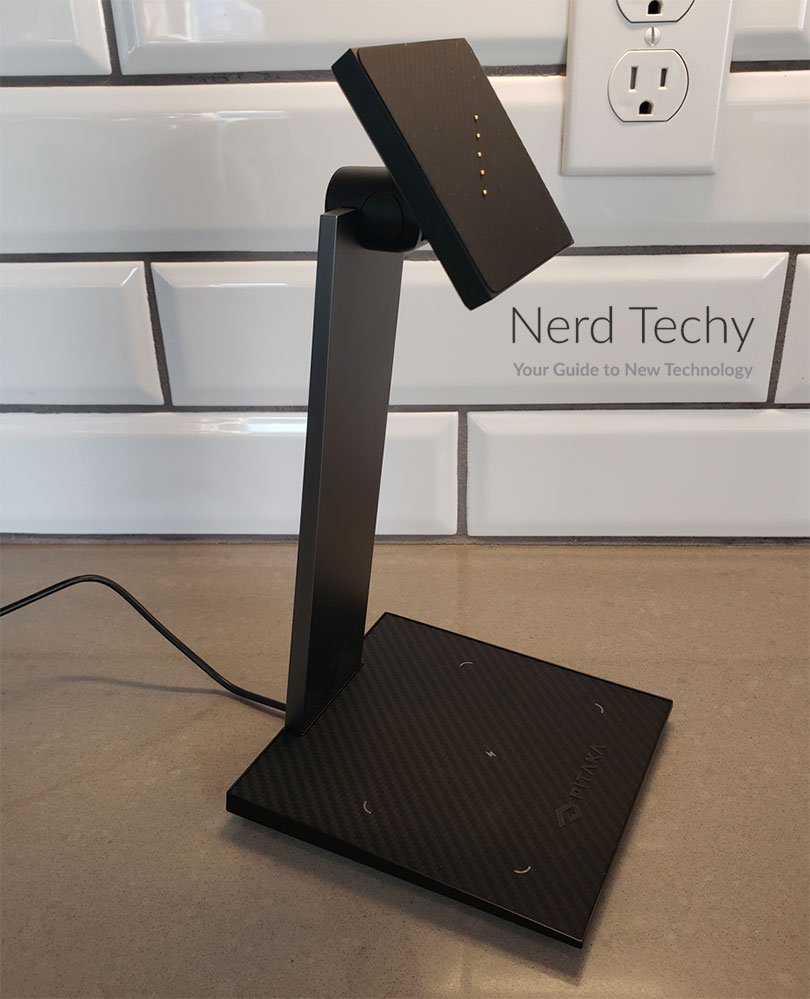 Measuring 9.6″ tall with a base of 5.3″ x 4.9″, the stand is highly portable for an unobtrusive experience. And with a weight of just 1lb, it feels solid, well-built and ready for continuous use. Comprised of zinc aluminum alloy, polyurethane and the same Aramid Fiber that PITAKA is famous for, it emits a high-end aesthetic that looks downright beautiful.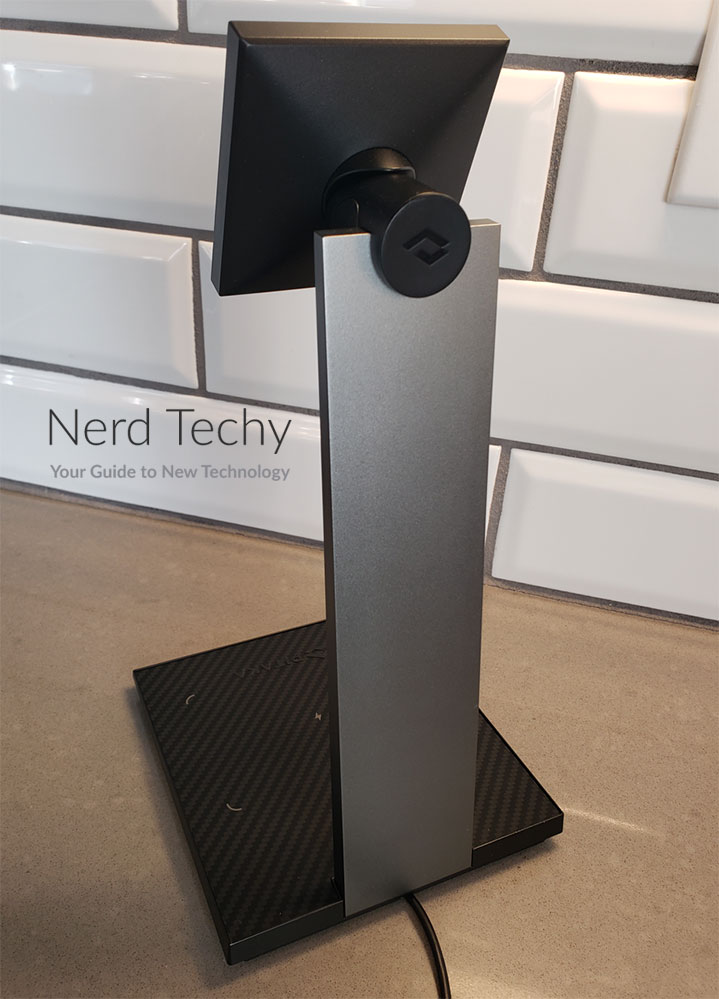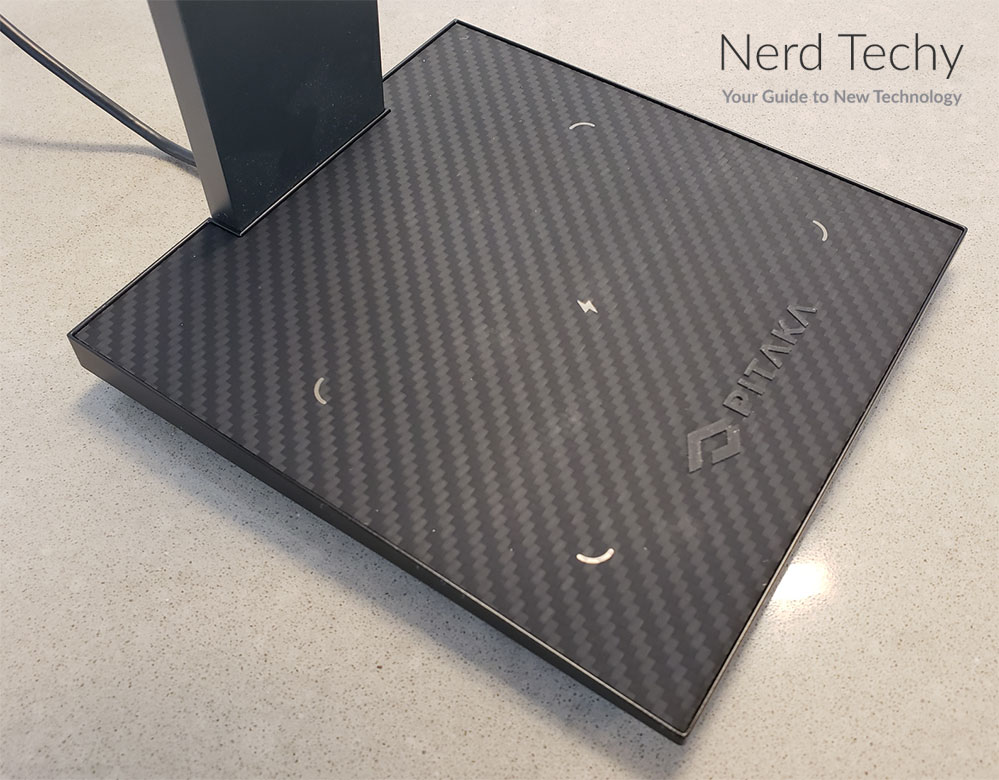 What's more; there is an extra wireless charger built right into the base of the stand – perfect for setting your iPhone or earbuds on while not in use. Although the base wireless charger is quite slow at 7.5W, it's still a nice addition.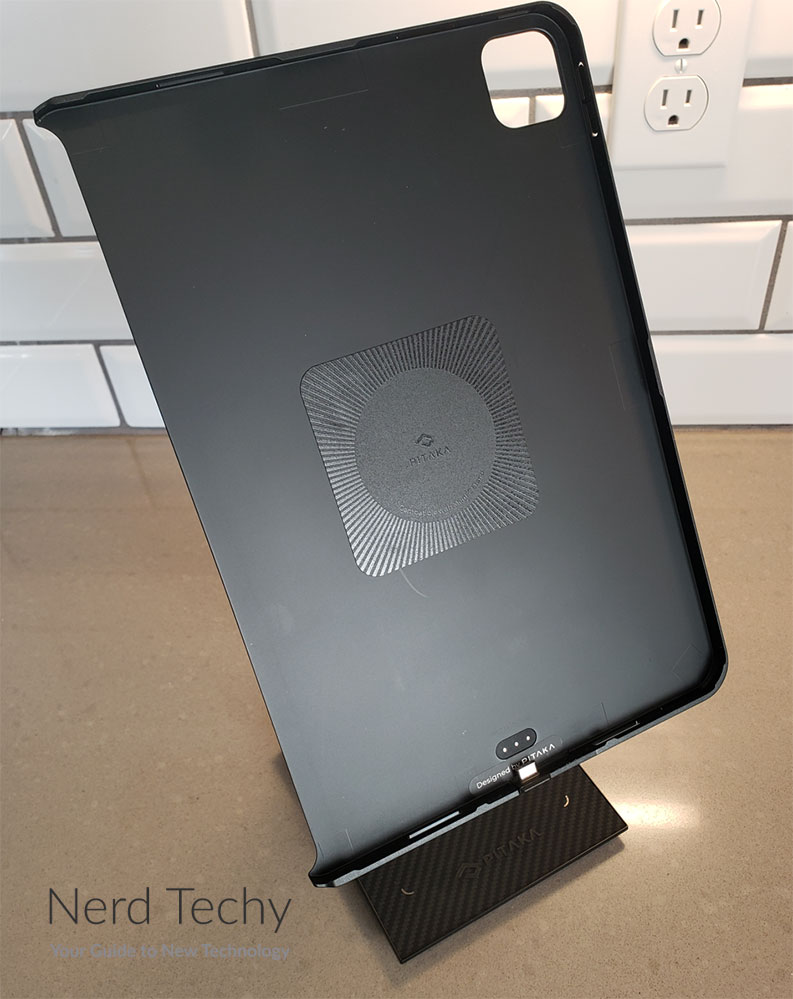 But rest assured, since the MagEZ Case Pro is still physically wired, it only emulates real wireless charging. Ultimately, this means your iPad Pro will charge as fast as it physically can without any of the bottleneck speeds that come from true wireless charging. Simply put, you get the best of both worlds.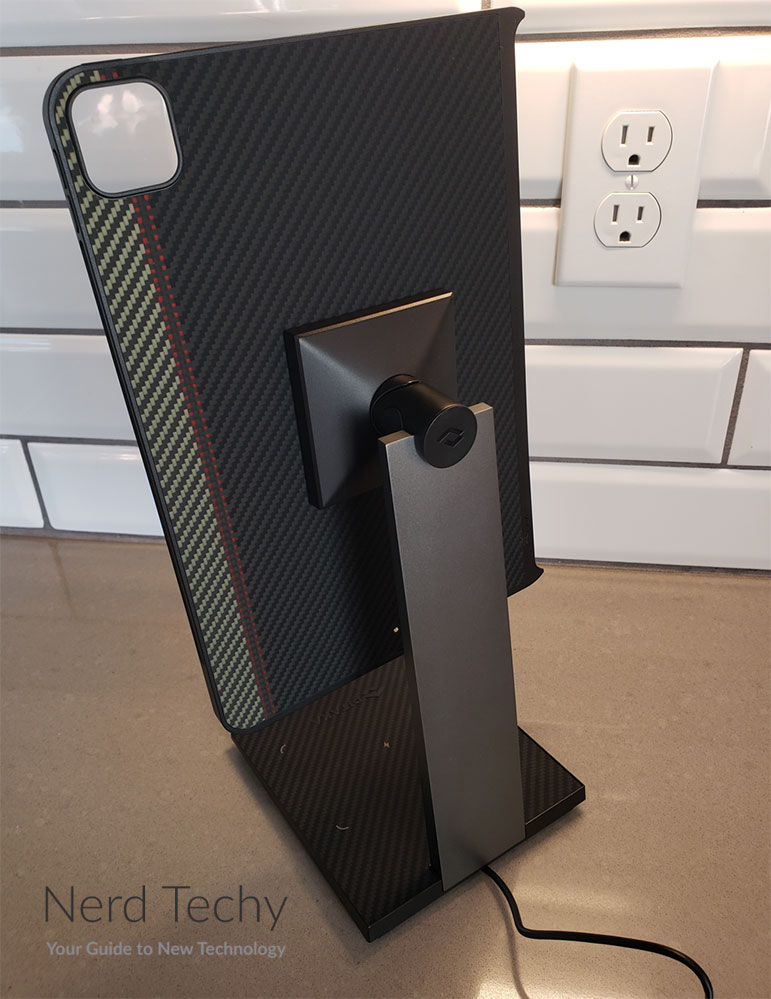 The MagEZ Stand is positioned at a 32.5 degree angle with 5 degrees of adjustability. While this may not seem like a lot of movement, it isn't. But that's OK – the angle is ideal for proper eye and head comfort in either portrait or landscape mode. The whole stand is made tough, with a hidden USB-C port underneath that discreetly plugs-in to the wall without looking messy. The base is stable and everything seems to be weighted properly in order to provide a proper balance that won't unexpectantly tip over.
PitaFlow
The MagEZ Case Pro is best when used PITAKA's MagEZ Stand. However, not everyone wants to shell out an additional $99 for this upgrade. Thankfully, they also include a PitaFlow charger in the box with the case.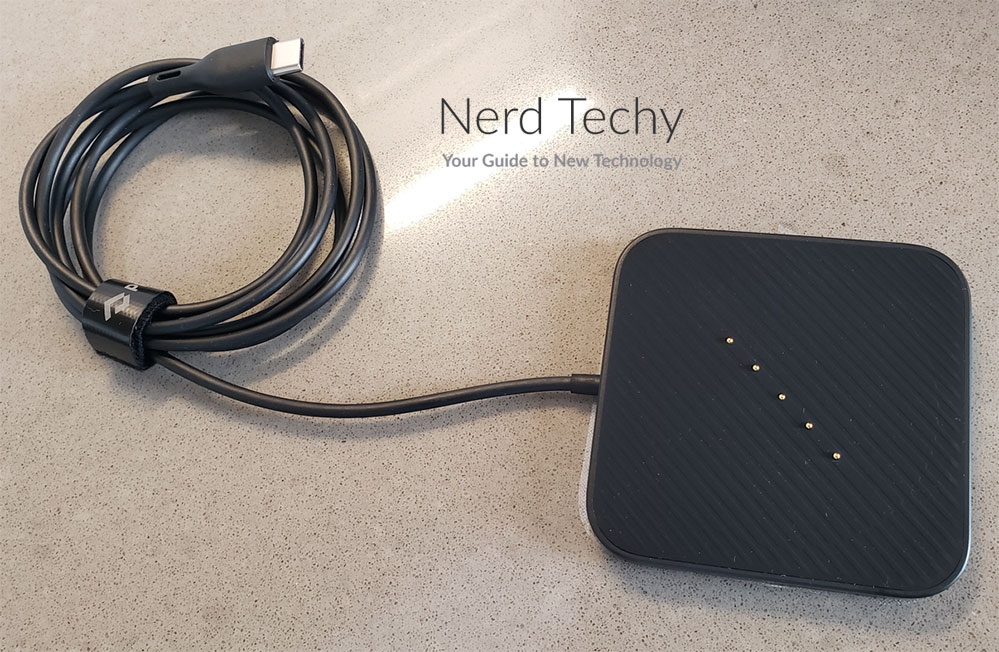 The PitaFlow charger is a separate little device that can be used as an alternative to the MagEZ Stand. Basically, it's a miniature wireless charging pad with an adhesive backing. It's to be physically plugged in to a wall outlet and placed virtually anywhere you'd like to set your iPad Pro. Therefore, offering the same wired speeds that the stand offers. But keep in mind, it does nothing to angle your tablet in any position other than flat – the stand will always be the best at that.
Regardless, the PitaFlow charger is a very nice addition, even if you opt for the stand as well. By placing it on your desk, table top or other hard surface, you can "wirelessly" charge without any hoops to jump through. Best of all, it's included in the package with the case and isn't an extra upgrade.
Final Thoughts
Although the MagEZ Case is only compatible with the most recent iPad Pro iterations, it opens up a whole new realm of possibility thanks to PITAKA's unique innovation. They've ingeniously figured out an effective and useful way for the iPad Pro 2021 and 2022 to support wireless charging.
Best of all, the wireless charging speeds are even better than most users could imagine. While the USB-C charging port is required to be in use when the case is installed, it bypasses traditional wireless charging in an incredibly smart and unique way.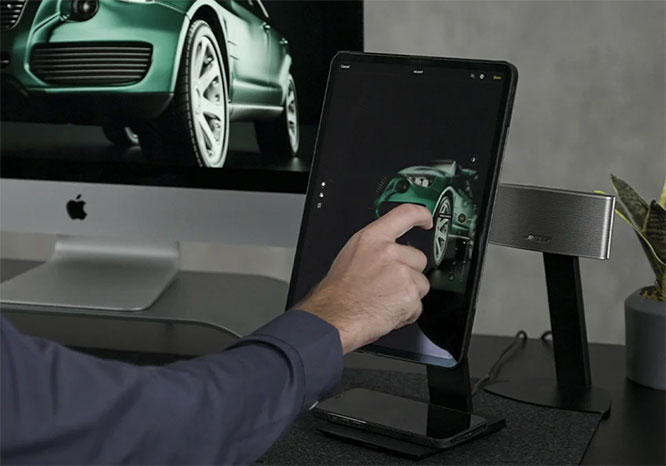 In terms of magnetic strength, we were pleased to find it up to the task. The built-in magnets on both the case and stand are incredibly strong, offering a secure connection that won't easily come loose unless you physically detach it with your own hands.
The case, stand and the extra PitaFlow charger works exactly as advertised. Everything is comprised of high-end materials and components, making the quality apparent right from unboxing. It's a great upgrade for anyone looking for a clutter-free workspace that hides all the wires and emulates wireless charging in the best way possible.
Acting somewhat as a work-around or hack for wireless iPad Pro charging, it's better than one could imagine. With charging speeds well beyond what any wireless charger is capable of, PITAKA's MagEZ eco-system has innovation and quality written all over it.
Meet Derek, "TechGuru," a 34-year-old technology enthusiast with a deep passion for tech innovations. With extensive experience, he specializes in gaming hardware and software, and has expertise in gadgets, custom PCs, and audio.
Besides writing about tech and reviewing new products, Derek enjoys traveling, hiking, and photography. Committed to keeping up with the latest industry trends, he aims to guide readers in making informed tech decisions.