Gamecube is a sixth-generation video game console that was originally released by Nintendo in 2001. It was the first console to have a three-dimensional optical disc, the mini-DVD, as its primary storage medium. That said, replacement game games are quite hard to come by.
At the time, it was capable of producing high-quality graphics, and featured a unique controller design with both analog and digital sticks. Inevitably, Gamecube was discontinued in 2007, but some of its games and accessories were still widely available after that. However, in 2023, it's getting more difficult to find accessories that work well with the 22 year old console.
With a library of over 600 games, one of the most common accessories that often need replacing are the game cases. Since they store an 80mm mini-DVD rather than a standard-sized disc, they can be quite difficult to find.
Fortunately, replacement Gamecube game cases are still readily available. Although a bit cumbersome to find, both original and non-OEM versions are out there. Today we're going to share some of our favorite options that we found after extensively searching. Let's get right into it.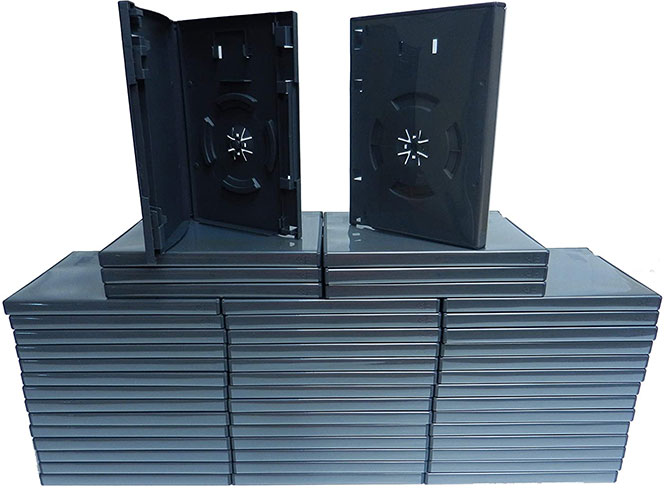 Bulk Replacement Gamecube Cases by Rock 30 Games
As a direct clone of the original Gamecube game cases, this bulk pack from Rock 30 Games is ideal for those who need plenty of replacements on-hand. Available in either 25 or 50 case lots, these provide some of the best value over any other option. Whether you're an avid collector or a vintage game store owner, you're getting the most bang for your buck.
As the exact same size of the OEM Gamecube game cases, these mimic the originals in every way possible. 100% new from the factory, they're made from seemingly high-quality plastic in the same dark grey, nearly black color that you're likely accustomed to. There's a clear plastic layer on the outside that fits artwork and paper inlay with perfection.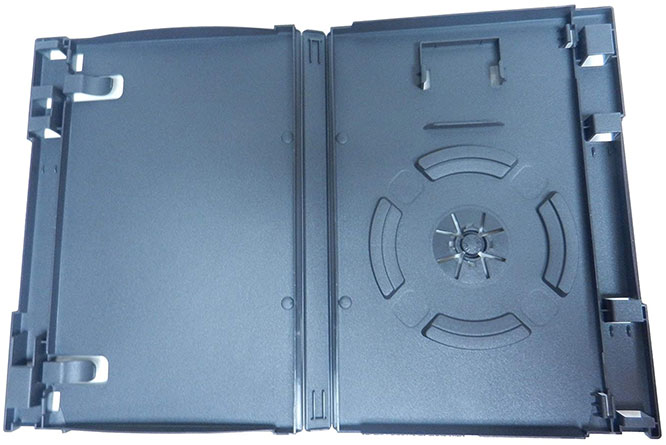 In addition, the inside has two clips on the inside door cover for attaching a user manual or any paperwork. On the opposite inside door, there's a memory card holder located directly above the mini-DVD clip that snugly holds a Gamecube disc. The case shuts firmly, providing a snap-sealed enclosure that looks just as good as an OEM case.
Although these are not authentically made by Nintendo, they're clearly identical. From first glance, you probably won't even know that these are non-OEM versions. The only main caveat is that they are only sold in bulk quantities.
Official Nintendo Gamecube Replacement Game Case Box
If you're a true collector or a die-hard gamer, you've got to have the original. Thankfully, you can still find official replacement Gamecube game boxes readily available. While these cost over $15 each and are technically used, they're an authentic way to swap out a broken game case.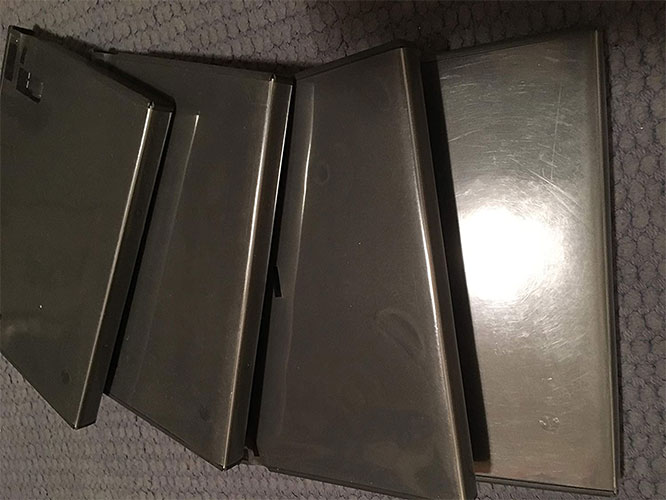 As stated, these are the real deal. There's no cutting corners but it comes at a higher pricepoint than any non-OEM version. Fortunately, the seller has a good reputation for providing excellent-condition replacement Gamecube game cases that are still worthy of use. Notably, there shouldn't be any major flaws; only signs of normal wear and tear, in good working order.
The plastic may not appear scratch or scuff-free, but these are only rarely available and often for a very limited time.
MegaDisc Replacement Gamecube Game Case
If you don't want to order in bulk and you're not a fan of shelling out a premium for an OEM case, look no further than the MegaDisc Gamecube game cases. Sold individually, these are brand new from the factory; hot off the press. But keep in mind, these are not an official Nintendo version. Fortunately, however, they do a great job at mimicking such.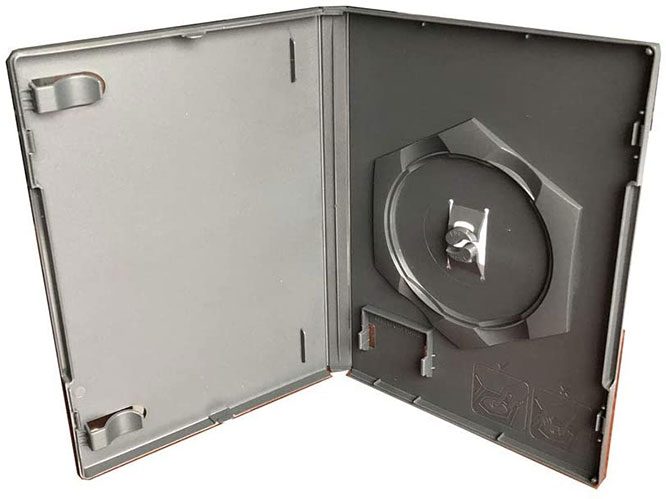 Visually, they look similar at first glance, but they're not truly identical to the original. The front appears differently with a hexagonal pattern showing around the area where you place the disc, rather than the traditional rounded style. While it provides a secure-fitting snap for a game disc, it's really just a visual difference. Beneath this and towards the left corner, you'll notice a memory card storage slot. Contrary to being located centered, above the disc, it's in a different position, but still provides the same ability as an OEM case.
The layer of clear plastic encasing the entire exterior seems to be a bit thicker than the original, which is an added bonus. It's snug, vividly clear and seemingly durable for standard use. As far as the case itself – it has the same original, dark grey, almost black color that you're hoping for. Best of all, the hinge is solid, thick and seems to be ready for years of abuse to come. While $10 each seems like a steep price-point to some, you're getting a brand new, non-OEM case that looks just as good, if not, better than the original.
Plastic Protector for Gamecube Game Cases
Keeping your existing Gamecube game collection safe from damage is important. As you can see, replacement cases are quite expensive for what they are. Since Nintendo doesn't manufacture them anymore, there are a number of reasons you may want to take good care of them. When compared to aftermarket options, original game cases are always more valuable if you're into collecting. This is why some people opt for a plastic protector to go over it.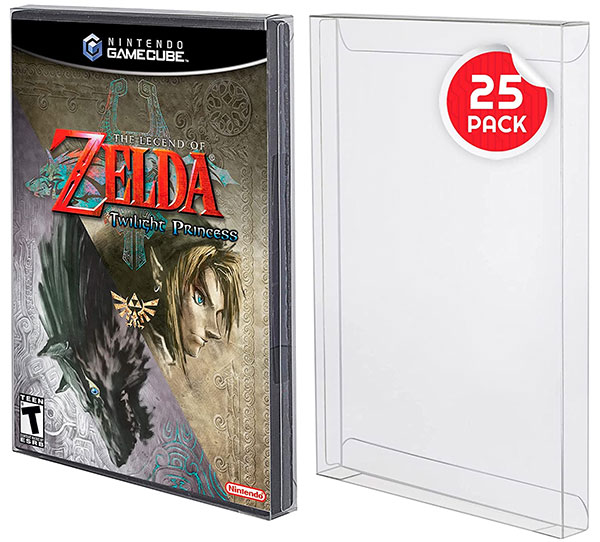 Manufacturer EVORETRO sells a 25-pack of plastic protectors that keep your game cases in pristine condition. Although unavailable in smaller quantities, these protectors are around $1 each when you do the math. Therefore, they can be seen as an inexpensive necessity to add to the longevity and collectability of your Gamecube games.
Made from a durable 0.4mm-thick, PET material, these protectors are completely clear and acid-free so they won't naturally yellow or degrade over time. By adding these to the outside of your game cases, it provides a crystal-clear, high-end appearance that's very presentable. Whether you have your Gamecube games in a hidden stash or displayed on a wall, the protector can be seen as a smart investment for the long run.
Meet Derek, "TechGuru," a 34-year-old technology enthusiast with a deep passion for tech innovations. With extensive experience, he specializes in gaming hardware and software, and has expertise in gadgets, custom PCs, and audio.
Besides writing about tech and reviewing new products, Derek enjoys traveling, hiking, and photography. Committed to keeping up with the latest industry trends, he aims to guide readers in making informed tech decisions.