Kamvas Pro 16
Pros
Accurate, responsive drawing with 8,192 pressure levels.
Beautifully crisp display.
Wide viewing angles and 120% sRGB color gamut
Adjustable stand and customizable buttons for ease of use.
Affordable price for high-quality features.
Cons
Lacks a high refresh rate.
Drivers and software may require occasional updates.
Lots of cables required for use.
Graphic drawing tablets have been around for a while, but it's only recently that they've become an essential tool for any artist or designer. Thanks to advancements in technology, they've become much more versatile.
The HUION Kamvas Pro 16 is a high-performance pen display designed to meet the needs of professional graphic designers. It's been gaining attention in the graphic design community for its advanced features, sharp display, and formidable pen technology. But is it the right tablet for your needs?
Today, we'll take a detailed look at this cutting-edge pen display. We explore its features, performance, and value for money. You should have all the information you need to make an informed decision about whether the Kamvas Pro 16 is the right tablet for your work. Let's get started.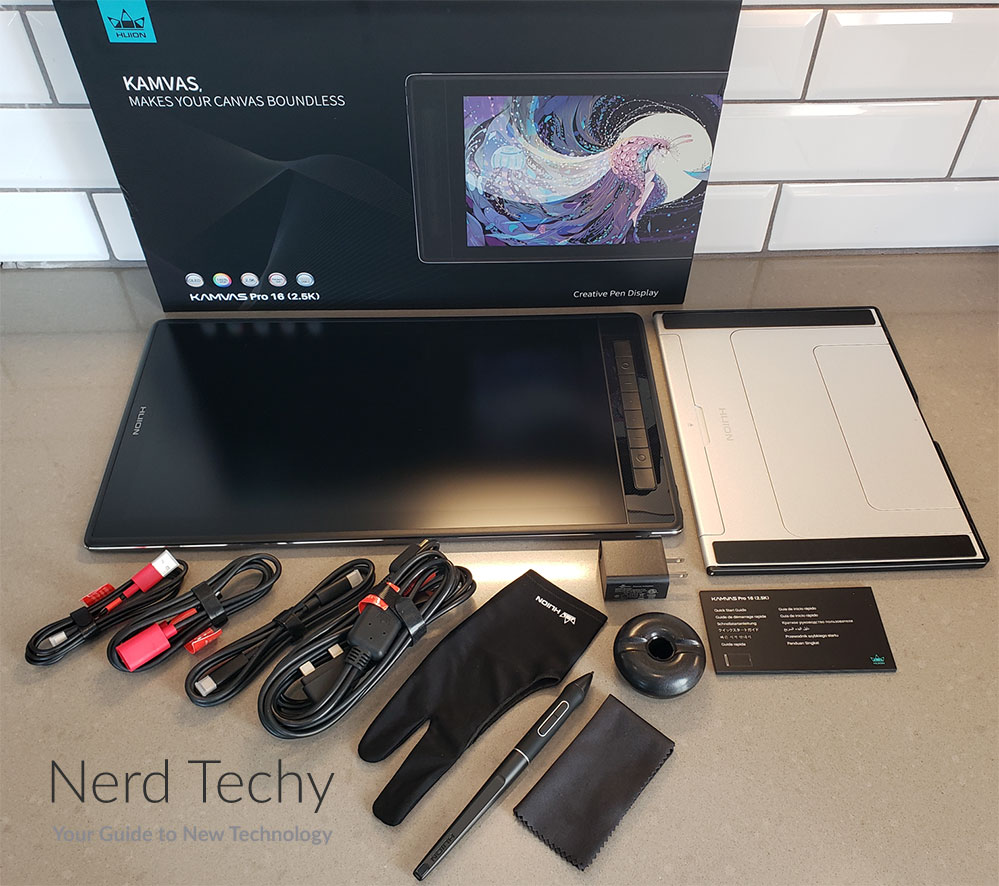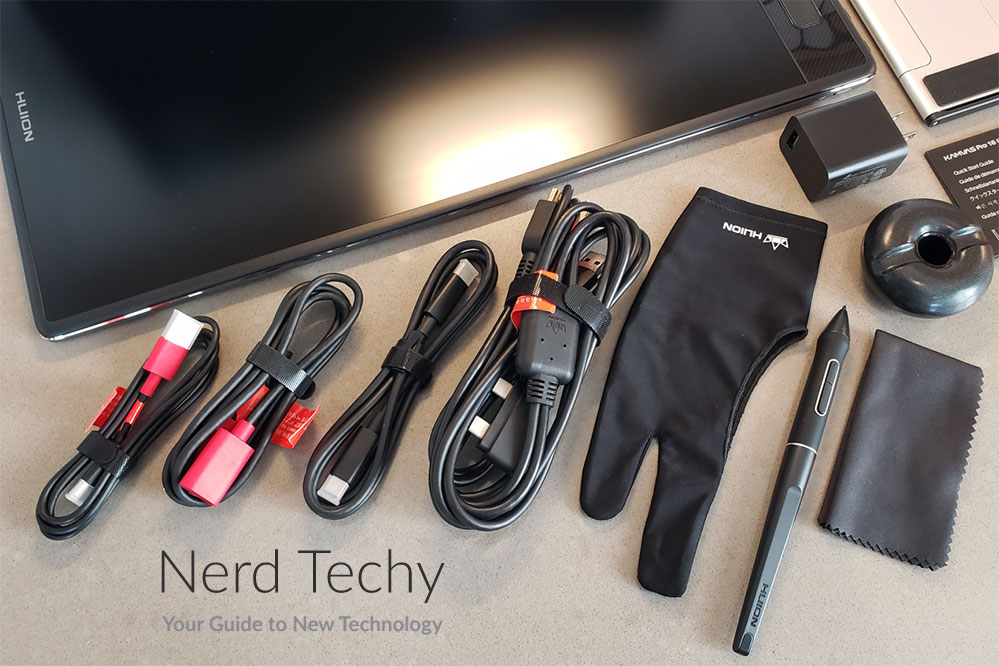 Design and Build
The Pro 16 has a sleek, professional-looking design that is both lightweight and sturdy. The tablet measures 17.7 x 9.7 x .04 inches and weighs 2.82 pounds, making it easy to carry around and work on for extended periods of time.
It is a bit heavy for a tablet, but it's a good heavy. You always feel like you're in control, and it's very well-balanced. It's just the right weight for graphics design and casual drawing. Nothing feels cheap here, and everything is solidly built.
The tablet is constructed with 90% recycled materials. It's important not to let that deter you, though. The build quality is stellar, and the tablet even features a toughened glass screen. The panel is built tough and feels tough.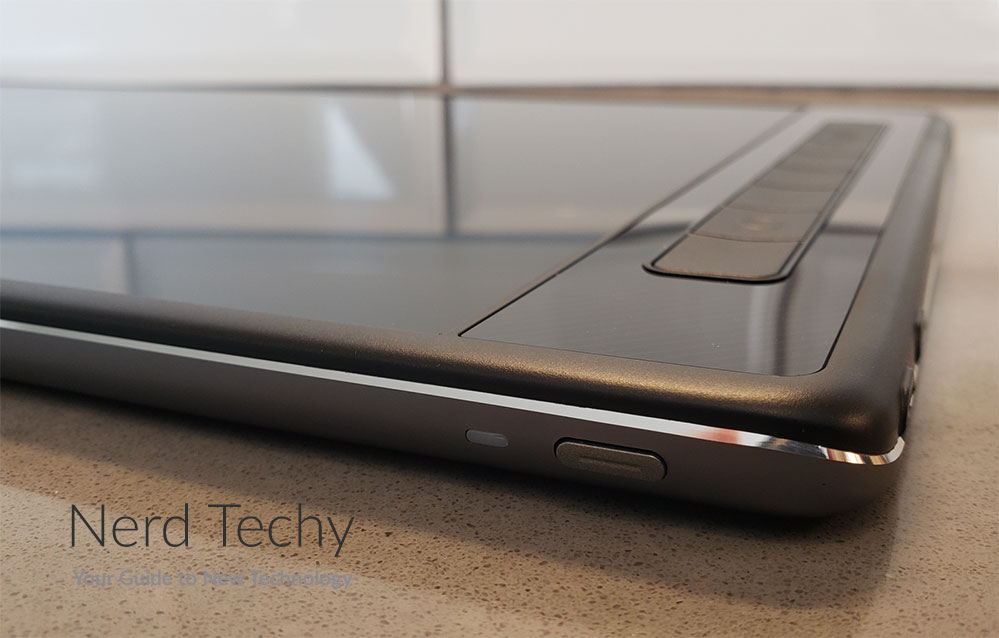 This not only gives the tablet a premium look but also helps dissipate heat efficiently, ensuring that the tablet doesn't overheat during extended use. It's worth discussing this aspect, as many expensive tablets suffer from overheating issues, forcing the user to take regular breaks. That is simply a non-issue here.
What's more, the glass screen is smooth and scratch-resistant, providing a natural drawing experience while also protecting the display from damage. We'll expand on the screen in a moment, but it's safe to say that it thoroughly impressed us with its quality and performance.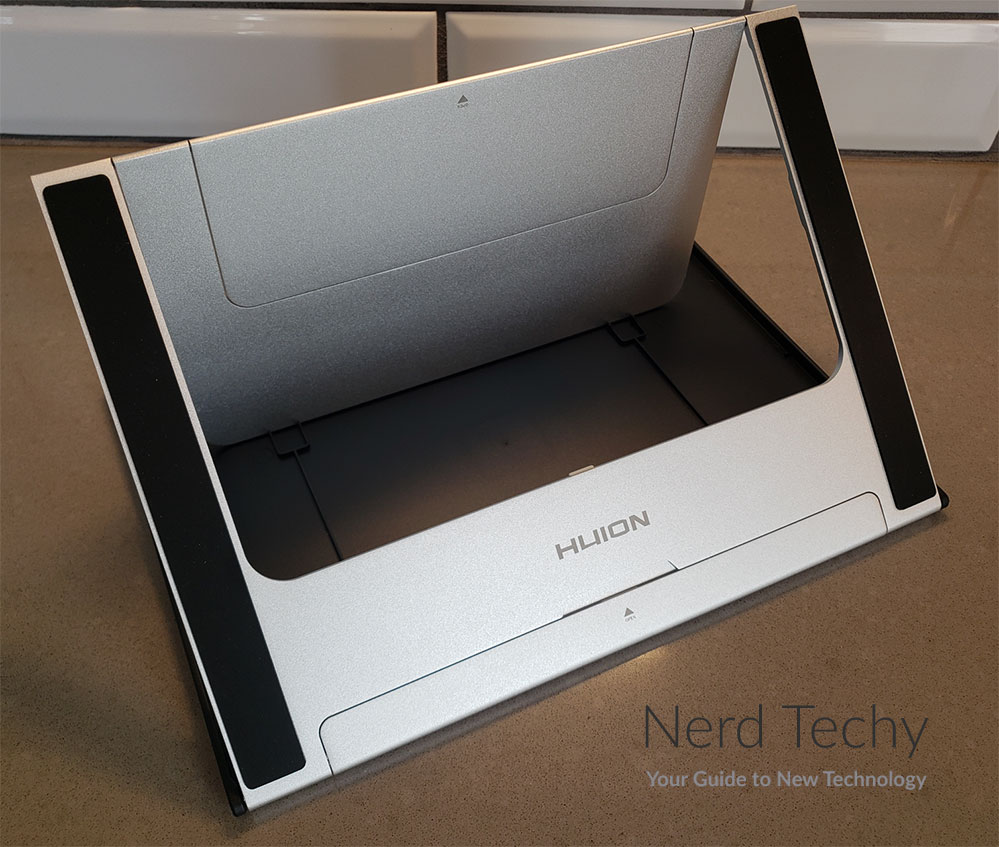 Another nice and welcome addition is the inclusion of an adjustable stand. The stand can be adjusted to various different angles, allowing users to find the most comfortable working angle for their posture and preference. The stand is also detachable, which makes it easy to store and transport the tablet. It's worth noting that it's not the best stand we've ever seen, but it does get the job done.
In terms of ergonomics, the Pro 16 has a slim profile and a bezel. This means that there is more space for drawing and less space for unnecessary borders. This results in a more immersive drawing experience. The tablet also has six shortcut buttons and a touch bar located on the left side of the display. These macro buttons can be customized to perform various functions based on user preferences.
We like the well-designed and durable build. It is both functional and stylish. And its adjustable stand and ergonomic features make it a great choice for digital artists and designers who prioritize comfort and usability during long work sessions.
Display
The latest HUION Kamvas Pro 16 features a 15.6-inch QHD display with a resolution of 2560 × 1440 pixels. The display is an IPS panel with a 120% sRGB color gamut. This means that it can display a wider range of colors than most other graphics tablets in its price range. It's a definite upgrade from its predecessor.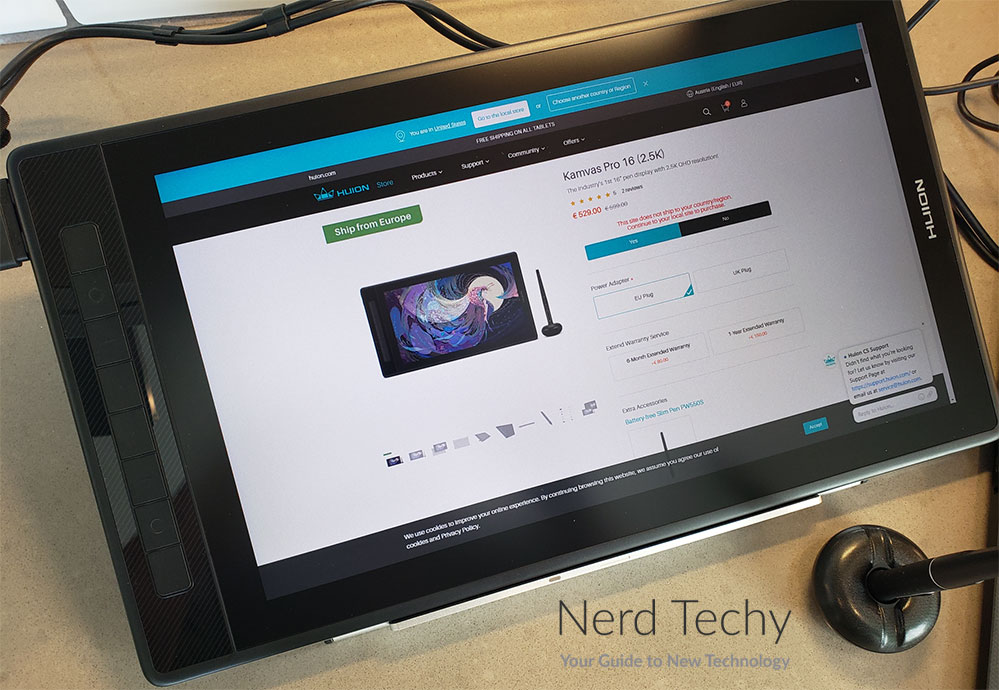 One of the most impressive aspects of the display is its color accuracy. The colors are vibrant and true to life, making it an ideal choice for artists who work with color-critical projects. The tablet's high resolution also ensures that fine details are crisp and clear.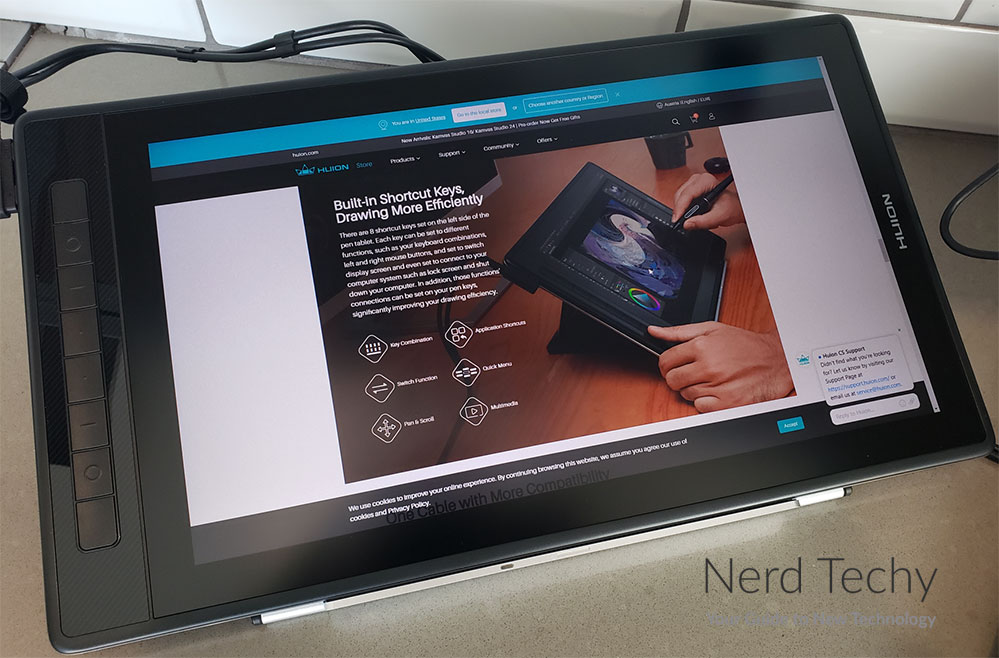 The display is also designed with anti-glare technology. It does a fine job of reducing reflections and makes it easier to work in well-lit environments. The screen is also laminated, which reduces the distance between the stylus and the display, resulting in a more natural drawing experience.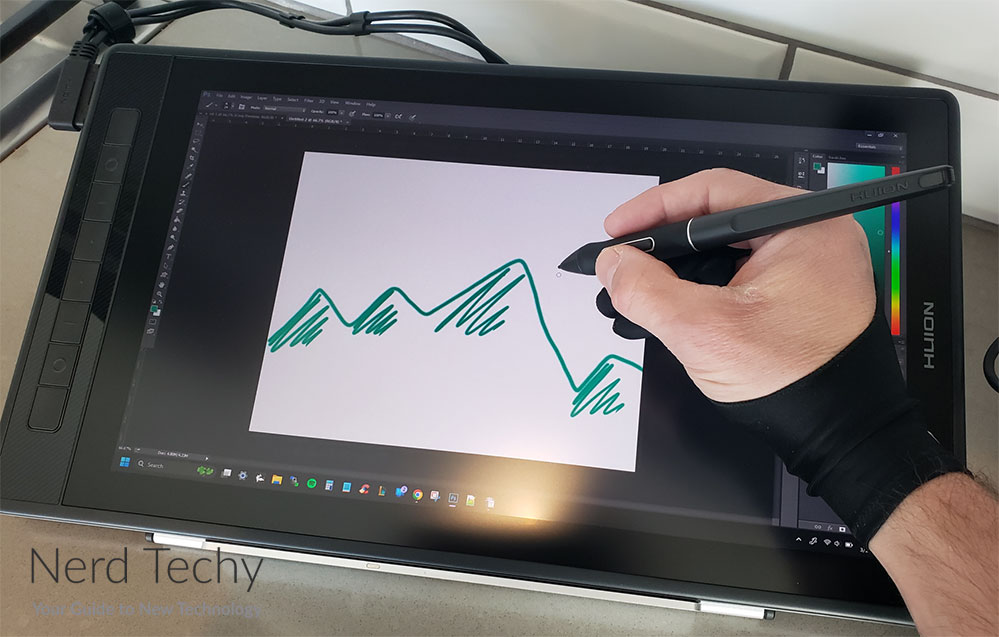 In terms of brightness, the Pro 16's display is rated at 220 nits, which is bright enough for most indoor environments. The tablet also has a wide viewing angle of 178 degrees, which means that the display looks great from almost any angle.
One minor drawback of the display is that it doesn't have a high refresh rate, which may be an issue for users who work with fast-moving images or animations. However, this is a relatively minor issue and is unlikely to be a deal-breaker for most users.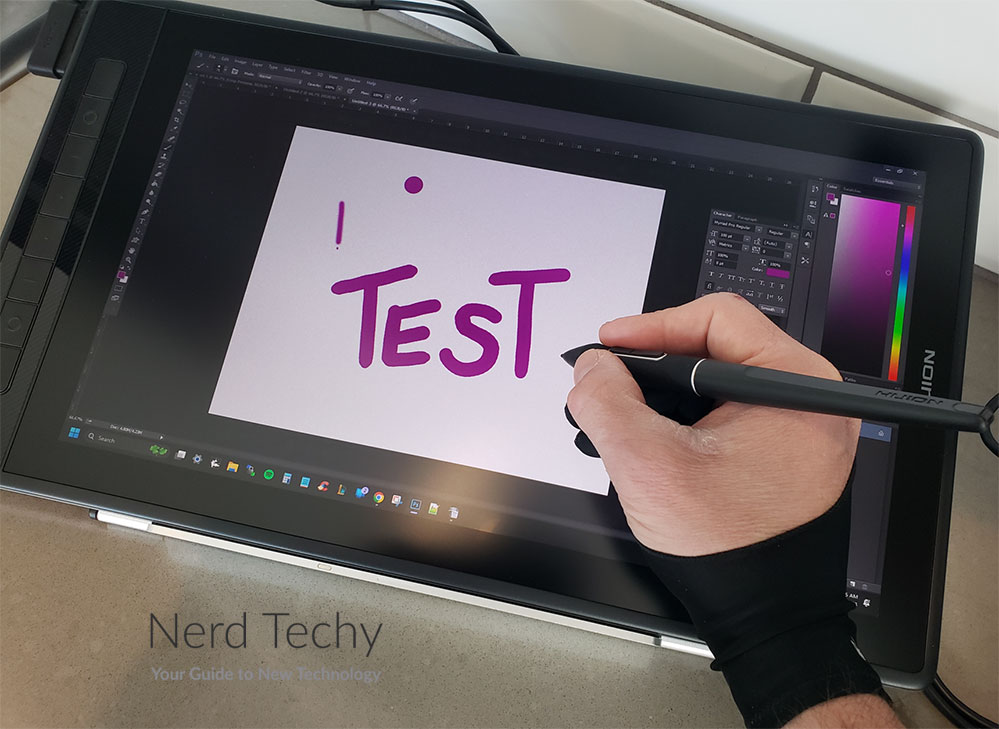 The display is definitely a standout feature of this tablet. And it's one of the most important aspects of any drawing tablet. Sure, it might not be the highest-quality display in this sector. But it's certainly good enough for most users. And it's great to see such a well-crafted display on a product at this price point.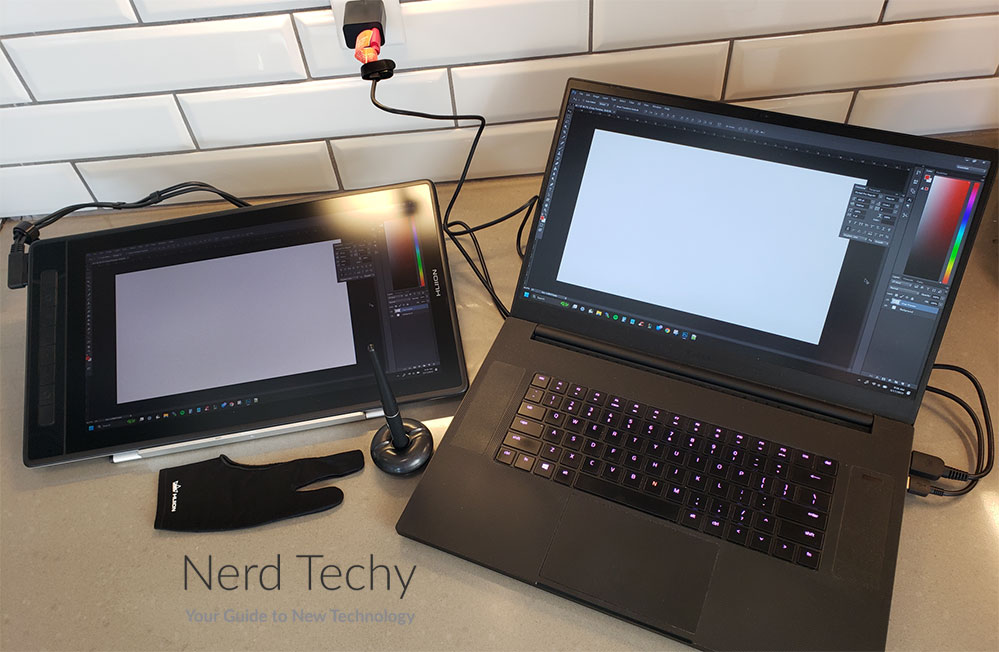 Performance
The Kamvas Pro 16 is designed to deliver top-notch performance for digital artists and designers. The tablet comes equipped with a battery-free stylus that has 8,192 levels of pressure sensitivity. What does this mean to graphic artists? The high level ensures precise and nuanced control over brush strokes and other elements.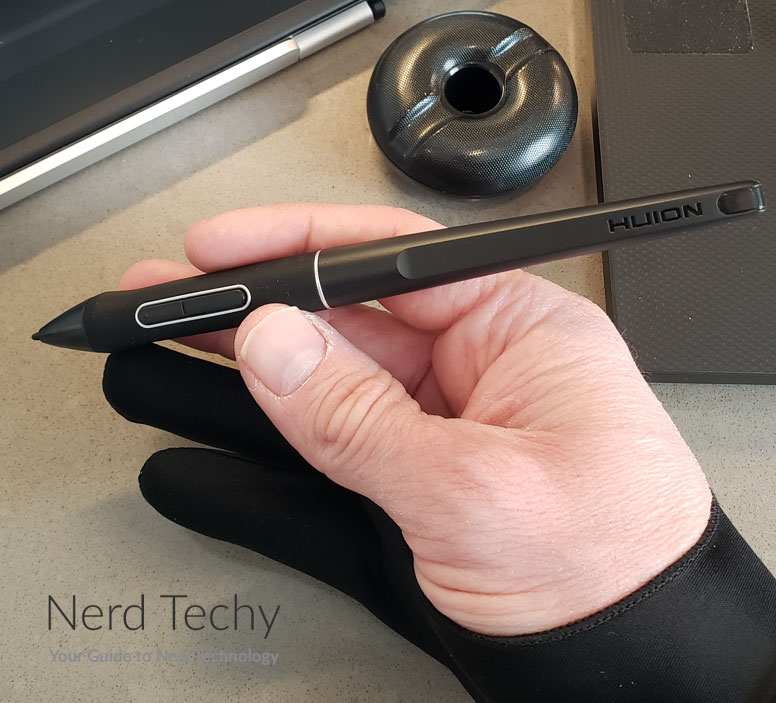 Tablets that lack pressure sensitivity are limiting in terms of how much control one can have over the creative process. But the Pro 16 eliminates this issue and provides a more accurate pen-to-screen experience.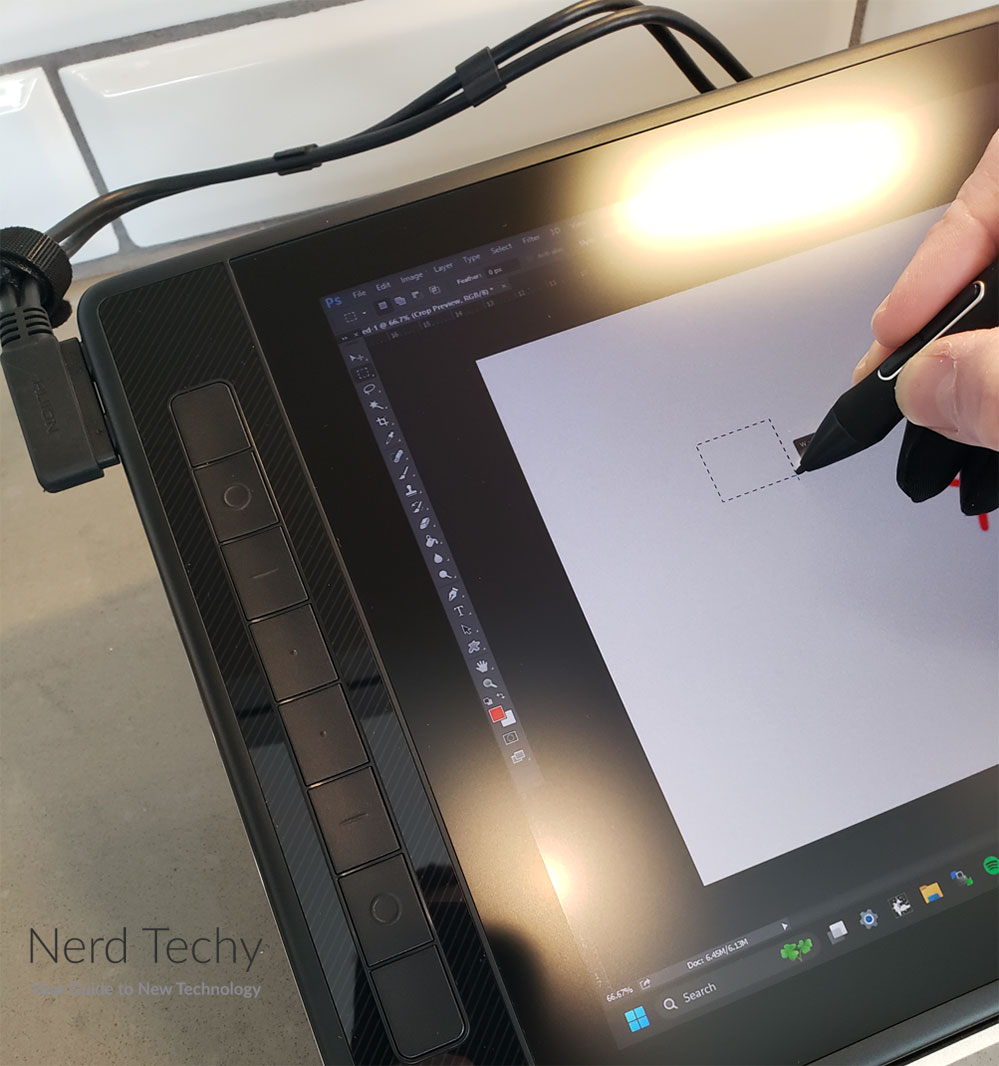 Precision Tilt
The tablet also supports tilt functionality, measured at ±60°. This is great for those who like to use the stylus at an angle to get different effects in their artwork. This feature is especially useful for those who specialize in calligraphy or other forms of fine line art.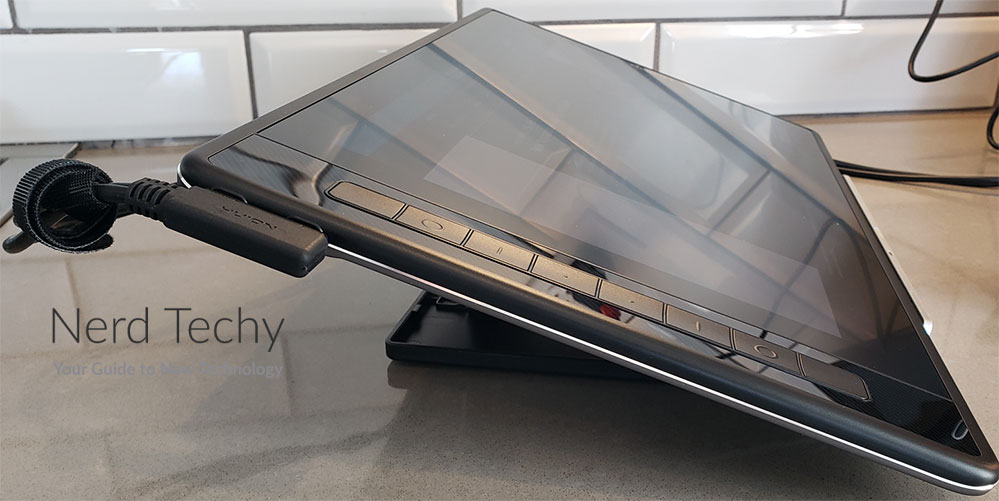 It really makes a big difference to have tilt support in a product like this, as it gives you more control and flexibility with your digital art. Coupled with the pressure sensitivity, it makes for a very enjoyable drawing experience.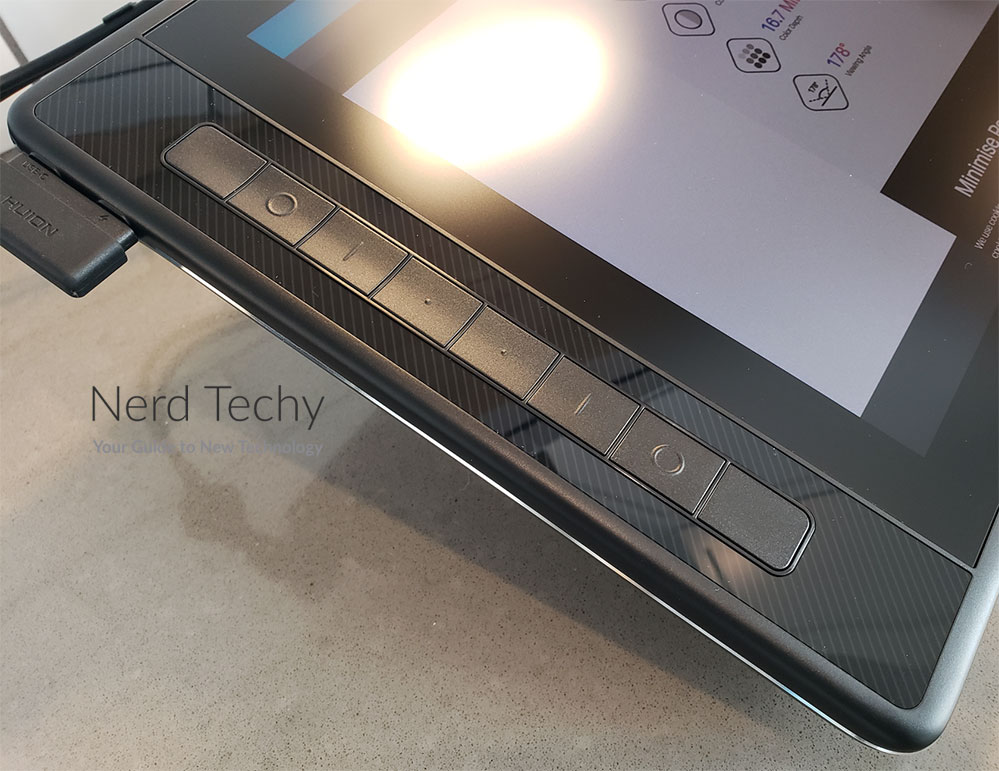 The stylus also features two side buttons that allow for quick and easy adjustments. This makes it easier to switch between tools and functions without having to move your hand away from the tablet. Moreover, they work in unison with the tablet's macro buttons, giving you even greater control over your workflow.
Smooth Operation
Furthermore, the tablet's drawing accuracy is impressive, with minimal lag and smooth tracking. The display's laminated screen and anti-glare technology also help to reduce parallax, which is the distance between the stylus and the display. This means that the stylus feels like it's making contact directly with the drawing surface, resulting in a more natural and intuitive drawing experience.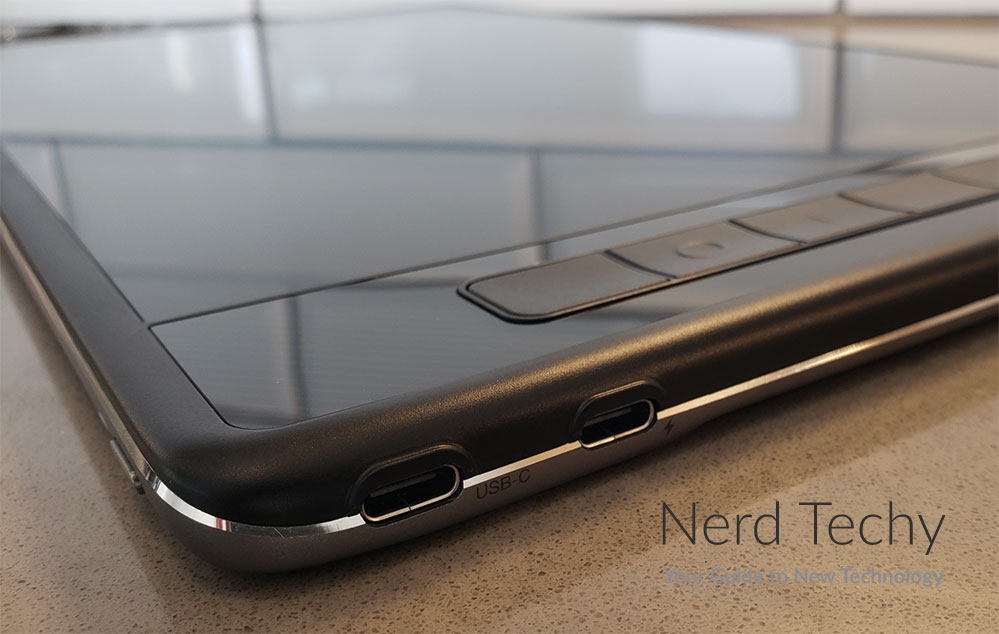 HUION's tablet is compatible with a wide range of software and operating systems, including Windows and Mac OS, as well as popular design applications like Adobe Photoshop, Illustrator, and Clip Studio Paint. The tablet also has two USB-C ports, which enables it to connect to a computer or other device quickly and easily – one is reserved for powering the device. Multiple cables will need to be connected to make it usable.
Connectivity
It's also nice to be able to use USB-C with HDMI (with the included dongle) to connect the tablet directly to an external display. This could prove useful for those who want a larger canvas size or need more than one monitor while working.
We also really appreciate the lack of lag or delay when working with large files or complex designs. Where other tablets we've used struggle to keep up, the Pro 16 is able to manage heavy projects without any issues.
Performance-wise, The Kamvas 16 shines. It's got plenty of features and performance characteristics that make it a great choice for graphic artists and designers. The pen sensitivity, tilt support, macros, and drawing accuracy all come together to make this tablet a smart buy for those in the digital art space. Whether you're just starting out or an experienced pro, the Pro 16 has enough here to accommodate most users.
Features Spotlight
The Pro 16 comes equipped with several features that make it stand out from other graphics tablets in its price range. One of the most notable features is the tablet's customizable shortcut buttons and touch bar. These can be programmed to perform various functions, such as undo/redo, zoom in/out, or switch between different brush sizes. All of these functions make it easier and more efficient to work with different applications and tools.
Stylus Cradle
Another useful feature of the tablet is its stylus holder, which is designed to securely hold the stylus when not in use. The holder also doubles as a pen stand, allowing users to keep the stylus within reach while working.
Eye Comfort
One very important aspect of graphics design tablets is anti-glare screen functionality to reduce reflections and minimize eye strain. The Kamvas Pro 16 does a fine job here, as we never felt fatigued when using the tablet for extended periods. This is an absolute must for anyone who plans to spend long hours honing their craft.
Software
The tablet comes with powerful driver software that enables users to customize the tablet's settings and create personalized workflows. The driver software allows users to adjust parameters such as pressure sensitivity, screen brightness, and color gamut, as well as customize shortcut buttons and other features.
Finally, the tablet's adjustable stand is a unique and valuable feature that enables users to find the most comfortable working angle for their posture and preference. The stand can be adjusted to different angles between 20 and 80 degrees, making it easy to find the perfect position for drawing, painting, or designing.
User Interface
The user interface of the tablet is well-designed and intuitive, making it easy for users to navigate and customize their settings. And as we mentioned, the tablet does come preloaded with driver software that allows users to adjust various settings, such as pressure sensitivity, pen buttons, and display settings. It's a breeze to get it up and running right out of the box.
We had no issue with the driver software, as it was immediately compatible with both Windows and Mac operating systems in our testing. It can be easily downloaded from the HUION website. The software is user-friendly and provides a range of customization options to suit the needs of different users. The software also allows users to save their custom settings as profiles, making it easy to switch between different settings for different tasks.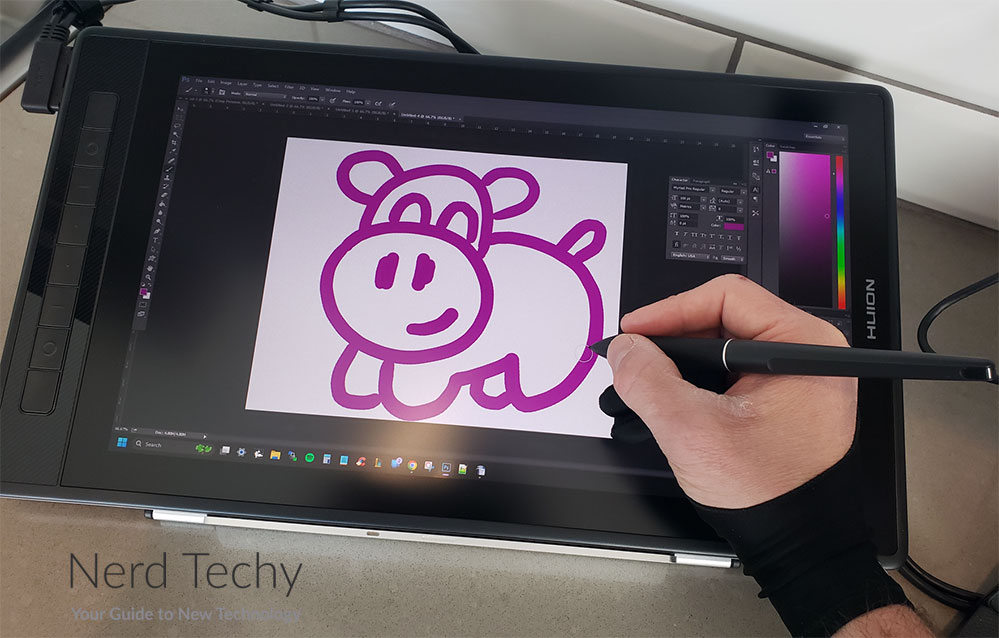 As for the touch bar on the side, it was easy to customize to perform different functions, such as zooming, scrolling, or adjusting brush sizes. The touch bar is a convenient feature that allows users to easily access different functions without having to use their keyboard or mouse.
It should be noted that the pen that comes with the tablet is battery-free. This means that you don't have to worry about replacing the battery and can use the pen continuously without interruption. We absolutely love this because it allows for an uninterrupted and lag-free drawing experience.
Professionals and hobbyists alike will find the unit to be a great choice. Its durable and ergonomic design is perfect for long work sessions, and its user-friendly interface makes it easy to customize settings. We highly recommend this tablet to anyone looking for a reliable and powerful drawing experience.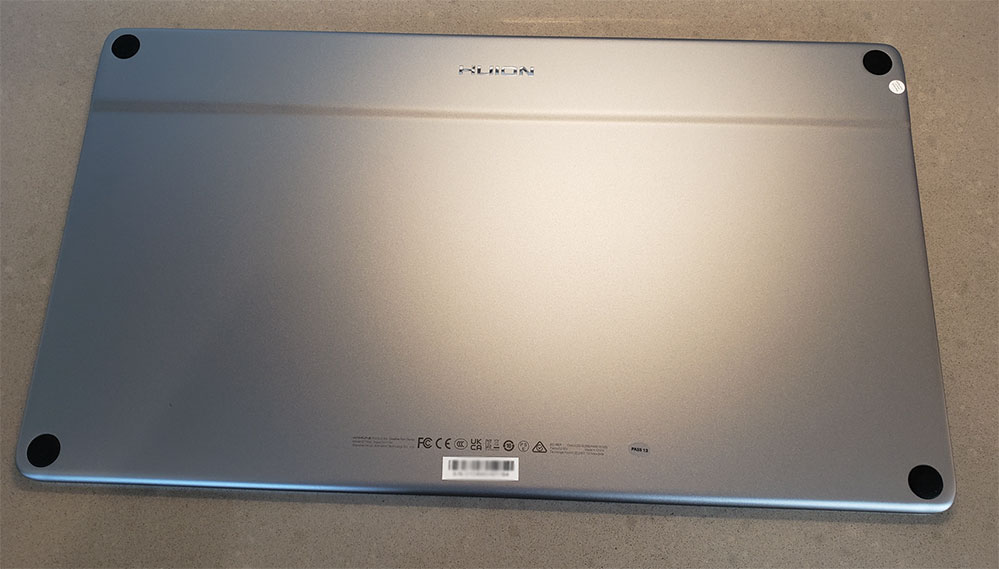 Final Verdict
The HUION Kamvas Pro 16 is an excellent choice for digital artists and designers. Its durable construction, adjustable stand, ergonomic design, and user-friendly interface make it a great choice for those who prioritize comfort and usability. It is also reasonably priced, making it an affordable option for both professionals and hobbyists.
Meet Derek, "TechGuru," a 34-year-old technology enthusiast with a deep passion for tech innovations. With extensive experience, he specializes in gaming hardware and software, and has expertise in gadgets, custom PCs, and audio.
Besides writing about tech and reviewing new products, Derek enjoys traveling, hiking, and photography. Committed to keeping up with the latest industry trends, he aims to guide readers in making informed tech decisions.