Finding a decent set of Bluetooth headphones can be hard. That's not because there's a shortage of options – far from it. The problem is that headphones are relatively inexpensive to manufacture. As a result, lots of brand new companies begin by manufacturing headphones. If they're able to earn a profit, they can then move on to constructing more expensive products like speakers.
To be clear, we're not talking about Bose-quality cans here. You're still going to pay a premium for top-tier audio. We're talking about affordable headphones that get the job done. Maybe you want something truly premium for lounging around the house. But when you're at the gym or on the road, it makes sense to bring a budget pair of headphones. If they get lost or damaged, you're not out an arm and a leg.
We're about to review two of the best-quality Bluetooth headphones that we could find at a budget price. We'll begin with the BERIBES Bluetooth Headphones. These are big and beefy, with an impressive 65 hours of playtime. Next, we'll look at the ZIHNIC Bluetooth Headphones. These are lightweight and collapsible, with eight color options and large aperture neodymium drivers. Of course, we'll need to look a lot deeper to find out which is best. Let's take a deeper dive into both of these headphones, and see how well they perform!
BERIBES Bluetooth Headphones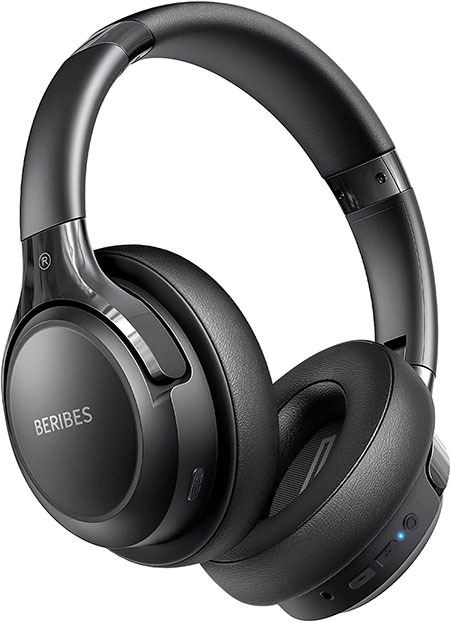 Key features:
Rigid design with three color options.
65 hours playtime.
Bluetooth 5.2
40mm drivers.
Six EQ modes.
The BERIBES Bluetooth Headphones are constructed primarily from rigid plastic. The frame is padded across the top with a leather sleeve, which is comfortable on top of your head. It's also designed to extend to fit larger heads, which will expose the inner aluminum frame. You'll have your choice of three colors: black, pink, or white. The entire headset is the same color, including the padding, frame, and buttons.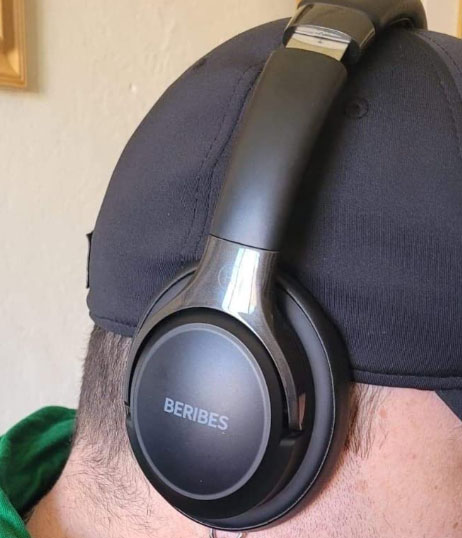 The ear cups are also made from solid plastic, and are large enough to cover your entire ears. The padding is thick and soft, providing plenty of comfort for both your ears and the sides of your head. Not only that, but they can both swivel and pivot by 90 degrees. As a result, they can conform to almost any face, and are relatively easy to pack up for storage.
The controls are located on the ear cups for easy operation. Most of these are located on the right, where you'll find a multi-function button. This is used to answer and end calls, turn the power on and off, and perform some other functions. Meanwhile, there's a set of two more buttons that control the volume, as well as a 3.5mm aux jack. On the left ear cup is a single button for adjusting the EQ.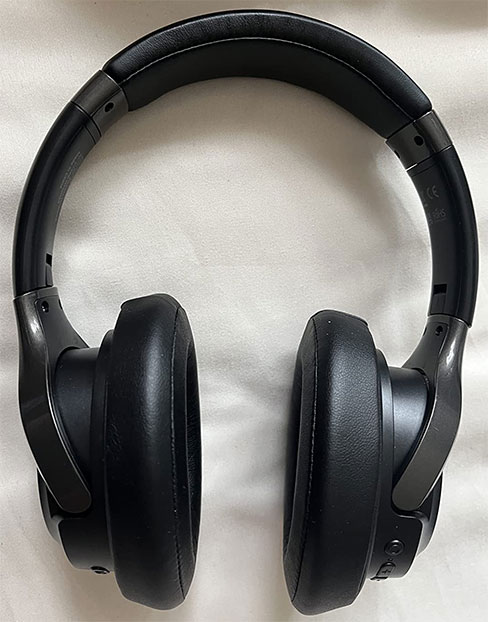 The kit includes everything you need to get started. To begin with, you get a USB Type-C cable for charging the battery. There's a 3.5mm aux cable for making a physical connection to your audio sources. And with a 12-month manufacturer's warranty, you're protected from defects in parts or labor. If there's an issue, you'll get a refund or a free replacement.
Battery, Connectivity, and Audio Quality
The BERIBES headphones have a battery capacity of 500mAh. This allows it to play continuously for up to 65 hours on a single charge, which is insane for Bluetooth headphones. You can take it with you on vacation and not have to worry about it running dead on you. Better yet, it will last for over 950 hours on standby, which adds up to several weeks. And when it's time to charge, USB Type-C charging takes less than three hours.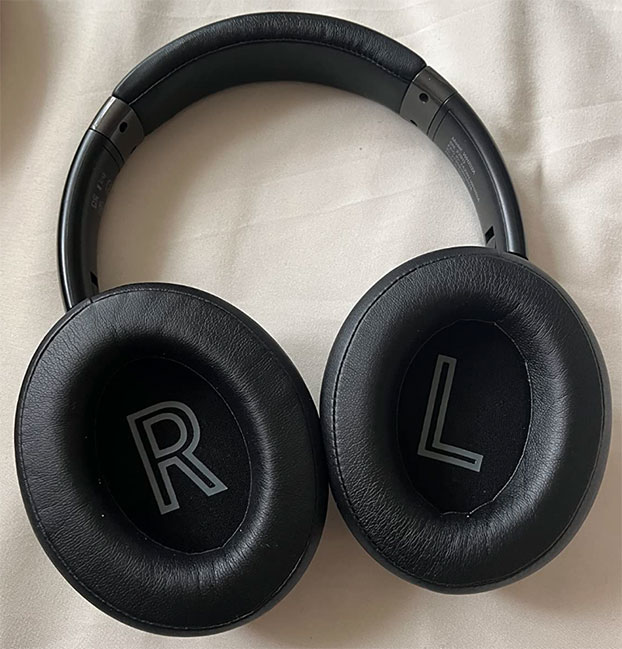 The Bluetooth chip uses the Bluetooth 5.2 wireless protocol. This protocol allows for an exceptionally stable signal, for fewer dropped calls and random disconnections. It also allows for high-bitrate audio, much like Bluetooth 5.0. So if you want to listen to HD music, you'll be able to. Finally, it provides near-zero latency. If you're gaming or watching movies, there won't be any lag between the video and the audio.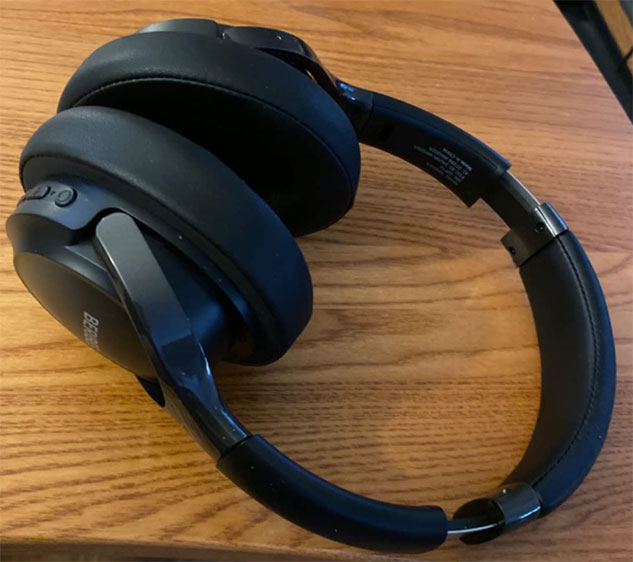 In terms of sound quality, the 40mm drivers are a bit underwhelming. On the one hand, you get a reasonable amount of volume. On the other hand, the sound is a bit muffled – as if it's being played through a blanket. This gives it a muddy quality, and the sound leaks enough that people around you can hear it. Then again, you get your choice of six different built-in EQ modes. These are specialized for pop, rock, vocals, jazz, and classical, plus a special bass boost option. This gives you the ability to adjust your EQ without the need for a companion app.
If you're looking for something a little bit different, consider the Truefree F1. These are bone conduction headphones that transmit sound through your cheekbones. They're great if you suffer from certain types of hearing loss. And if you need situational awareness, your ears themselves remain uncovered.
Pros:
Tough, durable design.
Insane battery life.
Reliable Bluetooth 5.2 connection.
Six EQ modes.
Cons:
Sound is a bit muffled
Sound tends to leak
ZIHNIC Bluetooth Headphones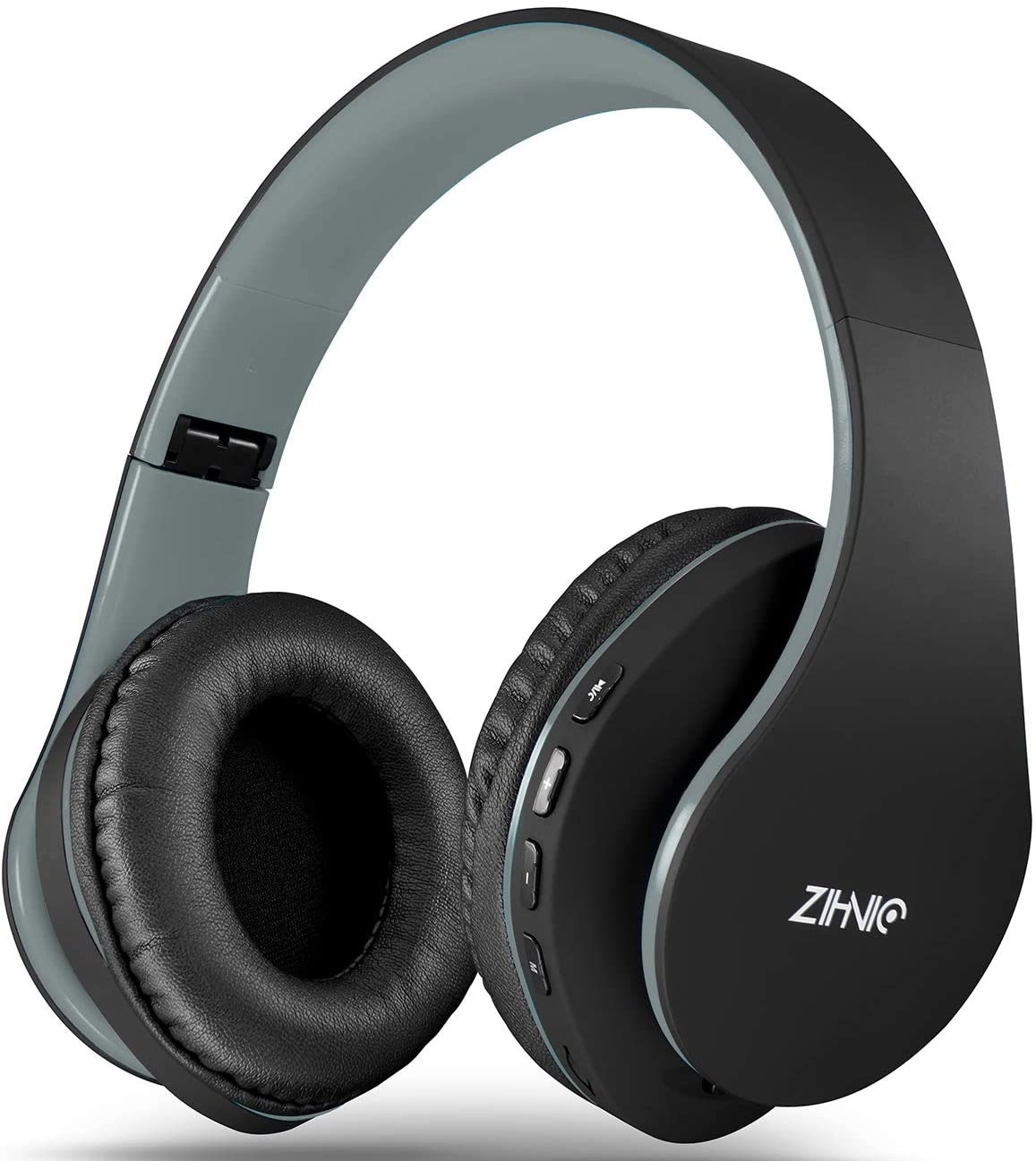 Key features:
Foldable, collapsible design with eight color options.
14 hours playtime.
Bluetooth 5.0
40mm large aperture neodymium drivers.
Micro SD slot and built-in FM receiver.
The ZIHNIC Bluetooth Headphones have a softer, more flexible design. The head band is rubber-padded on the inside, which feels comfortable against your head. It can also bend in any direction. You can pull it out flat, and it will snap back into shape when you let it go. At the same time, it's still reasonably sturdy, with a reinforced inner plastic band and a telescoping fit. The ear cups are wide and tall, with ultra-thick padding that conforms to your face.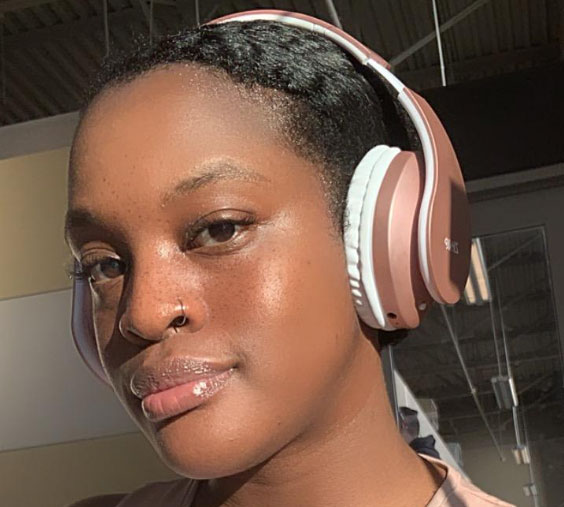 You can choose from eight color options. These are all-black, black and blue, black and grey, black and green, black and orange, black and red, purple, and rose gold. You also get a small zipper carrying case that can hold the entire set of headphones when they're folded up. This makes the ZIHNIC headphones very easy to take with you on the road. Just drop the case into your gym bag or carry-on bag and you're ready to go.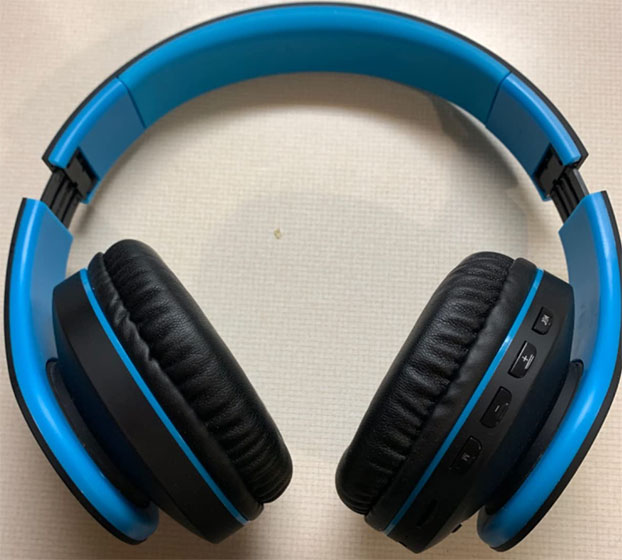 All of the control buttons are located on the left ear cup. First off, there's a multi-function button that serves as your primary control. It turns the headphones on or off, and can initiate Bluetooth pairing and answer and end phone calls. There's a set of volume buttons to adjust the sound level up and down. A fourth button toggles between MP3 and FM radio signals. In addition, you'll find a Micro SD slot, a USB charge port, and a 3.5mm aux port.
These headphones ship with a USB Type-C cable for charging, along with a 3.5mm aux cable for connectivity. And just like the BERIBES headphones, they're backed by a robust 12-month manufacturer's warranty.
Battery, Connectivity, and Audio Quality
The ZIHNIC headphones have an internal rechargeable battery with a capacity of 450mAh. This is enough for 14 hours of playback, which is a bit on the low side. That said, it's still more than you should ever need in a single day. Furthermore, it charges in only 2.5 hours, so you can quickly top it off when you need to.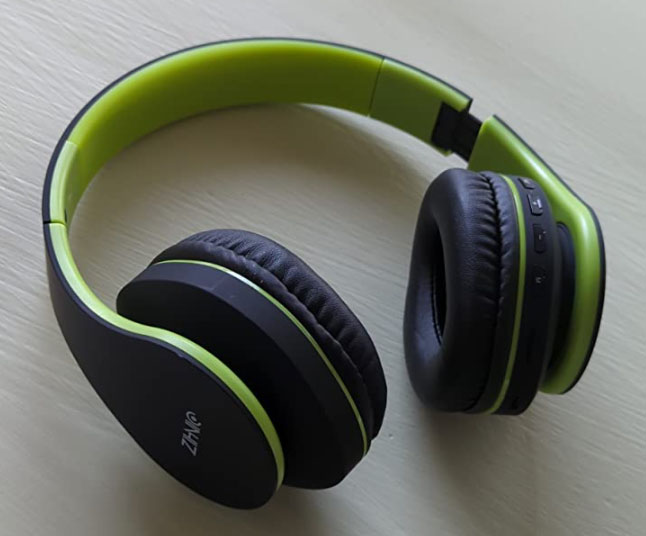 For wireless connectivity, you get Bluetooth 5.0. This is a fairly stable protocol that also allows for high-bitrate audio. In most senses, it's comparable to Bluetooth 5.2. The only difference is that it has a tad bit more latency, which could be irritating for gamers. Alternatively, you can just connect to your audio device with the 3.5mm aux cable. Not only will this reduce latency, but it won't drain your headphones' internal battery.
In addition, you can toggle over to FM radio mode. You can listen to local sports, weather, or just jam out to your favorite local radio station. Or you can listen to MP3 files on a Micro SD card. If you don't want to use your data or you're out of cell phone range, you can still listen to music. You don't even have to be connected to your phone!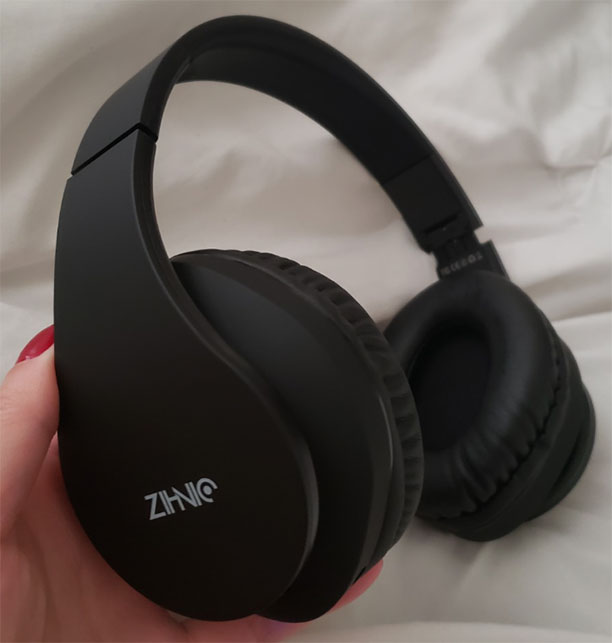 The 40mm large aperture neodymium drivers provide impressive audio quality. We're not saying they're comparable to studio headphones. But for everyday listening, you're looking at a reasonably wide soundstage and good frequency response. This is especially true when you consider the low cost. The sound also doesn't leak out, so you won't disturb the people around you.
If you want a bigger, chunkier set of headphones, check out the OneOdio A10. They provide excellent audio quality, along with active noise cancellation and transparency mode. And with the long-lasting battery, you can listen for hours on end. Then again, they're also three times the price of the ZIHNIC headhphones.
Pros:
Collapsible, portable design.
Comfortable fit.
Good sound quality for the price.
Built-in FM radio and Micro SD slot.
Cons:
Disappointing battery life.
Lowest volume level is still pretty loud.
Final Verdict
As you can see, these are both great affordable entry-level headphones. But which one is the best fit for your lifestyle? Let's go over what we've learned and hit some of the highlights.
The BERIBES Bluetooth Headphones are designed first and foremost for comfort and battery life. The design is big and chunky, and we loved the plump padding on the ear cups. They rotate and swivel, which allows for a comfortable fit on most head shapes. And the controls are easy to access and operate. The Bluetooth 5.2 connection is stable and reliable, and provides very low latency. We had some qualms about the audio quality, and it's unfortunate that the sound tends to leak out. Then again, with six EQ modes, you can customize your listening experience. That's something even many expensive headphones don't offer.
The ZIHNIC Bluetooth Headphones are a different animal altogether. They're lightweight and flexible, and you can fold them up and put them in a small carrying case. The Bluetooth 5.0 protocol is a bit higher-latency, but it's still stable. With Micro SD and FM radio options, you're not tied to a smartphone. And while the battery life is a bit underwhelming, the audio quality is top-tier.
Meet Derek, "TechGuru," a 34-year-old technology enthusiast with a deep passion for tech innovations. With extensive experience, he specializes in gaming hardware and software, and has expertise in gadgets, custom PCs, and audio.
Besides writing about tech and reviewing new products, Derek enjoys traveling, hiking, and photography. Committed to keeping up with the latest industry trends, he aims to guide readers in making informed tech decisions.