Recessed ceiling lighting has been popular for some time now. A recessed light sits as high in the room as possible, providing the best possible light dispersion. It also doesn't take up space in the room. This isn't a concern when you have an 8-foot ceiling. But in bathrooms or other rooms with low ceilings, clearance can be a problem for more vertically endowed people.
If you're remodeling, you may want to change up your lighting and install some recessed lights. Or you may have existing recessed lighting that you want to upgrade. In either case, you'll want to go with an LED light. They're not just more energy-efficient than other types of bulbs. They're also so long-lasting that you spend less money on replacements.
Rollin Light CCT LED Recessed Lighting
The Rollin Light Canless LED Recessed Lighting is a great choice for those that want a perfect blend of bright, usable light that's easy to adjust. Sold in a 6-pack, these 3CCT lights are selectable by a wall switch, rather than inside the junction box. Therefore, users can easily dim and adjust color temperature directly from a switch that's placed on the wall.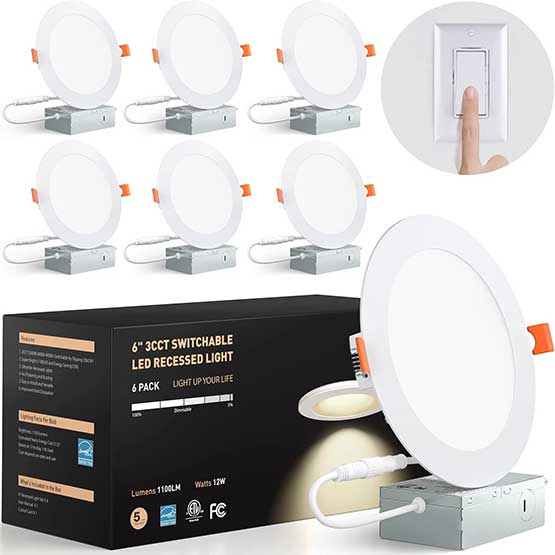 You can swap between 3000K, 4000K and 5000K color temperatures in order to match the inside aesthetics of whichever room you're installing them in. Traditionally, these settings must be made inside the junction box, during installation. Therefore, having the ability to swap colors on the fly is a true benefit that they have over other options.
Installation is fairly easy. These are 6-inch fixtures, designed to fit in existing cans, so do take note. Rest assured, however, if you don't already have a hole for them, a template is provided in the set. They'll work with double or single drywall or in soffits.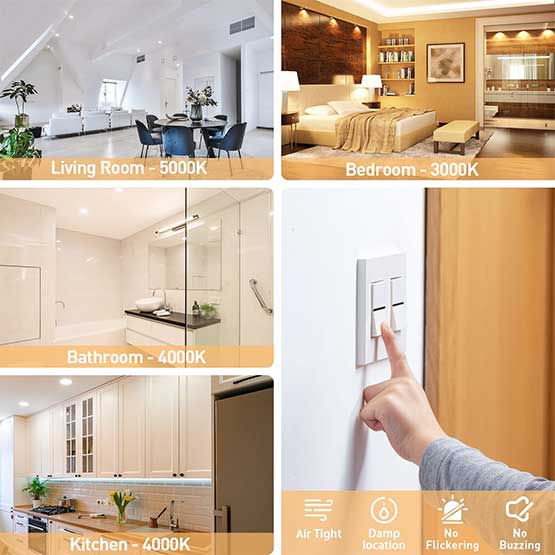 Once you've figured out where you want them, simply open up the junction box that's designated for each fixture. Start by removing the knock-outs and connect the wires based on the appropriate colors. Close up the junction box and proceed by connecting it to the light panel. This is to be done by hand – just give it a firm press and the connection should be snug.
Lastly, push up the spring clips and light panel onto the mounting hole. Insert into the 6-inch cut-out and let the spring mechanism secure it into place.
Light Quality and Extras
The light that the Rolling Light CCT LEDs provide is fabulous. Using just 12 watts each, they produce 1100 lumens at their brightest setting. With an 80+ CRI, the light is uniform and true to each selectable color. In fact, they emit a bright beam without any flicker or noise. Whether you opt to use just one or all six, you'll likely notice an upgrade in lighting right from installation.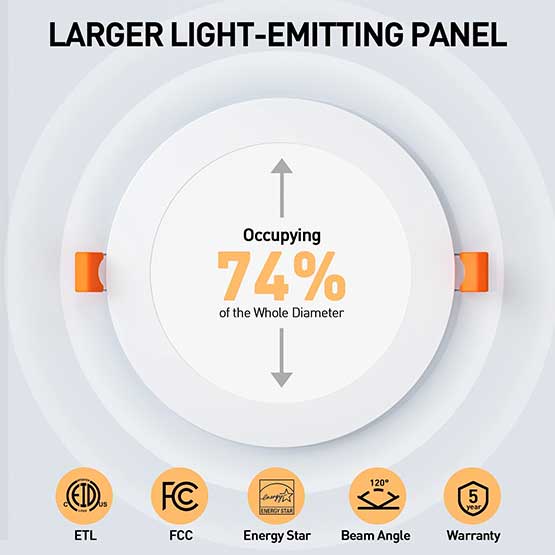 One reason they provide better lighting is due to the fact that they have a larger light-emitting panel than the competition. Namely, the LED panel takes up 74% of the entire visible diameter, and no less. The result is a broader lighting effect that leaves more room for glowing and less to be covered up by a border around the circumference of the fixture.
Although the Rollin Light Recessed Lights don't come included with dimmers, they're one of the few canless LED lighting options that are compatible with the majority of dimmers on the market. With a dimmable range from 5% all the way up to 100%, you'll find them to provide the ideal amount of brightness you desire, in any given moment.
Unlike other options, the color temperature can be selected on a whim, at any connected dimmer. With three options available; 3000K, 4000K or 5000k, there's a warm or cool setting appropriate for any time of the day, in any room, regardless of your mood.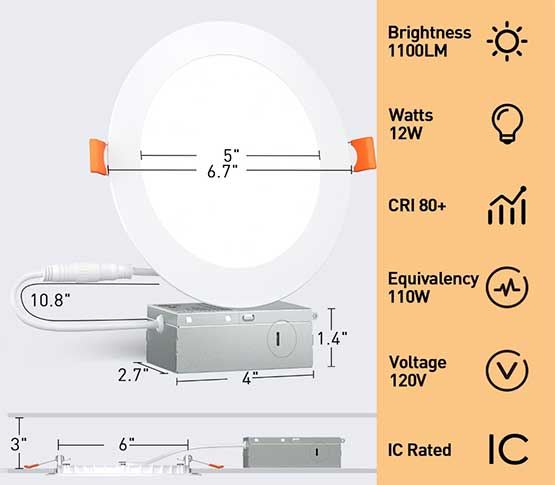 We really enjoy the uniformity and true color that these provide. We've tested some options that promise a lot, but don't simply deliver. Not the case here. It seems Rollin Light has created and manufactured some of the best selectable CCT LEDs that provide everything they promise.
Best of all, these are ETL and FCC compliant in addition to being Energy Star Certified and IC rated. They're even backed by an impressive 5 year warranty period. Reviewers agree and so do we; these are everything you want, and nothing more.
Hykolity Selectable CCT LED Recessed Lighting
The Hykolity Selectable CCT LED Recessed Lighting is a 12-pack of identical lights. This is enough for a very large room, or for a few smaller rooms. It's also a great value, with the lowest cost per light of any of today's options. Each light has an aluminum housing that provides good heat dispersal and durability. The matte white finish won't absorb light, and it also doesn't create any obnoxious highlights.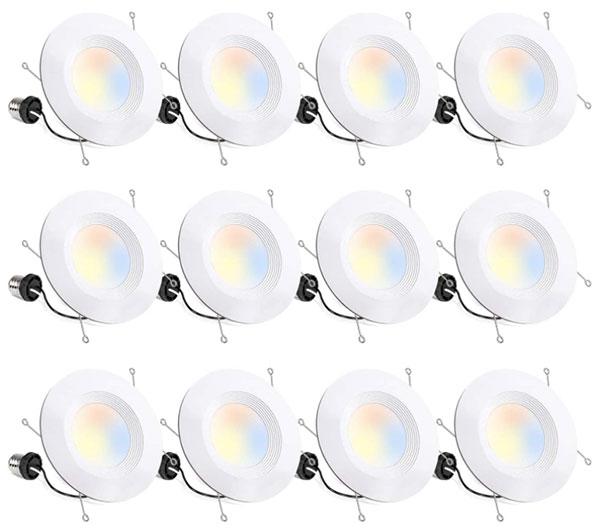 The housing is 3.34 inches thick, which is on the fatter side for an LED light. That said, it will still fit in most standard cans. It comes in two different sizes: 6-inch and 4-inch. The 6-inch version will fit in a 5- to 6-inch cutout, and the 4-inch version will fit in a 3- to 4-inch cutout.
The reason it's able to fit a range of sizes is that the main light is surrounded by a wide flange. For example, the 6-inch light will fit very snugly in a 5-inch cutout. By contrast, it will fit loosely in a 6-inch cutout, but the flange will cover the hole.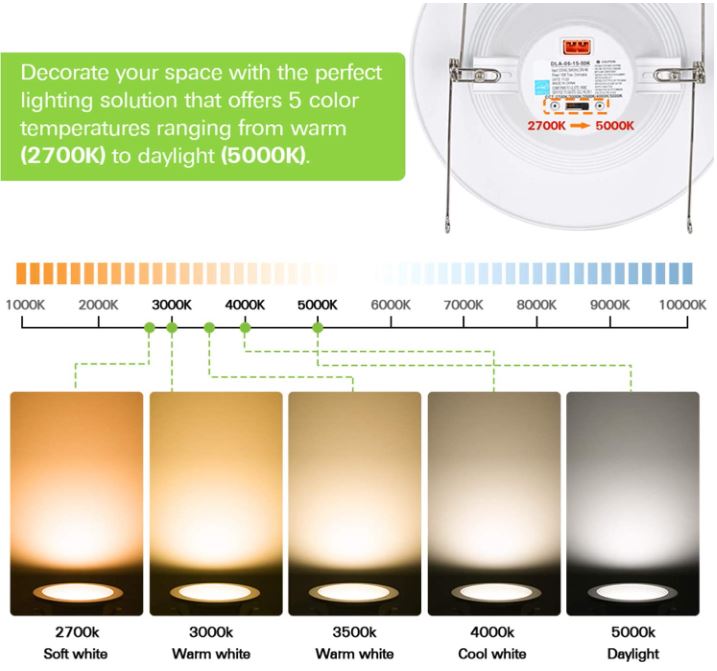 On the bottom surface, the light is slightly recessed within the flange. On the top, there's a set of four spring-loaded wings. They're lightweight, but they don't have to be incredibly strong.
The light itself doesn't weigh very much, and they're meant to install inside a can. The power cord is tipped with a threaded E26 bulb base, which will screw into your old cans. For new cans that are designed for LEDs, you can pull the bulb base off to reveal a TP24 plug.
The LED bulb itself is rated for 50,000 hours of life. That's more than five and a half years of continuous operation! Hykolity also provides a 12-month warranty that will protect you if anything fails prematurely.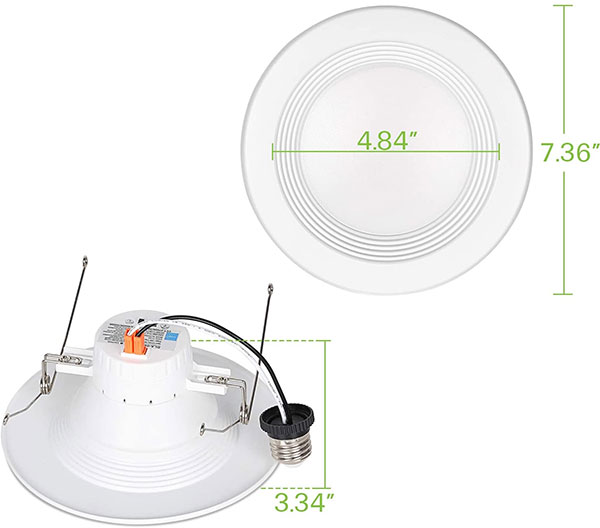 Light Quality and Extras
On the top of the Hykolity light's housing, you'll notice a little black selection switch. This can be used to adjust your color temperature between five different settings.
The first is a 2,700K soft white, which has a distinct reddish cast. The next is a 3,000K warm white, which has more of a pumpkin tone to it. The 3,500K neutral white is a bit closer to true white, and is a common choice for living room lighting. The fourth setting is a 4,000K cool white, better for areas where you need more visibility. The 5,000K daylight setting is a pure white, just like you get from the sun.
Needless to say, it's easiest to decide on a color temperature before installation. But if you change your mind, it's simple enough to pull the light out and flip the switch.
This light has a maximum brightness of 1,100 lumens, which is tied for the brightest on our list. That's enough for general room lighting such as living rooms and bedrooms. It's even bright enough for use in front of your bathroom mirror.

Then again, this amount of light draws 15 watts of power, and you don't always need maximum brightness. Thankfully, the Hykolity light is compatible with most dimmer switches. It can be dimmed as low as 10%, which is perfect for mood lighting.
In addition, the housing is rated for damp locations. Note that this does not mean it's suitable for outdoor use or submersible in water. But it means that you can use it somewhere with a ton of moisture in the air, like your shower. The steam and condensation aren't going to damage your light.
Sunco Retrofit Recessed LED Can Lights
The Sunco Retrofit Recessed LED Can Lights look a lot like the Hykolity lights. They have matte white aluminum frames and flanges, and are available in 4- or 6-inch diameters. However, they're only 2.4 inches thick, which makes them slim enough to mount even under a 2×4-framed ceiling.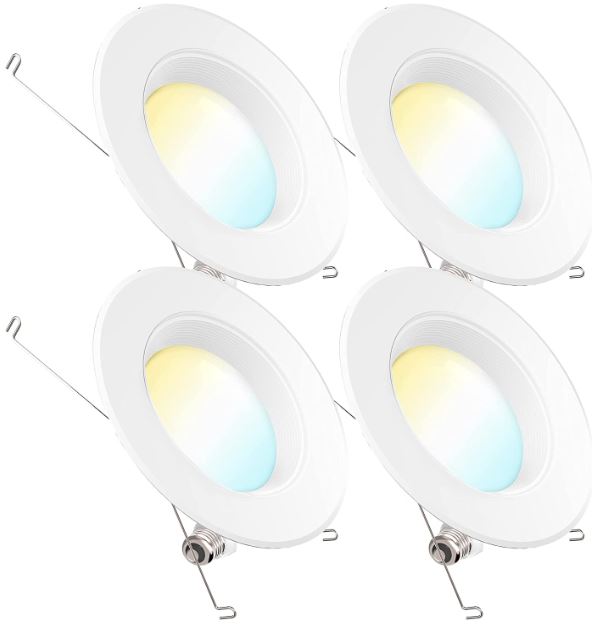 They also come in a 4-pack, so they're easier to order for smaller jobs. Other than that, they're pretty much the same, with wide flanges and recessed lights. They even connect in the same way, with either a standard bulb base or a TP24 LED connector.
The bulbs themselves are rated for 50,000 hours, yet another similarity. But Sunco's warranty is more robust, with a whopping seven years of coverage. That's better than you'll see from almost any manufacturer.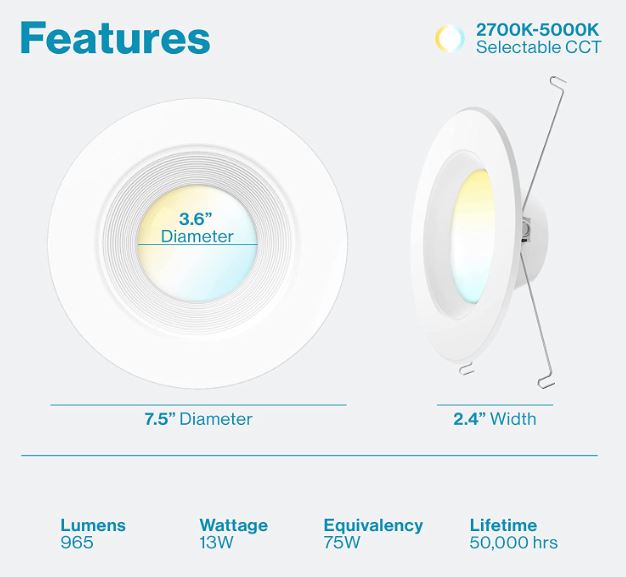 Light Quality and Extras
On the side of the housing is a white slider switch. This switch chooses between five different color temperatures: 2,700K, 3,000K, 3,500K, 4,000K, and 5,000K. As before, it's easiest to select your color temperature before installation. But changing it after the fact isn't terribly difficult.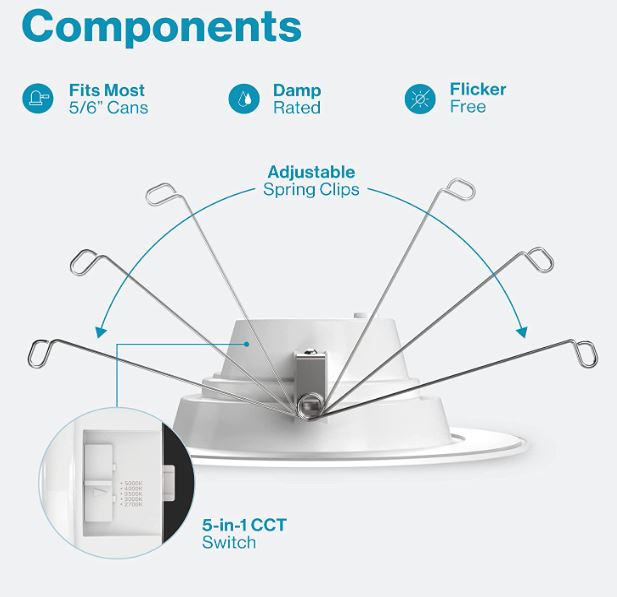 The maximum brightness of 965 lumens is a little over 10% dimmer than the Hykolity bulb. Even so, it's suitable for most applications, including living rooms and bedrooms. It also draws less power, at only 13 watts. And with 10-100% dimmability, it's also suitable for applications where you want a lower brightness.
The Sunco lights, like all of today's options, are designed for household use. They're not bright or powerful enough for large spaces with high ceilings. If that's what you're looking for, check out our list of the best high bay LED lights. They're designed for warehouses and other buildings with ultra-high ceilings.
Amico Ultra-Thin LED Recessed Ceiling Lights
From the outside, the Amico Ultra-Thin LED Recessed Ceiling Lights looks much like the last two. They're available in the same sizes, with a similar baffle.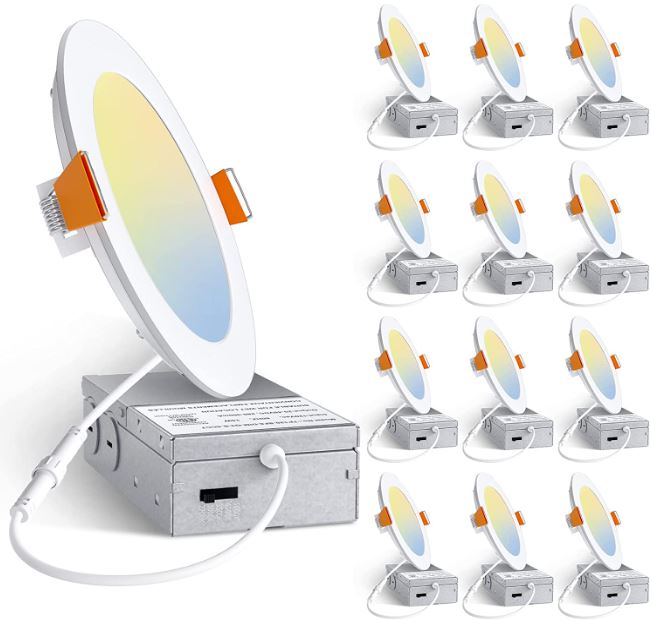 However, they're a bit flatter, with less of a recess for the light cover. They're also much thinner inside the wall, with a total thickness of only 0.4-inch. This makes them suitable for use in mobile homes and RVs, where a standard recessed light won't fit.
These lights come in a 12-pack, and they're the priciest of the bunch. That said, they're designed to mount independently, without the need for a can. As a result, you'll save money on cans if you're performing a clean installation. Instead of lightweight wings, it has a pair of larger, sturdier flaps with heavy-duty springs. These can fix the light securely to anything from a 1/8-inch soffit to ¾-inch drywall.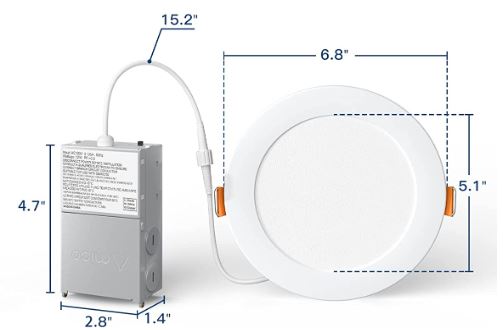 Since there's no can, you'll need another way to supply power to the light. To that end, the kit includes a power supply that's attached with a 15.2-inch cord. It's fully enclosed for safety, and measures 1.4 inches thick. You can fit it in most ceilings, or tuck it off to the side in the top of a wall.
The Amico lights don't come with any hours rating. However, they're backed by a five-year warranty, which gives us a lot of confidence.
Light Quality and Extras
Like the rest of today's lights, Amico's has five color temperature settings, ranging from 2,700K to 5,000K. That said, the selector isn't located on the light itself. Instead, it's a black switch on the side of the power supply. This can make it difficult or impossible to adjust post-installation, depending on your setup. Make extra sure you've chosen the right color before you hardwire it into your house.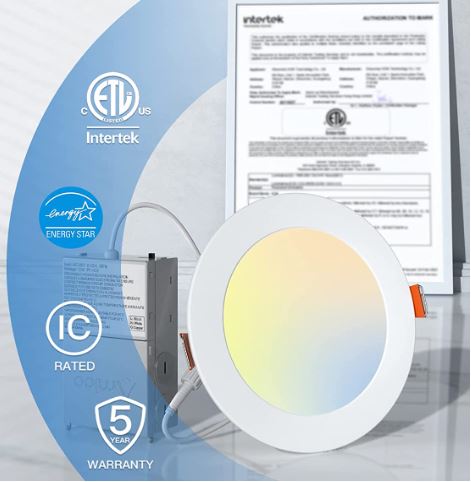 The maximum brightness of 1,050 lumens is on the high side, and provides plenty of illumination. You can use them even in larger rooms where you'd need a powerful incandescent bulb to get good lighting. For smaller spaces or atmospheric lighting, you can dim them from 10 to 100%. And even at maximum power, they draws only 12 watts, which is impressively efficient.
The Amico lights are also rated for damp locations. You can use them in showers, over your stove, and in other steamy areas.
If you have no internal space to mount a light, a recessed light won't be the best choice for you. Take the bottoms of your cabinets, for example. In that situation, an LED puck light would be a better option.
Luxrite LED Recessed Retrofit Downlights
The Luxrite LED Recessed Retrofit Downlights are more similar to the first two lights we looked at. They have a flanged white aluminum housing, and are designed to fit 5 to 6-inch cutouts. At 3.23 inches thick, they're on the fatter side, but should install in most 2×4-framed ceilings.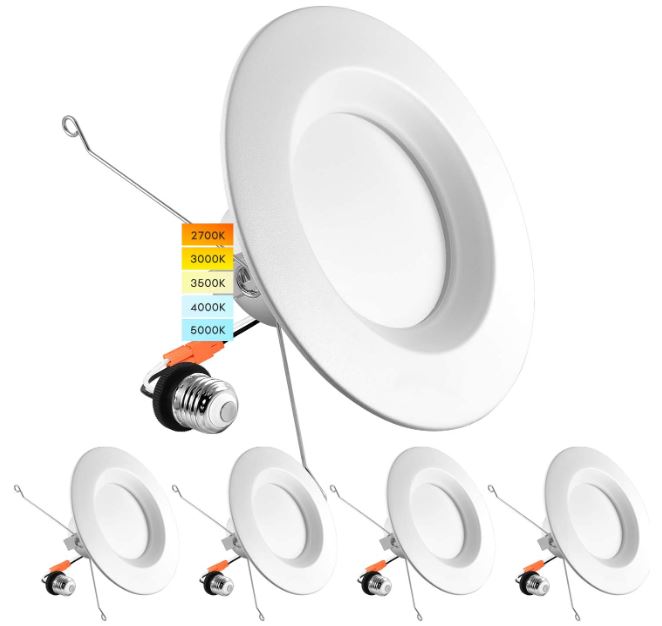 This lights are designed to install in new or pre-existing cans, and can connect with an E26 or TP24 connection. They're also suitable for a variety of job sizes, from small to large. You can order them in a 4, 6, 12-, or 16-pack.
The bulb life is rated for 50,000 hours, which is more or less the gold standard these days. And a 5-year warranty protects you in the event of any failure.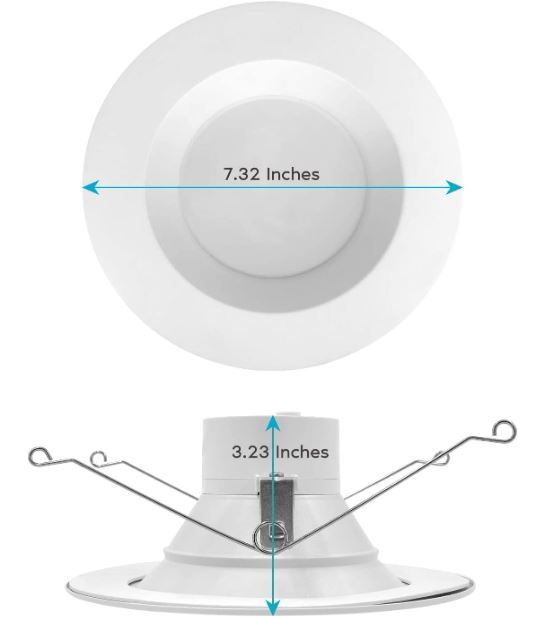 Light Quality and Extras
The Luxrite lights have a selector on the back to choose between five different color temperatures. These range from 2,700K to 5,000K, at a maximum brightness of 1,100 lumens. They're dimmable from 10 to 100%, and very efficient, drawing only 14 watts. If that's not enough, they're even rated for showers and similar damp areas.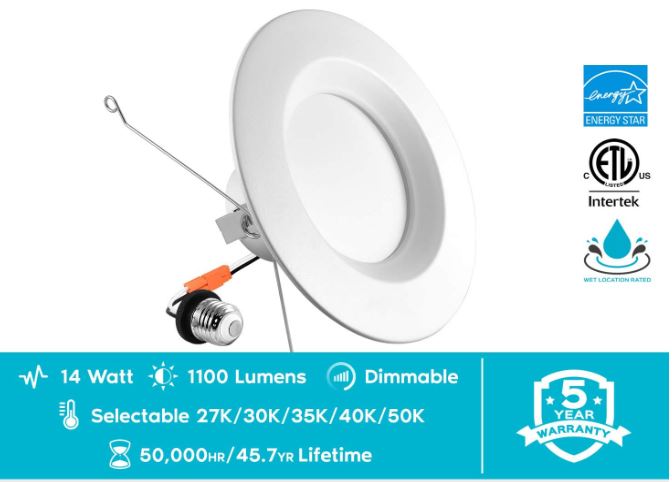 One thing all of today's lights have in common is that you're only rated for indoor use. If you want an outdoor LED, consider a white outdoor LED floodlight instead. They're very bright, and they can cover a fairly wide area.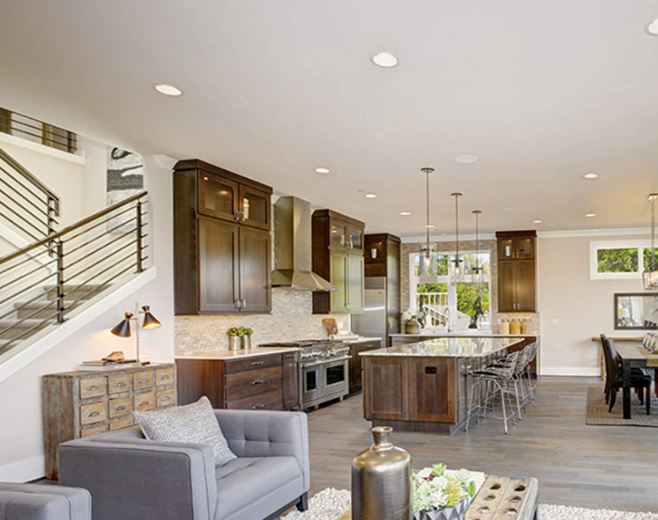 Final Verdict – Which is Best?
As you can see, all of these lights are well-engineered. But which one is the right choice for your remodel project? Here's a quick summary.
First, we checked out the Rollin Light Canless LED Recessed Lighting. As our overall best choice, these come in a 6-pack and are perfect for those who want bright, uniform light that's adjustable via a wall switch. With a maximum brightness of 1,100 lumens, they only draw 12W, making them some of the most energy-efficient options available.
Next, we reviewed the Hykolity Selectable CCT LED Recessed Lighting. These lights come in a 12-pack, and are easy to install in either new or pre-existing cans. They have a high maximum brightness of 1,100 lumens, although they draw 15 watts. The only real downside is the fat profile.
Third, we checked out the Sunco Retrofit Recessed LED Can Lights. These lights have a lower profile, at just 2.4 inches thick. Then again, their maximum brightness of 965 lumens is also lower. They also come in a four-pack, which makes them a great choice if you only need a few lights.
Fourth, we looked at the Amico Ultra-Thin LED Recessed Ceiling Lights. These are the ultimate choice if you're working in a very thin ceiling. They also hardwire into your house, so you don't have to install a can. If you don't have pre-existing cans, this allows for a much cleaner installation.
Fifth, we evaluated the Luxrite LED Recessed Retrofit Downlight. These are similar to the Kykolity lights in many respects. They have a couple of advantages, though. They draw 14 watts, not 15, and they're available in different-sized multi-packs. Then again, they also cost a bit more.
Meet Derek, "TechGuru," a 34-year-old technology enthusiast with a deep passion for tech innovations. With extensive experience, he specializes in gaming hardware and software, and has expertise in gadgets, custom PCs, and audio.
Besides writing about tech and reviewing new products, Derek enjoys traveling, hiking, and photography. Committed to keeping up with the latest industry trends, he aims to guide readers in making informed tech decisions.