VITA 550
Pros
Fast re-charging via AC.
Well built and easy to transport.
Built-in wireless charging pad.
Utilizes LiFePO4 cells ~3,000 charge cycles.
Cons
Creaky handle.
Does not support pass-through charging.
Screen is hard to view in sunlight.
The Growatt VITA 500 is a newly released portable power station that seems to have a lot going for it. Powered by LiFePO4 batteries, it provides reliability and longevity that surpasses many in its class. Being one of the smallest options available from Growatt, it's ready for 'on the go' use or as a solid provider of power during outages.
Growatt's been in the industry for a very long time. In fact, over 10 years! Although they're based in China, they have a good reputation for quality products that cover a wide range of green-oriented energy solutions. From EV chargers to solar panels and power stations, they've made a name for themselves all over the globe.
Today I'm going to examine the VITA 550 and all that it has to offer. I'll go over its features, capabilities and characteristics that set it apart from the competition. I'll share my experience with it and ultimately determine if its a worthy investment.
Unboxing & First Impressions
Upon its arrival, I was quite pleased to find all that you need and nothing more inside the box. Accessories include an AC charging cable, car charging cable and an MC4 to XT60 solar charging cable. Of course, you also get a user manual and the VITA 550 itself.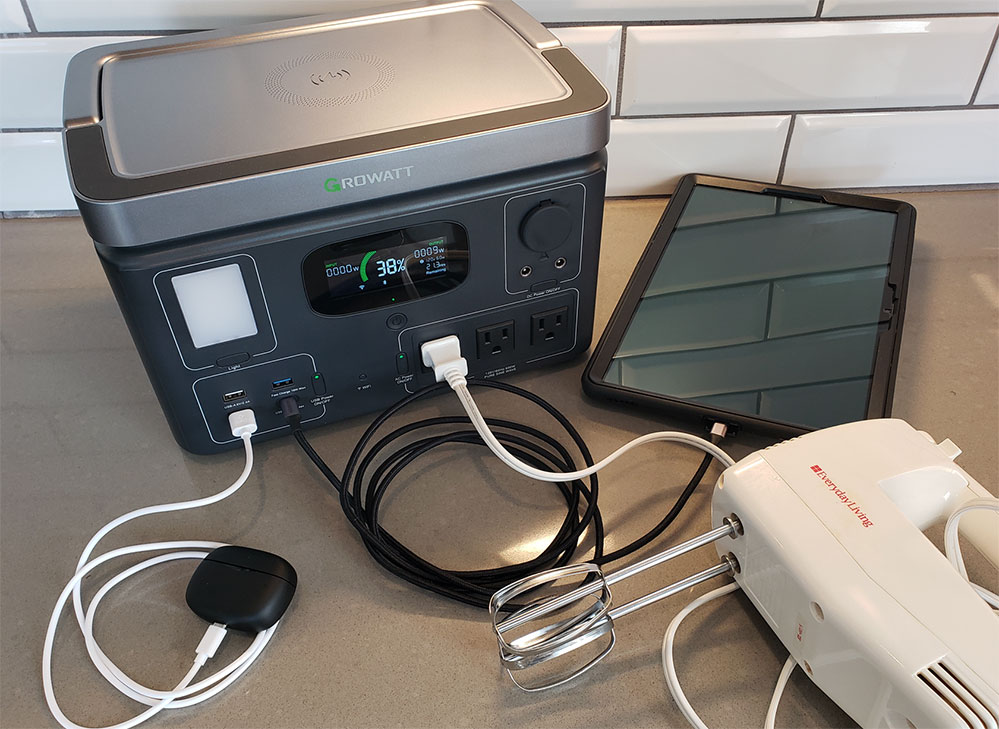 Upon removing it from the box, the beautiful build quality was obvious. The color choice of matte dark grey and a silver top give it a neutral, pleasing appearance. Although it's comprised of plastic, the plastic seems durable, thick and solid.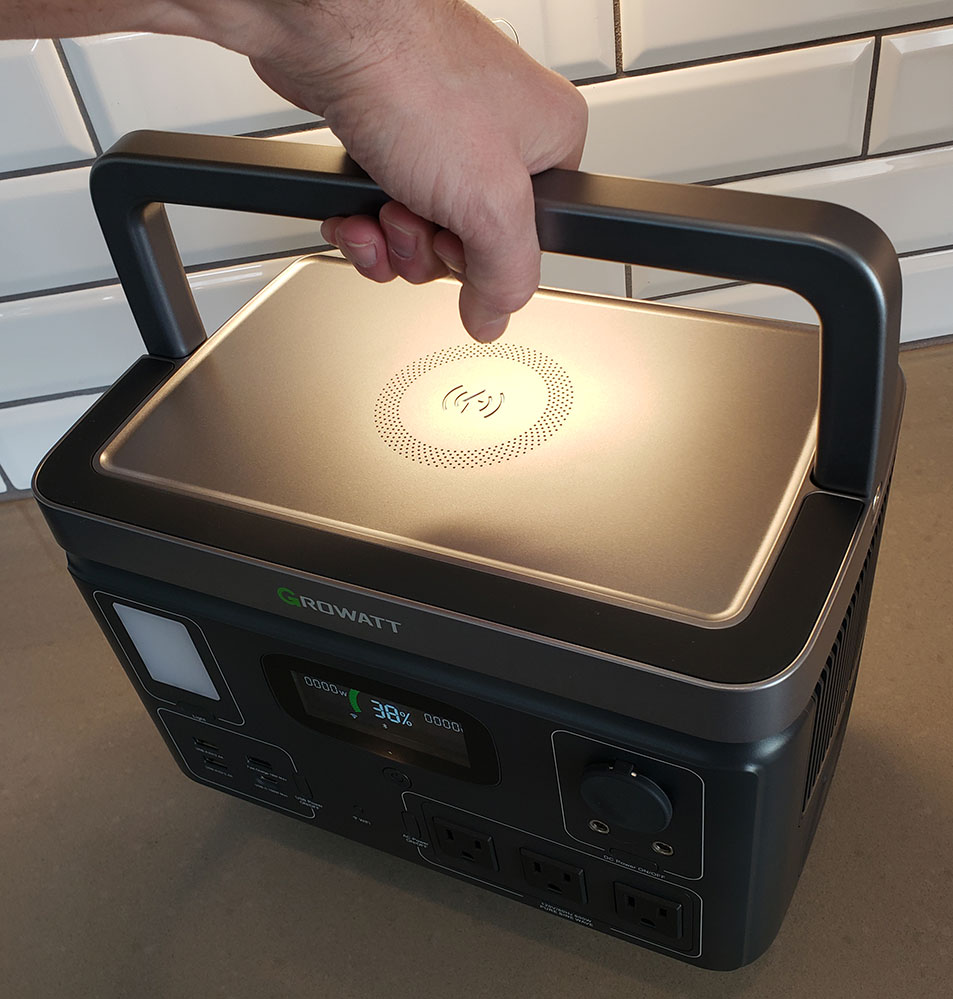 While the VITA 550 tips the scale at nearly 18lbs, the built-in handle on the top makes it easy to lug around, given the approximate 12″ x 8″ x 8″ shape. While the handle does seem to be a bit creaky, it gets the job done and nestles into the top of the unit without being in the way.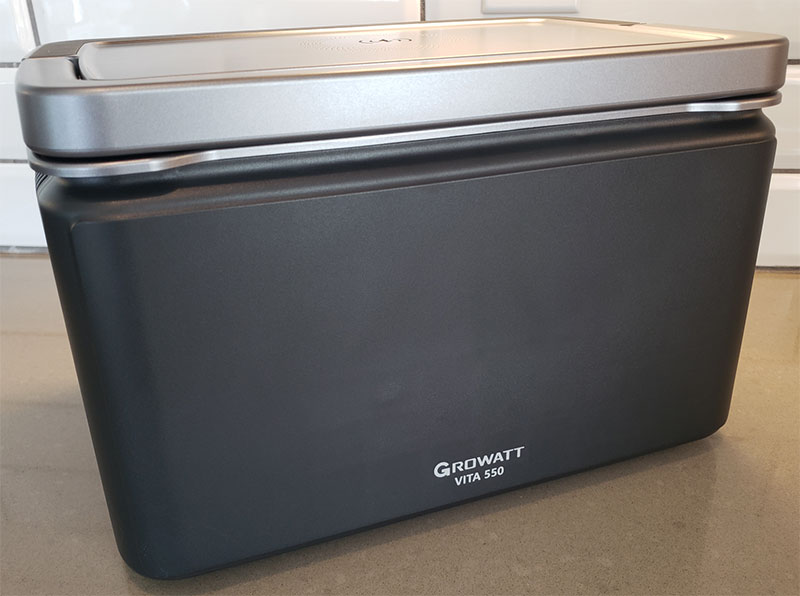 What sets it apart from other power stations of its size is the LiFePO4 cells that it utilizes. These are much preferred over traditional lithium-ion or lead-acid varieties that offer nowhere near the lifespan and safety that LiFePO4 offers. In fact, the VITA 550 is rated for over 3,000 charge/discharge cycles before you'll notice any degradation in the capacity.
Outputs & Display
All of the outputs are located on the front in a very accessible manner, all centered around a vivid green and white LCD. The screen is amazingly beautiful, bright and vivid, although it can be hard to view in direct sunlight.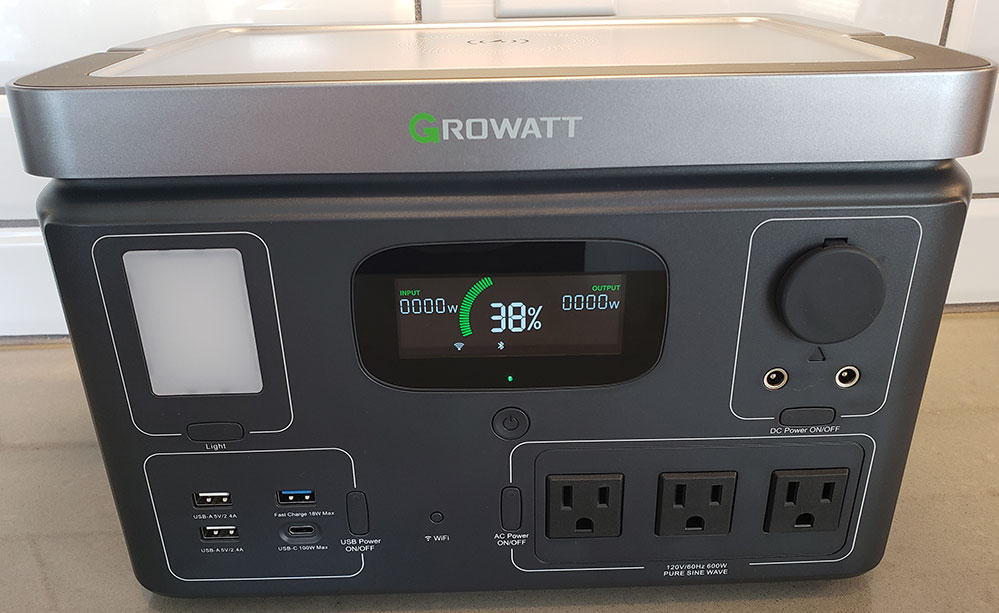 It shows live energy wattage readings for both the input and output as well as small icons for various settings that are currently activated. There's also a curved green bar around the percentage remaining that gives a nice visual on remaining power. What's more; it offers an "hours remaining" icon that takes into consideration the current power draw and indicates a precise time in regards to how much longer it'll last.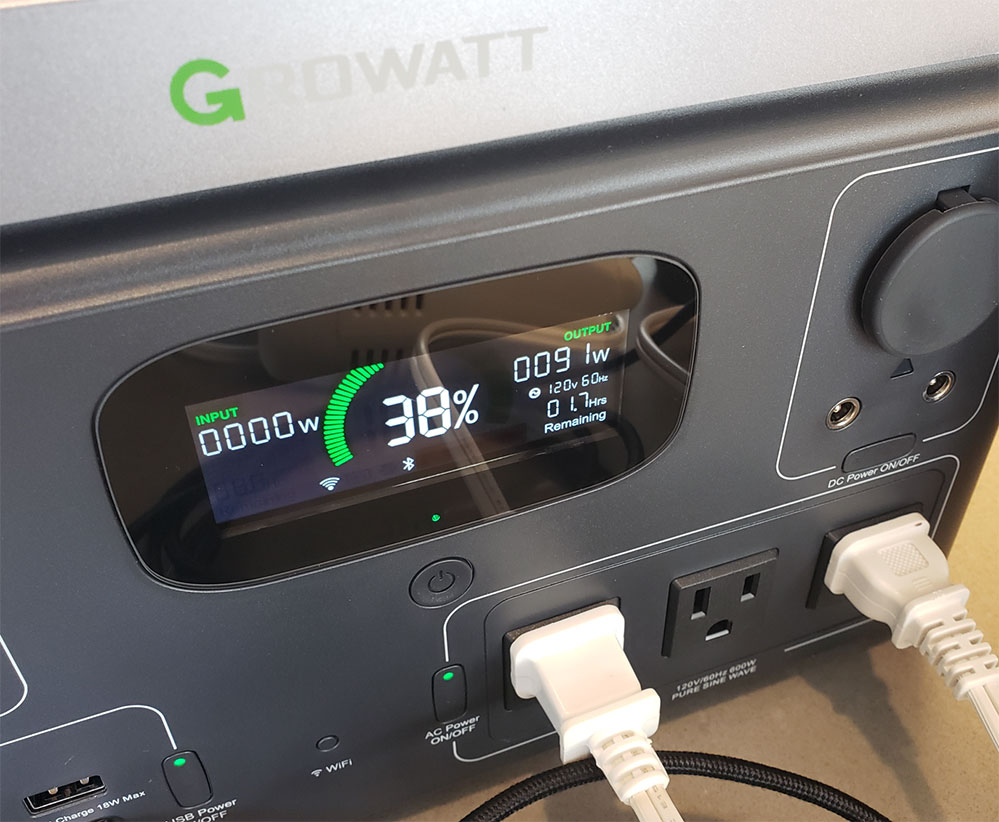 In terms of outputs, you have two USB-A ports rated at 5V/2.4A and a third one offering fast charging up to 18W. In addition, there's one USB-C port capable of PD charging up to 100W. Moving on, there's three grounded AC outlets, offering 120V/60Hz and a max output of 600W (1200W surge). Above these is a 12V/10A, 120W Max barrel-style car outlet with two DC 5521 outputs capable of 12V/3A, 36W Max.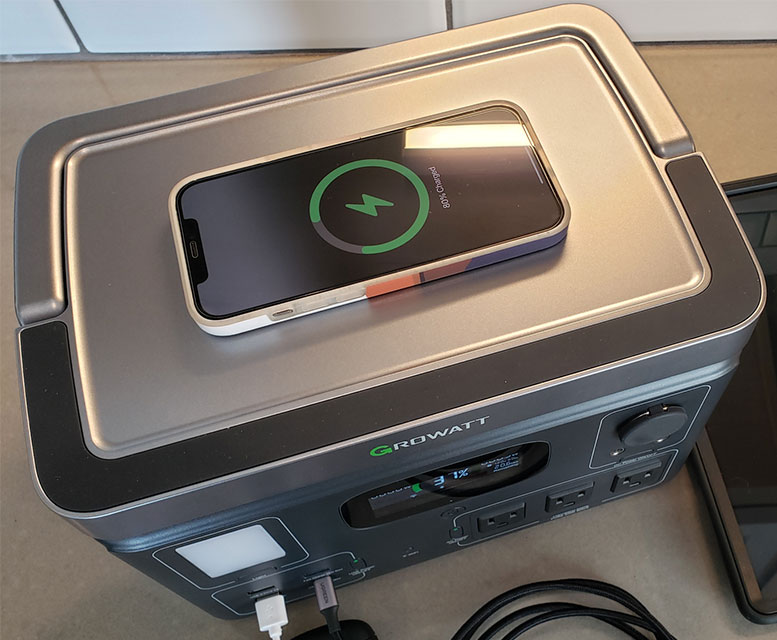 On the top, there's a wireless charging pad built into the unit. Offering up to 15W of power, the edges around it are slightly raised so your phone doesn't accidently slip off. It seems to work quite well and is a nice bonus, considering most power stations don't offer this.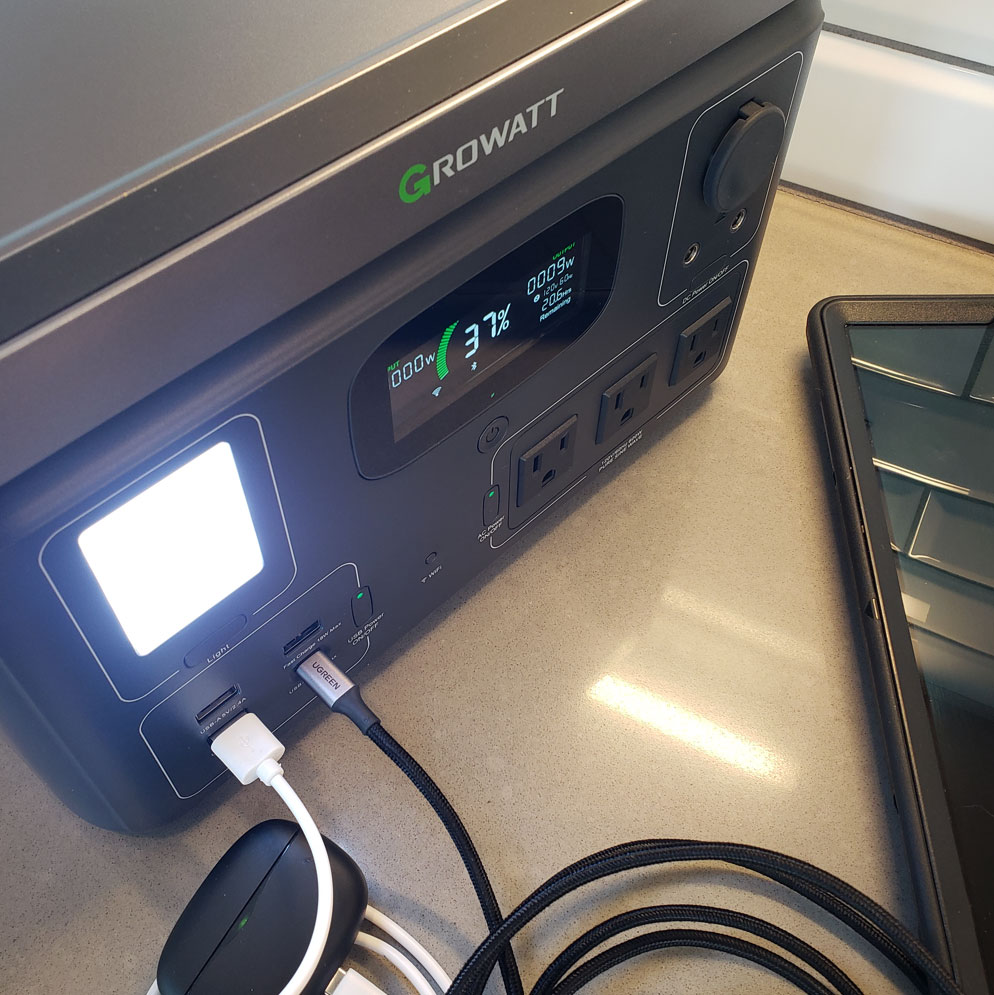 Last but not least, on the front, there's also a built-in light that's incredibly bright. Perfect for providing enough light for your tent, picnic table or other small area.
Inputs
On the right side of the VITA 550, there's a small door near the base. Flip it open to expose the various charging inputs. There's one solar input for 12-24V 10A with a 240W max. In the center, there's the input for plugging in the AC power cord with a 6A max. The small button on the right enables you to toggle between standard or fast AC charging.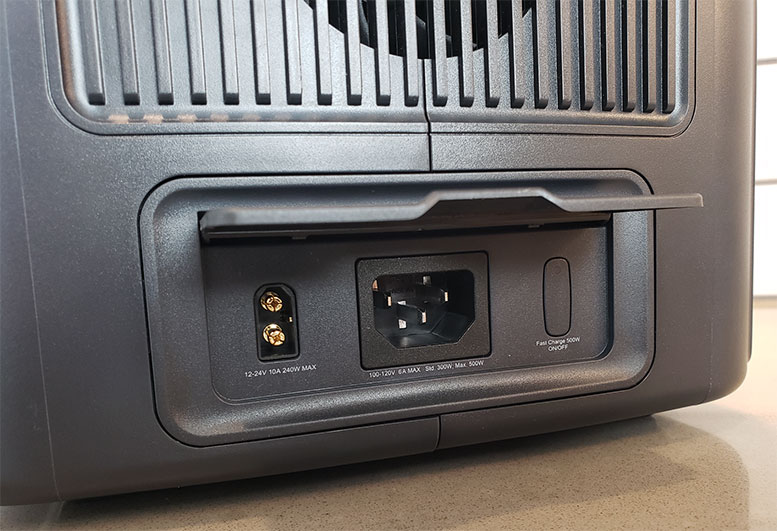 What sets the VITA 550 apart from many power stations in its class is the AC charging. Rather than using a bulky AC adapter "brick", it's a simple, thick-gauge cable that offers incredible charge speeds of up to 500W. This way, the power station can re-charge from the wall in a wonderfully fast manner. In fact, it's capable of re-charging from 0% to 100% capacity in just 1.6 hours if you opt to use "fast charging".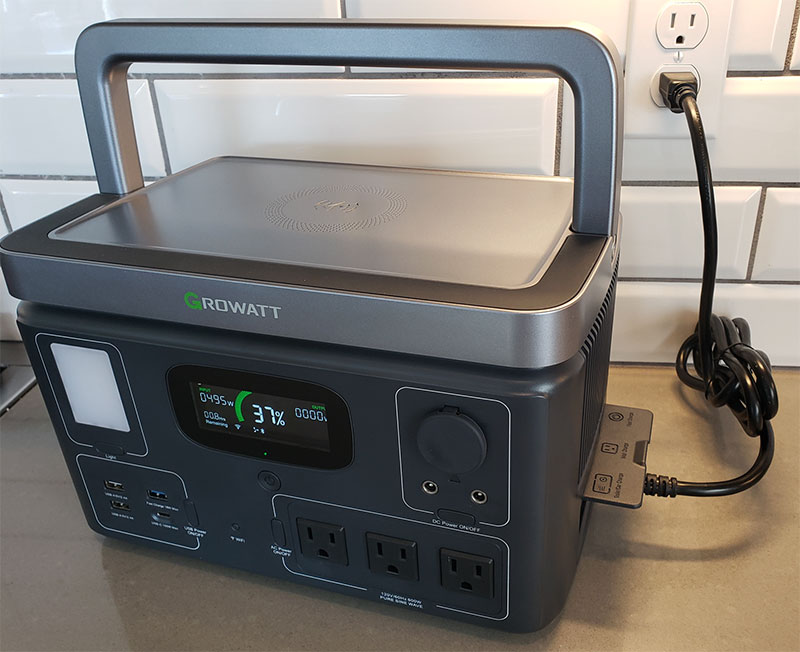 Ultimately, this means less waiting around for it to re-charge and more time putting it to use. Those who often travel on the road know the importance of fast charging. It literally splits your wait time in half of what standard AC charging typically offers.
If you use your own solar panel or opt for one of Growatt's panels, the VITA 550 supports up to 240W solar input. Although solar is highly dependent on various factors, you can achieve a full charge in as little as 2.5 hours.
Most users will opt to take advantage of the quick AC re-charge times. Literally just plug the AC cord into the wall; it's clearly the best way to charge it up. However, you can also use the supplied car charging cable, but re-charge times are maxed out at around 120W. Thus, making car charging the slowest method to fill its capacity to 100%.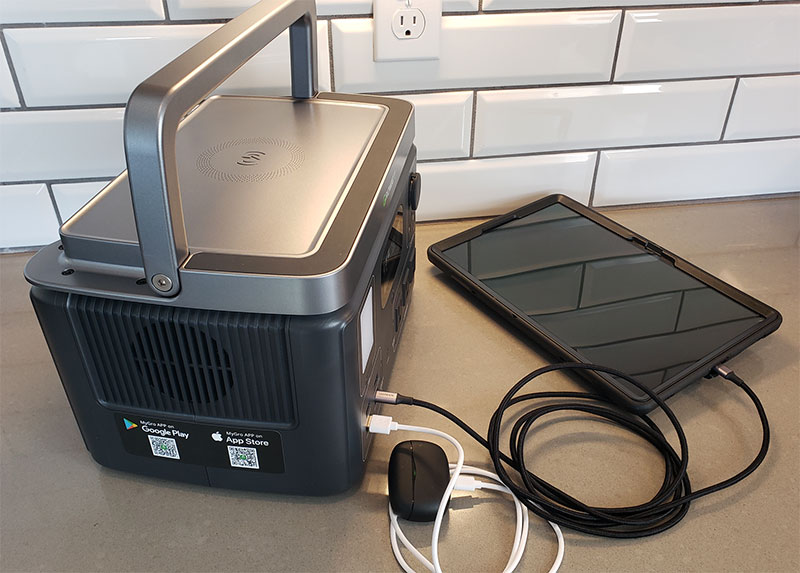 App
The Growatt VITA 550 supports a WiFi and Bluetooth connection so you can take advantage of the myGro app. It's not necessarily a requirement to use, but it's nice to have it available as an option for those who want a full interface at their fingertips.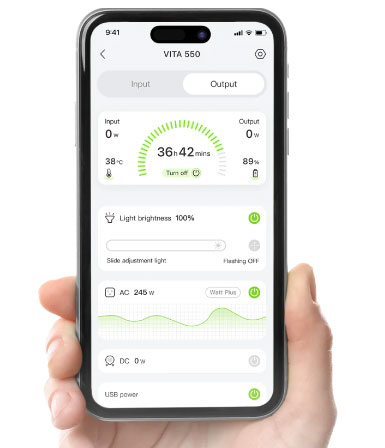 While you do need to sign-up for an account, pairing the power station to the app is straightforward and quite simple. Once you're connected, you can readily view the live charge and output status and access a wealth of general and functional settings.
We tested the myGro app on both Android and iOS and found it to work just fine. The user interface is smooth, streamline and easily navigable. Taking a few minutes to snoop around the app gives you a great insight into the power station and what it's capable of. While I don't think I'll use it on a regular basis, it's definitely nice to have.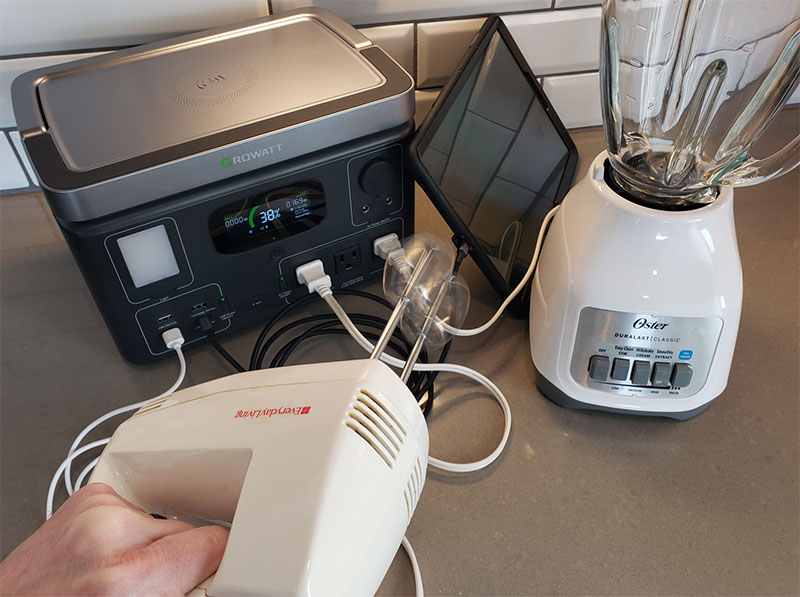 My Experience Using the VITA 550
For about three weeks, I tested the VITA 550 in a variety of scenarios. Overall, I must say that I'm very pleased with the way it works and the usefulness it offers.
Most notably, I took it on a three night camping trip and relied on it for my sole source of power. With its 600W maximum output, it's best suited for providing power to low-demand devices such as smartphones, tablets, LED lights, laptop computers, etc.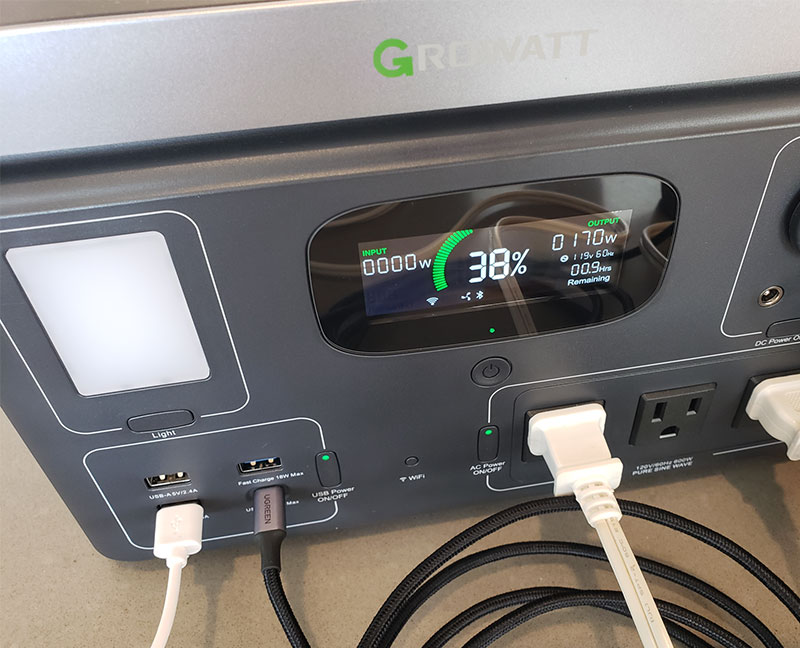 For testing purposes, I used the VITA 550 in the kitchen to power a blender and mixer, simultaneously while charging a Galaxy tablet and smartphone. It worked flawlessly for ~15 minutes straight without any hiccups or issues. This combination drew around 450 watts at its peak, which is under the maximum, but near the higher end. As a result, the built-in cooling fans automatically kicked-on to keep the internals working smoothly. While they're audibly apparent, the fans are relatively quiet and only turn on when necessary.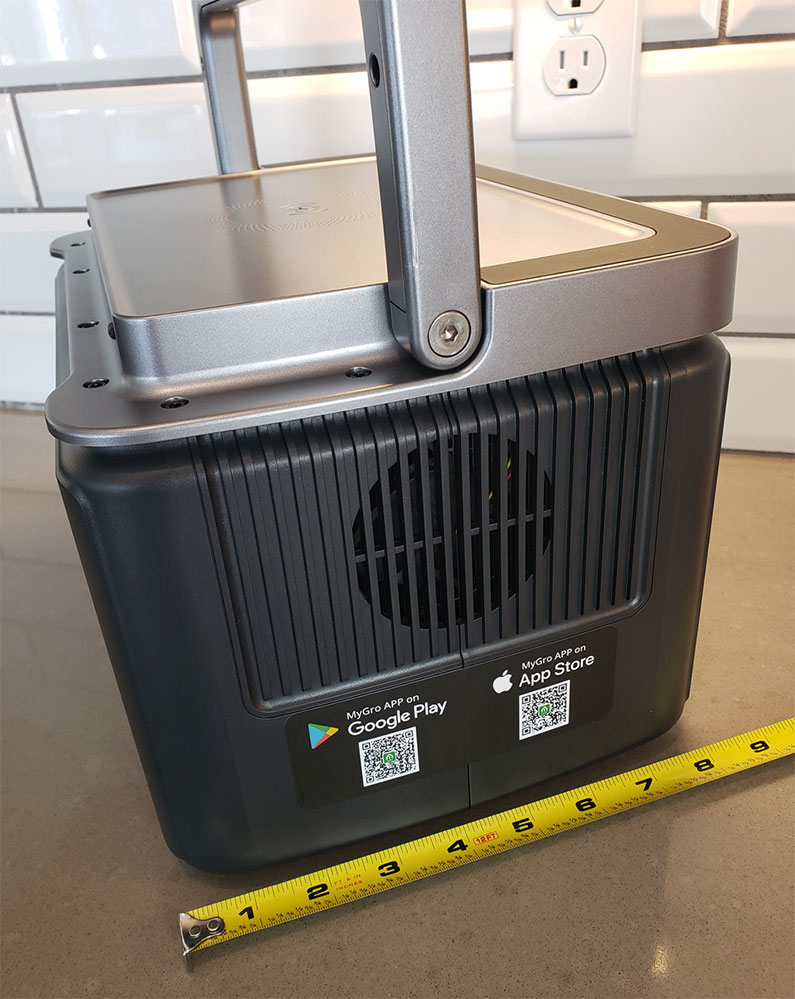 The advertised Watt+ feature is cool, but only able to be activated using the app. It lets you use higher-powered appliances or devices without it shutting down. Anything beyond 600W or below 1050W can operate perfectly fine for several minutes. However, it doesn't offer continuous power for all that long. In addition, we feel it might put a higher strain on the AC inverter, possibly causing issues down the road? Not sure, just a hypothesis.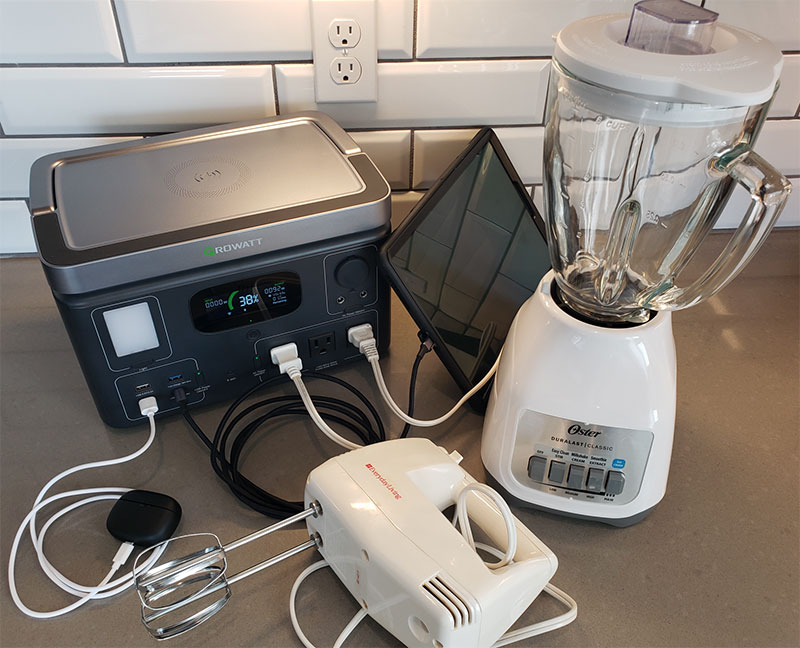 Our favorite feature has to be the fast AC re-charging speeds. The power station utilizes a simple power cord rather than a clunky AC adapter, which is a definite bonus in our book. Simply put, you won't need to lug around an oversized adapter to charge it back up to 100%.
However, I found that the VITA 550 doesn't support pass-through charging. That is, you cannot charge the unit while using the power station to power devices that are plugged into it. You'll need to unplug everything you're currently powering before you re-charge it. While this is somewhat offset by the quick re-charge times, it's a minor annoyance that buyers should be aware of.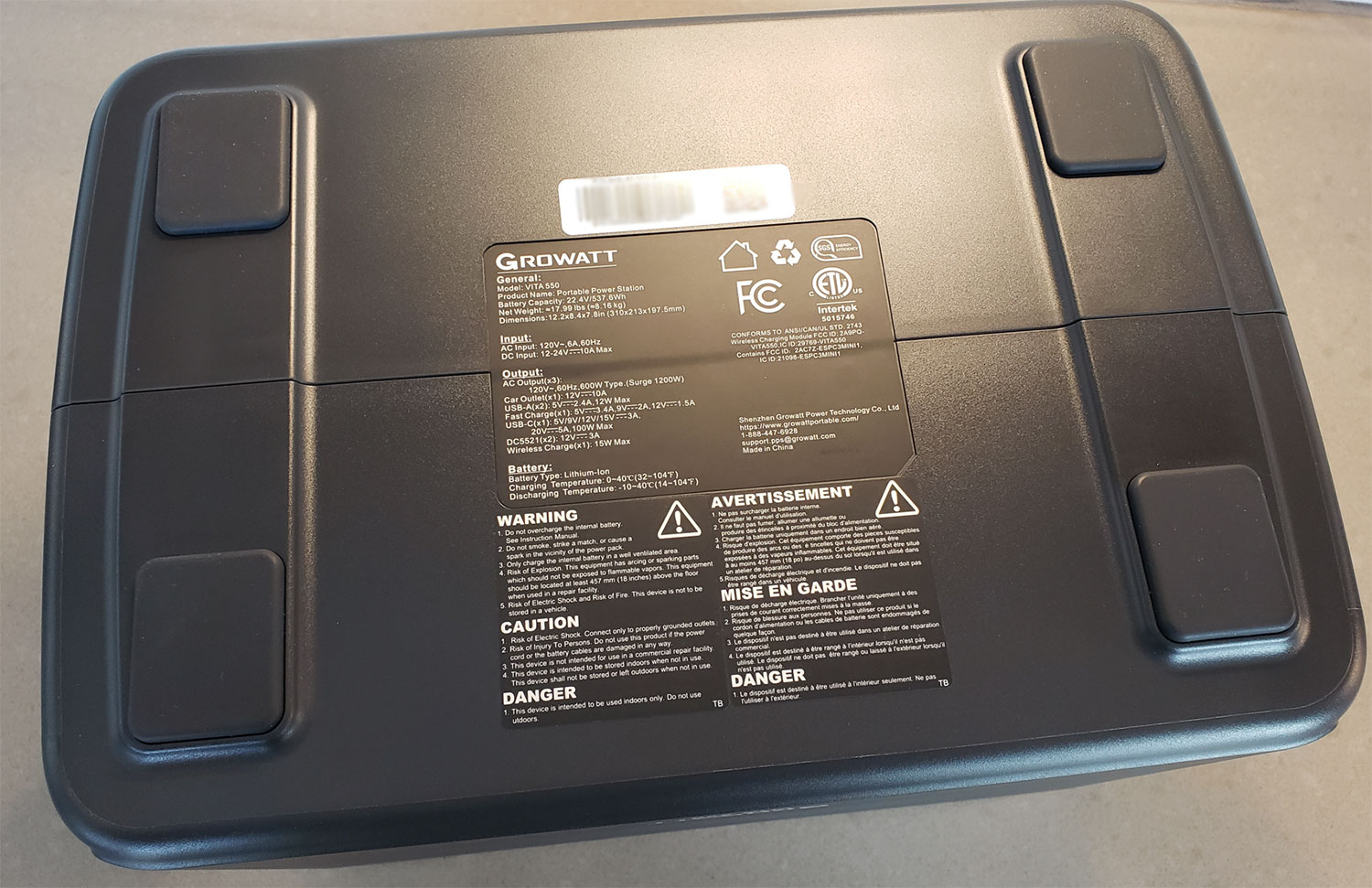 Final Thoughts
Overall, I feel that Growatt has done a great job with the VITA 550 at delivering a power station that's highly capable for its size. While it may not offer the same output or capacity as larger counterparts, it's a great option for most everyday electronics and devices. Sure, it may not provide enough power for absolutely everything, but it's perfect for camping, off-grid use and emergency backup.
My favorite feature is the fast AC-recharging without the need for a bulky AC adapter. While it does not support pass-through charging, it can fully charge from a wall outlet in about an hour and forty minutes. This is three to five times as fast as most power stations. And with 240W max of solar input, people who want to take advantage of their existing solar panels or one of Growatt's can easily do so.
The app offers good insight and a fun way to adjust a wide range of settings and preferences. Best of all, it's not absolutely require for use, although I do recommend checking it out for yourself.
I'm glad to see that LiFePO4 cells were used rather than a cheaper alternative. This ensures a long lifespan that, in theory, will keep it usable for beyond a decade or more.
The aesthetics, build quality and design are all great. It looks sharp and performs perfectly well. And with Growatt's 2-year warranty period, you can rest assured knowing that it'll last for plenty of occasions to come. All in all – highly recommended if the few drawbacks don't bother you.
Meet Derek, "TechGuru," a 34-year-old technology enthusiast with a deep passion for tech innovations. With extensive experience, he specializes in gaming hardware and software, and has expertise in gadgets, custom PCs, and audio.
Besides writing about tech and reviewing new products, Derek enjoys traveling, hiking, and photography. Committed to keeping up with the latest industry trends, he aims to guide readers in making informed tech decisions.