These days, most popular mice are wireless. This makes sense for a couple of reasons. To begin with, a wire can get snagged, tugged, or tangled. With a wireless connection, there's nothing to tug on, and there's one less wire to get tangled.
For another thing, wireless mice are more portable. With a wired mouse, you have to wrap up the cable. If nothing else, it's one more thing that you have to carry in your luggage. Worse yet, there's always the chance that the cable itself could be damaged. Unless the cable is removable, you'll end up having to replace the entire mouse. In other words, wireless mice make a lot of sense.
Note: At no extra cost to you, we may earn a commission for purchases using our links. Learn more.
That said, no technology is perfect, and a wireless mouse is no different. To begin with, if you travel a lot, the little USB dongles can easily get lost or damaged. This is no different from the wire getting damaged on a wired mouse; you're basically out of commission.
But on the more mundane level, you also have to worry about keeping the battery charged. Without a wire, you might find yourself suddenly interrupted by a dead battery. This is bad news if you're smack in the middle of an online game. Thankfully, there's an easy solution; a wireless charging mouse pad. You can keep the battery topped off at all times, so it's always there when you need it.
Choosing the Best Wireless Charging Mouse Pads
Today, we're going to talk about the four best wireless charging mouse pads on today's market. Each of these pads has its own strengths and weaknesses, so it's important to choose carefully. To make the best decision, you'll have to look deep into each of their unique functions and features.
We'll talk about the basic design – the size, the materials, and the surface texture. We'll look at the cosmetic features like RGB lighting. In addition, we'll discuss how each pad connects to your computer, and how the charging works. Finally, we'll go over any extra features and customization options. After we've considered all of these things, we'll wrap up and deliver our final verdict. Let's get started!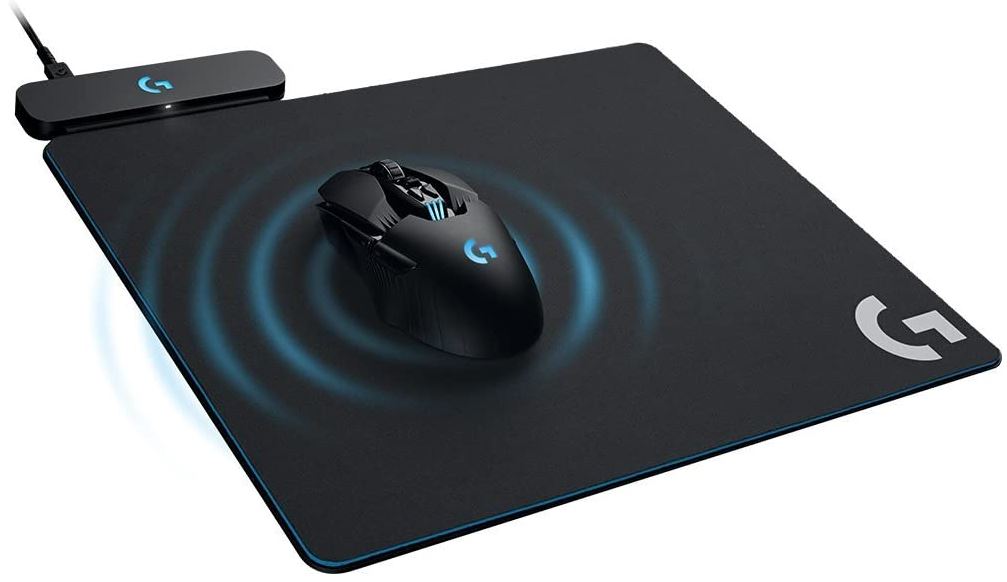 Logitech G Powerplay Wireless Charging System
If you're at all familiar with computers or gaming, you're already familiar with Logitech. They make all kinds of equipment, from gaming mice to speakers. Any time their name comes up, you can bet that the engineering quality is good.
The Logitech G Powerplay Wireless Charging System is a standard-sized mousepad. It measures 11 inches high and 13.4 inches wide, and is not foldable or rollable for travel. That said, it's not to big to slip into a laptop case, and it has a slim, 4mm profile. When you're working on it, it feels like your mouse is sitting flush with your desk.
The pad itself is a slick black, except for a light grey Logitech logo at the lower right. It's rigid, but the surface can be either hard or soft. There are two interchangeable surfaces in the package, so you can swap back and forth as desired. Both have the same look; it's just the texture that's different.
At the back left of the pad, there's a hard black plastic module where the power connects. It's oval in shape, and a bit fatter than the main mousepad. In the back, you'll find a USB port, and a USB cable is included in the box. On top, there's a light-up RGB Logitech logo, which you can modify with free Logitech control software.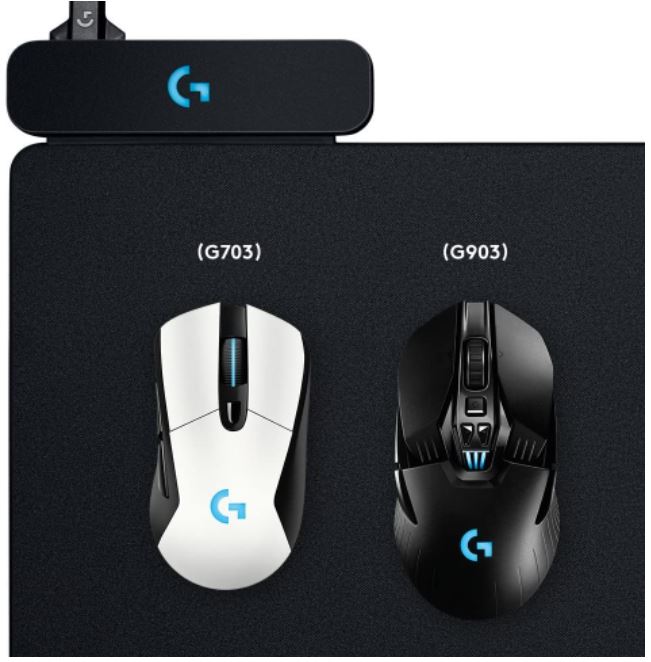 Connectivity and Charging Performance
Connecting to your computer is simple and straightforward. You plug it in via USB, and it works right out of the box on PC or Mac. That said, this isn't an ordinary wireless charging pad, and it won't work with most wireless devices. You can't charge any Qi devices like phones and ordinary wireless mice. In fact, it's only designed to work with the popular G903 and G703 gaming mice.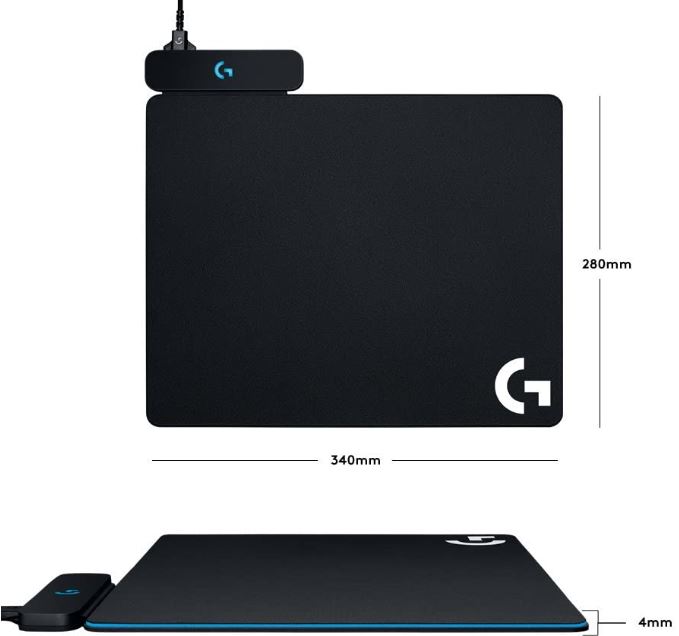 This is because the Powerplay pad isn't a Qi charger. It doesn't use a set of inductive coils to create a current inside your mouse. Instead, it utilizes Logitech's unique magnetic resonance technology. In order for it to work, the pad comes with a little resonance charging module. This goes into the bottom of your mouse, and takes the place of the original weight module.
So, you're looking at a charger that only works with a couple of mice. That said, if you're already using one of Logitech's flagship mice, you'll have an excellent pair.
Not only does the charging module charge your mouse, it also forms a connection to your PC. It wirelessly connects to the pad, and from there to your computer. You can unplug your wireless dongle and use this connection for virtually zero latency.
Moreover, the charging module is smart. It's designed to maintain your battery at 85% to 95% charge. This is the level where it's most efficient, and where it suffers the least wear and tear.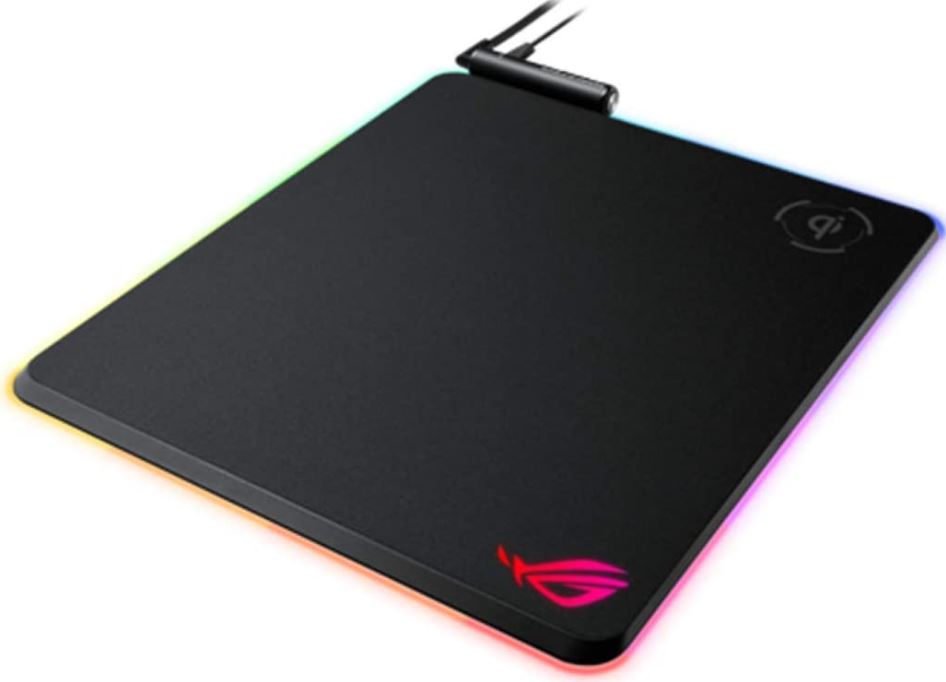 ASUS ROG Balteus Qi Vertical Gaming Mouse Pad
ASUS is another big name in the gaming community, or what they call the "Republic of Gaming" (ROG). They're experts on display and RGB technology in particular. The ASUS ROG Strix XG17AHPE Portable Gaming Monitor is just one example of their industry-leading products.
The ASUS ROG Balteus Qi Vertical Gaming Mouse Pad has an unusual design. As the name implies, it has a vertical design, meaning it's taller than it is wide. At 12.6 x 14.6 inches, it's also slightly larger than your average pad, but not by much.
It's made from a thick black plastic, with a solid surface that's smooth to the touch. However, it's rough on the microscopic scale, where it's micro-textured for better mouse tracking. The bottom side is padded with textured, non-skid rubber.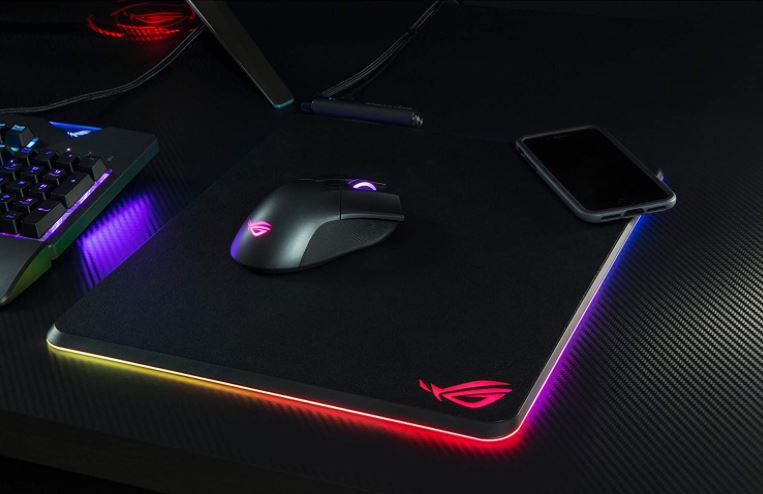 The plain black look is brightened by a light-up ASUS logo at the bottom right. There's also a bright LED light band around the bottom edge. At the back left, there's a black cylindrical module. In addition to power and USB ports, there's a button on the side. This can be used to control the RGB lighting, although you can also use ASUS Aura lighting controls.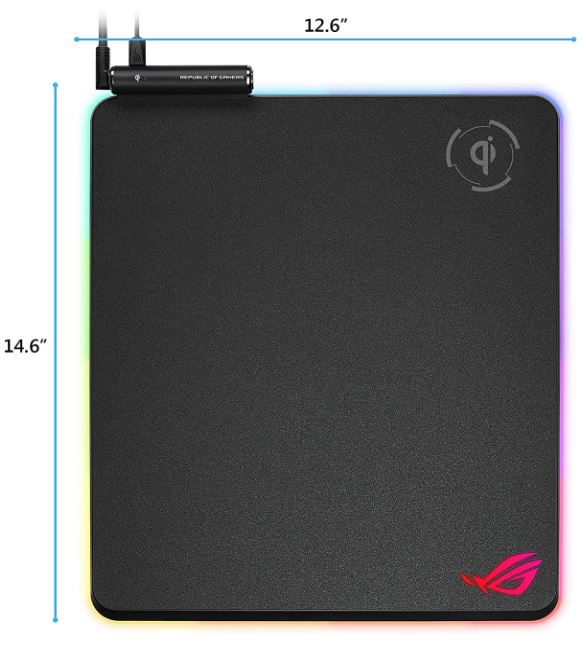 Connectivity and Charging Performance
The top right of the mouse pad has a little round Qi charging zone. Set any Qi-charged device on the spot, and it will start charging. You can leave your mouse there any time it's not in use, or set your phone there while you're gaming.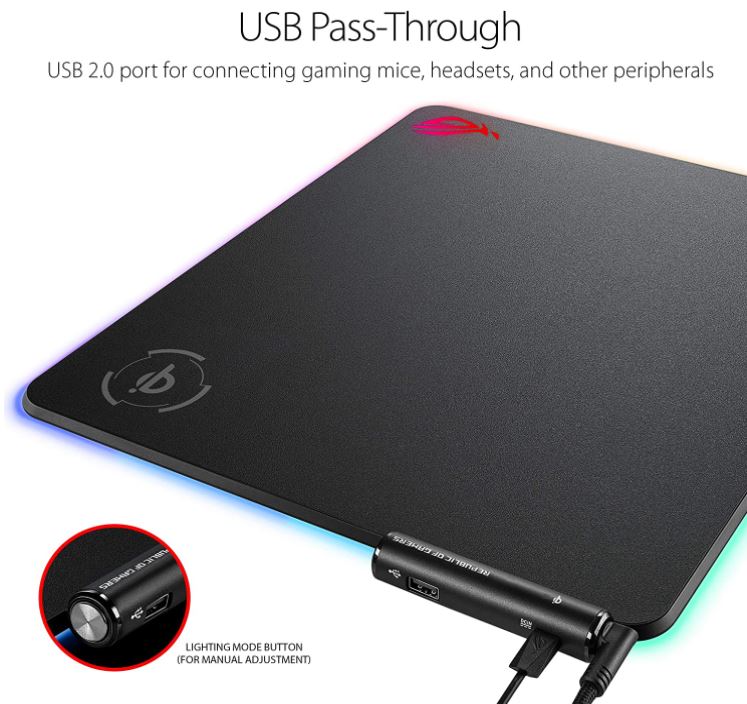 The main plug goes from the side of the power module to your PC. This powers the RGB lights, as well as the USB Type-A port. The Type-A port, in turn, supplies pass-through connectivity. You can plug in a wireless mouse dongle or headset here. To get power to the Qi charger, you need to use the included Micro USB power supply cable.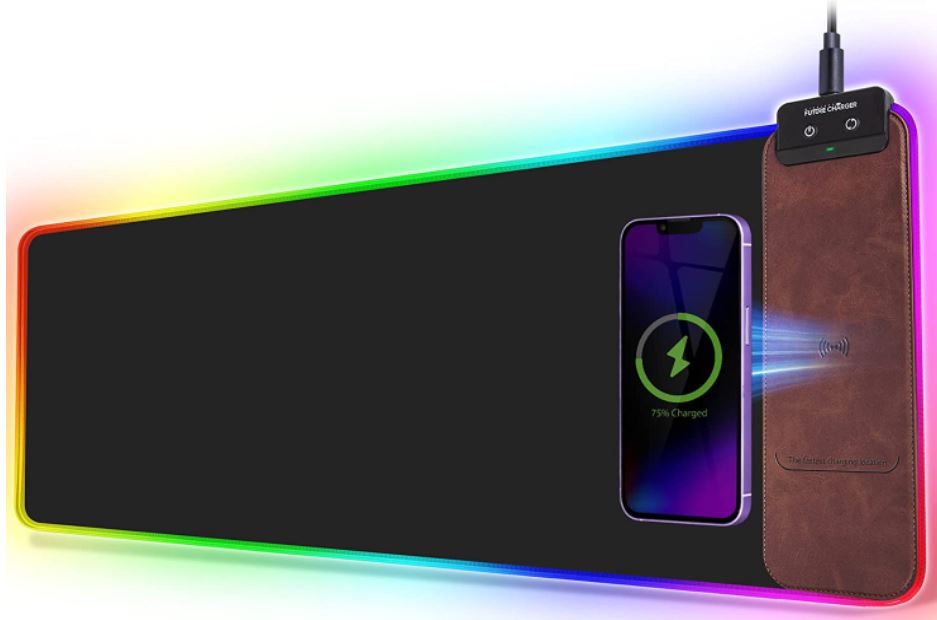 FutureCharger Wireless Charger RGB Gaming Mouse Pad
The FutureCharger Wireless Charger RGB Gaming Mouse Pad has an ultra-wide profile. It measures 31.49 inches across, and only 11.8 inches high. If you want to, you could put a full-sized keyboard on it, and still have room for a mouse. It also maintains a slim profile, which makes your mouse easier to control.
The main surface is a smooth black poly, which is easy to clean, and blends into most environments. The bottom has a textured anti-skid rubber surface, and the whole thing is ringed with RGB lights.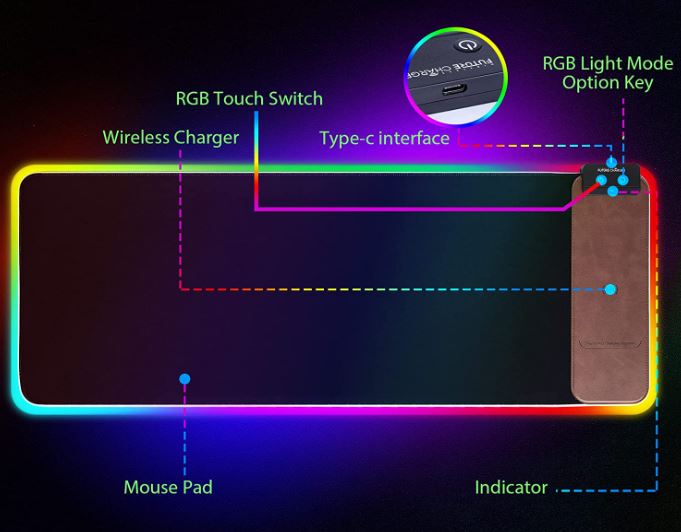 To the right of the main surface is a soft leather charging pad. You can order it in four different colors: black, brown, dark blue, or dark grey. At the top of this pad, there's a slim black control module. On its surface, you'll find a pair of buttons to adjust the LED lights and turn them on or off.
Connectivity and Charging Performance
The FutureCharger pad connects to your PC or Mac with a USB Type-A to Type-C cable. This supplies power to the RGB lights as well as the charge pad. The charge pad, in turn, can charge any Qi-enabled device. If you want to charge your phone or earbuds, that can be done as easily as charging your mouse.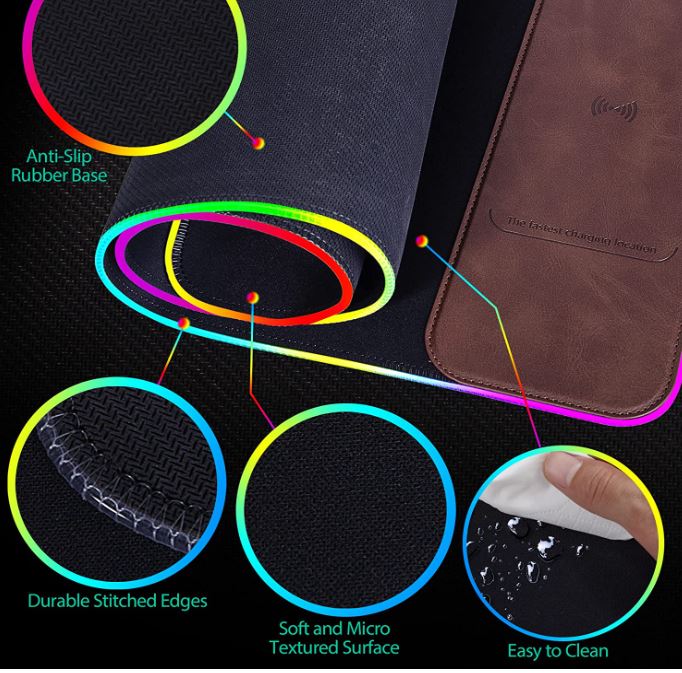 The circuitry has several useful built-in safety features. It protects you from overcharging, over-current, over-voltage, and even excessive temperature. It also shuts down if a foreign object, like a key, is left on the pad. An LED light on the module lets you know the current status. It shines blue for standby mode and green for charging. When there's an error or fault, it will flash blue.
A mouse pad isn't the only way to keep your wireless mouse charged. If you want something a little more discreet, consider an under desk wireless charger instead. These mount invisibly on the underside of your desk, and charge your phone or mouse right through the surface.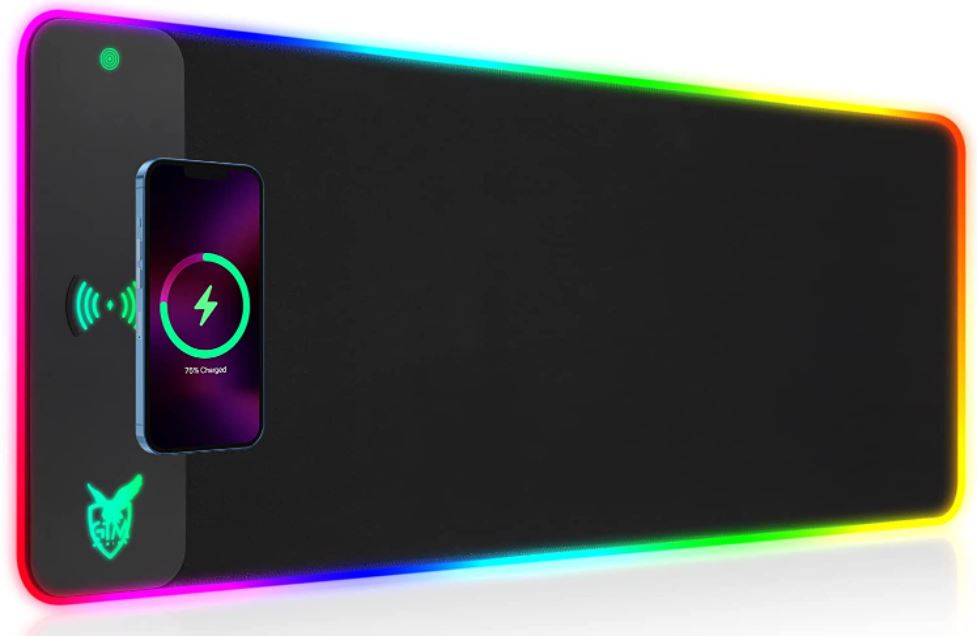 GIM Wireless Charging RGB Gaming Mouse Pad
The GIM Wireless Charging RGB Gaming Mouse Pad is superficially similar to the FutureCharger. It's also black, and it even has the same dimensions: 31.5 inches wide and 11.8 inches high. LED lighting around the edges provides an attractive accent.
The thing we liked most about this pad is that it can be rolled up for transport. It's made from cloth on the topside and rubber on the bottom, with stitching just inside the RGB strip. It's thin enough for comfort, and the fabric on the surface is smooth, so your mouse almost floats over it.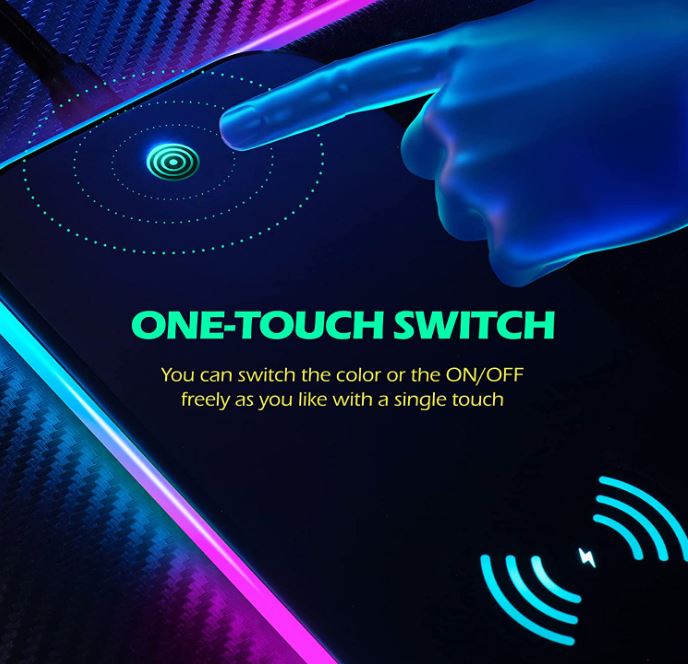 At the left, there's a rectangular charging pad that's made from a solid plastic. This part can't be rolled up, but it's not very wide, only wide enough for a beefy smartphone. At the bottom, there's a light-up logo, while you can find a rubbery Qi charging ring in the center.
At the top of the charge pad, there's a single touch control button. This turns the LEDs on and off when you press and hold it. When you press and release, it changes the LED lighting mode. There are breathing, cycling, and flashing modes, as well as seven static colors.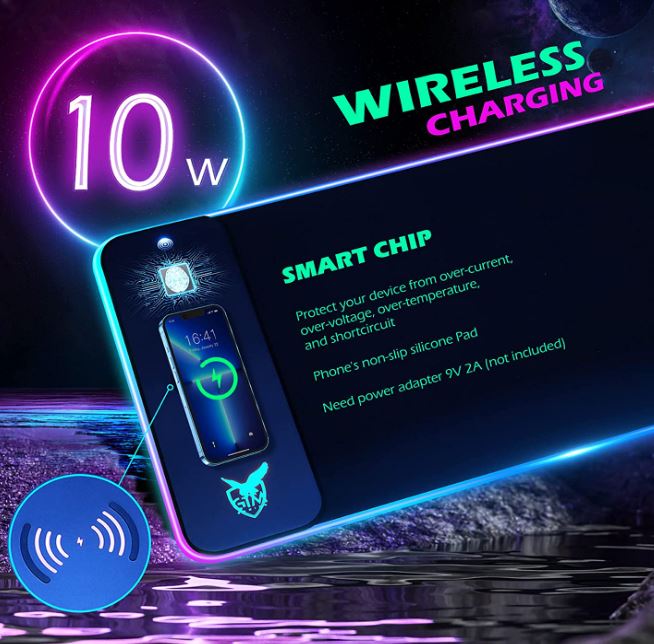 Connectivity and Charging Performance
The GIM mouse pad connects via a USB Type-A to Type-C cable. In order to work, it needs to be plugged into at least a 9-volt, 2-amp USB port. This is more than a standard USB port, so you'll more than likely need a wall adapter. Unfortunately, there's none included in the package, so you'll have to provide your own.
The LED light in the charging pad isn't just for show – it's also a status indicator. It turns red when your device is charging, and green when it's fully charged. In standby mode, it's blue.
Final Verdict
So, which of these wireless charging mouse pads is the best? Let's quickly go over all four of them.
The Logitech G Powerplay Wireless Charging System is the most effective and efficient by far. It also lets you ditch your wireless dongle by taking advantage of the pad's faster wireless connection. Unfortunately, it only works with Logitech G703 and G903 mice.
The ASUS ROG Balteus Qi Vertical Gaming Mouse Pad has a vertical design that could fit better on some desks. The pass-through connectivity is a nice touch, although needing to use two cables is somewhat of a hassle. Then again, it's very durably built, and it charges any Qi-compatible device.
The FutureCharger Wireless Charger RGB Gaming Mouse Pad is an oversized pad, but still very slim. It's great if you want your keyboard to sit next to your mouse, and the leather charge pad is high-quality. Combine that with simple light controls and a USB Type-C connection, and there's a lot to like.
The GIM Wireless Charging RGB Gaming Mouse Pad is the most portable of the bunch. Since you can roll it up like an ordinary mouse pad, it's easy to pack up and take anywhere. The power requirements are a little quirky. But all in all, it performs fairly well.
Please consider sharing:
Note: At no extra cost to you, we may earn a commission for purchases using our links. Learn more.