Are you tired of power interruptions ruining your day? Or simply looking to harness portable power for future emergencies? Look no further than BLUETTI and the power solutions they offer.
With BLUETTI's Power Week sale, now live until September 18th, you can elevate your off-grid cabin living experience and energize your outdoor adventures without worrying about losing power.
Continue reading to learn more about Power Week and how BLUETTI is revolutionizing the way our lives use electrity. Get ready to power through interruptions with ease and never be left in the dark again, all while saving money on some of their best power stations and solar panels.
Easily Power Through Interruptions
With the BLUETTI AC300, you can effortlessly power through interruptions and keep your essential appliances running smoothly. This modular power power station is designed to provide flexible capacity and reliable power supply during emergencies.
By pairing the AC300 with one to four B300 batteries, you can have up to 12,288Wh of power at your disposal. When the power goes out, the AC300's 24/7 UPS mode ensures that your essential household appliances receive power within just 20 milliseconds.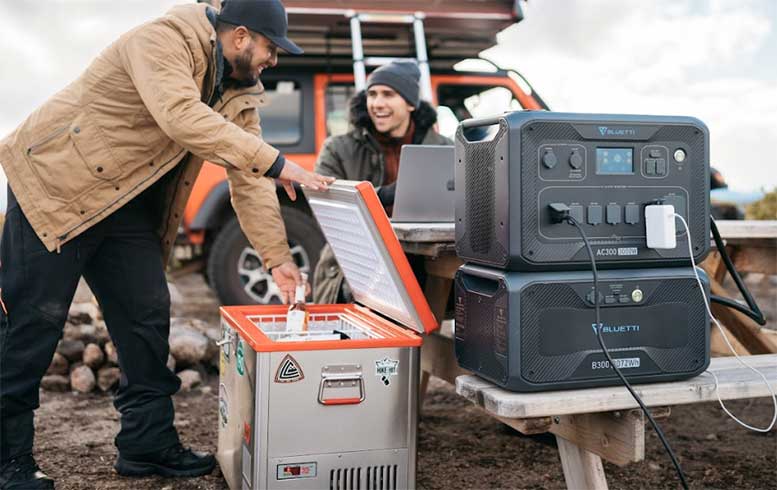 Imagine being able to power an 800W AC refrigerator for 12 hours, a 1,000W microwave for 10 hours, and a 40W CPAP machine for an incredible 260 hours. And if you need even more power, you can combine two AC300 systems with the Fusion Box Pro, giving you a total output of 6,000W and a capacity of 24,576Wh.
This means that your family can live comfortably even during week-long extended power outages. Simply put, don't let interruptions disrupt your daily life. Investing in the BLUETTI AC300 is a great way to enjoy uninterrupted power supply for your essential appliances.
Deal Info: AC300&B300 Was $3,299, Now $2,599, Save $700
More Power Needed? Try the EP500
If you find yourself in need of a reliable backup power supply for your home, look no further than the EP500 – an all-in-one solution. Equipped with a robust 5,100Wh LiFePO4 battery pack and a powerful 2,000W pure sine wave AC inverter, this compact powerhouse ensures a consistent and clean power supply. With the convenience of four sleek wheels, the EP500 effortlessly rolls to any location requiring power.
With a remarkable 17 outlets, this versatile power station is capable of energizing an array of appliances and tools, from essential fridges and circular saws to demanding lawnmowers. Gone are the worries of power cuts, as the EP500 can sustain your entire household for a day or two, providing uninterrupted electricity. Beyond household applications, this innovative device proves invaluable for your workshop DIY projects or even outdoor events like tailgate parties.
Imagine effortlessly hosting a large backyard barbecue with the EP500 at your disposal. Its impressive capacity allows it to power a 1,000W electric grill for a staggering 4 hours, ensuring that your culinary endeavors remain unhindered. The EP500 truly offers convenience, reliability, and peace of mind in any situation where power is a necessity.
Deal Info: EP500+3*PV200 Was $5,706, Now $4,896, Save $810
Off-Grid Cabin Living with Complete Power
Looking for a way to enhance your off-grid cabin living? Experience serenity and a deeper connection with nature by escaping to an off-grid cabin. And with BLUETTI's AC200MAX and AC180 power stations, you can take your off-grid experience to new heights.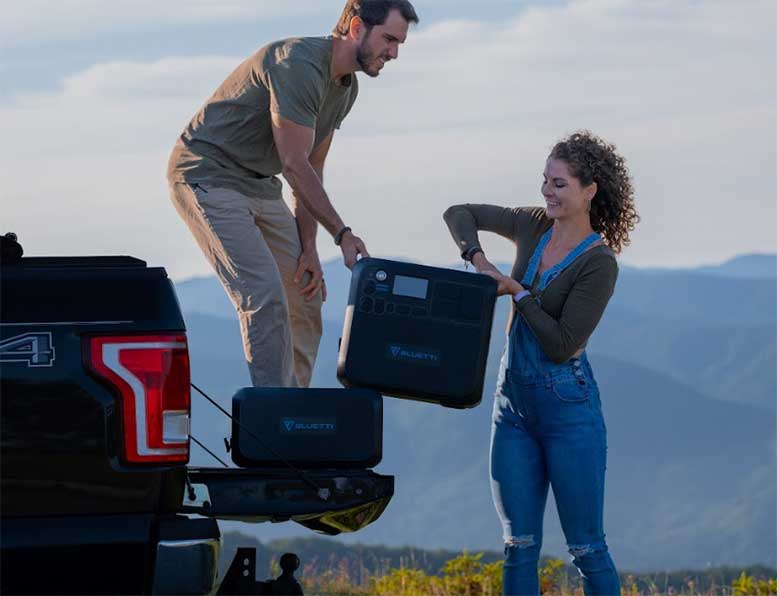 The AC200MAX is a powerhouse, delivering 2,200W of running power and 4,800W of starting power. With its 16 outlets, including multiple AC ports, USB ports, DC ports, and wireless charging pads, you can charge all your batteries, appliances, and electronics. It also supports fast solar charging, allowing you to fully top up in just a few hours. Plus, with the ability to expand its capacity, you can create an off-grid backup that suits your cabin lifestyle.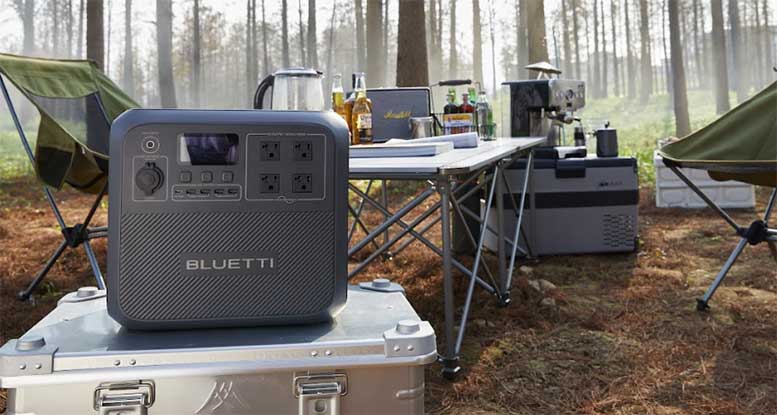 If you're looking for something more compact, the AC180 is a great option. Weighing about 36 lbs, this power station can still dish out 1,800W of power and increase to 2,700W in powerlifting mode. It's perfect for running resistive devices like dryers and electric kettles, and its responsive UPS feature ensures reliable backup power during sudden outages.
With BLUETTI's power stations, you can enjoy the comforts of modern living while still embracing the tranquility of off-grid cabin life.
Deal info: AC200MAX+B230 Was $2,898, Now $2,698, Save $200
Deal info: AC180 Was $999, Now $799, Save $200
Energizing Your Outdoor Adventures
When you're out exploring the great outdoors, you can easily energize your adventures with BLUETTI's portable power stations.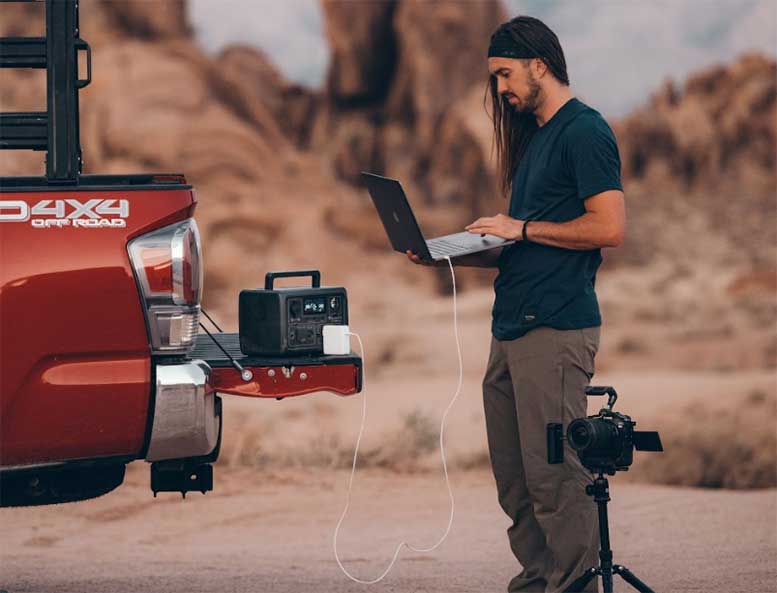 The EB3A, paired with the PV200 solar panel, is a lightweight powerhouse that weighs only 10 lbs but offers 600W of AC power and 268Wh of capacity. As an example, it lets you charge your drone up to 4.5 times or your iPhone 12 up to 25 times. And the best part? You can keep it charged-up using the PV200 folding solar panels, harnessing the sun's energy to power your outdoor gadgets.
If you're looking for a more rugged power solution, the AC60 is the perfect choice. This dust and water-resistant power station is a true marvel, weighing around 20 lbs but offering 600W of power and 403Wh of capacity. And if more capacity is needed, pair it with a B80 module.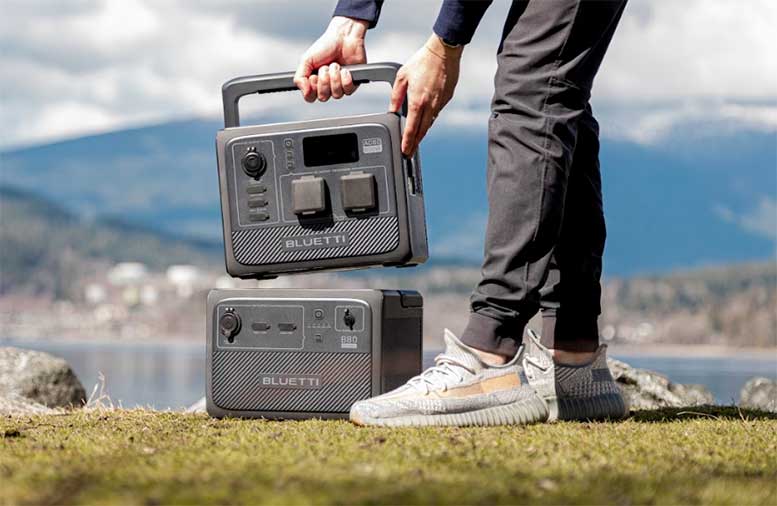 With its 7 versatile outlets, you can power a range of devices, from ice makers to refrigerators, phones, and laptops. And with BLUETTI Turbo Charging technology, you can fully charge the AC60 in just 1 hour using 600W AC charging. This means less time waiting around and more time actually using it to provide essential power.
Both the EB3A and AC60 are built to withstand the elements, making them ideal companions for your outdoor adventures. No need to worry about the splash of a rain shower or the intense ruggedness of daily camping.
Deal info: EB3A+PV120 Was $588, Now $488, Save $100
Deal info: AC60+B80 Was $1,398, Now $1,098, Save $300
About Power Week
Don't miss out on these incredible limited-time offers to save big during BLUETTI Power Week. From September 5th at 7:00 PM to September 18th at 7:00 PM (PDT), you have the chance to save up to $1,000 on top-of-the-line BLUETTI power products. It's the perfect time to grab that power station or solar panel you've been eyeing.
But that's not all. If your purchase exceeds $1500, $2000, $2500, or $3000, you'll be eligible to receive fantastic gifts. Users are already getting a free BLUETTI cap, T-shirt, or hoodie to go along with their new power equipment. Best of all, you'll also receive three times BLUETTI Bucks, which can be redeemed for coupons and gifts.
Simply put, this is an opportunity you don't want to miss. BLUETTI Power Week is the ultimate chance to upgrade your power solutions and save money at the same time. So head over to the BLUETTI website now and take advantage of these amazing deals. Learn more at https://bluettipower.com.
About BLUETTI
BLUETTI has been dedicated to promoting sustainability and green energy solutions, providing exceptional experiences for homes and contributing to a sustainable future. With a strong commitment to eco-friendly energy storage solutions, BLUETTI has become a trusted brand that is recognized globally. By offering innovative and reliable products, they strive to make a positive impact on the environment and the lives of their customers.
BLUETTI's commitment to sustainability goes beyond just their products. They're constantly exploring new ways to reduce our environmental footprint and promote a greener future. From the manufacturing processes to the packaging materials, they strive to make every aspect of their business as sustainable as possible.