Overall Design -

8/10

Ease of Use -

8.5/10

Battery Life -

9.5/10

Performance -

9/10
Summary
The Epomaker TH80 Pro is really impressive, whether you're a gamer or a typist. It's got everything you need: great build quality, tons of customization options, versatile connectivity, and a battery that just keeps going. And let's not forget those cool custom switches and RGB effects that add a personal touch. It's like the TH80 Pro knows exactly what you're looking for. It's perfect for professionals and hobbyists alike. This keyboard delivers in every way possible.
Pros
Robust build quality
Versatile connectivity options
Impressive customizability
Long-lasting battery life
Cons
Included stabilizers could be better
Keyboard app is somewhat basic
Are you in search of the right keyboard that resonates with your gaming aspirations and also your typing needs? The TH80 Pro by Epomaker could very well be the one you seek. This gaming mechanical keyboard is not just a piece of hardware; it's a blend of sophistication, performance, and reliability. Our hands-on testing and subsequent review will help shed light on whether this is indeed the perfect fit for your gaming needs. So join us as we unbox and explore Epomaker's TH80 Pro wired gaming mechanical keyboard.
What's in the Box?
When we first unboxed the TH80 Pro, we were met with a compact 75% layout housing 80 keys. It seemed to promise both comfort and space consciousness, and the inclusion of various connectivity options definitely piqued our interest. There's a lot to get into, so let's start with what's included in the box: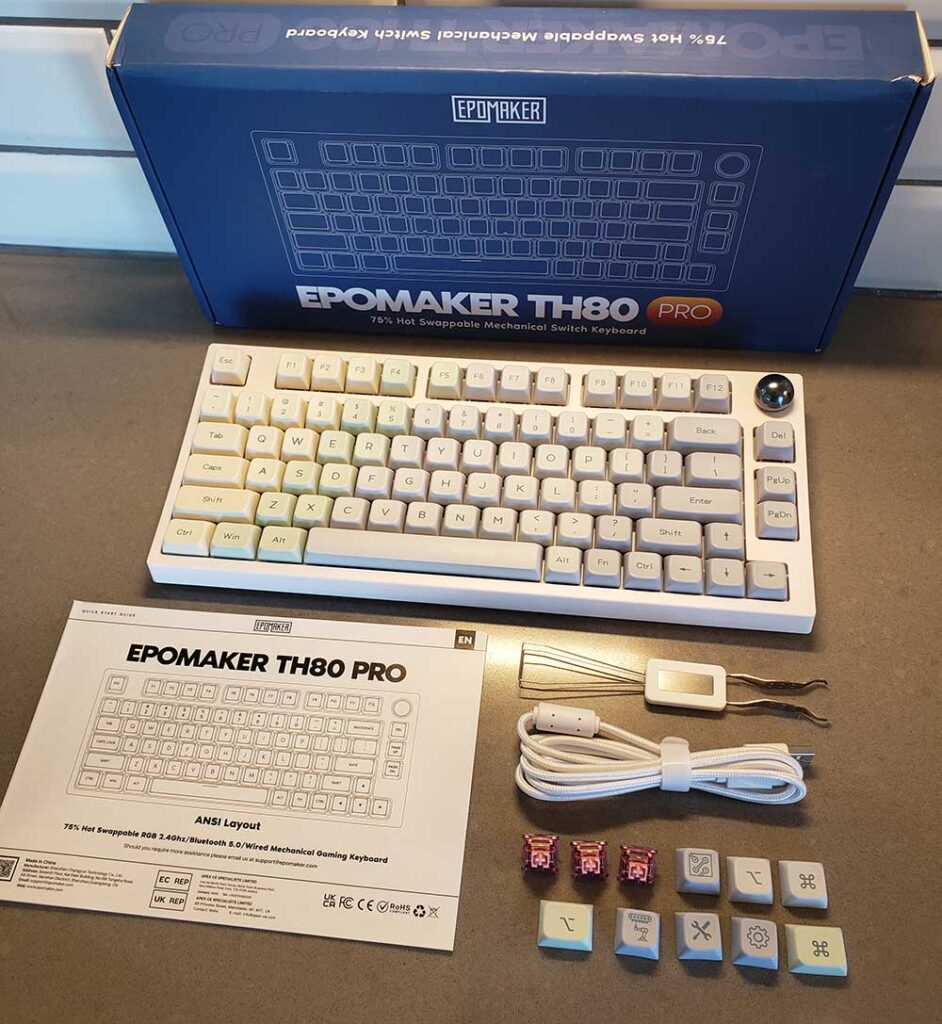 The Keyboard: The main star of the show, this 80-key marvel is more than just a typing tool. Housed in sleek ABS plastic, its design and build exude quality, promising tactile pleasure with every keystroke. We'll share our experience momentarily, but so far, we're impressed with what we see.
Type-C Cable: Robust yet flexible, this cable stands ready to link the keyboard to your preferred device for wired connectivity. It's not very long, but its versatility ensures compatibility and reliability, letting you focus on what's important: your work or play.
2.4GHz Dongle (optional): Wireless connection is just a click away with this handy accessory. Small yet powerful, it guarantees a swift, lag-free connection, ensuring that your commands reach your device as soon as you make them. Just be sure you pick one up in addition to the keyboard, as it normally isn't included.
Instructional Manual: A basic guide to help you explore and navigate your new keyboard. It's all pretty elementary, but it gets the job done.
Keycap & Switch Puller Tool: The included keycap and switch puller tool is a nice addition. If you don't already own your own, you can use this to remove caps and switches with ease.
Mac-Modifier Keycaps: A thoughtful addition for Mac users, these keycaps enable seamless integration with MacOS. You can personalize the keyboard to make it feel just like an extension of your Mac device. This is a very nice plus, adding more versatility to what is already shaping up to be a smart buy.
Every piece in the box is a testament to the attention to detail and customer-centric design philosophy behind the TH80 Pro. From the essential components to the considerate extras, this unboxing experience is off to a good start.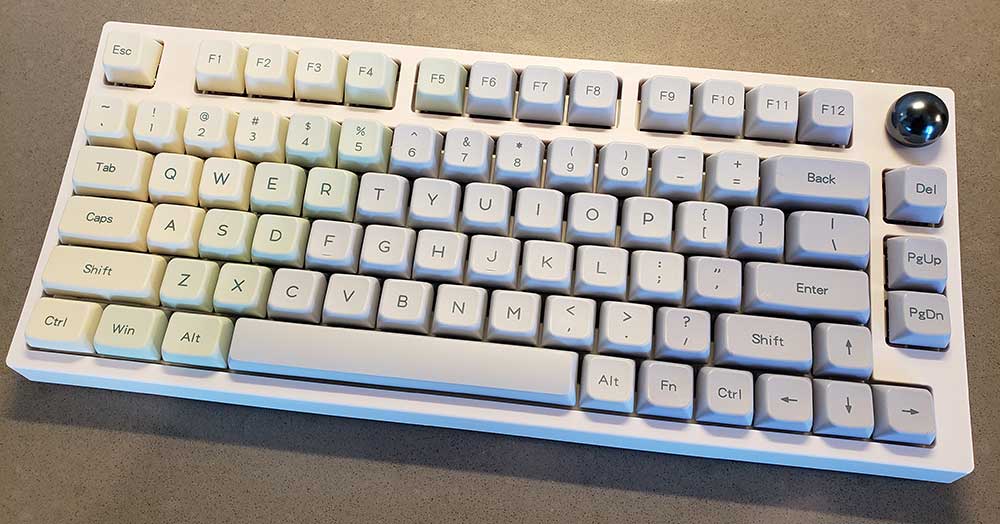 Build Quality
When it comes to building a gaming mechanical keyboard, the choice of materials and design intricacies can make or break the experience. With the TH80 Pro, the craftsmanship is palpable. Constructed with a sturdy ABS plastic case that measures 14.17 x 7.17 x 2.13 inches and weighs 2.93 pounds, the keyboard stands firm and steady. We especially like the heavier weight, as it gives it a nice balance while adding to the tough feel of the board.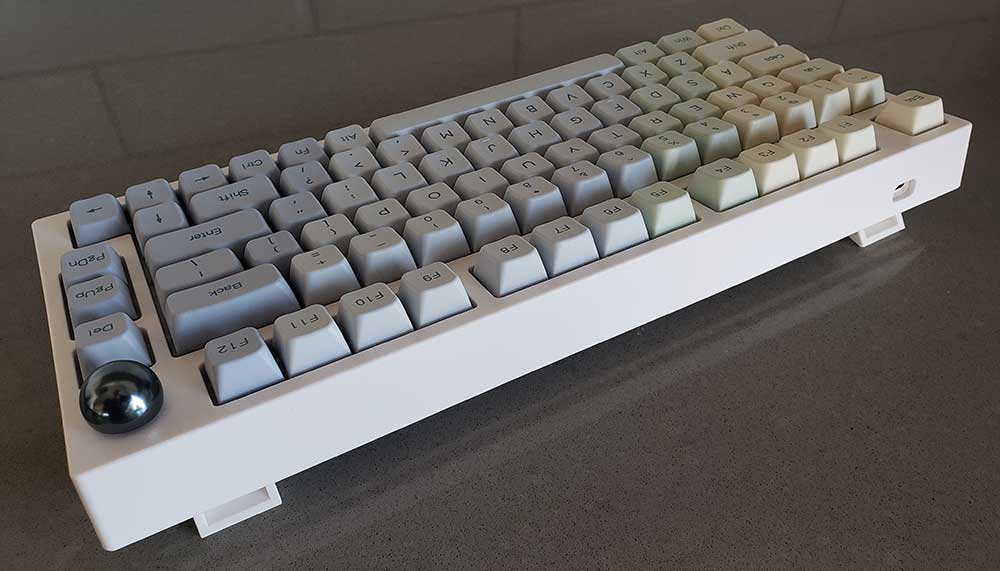 Gateron Pro Switches
First up, the Gateron Pro switches. In our testing, we found them available in five variants, offering a range of options for various typing preferences. The factory pre-lubrication provided a smooth key travel. It's a touch we found rather delightful, bringing an unexpected smoothness that's hard to overlook.
With a 50-million-keystroke lifespan, we couldn't help but feel these switches were designed with longevity in mind. The polycarbonate and POM stem case added a sense of durability that reassured us further. Easy to install thanks to a PCB mount with 3/5-pin design, these switches felt like a wise choice for anyone looking for a lasting relationship with their keyboard.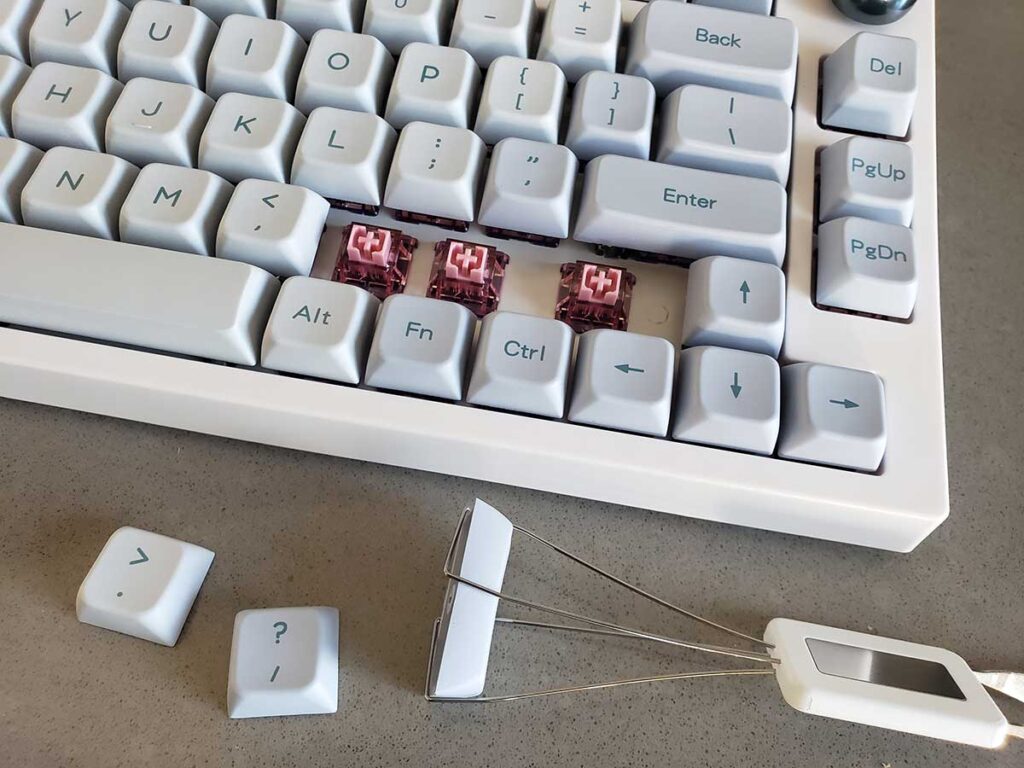 Epomaker Custom Switches: Flamingo & Budgerigar
Then, there are Epomaker's custom Flamingo and Budgerigar switches, each with its own personality. The Flamingos, with their vibrant pink and purple housing, aren't just a pretty face. Engineered for ultra-smooth travel, they gave us an experience that was as pleasing to the fingers as it was to the eyes. The dual extended springs displayed impressive rebound force, resulting in faster typing. We have to admit, they certainly put a little extra flair into our keyboard experience.
On the other hand, the Budgerigar switches offered something a bit different – a welcome tactile threshold without wobbling. We appreciated the consistency in each press, providing a firm yet comfortable response. The initial force of 47 grams was just right – not too heavy, not too light – creating a satisfying balance that made typing feel right on the money.
The rated 50 million presses for both the Flamingo and Budgerigar switches further assured us that these are built to last. We were impressed by the thought and design that went into these custom switches, elevating the TH80 Pro from just another mechanical keyboard to something truly special. And it's not just about offering customization, it's about giving you a tailored experience that feels personal and premium. If you're someone who enjoys having control over the finer details of your tech, these features make the TH80 definitely worth checking out.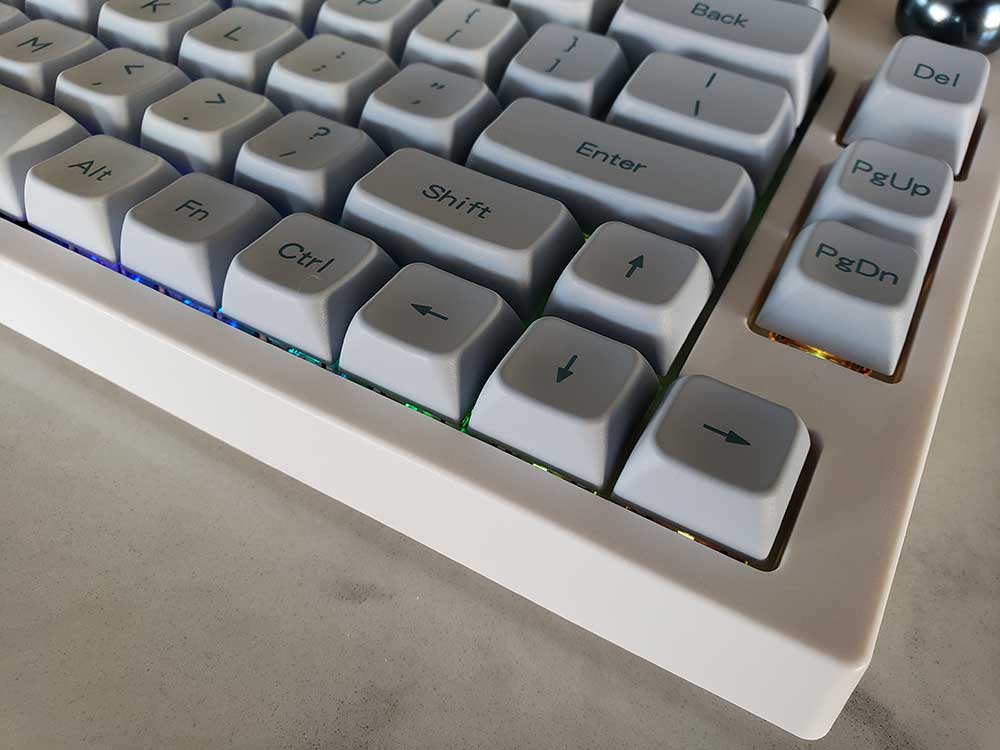 Gaming Performance
In our extensive testing, the device held its own in various gaming scenarios. The switches, especially the Epomaker Flamingo, provided ultra-smooth travel with impressive rebound force. Whether it was a fast-paced shooter or a strategy game, the responsiveness and tactile feedback contributed to a gaming experience that was both engaging and satisfying. The addition of a tactile knob is a nice touch that is sure to come in handy for all users. It's default set to volume control, but you can customize it to your liking.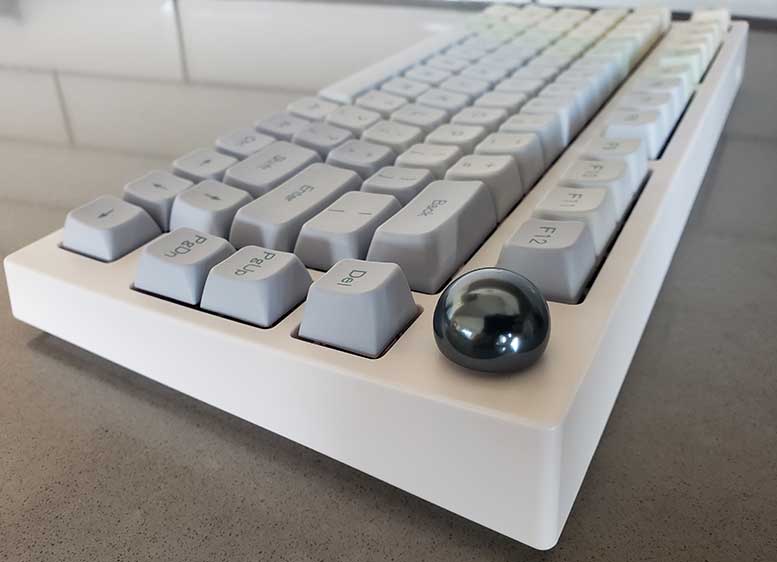 Typing Performance
For those who spend their days crafting words, it doesn't disappoint. The keyboard's layout along with the comfy MDA profile keycaps made typing a breeze. Plus, it seamlessly connects to different devices through Bluetooth 5.0 and 2.4GHz. It's so convenient. That deserves its own discussion, so be sure to stay with us; we'll go over connectivity shortly.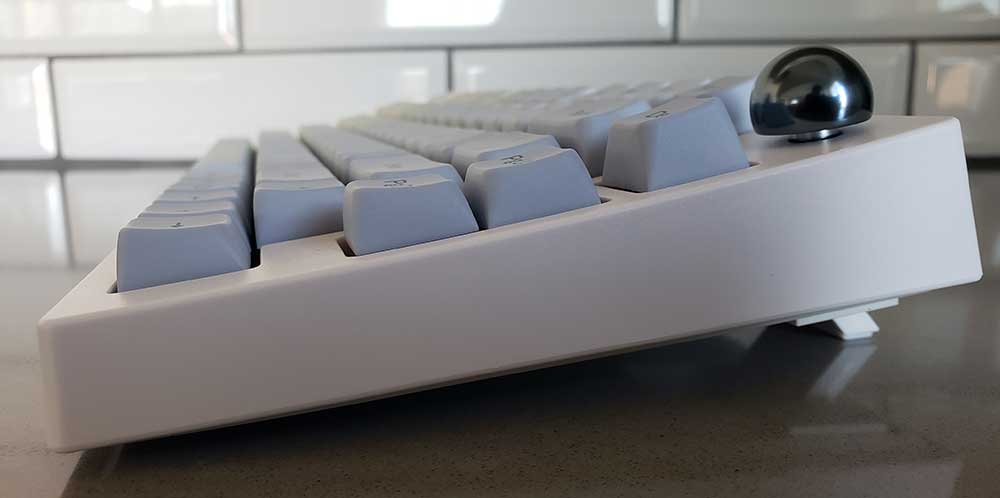 Battery Life
Equipped with a large 4000mAh battery, the wireless modes offer extensive usage time without constantly needing a recharge. We like that there's a convenient indicator under the left CTRL key. This handy signal keeps you informed about the battery status, a small but meaningful addition. In terms of battery life, it's impressive. We used the TH80 Pro for 6 to 8 hours a day for 30 days, and the battery life hasn't even dropped below 80%.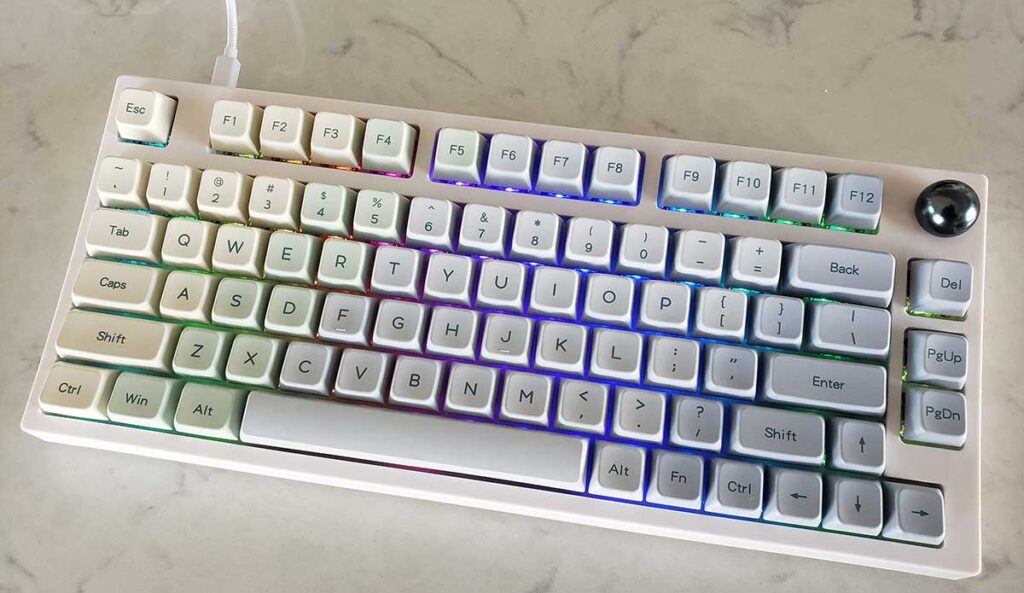 Granted, we've not flexed the RGB effects around the clock. But considering the paces we've put this board through, we're just as surprised that the battery is still hanging on strong. This is sure to appeal to a wide range of consumers, from gamers and coders to writers and students. Knowing you've got a keyboard that doesn't require constant recharging provides a lot of peace of mind.
Customization and Software Compatibility
When it comes to personalization, the TH80 PRO doesn't just give you a few tools; it hands over the entire toolbox. Programmable with both Windows and Mac, this board offers extensive options for those who love to get their hands digitally dirty. With the upgrade to software version V500 from V200, the customization possibilities expand even further. Not only can you remap your favorite keys, but you can also play with per-key RGB settings, set up and record macros for your preferred system, and even adjust the keyboard's sleep time.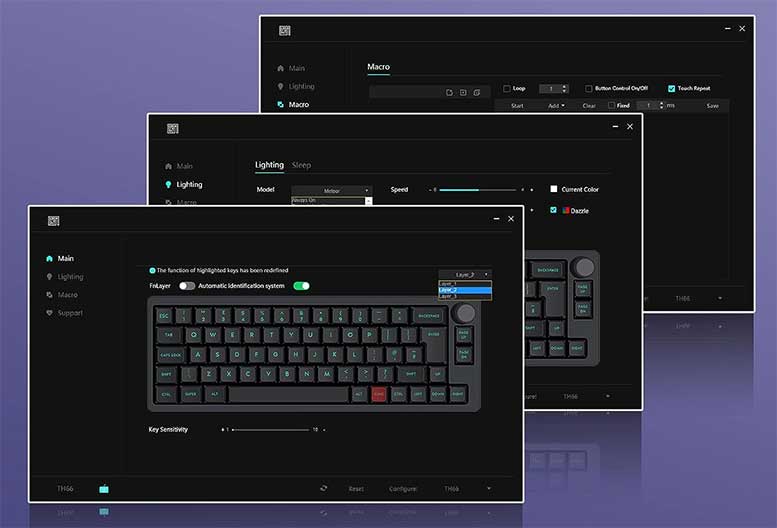 Want more function combinations? You can switch between the FN1/FN2/FN3 layers by merely pressing FN+Z/X/C, and if you ever find yourself lost in your customizations, a quick press of FN+Space will show you exactly which layer your keyboard is on. It's like a dream come true for people who love tinkering and customizing their tech to match their own style and needs. The app itself could be better, but it's certainly capable enough and will meet the needs of most users.
RGB Effects
The first and perhaps most notable one is the RGB lighting. If aesthetics matter to you, the RGB effects certainly offer a lot of brightness and fun customization. With these south-facing LEDs, it's not just about flashy lights but the ability to set the mood for gaming or work. Like many other RGB keyboards, you're afforded more than 16 million color combinations to play with. So if there's a specific mood or theme you're shooting for, the TH80 Pro can accommodate you.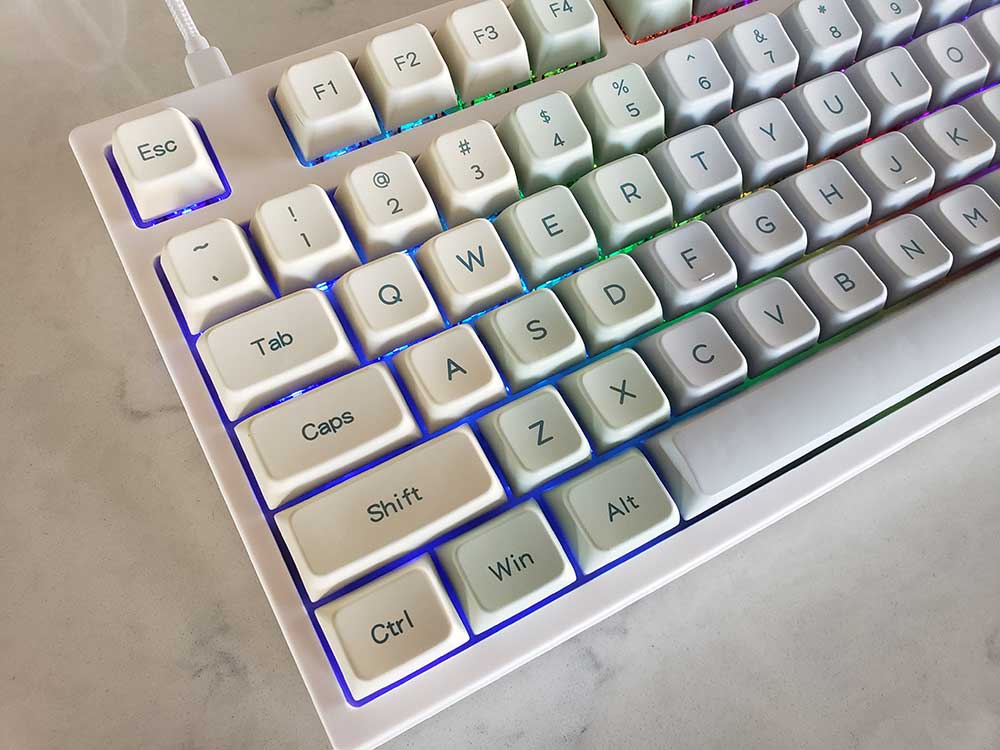 Connectivity
And now for one of the most appealing aspects: connectivity. In the modern world of gadgets and gizmos, staying connected is often the name of the game. And this board embraces this mantra by offering not one, not two, but three distinctive modes of connectivity.
Bluetooth 5.0
With Bluetooth 5.0 support, you get a stable and seamless connection with a variety of devices. Pairing the keyboard with a laptop, tablet, or smartphone becomes a breeze, and the connection stays strong without annoying interruptions. Fancy switching between devices? That's a piece of cake with the ability to pair up to three devices and switch between them using the Fn+1/2/3 keys.
2.4GHz Wireless Connection
Now, this is where things get a bit more exciting for gaming enthusiasts. Utilizing the 2.4GHz wireless mode, it ramps up the performance with a polling rate of up to 1000Hz. For those who might not have their jargon in check, that means incredibly fast responsiveness without lag. It's a choice that caters to those who need precise control in high-speed gaming scenarios. This mode is activated with the Fn+4 key, and it's a cinch to operate.
USB Type-C Wired Mode
Old school with a modern twist, the wired connection via a USB Type-C cable adds reliability and the ability to program macros to better fit your typing habits. The fact that it's Type-C is a boon in and of itself. But what's more, this mode ensures no drop in connection and provides an excellent option for those who are more inclined toward a traditional, dependable connection. The Fn+5 key will get you there, and you'll be typing or gaming away in no time.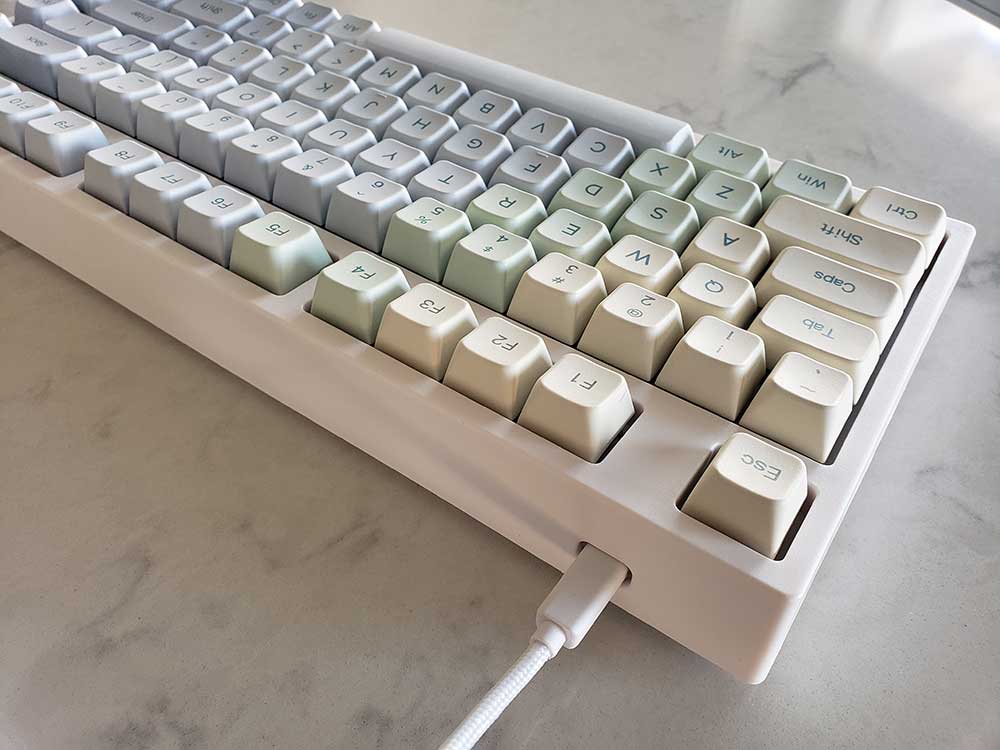 And let's not forget the battery that backs it all up. Thanks to the robust 4000mAh battery that we touched on previously, the keyboard supports all these connection options without fretting over the charge. It's a workhorse that ensures you stay connected, whether you're hammering away at a novel or taking down enemies in the virtual battlefield of your choosing.
Final Verdict
The Epomaker TH80 Pro is really impressive, whether you're a gamer or a typist. It's got everything you need: great build quality, tons of customization options, versatile connectivity, and a battery that just keeps going. And let's not forget those cool custom switches and RGB effects that add a personal touch. It's like the TH80 Pro knows exactly what you're looking for. It's perfect for professionals and hobbyists alike. This keyboard delivers in every way possible.