The beauty of heat-powered wood stove fans is their simplicity. Such a basic concept yields impressive results. But it's vital that you invest in a well-designed unit to benefit from optimal performance. That brings us to why you're here. Today, we're sharing our top picks so that you can be sure to buy the best heat-powered wood stove fan for your needs. Here's a quick rundown of the entries you'll find in this review guide:
Now that you have an idea of what's in store, let's proceed to our reviews and look at each top pick in greater detail. Soon, you should have a much better idea of which fan is right for you.
#1 – Ecofan AirMax Heat Powered Wood Stove Fan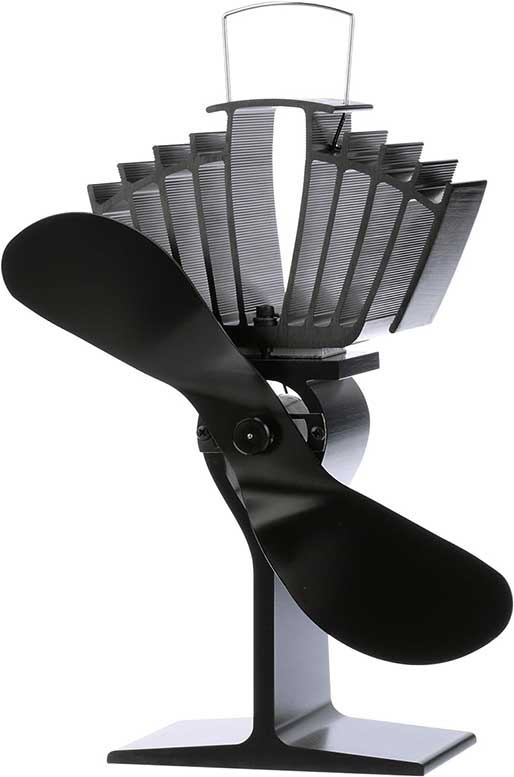 Key features:
Self-powered by stove heat
Moves up to 175 CFM
2-blade high-performance design
Canadian-made and tested
Crafted by the reputable Canadian manufacturer Caframo, the Ecofan AirMax boasts a classic design that stands as a testament to quality and functionality. With its roots in Canada since 1994, Ecofan's journey has been focused on refining its designs and optimizing performance to benefit homeowners, especially during those cold Canadian winters. So you can imagine how well this fan works for the rest of the world.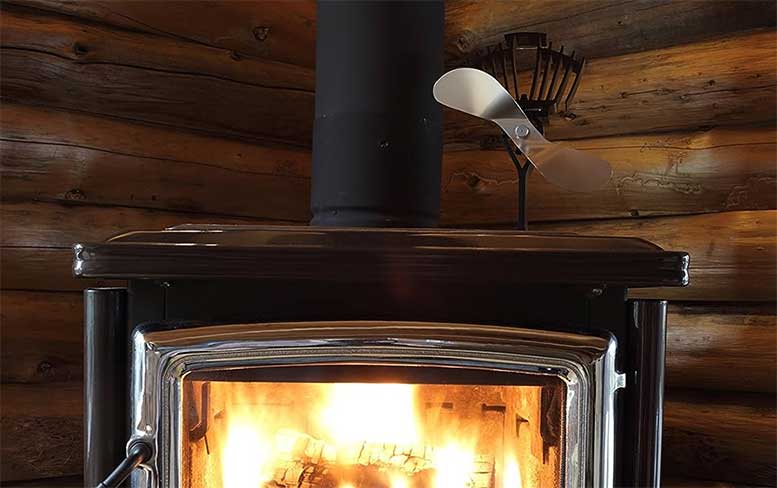 Predominantly made of premium aluminum, the AirMax exudes durability. Its black finish adds a touch of elegance, ensuring it complements a range of stove aesthetics. Measuring 4 inches in depth, 9 inches in width, and 11.75 inches in height, this fan doesn't consume excessive space, ensuring it seamlessly sits atop most free-standing wood stoves. With a weight of 1.7 pounds, it strikes a balance between stability and portability.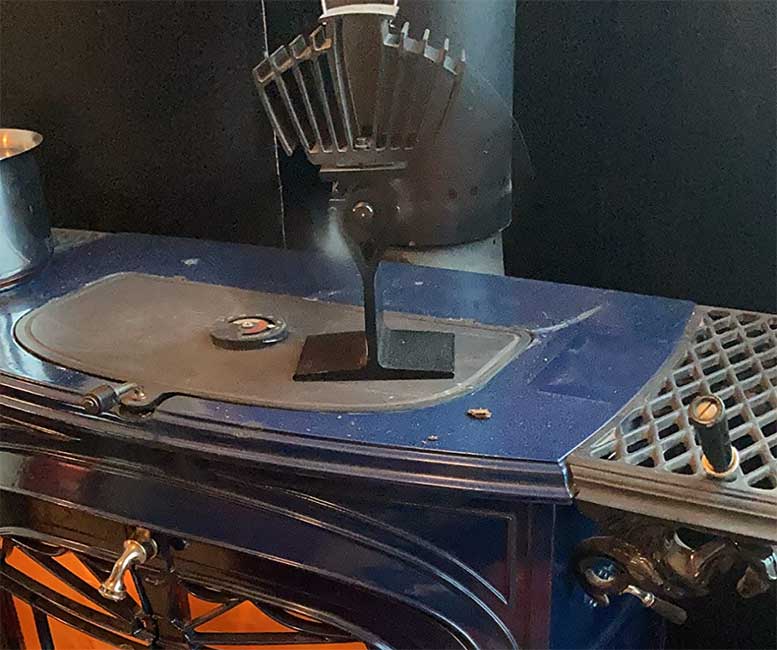 The principle behind the device is ingenious. It generates its own electricity from the heat produced by the wood stove, eliminating the need for batteries or external electrical sources. This means homeowners can enjoy the efficient circulation of warm air without incurring additional energy costs. The Ecofan AirMax is particularly powerful, with a capacity to move up to 175 CFM, ensuring a quicker and more even distribution of heat. This not only maximizes the efficiency of wood-burning but also translates to a cozier living environment.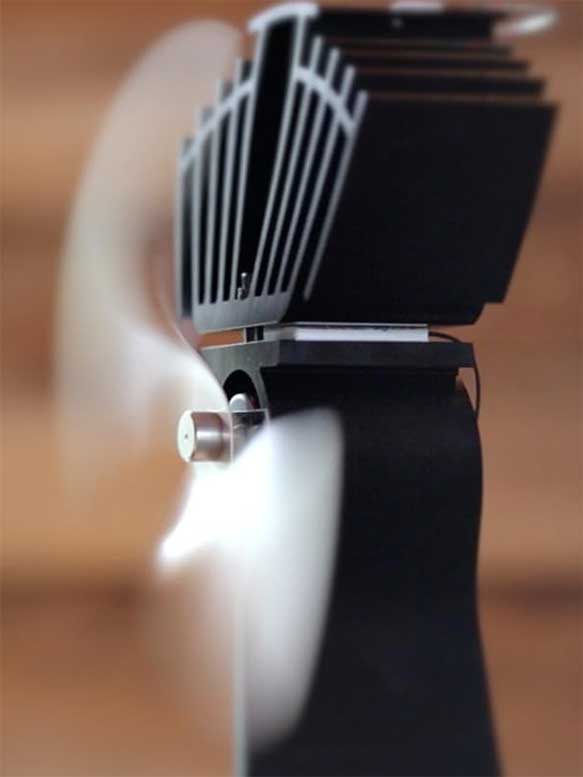 What stands out is the Ecofan AirMax's 2-blade design. Based on Caframo's extensive testing, this design reduces motor strain, promoting even air distribution and prolonging the fan's lifespan. The blades are both CE-compliant and finger-safe – the latter of which we really appreciated seeing. Plus, the rounded edges further underscore its safety-centric design. Ecofan's commitment to its product is evident, not just in its construction but also in the customer support anchored at Caframo in Canada.
What we liked:
Efficient heat distribution
Quiet operation
Durable aluminum build
No external power needed
What we didn't like:
Limited to free-standing stoves
Operates within specific temperature range
#2 – CWLAKON Wood Stove Fan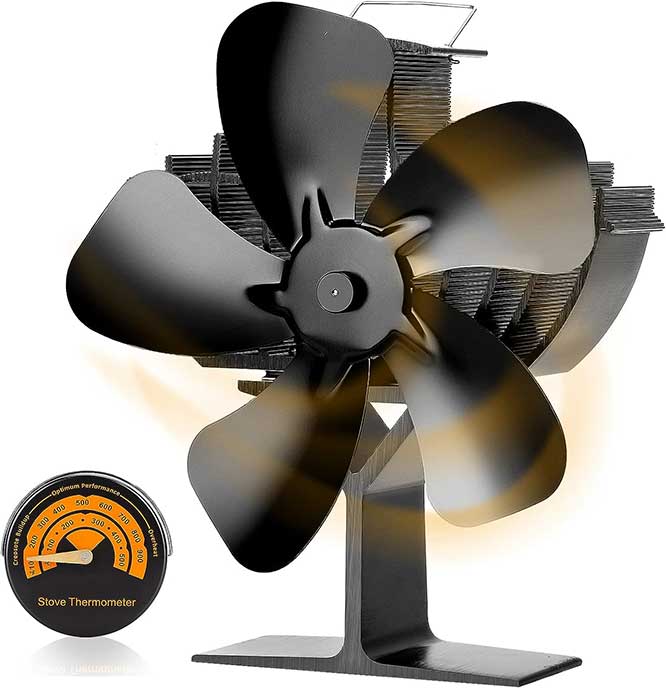 Key features:
Heat-powered operation
Durable aluminum build
5-blade design
Automatic controller
The CWLAKON Wood Stove Fan strikes an impressive balance between innovative design and efficiency. One of the first things we noticed during our test was its construction. Crafted from durable aluminum, this modern-styled unit boasts an intelligent heat-powered mechanism. When placed atop a wood-burning stove, the fan harnesses the heat to propel its five blades, distributing warm air throughout the space.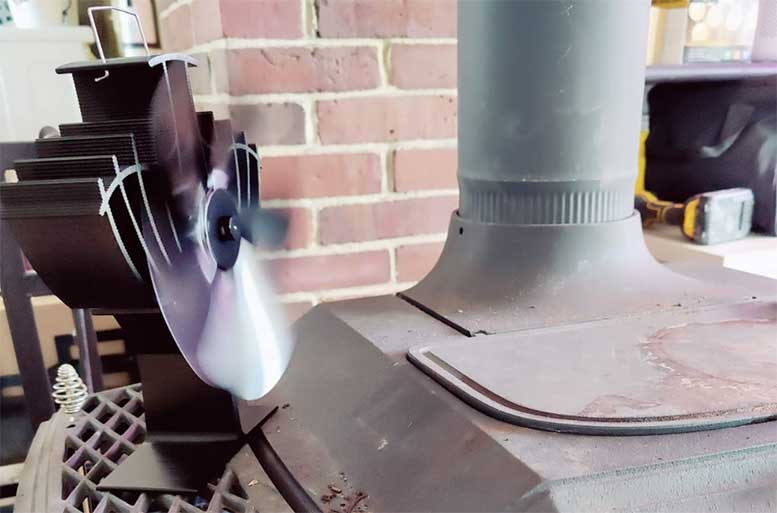 The science behind it is genuinely intriguing, and for those curious about the physics, it's a marvel to witness in action. Though it stands at a modest 9.6 inches in height and weighs just 2.86 pounds, its presence is unmistakable. The device efficiently circulates air, although it may not match the capacity of traditional fans. A distinct feature is its automatic controller, eliminating the need for manual adjustments.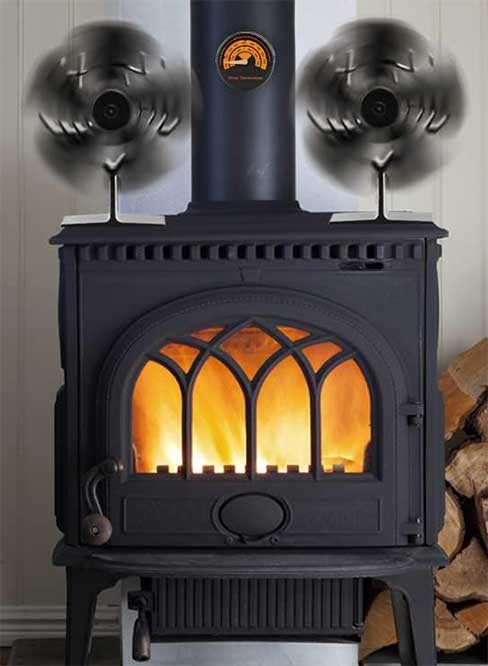 However, our testing did reveal an auditory drawback. While the CWLAKON doesn't emit any squeaks, it does produce a sound that's discernible in quieter settings. Nevertheless, this wood stove fan offers an eco-friendly solution to air circulation. It operates sans electricity, solely relying on the heat from the stove. Coupled with the inclusive thermometer and push-button switch, it's a delightful combination of utility and elegance.
What we liked:
Eco-friendly air circulation
Intriguing physics demonstration
Compact and lightweight
Efficient warmth distribution
What we didn't like:
Audibly noisier operation
Not as powerful as traditional fans
#3 – GALAFIRE 4-Blade Heat Powered Wood Stove Fan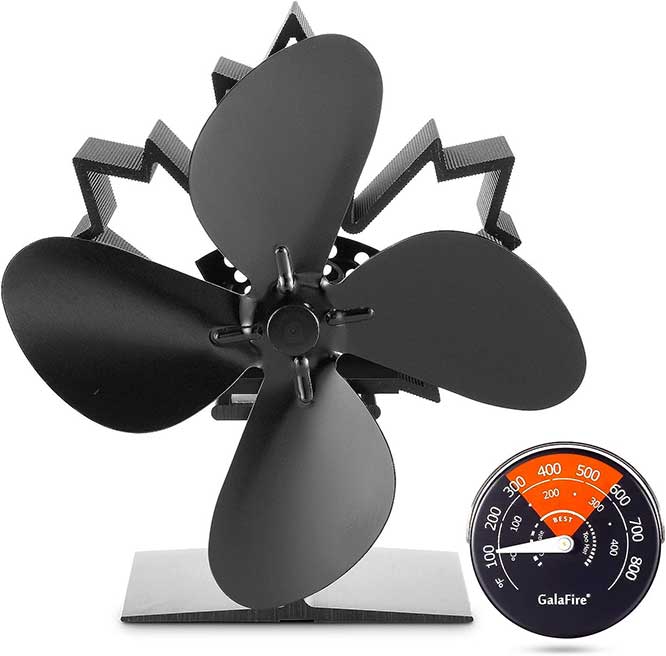 Key features:
Self-powered from stove heat
Anodized aluminum construction
Responsive speed adjustment
Silent operation mechanism
Our next top pick comes courtesy of GALAFIRE with its 4-Blade Heat Powered Wood Stove Fan. It stands out as an efficient solution for those aiming to better distribute the heat from their wood, gas, or pellet stoves throughout their living spaces. Constructed from anodized aluminum and finished in a sleek black color, it adds a touch of modern aesthetics to the ambiance. Weighing just 1.17 pounds and with dimensions of 1.97 x 7.09 x 7.48 inches, this compact unit doesn't take up much space atop your stove.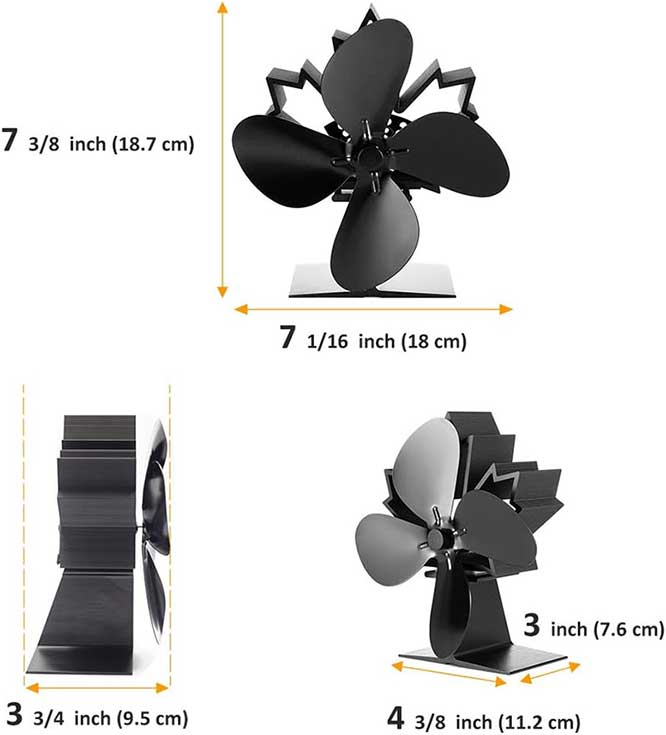 During our tests, we noted its efficiency in circulating heat, especially from stoves placed in specific positions, such as against a wall. By strategically placing this device, it improved heat distribution into corridors, ensuring rooms were heated more evenly. Another commendable feature is its eco-friendliness; it harnesses heat energy from the stove, converting it into electricity to operate, eliminating any extra costs associated with power consumption.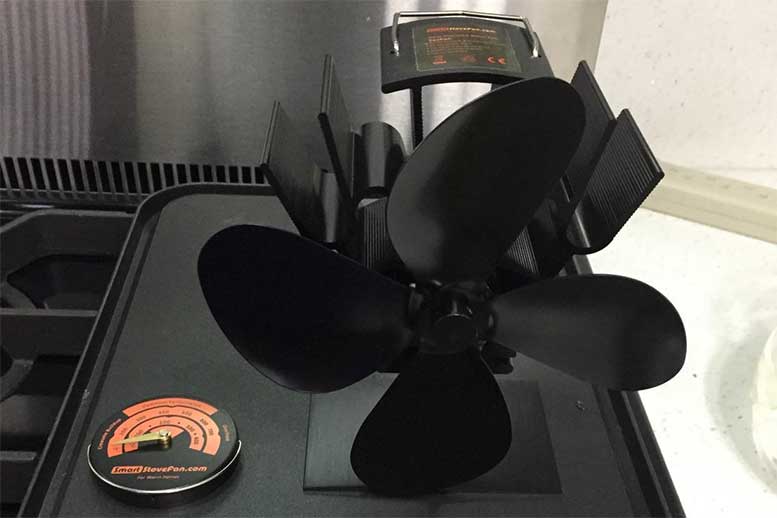 The unit's self-regulation was impressive; its speed adjusted with the rising and falling stove temperatures. This responsive operation ensures maximum efficiency at different heating levels. Moreover, its quiet operation stands true to its claim, allowing for a peaceful, warm living environment. However, users should be cautious about the device's temperature limitations. It's essential to monitor the stove's temperature, ensuring it remains within the specified range for optimal operation and longevity.
What we liked:
Efficient heat distribution
Eco-friendly operation
Compact and lightweight design
Easy installation and usage
What we didn't like:
Specific temperature limitations
Not the most powerful blower
#4 – VODA 4-Blade Heat Powered Stove Fan
Key features:
Heat-powered operation
4 anodized aluminum blades
Operates between 185°F and 660°F
Whisper-quiet blade assembly
The VODA 4-Blade Stove Fan emerges as an essential tool for those wishing to maximize the heating potential of their wood or log burners. Modern in design and sporting a sleek black finish, it effortlessly blends into both kitchen and living room spaces. Boasting dimensions of 4.72 x 8.27 x 8.27 inches and a weight of just 2.2 pounds, this unit is compact yet potent. What truly sets this device apart is its unique power source: the heat from your stove.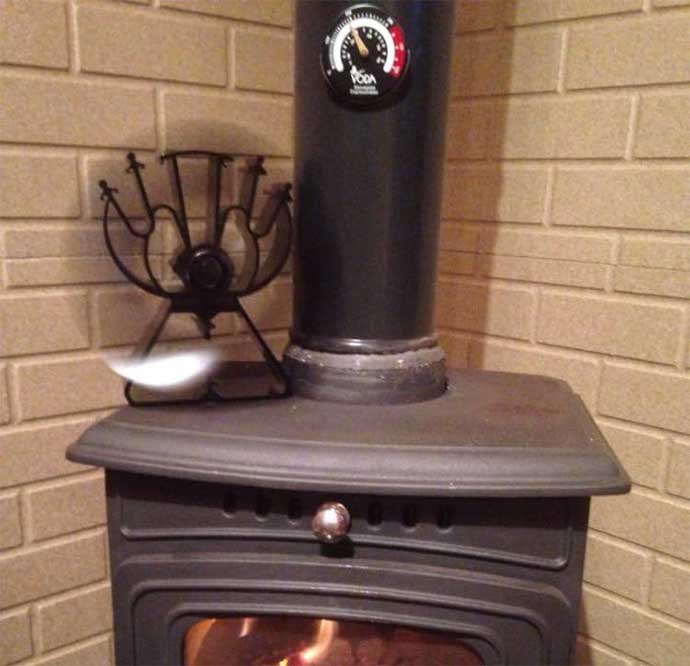 Bypassing the need for batteries or cords, the unit utilizes Thermoelectric Generator (TEG) units. When the base of the fan touches the hot stove surface, these TEG units convert the heat energy, causing the fan to spin. The hotter the stove gets, the faster the blades whirl, resulting in up to 80% more air circulation compared to its 2-blade counterparts. This ensures a room heats more uniformly, rather than just the immediate vicinity of the stove.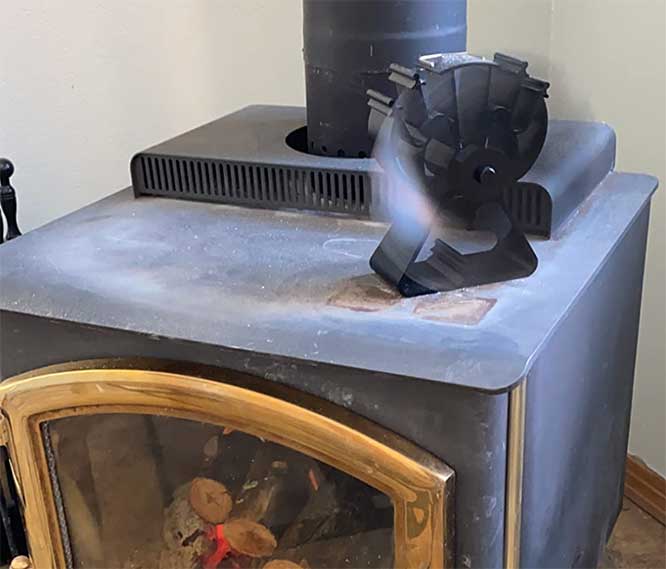 Installation with the VODA is straightforward. Made from anodized aluminum, the fan resists rust and corrosion. Place it on a smooth, flat section of your stovetop, preferably near the side or back of the stovepipe. Once the temperature reaches around 131°F (55°C), the blades will begin to turn, reaching peak efficiency at approximately 482°F (250°C). For safety, always handle the fan by its extendable handle, especially when hot, and it's advisable to pair it with a stove thermometer (not included) to monitor stove temperatures.
What we liked:
Eco-friendly, no electricity required
Improves room heat distribution
Lightweight and compact design
Durable aluminum construction
What we didn't like:
Thermometer not included
Hard to remove from packaging
#5 – JossaColar Dual Wood Stove Fan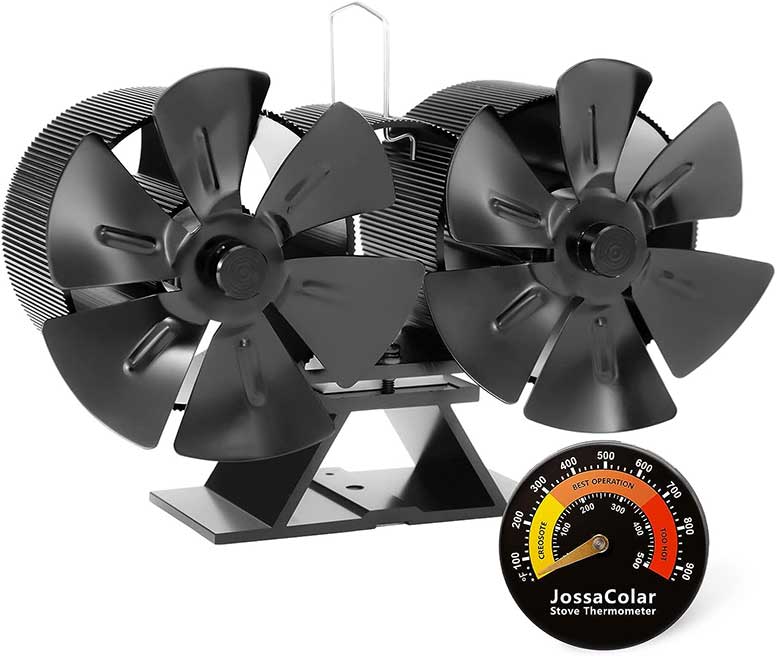 Key features:
Heat-powered operation
Dual motors for efficiency
12-blade design
Free-standing mounting type
The JossaColar Dual Wood Stove Fan is an impressive addition to any home heating system, specifically designed for optimal air circulation in spaces like bedrooms, living rooms, and dining rooms. Crafted from durable aluminum, this unit measures 4.3 x 6.3 x 9.8 inches and weighs a manageable 2.14 pounds. The fan's operation is rooted in the thermoelectric principle, allowing it to move warm air without any need for an external power source.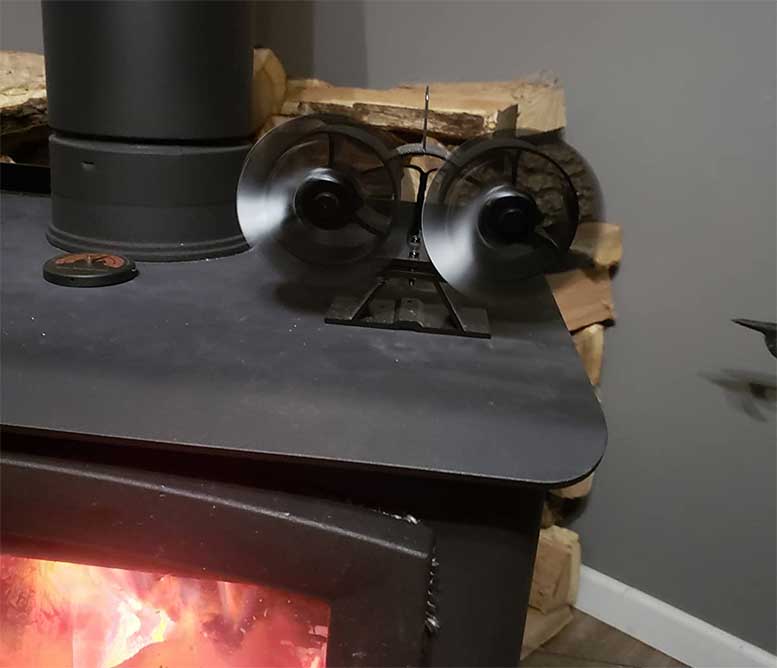 This translates to a device that's both eco-friendly and economical. Its heat-powered nature means it kicks into action when the temperature sensed by the module surpasses 122°F (50°C). Unlike traditional systems where warmth rises vertically, this fan, equipped with 12 blades, disperses hot air horizontally, ensuring that the warmth is distributed uniformly throughout the room. In our tests, positioning the fan on either the left or right side of the chimney yielded the best results.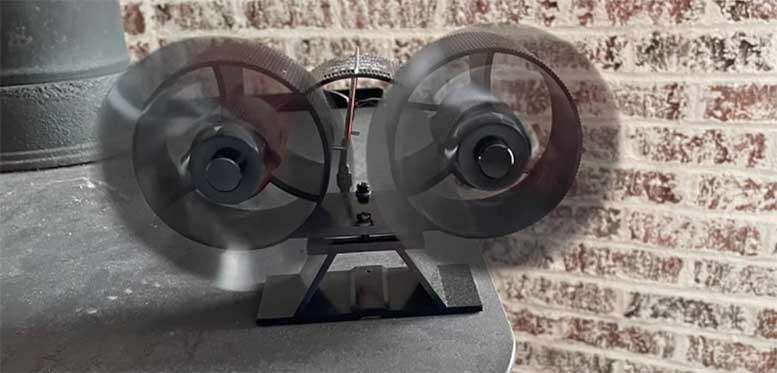 A word of caution: placing it directly in front of the chimney can cause damage, so it's crucial to follow the manufacturer's recommendations. The dual motors are a standout feature, accelerating warm air circulation efficiently, making the room cozy in a shorter span. However, for safety reasons, it's vital to keep the device out of reach of children and pets and avoid touching it directly during operation due to high temperatures.
What we liked:
Efficient air circulation
Eco-friendly, no power needed
Durable aluminum construction
Quiet operation
What we didn't like:
Perhaps a bit too small
Positioning restrictions
Heat Powered Wood Stove Fan FAQs
What is a heat-powered wood stove fan?
A heat-powered wood stove fan operates based on the heat generated by the stove. As the stove heats up, the fan uses this heat to generate its own electricity, making it an energy-efficient way to circulate warm air in the room.
Do I need an external power source or batteries for these fans?
No. The beauty of these fans is that they are designed to generate their own power from the heat of the stove. This means you don't need batteries or an external electrical source for them to function.
How do heat-powered wood stove fans help with energy efficiency?
These fans maximize the efficiency of your wood stove by distributing the heat it produces more evenly throughout the room. And as a result, it can reduce the need to add more wood or fuel to the stove frequently. What's more, it can potentially lower heating costs. Since they don't require external power, you also save on electricity.
Is there any maintenance required for these fans?
Generally, heat-powered wood stove fans require minimal maintenance. Dusting the blades regularly and ensuring the fan is placed on a clean, flat surface can help prolong its lifespan. It's important to keep the fan away from excessive moisture, and it shouldn't be submerged in water. Always consult the user manual for specific care instructions related to each model.
Where should I place the fan on my wood stove?
It's generally recommended to place the fan on a smooth, flat section of your stovetop, preferably near the side or back. You should make sure it's away from the direct front of the chimney. Still, it's always best practice to refer to the manufacturer's instructions for optimal positioning.
Final Verdict
In our examination of various heat-powered wood stove fans, several characteristics stood out that made these five models exceptional. The Ecofan AirMax impressed with its robust build quality and Canadian pedigree, ensuring durable and efficient operation. CWLAKON's offering caught our attention with its innovative design, even though it may not rival traditional fans in power.
GALAFIRE presented an impeccable balance of compact design and efficient performance, while VODA's use of Thermoelectric Generator units made it particularly noteworthy. Finally, JossaColar's dual motor system, coupled with its 12-blade design, marked it as one of the most efficient in air distribution. Overall, each of these options has its own strengths, catering to different preferences and requirements.