As the battle rages on in the gaming world, there's one enemy that your PS5 can't afford to face unprepared: overheating. When it's game time, keeping your console cool is essential for peak performance. In this article, you'll find some game-changing solutions for cooling fan replacements, each carefully reviewed to meet the demands of even the most intense gaming sessions. First, let's take a quick glance at our top picks:
Are you tired of your PS5 sounding like it's preparing for liftoff during an intense game? Then you're going to want to stick around for our reviews of these cooling fan replacements. Let's get started to help you find the perfect match to make your gaming experience cool and quiet.
#1 – KBRPARTS Replacement PS5 Internal Cooling Fan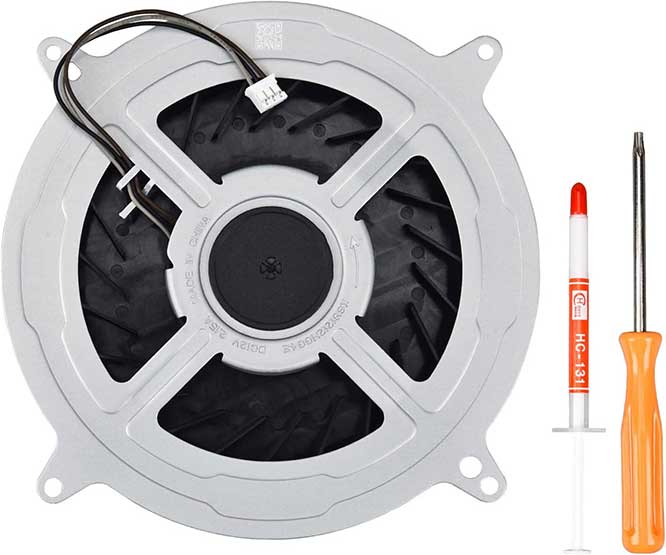 Key features:
Easy installation
Fits PS5 like OEM fan
23 Blades cooling technology
50 dB noise level
Gamers, do you feel the heat? No, we're not talking about the latest battle royale; we're referring to your PS5 console. Keeping things cool is where the KBRPARTS Replacement PS5 Internal Cooling Fan comes into play. With dimensions of 6.06 x 5.98 x 2.09 inches and a weight of 11.3 ounces, this device doesn't just slip into your gaming console – it fits like a glove. The 3-pin power connector ensures the right kind of energy flows to keep those 23 blades (or 17, if you opt for the General version) whirring without a rattle.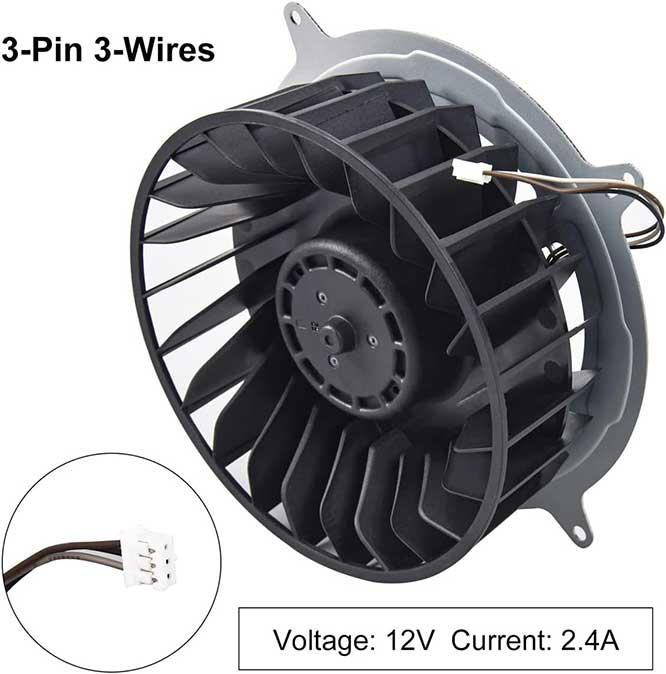 Easy to install? You bet. No more gathering dust in those collection holes (trust us, that's a real thing). Operating at 12 Volts with a noise level of 50 dB, the unit assures you hear the explosions in the game, not in your console. During our testing, this metal marvel managed to keep the PS5 Series cool without disturbing our gaming experience. It's a device that plays its role well, letting you save money from unnecessary trips to the repair shop.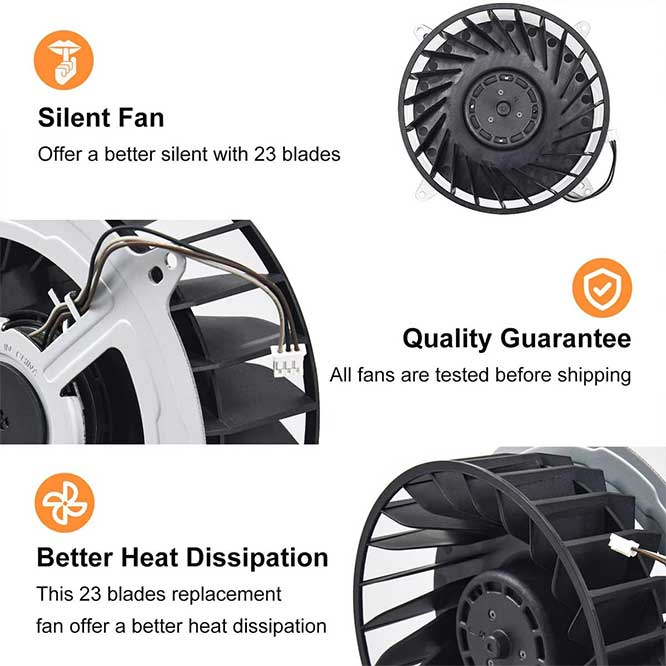 While it's a knight in shining armor for the PS5 Series, remember this unit doesn't fit the PlayStation 4. It's crafted exclusively for the next-gen variant. If you need an internal cooling fan for your PS4, there are plenty out there, but this isn't one of them. This internal fan replacement doesn't just cool down your gaming; it heats up your satisfaction levels. Easy to install, efficient in performance, and gentle on noise, it's more than just a replacement; it's a gaming companion that can get you a lot more mileage out of your PS5.
What we liked:
Silent operation
Quality performance
Efficient cooling
Saves repair costs
What we didn't like:
Not compatible with PS4
Metal material (preference based)
#2 – Deal4GO 23-Blade PS5 Internal Cooling Fan Replacement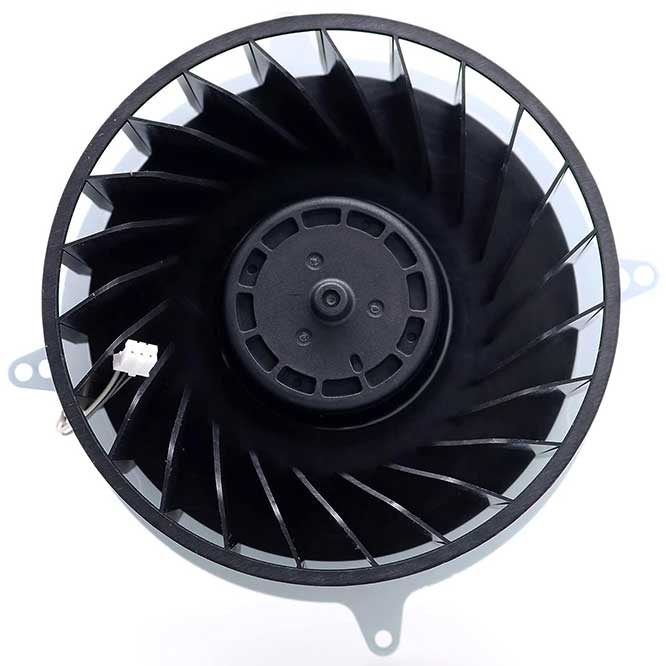 Key features:
23-blade cooling design
12V, 2.15A power
Plug-and-play installation
Metal and ABS construction
The Deal4GO 23-Blade PS5 Internal Cooling Fan Replacement is not just another cooling device. Made from a blend of ABS and metal materials, it's designed to keep your PS5's internal components cool, quiet, and performing at peak levels. Are you a novice installing this unit? No worries here. With an integrated flex cable and a 3-pin connector, it's a plug-and-play device that requires absolutely no soldering.
It's a perfect match for the DIY-er who loves gaming but dreads tinkering with intricate electronics. This fan is definitely the strong, silent type – literally. Unlike its more clamorous counterparts, it is noted for its whisper-like operation. Those who've had the pleasure of switching from a noisier fan can attest to its quiet performance. Now, what about cooling? The dimensions (5.94 x 5.94 x 1.89 inches) and weight (11.64 ounces) may seem ordinary, but don't let that fool you. It efficiently dispenses 12V at 2.15A, while its 23-blade cooling method, powered by Air technology, ensures that your PS5 runs smoothly.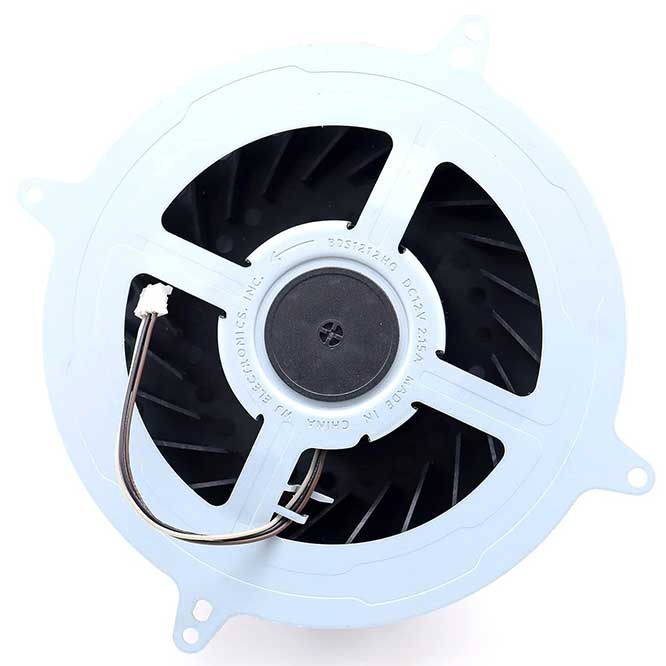 How did we test the Deal4GO? By replacing a loud, malfunctioning fan in a PS5 cfi-10xx series, then putting it through the gaming gauntlet. The results? No overheating issues and a refreshingly quiet environment. When you open the box, you'll find the fan as described. However, the securing screws are not included, a minor inconvenience considering the efficiency of the unit. Still, it's a minor investment if you don't already have them handy.
What we liked:
Quiet operation
Efficient cooling
Easy installation
Durable material
What we didn't like:
Screws not included
Generic brand
#3 – YHZONE Upgraded Quiet Internal CPU Cooling Fan Replacement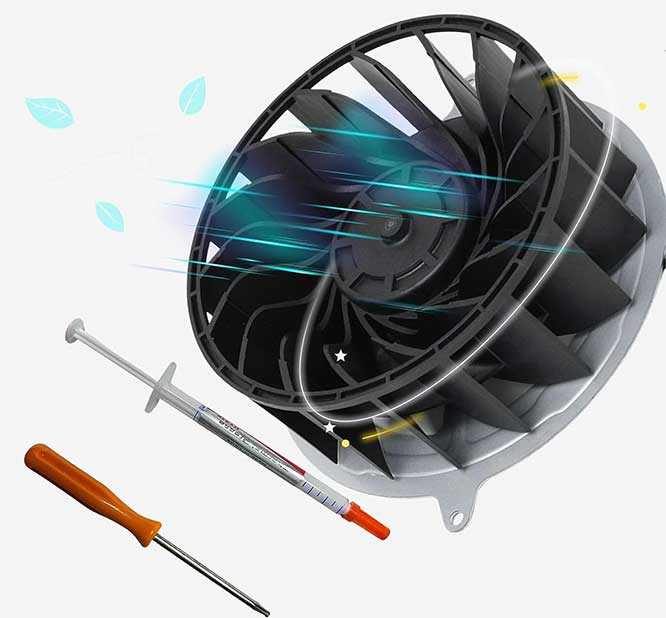 Key features:
Compatible with specific PS5 Series
23 Blades for improved cooling
Not compatible with PS4 Series
OEM quality
The first thing you notice about the YHZONE upgraded CPU cooling fan replacement for PlayStation 5 is its compatibility. This isn't some one-size-fits-all product. It's tailored for specific PS5 Series consoles, fitting both the 23-blade 12047GA-12M-WB-01 and 17-blade G12L12MS1AH-56J14 fans. The unit's dimensions are 5.79 x 5.43 x 2.24 inches, and it weighs just under 12 ounces at 11.99 ounces.
This fan is engineered for premium quality. Sporting 23 blades for improved cooling efficiency, it promises a significant drop in CPU temperature. Who says playing on your PS5 has to sound like launching a space shuttle? We tested the unit by replacing our older fan, and the results were immediate: the gaming environment became noticeably quieter.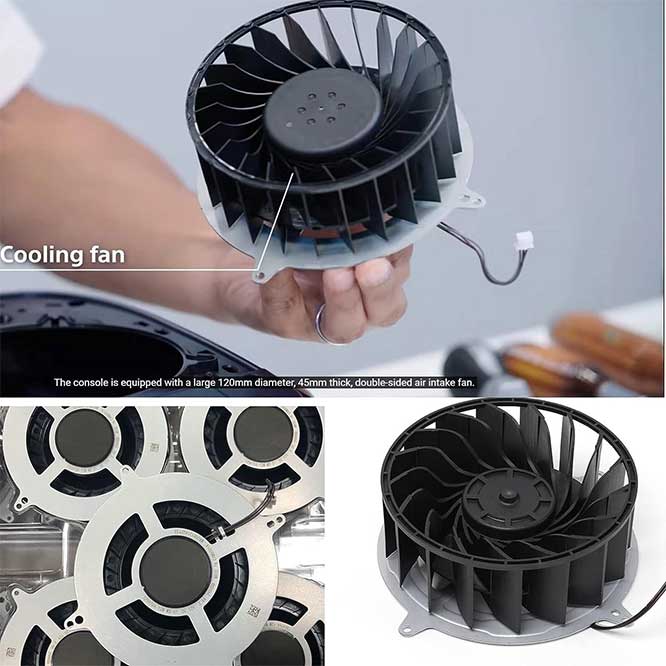 And it doesn't just end with improved performance. If you're handy with tools and patient with instructions, you can save on professional service fees and repair material costs. Who doesn't like to save money? The installation, however, is not for the faint of heart! It requires meticulous care, and there's a reminder: it is NOT compatible with any PS4 series or PS4 Pro CUH-7xxx console. If you do have trouble with the initial connection, a simple trick of wiping the metal head with a dry cloth may do the charm.
In terms of durability, the package seems sturdy, and it's reassuring to know that the company's technology can produce 1:1 with the original sample parts. They've tested these OEM replacement parts before sale, which adds to your buying confidence. The YHZONE CPU Cooling Fan Replacement is a solid investment for any gamer looking to enhance their console's performance. It's a delicate task, but the rewards are a quieter gaming experience and a potentially cooler running system.
What we liked:
Quieter gaming experience
Reduces CPU temperature
DIY installation saves costs
High-quality materials and testing
What we didn't like:
Not compatible with other PlayStation models
Installation may be tricky for some
#4 – YEECHUN PS5 Fan Replacement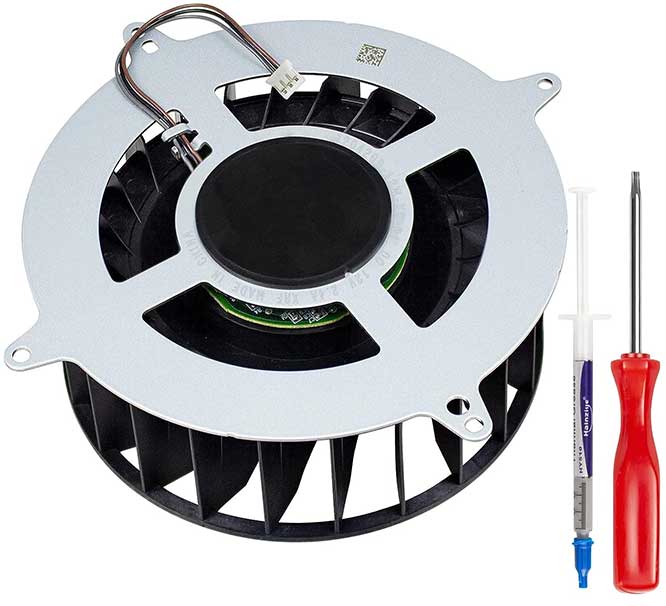 Key features:
Upgraded 23-blade design
Low 50 dB noise level
Easy installation process
Exclusively for standard PS5 models
Is your PS5 losing its cool in the heat of gaming battles? Fear not, for we've tested a solution that could get your console back in control: the YEECHUN PS5 Fan Replacement. It's a professionally-designed Sony PlayStation 5 Series internal cooling fan. Let's get right into how it performed. Stepping up from the conventional 17-blade fans, this device houses a whopping 23 blades designed to minimize that annoying hum and low-frequency noise.
During our testing, it proved to be impressively quiet. We literally had to place our ears close to the PS5 to detect any noise. It was detectable, but just barely. Made from premium materials that boast high-temperature resistance, wear resistance, and corrosion resistance, this fan doesn't just talk the talk. Its dimensions are 6.38 x 5.94 x 2.64 inches, and it weighs 13.44 ounces. With a voltage of 12 Volts and a noise level of 50 dB, this air-cooling method does its job effectively without disturbing your intense gaming sessions.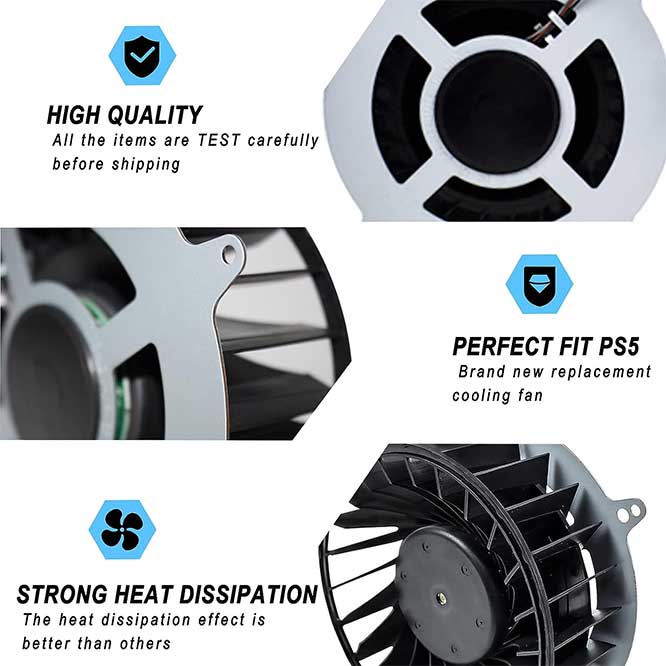 The fan promises compatibility with specific Sony PlayStation 5 fan models. We found that it fit perfectly and was easily replaced within a matter of minutes. However, we'd like to emphasize that this fan isn't compatible with PS5 Pro, so ensure it's suitable for your PS5 model. All in all, YEECHUN's PS5 Fan Replacement is more than just a fix; it's a cooling upgrade that breathes life back into your console by barely making a sound. It even came with the tools needed for installation, making it a pleasant, straightforward solution for an overheating PS5.
What we liked:
Highly quiet performance
Comes with necessary tools
Effective cooling mechanism
Beginner-friendly
What we didn't like:
Not for PS5 Pro
Some may find it too quiet
PS5 Replacement Internal Cooling Fan FAQs
Can I install these cooling fans myself?
Yes, most of the cooling fans reviewed here are designed for easy installation, and some even come with the necessary tools. However, the process might require careful handling and patience. We recommend that you follow the included instructions or watch a tutorial online if you're unfamiliar with the installation process.
Are these fans compatible with all PlayStation models?
No, these fans are specifically crafted for certain PS5 Series consoles. Compatibility varies by product, and using a fan meant for a different model can lead to inefficiency or even damage. It's also important to know the distinction between the standard PS5 and PS5 Pro. They make different fans for each version, so you must ensure that you're purchasing the correct replacement fan for the correct console.
Is a quieter fan less effective in cooling?
Quiet performance does not necessarily correlate with cooling efficiency. Fans like the YEECHUN PS5 Fan Replacement are engineered with unique blade designs and materials to provide efficient cooling without creating excessive noise. Your selection should consider both noise level and cooling effectiveness based on personal preferences.
How do I know if my PS5 needs a cooling fan replacement?
Common signs that your PS5 may need a new cooling fan include excessive noise, frequent overheating warnings, or the system shutting down unexpectedly during gameplay. If you're experiencing any of these issues, a replacement fan could resolve the problem.
Is there a risk involved in replacing the cooling fan myself?
While most of the cooling fans in our review are designed for DIY installation, there is a risk if not done correctly. Ensure that the console is unplugged, and take precautions like discharging static electricity from your body. If you're at all unsure, it might be best to seek professional assistance to minimize the risk of damage to your PS5.
What should I consider before purchasing a replacement fan for my PS5?
Before purchasing, consider factors like compatibility with your specific PS5 model, noise level, ease of installation, build quality, and cooling technology. Reading reviews and understanding your comfort level with installing hardware can guide your choice.
Final Verdict
You've got some excellent replacement fans to consider for your PS5. We tried out several, and these are the shining stars that stood out among the rest. The KBRPARTS Replacement PS5 Internal Cooling Fan earned its spot for its snug fit and quiet performance. It's sure to save gamers from those unnecessary trips to the repair shop. The Deal4GO 23-Blade made an impression with its ease of installation and strong, silent cooling.
The YHZONE Upgraded Quiet Internal Fan was praised for its precise compatibility and high-quality materials, while the YEECHUN PS5 Fan Replacement turned heads with its whisper-quiet performance and comprehensive toolset. Each one of these PS5 replacement fans deserves consideration if you need a new fan. The choice comes down to budget, installation, and performance. Which one is the best fit for your needs?
At the end of the day, choosing the right cooling fan is no game; it's about enhancing your console's performance and extending its life. The choices we've highlighted here aim to provide solutions for various gaming preferences and technical skill levels.