In the intriguing world of discreet communication, spy earpieces are your go-to gadgets for covert ops – or perhaps just for improved listening during a business meeting. Whatever your intended purpose, you need to invest in a quality device, and we have you covered. Today, we're sharing our top picks to help you find the right mini hidden spy earpieces for your secret listening needs. Here's a quick rundown of what's to come:
Each one of our top picks brings something unique to the spy game. So join us as we explore the best mini hidden spy earpieces for secret listening.
#1 – COOMAX Mini Hidden Spy Earphone Wireless Earpiece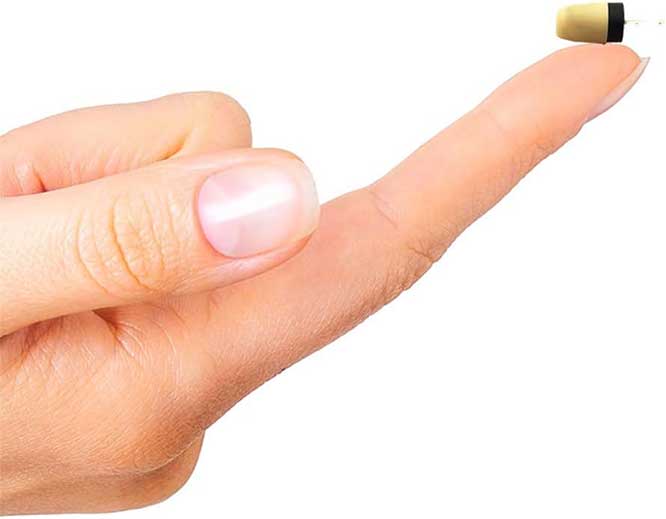 Key features:
Ultra-small dimensions
Crystal-clear voice clarity
Built-in microphone
Wide compatibility
The COOMAX Mini Hidden Spy Earphone is a tiny device that pulls you straight into spy mode at an affordable price point. At 6 x 6 x 10 mm (or 0.24 x 0.24 x 0.4 inches), this earpiece is practically invisible. And the fact that it weighs just 1 gram makes it all the more unnoticeable. Combined with its beige hue, the Mini Hidden Spy Earphone blends seamlessly with your skin tone. While testing, it comfortably snuggled into the ear canal. You really hardly notice it's there.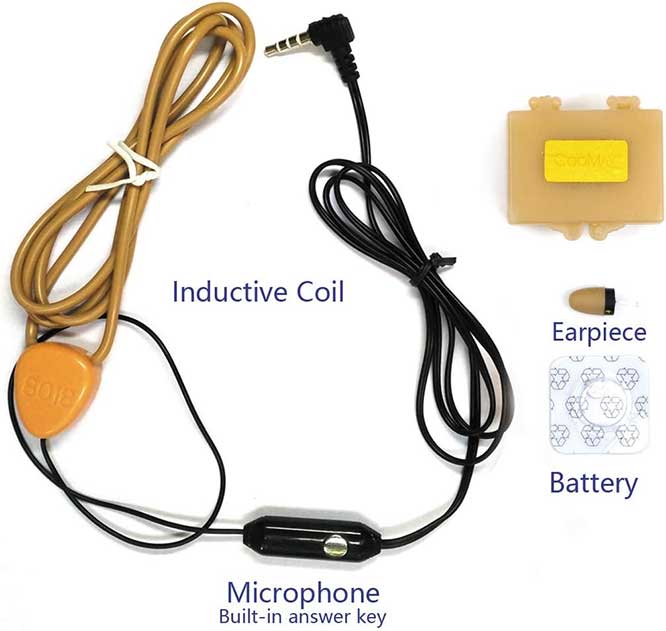 The tiny unit excels in its primary function – audio clarity for human voice. While it's not going to give you a premium music experience, the sound quality of voices is crisp and clear. Just imagine needing to hear market statistics during a critical meeting or wanting an extra edge during a debate; it performs splendidly. It uses a standard 3.5 mm headphone jack, so it'll work with most modern devices. However, if your smartphone is really new, you might need to get a special adapter, as 3.5 mm inputs seem to be in a phase-out period for many of today's phones.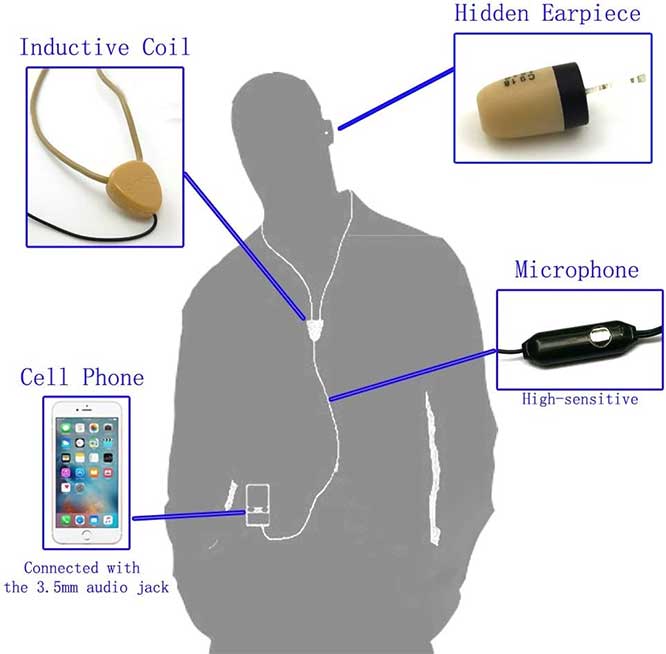 There's also a built-in microphone with 1-button control. It makes sure you're not just on the receiving end. Our tests with the COOMAX showed minimal to zero noise interference from common electrical equipment, which is impressive in itself. Whether you're a disciple of Apple or a dedicated Android user, this wireless inductive receiver integrates effortlessly, although iPhone users might need a lightning-to-audio adapter. To ensure you're up and running right off the bat, the necessary battery is included.
What we liked:
Inconspicuous design
Minimal noise interference
Multi-functional utility
Easy to set up
What we didn't like:
Not for music lovers
Delicate construction
#2 – DLECNFUN Two-Wire Earpiece Surveillance Headset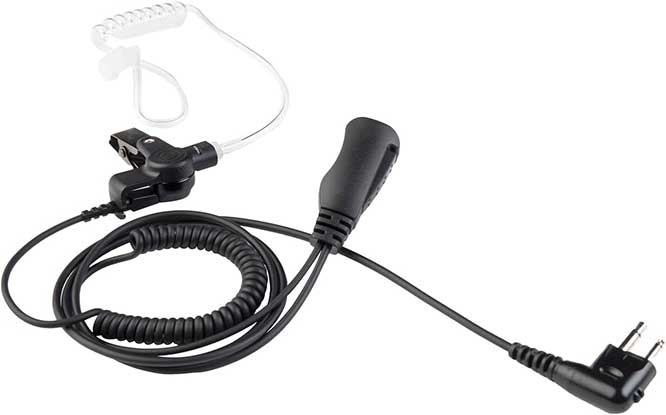 Key features:
Ergonomic design
Motorola compatible
Quick disconnect function
High-quality pin
The DLECNFUN Two-Wire Earpiece Surveillance Headset is a compact companion for subterfuge. It measures 5.91 x 4.33 x 0.78 inches and weighs 1.64 ounces. It's a gadget that's made for the incognito. The manufacturer has a specific focus on walkie-talkie accessories, and it shows. First off, the overall design works well. It comes with an interchangeable universal acoustic tube and a mushroom earbud that not only feels as natural as it sounds but is designed for those marathon stakeouts. Long hours of operation? No sweat here.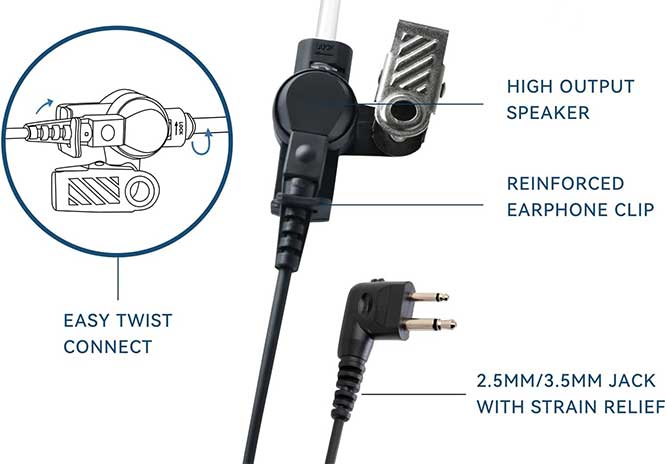 The gadget is wired and uses a 2-pin 2.5 mm + 3.5 mm plug, which is compatible with a host of Motorola radios. The downside to this choice is that it leaves most other devices out of the equation. It uses a high-quality pin specifically designed for the Motorola series of radios. We put it through some tests, and people on the other end of the line came through clearly. However, it's not perfect. We're not too crazy about the Press-to-Talk (PTT) button. It doesn't feel secure, and as such, it has a tendency to rattle. Not a deal-breaker, but certainly not the calling card of a premium product.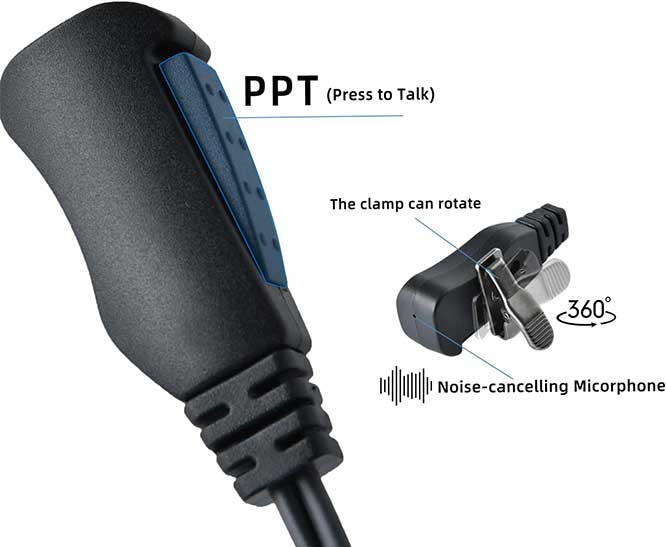 Now, if you're vertically gifted, say 6' 2" or taller, you might find the cord a tad short for running it over your shoulder as comfortably as you'd like. On the other hand, if you're average height or less, you'll likely have no issue at all. The speaker's quick disconnect function for the wire and tube is a feature you didn't know you needed. And for those of you with butterfingers, worry not. The wires lock in place when installed.
So, what is our final verdict? For all intents and purposes, this is a very well-designed and high-functioning listening device. But due to the unique 2-pin input, it's reserved specifically for Motorola radios or similar radios that utilize that plugin style. As long as you understand its limitations and have a compatible device, you'll find DLECNFUN's Two-Wire Earpiece Surveillance Headset to be an incredibly reliable performer.
What we liked:
Clear audio reception
Comfortable for long use
Lock-in-place wires
Wearing gloves won't affect PTT
What we didn't like:
Short cord for taller users
PTT button feels a bit loose
#3 – VKBAND Invisible Secret Spy Earphone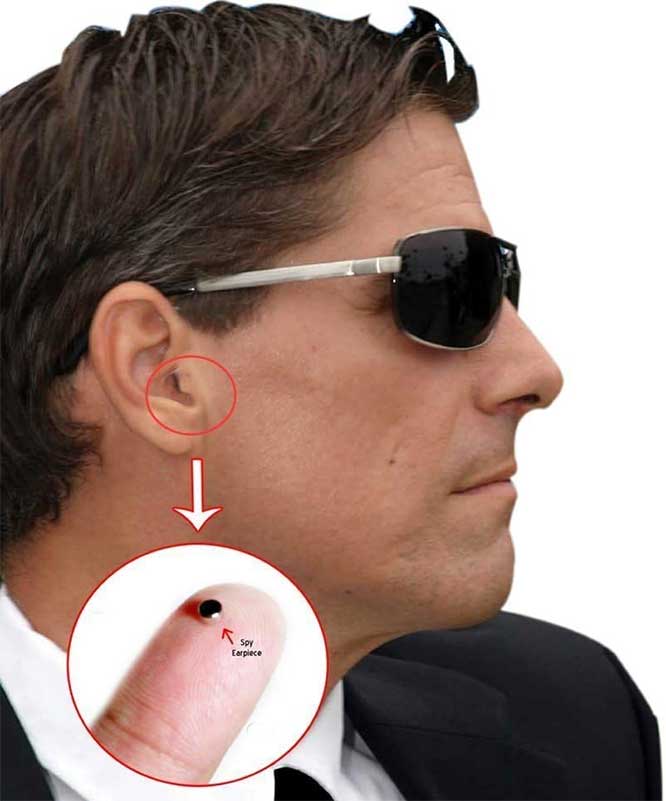 Key features:
Ultra-compact dimensions
Wireless connectivity
3.5 mm jack compatible
Clear sound quality
In the world of discreet communication, every millimeter counts. Enter the VKBAND Invisible Secret Spy Earphone. This tiny titan redefines the adage that "good things come in small packages." For starters, this earpiece is about as small as they come. The dimensions measure a mere 0.12 x 0.12 x 0.08 inches, and it weighs in at just 1.44 ounces. It's easily among the smallest listening devices we've come across. Contrary to its 'spy' title, the earpiece's application range is rather extensive.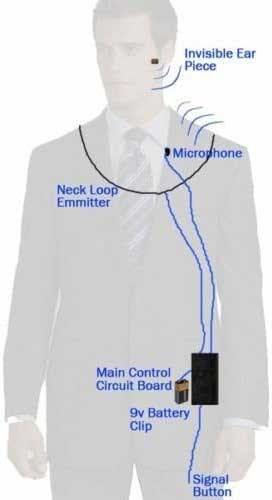 From security professionals to students and even private investigators, its usability spans various sectors. Whether you're giving a speech or in the middle of an undercover operation, it has you covered. As for getting this device up and running, do not follow the instructions. The manufacturer states that the Invisible Secret Spy Earphone must touch your ear drum. Do not do that! For one, it's very dangerous. And two, doing so would render it lost in your ear, guaranteeing a trip to the emergency room.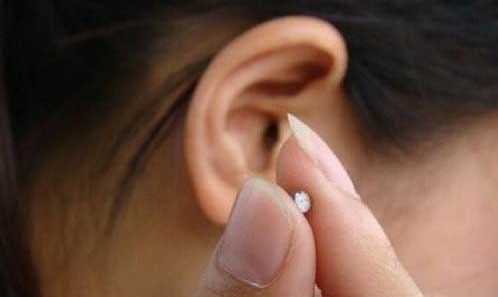 We placed it inside our outer ear – just far enough to hear the listening device but not so deep that it would cause us harm. The sound output is sufficiently clear for an earpiece of its size, but it's not spectacular. It is good enough for what it's designed to do, and we're happy with that. It comes with two mini earpieces, a neck loop powered by two 9-volt batteries, and a 3.5 mm jack audio cable. These are essentially the nuts and bolts of its secret communication.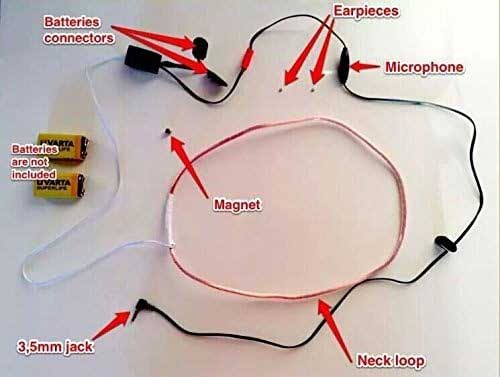 But be warned, this design of the VKBAND is quite clunky. The battery connectors hang loose, and there's no box or compartment to house the batteries once connected. They just kind of hang there. So it's up to you to ensure that they're safely stored during use. If you have a small, thin box to put the batteries in, we recommend using it.
What we liked:
Nearly invisible
Incredibly small
Versatile user applications
Handy removal magnet
What we didn't like:
Poor battery management
Harmful instructions
#4 – NENRENT S570 Single Mini Bluetooth Earbud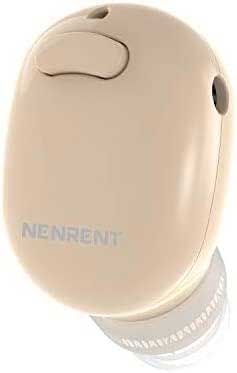 Key features:
Ultra-compact size
5-6 hour battery life
HD audio capability
One-button control
NENRENT's S570 earbud is so light and compact that it almost becomes a part of you. Weighing in at just 0.48 ounces and measuring 0.79 x 0.69 x 0.57 inches, this tiny titan is here to prove that you can high-quality audio without the need for large hardware. If you've ever wondered what it's like to roam wirelessly without feeling shackled to your phone, the S570 is worth a look. It effectively liberates you with its Bluetooth range of 33 feet, and it's compatible with most Bluetooth-enabled devices.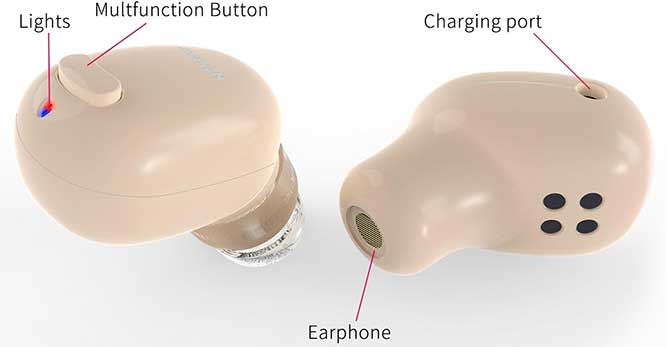 You can shuffle your favorite Spotify playlist, even if your phone is in another room. The S570 is equipped with Bluetooth iSSC V4.1 and supports various profiles such as HFP, A2DP, AVRCP, and HSP. This makes it highly compatible with a range of Bluetooth-enabled devices. The audio output is sufficiently clear for both voice calls and media consumption, including podcasts and audiobooks.
But as welcome as the Bluetooth is, the real star is the minimal footprint. It ensures that it can be worn without drawing attention, aligning well with its intended function as a hidden earpiece. During our tests, the S570 displayed a respectable battery longevity, lasting between 5 and 6 hours on a full charge. It will take approximately 2 hours to get fully charged, so keep that in mind if you plan to use it for extended periods.
We need to note that the battery life varies depending on volume levels and the type of audio content played. It's another important factor to keep in mind during use. One of the advantages of the S570 is its flexibility for use in different settings, be it at work, at home, or during leisure activities. It doesn't compromise ambient awareness, so you can stay alert to your surroundings. This is achieved through an open acoustic design that avoids creating an airtight seal in the ear.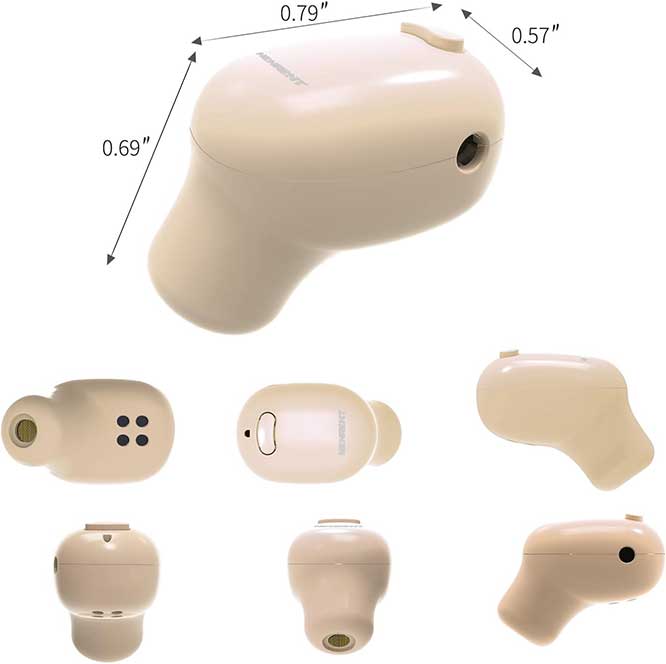 Overall, this is a nice package. It consists of the earbud, a USB charging cable, and a user manual. The device's operation is streamlined through a single button that controls various functionalities, such as turning the device on/off and initiating Bluetooth pairing. So anyone can pick it up and learn its functions quickly. NENRENT's S570 excels in its core mission: to provide a discreet and versatile audio solution. While it may not be without flaws, its benefits make it a compelling option for those in need of a covert audio device.
What we liked:
Unobtrusive form factor
Decent battery life
Versatile use cases
Ambient awareness
What we didn't like:
Loose rubber tips
Absence of charging case
Mini Hidden Spy Earpieces for Secret Listening FAQs
Can I use these spy earpieces for daily activities like going to the gym or commuting?
Sure, you can. But keep in mind that these earpieces are designed for discrete listening and might not offer the same audio quality as regular earphones, especially when it comes to music. Plus, busy areas don't exactly bode well for spy earpieces, as there's too much noise to enjoy quality sound.
What should I consider when choosing a mini hidden spy earpiece?
Look for features like sound clarity, battery life, and compatibility with your devices. Also, the size and weight should be optimal for your comfort and intended usage.
How compatible are these earpieces with various devices?
Generally, they offer good compatibility, ranging from 3.5 mm jacks to Bluetooth. However, the DLECNFUN is specifically designed for Motorola radios, so that's a caveat worth noting.
Is a wired or wireless spy earpiece better?
Both have their pros and cons. Wired earpieces often offer superior sound quality but can be cumbersome due to the wires. Wireless earpieces provide greater mobility but may have limited battery life.
Are these earpieces legal for use?
In most jurisdictions, using a mini hidden spy earpiece for personal use is legal. However, it's essential to understand that unauthorized eavesdropping or surveillance may be illegal. As such, it's a good idea to check your local laws first and foremost.
Final Verdict
After extensive tests and reviews, the COOMAX Mini Hidden Spy Earphone steals the show with its ultra-small design and clear audio output. Equally impressive is DLECNFUN's Two-Wire Earpiece. It's your best bet if you're tied to Motorola radios. VKBAND's offering is the epitome of discreetness. It boasts an incredibly small form factor. Just be careful with how you use it.
Finally, NENRENT's S570 shines by offering Bluetooth performance and stellar sound quality. Each earpiece delivers something unique for all kinds of needs and situations. Any one of these could be your new best friend in the realm of covert ops or subtle multitasking.