These days, a good pair of headphones can be hard to find. It seems like wireless earbuds are a dime a dozen. If there's one thing you can say about that market, it's that you've got plenty of choices. But traditional headphones haven't quite been as popular. As earbud quality has gotten better, fewer people have felt the need to invest in a separate pair of headphones.
Even so, headphones provide distinct benefits over earbuds. For one thing, the drivers are larger – much larger. They can put out significantly more volume without distorting anything. Headphones are also more comfortable if you're going to be wearing them for a while. They don't fatigue your ears in the same way. And there does remain some advantage to headphones in overall audio quality.
Today, we'll be reviewing the OneOdio A10. These headphones have a powerful active noise cancellation (ANC) function. But are they the right headphones for your needs? To find out, we'll have to dig deeper into their features and functions. After that, we'll have a much better idea of what we're dealing with. Let's dig in, and see what we uncover!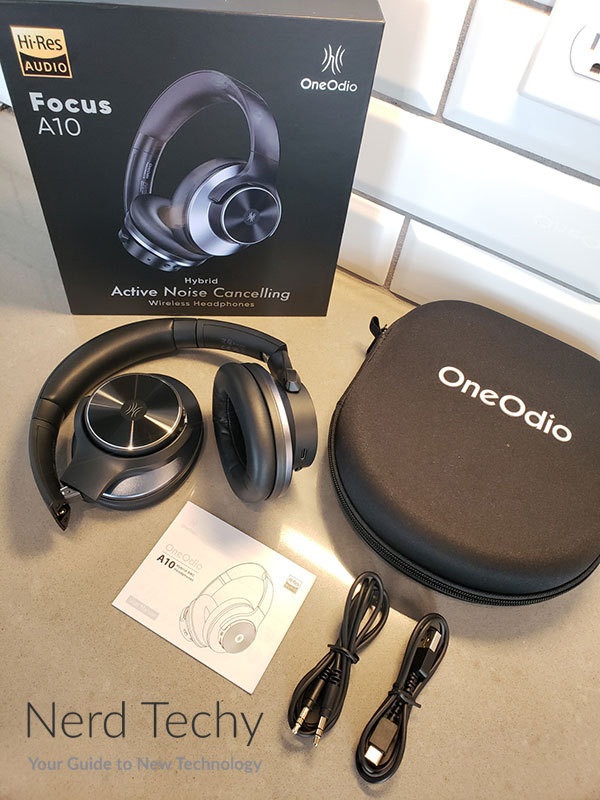 Design and Ergonomics
The OneOdio A10 Hybrid ANC Headphones are built around a black plastic head band. The band is a little bit beefy, with an attractive satin finish that's easy to wipe clean. Inside is a metal strap, which provides extra strength and stability. The strap is invisible when the head band is fully collapsed. However, it's visible when you extend it, which you can do out to 1.37 inches.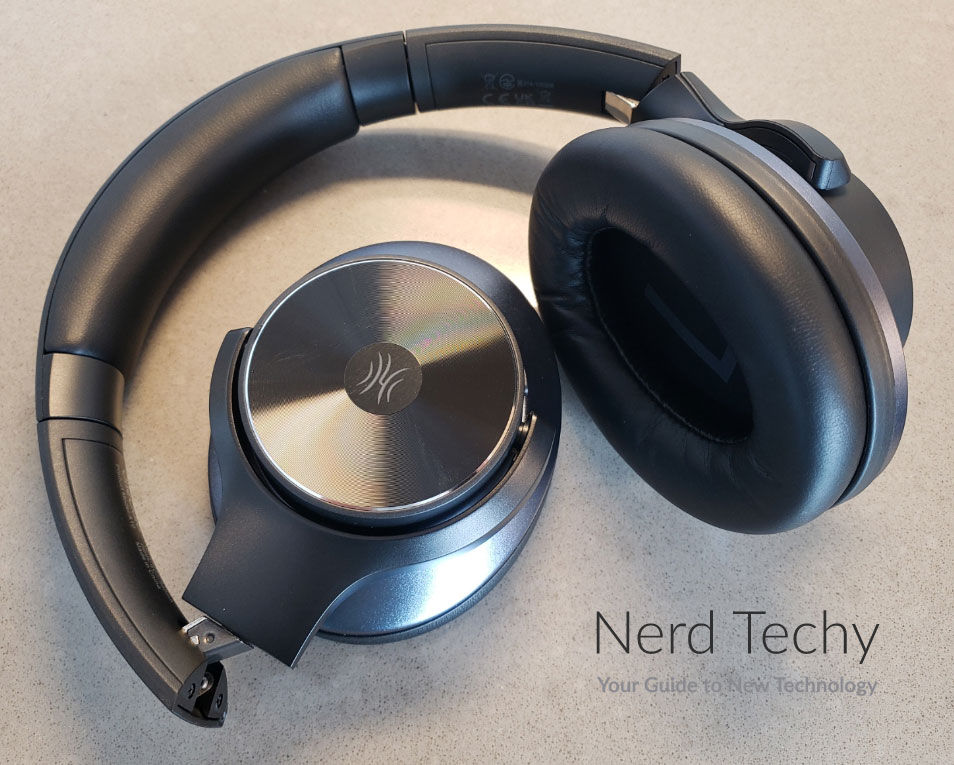 This is a good range of travel, and allows the headphones to fit easily on most heads. The inside of the head band has a modest bit of padding, with protein leather covering it. On the downside, the A10 weighs just a hair under a full pound. That can be fairly heavy, particularly for children or people with smaller necks.
The ear cups themselves are almost entirely round, although they're slightly taller than they are wide. They're nice and spacious, and will cover almost any ears without discomfort. The padding around the outsides is nice and thick, and won't create pressure points during long periods of use. It's covered with similar protein leather to the leather on the head band. This material doesn't get sticky or collect sweat, and is soft while remaining reasonably durable.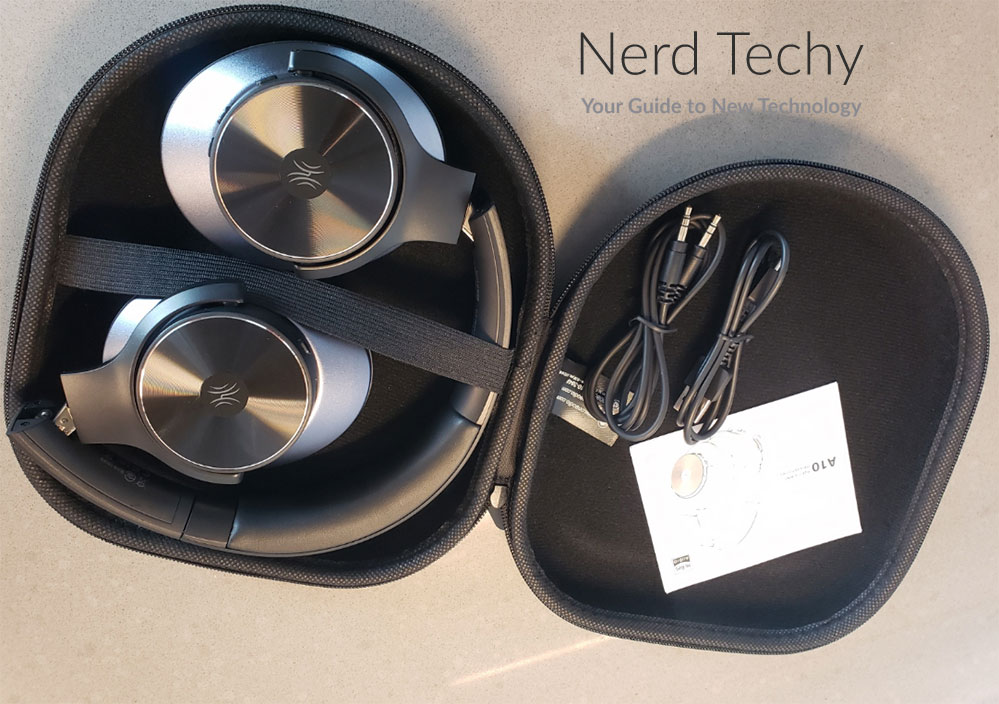 The ear cups will tilt and rotate to accommodate any face. They can also fold over to collapse for storage and transport. To make things even easier, OneOdio ships the headphones with a convenient carrying case. It's black and rubbery, with a semi-rigid shell and a soft, padded inside. All in all, it offers good protection for your headphones when you're on the go.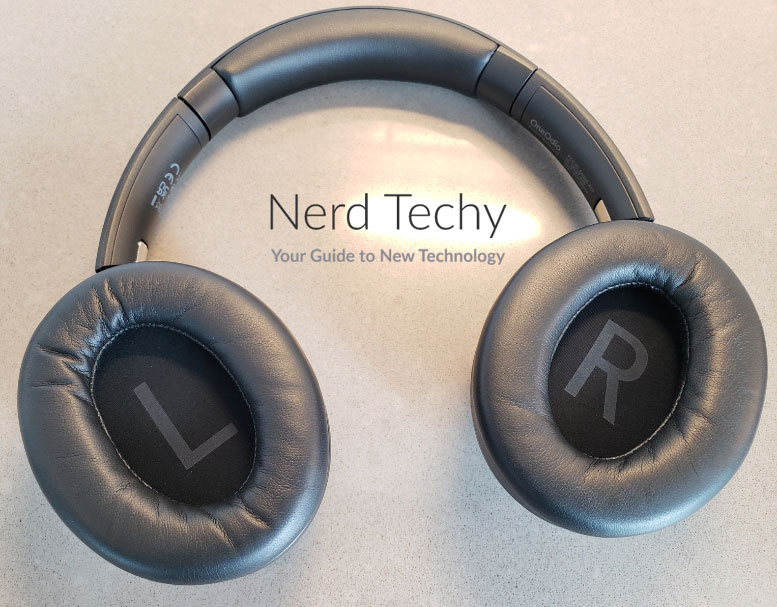 If you want a more lightweight design, take a look at the OneOdio Monitor 60. It's a much lighter design that offers similar comfort as well as comparable audio quality. On the other hand, the design isn't all that durable.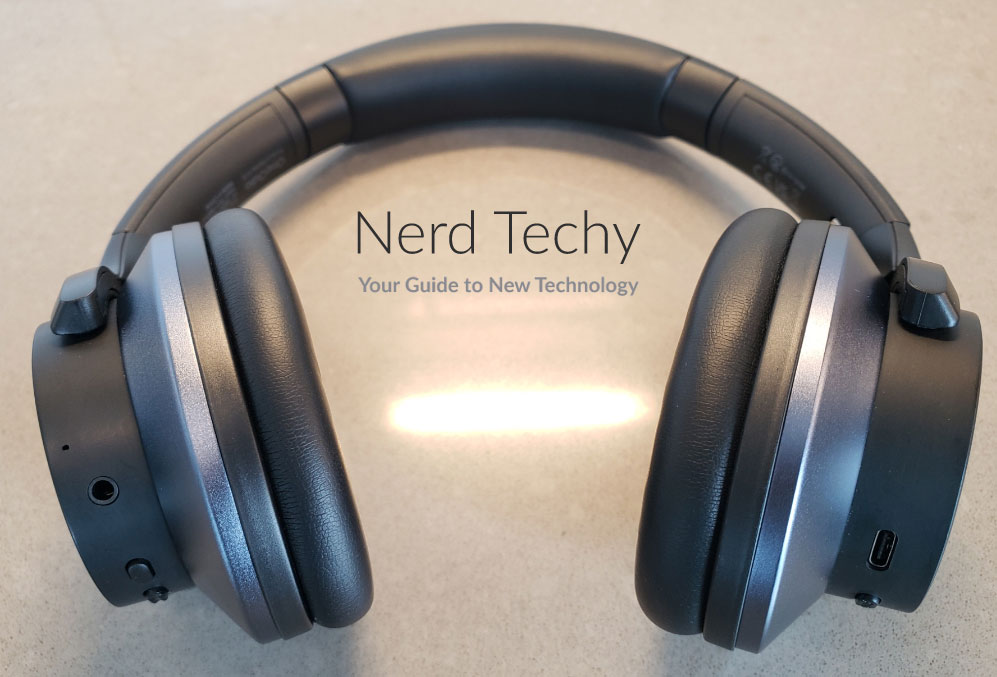 Controls
The A10 headphones have a set of built-in controls to make operation simpler. On the right ear cup, there's a set of three buttons that perform most of these functions. The "+" and "-" buttons adjust the volume, but can also be used to skip tracks. In-between them is a power button with a small indicator LED. This lets you know when the headphones are turned on, so you won't waste your batteries. Slightly to the front of these buttons, you'll also notice a 3.5mm aux port.
The left ear cup has only one control: the ANC button. This turns the ANC function on and off. Like the power button, it has its own little indicator light. To the front of this is the USB Type-C port, which is used for charging.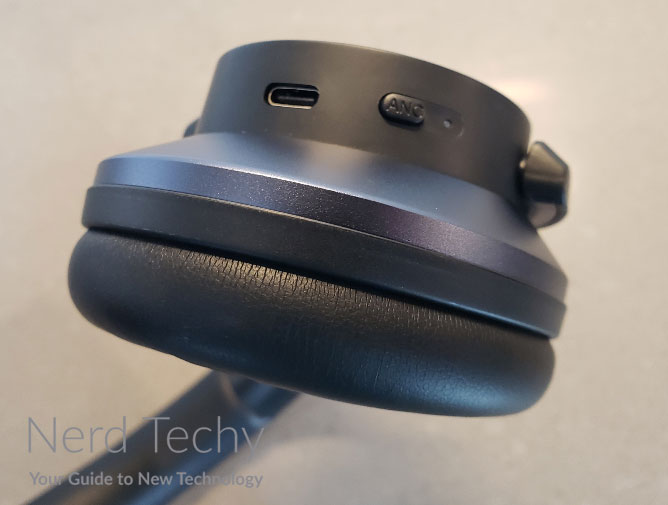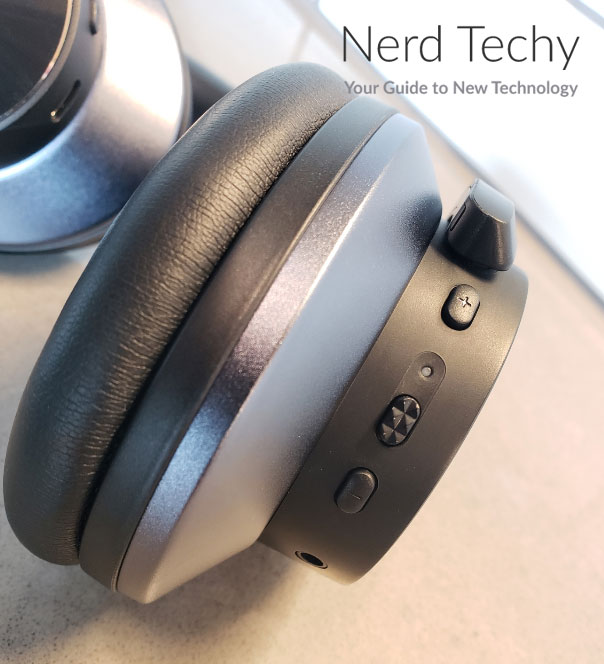 If you'd prefer not to use physical controls, you don't have to. The A10 supports the use of your voice assistant. You can use Siri or Google Assistant to make calls, play music, or adjust the volume. That's great if you like to listen to music while you're working. You can keep your hands on your work and still control your headphones.
OneOdio makes a number of headphones, all of which have some standout features. Take the OneOdio Monitor 80, for example. It has a strikingly similar design with good audio quality and only one major difference. Instead of protein leather, the ear cups are made from a soft, luxurious velvet. On the downside, the frame is a tad flimsy.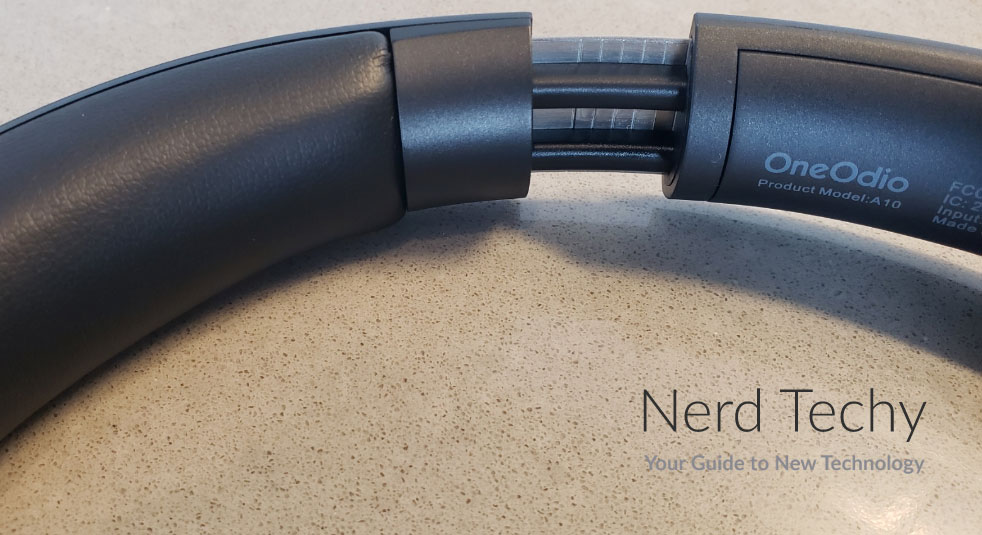 Connectivity and Compatibility
The OneOdio A10 headphones support a dual Bluetooth connection. This gives you an incredible amount of flexibility. You can connect to your phone and listen to music. Then when it's time to hop on a Zoom call, you can seamlessly switch over to your computer. Or you can use your headphones for gaming, but keep them connected to your phone. When a call comes in, you can accept it without having to change over your connection.
As for the quality of the connection, we had no complaints. It pairs easily and doesn't randomly disconnect or lag. Audio quality is good, without any obvious artefacts from the Bluetooth transmission. We also didn't notice any issues with latency, which is a common problem for Bluetooth audio.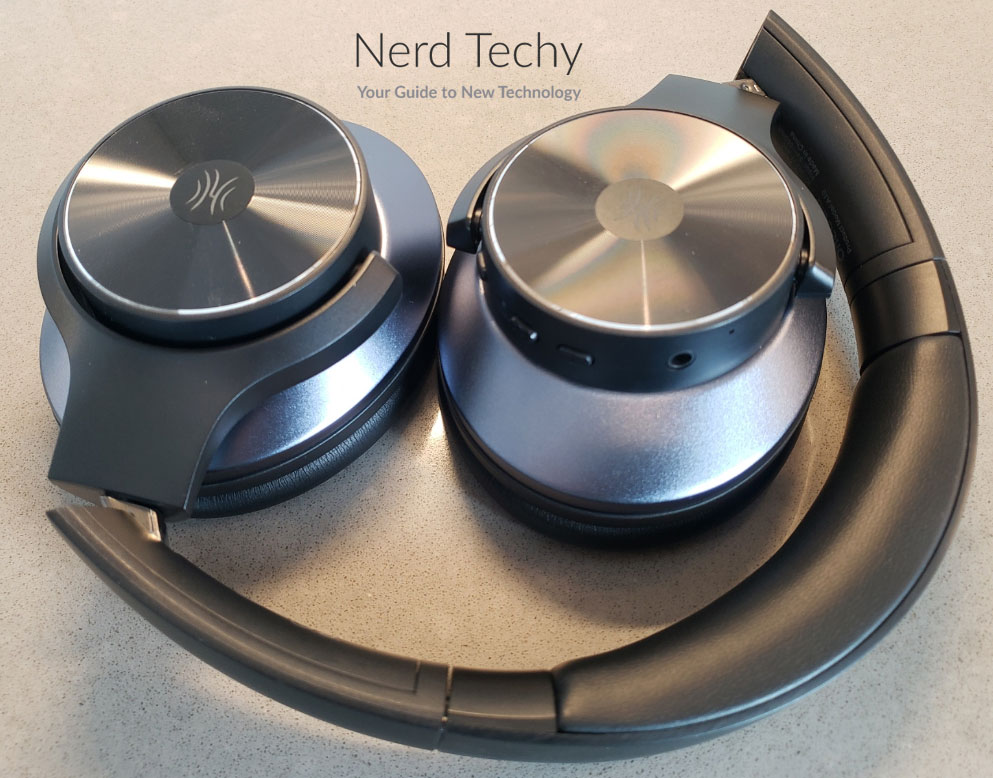 Alternatively, you could use the 3.5mm aux port and the included cable. This will reduce your latency to almost zero, and listening to music won't drain your battery. On the downside, you'll be tied to a wire. You also won't be able to access the ANC function.
You can also use the cable to daisy chain two sets of A10 headphones together. Connect one set to your audio source via Bluetooth. Then connect it to the second set to the first set with the 3.5mm cord. This is great if you want to watch a movie with someone on a plane. Frankly, it's a useful feature any time you're trying to discreetly listen along with someone.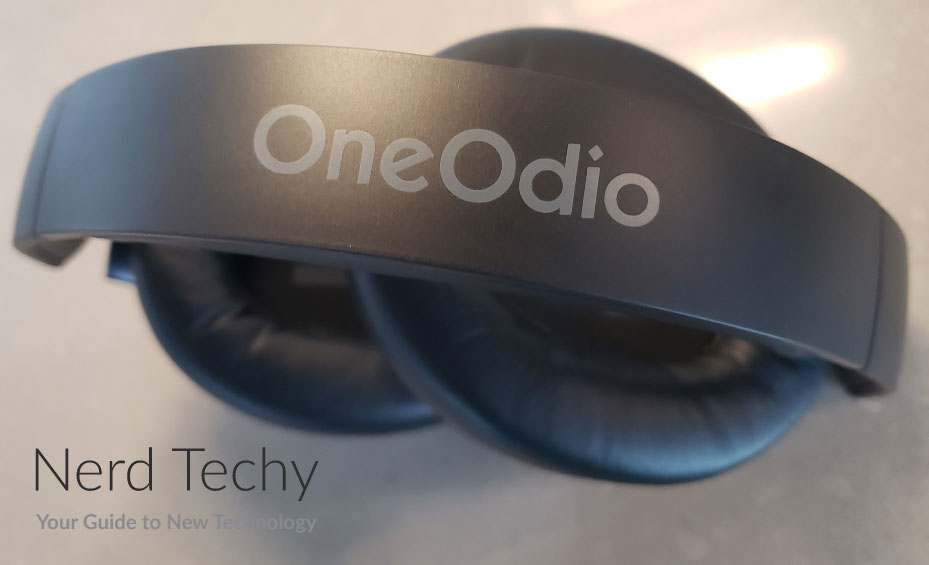 Battery and Charging
The A10 headphones are powered by an internal Lithium-ion battery. This is one of the most impressive batteries we've seen, both in terms of charging and in terms of longevity. To begin with, it's rated for 45 hours of listening at 80% volume. That's an incredible amount of battery life, and the rating is more or less accurate. If you want to go all week without charging your headphones you can.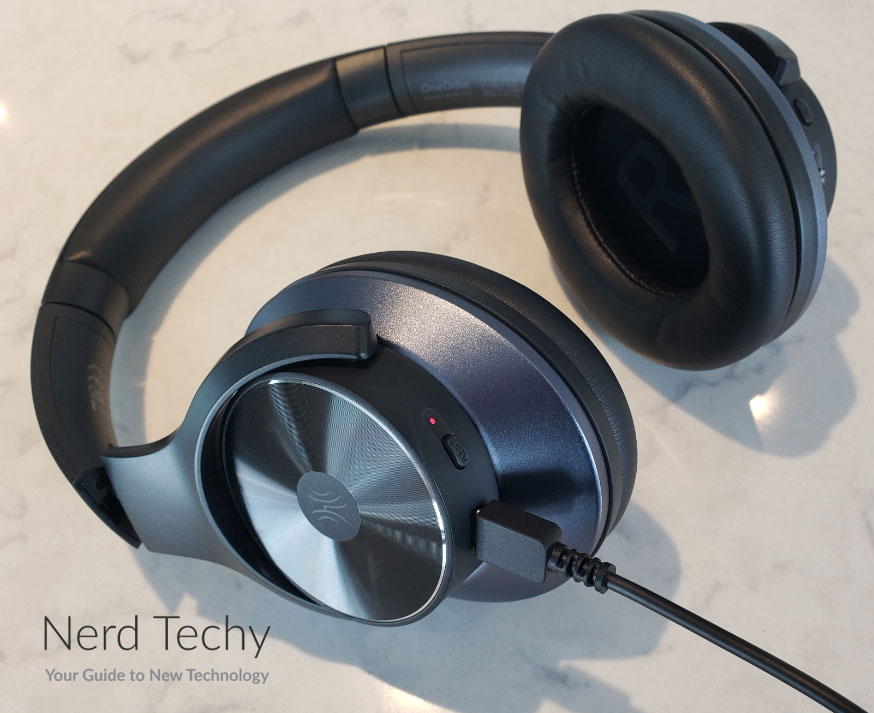 Keep in mind that this rating assumes that you're not using the ANC function. If you turn on noise cancellation, the battery life will drop to 35 hours. That's still an insane amount of performance, especially for ANC headphones. Alternatively, you can leave the Bluetooth unconnected and use the ANC function all by itself. In that mode, you can expect 50 hours of operating time. If you're looking for the maximum amount of battery life, it's tough to go wrong here.
The charging system is equally well-engineered. The USB Type-A to Type-C charging cable is included in the package, although you'll have to supply your own charger. Plug in the headphones, and a completely dead battery will fully charge in just 90 minutes. If you're in a pinch a 10-minute fast charge provides 5 ½ hours of listening time.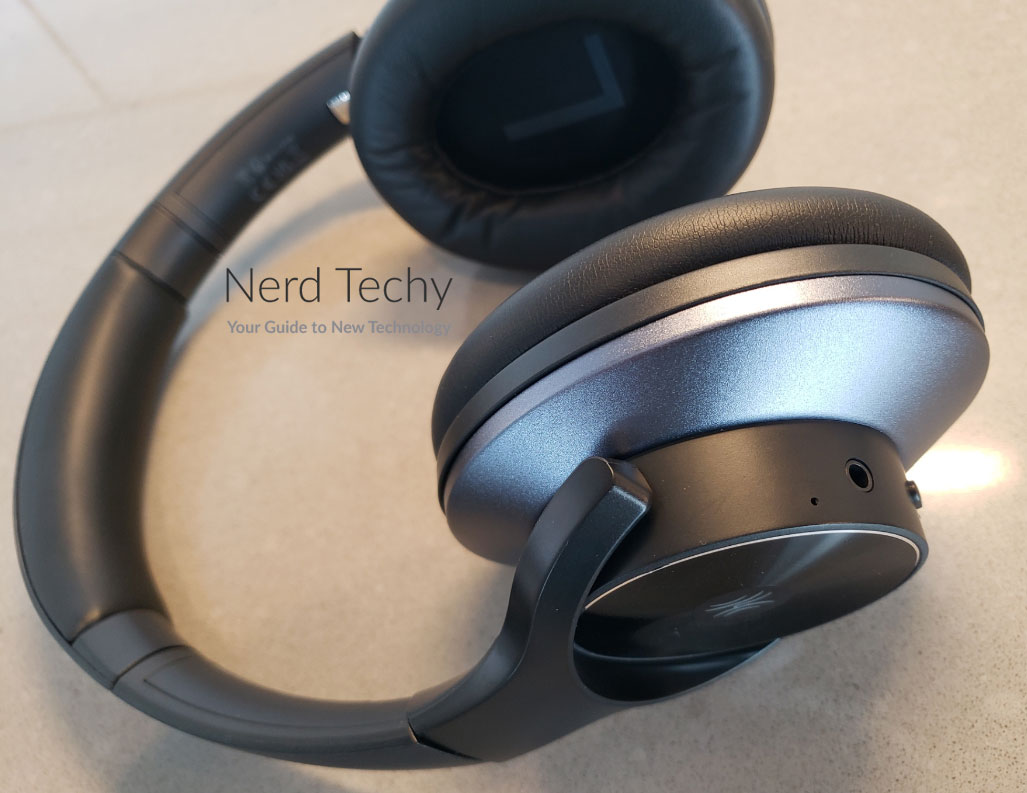 Audio Quality
The A10's drivers measure 40mm in diameter. This is a fairly common driver size for full-sized headphones, and they can move a lot of air. The battery ratings are for 80% volume. But you can realistically listen at a quieter volume in many cases, and still hear your music just fine.
The audio quality is good, but not excellent. The drivers have a wide frequency range, from very low to very high. All parts of the spectrum sound clear and clean. The highs shimmer, and the mid frequencies are front and center. The bass is also nice and clear, but it's not quite as loud as we would have liked. Then again, the soundstage is nice and wide. You'll feel a real sense of space, as if you're sitting in the room with the band.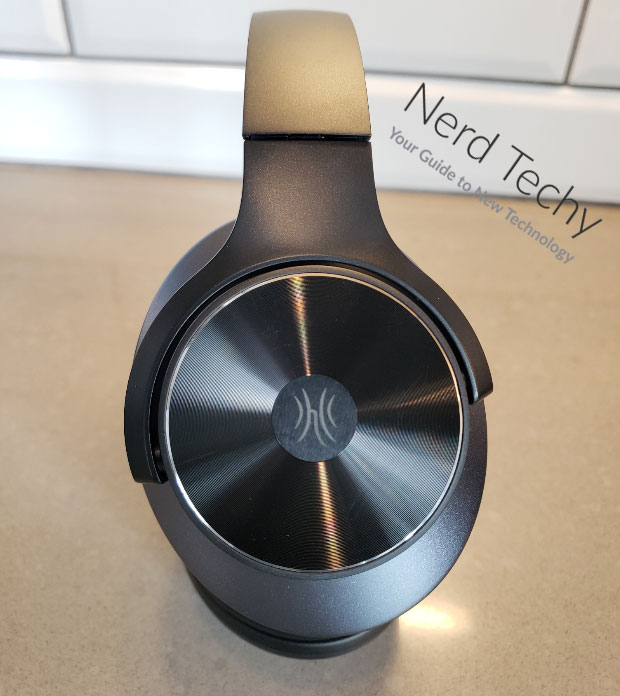 The ANC system uses a hybrid set of microphones. Mics listen to the background noise outside the headphones and send that signal to the ANC chip. The chip will then generate an inverse soundwave that cancels out the background noise. A second set of mics inside the ear cups listen to what you're actually hearing. The system compares this to the audio you should be hearing, and compensates accordingly. It works very well, and reduces background noise by 35dB. That's enough to eliminate 95% of interference.
Alternatively, you can put the headphones into transparency mode. In this mode, they'll actually boost outside noise. This might sound like a bad thing at first blush, but it's a handy feature. If you need to engage in a short social interaction, you don't have to remove your headphones. Just switch over to transparency mode, then switch back when you're done.
In addition to all that, the H10 utilizes CVC 8.0 noise cancellation. This system cuts down on background noise not when you're listening, but when you're talking. It's designed to make your voice sound clearer to the person on the other side of the call.
If maximum audio quality is your top priority, check out the OneOdio Studio HiFi. It offers top tier audio quality along with an effective ANC system. On the downside, it's not all that sturdy, and you're restricted to a wired connection.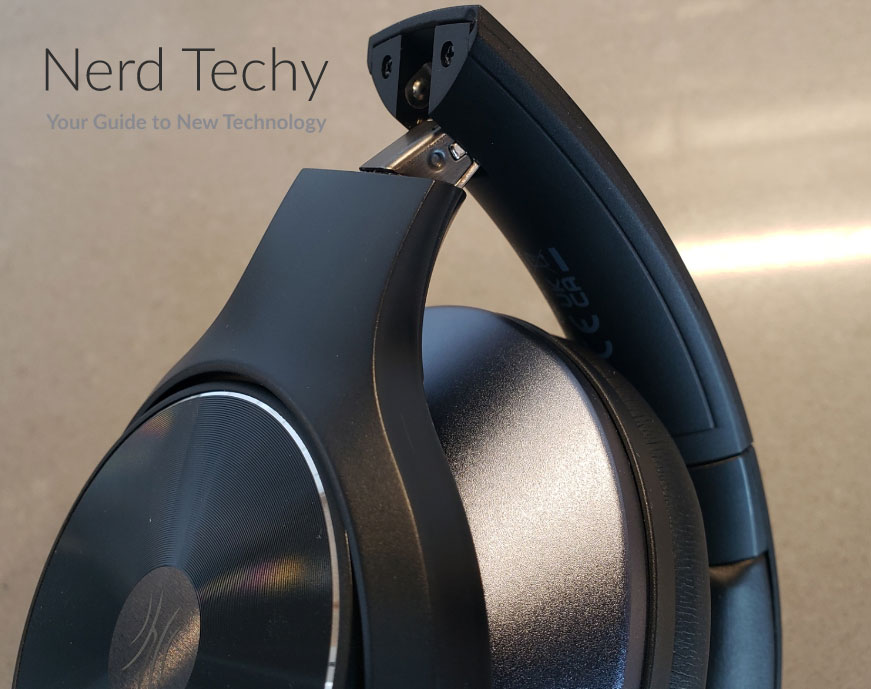 Final Verdict
The OneOdio A10 Hybrid ANC Headphones are an excellent piece of audio equipment. To begin with, the design is comfortable and ergonomic. The padding is well-designed, and the adjustable ear cups conform to any head. The battery is equally impressive, with more than enough capacity for any application. The audio might be disappointing if you're a fan of powerful bass. But other than that, we were more than pleased with the listening experience.