LINSY HOME Standing Desk
Pros
Very large desktop area.
Extremely easy to adjust.
Built-in headset mount, cupholder and cable guides.
Excellent value.
Sturdy even at the tallest setting.
Cons
Somewhat complex to assemble.
Visible crack in the center of the desktop.
People don't often think of office work as physically demanding. And on its face, it isn't. You're not going to lose your leg in a logging accident or fall off a construction scaffold. Instead, office workers face similar health risks to truck drivers. When you spend an inordinate amount of your day in one position, it takes a toll. Your joints get stiff, your muscles get sore, and your connective tissues can even flare up.
A standing desk can be the perfect solution. Instead of sitting all day, you're on your feet. You can step from side to side, use a walking treadmill, or even do yoga poses while you work. And if your desk is adjustable, you'll get the best of both worlds. You can stand and sit for alternating periods, maximizing your comfort
Note: At no extra cost to you, we may earn a commission for purchases using our links. Learn more.
We're about to review the LINSY HOME Height Adjustable Electric Standing Desk. This is a large adjustable standing desk with a handful of useful features. But how well does it work, and is it the right choice for your office? To find out, we'll need to dig deeper into its features and functions. After that, we'll have a clearer picture of what we're dealing with. Let's begin!
Overall Design
The LINSY HOME Height Adjustable Electric Standing Desk is no shrinking violet. This is a big, spacious desk with a 63" x 24" faux wood working area. It's not entirely rectangular, with rounded corners that won't jab you if you bump into them. It's also wider at one side, to give you a little extra space. The narrower center and left portions provide an optimal place for your chair.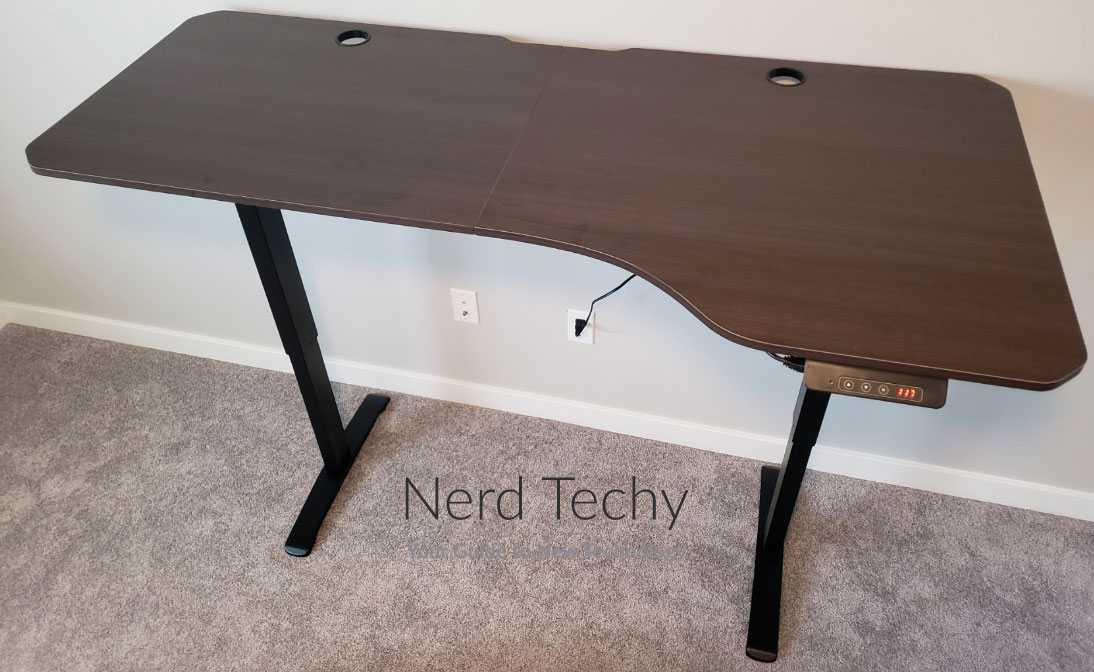 The desktop mounts a top of black metal legs that are shaped like a capital "I". There's a set of cross-bars at the top that support the bottom of the desktop. Meanwhile, the lower cross-bars form a stable base. The vertical parts of the legs have a telescoping design. The upper portions are slightly wider than the lower portions, and slide down smoothly over them. This allows them to glide up and down as needed to adjust the height of the desk.
A motor is located right under the desktop, towards the left side of the unit. It's attached to a drive shaft, which runs left and right to the two legs. When the shaft rotates, the legs extend or retract. It sits close enough to the bottom of the desk that it won't get in the way of your knees when you're sitting.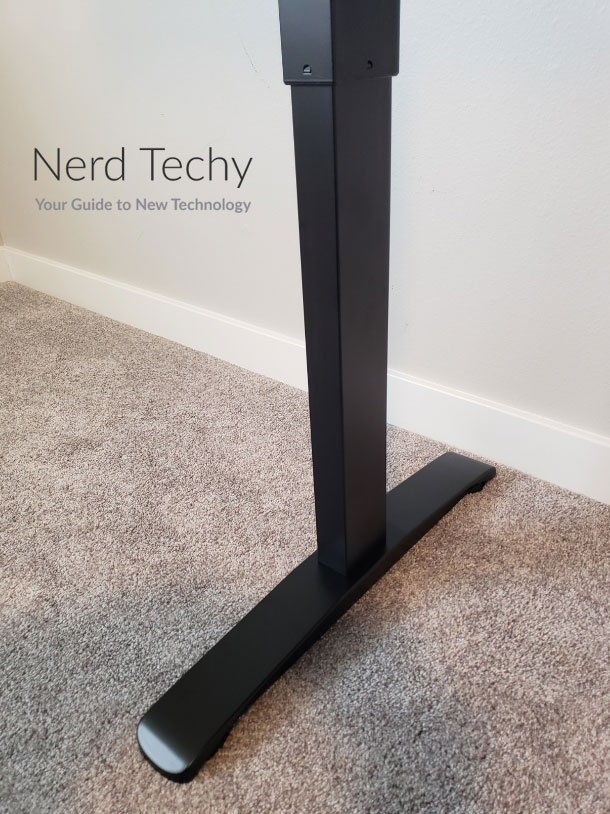 The motor itself is surprisingly powerful, and the legs are made from steel, not aluminum. As a result, you can load as much as 180 pounds onto the desktop without anything getting damaged. That's enough for your PC, a triple-monitor setup, and oodles of peripherals. There's even enough capacity to support a decent-sized pair of speakers.
Assembly
Like any adjustable standing desk, the LINSY HOME desk requires some assembly. It comes in a large, flat box, with all the parts separated. The legs are already put together, but they're separate from the desktop. The desktop in turn comes in two pieces that join at the center. That's a bit unusual, but it's probably because of how wide the panel is. By splitting it in two, the manufacturer is able to ship it in a smaller box. Unfortunately, since the desktop is two pieces, it puts a crack directly in the center of the desktop. However, they include a free oversized deskmat to rest over this area.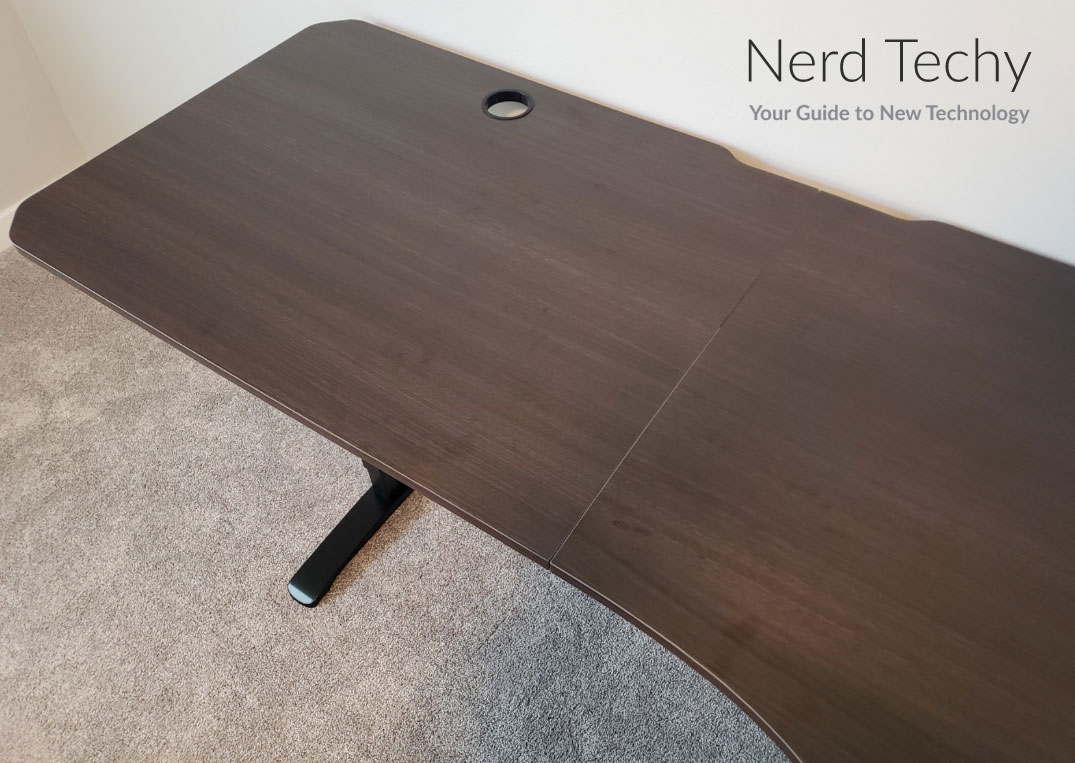 The kit comes with an Allen key for easy assembly, and you get all the screws you need. First, flip it over with the bottom facing up, and screw the legs into it. Then, assemble the metal driveshaft and attach the motor to the bottom on one side. This might sound tenuous, but when the two halves are snapped together, it's very secure.
Here's where we had a few issues. To begin with, the instructions aren't very clear. They'll mention attaching Part A to Part B using Screw #2, but not all of the parts are actually labeled. This can make it confusing to figure out which screws are supposed to be used for what purpose.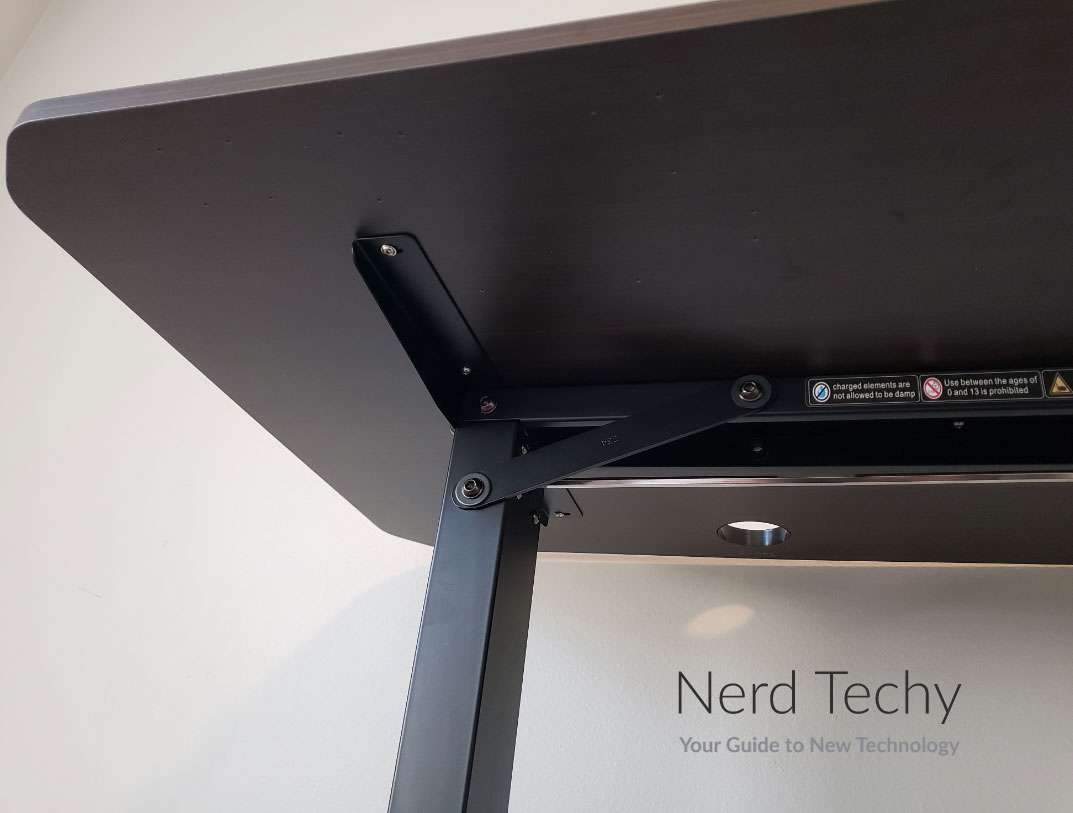 For another thing, the assembly process is kind of awkward. It takes some effort to get the two sides to match together properly. If you don't have someone to help you, you may to have a hard time. Finally, the connector at the middle of the drive shaft is made out off plastic. This didn't cause any issues for us and the desk worked just fine. But it represents a weak point on an otherwise very sturdy desk.
Adjustability
The LINSY HOME desk is operated by a control unit that mounts under the right side of the surface. The unit is flat, black, and roughly rectangular, with a control surface that faces towards you. This surface is angled to point slightly upwards, so you see it clearly without having to bend over.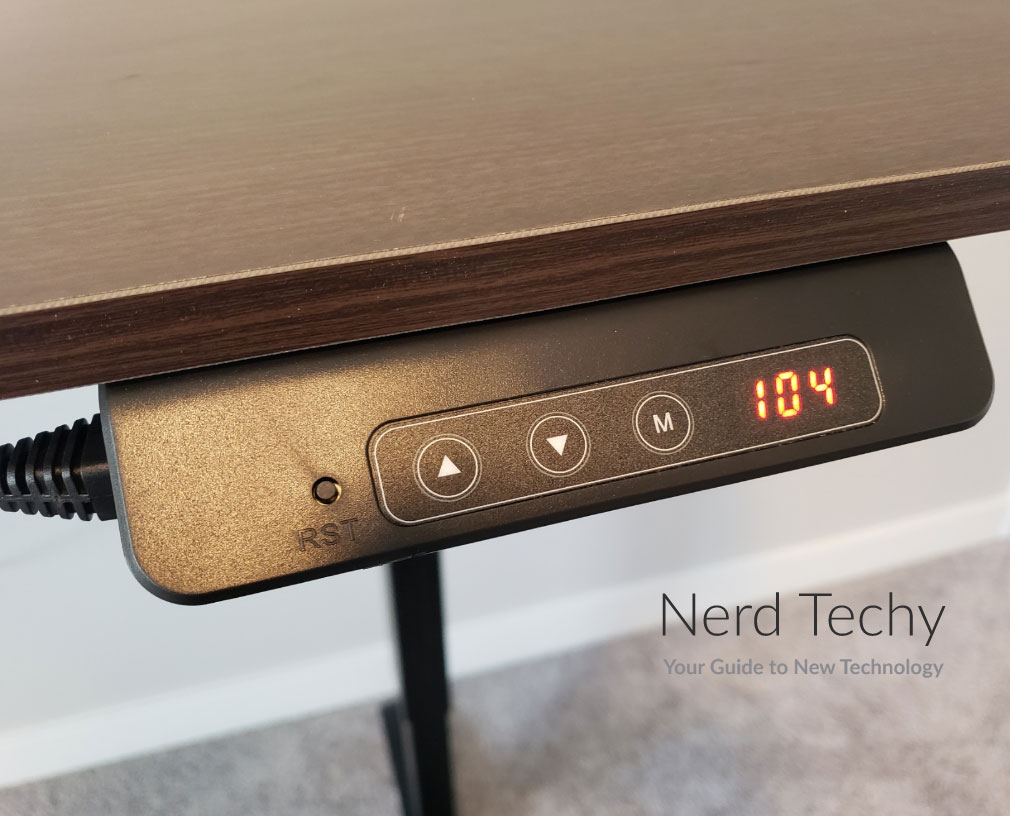 On the surface, there's a pair of up and down buttons to the left. The M button in the middle isn't a memory button as you might think. It's actually a reminder button that prods you to take a break. Press the button to cycle through 30, 45, and 60-minute settings. When the time runs out, it will beep to let you know it's time to stretch or walk around for a bit.
The display to the right of the buttons shows the desk's current height in centimeters. Pressing the buttons can adjust that height anywhere from 73-118 cm (28.7 to 46.5 inches). The motor is surprisingly quiet, and won't disturb other people in the office. At less than 50dB, it's quiet enough to carry on a conversation right next to it. And at 1" per second of travel, you can go from maximum to minimum height in just under 18 seconds.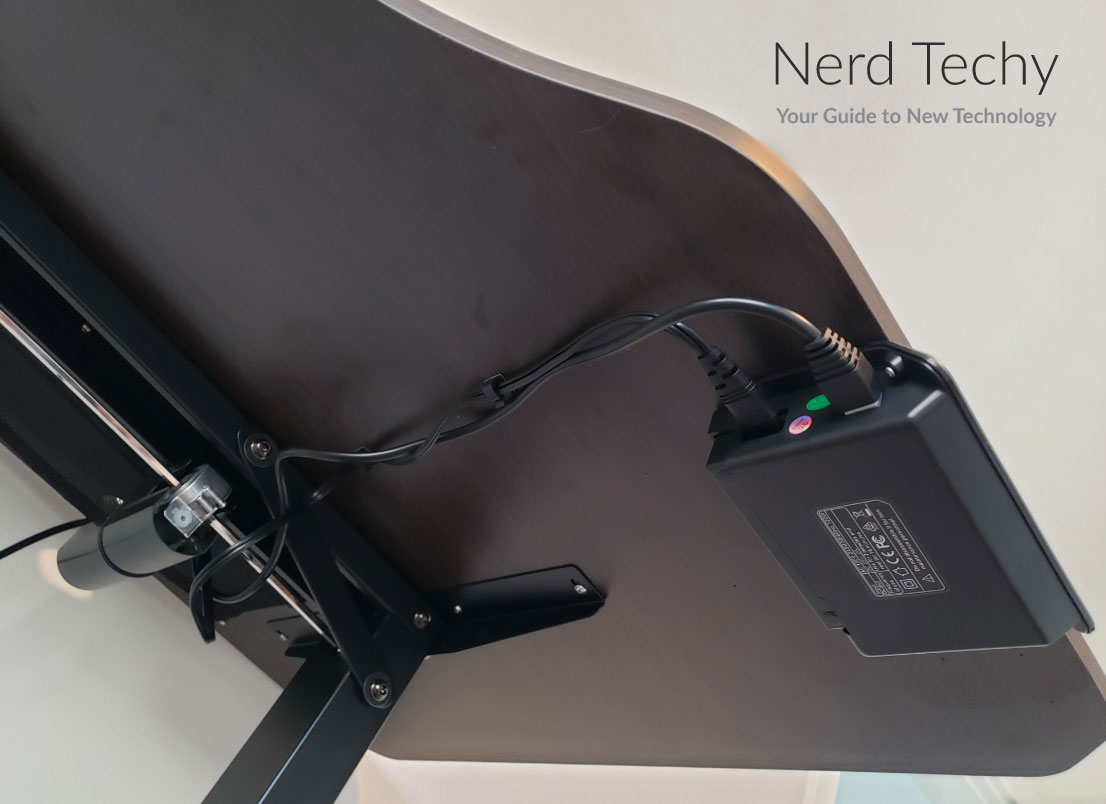 The motor also has a built-in sensor that detects any excess resistance. If the desktop runs into resistance while it's moving up or down, it will automatically stop. That way, it won't damage anything else in your office.
Extra Features
The LINSY HOME desk comes with a few bonus features that are definitely worth talking about. To begin with, there's a set of cable guides built into the middle of the back. On either side, a little cutout makes space for your cables. Behind the cutout is a pair of black plastic tabs that extend from either side. A gap in the middle makes room for your cables, while each tab has a pair of flanges that create sections. This makes it incredibly easy to keep your cables neat and tidy. On the right side, there's an elastic mesh net. Here, you can stash AC adapters and a huge mess of cables.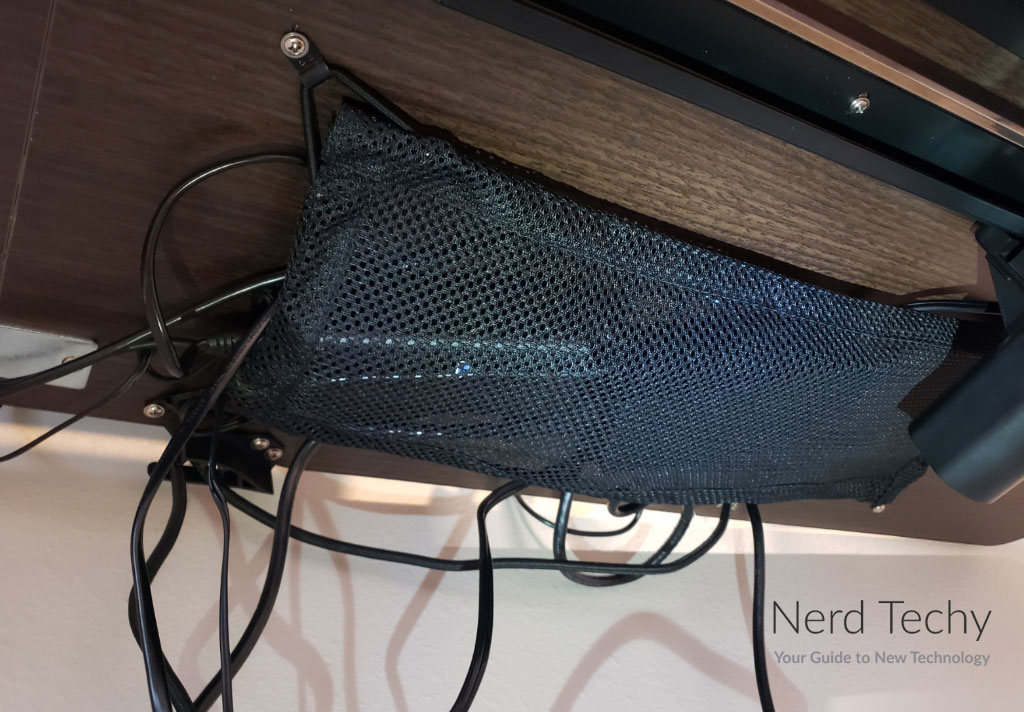 At the front left of the desktop is a black plastic cupholder. It attaches to the bottom of the desk and is large enough to accommodate an oversized travel mug. If you can't start your work day without a generous serving of coffee, you'll really enjoy this feature. In addition, there's a headphone bracket just to the side of the cupholder. It's great for keeping track of your headset when it's not in use. Both the cupholder and headset mount are optional – you don't need to attach them if you don't think you'll use them.
If all of that isn't enough, the kit includes a large neoprene mouse pad. And when we say large, we mean large. It's 31.5 inches wide, and covers the full 24-inch depth of the desktop. It's designed to go under your monitor and keyboard as well as your mouse. Not only does this make for very comfortable operation, but it reduces impact and wear on the motor.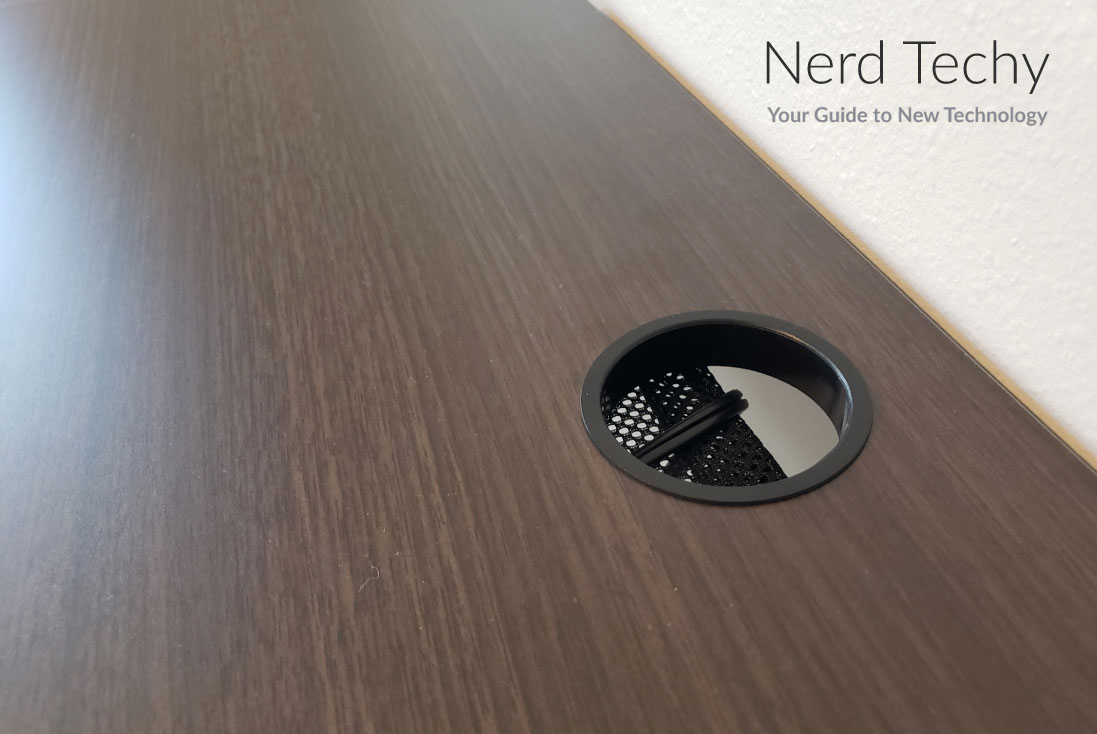 Why Choose a Standing Desk?
Before we wrap up, why would you use a standing desk as opposed to an ordinary one? Here are some good reasons to take the plunge:
It relieves pain and stiffness – When you sit in one position all the time, your muscles become used to that depiction. When you want to get up and get moving, it can be tough to stretch those muscles out. In addition, you can end up with back and neck pain. This can be remediated to some extent by good posture. But switching between sitting and standing is an even better solution. It keeps your muscles and other tissues from getting too used to any one position.
It's better for your health – Standing doesn't just help prevent everyday aches and pains. It also has some significant health benefits. For one thing, standing burns more calories, reducing the risk of obesity, diabetes, and heart disease. Sitting has even been tied to some kinds of cancer. Furthermore, standing is better for your circulation. When you sit, blood can collect in your legs, particularly your thighs. This reduces the total amount of blood in circulation.
It gives you more energy – When we stand up, our brains naturally become more active and engaged. When we sit, it signals our brains that it's time to relax. If you're having trouble concentrating at work, try a standing desk. It can make a huge difference.
It's better exercise – Standing at your desk isn't exactly a trip to the gym. But compared to sitting, it has some benefits. You'll be moving around a bit, which burns some calories. And with a walking treadmill or similar device, you can get even more exercise.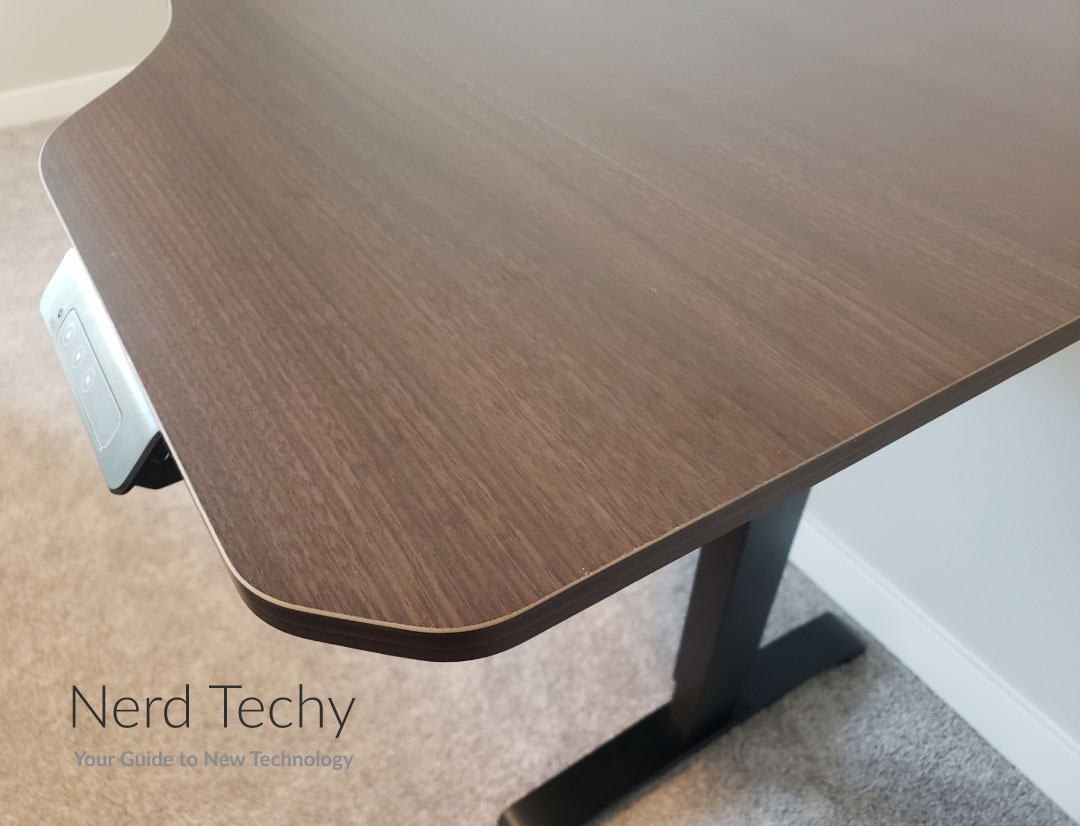 Final Verdict
The LINSY HOME Height Adjustable Electric Standing Desk is one of the bigger adjustable desks out there. This makes it a great option for anyone with multiple monitors. Better yet, it's easy to adjust, with simple, straightforward controls that are easy to figure out.
Assembly is definitely tough to get through. But once it's put together, it works reliably. The telescoping legs slide smoothly up and down, and the safety features work very well. Considering the low price, you're looking at an excellent value.
And if you're primarily concerned about extra features, this table has them in spades. Any coffee aficionado will appreciate the built-in cupholder. The headset bracket makes it easy to keep your gear close at hand. And the cable guides help keep all your cords from getting tangled up. They even thrown in a free oversized mouse mat! All in all, this is a well-engineered adjustable desk at a nice price.
Please consider sharing:
Note: At no extra cost to you, we may earn a commission for purchases using our links. Learn more.