In both the corporate and educational world, giving presentations is an important part of life. Anything that can help your presentation go smoothly can have a positive effect on your career. Luckily, there's plenty of technology out there that can help you out in this area. Digital projectors are clearer and easier to see than the models we had available only a few short years ago, and most can now integrate with remote controllers.
Your typical remote controller is nothing more than a button that allows you to advance to the next slide. But there are a few models out there that offer much more control than this. You can start and stop multimedia, go back to a previous slide, or even use a laser pointer to draw attention to specific parts of your presentation. Today, we're going to be taking a look at the three best presentation remotes on the market.
Note: At no extra cost to you, we may earn a commission for purchases using our links. Learn more.
Canon PR10-G Wireless Presentation Remote
Whether you're looking for the latest photo gear, a high-quality printer, or powerful business technology, Canon is an excellent choice. They've been manufacturing presentation remotes for quite some time now, but the PR10-G is the latest in modern presentation technology.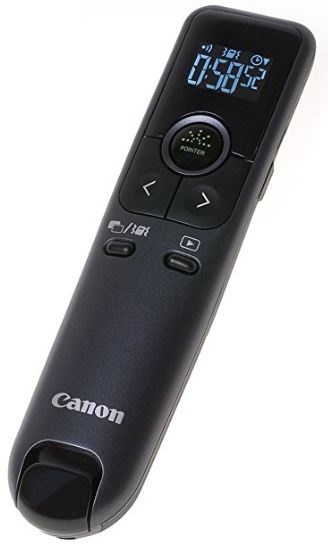 Design
The Canon PR10-G Wireless Presentation Remote is easy to hold in the hand, but built to withstand a lot of use and abuse. It's made from injection molded plastic, tastefully designed with a lightly textured pattern that makes it both resistant to scratches and easy to hold. Right where your thumb rests are the easy to push buttons. They use rubber dome actuators that provide a firmer press but won't wear out with time. At the top you've got a handy LCD display. This screen can be used for a variety of reasons. Most people will use it for timing your presentations.
I'm sure we all know how important this is. When rehearsing, it's easy to set a timeline and stick to it. But once you get in front of people, you find that you're either spending too much time on one topic, or rushing through the presentation quicker than you expected. With the timer, you'll be able to find out where you are at with just a quick glance at the face of the display. You can also use the timer to keep track of where you are at in your presentation if you've integrated it with video or audio media.
Controls
Perhaps the most important feature of any wireless presenter is the control layout. This is one of the many areas where the Canon model really excels. At the top, you've got the large button that turns the laser pointer on or off. A partial press will keep the light on as long as it's held down. But if you depress it all the way, the laser will stay on until pressed a second time.
Below that you've got the typical forward and backwards buttons. Below each of those, there are two unique buttons you might not have seen before. The first is the "expand" button. This can be used with both PowerPoint or Keynote to blow up an image, video, or diagram to full size. Press it again to return to the standard size. On the right, you've got the start / stop button that can trigger playback of multimedia.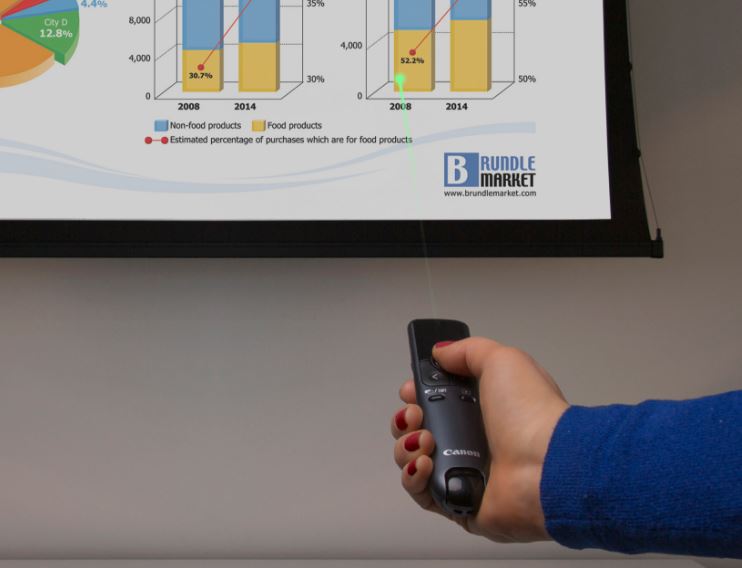 Compatibility
The Canon PR10-G is designed to work straight out of the box with Apple's Keynote or Microsoft's PowerPoint. You won't need to go through any complicated setup procedure, just unpack it and start using it.
The biggest issue with compatibility is range. Presentation remotes often have to choose between standard Bluetooth, or Wi-Fi direct. Bluetooth is the most compatible of all standards, but suffers from short range. Wi-Fi direct works only with modern devices, but supports a longer range. Canon found a creative solution for this problem. Their remote comes bundled with a high-powered Bluetooth transceiver that plugs into the USB port on any Mac or Windows computer. This allows them to use a higher-powered setting that isn't supported by all devices. The end result is a huge 100-foot range, allowing the remote to be used in even the largest presentation rooms.
Even without drivers, the presentation remote can be used with any Windows computer from Vista SP2 and up. This means that Windows 7, 8, and 10 all work out of the box. Mac OS 10.5 and up are supported, meaning that the remote will work with any Intel based Mac released in the last 11 years.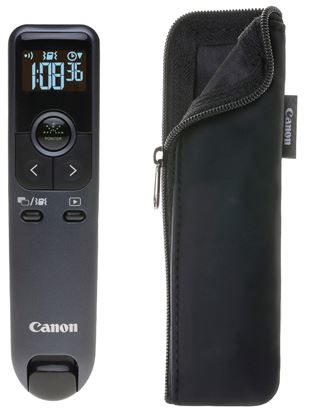 Features
The stand out feature of this remote is the powerful green laser. This laser pointer might look a little different from the standard red ones, but it's up to 8 times brighter than the red wavelength. This means that even in the brightest most well-illuminated room, you'll have no problem drawing attention to the most important parts of your presentation.
Another great feature of canons presentation remote is the vibration feature. You can easily set notifications at various points throughout your presentations to help keep you on track. It will automatically vibrate one, five, or ten minutes before the end to remind you to wrap things up. You can also set the timer to vibrate at any other point, as needed.
Kensington Wireless Presenter
If the name rings a bell, it's because Kensington is known primarily for their high-quality laptop security devices. The Kensington lock is generally accepted as being one of the locks on the market. Their remote presenter goes hand in hand with these locks, as you'll often want to keep your notebook safe while you give your presentation.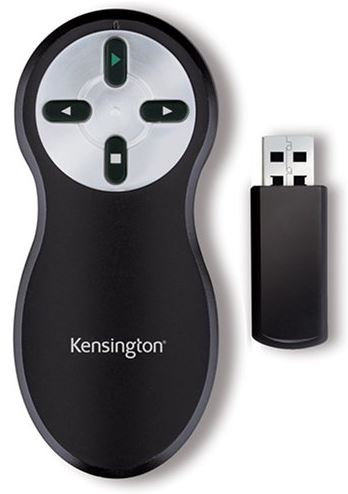 Design
The incredibly compact Kensington Wireless Presenter is designed to be simple and easy to use. While it's not the most attractive of the bunch, you might be surprised to learn that it's actually very comfortable to hold in the hand. Its strong curves fit with the curves of your hand, meaning that you're not going to get uncomfortable even when you're using it for long periods of time. Aside from the four buttons on the face, there isn't really a whole lot of extras on this presentation remote. But the one thing we did really like was the USB port on the bottom. This can be used to charge the remote, but also provides a handy storage space for the USB receiver when not in use.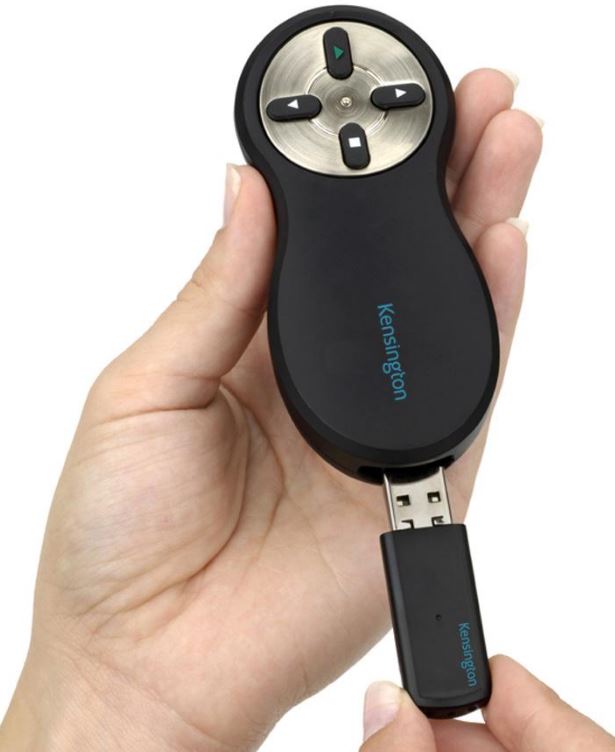 Controls
The control scheme with this remote is simple, but still highly effective. The two buttons that you'll use the most, the forward and backward buttons, are located on either side of the main section. On the opposite orientation, you've got the play and stop buttons. The main difference between this button and some of the more advanced models is that each one serves a single purpose.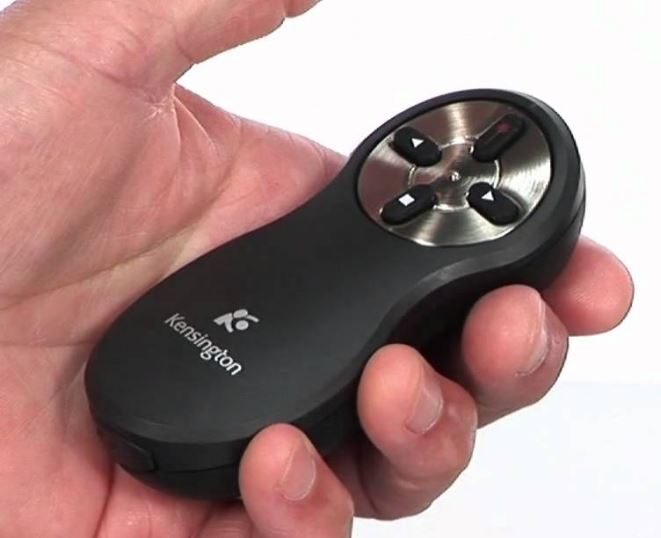 For example, Canon combined the play and stop buttons. If your media is currently playing, then the button will stop it, and vice versa. But this can create confusion in presentations where there are multiple media types, or if you change slides without stopping the previous media. To avoid any awkward mistakes, many presenters will prefer this simple control scheme.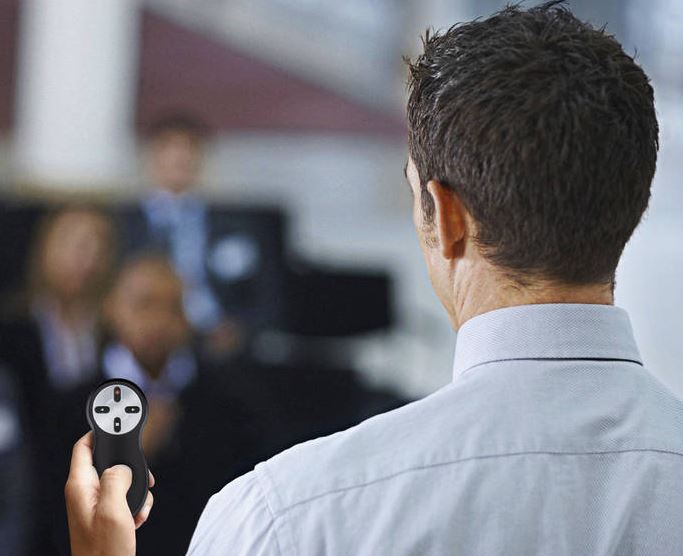 Compatibility
The Kensington Wireless Presenter decided to go for a high bandwidth method of communication to offer solid range without dropouts. Running on the 2.4 Ghz frequency, it requires that a USB dongle be used with your computer. This transceiver can be used with Windows 7, 8, and 10 PCs. It can also work with OSX systems from 10.6 and up. It works with Microsoft PowerPoint out of the box, but the drivers allow you to map the buttons to the keyboard. With a few quick clicks, you can set it up to control any presentation software you like.
Logitech R800 Professional Presenter
We've reviewed Logitech's accessories many times before, and not once have we come across one that disappoints us. While their professional wireless presenter is much larger than some, the impressive range of included features makes this presenter just as powerful as it is large.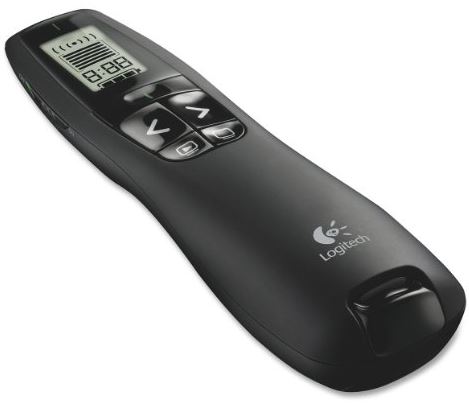 Design
The Logitech R800 Professional Presenter is ergonomically designed to be comfortable to hold in the hand, and keeps all of your most important features easily accessible from the face. But aside from the standard controls, you've got access to a powerful LCD display on the face that performs much of the same features as the Canon model. It can help you keep track of how long you've bene presenting for, how long you've spent on a particular slide, or show you a countdown to a specific time.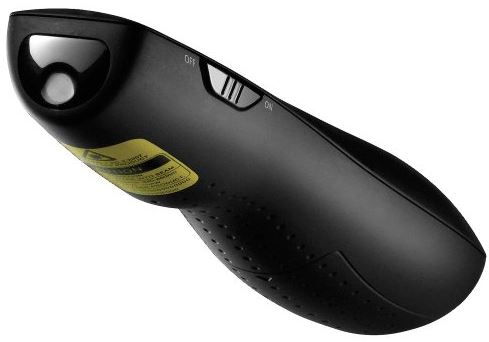 Controls
The controls are quite similar to those on the Canon. You've got the forward and backward buttons for navigating between slides, the full screen button for expanding visual aids, and the play button to start and stop embedded media. But the unique feature on this remote is the programmable button located just below the display. You can configure this button to set any particular element you like, giving you a little more control over your presentation.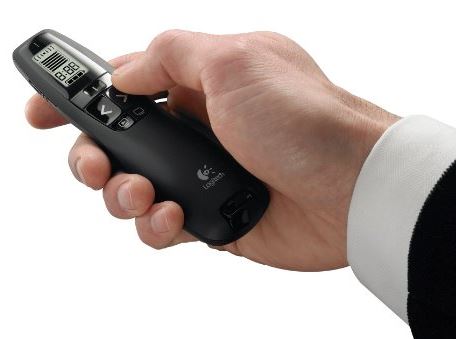 Compatibility
This wireless remote presenter is compatible with a wide range of Windows PCs, starting from Windows 7 and going up to the latest release of Windows 10. It uses the same wireless technology as the Cannon, requiring a dongle but giving you up to 100 ft (30 meters) of range.

Features
The Logitech R800 Professional Presenter has a couple of features we've seen before, but are happy to see included. It's got the timed vibration feature, which we found to be a little easier to use than the Canon model. The timer is set from the included features, and gives you a ton of control over how and when the timer goes off. You can set different types of vibrations for different alarms. For example, short pulses can signify an impending time limit, or long ones can remind you to move on to the next slide.
Another great feature of this remote is the same high powered green laser pointer we liked so much. Once you use such a bright pointer it's unlikely that you'll want to go back to the basic model.
Which Wireless Remote Presenter is Right for Me?
Not sure which one is right for your business? For most users, we're recommend the Canon PR10-G. This remote is fully compatible with both Windows and Mac operating systems, and gives you plentiful controls and a powerful laser.
You might also want to consider the Logitech R800 Professional Presenter. This model adds a powerful timing system that lets you make the most of the built-in vibration feature.
Finally, there will be a few people who just need something simple for their presentations. In this case, you can't go wrong with the Kensington Wireless Presenter. It's affordable, easy to use, and reliable. If this is all you need, there is no sense is spending money on a high-end model.
Please consider sharing:
Note: At no extra cost to you, we may earn a commission for purchases using our links. Learn more.