For the past couple of decades, computers have fallen broadly into two categories: laptops and desktops. If you wanted an all-in-one, portable solution, you bought a laptop. If you wanted a system that you could modify and upgrade, you bought a desktop. But in the last few years, a new type of computer has become popular: the mini PC.
Mini PCs are a response to the continual shrinking of technology. If you open up a typical desktop tower, it's almost entirely empty space. With a little ingenuity, it's now possible to build an ultra-small computer that's still easy to upgrade. They're great for applications where a full-sized tower would be impractical. You can even attach them to the back of a touchscreen display for kiosks.
Note: At no extra cost to you, we may earn a commission for purchases using our links. Learn more.
Today, we're going to review the Beelink GTR6 Ryzen 9 6900HX Beast Mini PC. This is a compact, powerful PC that's capable of running most of today's AAA games. But what else can you do with it, and how does it connect to your other devices? To answer those questions, we'll need to look under the hood and see what the GTR6 brings to the table. Let's get started, and see what we learn!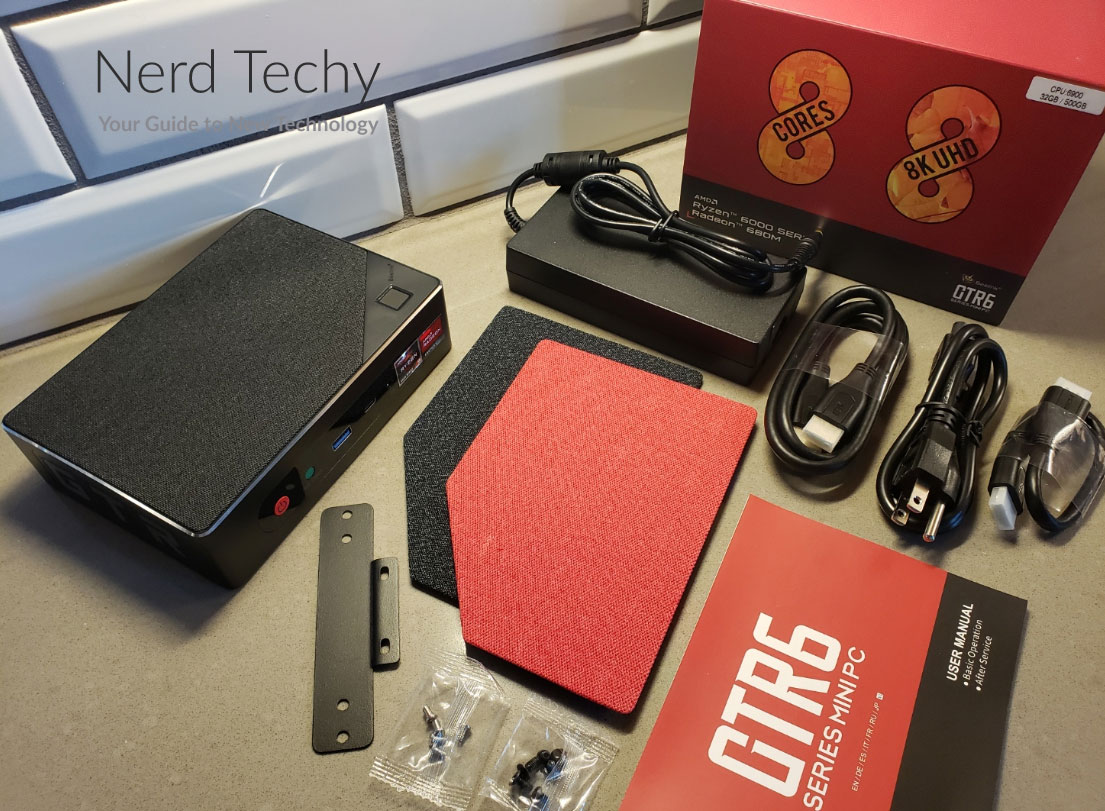 Overall Design
The Beelink GTR6 Ryzen 6900HX Beast Mini PC has a rectangular housing. It's manufactured from a durable black plastic, with an easy-to-clean matte finish. It's also exceedingly compact, at just 6.61 inches wide, 4.72 inches long, and 1.69 inches thick. This makes it small enough to mount or carry pretty much anywhere you like.
The bottom side of the housing is slightly raised. This allows air to flow freely underneath when the PC is resting on a flat surface. The intake fan is built into the bottom surface, and draws air in from that direction. Air flows out through a set of grilles on the sides. These grilles are branded with the letters "GTR" printed in bright white.
The top of the housing is covered with fabric instead of being solid plastic. It's similar to the surface on a speaker, and allows additional airflow into the inside of the PC. Best of all, they can be swapped out for different colors. The very front right corner of the top is plastic, and plays host to a biometric fingerprint lock. This is very secure, and allows you to quickly access your computer any time. It's much easier then punching in a PIN or a password.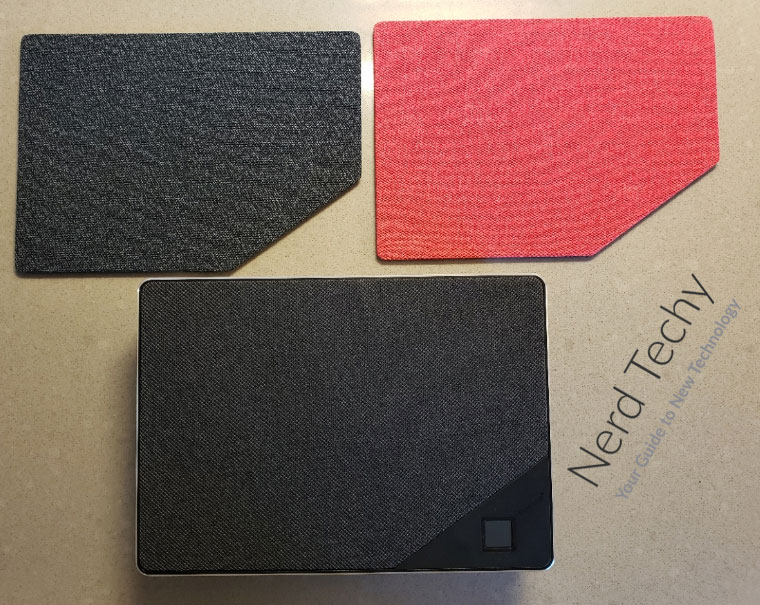 All the GTR6's features contribute to a relatively high price point. If you wanted a more affordable mini PC, take a look at the Geekom MiniAir 11. It has a significantly lower price tag, and has a similar size. Then again, it's nowhere near as powerful or capable.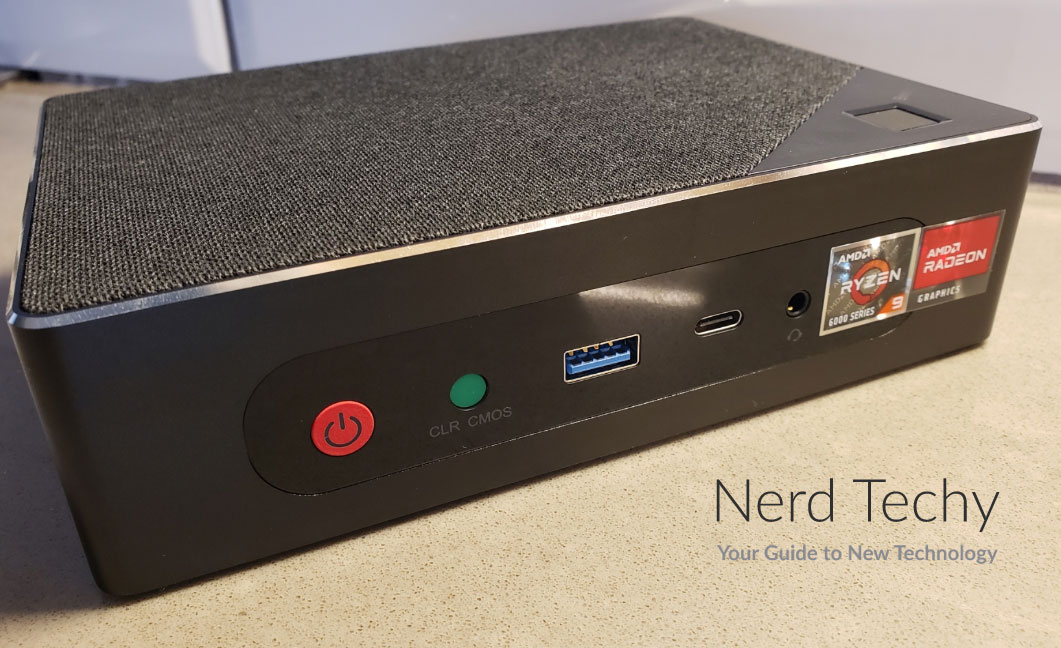 Ports and Connectivity
The various ports and inputs are located across the front and back of the GTR6's housing. At the left of the front panel, you'll see the large red power button. Next to it is a fairly big indicator light that lets you know the computer's status. It shines green when the system is fully powered on. In sleep mode, it flashes bright white. This is useful if you want to know your status at a glance, but it can get annoying. A bright flashing light isn't exactly conducive to sleep.
To the right of the power indicator is a pair of USB ports. The one on the left is a USB 3.0 port, and has a blue inner tab. This tab makes it easy to know which way to orient your plug when you're plugging things in. Next in line is a USB Type-C port, followed by a 3.5mm aux port for your headphones.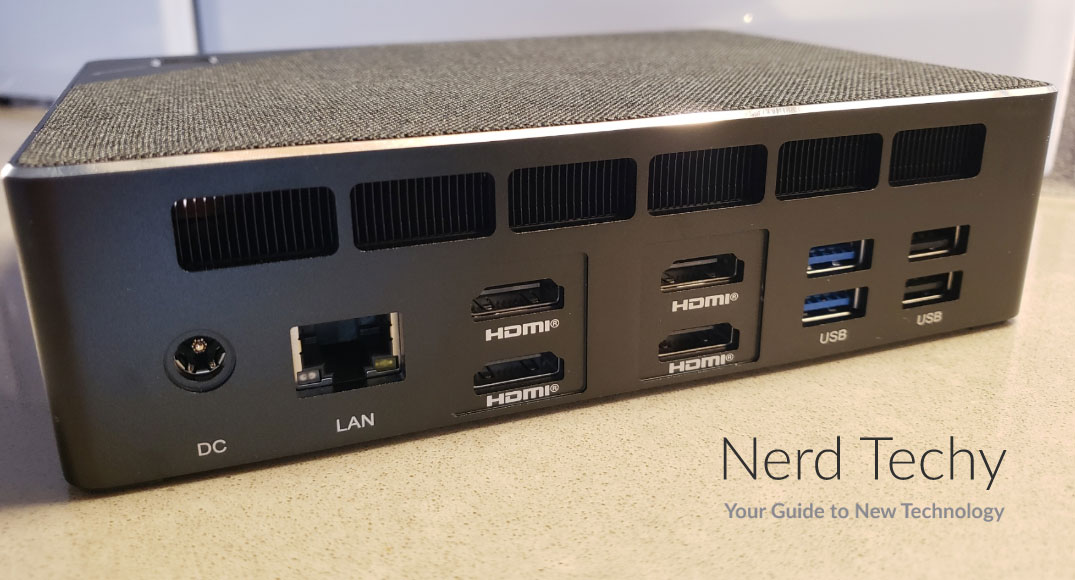 On the back, at the left, is a round DC port for plugging in the power supply. It accepts a barrel-style input, and an AC power adapter is included in the kit. To its right, there's an Ethernet port. This port is insanely fast, with 2.5Gbps of bandwidth. That's 2 ½ times the bandwidth of a standard Gigabit Ethernet port.
To the right of the Ethernet port is a set of four HDMI ports. This gives you the impressive ability to connect up to four displays simultaneously. Next, you'll find two more USB 3.0 ports with blue tabs, stacked one on top of the other. After that is a pair of USB 2.0 ports, with ordinary black tabs.
In addition to wired connections, the GTR6 also has a couple of useful wireless options. To begin with, it can connect to your router via triple-band WiFi 6. The WiFi connection is very fast, and capable of transmitting and receiving data at 1.2Gbps.
Finally, you can connect accessories via Bluetooth 5.2. This is an upgraded version of the Bluetooth protocol that offers very low latency. It also has a higher bandwidth, as well as a much more stable connection than previous Bluetooth versions.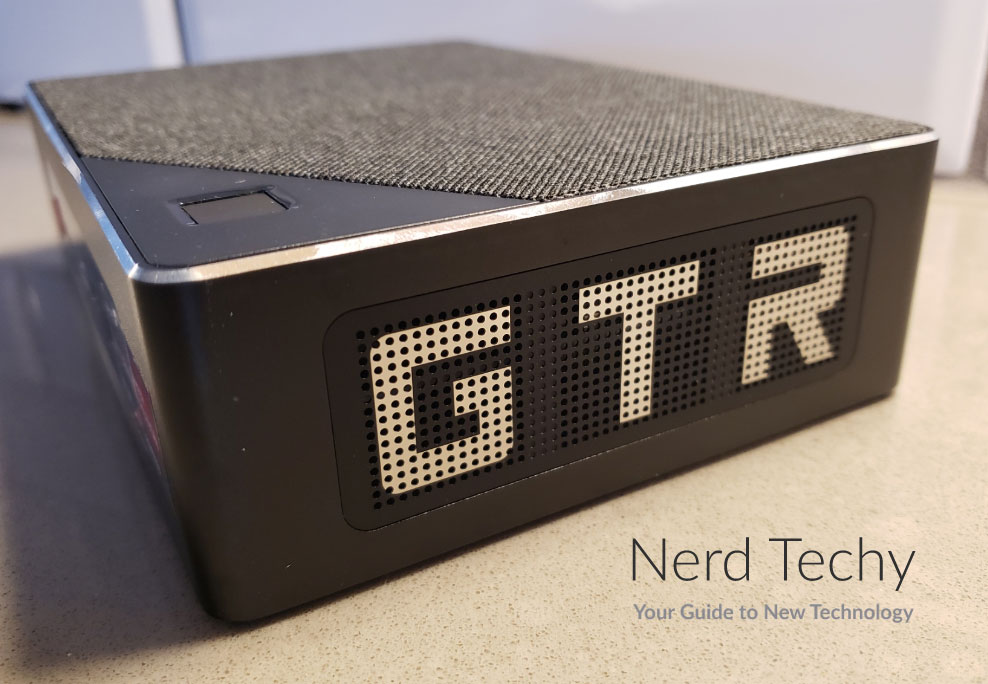 Performance and Graphics
The Beelink GTR6 is built around the Ryzen 9 6900HX processor. This is one of AMD's latest mini PC processors, and it's insanely capable. It has a whopping eight cores, with a base frequency of 3.3GHz. This can surge to as high as 4.9GHz when the system needs a short burst of speed. Regardless, you'll have more than enough computing power for most games and tasks. And with eight cores, multi-tasking is simply a non-issue.
The integrated graphics are also among the latest and greatest. The AMD Radeon 680M graphics have 12 cores, with a frequency of 2,400MHz. On the one hand, these are integrated graphics. They won't hold up to what you'll get from a modern GPU. On the other hand, they're about as close as you can get without one. You'll have no issue playing the latest AAA games, although you may have to turn down your settings.
As we mentioned, you can connect up to four displays at once. Each one can be up to 8K and 60 FPS, but we should put that in perspective. You can't actually run a game in 8K on this system. But if you're running a multi-monitor setup, you'll get reasonably good quality. It's an exceptional multitasker, and still holds up well for gaming at reasonable resolutions.
Beelink has manufactured a number of mini PCs, including the Beelink SER 3750H. It's an earlier model that's a bit more affordable and nearly as powerful. Then again, the Bluetooth and WiFi versions are a bit outdated.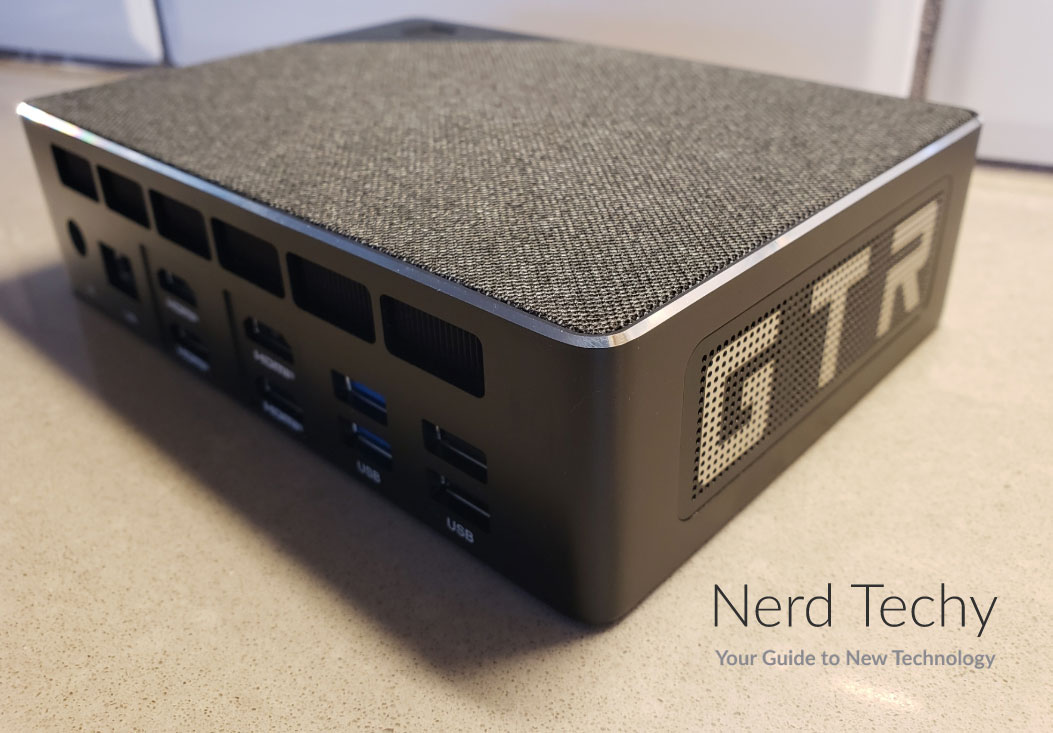 Memory and Storage
The GTR6 has a whopping 32GB of RAM. This is a dual-channel system with a pair of 16GB DDR5 cards, and a frequency of 4,800MHz. The high frequency means that data can cycle quickly in and out of RAM. In all honesty, 32GB is overkill for pretty much anything an ordinary person will do. That said, it can come in handy if you're doing heavy-duty video editing. You can load enormous files into memory and your video editor won't lag while it's handling them. If nothing else, you know you'll never need to worry about RAM.
For storage, the system uses a 500GB SSD drive. The drive sits in the PCIe port, and can read and write at up to 7,000MB per second. That's nearly 7GB, or enough for a few hours of high-quality video. If 500GB of storage isn't enough, you can always upgrade with a larger SSD. The system will support up to a 2TB drive, which is about as big as modern PCIe drives get.
Alternatively, you can expand your storage even further with a second SSD. There's an adjacent M.2 slot that uses SATA technology, rather than PCIe. As a result, it's significantly slower, at 600MB per second reading and writing speed. That's still faster than an HDD. And it's a great way to save files that you don't access as often.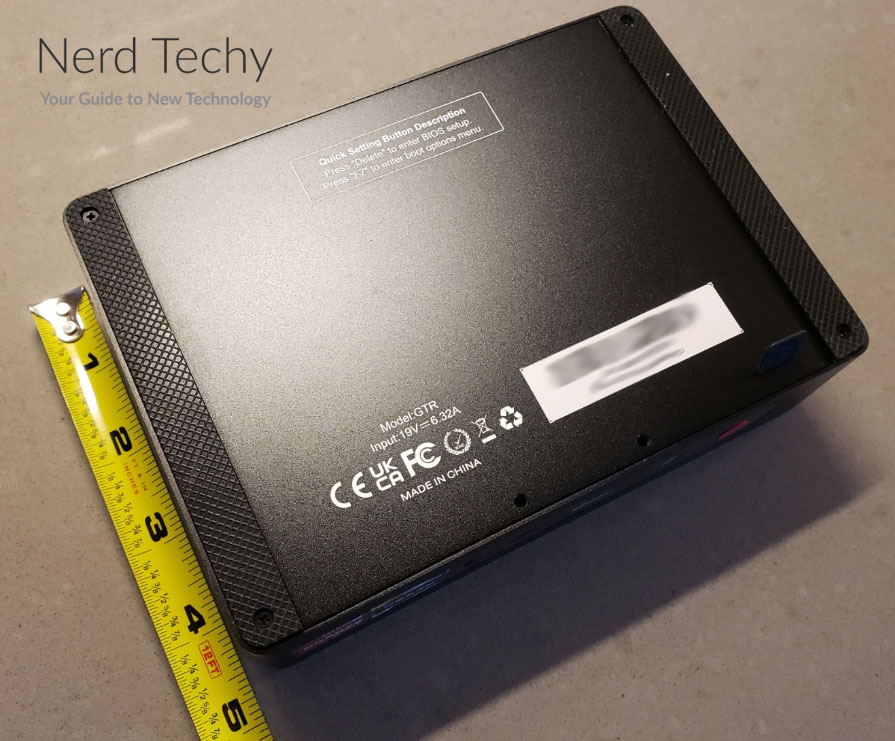 Extra Features
Before we finish, let's talk about a couple of the extra features that set this mini PC ahead of the pack. To begin with, it has a dual cooling fan setup. The main intake fan, as we mentioned already, is located at the bottom. But the heat sink is actually located at the top of the housing. Air flows over all the components, and some flows out the sides. More of it blows directly over the heat sink.
Inside of the heat sink is a secondary fan that flushes air out the mesh top. This dual fan design does a fantastic job of keeping the CPU cool. Under optimal conditions, it will be 10 degrees Centigrade lower than a mini PC with a single fan. On the downside, it's also fairly loud. You can clearly hear the fans during operation, even when the system isn't under a lot of stress. When they kick into high gear, it's annoyingly loud.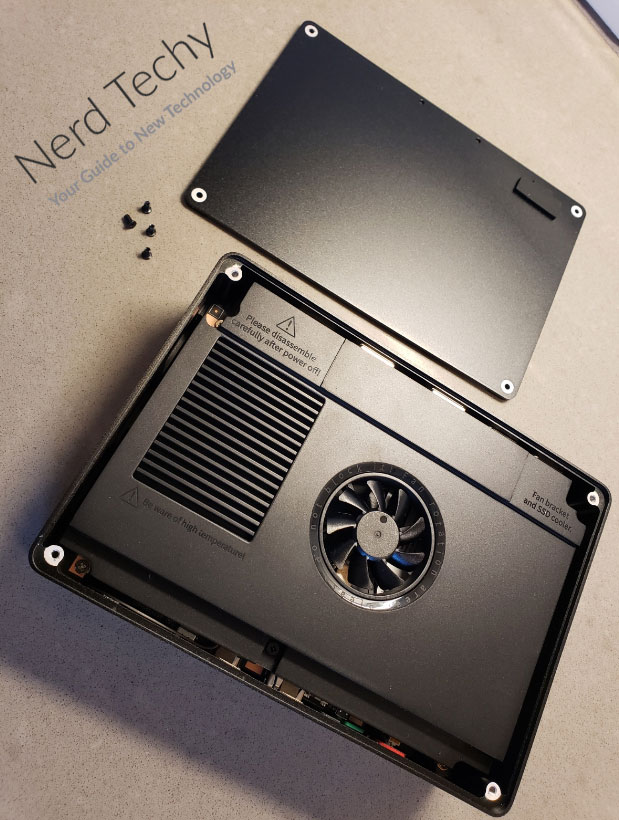 The kit includes a VESA mount plate, which gives you a lot of flexibility in terms of placement. Instead of setting the PC on your desk, you can mount it on a wall or attach it to the back of your display. We particularly like putting the computer on the back of a monitor. It becomes all but invisible, and cable management is also far more simple. A wall mount, meanwhile, is great if your display is also wall-mounted.
If you want something a little bit different, check out the Beelink SER5 5560U. It's one of Beelink's earlier models and it's not as powerful. But it's also affordable, and the Bluetooth and WiFi are – surprisingly – up to date.
Final Verdict
The Beelink GTR6 Ryzen 9 6900HX Beast Mini PC lives up to its name. It's truly a beast of a machine – at least in terms of power. The 3.3GHz octo-core processor is as fast as they come, and the integrated graphics aren't half bad. The SSD drive offers blazing fast read and write speeds, and you get an absurd amount of RAM. In terms of size, the GTR6 is far more modest. It's small enough to place just about anywhere, and the VESA mount makes positioning a breeze.
Please consider sharing:
Note: At no extra cost to you, we may earn a commission for purchases using our links. Learn more.