Laser radar detectors are a helpful tool for drivers that want advanced warning when they may be approaching speed traps or nearby law enforcement checking their speed.
These devices are designed to scan for things like radar and LiDAR signals being used by law enforcement to clock your speed. Many are able to do this at long range giving you adequate time to make adjustments.
In this article, we're going to be looking at the best cheap laser radar detectors you can purchase for under $100.
While all of these radar detectors fall within the budget friendly range, each one is optimized for different drivers and different driving situations. We'll go over key features of each and highlight different aspects that make it unique and who it might be best for.
Most Common Kinds of Detection Used By Law Enforcement
Radar: Uses radio frequencies that are sent from the radar to your car and bounced back. Using what we know as the Doppler effect, a radar speed detector calculates your speed based on how long it takes for the radio frequency to return to its origin. Law enforcement can either use these while stationary or in motion. Many modern radar speed systems can detect your speed regardless of whether you are moving away or in the same direction as the officer in motion.
Laser: Also known as a LiDAR, this variation uses light measurement to measure speed. It shoots a beam of light that reflects off of the front of your vehicle. It's highly accurate and one of the hardest to dispute in court because they aim it directly at the front of your car.
Photo Radar: This technology is normally reserved for heavy intersections or residential areas with low speed limits. It often uses a combination of advanced radar that alerts a camera component to capture an image of your car.
Choosing a capable radar detector is especially important with the emergence of new speed technology that can defend against a wide range of detectors currently on the market.
An example of this are MultaRadar CD (MRCD) photo radar systems that emit low energy frequencies that are nearly undetectable to most laser radar detectors.
Especially in the budget categories, it can be hard to determine which units have the important features apart from others that simply try to hide with slick marketing.
This can result in hundreds of dollars in traffic fines that could have been avoidable with the right device. To help in the decision-making process, we've included 4 of the best cheap laser radar detectors that are currently available.
How We Made Our Selection of the Best Cheap Radar Detectors
We had a panel of experts use their combined expertise to select the best devices for different driver styles and driving situations. Factors that played into our choices include:
Quality and Craftsmanship
We opted for detectors that used high-quality materials and chipsets. Sitting on your dash or windshield, they will be exposed to a wide range of temperatures and direct sunlight. The best detectors will have an exterior that can stand up to this while also protecting the sensitive instruments within.
Great Range
Law enforcement has the ability to clock your speed from long distances. Detectors need to give you as much advanced warning as possible so you can have time to make adjustments if needed. Range is determined by a few factors and so we based a detectors' abilities on real-world user data in addition to their published specs.
False Alert Filtering
This function is important if you don't want your device to go off all the time for no reason. We tested the false alert filtering of all these devices and compared notes with other users. The goal is for this feature to do well at filtering without missing actual threats
Good Performance at Different Ranges
Some detectors are great at long ranges but less so with close range, short burst variations. We opted for products that were within the range of acceptable performance for both.
Types of Detection
There are a range of detection methods law enforcement uses such as close range, far away, photo radar, constant on and instant on detection. We selected detectors that include as many of these types as possible for the price point.
Frequency
Radars operate at different frequencies. K-band is a portion of the radio spectrum in the microwave range of frequencies from 18 to 27-Gigahertz (GHz). While nearly all detectors will say they scan K band frequencies, we tested to see how well they performed in detecting specific frequencies within that range. There are additional frequencies such as the Ka band and other devices that modulate frequencies like MRCD and MRCT.
Best Overall: Cobra RAD 380 Laser Radar Detector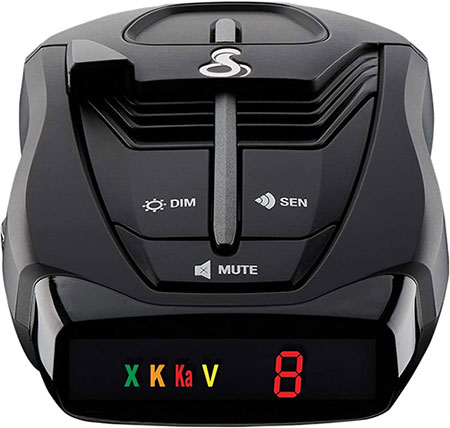 Key Features:
Dimensions: 4.25 x 2.75 x 1.25 inches.
Weight: 4.8 ounces.
Scans for X-band, K-band, Superwide Ka-band and Laser.
Front and Rear Detection.
Advanced Anti-Falsing Function.
Adjustable Sensitivity Modes.
Powered By a 12v Power Cord.
Bright LCD Display.
The Cobra RAD 380 performed and even exceeded some other devices at higher price points. It can scan for speed trap devices on several frequency bands including X, K and Ka bands. Many of the latest speed measuring equipment operate on the Ka band. Including this in a unit that is just under a hundred dollars is a solid value.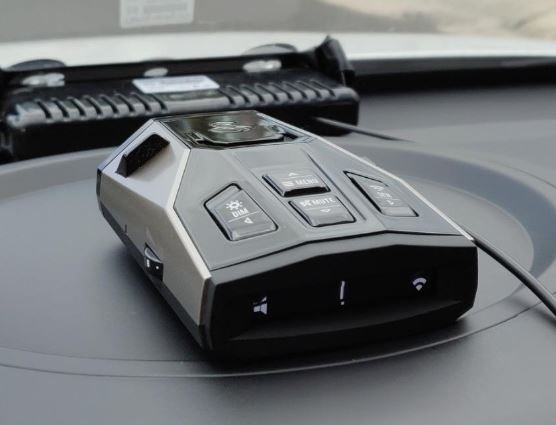 This unit provides both front and rear sensors. We found that with rear detection, it did a fantastic job as long as you placed the radar on the bottom center of the windshield. Because a lot of speed trap lasers capture lower to the ground, you'll want to position it as low as possible to reflect that.
You don't want a detector that continually goes off because of false alarms. Unlike other budget models on the market, the Cobra RAD 380 has an IVT Filter and advanced anti-falsing circuitry that cuts this down significantly.
This function is important because of things like blind spot radars many late-model cars and semi trucks are equipped with. If you don't have strong false signal filtering, you'll get a lot of alerts just driving by normal cars. We liked that this unit did a good job at filtering while still maintaining quick signal alerts for legitimate instances.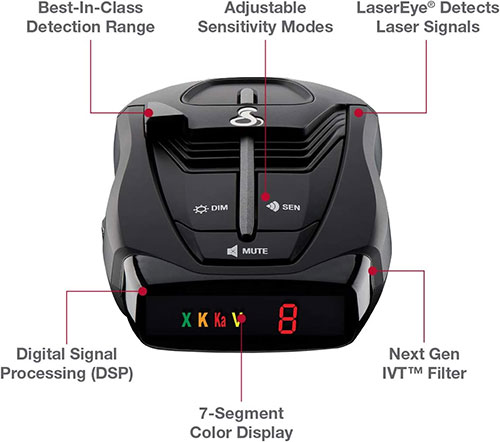 Users report solid performance when it comes to longevity and accuracy which are going to be important at this price point. We found the adjustable sensitivity mode and other buttons to be easily accessible and worked great.
Cobra includes a solid digital signal meter which helps provide an auditory indication of how close you are to an oncoming threat. Other manufacturers throw this feature in but it is clear that Cobra spent a lot of time refining it. You won't have GPS enabled proximity monitoring at this price point but the digital signal meter makes for a solid stand in.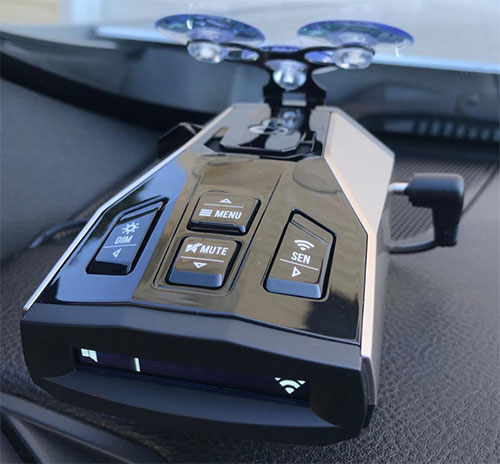 This model is Bluetooth enabled which you can use to pair to their mobile app. It provides some additional data that you might find useful. Overall, the Cobra RAD 380 offers an ideal combination of range, sensitivity and accuracy at an incredible value.
What We Liked:
Scans on multiple bands.
Includes a solid digital signal meter to gauge how far away a threat is.
IVT filter does a great job discerning between true and false signals.
Sleek form factor.
LCD display is bright and easy to read from a distance.
What We Didn't Like:
Included documentation can be a little confusing for new users. We found YouTube videos helped provide more clarity on setup.
Best Runner-Up: Whistler CR70 Laser Radar Detector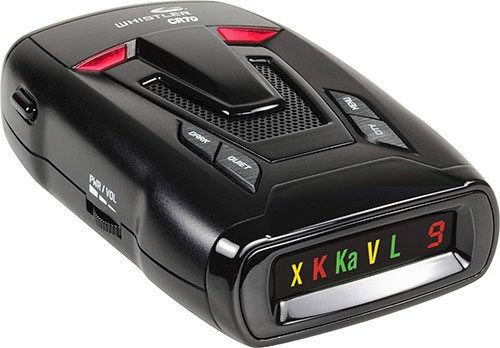 Key Features:
Dimensions: 6 x 3 x 8 inches.
Weight: 10.6 ounces.
360 Degree Scanning.
Scans for X-band, K-band, Superwide Ka-band, and laser.
The Whistler CR70 has many of the same features as the Cobra with a few differences. First, this unit provides scanning protection for the side of your vehicle in addition to the front and back. While side detection tends to be less important than the other two, it may provide a form of overlap which can increase sensitivity to speed trap positions in unique locations or angles.
It detects all the major frequencies currently used by law enforcement speed devices. Many users report that it does a great job with all of them. We especially like that the CR70 features POP Mode that picks up on brief bursts of radar often connected with Photo Radar systems. It's normally a feature reserved for higher end models.
Keep in mind that while scanning on all frequency bands is a good feature, there is not a way on this device to discern what kind of speed tracking device it is alerting you to. If you live in city or high-traffic areas, its Traffic Flow Signal Rejection (TFSR) system helps eliminate false signals from traffic control radars and scanners.
Compared to Cobra Rad 380, both operate with the same high performance and include many similar features. However, the CR70 may be a better choice for people that drive in cities or congested areas with other cars in close proximity.
What We Liked:
Side detection provides all around coverage.
Covers all major bands.
Solid long and short range performance.
POP mode can help defend against newer Photo Radar systems.
What We Didn't Like:
Customer support can be slow to respond.
Best Alternative: Uniden DFR1 Laser Radar Detector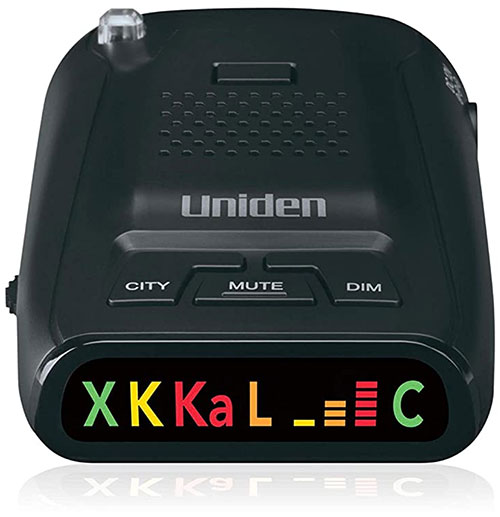 Key Features:
Dimensions: 2.5 x 6.75 x 10.1 inches.
Weight: 10.7 ounces.
Front and Rear Detection.
K Band False Alert Filtering.
Ideal for Long Ranges.
Three Driving Modes.
Uniden is a brand that has been in the radar detection industry for a long time. As a result, they've been able to refine their products and translate that into increased value and savings to their users. The Uniden DFR1 holds many of the features in their higher priced models and with minimal tradeoffs.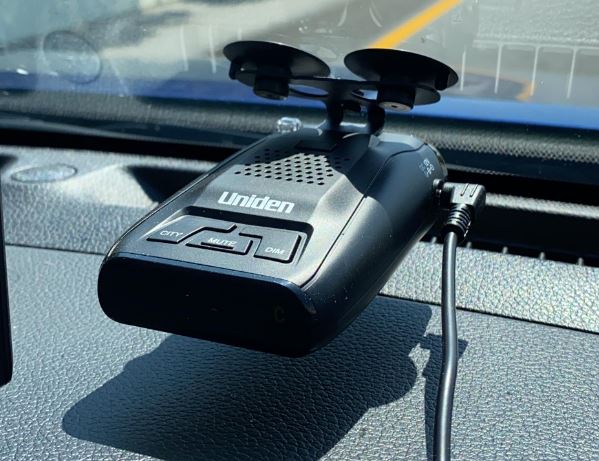 This model covers a wide number of frequencies and can do so at long ranges. It functioned really well during testing and could pick up on a host of different radar and laser devices. Keep in mind that although it scans several different bands, the false filter is only applied to the K band. However, while it may sound like a negative, it may be an advantage for some users.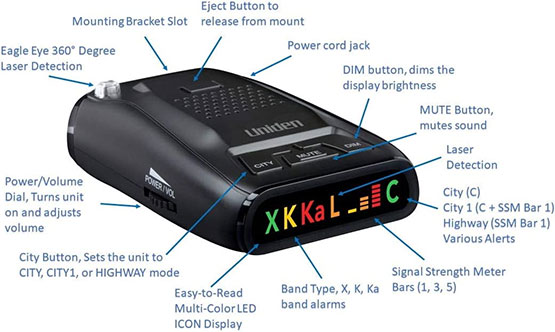 The majority of false alerts are triggered by devices within the K band frequency. Filtering can slow down the speed of your detector. Scanning only on the K band lets you eliminate most false alerts without slowing down its scanning of other bands.
The Uniden DFR1 outperformed many detectors at twice the cost. Overall, it's a great detector at an extremely attractive price.
What We Liked:
Solid long range performance.
Superior rear detection.
Strong K band filtering performance.
Memory feature keeps your settings saved.
What We Didn't Like:
Three driving modes were a pleasant feature, but many report mixed performance.
Cheapest Option: Beauty HAO Laser Radar Detector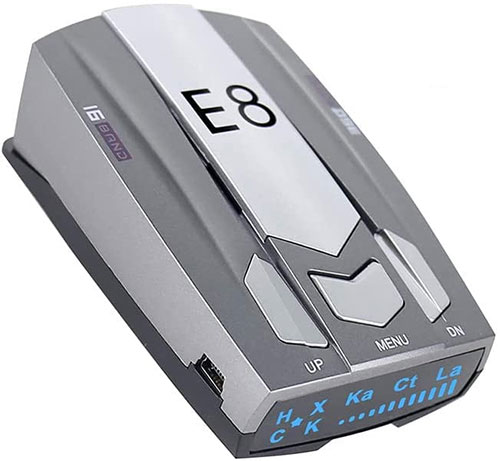 Key Features:
Dimensions: 4 x 3 x 1 inches.
Weight: 5.6 ounces.
360 Degree Scanning.
Wide Frequency Coverage.
Range of Up To 2,500 meters.
The lowest priced option in this article, the Beauty HAO still comes with a solid feature set. It provides all-around detection similar to the Whistler CR70 with a range up to 2,500 meters ahead. Although it's not by a popular manufacturer or well-known name brand, it still does a decent, entry-level job.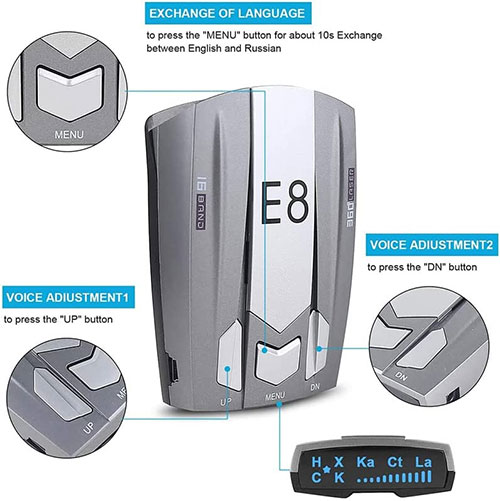 A lot of users find it does a solid job at early detection and provides adequate range against most forms of speed detection. The false alarm filter on this unit performed admirably, especially when it came to sifting out radar signals from other non law enforcement vehicles in motion.
Like the CR70, the Beauty HAO has a POP mode which can detect some of the most advanced speed tracking devices currently being used. One of the tradeoffs when you get to this price is that the form factor and appearance is not as slick as some of the other detectors on this list. However, in terms of functionality.
What We Liked:
Extremely affordable.
Wide range of scanning frequencies.
Solid for long range detection.
POP mode feature is nice at this price point.
What We Didn't Like:
Aesthetics are bulky and less sleek than other options.