ASAKUKI Humidifier
Pros
Separate controls for warm and cool mist.
Large tank capacity with multiple fill methods.
Zero-maintenance filter and built-in essential oil diffuser.
Included remote works well.
Built-in active carbon and mineral pellet filter.
Cons
Comes with stickers on the exterior that are very difficult to remove.
Oil diffuser is not very effective.
Only available in black.
With winter setting in, everyone's furnaces are running. This is good news if you like your house to be warmer than the inside of your refrigerator. But as cold air is warmed up, the relative humidity drops. That's why your airway can feel dried out after a cold night. It's not your imagination – the air in your home really is drier. Thankfully, a good humidifier can solve your dry air problems.
Humidifiers fall into two broad categories: warm mist and cool mist. Warm mist humidifiers are better for preventing mold and bacteria, but can pose a burning hazard for children and pets. Cool mist humidifiers are safer and require less energy, but can get moldy if you're not careful. Both varieties are equally effective at keeping your air at the right humidity level.
We're about to review the ASAKUKI Warm & Cool Mist Humidifier. This is a hybrid humidifier that utilizes both humidification methods. You get the best of both worlds, and separate control over both types of mist. But how well does it work, and how easy is it to use? We're about to take a closer look, and see how it performs. Let's get started!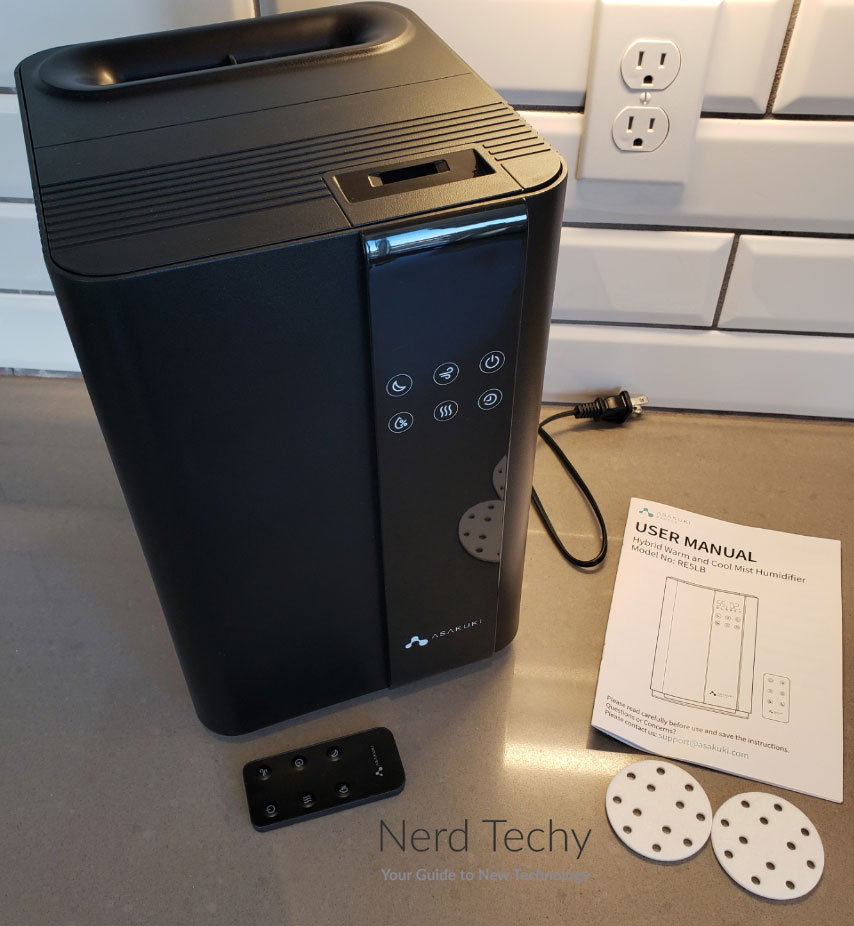 Overall Design
The ASAKUKI is a boxy humidifier with a black plastic housing. It has a footprint that's 10 inches deep and 9 inches wide, and stands 14 inches high. This makes it compact enough to position pretty much anywhere you want. You can keep it on your kitchen counter, a table, or a desk. And at only 5.84 pounds with the water tank empty, it's light enough to move around and clean.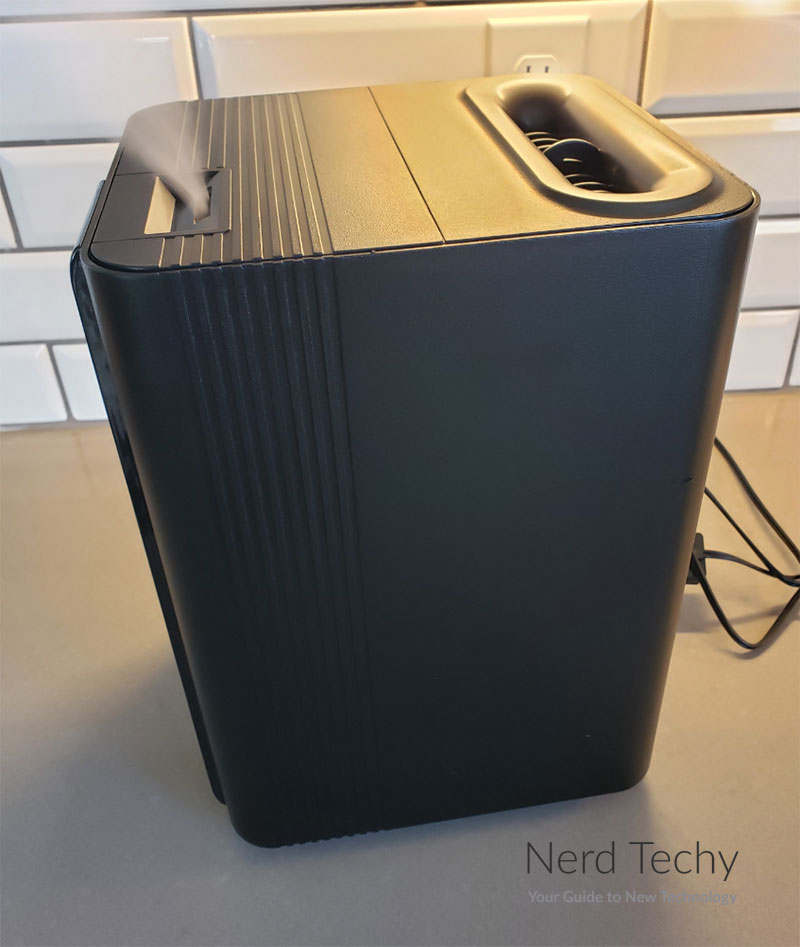 The outside of the housing has a mostly matte finish. This makes it easy to clean, and keeps it from becoming a dust magnet. The sides have long vertical louvered stripes that function as air intakes. The misting nozzle itself is located on the tom front right corner. Make sure to leave these areas unobstructed. You also want to make sure there's plenty of clearance above the nozzle. Otherwise, the mist will form condensation instead of dispersing.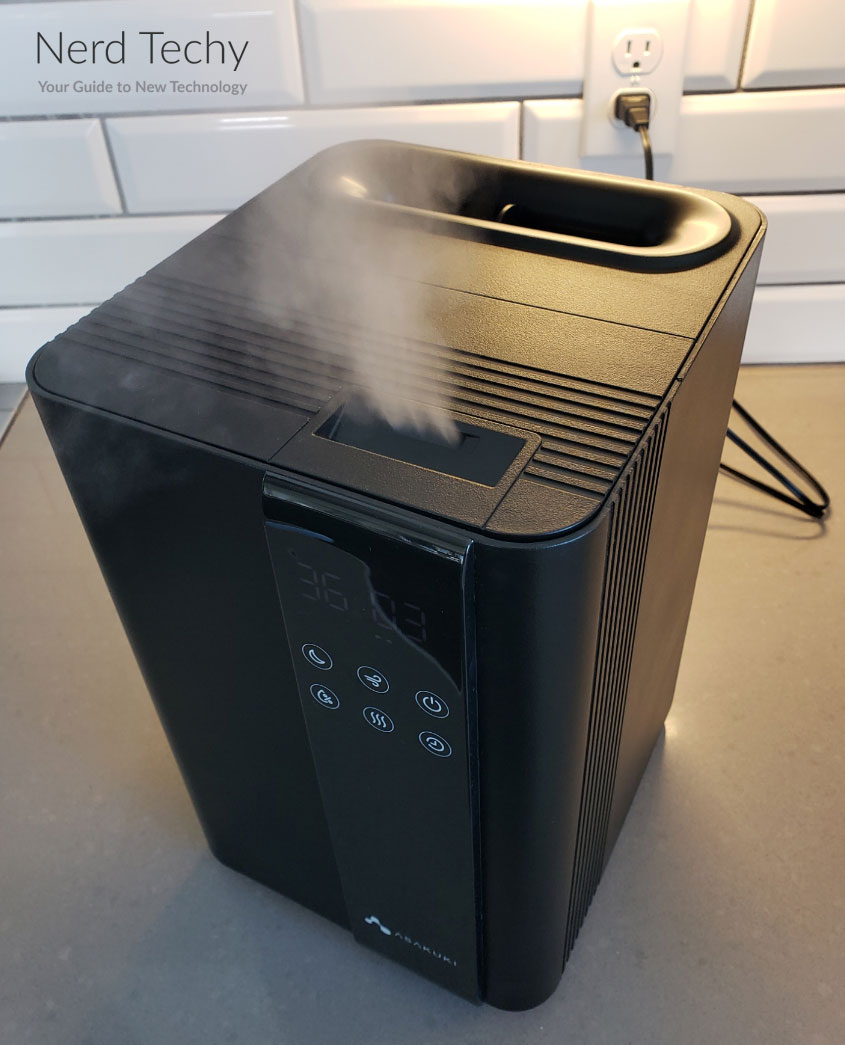 On the right side of the front panel is an LCD display. This shows your current relative humidity percentage, as well as the remaining time on the timer. Beneath the display is a set of soft touch control, which we'll discuss more in a moment.
The top of the housing flips open to reveal the water reservoir. The reservoir can be filled without removing it from the housing if you want to. Alternatively, you can use the built-in handle to pull it out for refilling. The opening at the top is very large, which makes it easy to access. When you want to get inside and clean, it's easy to do.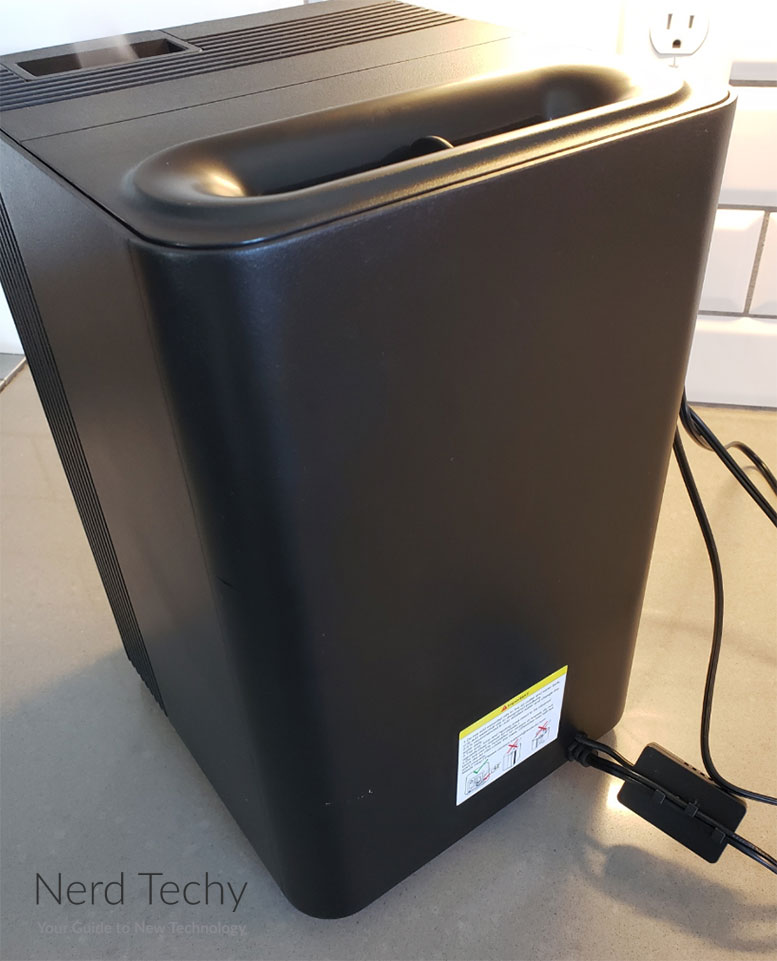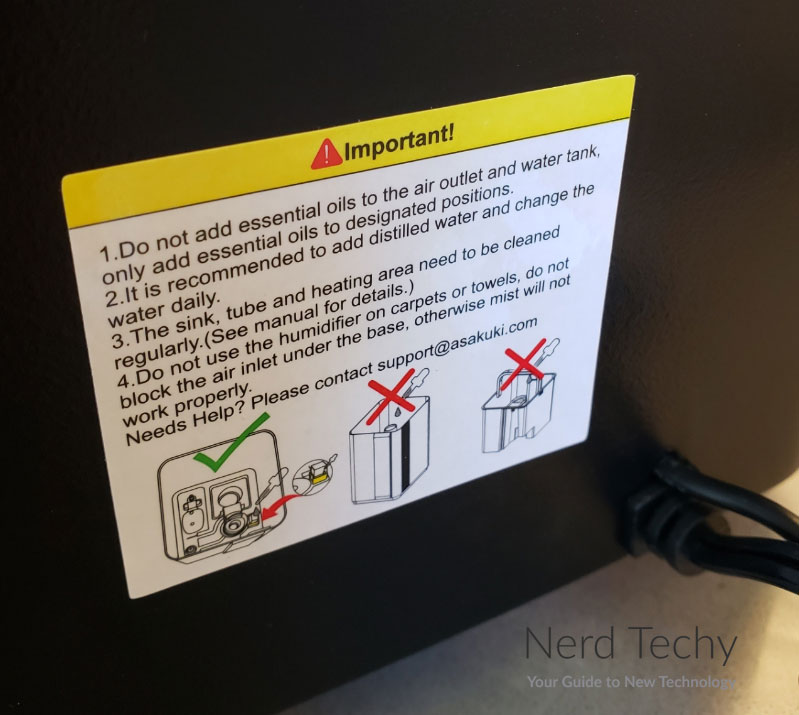 If it hasn't become clear by now, this is a humidifier, which adds moisture to your air. If you want to dry out moist air, you need a dehumidifier, like the Vellgoo Drybox 2000.
Controls
As we mentioned, the controls are located on the front of the housing, beneath the LCD display. In all, there are six soft touch buttons. The top left button is used to activate sleep mode. This mode will automatically set the motor to the lowest setting. It will also turn off the LCD screen. This is perfect for night time, since the motor will be quiet and the screen won't be putting out light.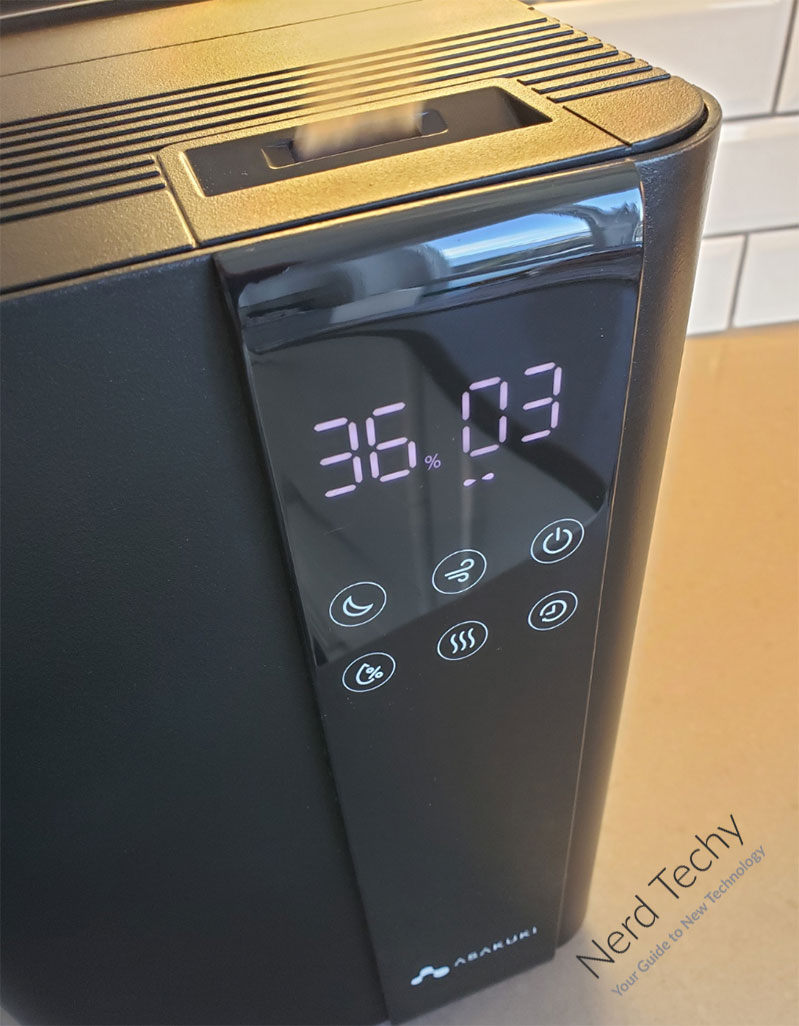 To the right of this is the button to control the cool mist setting. Cool mist is ideal for colds and flus, since it won't cause your airways to swell up. It's also great for plants, and doesn't produce static electricity that keeps dust in the air. The button at the top right corner is the power button, which should speak for itself.
Beneath the power button is the timer button. Pressing this button adds two hours at a time to the humidifier's timer. In total, you can set the timer for up to 12 hours. That's more than enough to set it in the evening and let it run until you wake up in the morning.
The bottom center button is used for the warm mist setting. The warm mist reduces the need for any maintenance, and also helps warm up your room. Warmer mist also evaporates more efficiently than a cooler mist. It's worth noting that both the warm mist and the cool mist buttons have three speed levels. Turn it up higher for faster humidification, or turn it down to save power and reduce noise.
The bottom left button is used to adjust the humidity. You can set the percentage anywhere you like, from 45% upwards. This automates the humidifier, and shuts down the motor when the air reaches the target humidity.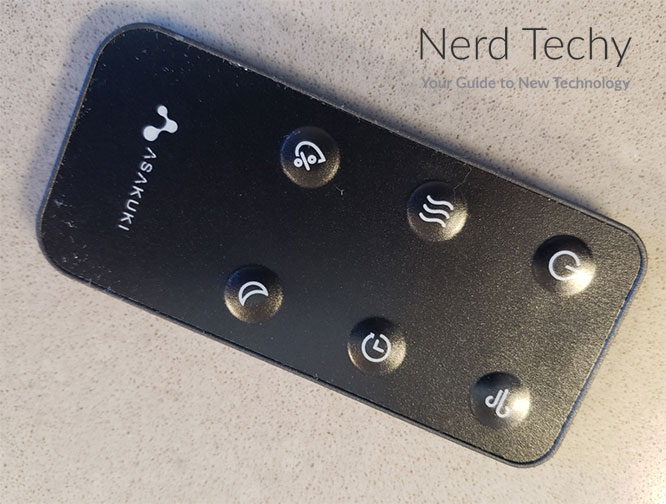 If you prefer, you can use the handheld remote instead of the on-board controls. It's just a small, thin remote that's powered by a watch battery, but it gets the job done. You can adjust your settings from across the room, without getting off your couch.
Humidifier Performance
The ASAKUKI humidifier is surprisingly capable. Under any reasonable conditions, it can humidify an area larger than 750 square feet. That's enough for most small- to mid-sized apartments. It's more than enough for your bedroom. And if you live in a home that's larger than that, you can move the humidifier around with you. Or just order more than one and put them in different parts of your house. Regardless, the coverage is quite good, especially considering the size.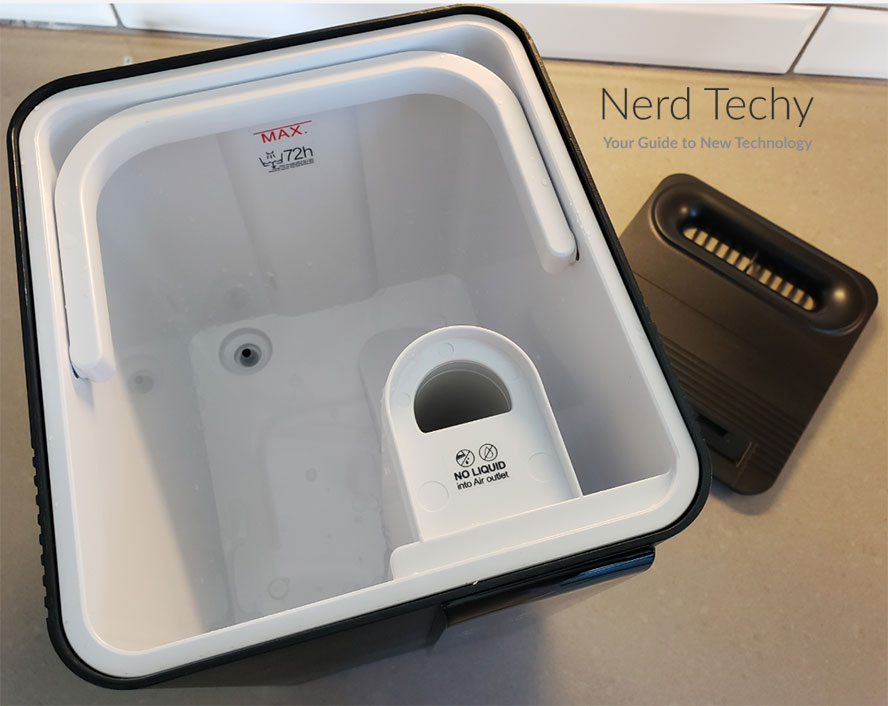 The water reservoir has a capacity of 5 liters, or just over 1.3 gallons. That's enough for as much as 50 hours of operation. In practice, it will mostly depend on how dry your air is. If your air is extremely dry, the tank will dry out faster. If it's relatively humid already, the water will last for longer. Either way, you don't have to worry about an empty tank damaging your humidifier. An automatic shutoff mechanism will kick in when the tank runs dry.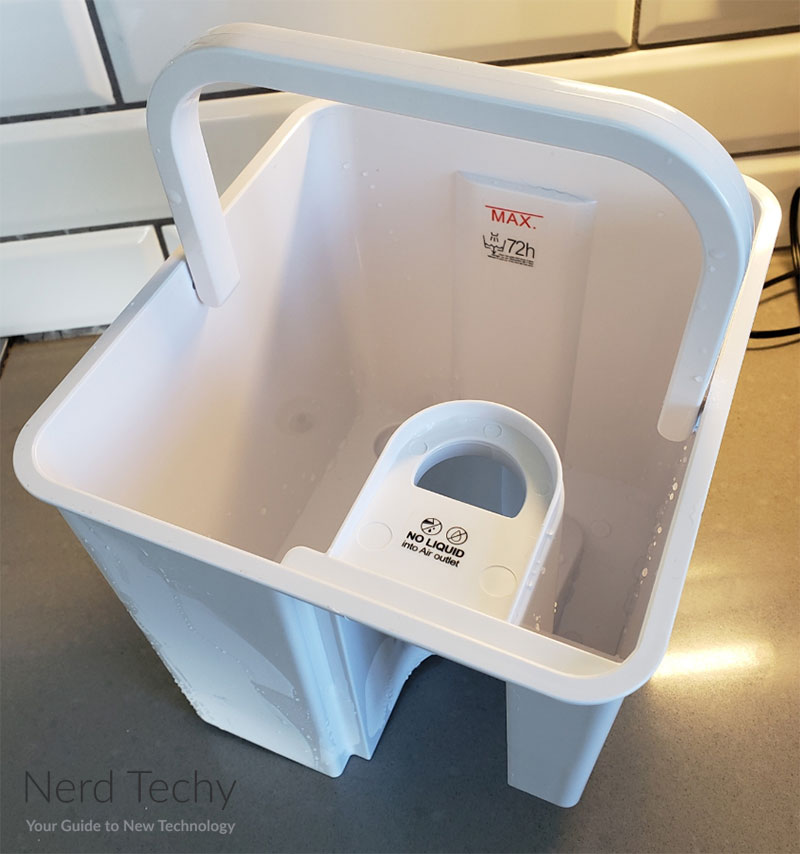 This is a very effective humidifier. We tested it for five consecutive nights and it performed just as well as it's advertised. In a 14′ by 14′ room, in just 10 minutes there was a noticeable difference in the air. In fact, it would often raise the humidity in the room from 25% to 65% within 20 minutes.
If all you need to do is humidify a single room, you may want something a little bit smaller. In that case, a mini desktop humidifier might be right up your alley.
Extra Features
As humidifiers go, this one is very affordable. But even so, it has a couple of extra features that are worth talking about. To begin with, there's an active carbon and mineral pellet filter built into the bottom of the housing. This filter never needs to be changed, which significantly cuts down on maintenance. At the same time, it keeps the water going into the mister perfectly clean.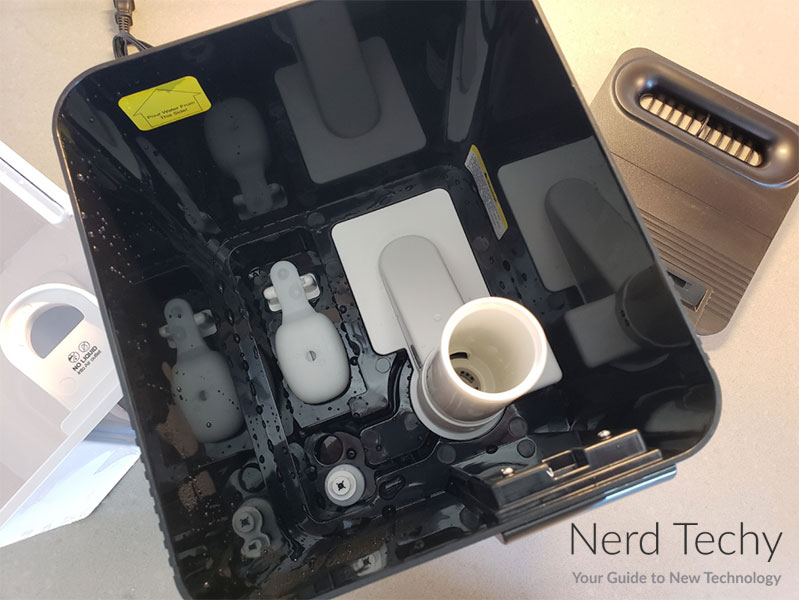 In addition, there's a little box underneath the reservoir where you can add essential oil drops. This oil will then diffuse into the air, providing a calming atmosphere and a pleasant aroma. Unfortunately, it doesn't work anywhere near as well as advertised. It doesn't matter how much essential oil you add. You'll only get a very faint aroma. It's still a nice touch, but if you were expecting a full-on diffuser, this is not it.
Ultimately, the best tool for essential oil is a proper diffuser. The ASAKUKI Oil Diffuser is a perfect example. It will reliably atomize your essential oils, but it's not a dehumidifier.
Benefits of a Humidifier
So, what is it that makes us prefer humid air to dry air? To begin with, cold air dries out our airways. Look at the fog that comes out every time you breathe in cold weather. That's moisture leaving your body and going out into the air. The more humid your air, the more moisture you'll retain. Besides that, there are a couple of additional benefits:
Getting a better night's sleep – When your airway dries out at night, the inside of your nose can become inflamed. This can make it difficult to breathe and cause snoring. Instead of sleeping soundly through the night, you might keep waking up. If there's anyone sleeping next to you, it's probably irritating them, too. A humidifier can help relieve this.
Relieving cough symptoms – Sometimes there's some gunk caught in your lungs but you can't cough it up. This happens more often when your airway is dry, since the tissues are not as flexible. So you end up with a dry, hacking cough that won't go away. Adding humidity to the air loosens up your airways and makes it easier to cough up that gunk.
Keeping your skin moist – Dry air doesn't just dry out your airways. It also dries out your skin, lips, and even your hair. This can cause itching or flaking, and force you to go through loads of moisturizer.
Keeping you healthy – According to some studies, the influenza virus thrives in dry air, and dies faster in humid air. If this is the case, then keeping your air humidified reduces your risk of catching the flu.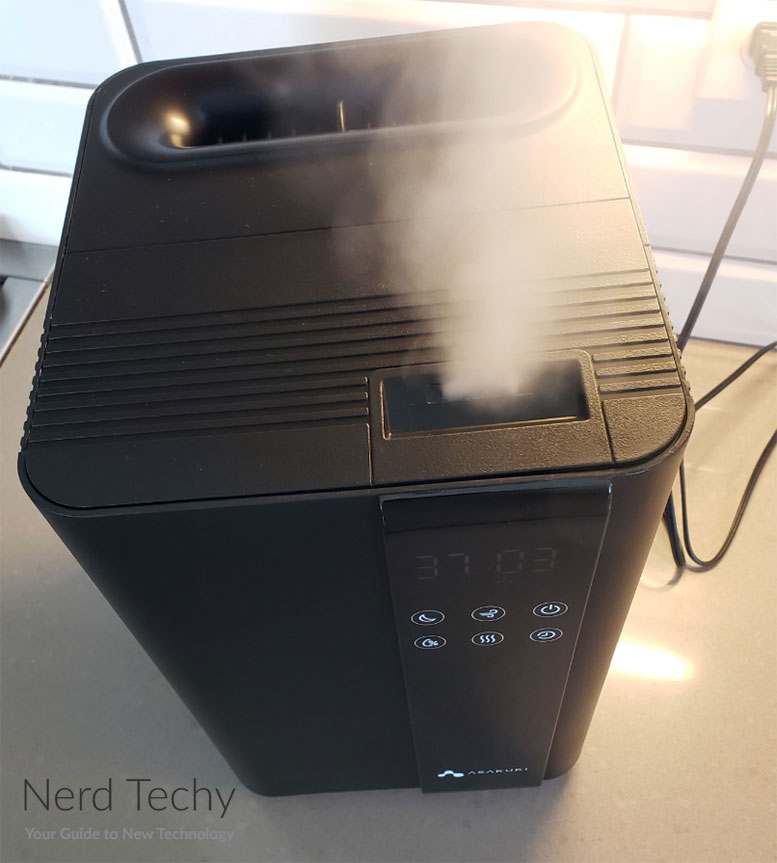 Final Verdict
The ASAKUKI Warm & Cool Mist Humidifier is a well-designed device. To begin with, the physical build is well thought-out. Despite the small footprint, the water reservoir is able to hold a full 5 liters. The controls are simple and straightforward. And the ability to combine warm and cool mist truly sets this machine apart from the pack.
The coverage is excellent, enough for a mid-sized apartment. You'd need a much larger humidifier to cover a wider area. The humidistat seems to work reliably, and the auto-shutoff mechanism prevents damage from a dry reservoir. We also very much appreciated the built-in, maintenance-free filter. This makes the ASAKUKI far easier to maintain than a run-of-the-mill humidifier.
Meet Derek, "TechGuru," a 34-year-old technology enthusiast with a deep passion for tech innovations. With extensive experience, he specializes in gaming hardware and software, and has expertise in gadgets, custom PCs, and audio.
Besides writing about tech and reviewing new products, Derek enjoys traveling, hiking, and photography. Committed to keeping up with the latest industry trends, he aims to guide readers in making informed tech decisions.