OneOdio Studio HiFi
Pros
Studio quality audio.
Exceptionally comfortable fit.
High-quality wired audio connection.
Very good noise cancellation.
Soft carrying case included.
Cons
Questionable build quality.
No wireless connection option.
Limited color schemes.
If you're in the market for a new pair of headphones, you've probably noticed a ton of wireless options. This is a great thing for most people. Wireless headphones give you the freedom to move around, and you don't have any wires to snag. And thanks to modern, true wireless stereo (TWS) technology, you can get almost as good as studio quality. But not quite. Wireless signals are still subject to interference from other devices. This can create artifacts, or cause the signal to become unstable at the worst possible moment. For professional recording or streaming, you're going to need a set of wired headphones.
But if you're on a budget, you might find yourself priced out of the market. Most modern wired headphones come with tons of bells and whistles. They're made for scenarios where money is no object. On the other hand, wired/Bluetooth hybrids usually only provide wired connectivity as a backup option. They're still not designed to produce the very highest audio quality. As a result, you'll often have to settle for lower quality than you wanted, or overspend your headphone budget. Thankfully, there are a handful of headphones that could be better-suited for your needs.
One good example is the OneOdio Studio HiFi Closed Back Wired Headphones. These are designed to be simple, affordable cans that provide one thing and one thing only: great audio. Well, that's not quite true. They're also reasonably comfortable. But what you won't find are a lot of the bells and whistles available on other modern headphones. So how well does OneOdio do at balancing price and quality? To find out, we'll be taking a closer look at all the features and functions, as well as the audio quality. After we've looked at all aspects of the design, we'll be ready to give a more informed opinion. Let's dig deeper, and see what we uncover!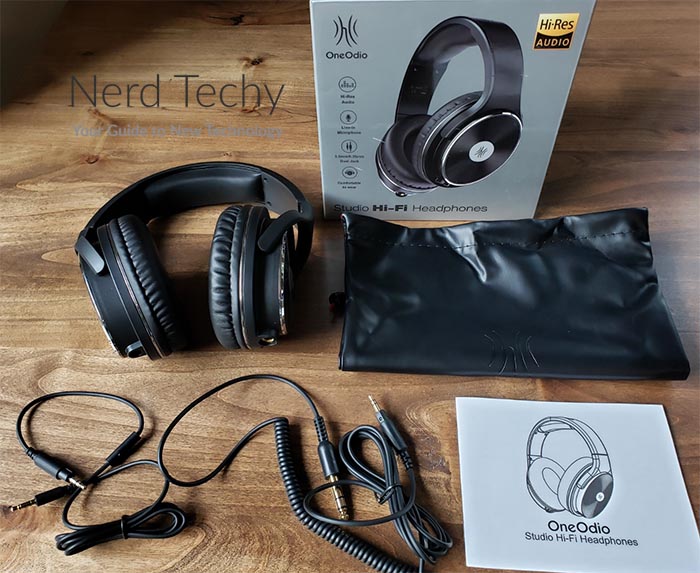 Design & Construction
The OneOdio Studio HiFi are designed with an adjustable fit. The head band at the top is made from black ABS plastic, with an inner metal strap. The band is nice and wide, which distributes the weight well across your head. Across the top third, there's a thick foam pad, which is nice and comfortable to wear. To either side, there are two areas where the band can be adjusted to fit. This works well as far as it goes, but the tension in the strap seems to be a bit high. There's no issue with the headphones remaining secure, but they can get uncomfortable if you have a larger head.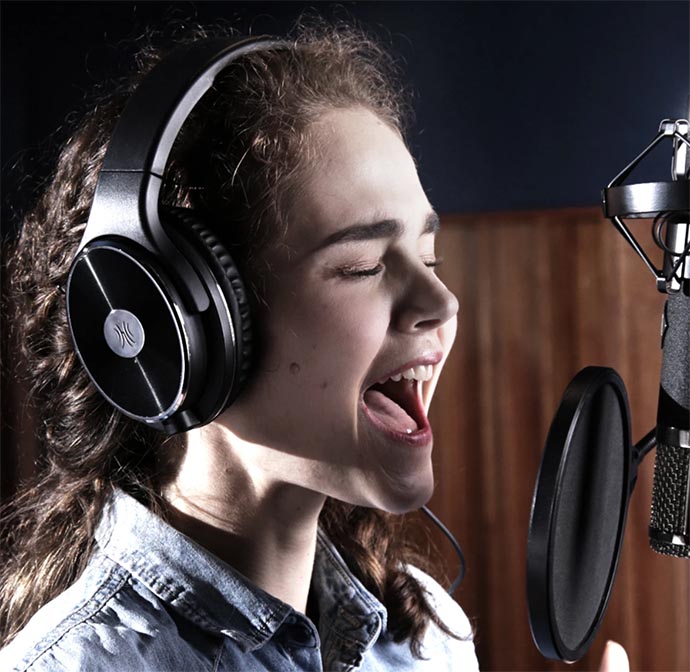 On the plus side, the ear cups are incredibly big and wide. They're not thick, but they're broad and flat, with heavy padding around the edges. This padding is nice and firm, and conforms well to your face. In addition, the cups are hinged, and can pivot to 15 degrees in either direction. This allows for a comfortable fit on pretty much anyone. Moreover, the padding provides enough of a seal to block out background noise. This is essential for the ANC function to work properly. In a studio environment, it also serves to keep in noise, so you don't have to worry about bleed-through.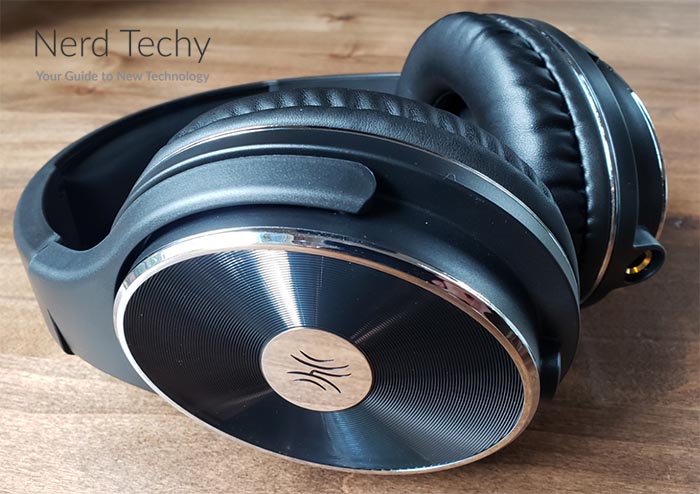 The backs of the ear cups have a decorative stainless steel ring running around the outsides. There's also a OneOdio logo etched into a stainless steel circle in the center. At the bottom of the left ear cup, there's a large, 6.35mm audio jack. In the same position on the right, there's a smaller, 3.5mm jack. Both of these can connect to your devices with a single cable, which we'll discuss more momentarily. Other than that, there are no frills. There are no volume controls, media buttons, or other functions. You'll need to do all of those things from your phone.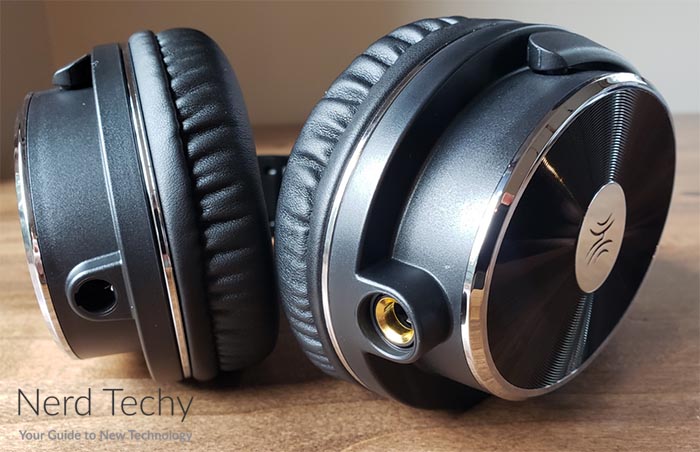 All of this amounts to a comfortable, functional set of ear cups. Unfortunately, they just don't seem very durable. The plastic is stiff and lightweight, and even the metal highlights feel chintzy. Besides the swiveling ear cups, there's not much flexibility. If you're not careful when you're handling them, they're liable to break before they bend. Then again, these are affordable headphones with great audio quality. It seems as if 90% of your money goes into essential, functional features. Considering the low price tag, that's not necessarily a bad thing.
One thing OneOdio does provide is a 24-month warranty. This is better than average for headphones and earbuds, and inspires a bit of confidence. At the very least, you know you'll be protected if anything goes wrong.
Use code "SUPER20%" for 20% off when you purchase the OneOdio Studio HiFi Headphones on their official website.
With all of that being said, these are full-sized, over-the-ear headphones. What if you want something a little more understated? In that case, a set of in-ear earbuds, like the Elevoc Clear, might be a better choice. Not only are they low-profile, but they offer excellent call quality. On the downside, the audio quality isn't as good as the OneOdio headphones.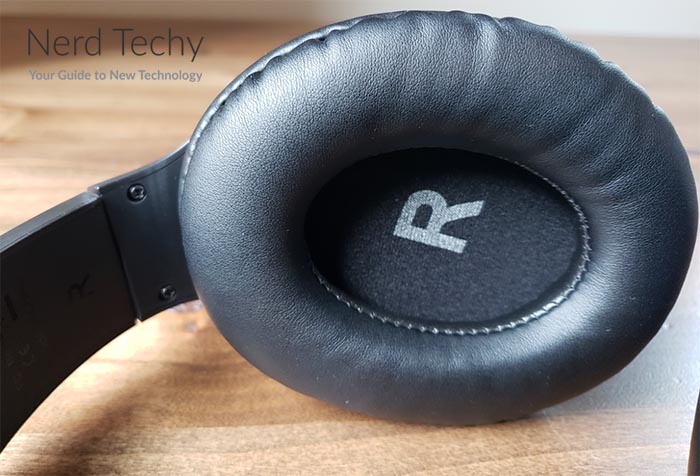 Battery Life & Connectivity
There's no need to worry about battery life with the OneOdio headphones, because there's no battery. You simply plug into your audio device, and start listening. This is both a good thing and a bad thing. The good news is that you have one less device to charge. Unlike a set of wireless cans, you don't have to stop listening when your power runs out. That's a huge benefit. On the downside, the power to run your headphones needs to come from somewhere. If you're plugging into a device that's running on outlet power, that's no big deal. But if you're listening on a smartphone, your smartphone battery is going to drain faster.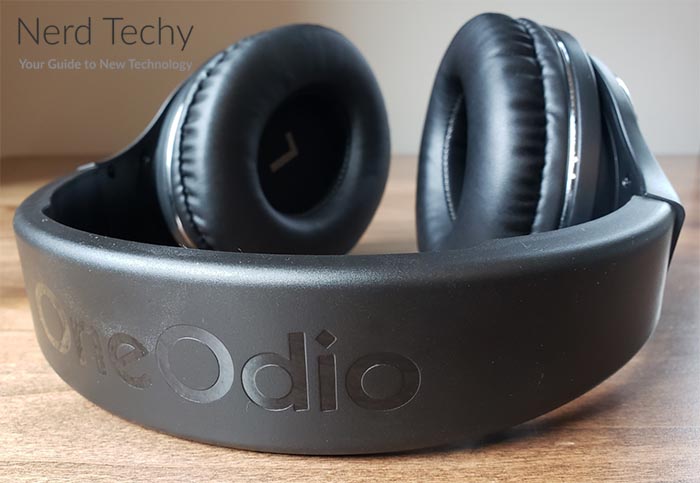 The audio cord is a work of art in and of itself. It's designed to connect to any audio equipment, including amplifiers and other studio equipment. For this reason, it has two tips: a 6.35mm plug and a 3.5mm plug. The product description can be confusing, so let's be very clear: this is one cable, with two different tips. Depending on the jack you're connecting to, you use the opposite jack on the headphones. In between these tips, there's a heavy, coiled cord that stays short and tangle-free when it's slack. When you pull it tight, it can extend to a length of 9.8 feet. That's more than enough for most home applications. And if you're working on a recording, you'll be free to move around a little.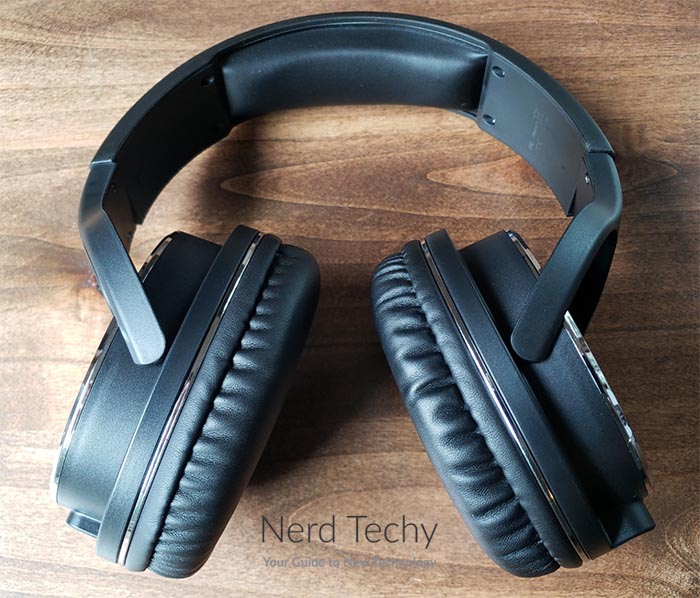 The kit also ships with a second cable for hands-free calling. This is a shorter, 4 ½-foot cable, with two standard 3.5mm aux tips. It's not as heavy and shielded, and it's not ideal for getting the best audio quality. That said, it has a little in-line fob, with three buttons for controls. You can adjust your volume, make calls, and bring up your phone's voice assistant. As you might expect from a small fob mic, the call quality isn't the best. But this is primarily a set of studio headphones, so any calling features are a nice added bonus.
The only major downside of the OneOdio Studio headphones' design is that there's no wireless connectivity. An aux cable is the only way to connect it to your devices. If you require a set of Bluetooth headphones, consider the OneOdio A30 instead. These are not only wireless, but they have a sturdier build, as well as being battery-powered. That said, the audio quality and noise cancellation aren't as good.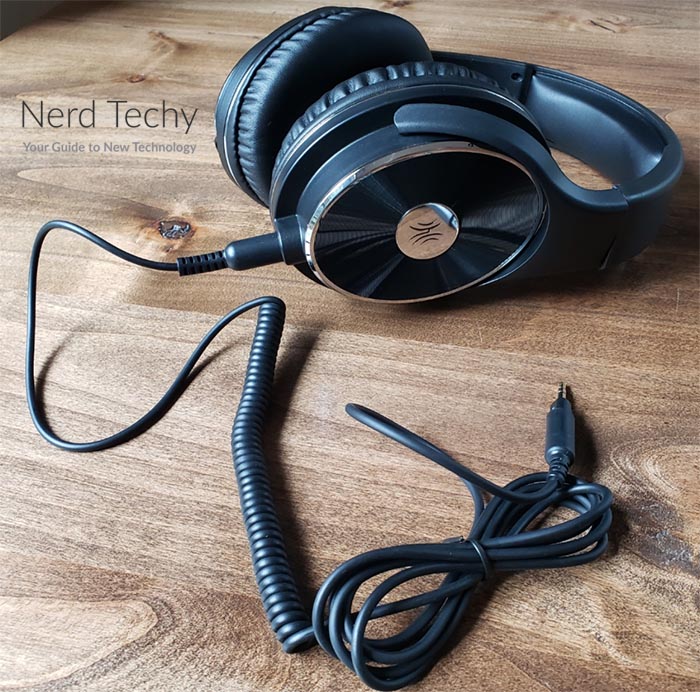 Audio Quality
The main highlight of the OneOdio Studio HiFi headphones is the 50mm drivers. These are 25 percent larger than the average headphone drivers, and they can produce proportionally more volume. But volume alone isn't the defining factor of a good set of headphones. A lot of manufacturers will try to impress you with enormous drivers, only to under-deliver on quality.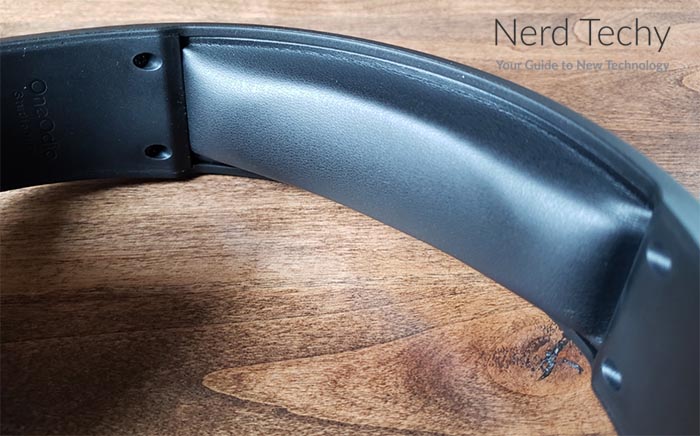 This is where the Studio headphones stand out. They provide, rich, textured audio across the sound spectrum. The highs are shimmery and clear, and the lows are deep and punchy. The middle frequencies have plenty of space, and don't get squeezed out of the mix. As a result, these headphones are great for vocals. Along the same lines, the wide soundstage provides better audio in general. When you're listening to a stereo recording, or watching a video, you feel a real sense of space. That's essential for getting the most out of your music, or enjoying a scary movie.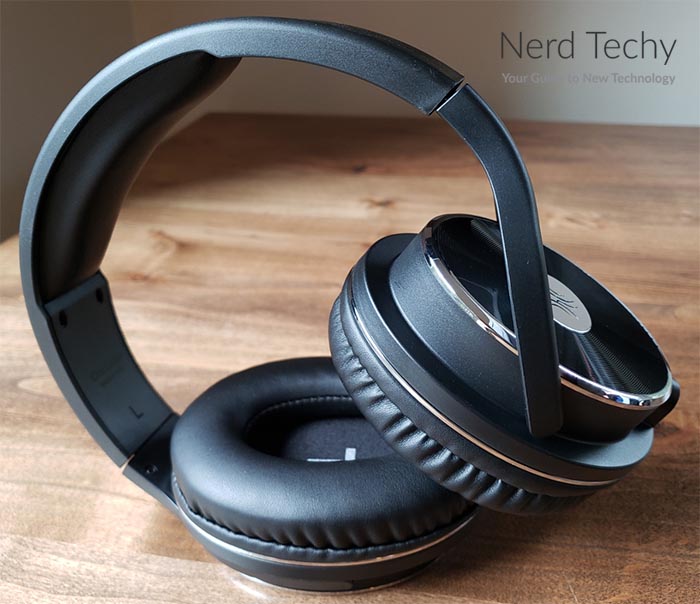 That said, many people prefer a more bass-heavy EQ. This might be because you need a pair of workout headphones, or just because you like a lot of bass. In that case, the Aukey EP-N12 is a solid set of headphones. The audio isn't quite studio quality, but the bass is as deep and powerful as you'll find.
The OneOdio Studio headphones do a reasonably good job of blocking out background noise. As with most noise cancellation systems, you get the best results with regular, consistent noise. You don't have to worry about air conditioners, quiet conversation, or the rumble of a train car. Sudden, loud noises will still cut through, though.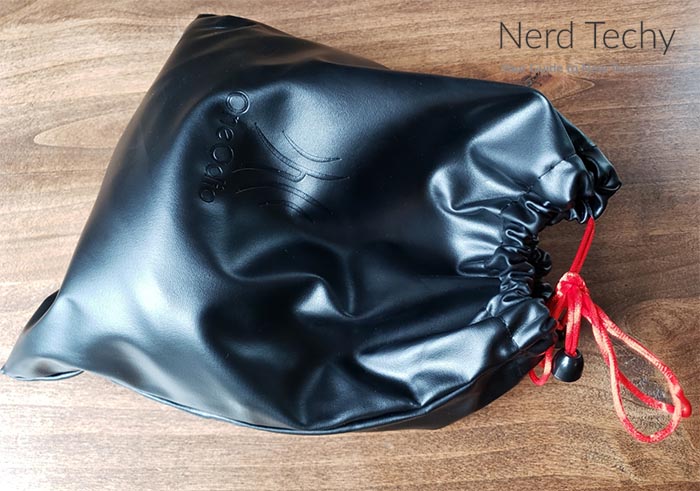 Final Verdict
The OneOdio Studio HiFi Closed Back Wired Headphones are exactly what they claim to be. They're a pair of affordable, studio quality headphones without a ton of extra features. This can be both a good thing or a bad thing depending on what you're looking for.
Use code "SUPER20%" for 20% off when you purchase the OneOdio Studio HiFi Headphones on their official website.
On the plus side, you'll be hard-pressed to find this quality sound at anywhere near this price point. On the downside, the lack of a Bluetooth connection makes these headphones less portable. Not only that, but the build quality gave us some serious concerns. The two-year warranty is somewhat encouraging, but the design still feels cheap.
That said, there's also a lot to like. The cord is actually very well-designed, and doesn't cause a lot of interference. The secondary cord is also a nice touch, since you get at least some call capability. Not only that, but the design is comfortable for most people, which is essential for any good headphones.
Meet Derek, "TechGuru," a 34-year-old technology enthusiast with a deep passion for tech innovations. With extensive experience, he specializes in gaming hardware and software, and has expertise in gadgets, custom PCs, and audio.
Besides writing about tech and reviewing new products, Derek enjoys traveling, hiking, and photography. Committed to keeping up with the latest industry trends, he aims to guide readers in making informed tech decisions.