EarFun Air Pro 2
Pros
Crisp audio and rich bass.
Hybrid ANC with transparency mode.
Supports single-earbud pairing.
Comes with rounded and pointed ear tips.
IPX5-rated for water-resistance
Cons
In-ear detection function is a bit finnicky.
Transparency mode has some issues.
Limited color schemes.
If you're in the market for new wireless earbuds, it can be tough to sort out the good from the bad. There are literally thousands of options to choose from, which can lead to a sort of paralysis. Even if you find a great pair of earbuds, how can you be sure you got the perfect pair? What if there's an even better pair just a few clicks away?
The reason there are so many earbuds is that true wireless stereo (TWS) is a relatively recent technology. It didn't really come into its own until 2016, with the release of the wireless-only iPhone 7. Before then, wireless earbuds were known for their terrible quality. Because of the limited bandwidth, you could only listen in mono, and the audio sounded hollow. Suddenly, Apple's AirPods proved that you could make wireless earbuds that sound as good as wired.
This led to a huge rush to the market. The thing about earbuds is that they're cheap to make, at least compared with other electronics. Now, let's say you're a small startup trying to manufacture electronics. Are you going to start with something complicated, like a smartphone or a tablet? Or are you going to start with something simple, like a pair of earbuds? Because so many companies are trying their hand at earbuds, there's a lot of glut in the market. But none of this is to say that you can't find a good pair of buds. In fact, some companies that used to be startups are now becoming established players. One such company is EarFun.
We're about to review the EarFun Air Pro 2. These are slick, AirPod 2-style earbuds with silicone tips for a secure fit. They utilize highly-effective hybrid ANC to keep your music free of background noise. And the audio quality is among some of the best on the market. But these are just a few of the things you need to look for in a good set of earbuds. To find out whether these buds are really up to par, we'll need to take a close look at a variety of features. We'll talk about the battery life, the ergonomics, and everything else you need to know. Once we're done, we'll render a final verdict.
Overall Design
The EarFun Air Pro 2 wireless earbuds are designed a lot like the famous AirPods 2. Most notably, they have a vertical design, with studs that hang down from the main in-ear shells. These studs house the batteries, and provide added security to keep the earbuds firmly seated. That said, the bulk of the retention comes from the silicone ear tips, which sit snugly in your ears. It's important to get a good fit here, since a seal doesn't just keep the buds in place. A better seal also keeps outside noise from getting in as easily. Thankfully, there are three sizes of ear tip, in two different styles, for a total of six pairs. The ones in the bag labeled "A" have a round, fat profile, while the "B" tips are longer and conical. No matter what the size and shape of your ear canals, at least one pair should be a good fit.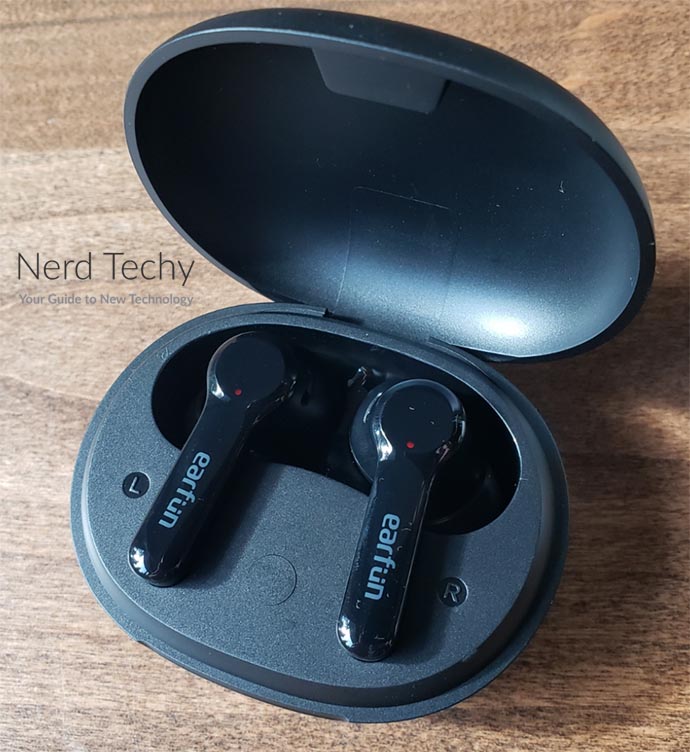 The studs are black in color, with the exception of a grey "EarFun" writing on the exterior. The studs themselves terminate in the flat, circular backs of the in-ear shells. These flat surfaces are actually touch controls, which you can use to operate the earbuds. You can adjust the volume, answer and end phone calls, and play or pause your music. In addition, you can open your phone's voice assistant to control even more apps.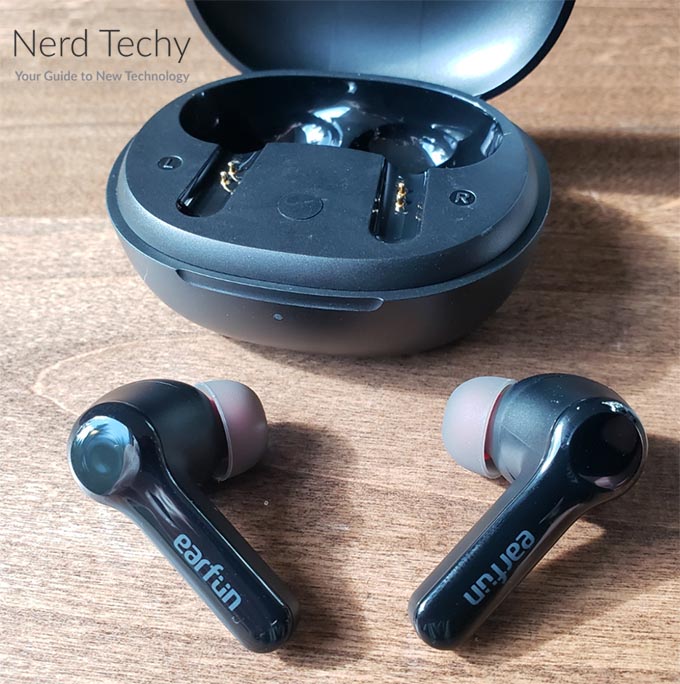 In addition to the controls, the Air Pro 2 buds have built-in infrared sensors to detect when they're being worn. In theory, this is a great idea. You can take an earbud out to have a quick conversation, and your music or video will pause. When you put the earbud back in, your media will automatically resume playing. In practice, the sensors are perhaps too sensitive. They can easily be triggered when you set the earbuds down. So you take them out and your music pauses, but it starts again when the buds hit your desk.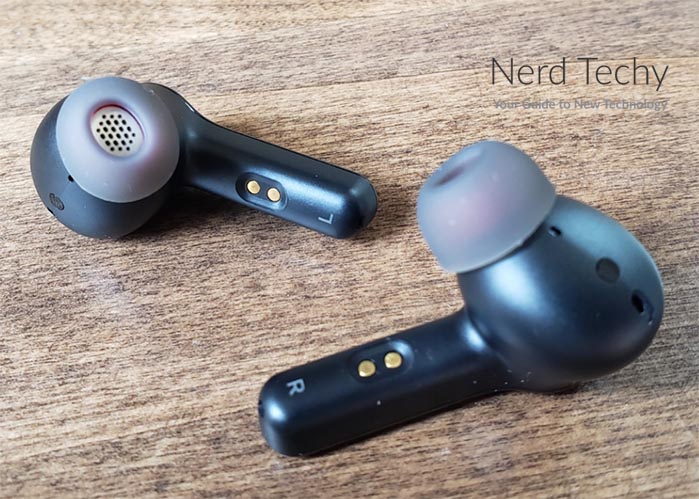 The Air Pro 2 earbuds are by no means expensive, but they cost a little bit more than your run of the mill buds. If you're looking to save a few dollars and get similar features, check out the EarFun Air wireless earbuds. This is an earlier model, which is now more affordable. Then again, it comes with smaller drivers, and there's more latency in the connection.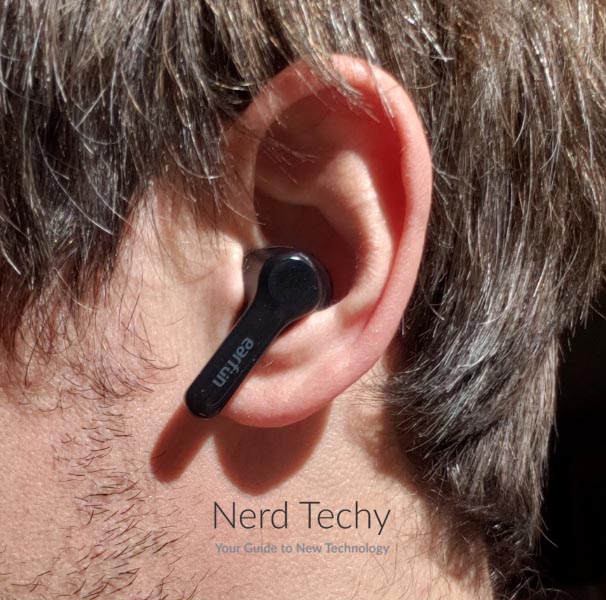 These earbuds are IPX5-rated for water-resistance. This means they can withstand moderate amounts of moisture, like sweat or rain. They can't stand up to a constant stream of water, such as in the shower. Even so, they're more than durable enough for a workout, or for exposure to the rain. They're also just fine to wipe down with a damp cloth when it's time for cleaning. Thanks to the smooth, satin finish, this is very easy to do.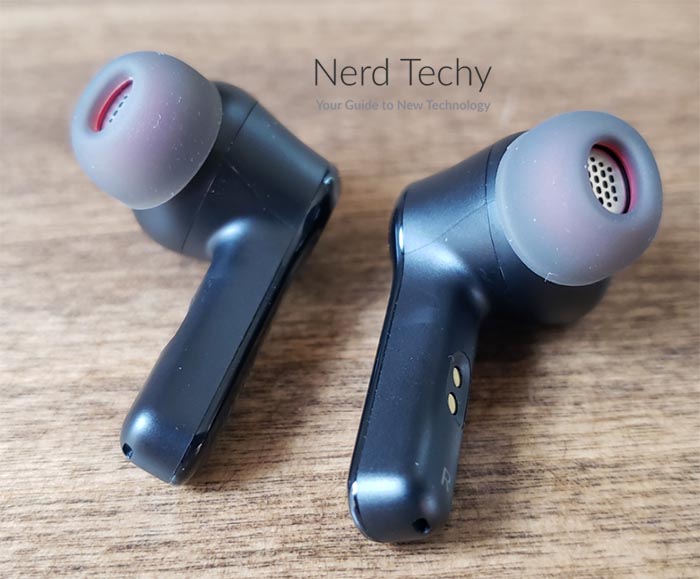 The charging case has an oval profile, and sits horizontally. It features a clamshell-style lid, which is spring-loaded to keep it from opening by mistake. The material is a black plastic, similar to the earbuds themselves. On top, there's a glossy EarFun imprint engraved in the surface, and there's a cutout under the front opening. This cutout makes it easy to pop the case open when you want to. Just underneath, you'll find a green LED light, which illuminates when the earbuds are actively charging. There's a USB Type-C cable included in the kit.
Your earbuds sit inside the case in molded wells, which are easy to snap the buds into. They're actually slightly magnetic, so you get a secure fit and an easy charge every time.
Battery & Connectivity
Each Air Pro 2 earbud has approximately seven hours of playtime on a full charge. To be clear, this is a manufacturer rating, and it assumes you're listening at 50 percent volume. If you're actually listening at eardrum-shattering levels, the batteries might not last that long. But no matter how you look at it, you're getting a decent amount of battery life. Moreover, the case provides nearly 3 ½ extra charges, for 24 additional hours of use. You can be away from a power outlet for a long time without losing all your earbud power.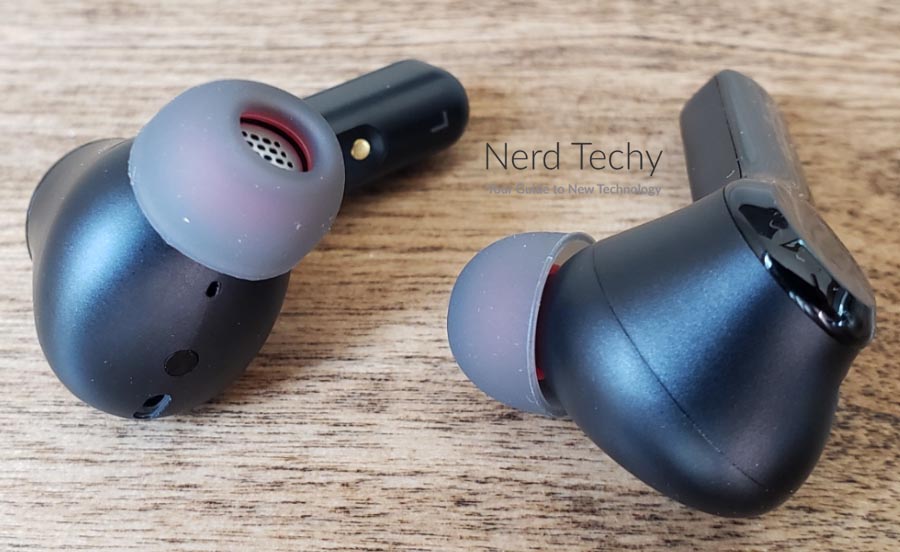 Charging is easy. The buds will fully charge in about 90 minutes, but 10 minutes of charging will get you two hours of listening. The case itself will fully charge in the same amount of time via USB Type-C. Alternatively, you can use a Qi wireless charger and ditch the charging cable altogether. It's not quite fast as USB Type-C, but many people find it more convenient.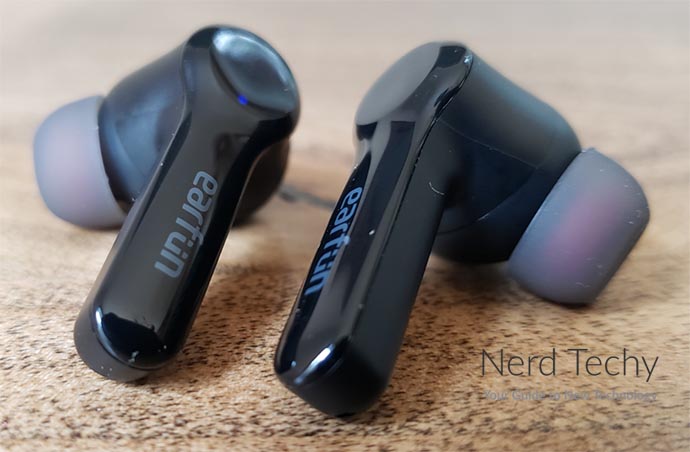 The Bluetooth connection is Bluetooth 5.2, the latest and greatest flavor of Bluetooth. Like Bluetooth 5.0, it's a major upgrade from Bluetooth 4.2. You get higher bandwidths, which means you can listen to HD audio if you want to. You get a more stable signal, so you don't have to worry about your phone randomly disconnecting. However, Bluetooth 5.2 has improved on Bluetooth 5.0's latency, by changing how the earbuds connect.
Most stereo earbuds share a single connection, via a single earbud. Audio goes from your phone to Earbud A, and the second channel audio gets passed on to Earbud B. This creates a slight delay, which increases the overall latency. With Bluetooth 5.2, both earbuds receive their own individual signal, so there's noticeably less delay. Not only that, but you can wear a single Air Pro 2 if you want to. It's not ideal for music, but it's fine for hands-free calling.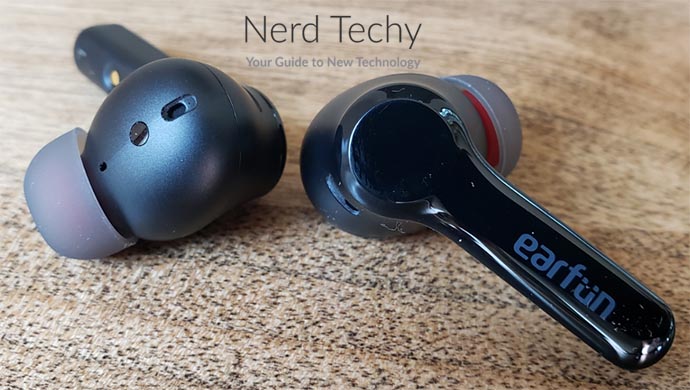 If you're looking for the lowest possible latency, there are even faster options. The EarFun Free 2 is a good example. It also comes with Bluetooth 5.2, but it has a special, ultra-low latency gaming mode for online gaming. On the downside, the bass response isn't as robust as the Air Pro 2.
Audio Quality
The EarFun Air Pro 2 boasts 10mm titanium dynamic drivers. These are larger than the average earbud drivers, and they can produce more volume. They also provide a rich, powerful bass that's great for workouts and dance music. This isn't to say that the other frequencies sound bad. The highs are nice and shimmery, and the mids are front and center – perfect for vocals. There's also a wide soundstage, which means you get a sense of space between the instruments.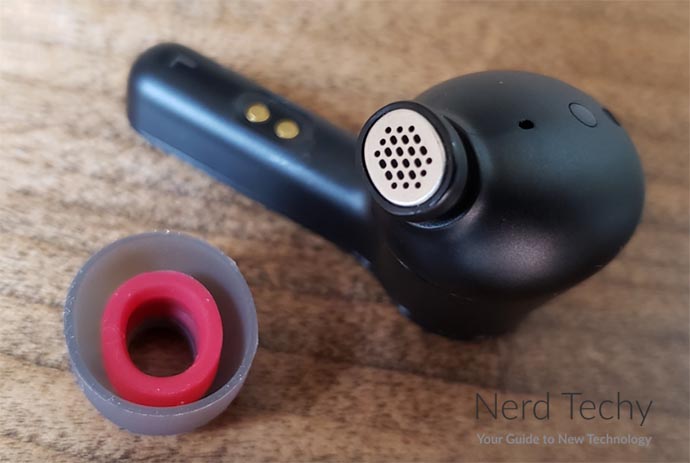 The hybrid ANC feature utilizes both internal and external drivers to pick up extraneous noise. This allows the earbuds to eliminate up to 40dB of background noise. As with any ANC, this works better with constant noises than with intermittent ones. Regardless, it does a great job of cutting out engines, crowd noise, and other annoyances. For what it's worth, there's also a transparency mode for better situational awareness. Unfortunately, it creates buzzing in the left earbud, which can get annoying.
The same microphones are also used to hone in on your voice when you're on a phone call. This voice isolation technology will make it easier for the other person to hear you. However, it won't have any effect on how well you can hear them.
For even better ANC with a functional transparency mode, consider the EarFun Free Pro. It has a smaller shell, as well as more powerful ANC. However, the soft controls are finnicky, and can take some time to master.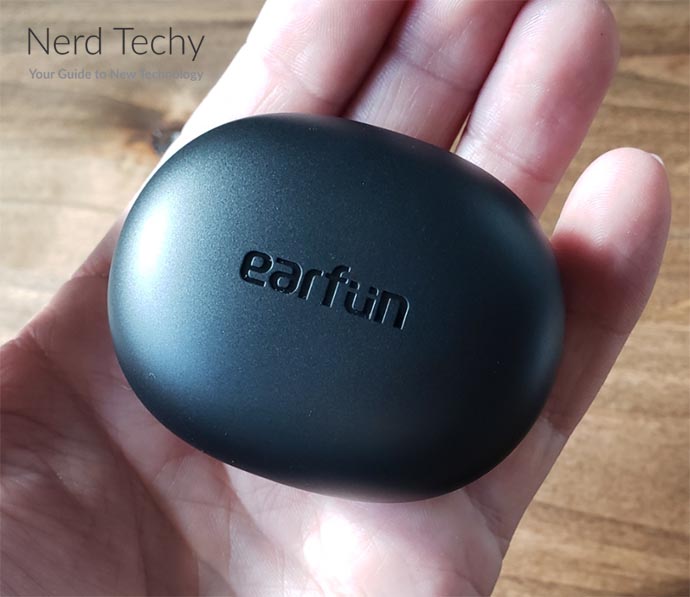 Final Verdict
For the most part, the EarFun Air Pro 2 is a well-designed set of earbuds. The in-ear detection and transparency are notable weak points, and you should take them into account. On the other hand, you get excellent battery life, top-tier audio, and a powerful ANC function. If that's what you need, you're looking at a good pair of buds.